If you're following along with our trip to Europe, then you know we left off on the Italian island of Ischia,  where we were staying at the prestigious Regina Isabella Resort. From there, we took the slow ferry back to Naples. We had taken the fast ferry from Naples to Ischia and the slow ferry back. You can read our report to find out what the ferries are like, see photos and learn which one we liked better.

The slow ferry arrived at a different dock than the fast ferry departed from and it wasn't clear where the taxi stand was as most people on this ship had their own cars. After standing around waiting in the hot sun for a taxi to arrive using the FreeNow app, I finally decided to explore and look for a closer one.

It turns out there was a taxi stand just 30 feet away through a gate that looked like it was locked. The taxi driver appeared to be going on break but he was happy to take us where we needed to go … the Royal Continental Hotel.


He didn't speak English but he knew the hotel and said it was going to cost €25 in cash. I always ask the price before getting in any taxi. One reason I like using the FreeNow app or Uber is that you know they won't overcharge you or take unsuspecting tourists the long way. 

The city, right outside the port, is in serious disrepair, full of garbage, graffiti and homeless people. One migrant was passed out on the side of the road in the grass with his pants down to his knees as he slept in the hot sun. It was extremely sad and I'm glad my kids were looking out the other window.

After a mile or so, the scenery got a lot better. Our hotel, the Royal Continental, was in a nice area across the street from the bay and the Castel dell'Ovo, an imposing stone fortress that has served as both a royal residence and a prison.

The Royal Continental Hotel looked busy and in fact, it was. According to the agent at the front desk, the hotel has been sold out for three months.


Fortunately, my friend Steve Perillo who runs Perillo Tours, was able to get me in at a decent rate. Since I have two little kids (ages six and three), we needed two rooms because many (most?) hotel rooms in Europe have a double occupancy limit since the rooms are much smaller than what you'd normally find at a typical North American hotel. It certainly does make finding hotels more difficult and expensive. I paid 510 euros total.


It was more than I wanted to spend but this trip had been first class all the way so I didn't want to skimp on our last night.
And if you're wondering why we stayed in Naples anyway, it's because we had a 6:20am flight out of Naples International Airport the next day so it wasn't possible to spend our last night in Ischia.


What I liked most about the hotel, besides the cool, curvy, mosaic-tile luggage ramp by the entrance so I didn't have to lug our heavy bags up the stairs, were the location …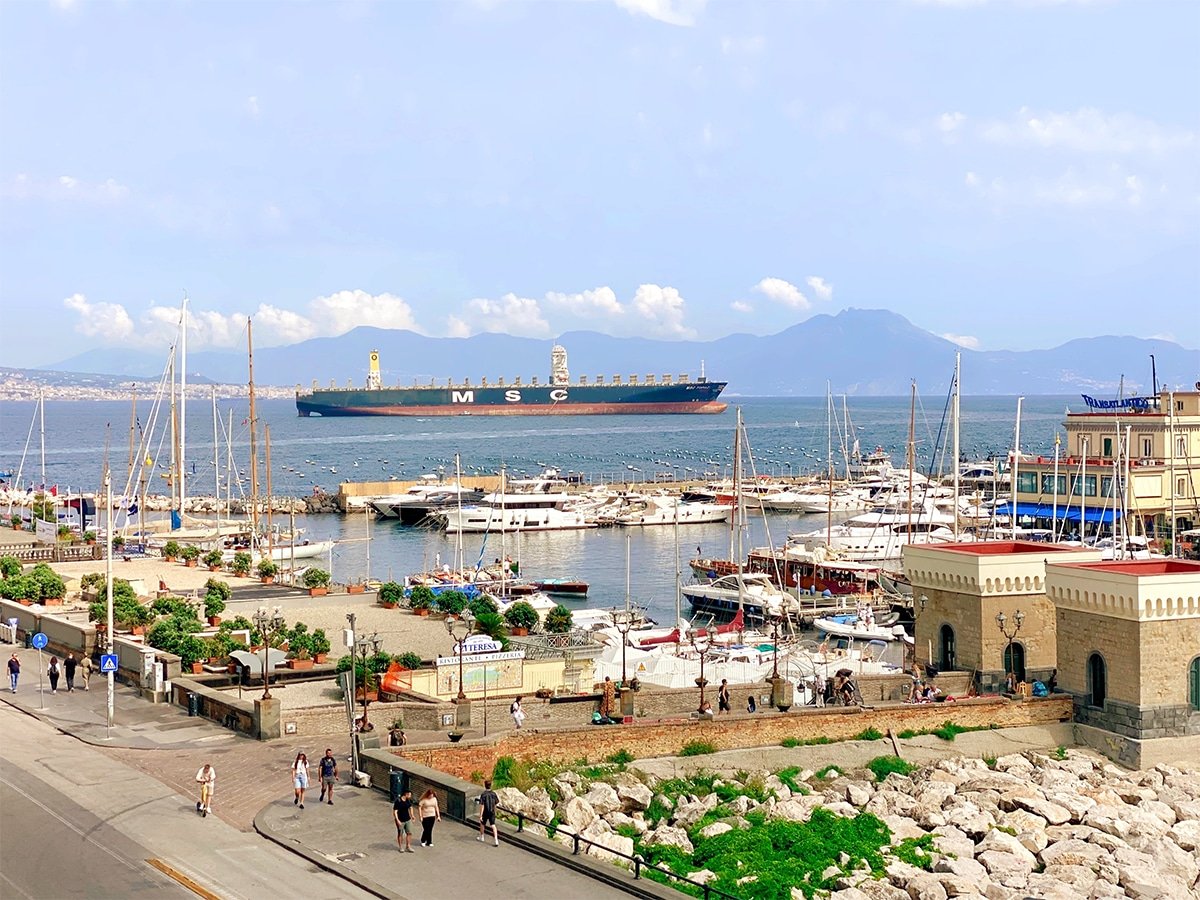 … and the views.
The views from the rooms were of Capri in the distance and the castle in the forefront, with friends and families playing in the water in front of it.

At night, the castle was lit up, celebrating the city's soccer team, which had just won the league championship. There were also blue and white streamers hanging over many of the streets in celebration.
What's funny is that from my hotel room window, I was admiring a huge yacht parked out front. Then all of a sudden, another private yacht sailed past, making the first one look like a row boat. Seriously. The owner must have been like, "What the what?!"
The rooms were clean and comfortable and came with creature comforts like a coffee maker and blackout shades. The WiFi was slow, which was one downside.
I appreciated that the hotel clerk offered to get us a to-go bag for breakfast (juice, muffins and fruit) since we were going to miss the breakfast buffet the next morning, which was included in the rate.


He also said that Naples is much safer now. He said it wasn't safe year ago "but it's very safe now."

While in Ischia, I met with my cousin Salvatore, who lives in Madison, Wisconsin and owns a very popular Italian restaurant called Napoli 15. When he found out we were going to Naples, he set us up at what he called the best restaurant in town, Zi Teresa. When I asked the front desk clerk at our hotel what the best restaurant in Naples was, he said Zi Teresa.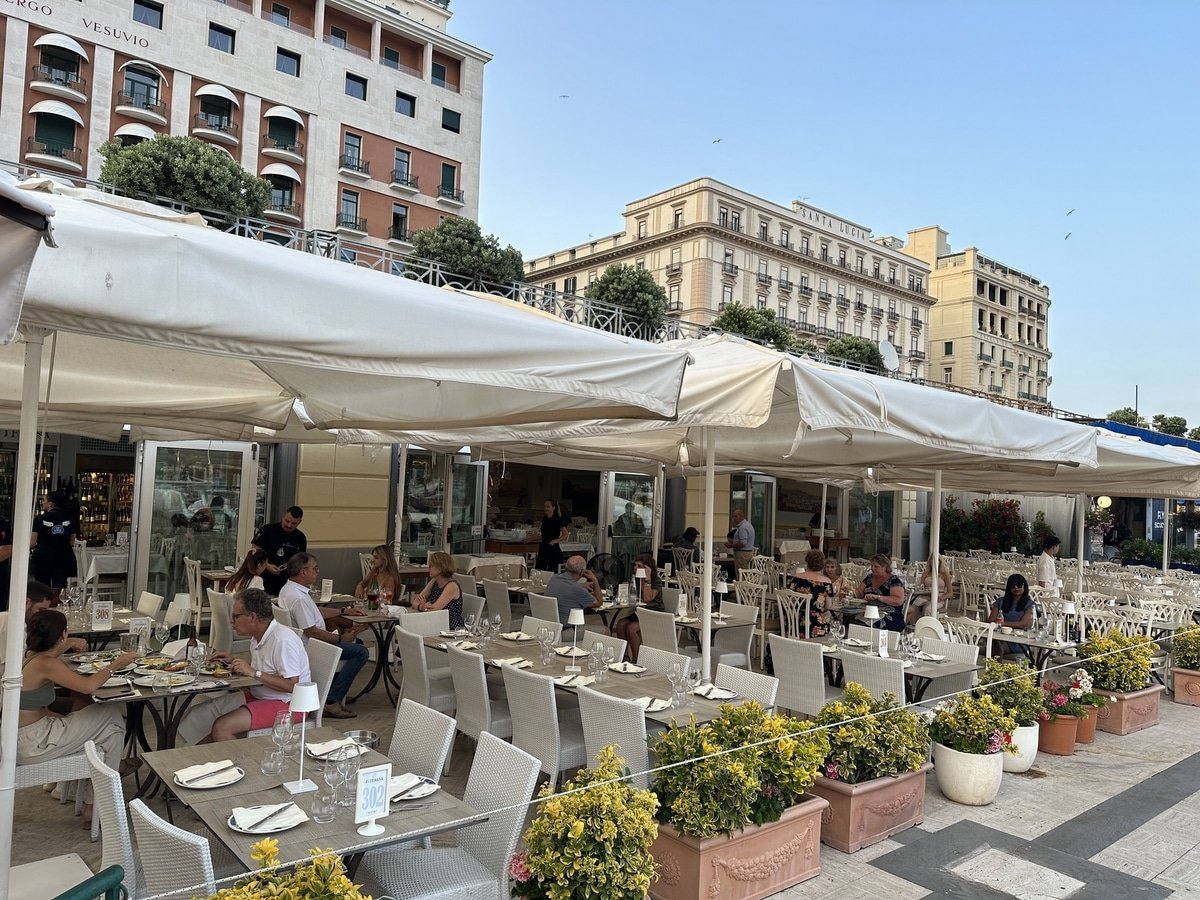 Zi Teresa just happened to be across the street from our hotel so it was perfect.
Their specialty is seafood but we had bruschetta, spaghetti pomodoro and pizza.
Other restaurants we considered going to on other friends' recommendations were:  L'Antica Pizzeria da Michele, Gino i Toto Sorbillo, Antica Di Matteo and Pizzeria da Marino.
The next morning, we were up early to depart the hotel at 4:20am. We had actually checked out the night before at the recommendation of one of the hotel clerks to make our early morning departure quicker, which it did.
The front desk gave us our breakfast bags and called for a taxi since I couldn't get one on FreeNow.
Two minutes later, a taxi showed up. I think he overcharged me but it's my fault because I made the mistake of not asking how much before getting in. When we arrived to the airport (15 minutes away), he said it was 35 euros (cash). I gave him a 50 and he gave me 10 back. "What about the other five?" I asked. He said, "That's for me." I also asked about the supposed 26 euro flat rate but he had a good answer. He said, "That's only after 7am." As an extra tip, I gave him our kids' breakfast bags since they weren't hungry and I didn't see any homeless people along the way.


Speaking of the hotel's breakfast bags, they did contain the best blood orange juice drink I've ever had. In fact, it's the only blood orange juice drink I've ever had but I hope it's not the last. Delizioso!
KEEP READING
–Hotel Review: The Regina Isabella Resort in Ischia, Italy
–48 Hours in Rome and Our Stay at the Rose Garden Palace Hotel
–Fast or Slow Ferry to Ischia, Italy? You Might Be Surprised
–10 Things You Never Knew About Italy
–What It's Like To Take the Fast Train From Rome to Naples, Italy
Want more travel news, tips and deals? Sign up to Johnny Jet's free newsletter and check out these popular posts: The Travel Gadget Flight Attendants Never Leave Home Without and 12 Ways to Save Money on Baggage Fees. Follow Johnny Jet on MSN, Facebook, Instagram, Pinterest, and YouTube for all of my travel posts.