A big thanks to the Park Hyatt Aviara for hosting our stay so we could provide this detailed review of our stay. This post contains references to products from one or more of our advertisers. We may receive compensation when you click on links to those products. For an explanation of our Advertising Disclosure, visit this page.
My family and I go to San Diego multiple times a year because it's so close to Los Angeles (just under two hours from LAX) and there's so much to see and do for everyone but especially for families with young children. I also find the ocean warmer and clearer than in L.A., another reason it's such an attractive destination. RELATED: A Family Trip to the San Diego Safari Park and San Diego Zoo
Whenever I drive back home from downtown San Diego, about 30 miles into the drive, I always look to the right for the Park Hyatt Aviara. It's located up on a hill about mile from the freeway in North San Diego, just an exit shy of the Carlsbad Flower Fields and LEGOLAND. 
The last time I was at this hotel was about 20 years ago when it was a Four Seasons. I went with my sister Carol, who was visiting from Pennsylvania, to spend time with my niece and nephew at LEGOLAND. BTW: It seems the Four Seasons still has a footprint on the hill but in the form of private residences. I'm not exactly clear on all the details; it's completely separate from the Park Hyatt but they share the same long, beautifully manicured driveway.
I've wanted to stay at the Park Hyatt Aviara Resort, Golf Club & Spa for a while. I'd heard great things about it and I remember reading that the New York Yankees stayed there during the playoffs in 2020. I also heard from one of the workers that the Los Angeles Dodgers have stayed there, too, so you know it's got to be nice.



A lot has changed since I was last there. Not only is there a new owner and management company but they spent more than $50 million remodeling the property in October 2020. It's now recognized by Forbes as Five-Star and AAA as Five Diamonds. It's obviously very plush, like most Park Hyatts around the world that I've been fortunate enough to stay in, including those in Toronto, Seoul, Shanghai and Sydney. All four of those properties are amazing.
Here's how our stay at the Park Hyatt Aviara Resort, Golf Club & Spa went, from beginning to end:
We arrived at the hotel at 3:15pm. The valet quickly came to our car, welcomed us and asked if we needed help with the luggage. We did. He handed me a ticket and pointed me to the front desk.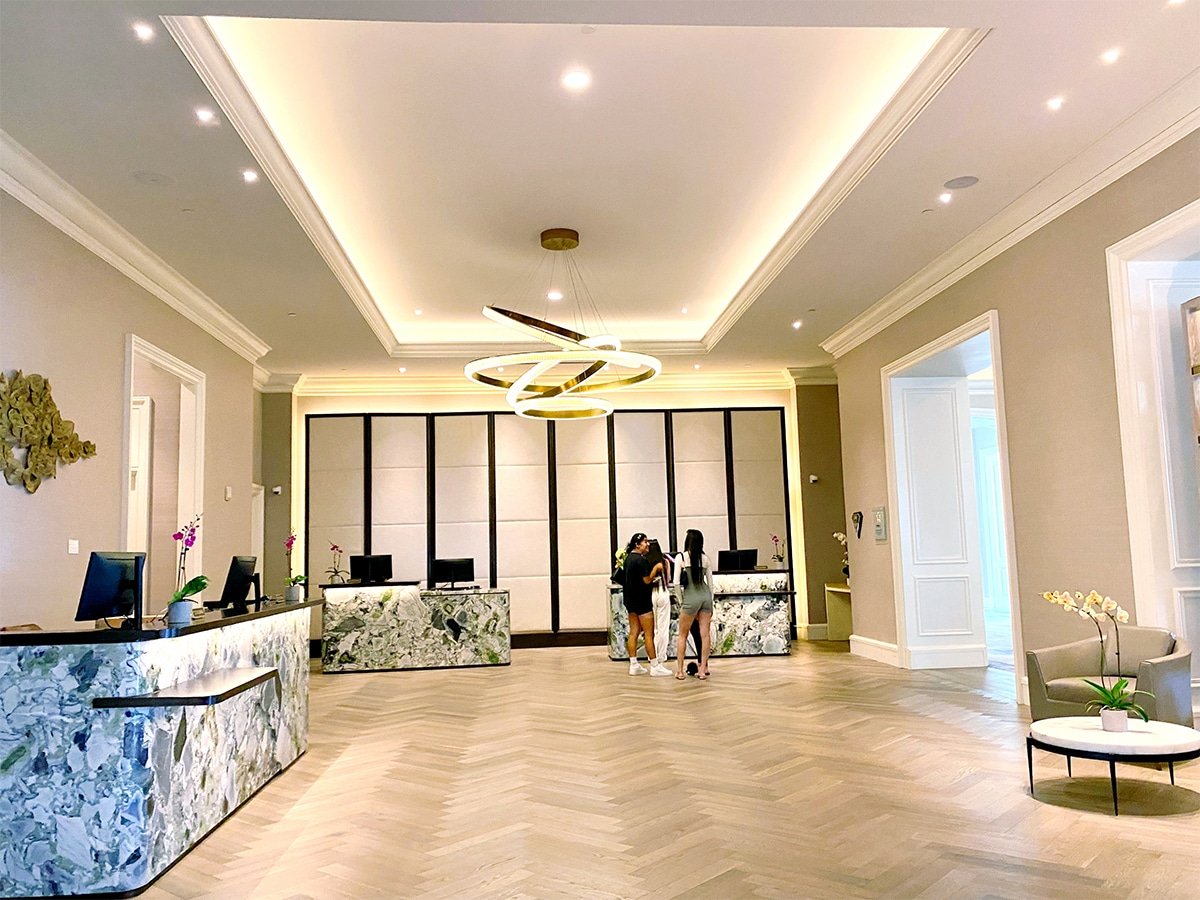 The lobby is expansive and gorgeous (my wife tells me I need to mention the beautiful herringbone flooring), immediately setting the stage for the rest of your stay.
There was plenty of staff working the front desk so we didn't have to wait around to check in. Afterwards, I did a quick hotel tour with the marketing team, since they were kind enough to set up our stay. While I took the tour, my wife and kids headed to our room on the fourth floor. The hotel has five floors and the lobby is on the third floor.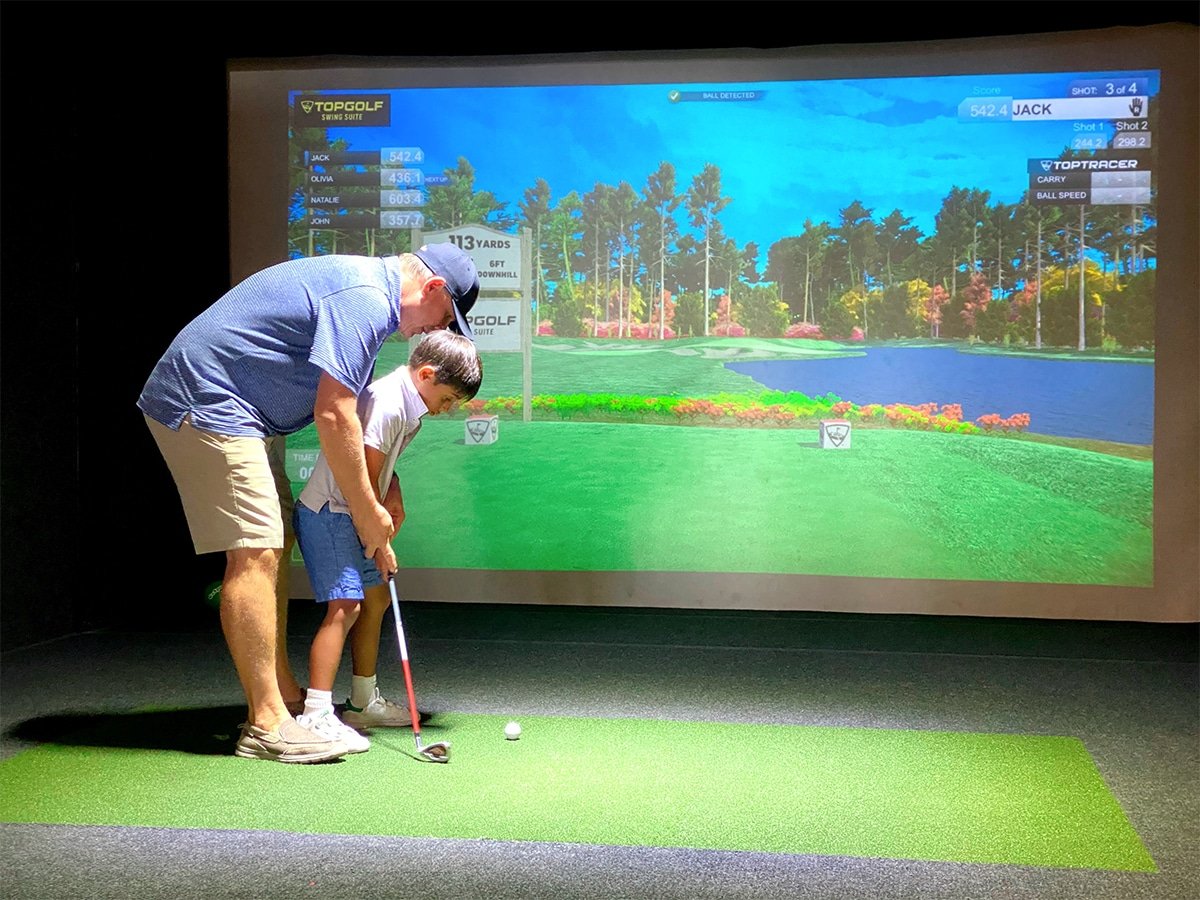 TopGolf Swing Suites
After briefly checking out our room (details below), we made our way to one of the hotel's two TopGolf Swing Suites. It was the first time I'd gone to a TopGolf Swing Suite and I thought it was going to be just for adults and the only game would be golf. But I quickly learned that it's very family-friendly and that there are dozens of games to play.
The suite, which accommodates between four and eight people, is great family fun and is a perfect place to have a little party as they have a couple of high-top tables, a couch and of course, a large screen for the interactive, multi-sport games.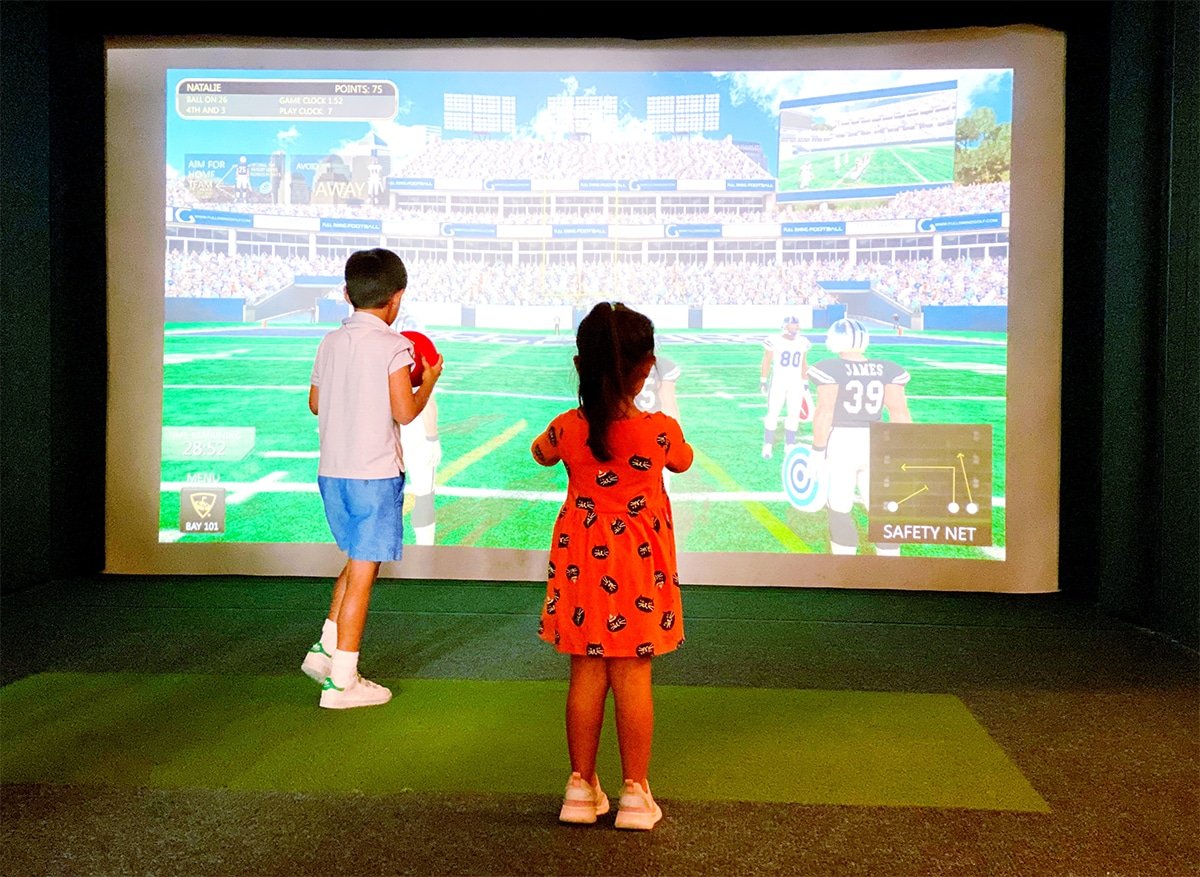 We had the suite reserved for an hour, which wasn't quite enough time because there are so many games including a carnival where you throw a ball at virtual bottles, baseball (players have to try and strike out the batters), a football quarterback challenge, soccer penalty kicks (my kids' favorite) and Zombie dodgeball, which was a little scary for them (they're four and seven).

We ordered a few bites to eat, all of which were delicious, especially the signature sushi roll my wife ordered. We were told the property has a new sushi chef, who hails from the Nobu in Newport. Find more details and make a reservation here.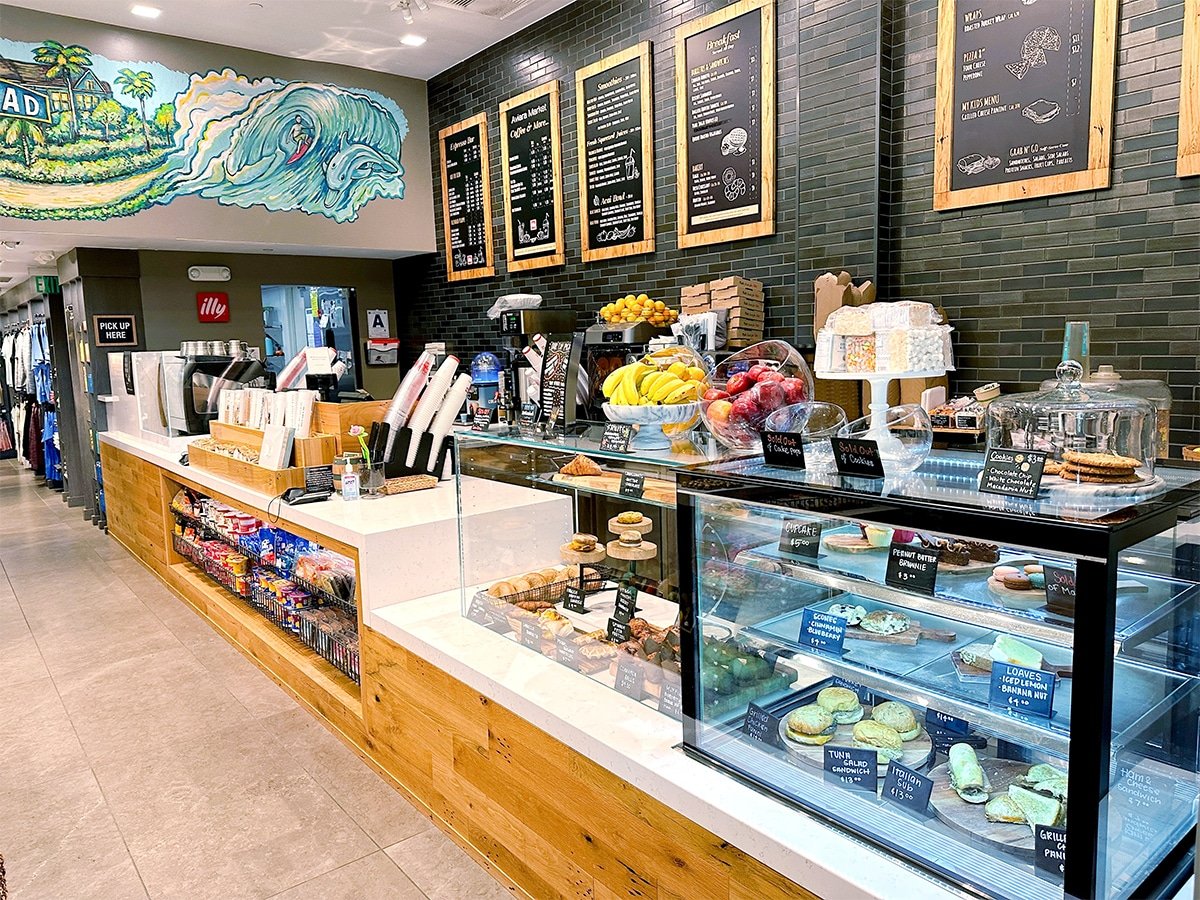 Aviara Market
On the way back to our room, we stopped in at the Aviara Market. After perusing all the goodies, my wife and I agreed that this market is, hands-down, the best hotel market we've ever been in.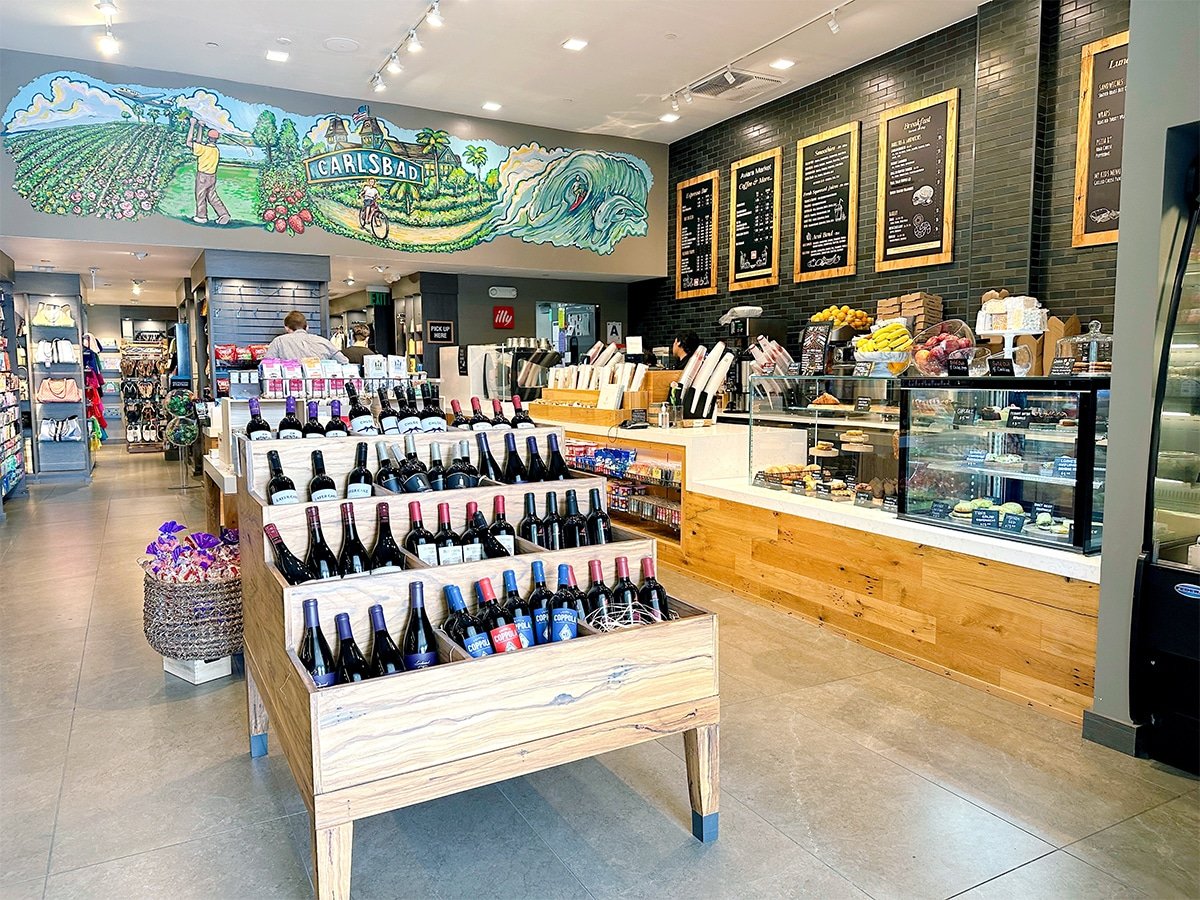 They have an amazing selection of everything you can imagine from snacks, treats and toiletries to kids toys, pastries, smoothies and clothes. The best part is that they don't rip you off like most hotel markets. Everything was very reasonably priced. For instance, inside a small freezer were pints of Ben & Jerry's for $5 and pashminas for $30, which my wife said would easily cost four or five times that at other resorts. We did encounter one exception, which was the $30 S'mores kits, which came with enough marshmallows, graham crackers and chocolate to make just four S'mores.
But that was the exception, not the rule. If you go to the market after 1pm (they close at 10pm), cookies, muffins, croissants, brownies, bagels and cinnamon rolls are discounted 50% off and cost just $1, which means that at full price, many of the bakery items are just $2. For such a plush resort, it was refreshing not to see unreasonably inflated prices as most travelers have become used to.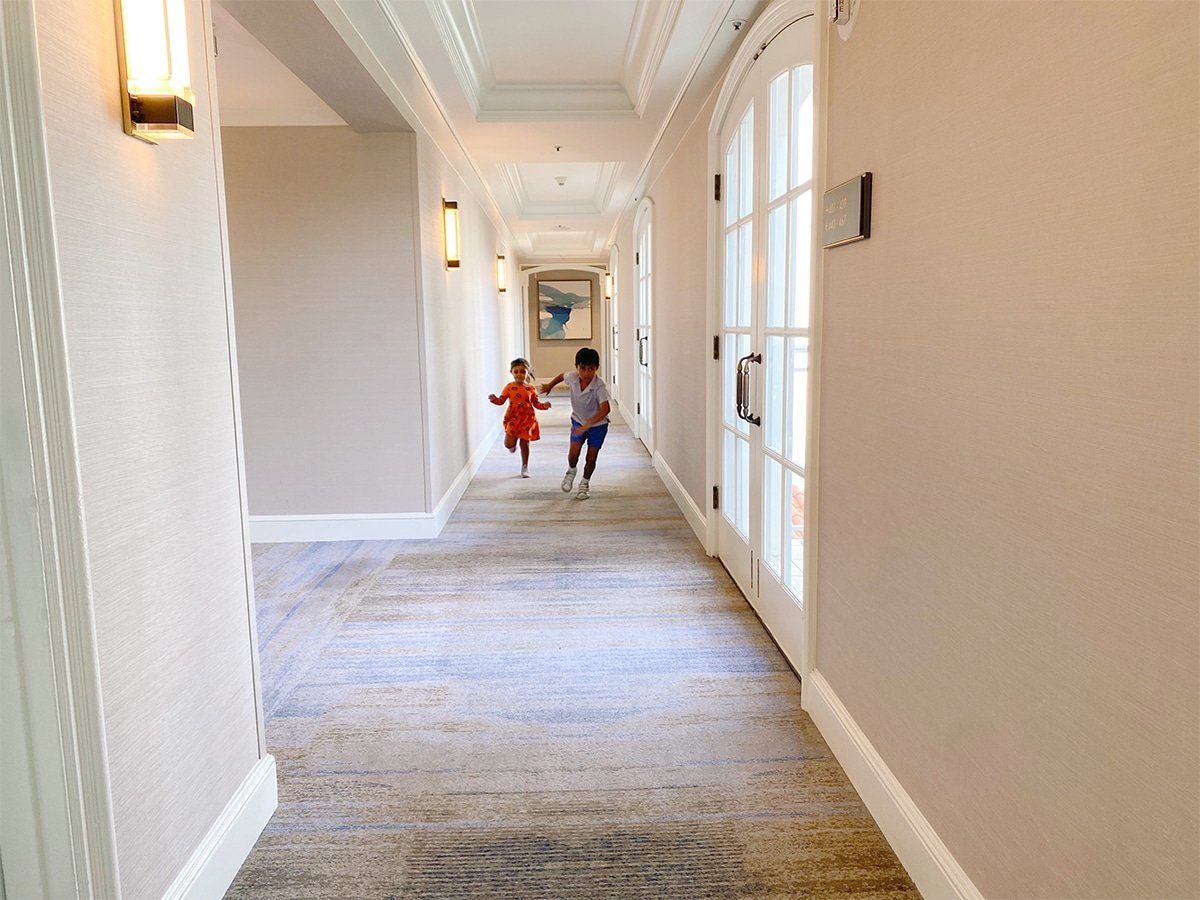 Wide, spacious hallways
It was time to get the kids ready for bed so we headed up to our fourth-floor room. The kids loved the large, bright, exceptionally wide hallways, which continued the luxury feeling throughout the property.



The rooms
The first thing we noticed is that the two beds were king-size, not queen or even full as you sometimes find in double rooms. Two king-size beds! My wife almost wept with relief, knowing that a good night's sleep awaited here, even if both kids crawled in with her. And the beds did not disappoint. My wife and I slept extremely comfortably and even our seven-year-old son didn't want to get out of his comfy, cozy bed. The only thing the room lacked was more power outlets or USB-C ports. There were plenty of USB ports but since technology is moving away from those, we couldn't use them.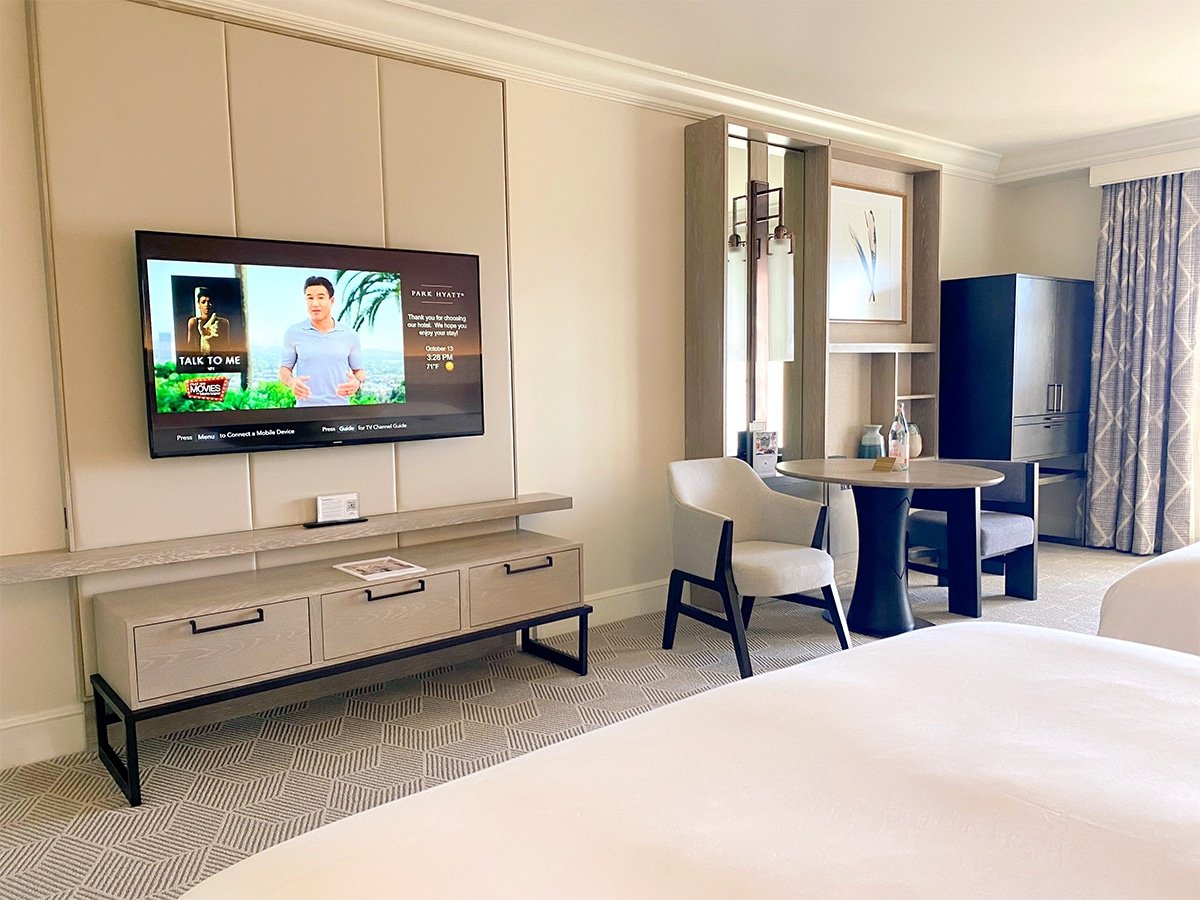 Our room also had a large TV …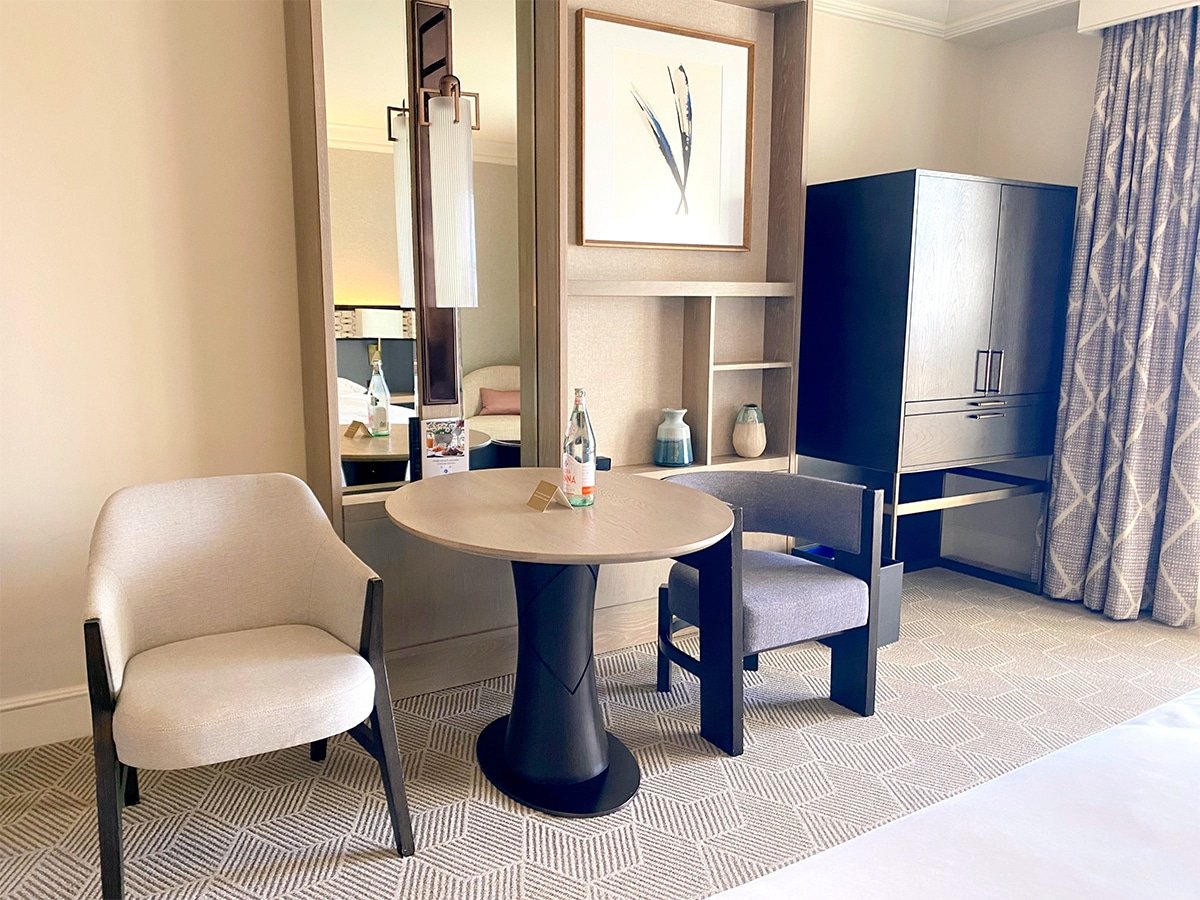 … and a comfortable working desk.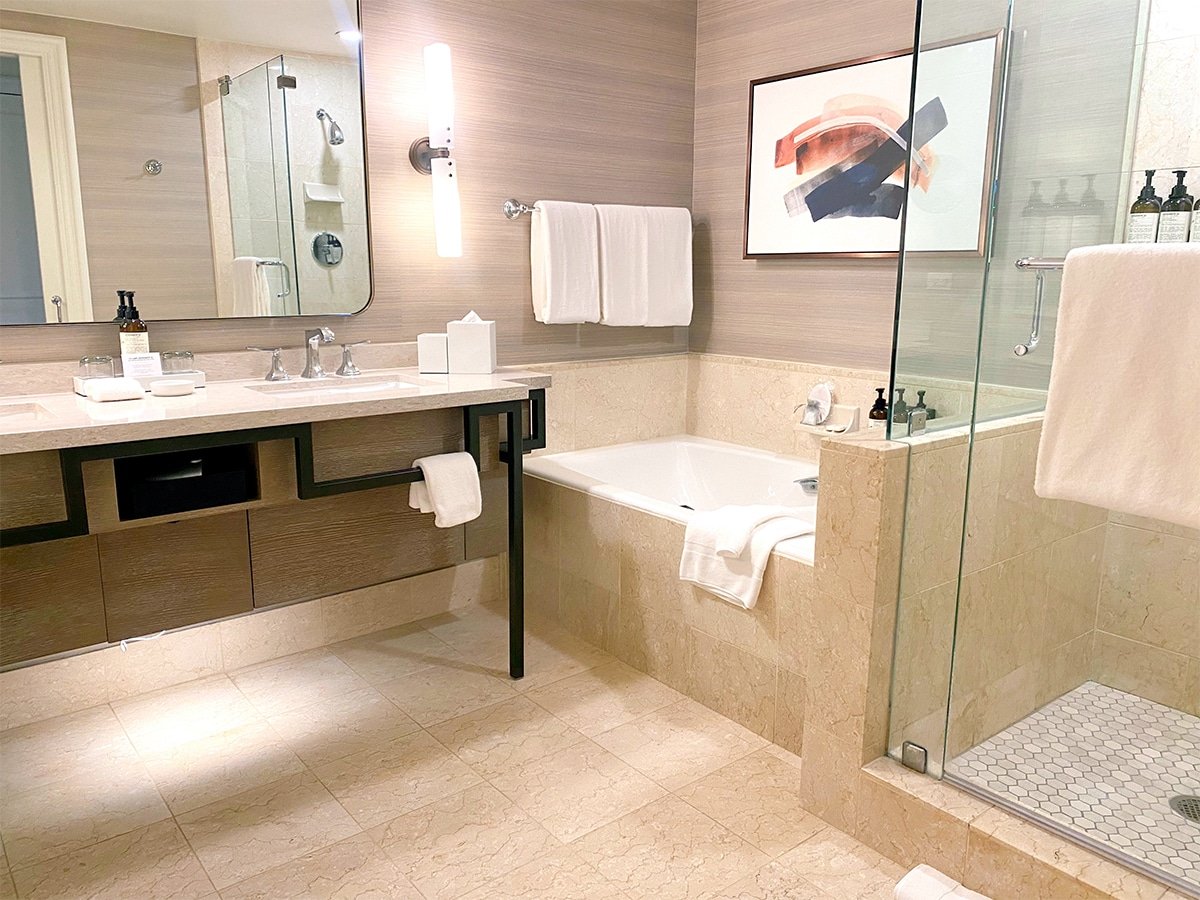 Bathroom
The bathroom was extremely spacious with a large double vanity, a deep soaking tub and a separate shower.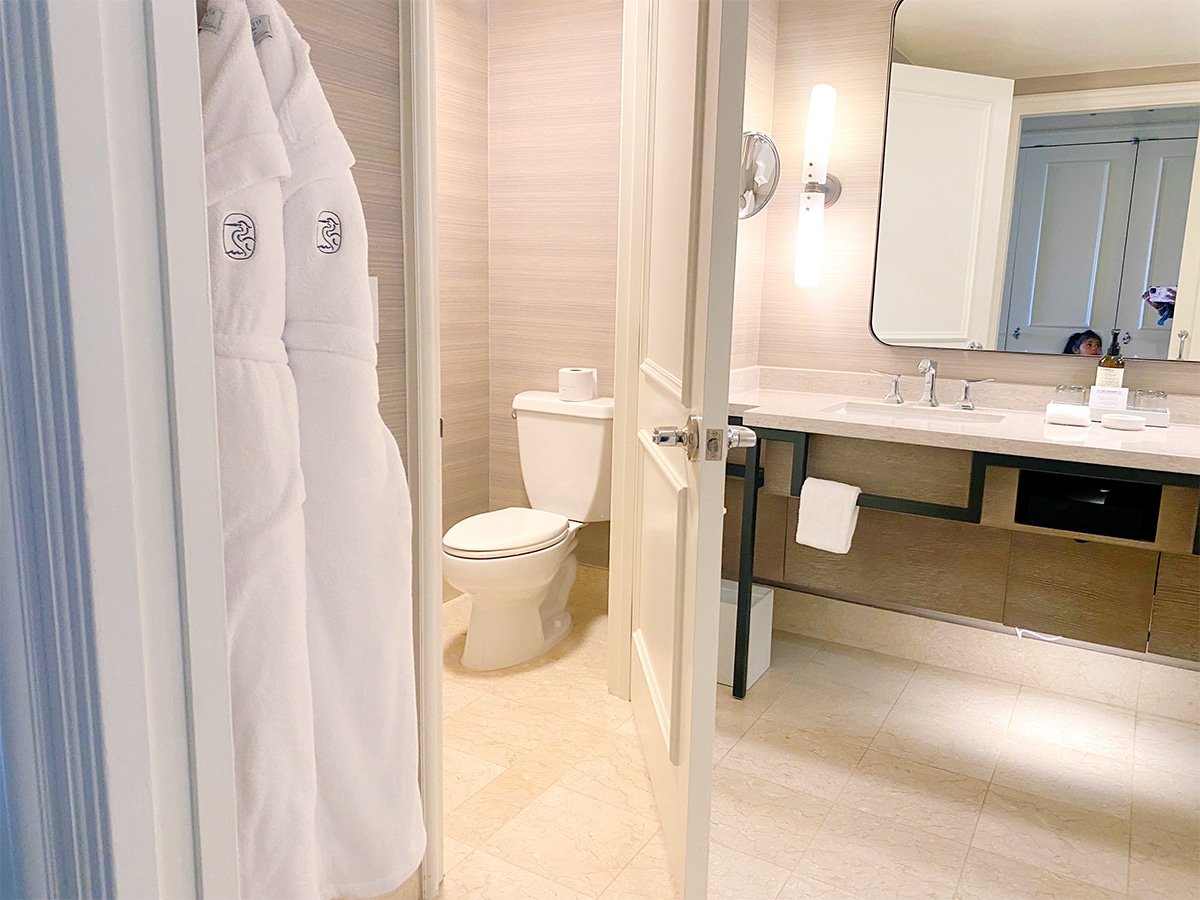 I appreciated that the toilet was behind a closed door. You'll also find luxurious and cozy hooded Frette robes, which are the perfect ending to a long day and a hot shower.

Bonus: Our room had a balcony with a view!
Night lights
A nice touch that many guests will appreciate is the motion sensor night lights underneath both the beds and the bathroom sink. They stay on for 45 seconds. If you don't want the nightlight on in the bedroom, just slide a pillow next to it and it will cover up the light. But the one time I got up to use the loo in the middle of the night, it didn't wake my wife.
Turndown service
Another luxury of staying at the Park Hyatt Aviara is that they not only have daily maid service but they also offer daily turndown service. The housekeepers give guests two cans of water and chocolates.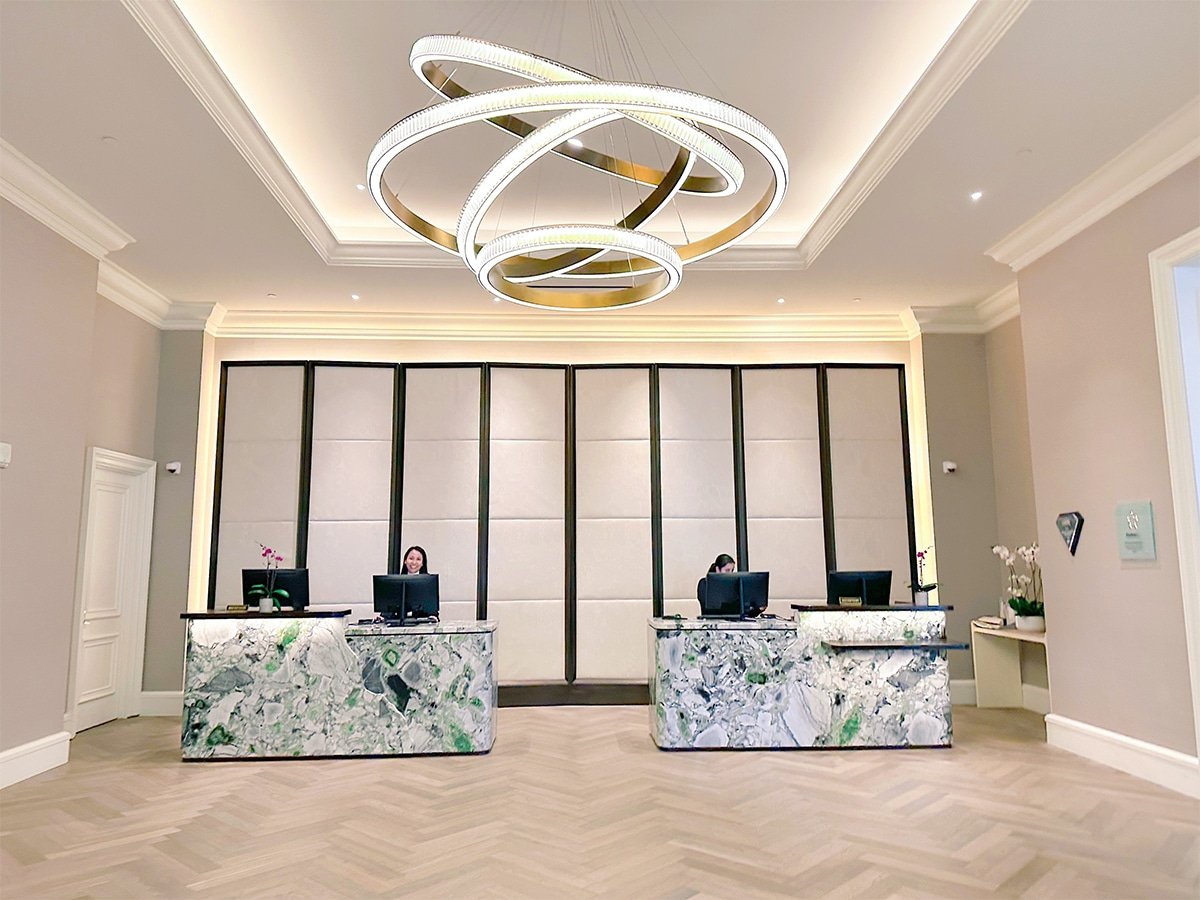 Answering phones
One thing I've noticed about many hotels since the pandemic began is that the operator, front desk and other departments like housekeeping, room service and valet never answer the phone in a timely manner. Sometimes they don't answer at all. It's extremely frustrating for guests. Well, that's not the case at the Park Hyatt Aviara. Almost every time I called down, they answered on the first ring except once on the Sunday morning we were checking out; they must have been slammed.
The hotel even has an emergency line, which I accidentally dialed because I didn't have my reading glasses on, but they answered immediately, which was refreshing. So did the other departments, including the valet who had our car ready whenever I asked.
Speaking of the valet, when we were heading out, the kind woman working the kiosk asked if we'd seen the solar eclipse. We hadn't. I thought you could only see it on a narrow path from Oregon to New Mexico and then on to South America. She handed me and the kids eclipse glasses and it was truly amazing. I'm so glad she said something because we would have missed out on a life experience. The kids were so happy, especially my son who is really interested in space.

My point is that she went above and beyond as did other workers at the hotel including many of the staff in the Market, who gave our kids some stickers that probably cost a nickel but meant so much to them.

FYI: When the woman working the valet desk gave us the eclipse glasses, we were heading out to LEGOLAND, which is just 4.4 miles and a 12-minute drive away. Here's our story.

When we returned from LEGOLAND, the first thing the kids wanted to do was head to the pool.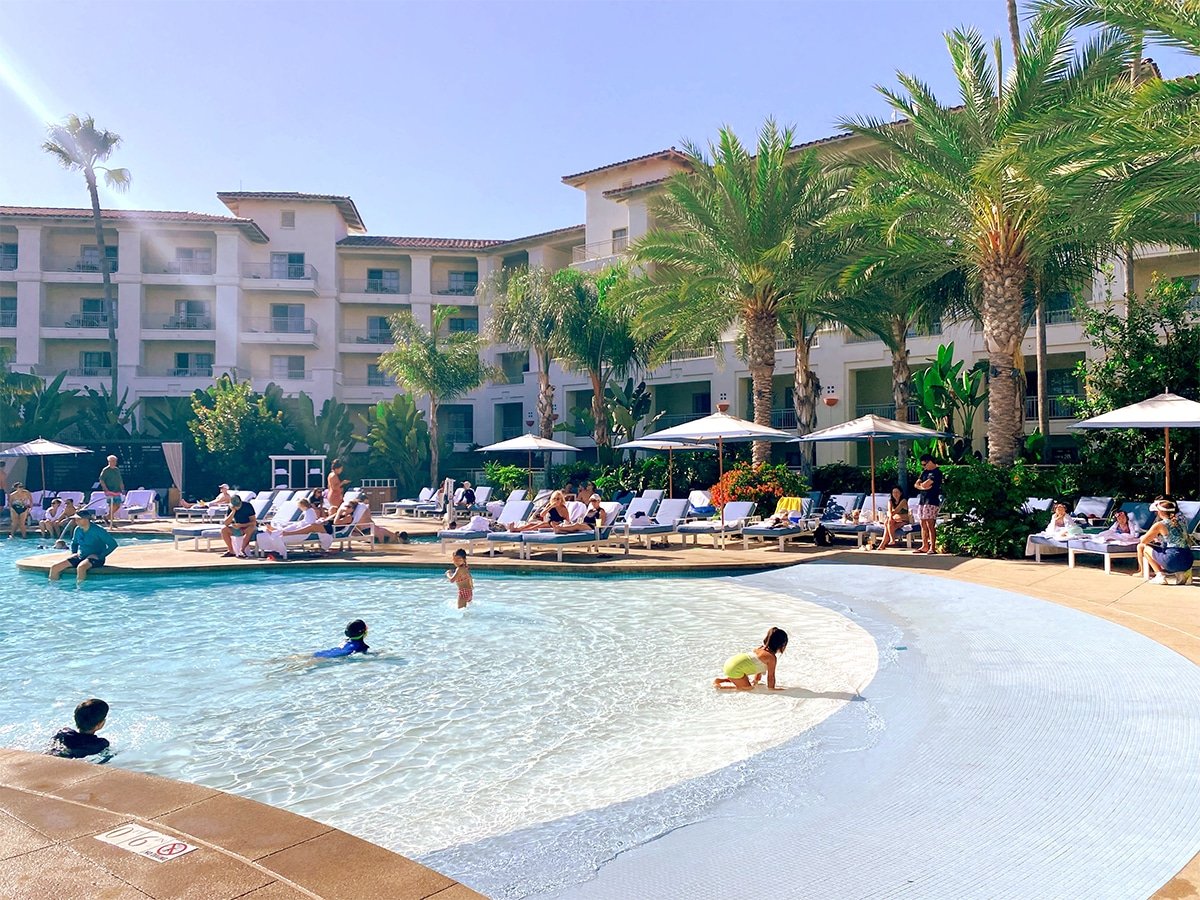 Resort Pools and Cabanas
The resort has two pools. There's an adult pool (18 years and older) on the Ocean View Pool Deck. The Splash Pool Deck is very family friendly and packed. It was hard to find an empty chair or a spot in the hot tub.

By contrast, the adult pool was calm and peaceful and there weren't too many people when we went by. And if the serenity isn't enough, it's got a spectacularly gorgeous backdrop, too.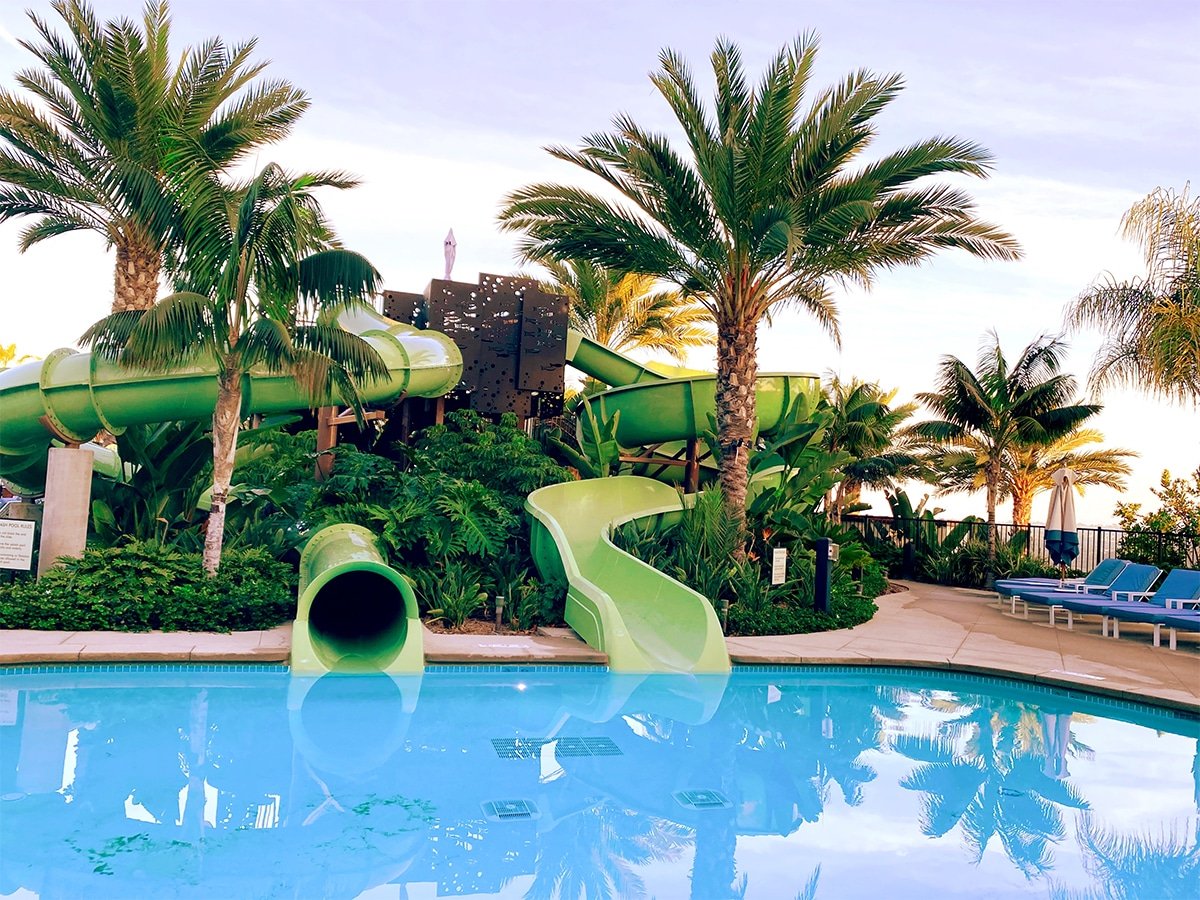 Both pools are open 24 hours a day, daily but pool with two waterslides (one covered and one open) are open from 11am to 4pm daily. FYI: The sign says kids have to be 48 inches tall to use the water slide but a lifeguard said kids have to be 42 inches tall so be sure to confirm.
Golf and Tennis
A big draw for this resort is definitely the Aviara Golf Club, which was designed by Arnold Palmer and named the #1 golf resort in Southern California by the readers of Condé Nast Traveler. It has also been recognized as one of the country's best resort golf courses by Golf Digest and Golf Magazine.
The same goes for the tennis club, which was ranked among the Top 50 Tennis Resorts in the World by Tennis Resorts Online. They have six state-of-the-art lighted tennis courts, two Har-Tru clay courts, and one court with stadium seating for events and tournaments. Court reservations are available on an hourly basis.
Batiquitos Lagoon Trail
There's no doubt you will see guests carrying golf clubs and wearing tennis or running outfits, all taking advantage of the Park Hyatt Aviara's lush 200 acres and the scenic Batiquitos Lagoon, with their digital walking and running maps. You can download the RunGo app on your smartphone. Unfortunately, we were only there for two nights and didn't have time for everything so we missed out on the above (hence, no photos). 
Dining Options
You won't go hungry at the Park Hyatt Aviara, that's for sure. The resort has five dining options, not including Ember & Rye, which is popular with locals. (Currently, the restaurant is temporarily closed due to a grease fire.) We tried all the rest except for the 24-hour in-room dining.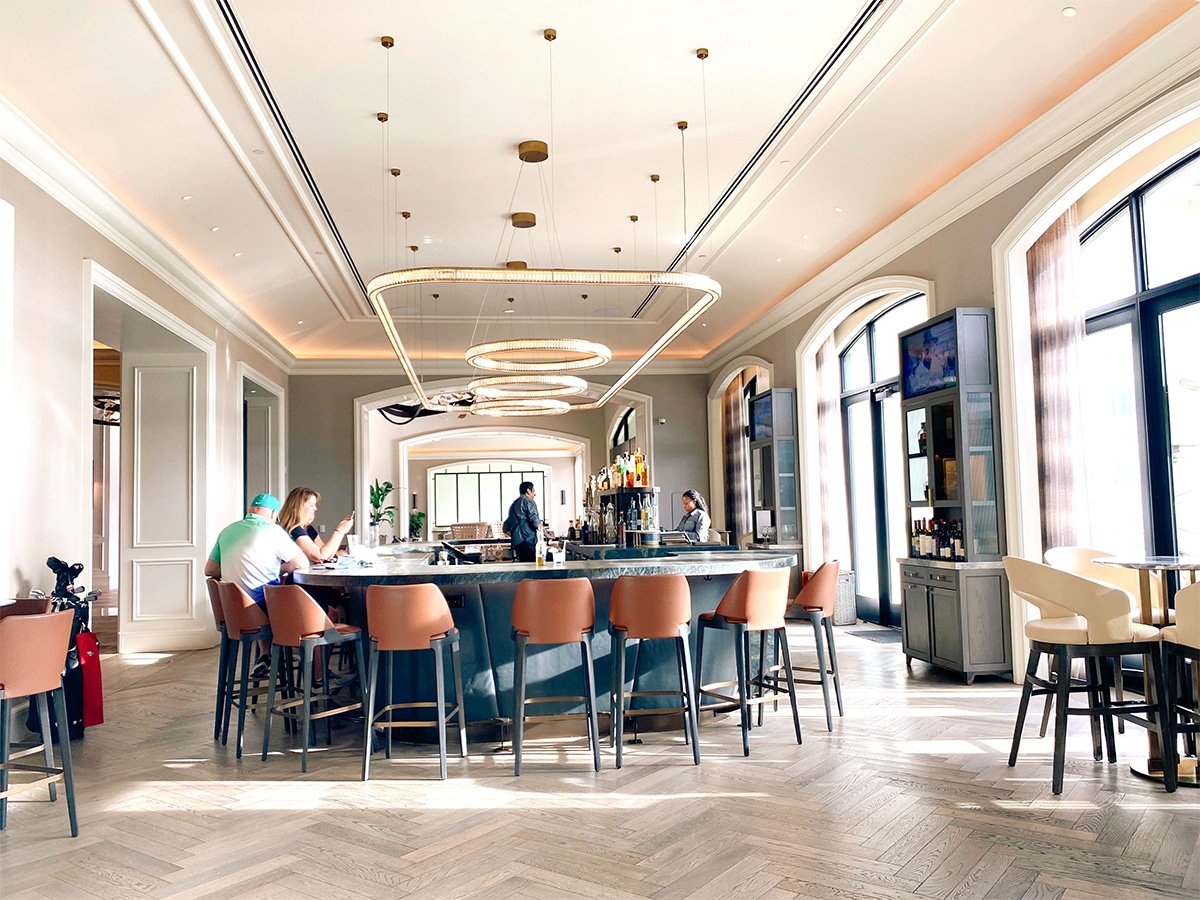 Pacific Point
The first place we tried was Pacific Point, the chic lobby bar across from the TopGolf Swing Suite. We also tried the Aviara Market as mentioned above, where I had an acai bowl as well as some impossible-to-resist, freshly made (and discounted!) pastries.

Waters' Edge
We had an early dinner one night at Water's Edge, which is situated between both pools. It has beautiful surrounding coastal views and an ocean breeze. I had the chicken burrito bowl and my wife ordered the nachos.

Afterwards, we ate the S'mores we'd gotten at the market …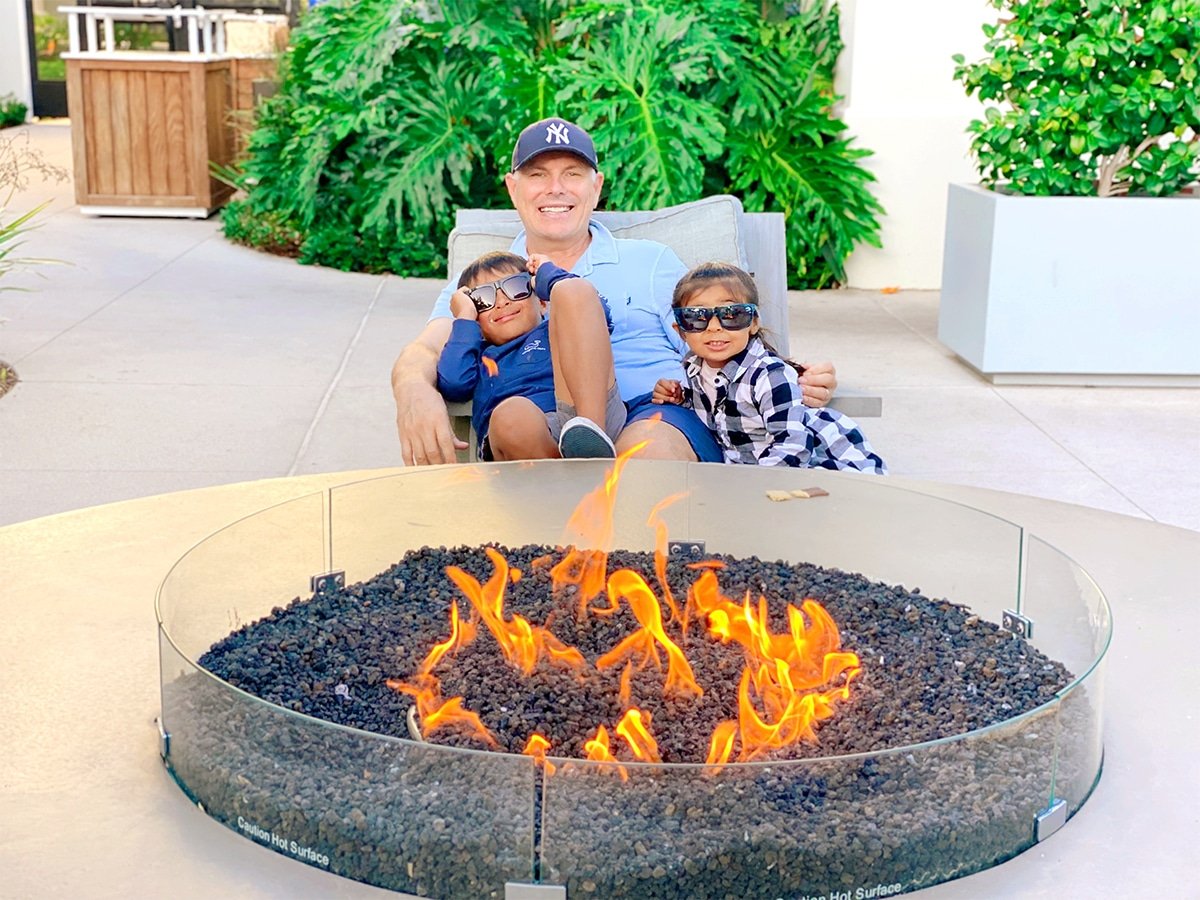 … and enjoyed an evening by the warmth of the firepit.

Ponto Lago
On Sunday morning, we indulged in the breakfast buffet ($40 adults, $20 kids) at Ponto Lago.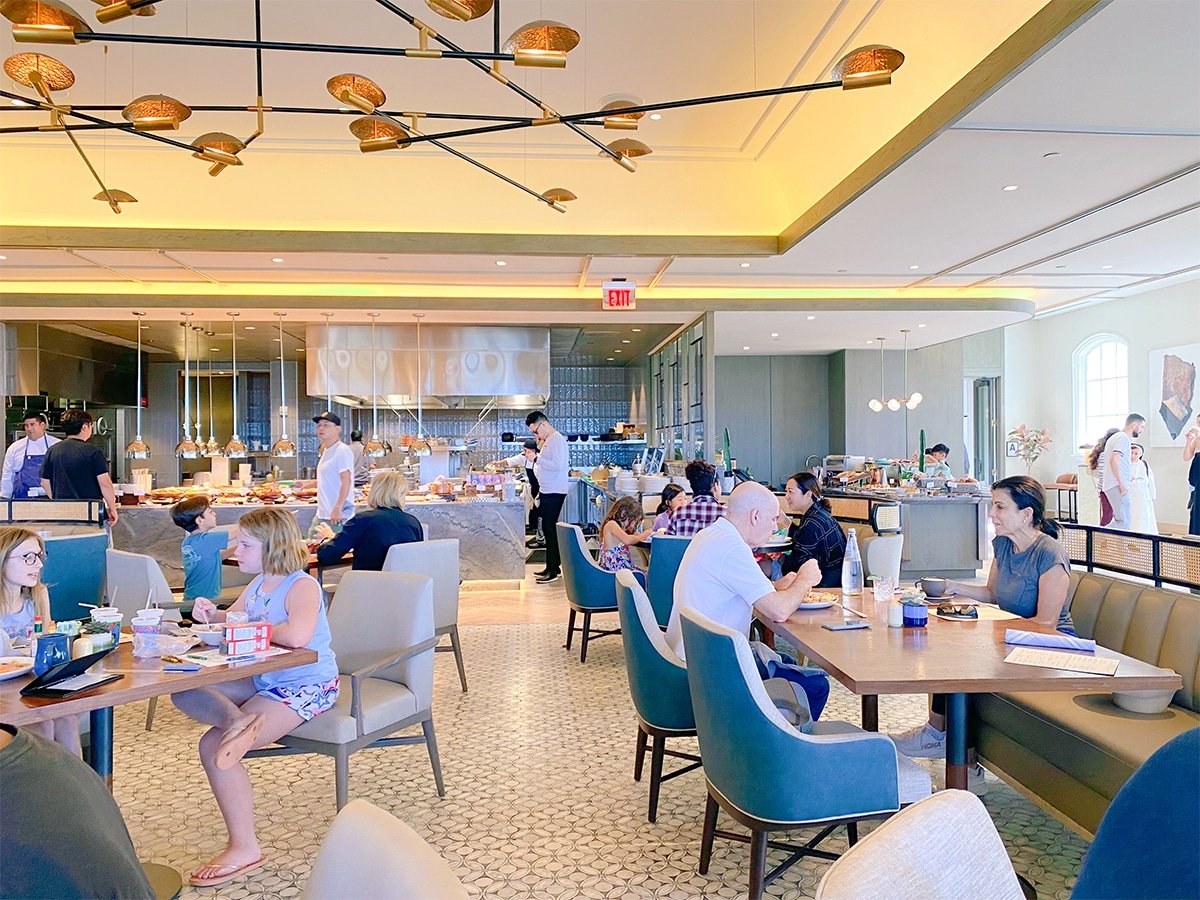 It's served from 7am to 11am and offers inventive Baja California-inspired cuisine with a local influence.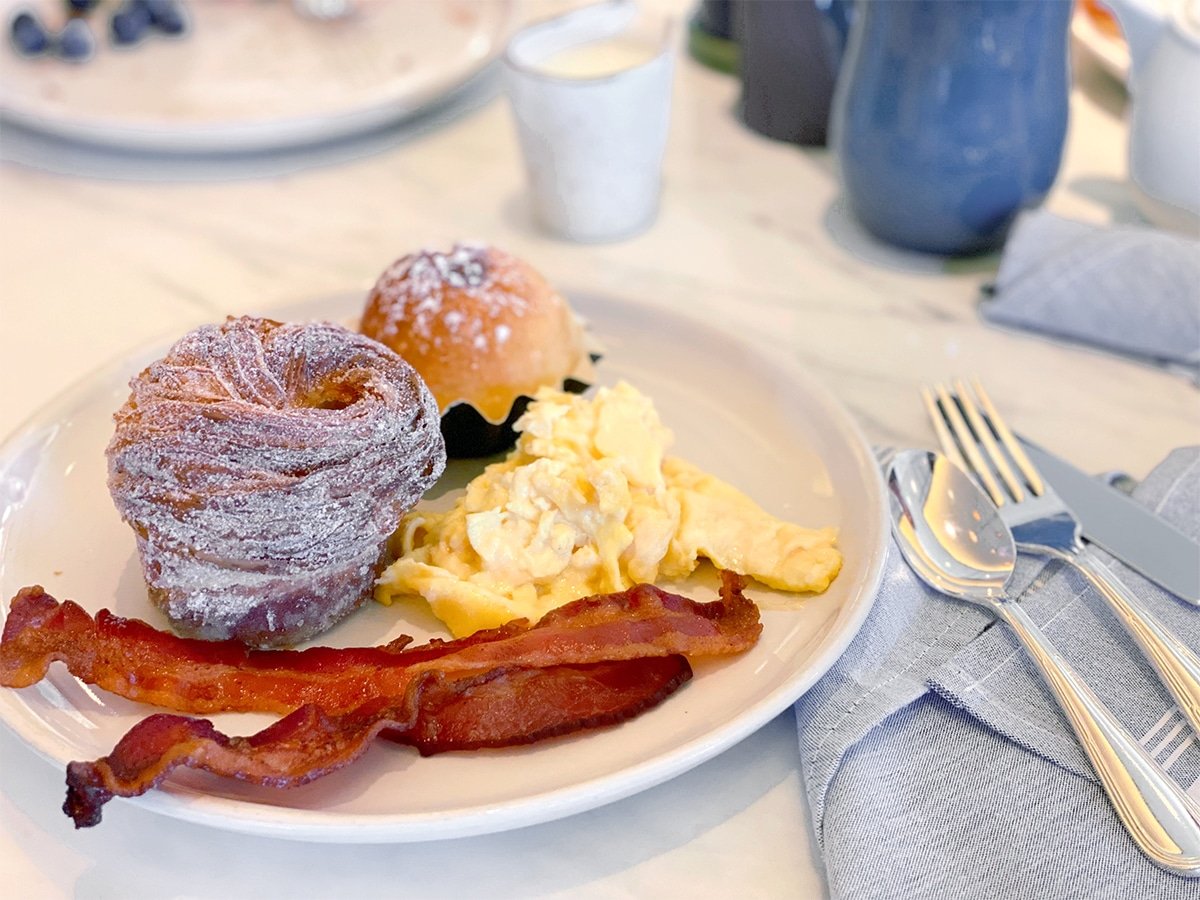 At 12pm on Sundays, the restaurant offers a Baja California brunch ($68).
Overall, we had a fantastic time and our kids begged us to spend an extra day or two, which brought me back to my childhood, as I used to beg my parents the same way. The kids loved everything about the hotel, the beautiful room, comfortable bed, fun amenities and of course, the stunning views all around. We hope to return soon to report on everything we weren't able to see on this visit. 
KEEP READING:
–The Family-Friendly California Attraction You've Never Heard of But Need to Visit
–5 Family-Friendly California Road Trip Ideas From Los Angeles
–The 10 Most Instagrammable Tourist Attractions in California
–California Road Trip: Los Angeles to San Francisco and Must-Visit Stops Along the Way
–Our First Family Trip To Legoland and The Castle Hotel
Want more travel news, tips and deals? Sign up to Johnny Jet's free newsletter and check out these popular posts: The Travel Gadget Flight Attendants Never Leave Home Without and 12 Ways to Save Money on Baggage Fees. Follow Johnny Jet on MSN, Facebook, Instagram, Pinterest, and YouTube for all of my travel posts.