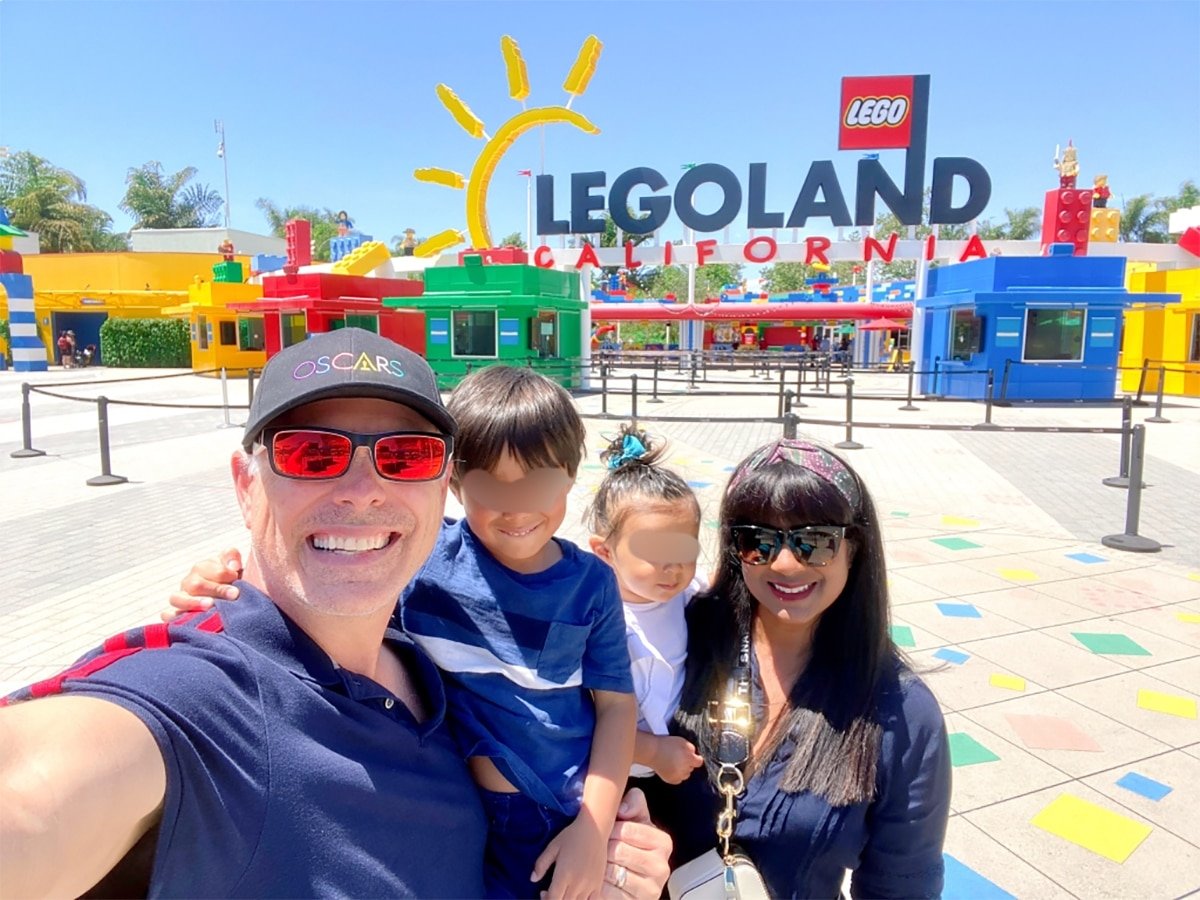 My family and I just returned from an amazing two-day trip to Legoland California, something I couldn't imagine doing with my little kids (21 months and 4.5 years) just a few months ago. Life is getting better lately thanks to the successful rollout and effectiveness of vaccines. As more and more people get vaccinated and cases go down, places are starting to open up and life is beginning to feel a bit more normal.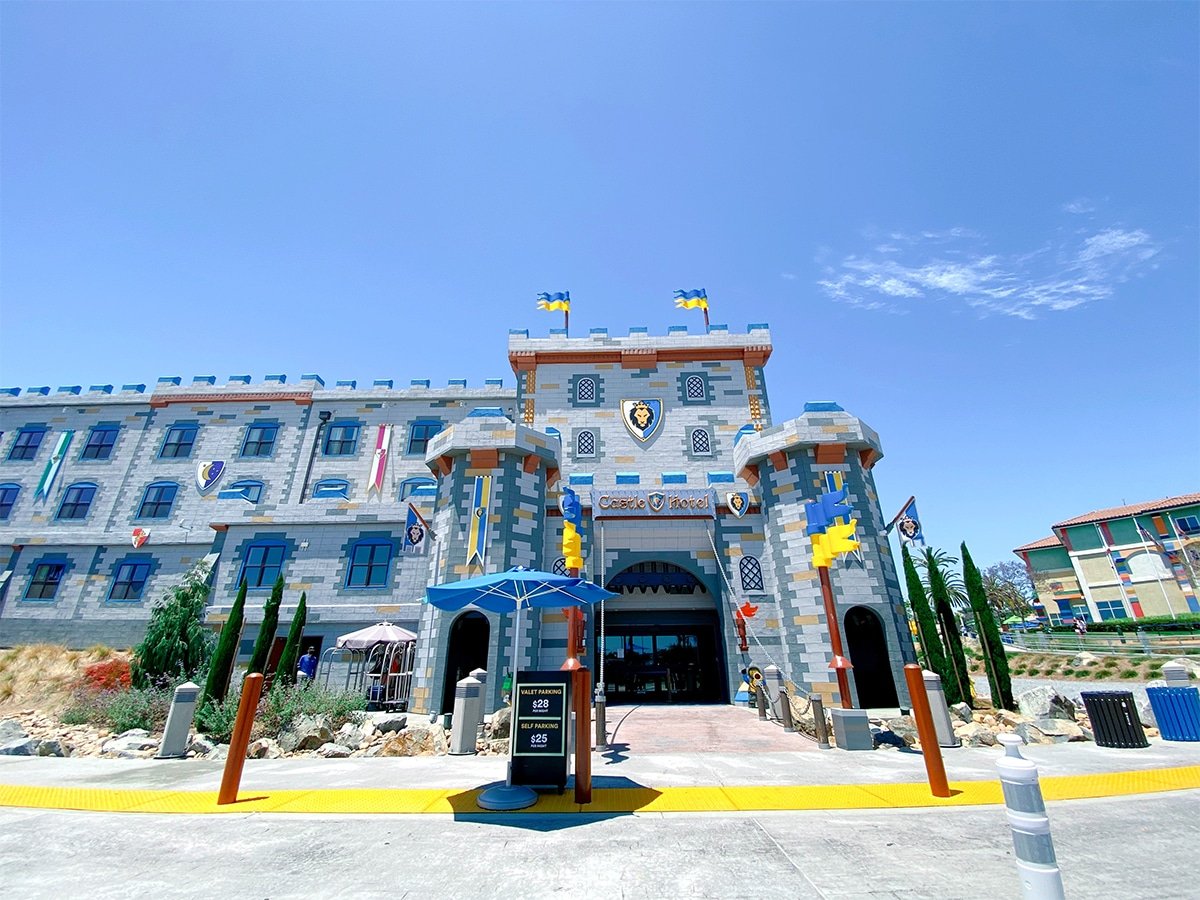 No Hassle Valet
There are two official Legoland Hotels on property and we stayed at their newest one, the Legoland Castle Hotel, which opened in 2018. I pulled up and saw the sign that states the parking rates: $25 a night for self-parking or $28 for valet. I chose the latter since it was a much shorter walk and it was just a few dollars more. The valet asks for your cell phone number, then sends you a link so that whenever you need the car or anything from it (it's like he knew me), you just tap to summon it. Works like magic.
Good To Know: Rooms aren't ready until 4pm but the valet/bellman will hold your luggage for you if you arrive early like we did.  The hotel supposedly texts you when your room is ready but I didn't get a text since I checked back at 3:55pm and was handed my room key.
Location
The park entrance is literally 50 yards from the hotel.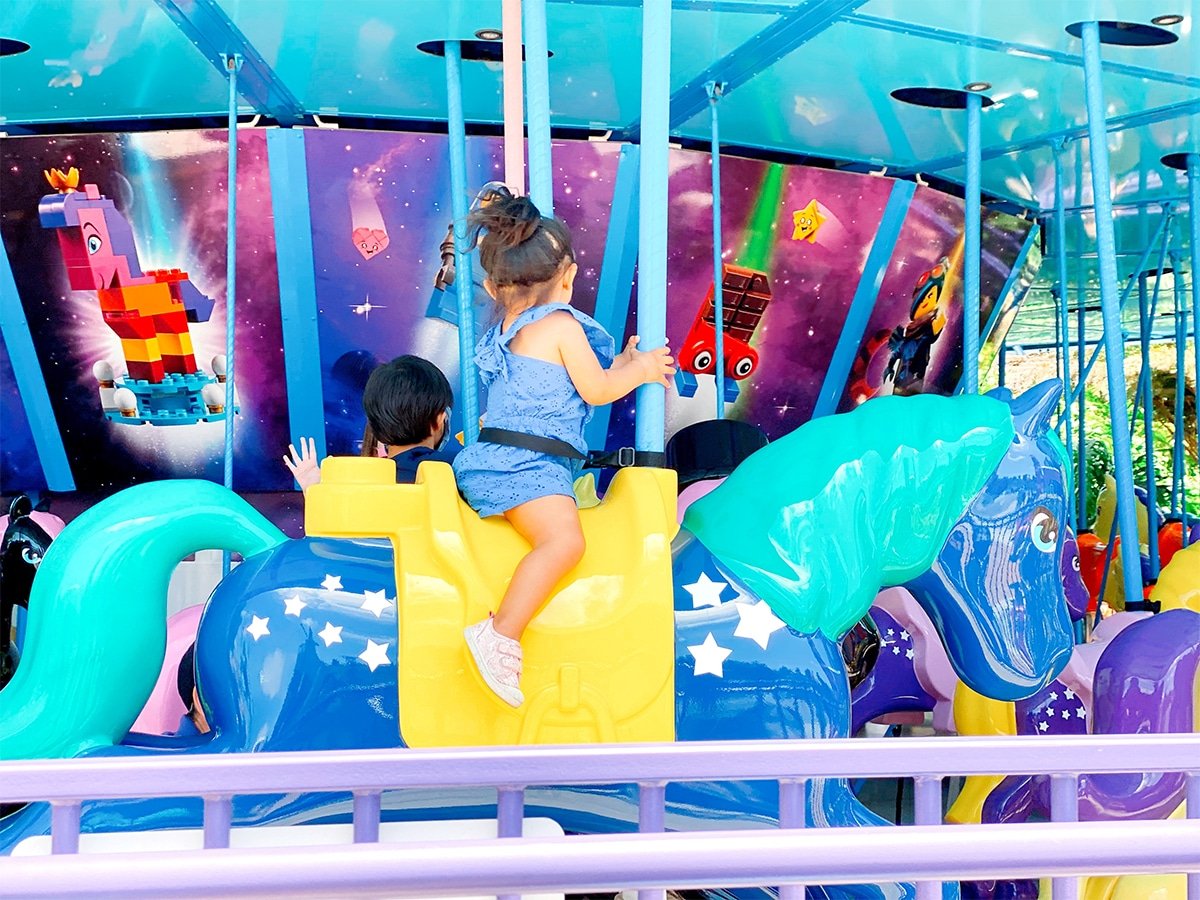 Inside the Park
My daughter loved it inside the park but the first ride we went on was the Safari Trek and after the short wait in line, the park attendant politely asked Olivia to stand next to the sizer. Sure enough, she was a couple of inches shy of the 34-inch minimum requirement. She took the rejection rather well but when it happened on the Sky Patrol ride, she snapped. I can't blame her. She already has some AV Geek in her and she's not even two!
There were rides she could go on, like the Fairy Tale Brook ride but her favorite by far was the huge carousel with 60 horses. It was the first time I'd really seen Olivia light up with so much excitement! She had a smile from ear to ear. That alone would have been worth the price of admission. She rode the carousel four times.
What's great about going to Legoland California before June 15th is that the park is under a 25% capacity limit so there were no long waits. Most queues were less than five minutes and the longest one I saw was for the rollercoaster, which was probably 20 minutes. We also went on a Tuesday, which the park attendant said is always slow. The following day we went and it was just a tad busier.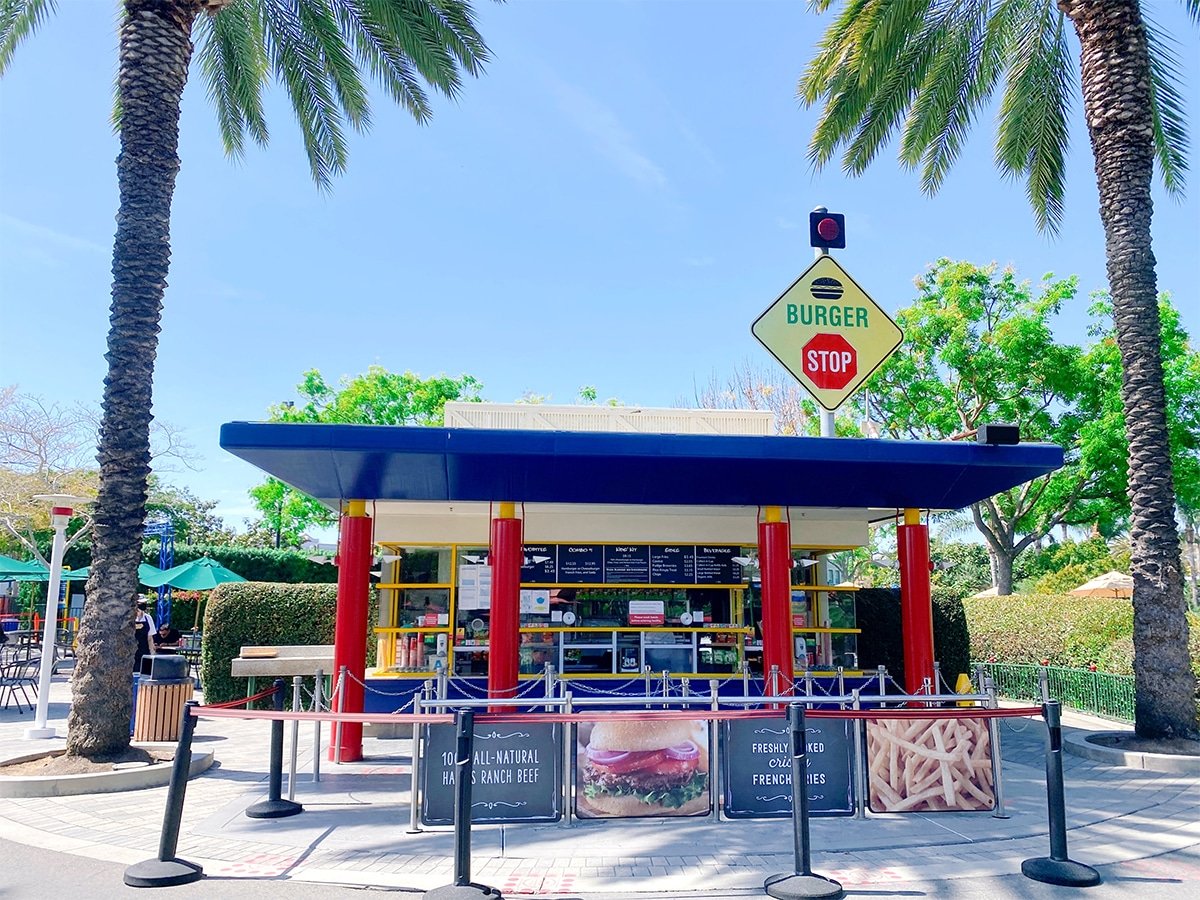 The food was reasonably priced, which I appreciated, but not everything was open. We went to the burger joint near the Sky Patrol and ordered two combo meals (cheeseburger, fries and a fountain drink) and it came to $27, which isn't bad for a theme park. Unfortunately, the burger was pretty forgettable. NOTE: Watch out for the seagulls that are lurking around the tables. When my wife turned her back on her meal to sanitize our daughter's hands, a seagull swooped in and snatched what was left of her burger.
Almost everyone wore their masks properly, although I think the kids wore them better than the adults (kids under two don't need to wear masks). Most of the park attendants were also pretty diligent about telling people to use the hand sanitizer stations, which are located all over the park and next to each ride entrance. Only once did I find a sanitizer station empty.
At 3:50pm, three out of the our of us hit a wall. If you guessed that Jack was the lone holdout, you would be wrong. Olivia was like the Energizer bunny and did not want to leave … probably because she didn't get to ride as many rides as Jack and couldn't get enough of the carousel.
We made our way to the hotel lobby and waited less than five minutes for a guest receptionist. He checked my ID and gave me our room key (235). Elevators state only one family per ride due to COVID-19 protocols, which was cool and everyone obeyed except us when we ran into our friends, Gabe Saglie and his family.
Everyone was excited to see the room and I was excited to put my dogs up on the bed as they were barking just like John Candy's in Planes, Trains and Automobiles. I can say the room is unlike any I've ever experienced before. It has huge Lego characters on the wall and two Lego pieces of art.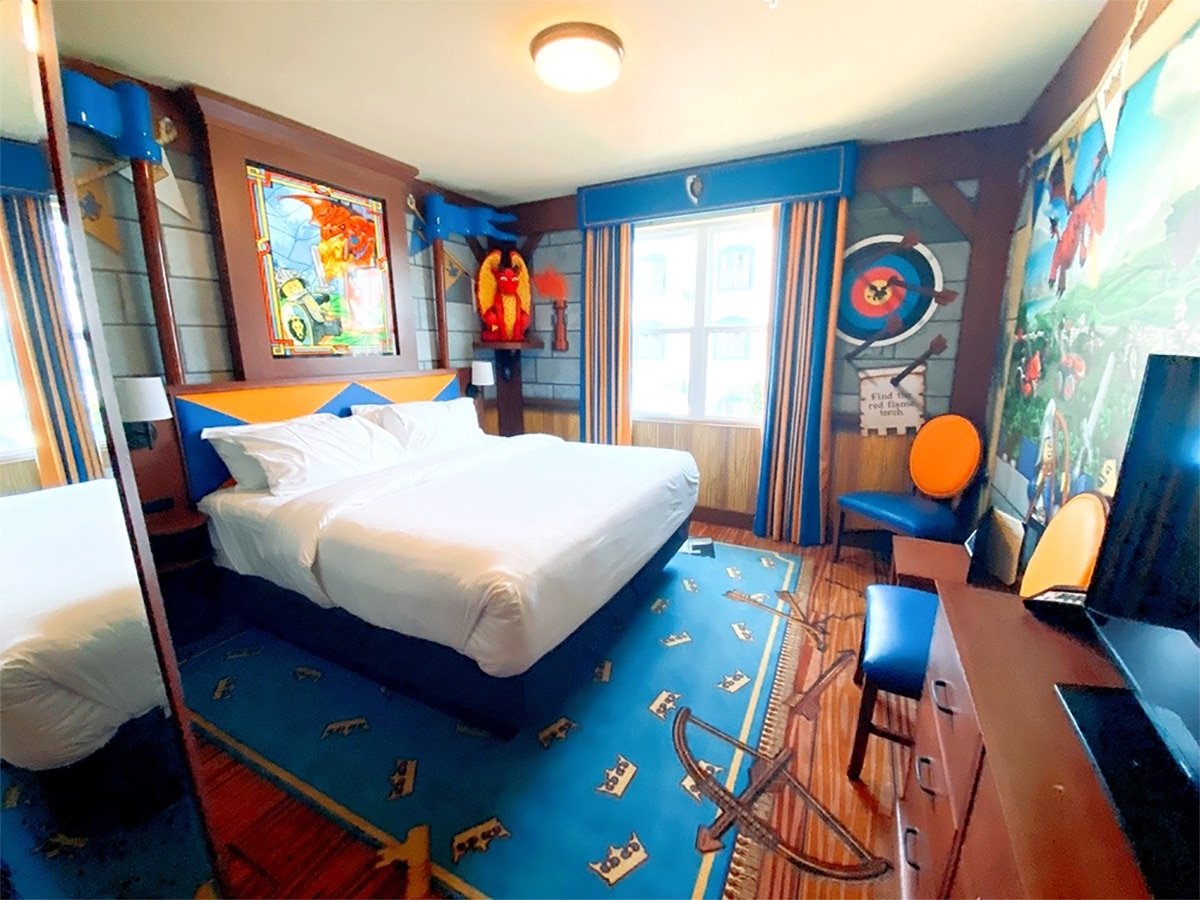 Rooms
Each room comes with a king size bed and an "Ultimate Kid's Quarters", which is a separate kids' area, partitioned by a blackout curtain with bunkbeds. There are actually three beds on the bunk bed as one is a trundle bed that slides out from under the bottom bunk, so it sleeps three comfortably.
Solar System
In the kids room, there's a tiny light switch with a star around it. Turn out the lights, shut the curtain (there's no door) to the kids room and enjoy the illuminated solar system on the ceiling.
Bathroom
The bathroom are bright and clean with two sinks and a tub with shower. There was no real LEGO theme in there but it does have a double toilet seat, which is brilliant for kids. The first layer is for the little butts and the second is for the big ones … like mine, not my wife's …
Rubber Edge Corners
The hotel does a fairly good job childproofing the room with edge corners, especially in the kids room. They use small, clear, indiscreet plastic ones, unlike the thick ones we travel with. If you need to protect little heads from sharp corners, you should still bring a few extras as there are some corners in the bedroom that still need to be covered. We always travel with rubber edge corners.
Tip: You might also want to bring a helmet if you're sleeping on the bottom bunk. My wife foolishly volunteered to sleep with my son and they must have knocked their melons a dozen times combined. Every time I heard a knock and a yelp, I just shook my head and stretched out a little bit more in the soft, cozy, king size bed.
Drinks
Each room comes with two complimentary bottles of water and two Honest Juice packs. It's a small touch but a nice one. I just wish the makers of the Honest juice squeeze packs would figure out an easier way to stick that dang straw in without fumbling with it for an eternity and squirting it all over the place once you finally get the straw in.
There's also a mini fridge, which is always great to have in a hotel room, since we can keep milk on hand for the kids.One thing that is annoying is the night lights in both rooms. If you're light-sensitive like I am, I recommend bringing some black gaffer tape to cover the light. Related: 10 Items I Carry In Case of an Emergency.)
LEGOs
The rooms also have a bucket of LEGOs and a wall to play with them on, which is great since you're less likely to step on them that way!
Google Nest
The rooms come with a Google Nest, which we have at home and are used to, so it was nice to be able to ask  questions like, "Hey Google, what's the weather tomorrow" or "Hey Google, how do you treat minor head injuries."
Breakfast Buffet
I think most package deals include the breakfast buffet. During COVID-19, you need to scan a QR Code to make a reservation and then you stand in a fairly long queue (it took about 15 minutes) to go through. You can either eat inside or outside of the restaurant or get a box to go (I assume the latter is due to COVID-19 protocols, which are scheduled to end on June 15th). The buffet has two types of scrambled eggs, bacon, sausage, biscuits, pancakes, French Toast sticks, yogurt, fruit cups, mini Tropicana Orange Juice, Honest Juice packs. The hot food is dished out to you but the others are grab and go. They do a good job except for clearing the tables as they were definitely shorthanded.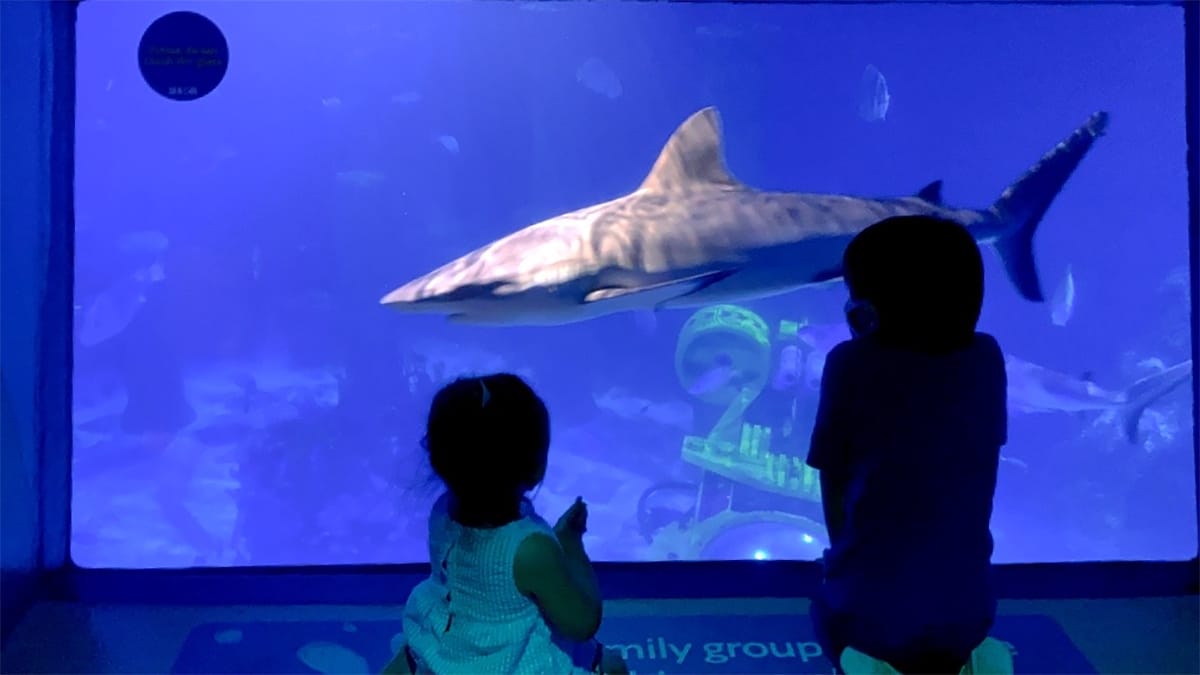 Sealife Aquarium
After a short rest, it was time for us to check out the Sealife Aquarium, which I've visited once before at Mall of America in Bloomington, Minnesota. It's not as big or as cool as the one at MOA but then again, what is? However, this aquarium is perfect for little kids and ours loved the tanks and exhibits.
Lego Movie World
The reason we were at Legoland was for the opening of Lego Movie World. We were invited for a preview so it was a real treat to visit when there weren't many people around. The new section of the park is based on The Lego Movie and The Lego Movie 2: The Second Part. Unfortunately, we hadn't seen either since my kids are a little young and I'm, well, you know …
It's the largest addition in the park's history, and features six interactive attractions, including Emmet's Flying Adventure Ride where kids and families will hop aboard Emmet's triple decker flying couch for a thrill-seeking adventure. Olivia was too small for this ride so I took Jack but it was so amazing, I was disappointed that Olivia and my wife missed out on it. When you board, you're surrounded by a full-dome virtual screen and feel the sensation of flying above memorable lands such as Middle Zealand, Cloud Cuckoo Land, Pirates Cove and the Sistar System.
Emmet's Flying Adventure features cutting edge technology including a 180-degree turn in the ride experience. It's similar to California Adventure's Soarin' Around the World but since I'm not a kid and hadn't seen the movies it doesn't compare. But Jack absolutely loved this ride.
In addition to Emmet's Flying Adventure, kids and families can feel the rush of falling from Unikitty's Disco Drop, which launches guests to the top of Cloud Cuckoo Land, then drops, spins and bounces them back down to earth, creating a thrilling and fun experience.
Other attractions include Benny's Playship, ride Queen Watevra's Carousel, create at Build Watevra You Wa'Na Build zone, meet Emmet and all his friends in Emmet's Super Suite and enjoy tasty themed treats such as Cloud Cuckoo Crepes, Benny's Rocket Fuel and Everything is Ramen throughout the land.
The Lego Movie World will be included in the price of admission to Legoland California Resort. Guests can purchase tickets and reserve their spot through Legoland California's reservation system for their desired park visit. For more Resort information, operating schedule and to make reservations, visit: legoland.com/california.
Note: Due to the global COVID-19 pandemic, theme park access is available for in-state visitors where party size will not contain more than three households. Out-of-state guests will be required to show valid identification and proof of COVID-19 vaccination that has been completed a minimum of 14 days prior to entering. Out-of-country guests should consult the CDC Guidelines for protocols pertaining to their country of origin.