When I was invited to go to Minnesota to attend the ONE Travel Conference in late January I had one thought: "What are they crazy?!" But when the organizers informed me I would be receiving TravMedia's Travel Journalist of the Year award, it suddenly didn't seem so crazy—and I quickly accepted as those kinds of accolades don't come around very often (for me, at least).
Still, although I was ecstatic about winning such a prestigious award, I was dreading the trip. After all, the upper Midwest has been in the news for weeks because of record low temps and the extended forecast wasn't looking any better. In fact, the day I arrived the high was -2°F (-18°C) and the low -16°F (-26.5°C)!
The 2014 conference was held at the Radisson Blu Mall of America in Bloomington, Minnesota. It turned out that it didn't matter how cold it was outside because everything (and I mean everything) I could imagine was just steps away in this indoor haven where the average temp was 72°F. In fact, I seriously could've left my coat at home because there was no need to go outside except to walk a few yards to and from the airport shuttle van. In fact, I was so awestruck by the Mall of America that I couldn't wait to write about it—and so without any further ado, here are my 10 reasons you should go to the Mall of America (MOA).
1. Location
Mall of America is just a few miles from the Minneapolis/St. Paul International Airport (MSP). The airport is a major hub for Delta Air Lines so flights are coming in and going to destinations all over the world at all times. If you have a long layover at MSP, don't just hang out in the airport; jump in a taxi ($12) or on the light rail ($1.75, and it runs direct to the mall from the airport) and head for the MOA. It only takes 10-15 minutes and you can even check your luggage at the mall. Smartecarte charges $10 for the first suitcase and $4 for each additional piece.
Good to know: If you are staying at one of Bloomington's hotels, most offer a free shuttle to the mall and the airport. Just call them up and let them know you're there—just like I did at the Radisson Blu Mall of America.
2. Radisson Blu Mall of America
The Radisson Blu Mall of America is the only hotel physically connected to Mall of America and it's a darn nice one too. With 500 guest rooms and suites, it opened last March as only the second Radisson Blu hotel in North America (the first is in Chicago). There are 230 Radisson Blu hotels worldwide but they're just now breaking into America. They do an amazing job creating an exciting and inviting ambiance with individual interiors. The hotels have free high-speed internet and fashion-inspired rooms with Anne Semonin bath products. After spending two nights there, it's now one of my favorite conference hotels since everything I could ever imagine and more is all right there.
Good to know: Rack rates begin at $137 a night.

3. It's huge
Mall of America is basically a city within a city. At 4.2 million square feet of total area it's the largest mall in the United States and the nineteenth in the world. And you can fit seven (7) Yankee Stadiums inside! When it opened in 1992 it was the world's largest and in 11 years it could be back on top because the owners plan on adding 5 million more square feet by 2025.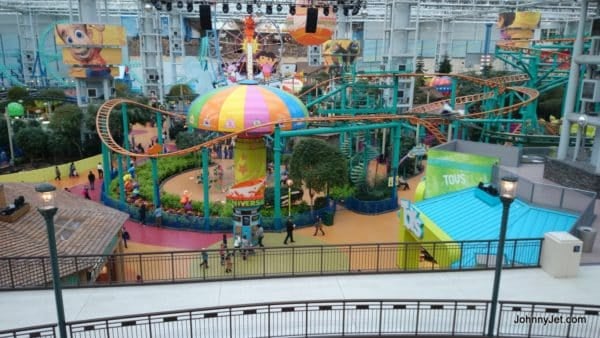 4. Nickelodeon Universe
There's a full-on amusement park in the mall! When I turned the corner from the Radisson Blu I almost spit my Caribou Coffee out (they have six locations in the mall; that's how humongous it is) when I spotted the three roller coasters, a Ferris wheel and 20 other rides that kids and adults can enjoy at Nickelodeon Universe. It's a one-of-a-kind theme park that covers seven acres.
The first day I was there, the place was packed because the mall had announced on Twitter and Facebook that morning that they were offering free rides since schools were closed due to the intense cold. The following two days, meanwhile, it was like a ghost town during school hours, and so for the first time I rode rides all by myself—including the Pepsi Orange Streak, the Log Chute, Teenage Mutant Ninja Turtles Shell Shock, and more. I'm usually not a big amusement park kind of guy but the rides struck a perfect balance between too intense and too wimpy. They were just what I like, and with no one else around, I spent some time feeling like a kid again.
Here's a full list of all the rides with height requirements.
5. Other attractions
Nickelodeon Universe isn't the only attraction in the mall—not by a long shot. There's the 70,000 square foot all-new SEA LIFE Minnesota Aquarium which features 10,000 sea creatures, including the most sharks in captivity anywhere and a 300-foot glass underground tunnel that was voted by Animal Planet as "the best shark exhibit on the planet." There's also a giant LEGO Store with play tables to inspire kids, a comedy club, a movie house with 4 theaters and much more, including a new Barbie Dreamhouse Experience that's opening on February 14, 2014.
Good to know: MOA hosts around 100 celebrities a year for events, book signings or concerts. They've had everyone from Hillary Clinton to Taylor Swift.
6. 520 shops
520 SHOPS! Needs I say more? Everything you can imagine is here, from large department stores like Macy's to outlets for top-of-the-line designers like Tory Burch. I'm not really a shopper but I shopped while I was here just because everything is so convenient. On top of that there's no sales tax on clothing in Minnesota! I walked into a DSW and bought a new pair of Clarks shoes for $79 and then bought a present for my wife at another store (can't tell you since I haven't given it to her yet).
Here's a directory of all the shops. FYI: The number of shops is always dropping or increasing by one or two.
7. 59 restaurants
With 59 restaurants you won't go hungry at MOA, that's for sure. They have a wide variety of restaurants to make everyone in your party happy. Here's the full dining directory but I can tell you that you'll find everything from American Girl Bistro to Rainforest Café. I ate at Crave with my friend and travel legend Rudy Maxa and the food was excellent.
8. Customer service
The staff at Mall of America know how to make you happy. A full-time comedian helps train employees, and the workers I asked for help were all super friendly (it might be a Midwest thing too). On top of that there's a phone number listed on all the directories that you can text if you have or find a problem, and the proper authorities will respond within minutes. For example, if one of the bathrooms is dirty or out of toilet paper you text them and they will send a cleaner out right away.
I think the only thing they need to work on is a better parking system (I heard it's a challenge during peak times). I suggested they set up a system like they have at Third Street Promenade in Santa Monica where each parking space has a monitor so you know how many parking spots are available on each level, and there's a red or green light in front of each spot so you know if it's available without having to creep around.
9. ESP room
The folks who manage the mall's text messages also do an amazing job running their social media. I took a tour of their ESP room and was really impressed. They have full-time employees working (during mall hours) to answer your Tweets (@MallOfAmerica) and texts or reply to comments you post on Facebook or Instagram.
10. They keep it fresh
Mall of America gets it—they understand that their only edge over online shopping is a memorable customer experience. And so they're always keeping it fresh by adding something new every week. Some of their bigger additions in 2014 will be a Grammy Hall of Fame, a zip line across the amusement park, a new version of a Hard Rock Café and a Benihana Restaurant. They recently added another luxury hotel, the JW Marriott.
After just three days inside the Mall of America, I can see why 42 million people pass through and together spend more than a billion dollars each year. You'll never get bored. You can even get married in their wedding chapel which has hosted over 6,000 weddings! The whole place is amazing—and even in the midst of polar vortexes, it's always sunny and 72°F during the day.
FYI: 40% of the visitors to the Mall of America are tourists, and international visitors spend 2.5X more than locals.
FYI: A tourist is defined as someone who travels 150 miles or more to get there.