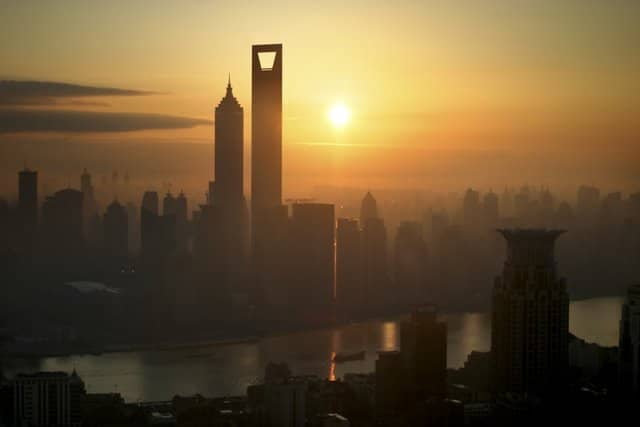 Ni hao from China! I am currently writing about an around-the-world trip on Jet Airways and Shanghai is my second to last stop. I began in L.A., went on a Celebrity Solstice cruise in Florida, flew to Brussels (via New York), then went to Delhi, the Taj Mahal, a tiger safari in central India and last week, I left off from Mumbai — the airport (BOM) to be exact. So if you're into making the flight to China, then checking into the highest hotel in the world, then join me and my beautiful friend Natalie for this week's adventure!
MUMBAI TO SHANGHAI ON JET AIRWAYS
Check-in at the Mumbai airport for our late morning flight took just a couple of minutes. Once through security (separate lanes for both men and women), I was disappointed by the lack of stores. The only thing that stood out was a hip Bombay Bar, a Baskin Robbins stand next to a boarding Saudi Arabia flight and a lame duty free shop. The regular business class lounge, run by Oberoi Hotels, was closed and the temporary spot wasnothing to rave about. I won't go into full detail about Jet Airways' premiere service because I did a full review when we began the trip, traveling from New York to Brussels. But just to give you an idea: it was essentially the same incredible service as that flight but instead of an A330-200 plane, we were on a larger and even more comfortable 777-330E. Everything from theseats, amenities, food and service was so good that I was bummed our flight time was just five hours and 40 minutes, the same length as flying New York to Los Angeles.
SHANGHAI AIRPORT
This was my first trip to mainland China. I'd been to Hong Kongand Macau numerous times but had never made it to the mainland. With the two and a half hour time change, Natalie and I arrived when it was dark and the nighttime Shanghai skyline was insane! TIP: Sit on the right side of the plane for the best view. We landed a few minutes late at Pudong International Airport (PVG) and from the runway, it looked like what I imagined a communist country's airport to look like – dark and depressing. But that impression certainly didn't last long because once we got closer and I stepped inside, it was a whole other story. Wow! This place is sweet!
PASSPORT CONTROL
We arrived at the brand new Terminal 2, which opened up in March 2008. It's beautiful, clean, organized and sterile. On the long walk to immigration, an instrumental version of Celine Dion's Titanic theme song played in the background to greet visitors. TIP: Have your boarding card or seat number handy to prove that you're not just transferring like many folks on the flight; most were going on to San Francisco. There was no wait at passport control and once the agent finished processing each person, a little keypad lit up for visitors to rate the officer's service. The options were: Poor, Satisfied, Greatly Satisfied or Check-in Took Too Long. Our agent got the highest rating from me since he was both friendly and quick. Why can't the U.S. do the same?
MAGLEV TRAIN
Next stop was baggage claim where the bags came out lickety-split and we passed through customs without a hiccup. We spent the first couple of nights at the Park Hyatt Shanghai and pre-arranged a car pick-up service with them. It's way more expensive than taking a regular taxi but it's nice to splurge once in a while. We were going to take the Shanghai Maglev, one of the fastest trains in the world … it goes a third of the speed of sound (767 mph). The 30-kilometer (18-mile) ride takes just eight minutes and costs only 50 yuan ($7 USD). But we didn't take it because we still would have needed to travel 12 kilometers or 30 minutes by car from the station to the hotel.
AIRPORT TO HOTEL
The Park Hyatt representative escorted us to a brand new Mercedes waiting curbside for us. The driver was wearing white gloves and with his hand above me, gently guided my head into the car so I didn't bang it on the roof. How do you like that for service? He spoke perfect English but didn't speak unless we asked him a question. Inside the phat black Mercedes were two mini bottles of Evian water, TVs in each seatback with live TV and two sunroofs. The drive took 45 minutes without traffic and Natalie and I just sat back and stared out the window, while classical music played softly in the background, shaking our heads in disbelief that we were in China.
MONEY IN CHINA
Usually, the first thing I do when I get off a plane in a foreign country is go straight to the ATM machine. But it slipped my mind since the Hyatt's driver was standing right outside baggage claim and I didn't have a moment to think. Instead, I used anATM the following morning, a couple of blocks from the hotel and tipped the driver and bellman with U.S. dollars; I always carry a wad of singles and fives. Shanghai has plenty of 24-hour ATMs but I hear the best bets are the ones from Bank of China, HSBC and ICBC. In case you're wondering, the name of Chinese currency is Renminbi (RMB) or "the people's money". Officially, the basic unit of RMB is the yuán. It's divided into 10 jiao, which again is divided into 10 fen. That's way too confusing for me too so like everyone else, I just refer to it as yuan (CNY). 1 CNY = $0.14 USD or $1 USD = 6.83 CNY.
SHANGHAI

Shanghai is one of, if not the, largest metropolitan areas in the world. It's definitely the largest city in China in terms of population with over 20 million people. It's located on China's central eastern coast at the mouth of the Yangtze River, almost equally between both Beijing and Hong Kong. The two Chinese characters that are in the name "Shanghai" literally mean "up, on, or above" and "sea" since the city is near the East China Sea. Shanghai was the birthplace of Chinese literature, cinema and theater and the city is often referred to as the center of finance and trade in mainland China.
DID YOU KNOW? In 2002, China had 171 cities with populations of over 1 million. The United States currently has nine.
TO THE CITY
On the drive there wasn't much to see. It was just before 8pm on a Sunday night and the streets were wide and quiet. They drive on the same side as us in the U.S. and street signs are written in both Chinese and English. It started to get even more exciting when we entered the city center and I could see our hotel getting closer and closer from miles away. Some of the streets were decorated with neatly lined trees, the trunks adorned with lavender lights, the leaves with green. The effect was pretty and made for a memorable entry into the city.
HIGHEST HOTEL IN THE WORLD
I read about the Park Hyatt Shanghai, which opened in September 2008, on the flight over and learned that it's the tallest building in China and has the highest hotel, pool and restaurant in the world … and my palms got all sweaty. I have a slight fear of heights and after 9/11, I really started feeling even uneasier about going up skyscrapers. In fact, I almost chickened out of dinner at the top of the CN Tower in Toronto recently. However, when I saw the sleek Shanghai World Financial Centre(SWFC) building — otherwise known as The Vertical Complex City, where the Park Hyatt occupies the 79th to 93rd floors, I realized it wasn't just some tower but an amazing structure that I just had to check out for myself.
EARTHQUAKE PRONE COUNTRIES
The driver told me a Japanese architect had designed the building, which eased my fear. You see, the Japanese really know how to make earthquake-proof buildings better than anyone since Japan is one of the countries with the most earthquakes. In fact, I was in Tokyo a few years ago on the 26th floor of a building when a 5.1 earthquake occurred. I thought it was a huge deal but when I ran downstairs almost naked to the lobby, everyone acted like nothing had happened. FYI: The other countries with the most earthquakes are: Indonesia, Fiji, Tonga, Iran and China.
PARK HYATT SHANGHAI 

When Natalie and I pulled up to the impressive 174-guestroom hotel, we were attacked by sharply dressed bellmen. Two opened the car doors; another went to the trunk to fetch the luggage. We felt like movie stars but this is how every guest is treated. The bellman greeted us by name, escorted us into the elevator and, without joining us, pressed 87, which was the lobby floor … Imagine that?! The elevator doors shut and we felt a little unsure about being left to go up 87 floors alone. Every time I'm in an elevator of a skyscraper, it's usually filled with a crowd of tourists and always an elevator operator. Not here. After my initial shock, I got used to it and it became pretty cool to just hit the button and travel all that distance by your lonesome. The elevator was quick, solid and took around 40 seconds. Plus, there's a little TV which helps pass the time.
87TH FLOOR
The 87th floor is where you'll find the reception area and two dining rooms that are open all day. We had breakfast in both and lunch in one. The "Living Room" is much more laid back than the other but they both offer incredible service and delicious food, serving both expensive Western and Chinese food. Dark mahogany wood, set against pale coffee-colored walls, is found throughout the hotel and at 10 feet, the ceilings are exceptionally high, considering you're in a high-rise. All this gives instant grandeur to the space and creates an immediate sense of extravagant style. Each room has a butler service but they don't do anything out of the norm … at least I didn't take advantage of their services. You don't really need it anyway because their service, like most Asian hotels, is off the charts.
THE INSANE VIEW
To get to the room floors requires a separate set of elevators and our room was on the 83rd floor. The moment I walked into the room I didn't want to leave it. It was that nice and as a standard room, it measured 55 to 60 square meters (592 to 646 square feet) they're the largest in the city. It seriously was one of the coolest rooms I've ever stayed in and the view of the Bund, Huangpu River and Shanghai skyline was unforgettable. I would just go to bed at night staring at the top of the Jin Mao Tower, which is home to the neighboring Grand Hyatt hotel.
OUR ROOM
The room featured one king bed, a daybed, walk-in dressing rooms, a flat-screen TV (including one recessed into thebathroom mirror), a working desk with complimentary wireless Internet access, in-room espresso machine and a deluxe stone bathroom with heated floors and an oversized monsoonrain shower so high that even Yao Ming couldn't touch it if he were on his tippy toes with his arms stretched. There's also a deep, overflowing soaking tub. Each time the maids came in, they restocked the Acca Kappa toiletries. And that wasn't even the best part.
THE TOILET
I don't normally dedicate a separate paragraph to the toilet but let me tell you … if you sat on this Toto thing, you would be just as enamored as me. It was so incredible that I needed a moment alone before we left, just to say goodbye. At times, while we were out sightseeing, I wanted to cut the day short, just so I could get back to the room to sit on my friend. First of all, this special little toilet is located in its own separate room for privacy. Secondly, the moment you walk in, the toilet seat cover rises like it's bowing to you and a night light goes on so you can see in the dark without flipping the bright lights on in the middle of the night. Then, when you walk away, it automatically flushes. And I haven't even told you about all the buttons it has … just like a luxurious European car. For starters, the seat is heated (love that!). It's got a built-in bidet, with mechanical nozzles that spray warm water on your bum just how and where you like it. Okay, that part might take a second to get used to but the moment the anxiety of not knowing what those noises are and what's going to happen wears off, it feels so good you don't ever want to get off.
OTHER HOTEL NOTABLES
The building didn't sway at all. The bed was dreamy, the sheets felt like they were three million-thread count and the pillows were perfect. The night table had a built in remote control for the automated blackout curtains that didn't leave any space uncovered. The room came with plug adaptors so you don't even need to bring a converter from home.
In addition to the two lobby restaurants, there are more restaurants and bars (serving Western, Chinese and Japanese cuisine) on the 91st, 92nd and 93rd floors. Patrons have to go to the lobby to transfer to a separate set of elevators (for hotel safety) but they are all styling with open kitchens. My only complaints, which were minor, were the windows were a bit dirty and I could hear workers banging on steel beams on a building nearby … possibly the Shanghai Tower, which may be the tallest building in the world when it opens in 2014 with 127 floors. Also, it would have been nice if there was a note or someone had told us that the lights on the Bund and along the skyline go out at 10:30pm. Looking out the window and seeing everything turn off was a little freaky at first until we realized that they must be conserving energy. Park Hyatt Shanghai, 100 Century Avenue, Pudong New Area, Shanghai, 200120, Peoples Republic of China; Tel: +86 21 6888 1234, email: shanghai.park@hyatt.com.
VIDEO
Sorry! No video this week, but here's a link to all the Johnny Jet videos ever made.
NEXT WEEK
Next week we'll finish up our trip to Shanghai and fly to our last stop on this incredible around-the-world trip.
WEB RESOURCES
Note: This trip was sponsored in part by Jet Airways and thePark Hyatt Shanghai.