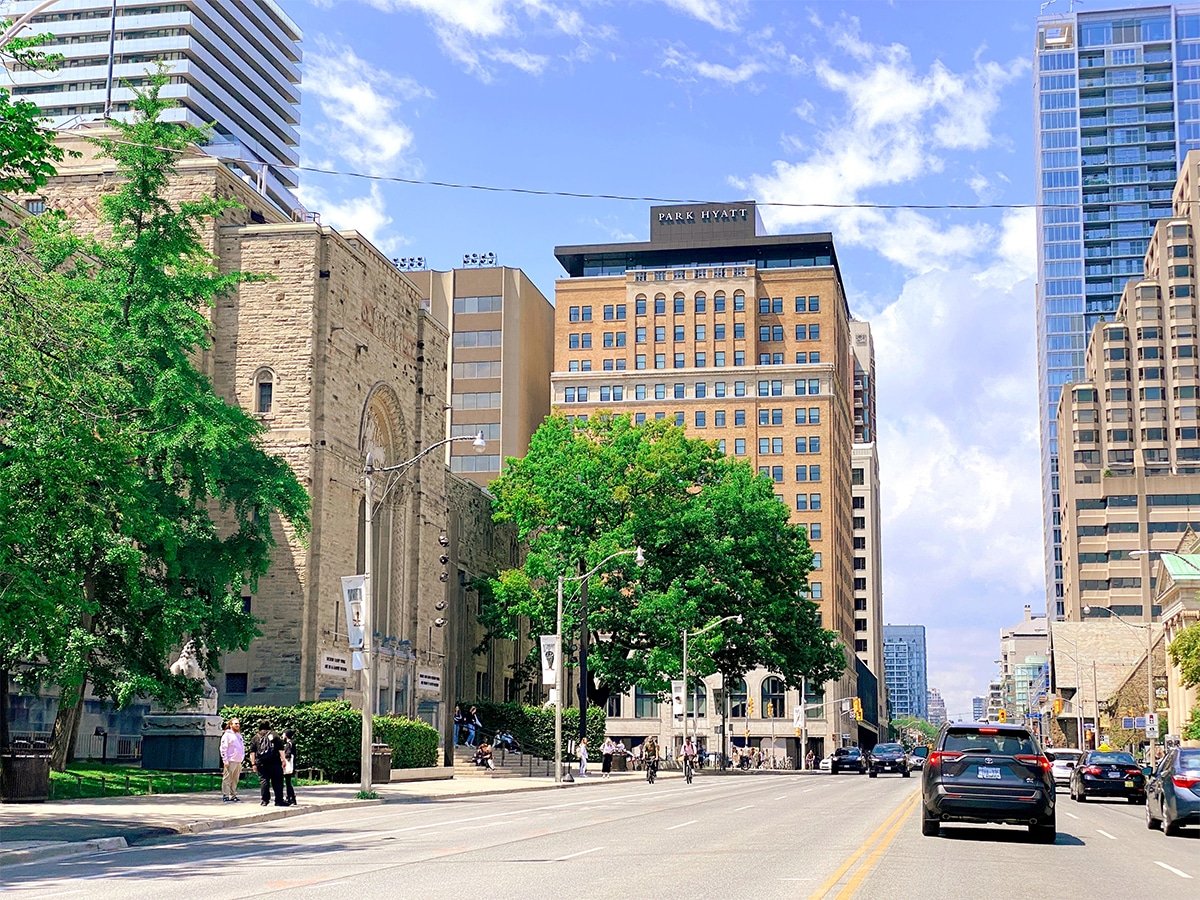 A big thanks to the Park Hyatt Toronto for hosting our stay so we could provide this detailed review of our experience.
Toronto is a very special place for me and my family. It's where my wife is from, it's where we got married and it's where we go every chance we get to spend time with my wife's family. Because of the birth of our second child and hot on the heels of that, Covid, we hadn't been back to Toronto for three years. It was a long time for my wife to be separated from her family and for them not to see our rapidly growing kids. Finally, in June, we made the long-awaited trip and spent 5+ weeks in Toronto, reconnecting with loved ones and getting and giving all the hugs that were missed in those three years.
So much has changed in Toronto since we were last there. Toronto's skyline has been a sea of cranes for years but the first time we drove into the city, we could instantly see the change. Gone were many of those cranes and in their place, so many buildings, filling out the skyline to dramatic effect. We were excited to check out what was new in the city and one of those things was the newly renovated Park Hyatt Toronto.
The Park Hyatt Toronto
Originally opened in 1936, the Park Hyatt Toronto has a long history in the city and has undergone various changes in design and ownership along the way. In 2017, the hotel closed its doors to undertake its most impressive and most significant renovation to date and after four years, officially reopened on September 15, 2021 (coincidentally, my wedding anniversary and the day our son was born!)
Our Arrival
When we pulled up at the hotel, we were greeted by a bellman who helped us valet our car, relieved us of our luggage and directed us to the front desk. The feeling of arriving at a luxury hotel was immediate and continued throughout our stay.
Our check-in agent couldn't have been nicer or friendlier and exuded the spirit of a luxury hotel experience reminiscent of some of the high-end hotels we've had the good fortune of staying at around the world. As a first impression of the property, our greeting by all the staff we encountered kicked our stay off on an extremely pleasant note.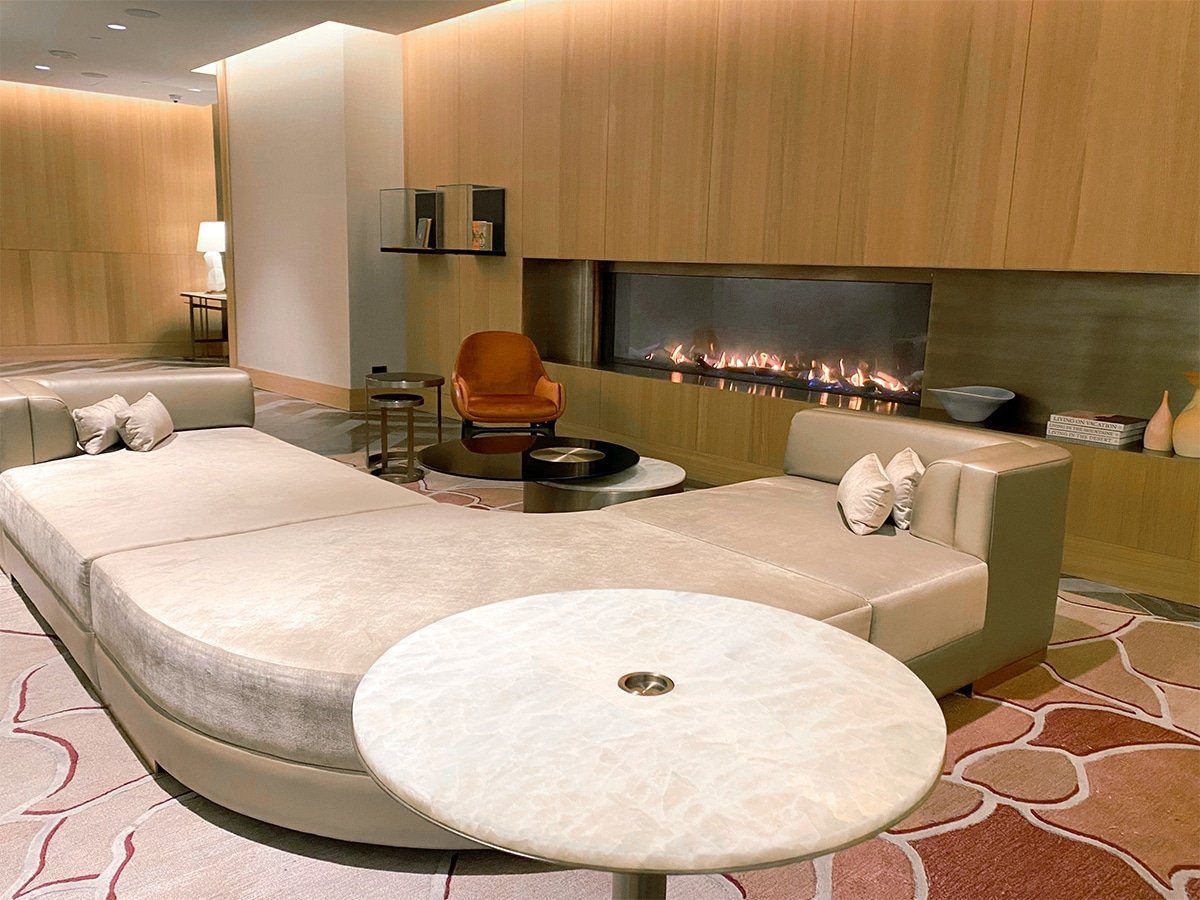 The Lobby
The lobby is small in size but perfectly warm and welcoming. A spacious curved divan provides some seating in front of a glass-enclosed fireplace and is accented with round tables. The soft lines and curved edges are a design detail we saw echoed throughout our room as well and were very welcome since sharp edges are a real hazard when you're traveling with little kids. (We always travel with these rubber corner protectors to protect our kids' heads from sharp edges but didn't need to use them once at this hotel.)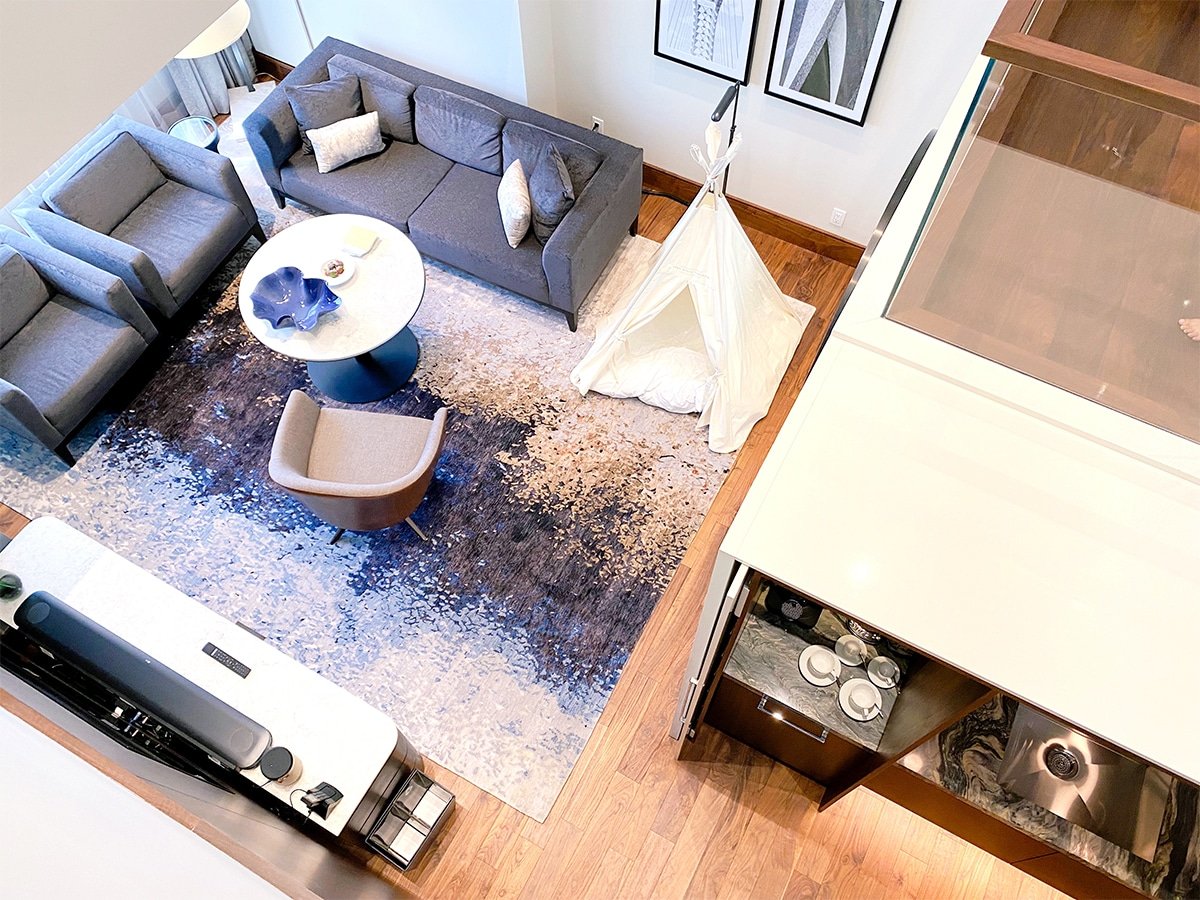 The Room
The Park Hyatt Toronto has 219 rooms, including 40 suites. We were fortunate to be in a two-bedroom bi-level penthouse suite and to say it was 'WOW' is a gross understatement. At more than 1,400 square feet and with soaring sky-high ceilings, this suite is the size of a house and had every luxury we could have hoped for. Our 9-year-old niece came by to visit and said, 'Wow, you guys should really rent this place every time you come to Toronto!' Now wouldn't that be nice! The size makes it perfect for families, providing plenty of room to spread out and for kids to run around a bit.
We found a welcome amenity of chocolate covered strawberries waiting for us when we arrived but …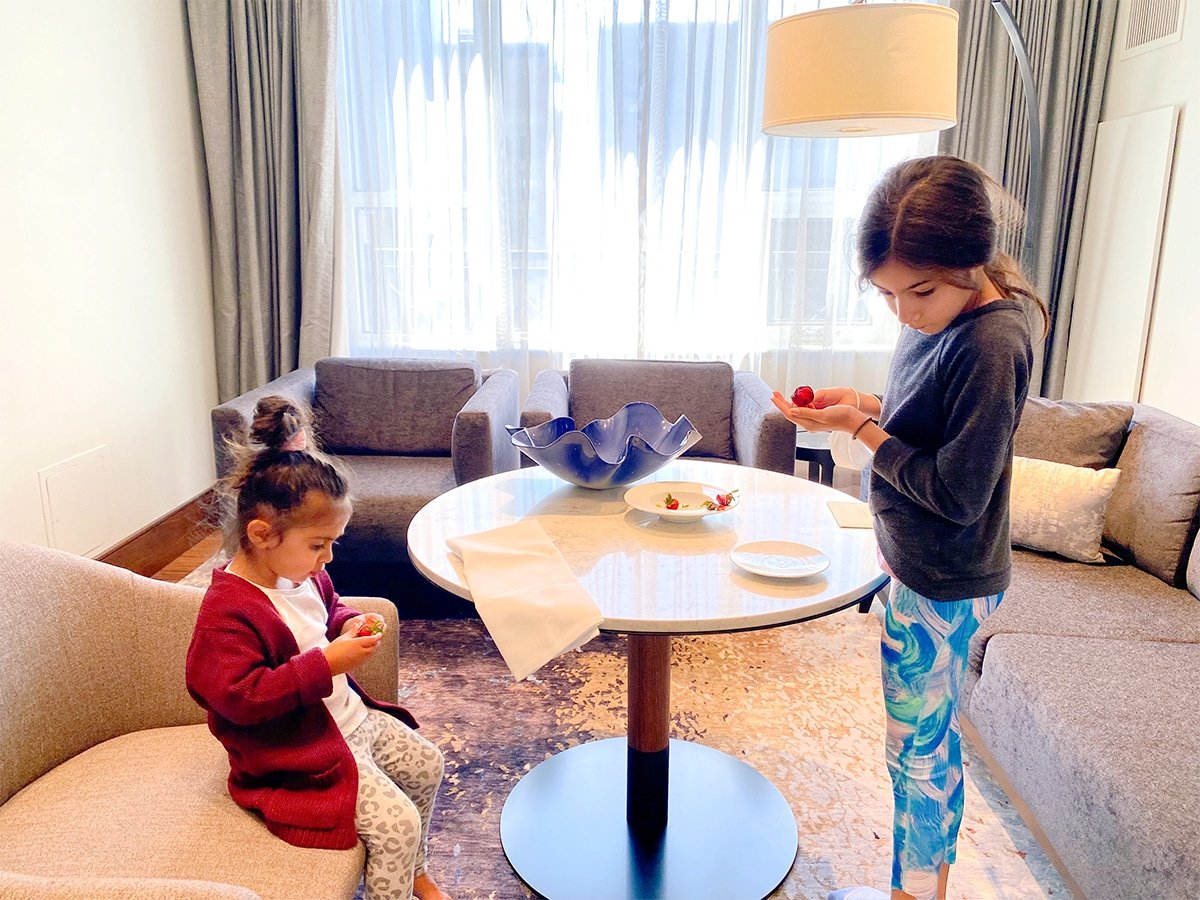 … they didn't last long and were all gone by the time I'd come downstairs after photographing the suite!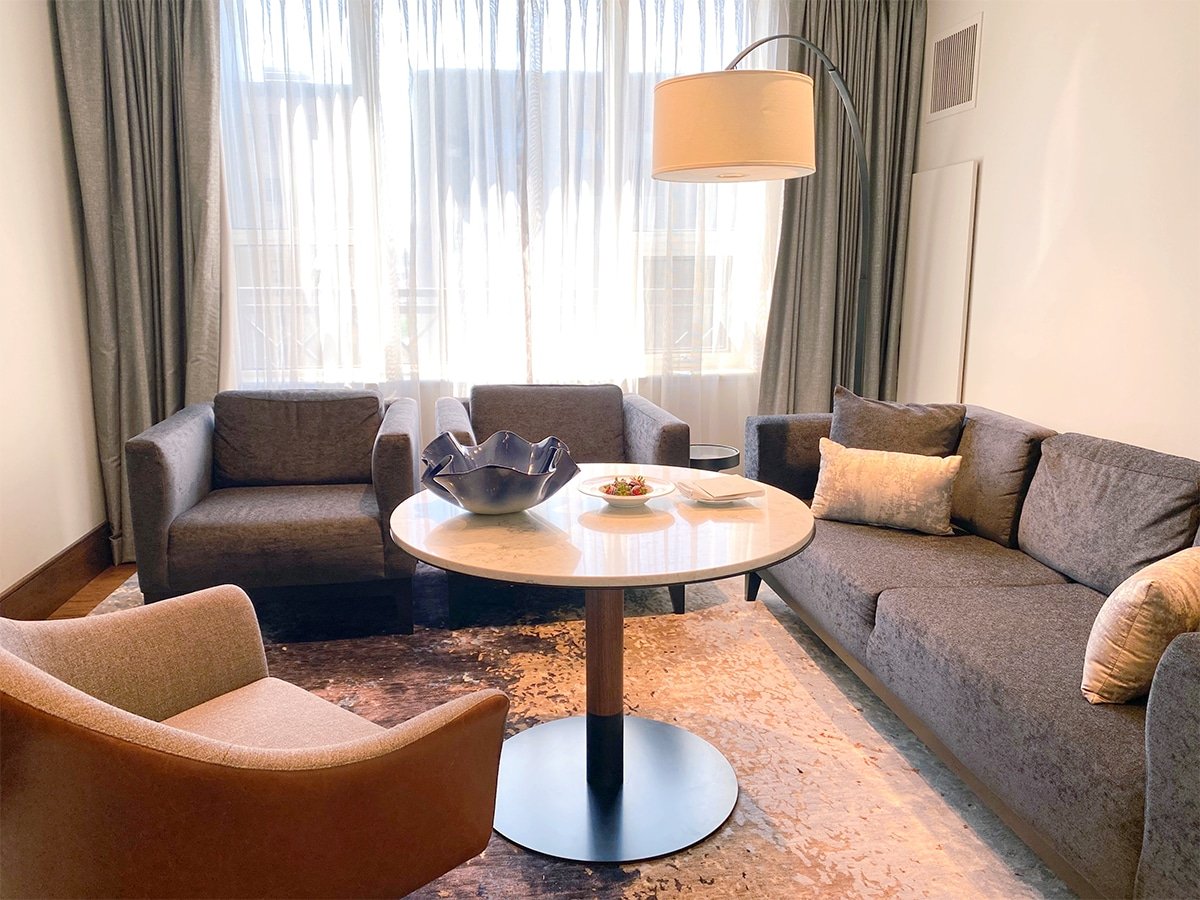 The lower level of the suite features a cozy living room with a large, comfy sofa and three club chairs around a round, marble-top table.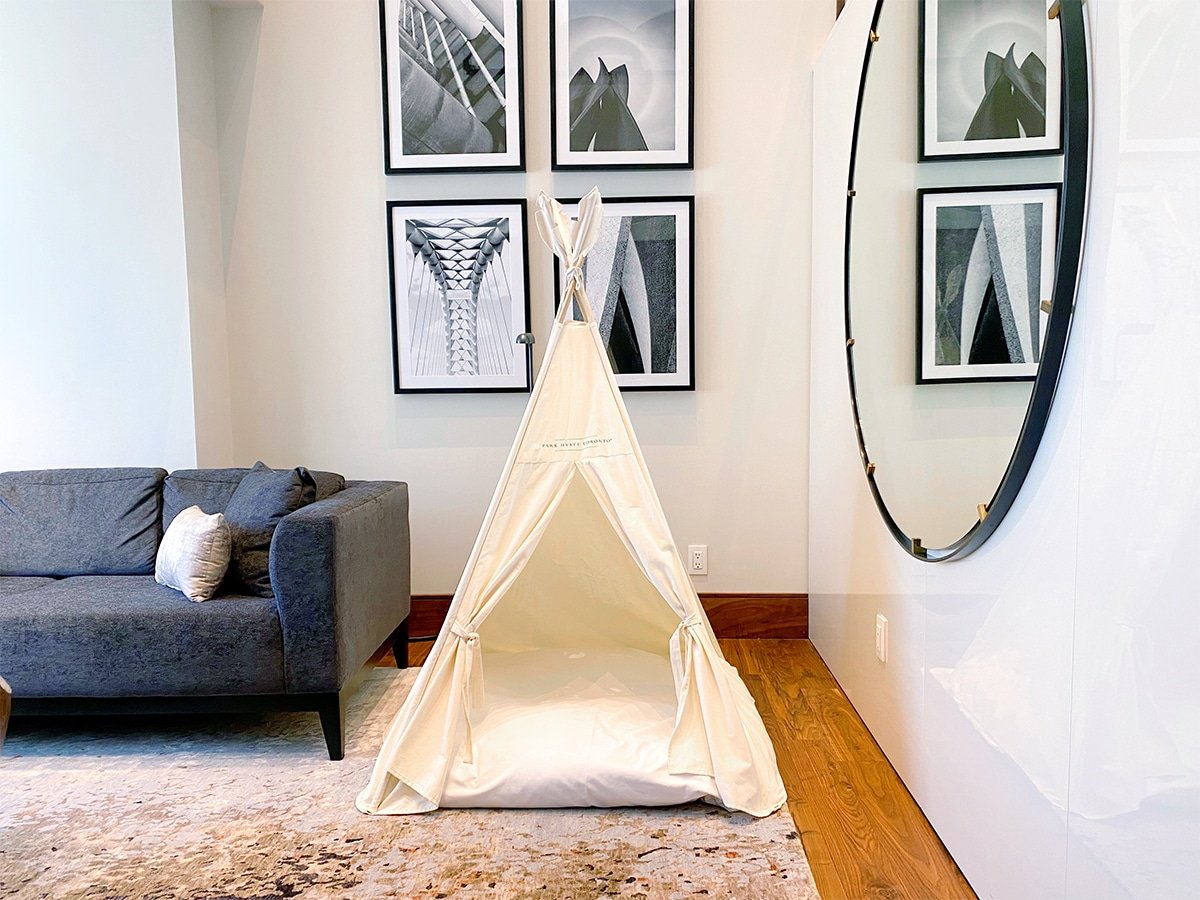 For the kids, the piece de resistance was the adorable tent in the living room. They loved hanging out in there, reading their books or playing on their iPads. At one point, they asked me to bring it upstairs to "their" bedroom. A small detail that was a big hit.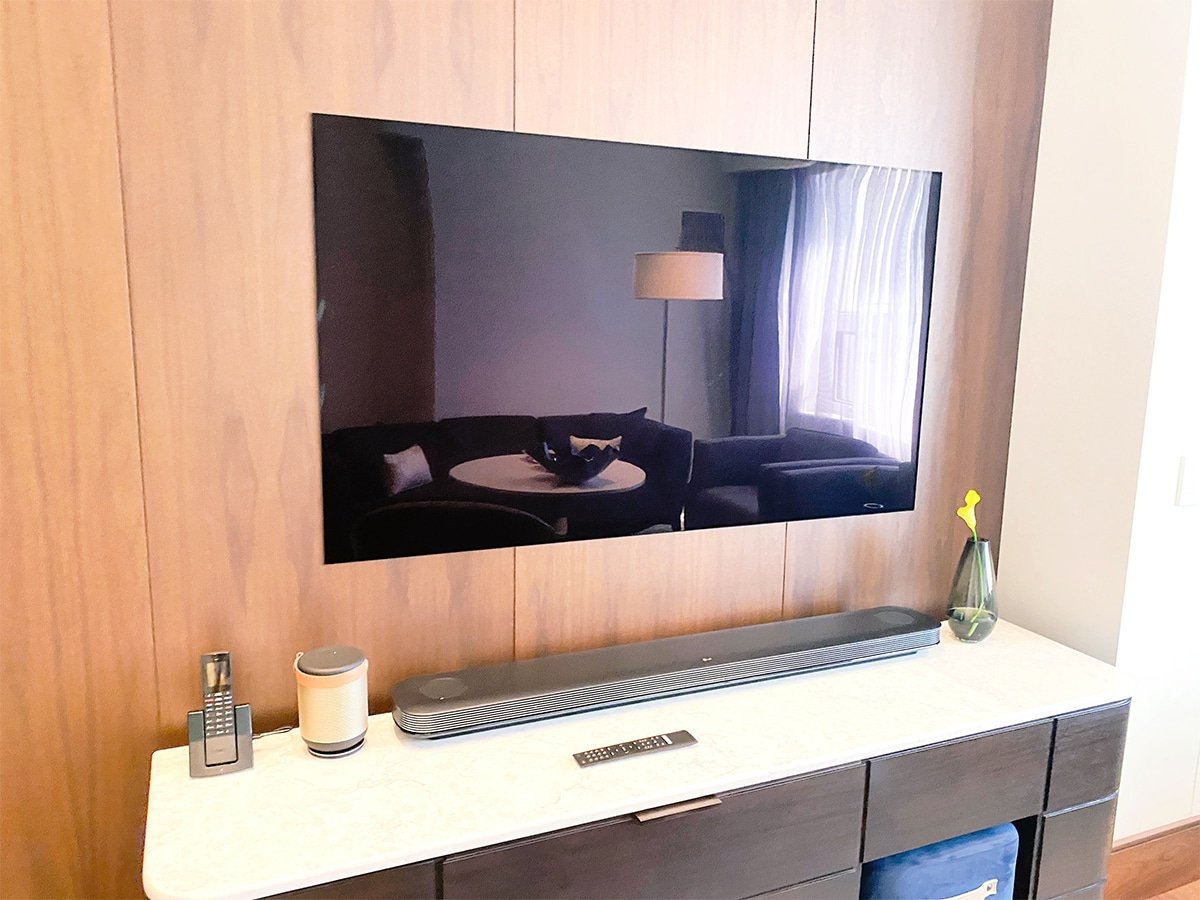 A large 55-inch flat screen HDTV is recessed into a wood-paneled wall, creating a really nice, clean aesthetic.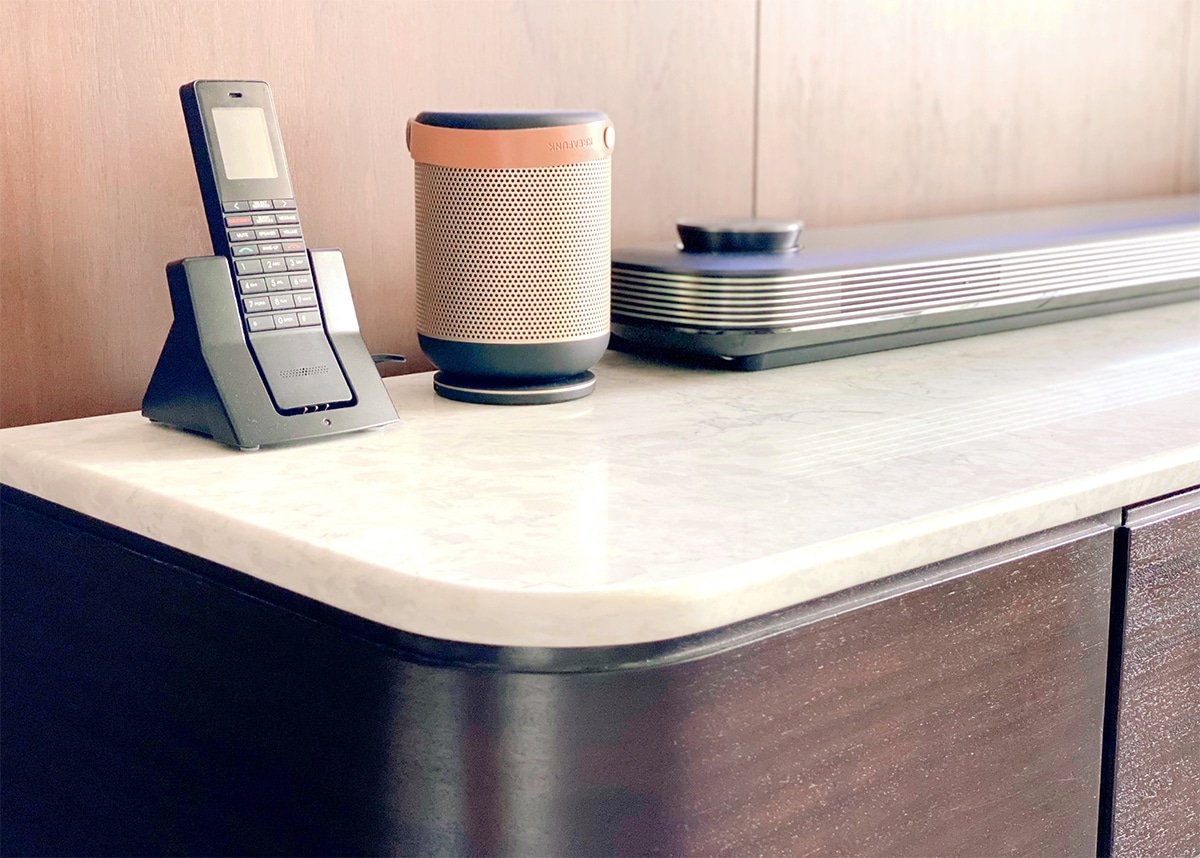 Below the TV is a media console, again with rounded edges, which meant we didn't have to worry too much about little heads bumping into them.
The lower-level bedroom has a king-sized bed and a small table with two club chairs to work at. Both bedrooms have blackout curtains that can be drawn with the push of a button.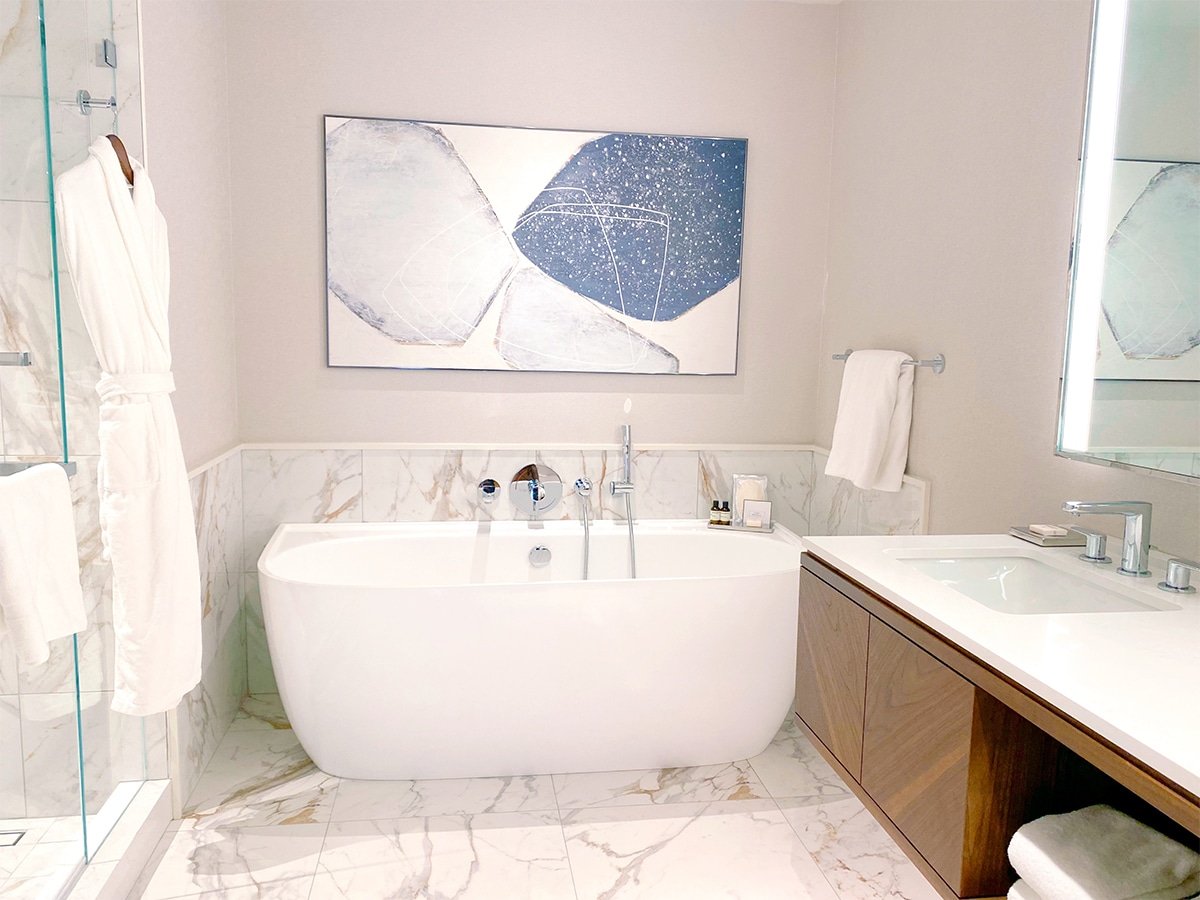 The bathroom is sprawling with a huge walk-in rain shower and large, extra deep soaking tub. Right outside the bathroom is a spacious closet and a makeup vanity with a seat.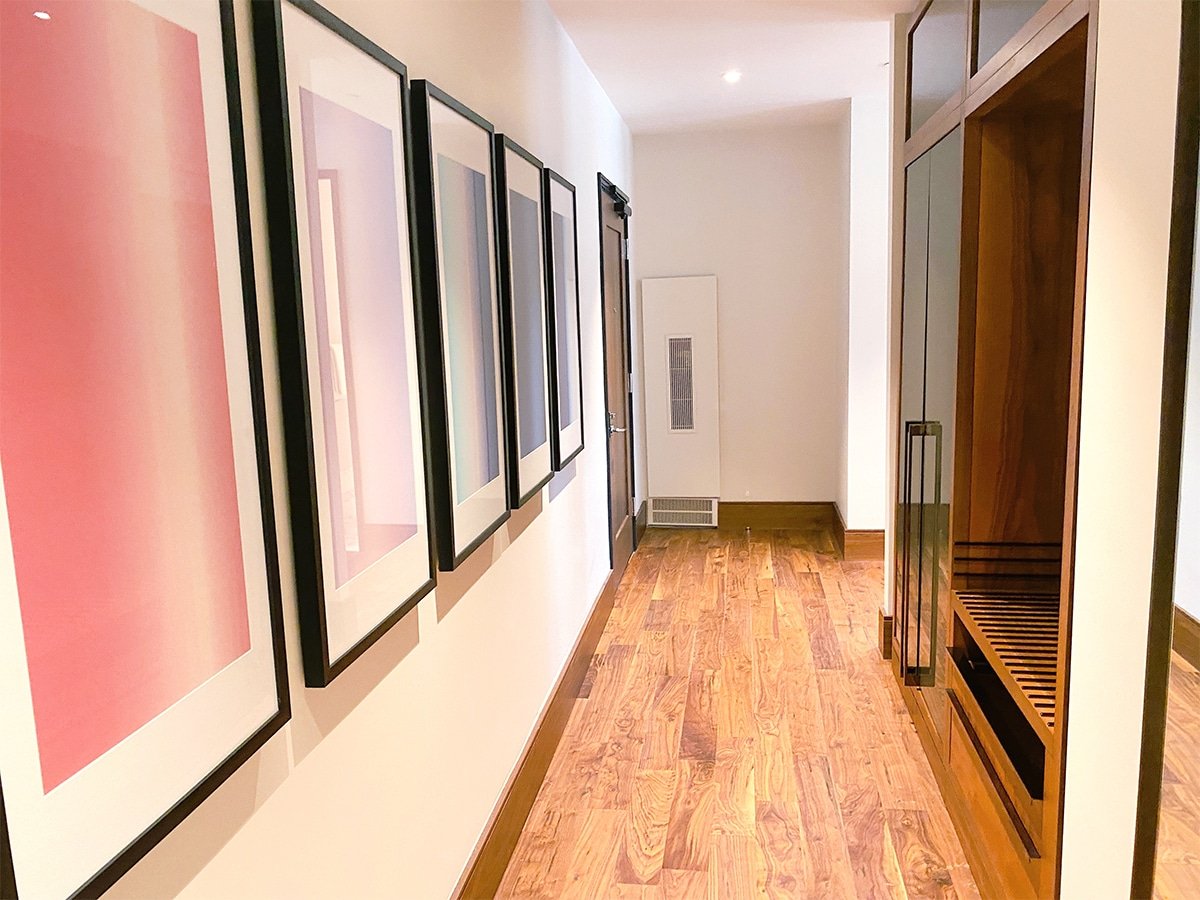 Upstairs, a long hallway lined with artwork leads you to …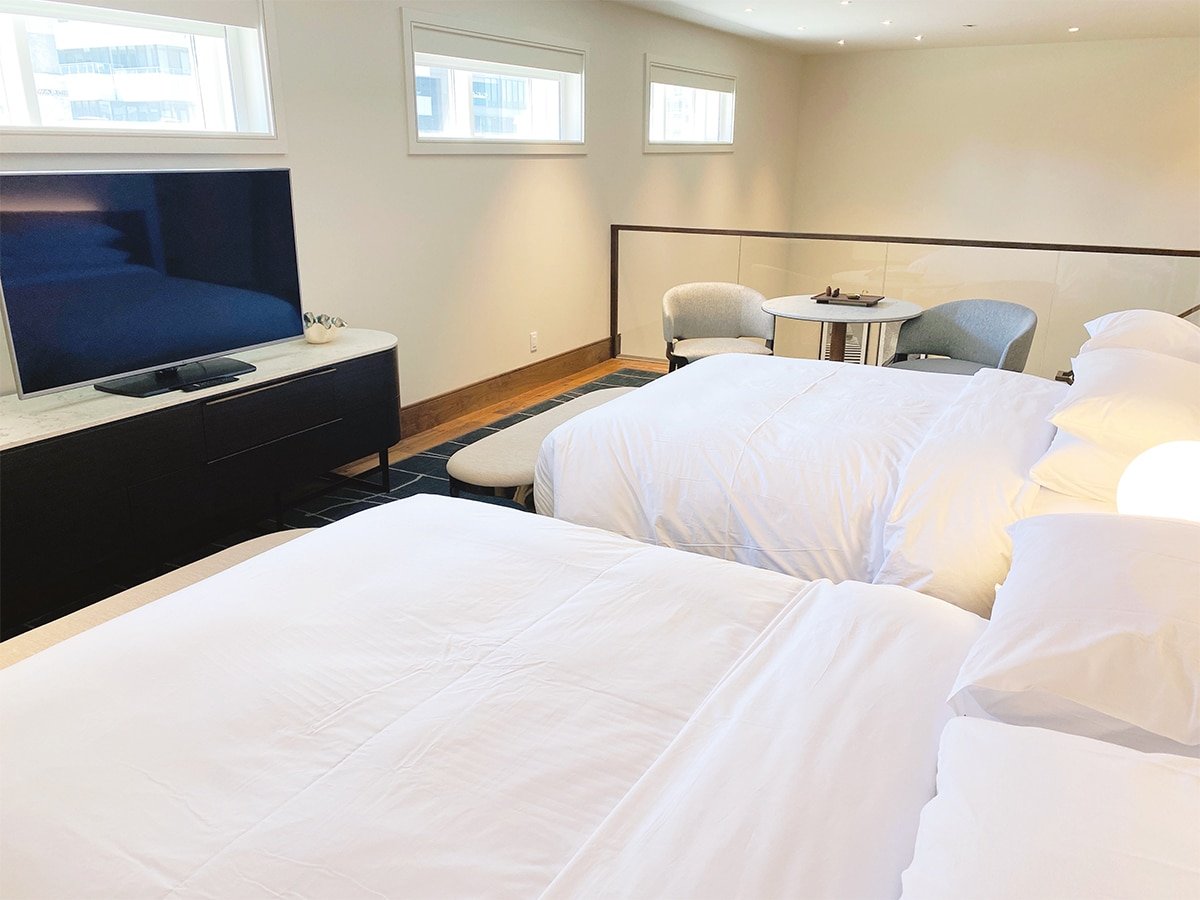 … a bedroom with two queen-sized beds and …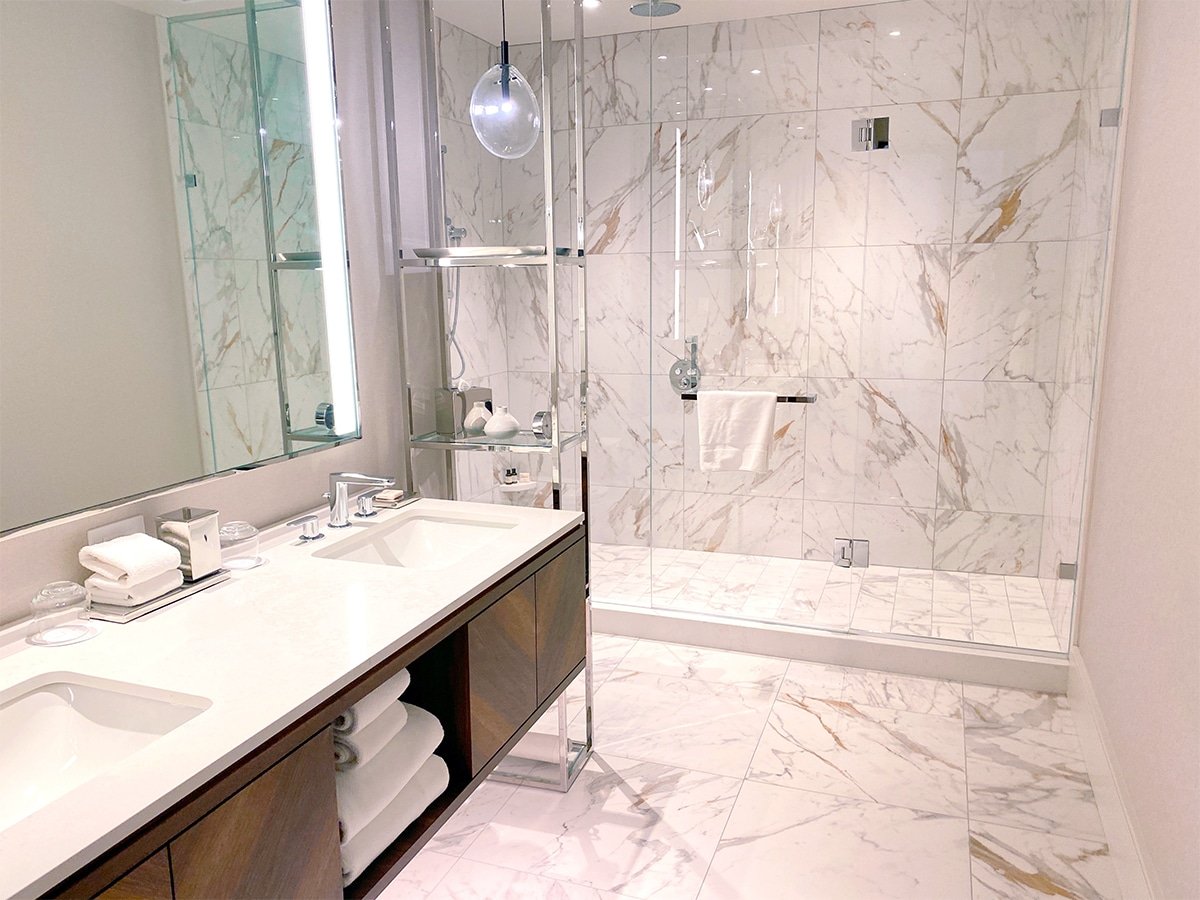 …. another huge bathroom with a walk-in rain shower and double vanities.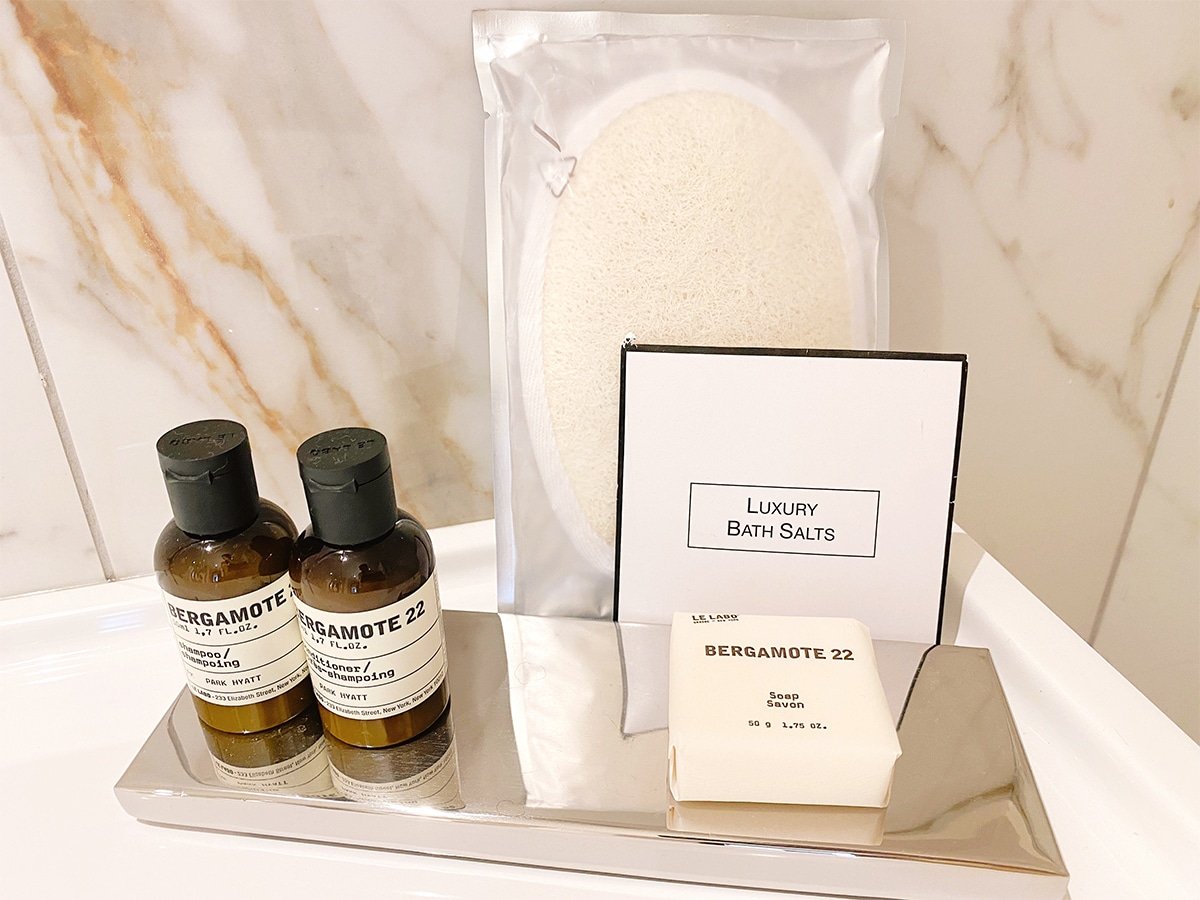 Both bathrooms are generously stocked with luxurious Le Labo bath products.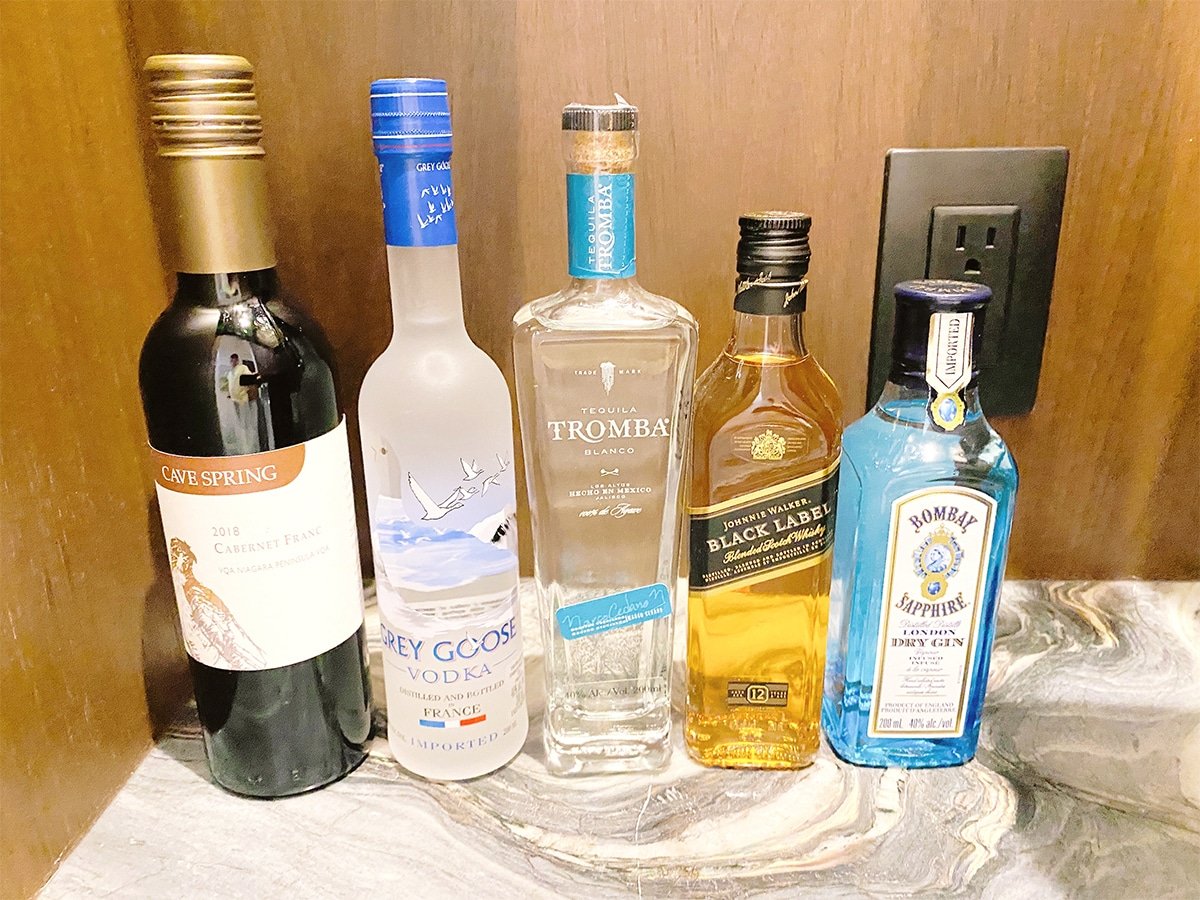 The room has a small pantry area where you'll find a Nespresso coffee maker, a private mini bar …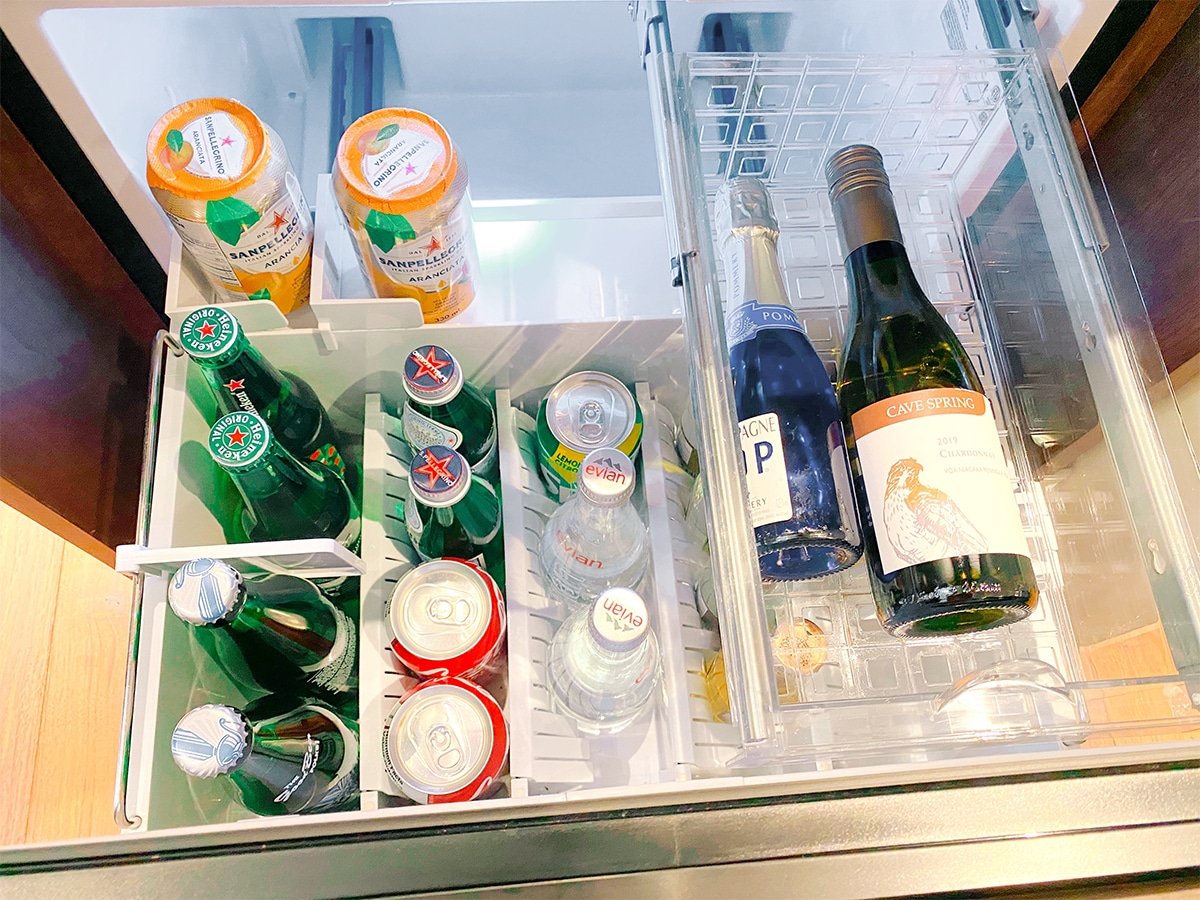 … a sink and a pull-out refrigerator drawer for the cold stuff.
Dining
The Park Hyatt Toronto has one dining outlet and one cocktail lounge. We didn't dine at the restaurant Joni but there, you'll find a menu inspired by local ingredients and house-made elements. Check out their various menus here.
The cocktail lounge is called the Writers Room Bar (ages 19+). You'll find it on the 17th floor of the hotel. It's a great spot to sip a cocktail or glass of wine while also drinking in the dramatic Toronto skyline I mentioned above.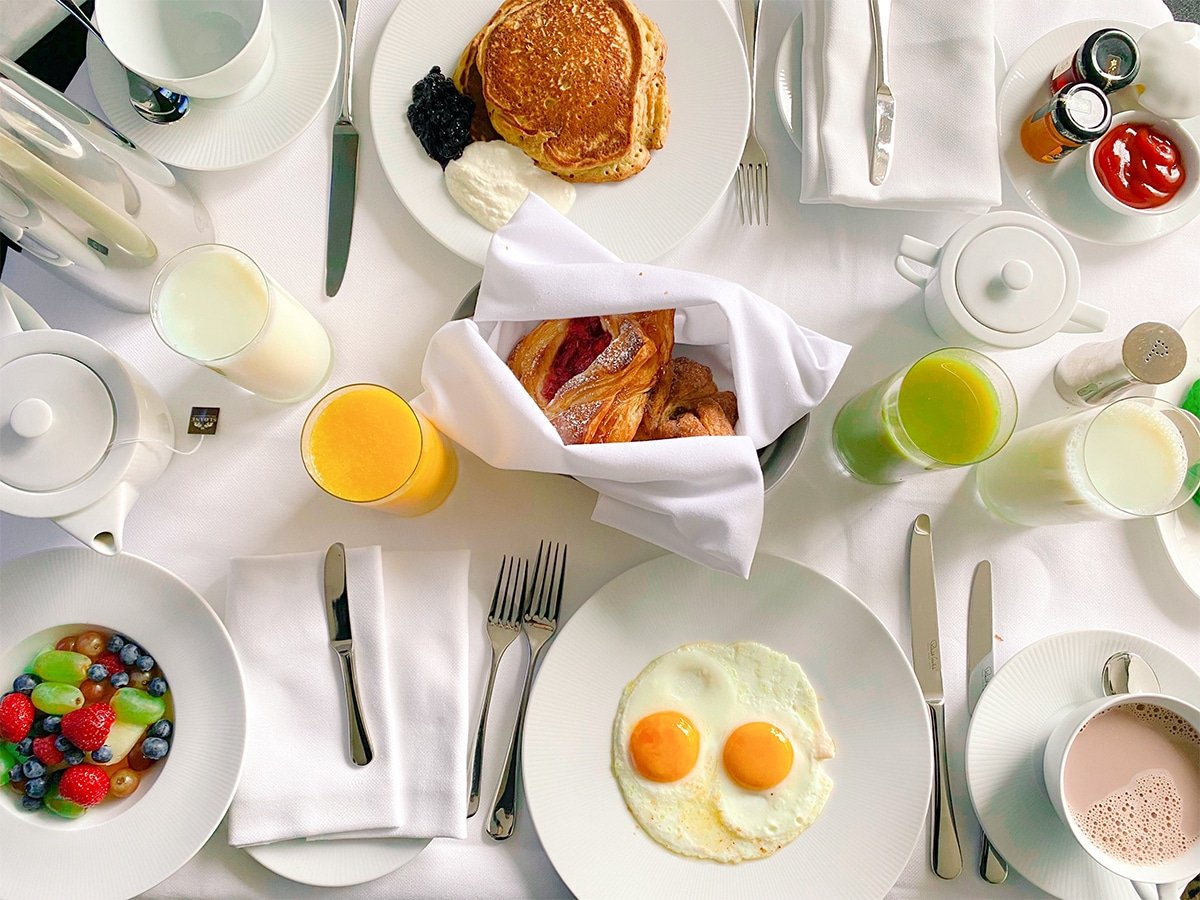 In the mornings, we enjoyed room service breakfast with all the typical fare.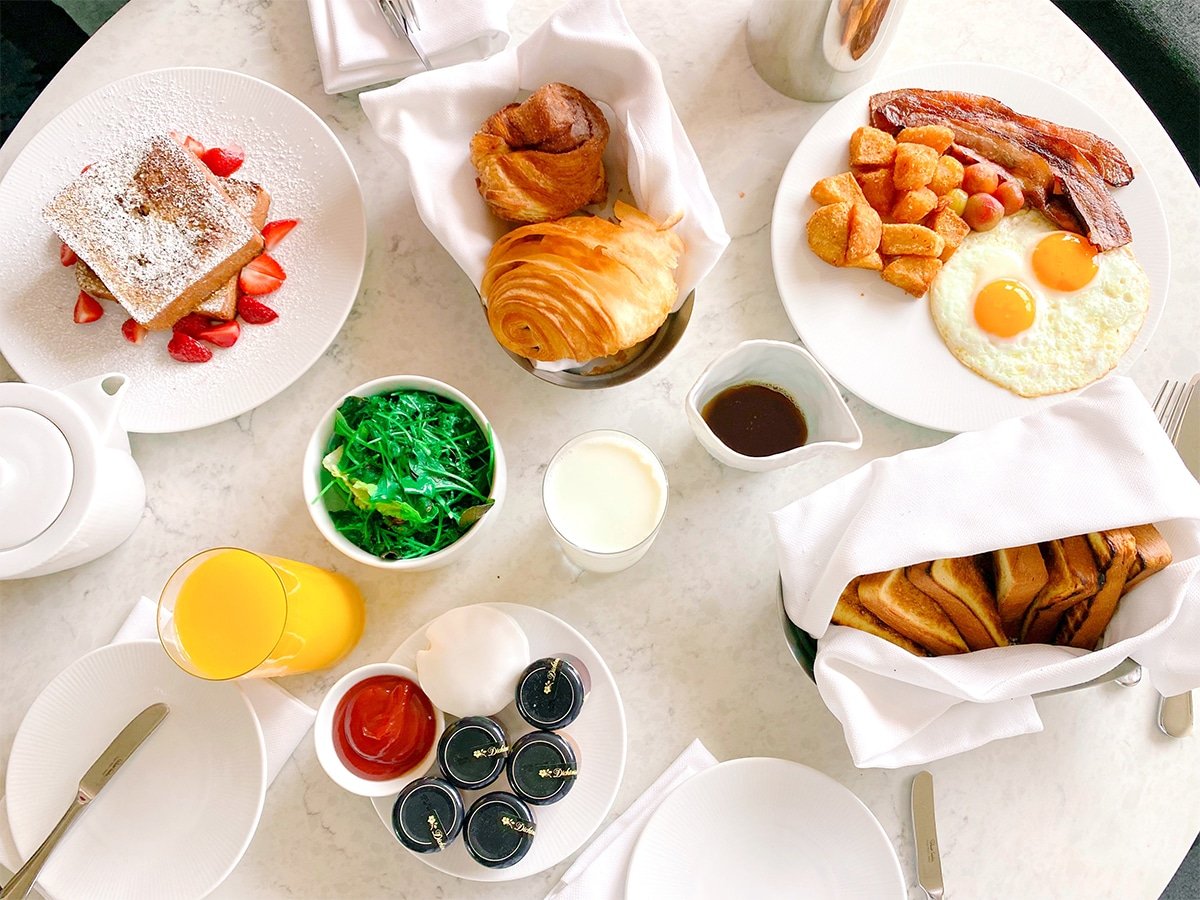 Everything was delicious but the pastry basket deserves a special shout-out, particularly the cinnamon danish and chocolate croissant. Highly recommend adding them to your order!
The Location
The Park Hyatt Toronto has arguably the best location of all the hotels in Toronto, in the midtown/Yorkville neighborhood. There's tons to do right outside the hotel's front door and you have easy access to the subway to get around the city. The Park Hyatt also offers a complimentary house car service that will drive guests anywhere within a three-kilometer radius of the hotel, which is enough to get you to some of the best shopping, dining, theatre and attractions in the city.
The hotel is also situated just down the street from the subway, which is great if you're going farther than three kilometers and don't want to drive yourself and deal with Toronto's epic traffic. The subway is a huge timesaver.
If you are driving somewhere yourself and need to retrieve your car from the valet, you just scan the QR code you're given upon arrival and request the car from your phone. There's a countdown clock so you can see when your vehicle is ready so there's no waiting around and wasting time.
Nearby Things to Do
Our first excursion was on foot because directly across the street from the hotel is the Royal Ontario Museum (ROM), where we took the kids to see all the cool exhibits, but the dinosaurs especially. Canada's largest and most comprehensive museum is home to a world-class collection of 13 million artworks, cultural objects and natural history specimens, featured in 40 gallery and exhibition spaces. There's something to appeal to everyone here.
After the museum, we walked down the street and grabbed a takeout lunch from the recently opened Eataly and found an outdoor spot to sit and eat.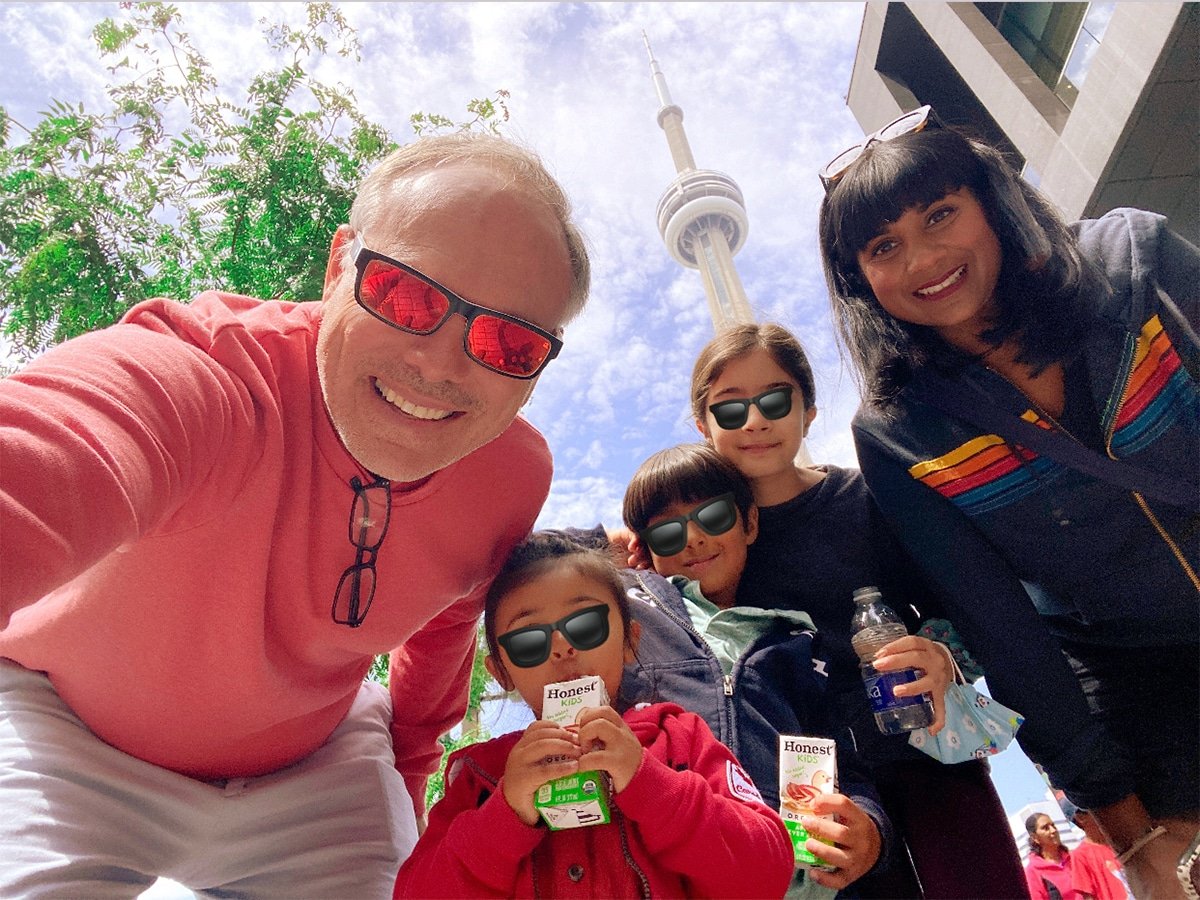 We also took the kids down to the CN Tower and to the popular Ripley's Aquarium of Canada (but it was too crowded for our liking since we've been avoiding indoor crowds during Covid; we'll try again the next time we're back in Toronto). But as you'd expect, there's tons to do in downtown Toronto and the Park Hyatt gives you easy access to all of it.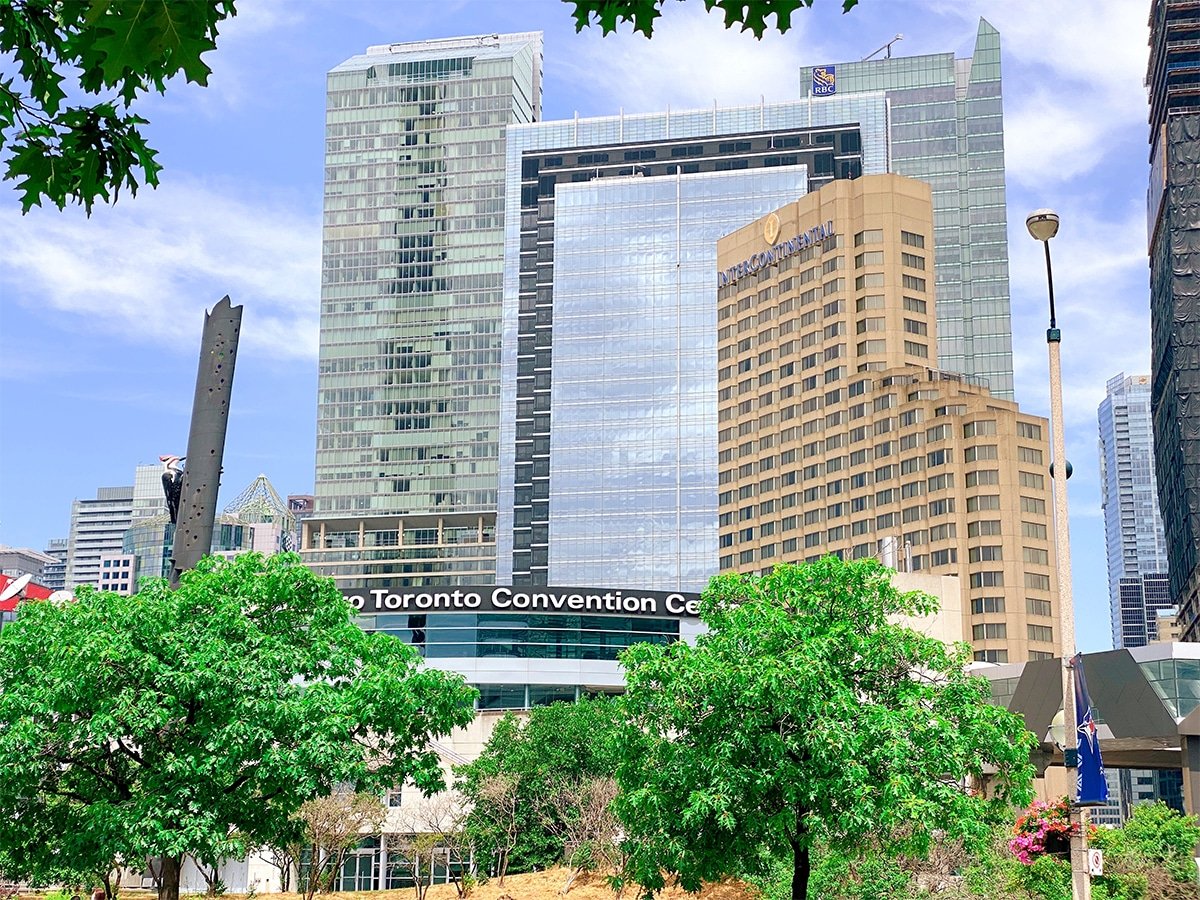 If you're in town for a conference at the Metro Toronto Convention Centre, that's not far (and you could use the hotel's house car service to get there) and there are tons of newly opened restaurants at Maple Leaf Square.
The Park Hyatt Toronto bookends Mink Mile, the upscale shopping district that runs along Bloor Street between Yonge and Avenue Road. My wife and her sister went out shopping and said it's not all high-end designer (though most of it is). Peppered throughout the exclusive boutiques are affordable stores like Winners and Nordstrom Rack.
All in all, the Park Hyatt Toronto is a solid hotel, whether you're a business traveler or a family traveler … or both, like me. We would definitely choose to stay there again for everything it has to offer. Their goal of providing travelers with an elevated home away from home experience was certainly accomplished.