This post contains references to products from one or more of our advertisers. We may receive compensation when you click on links to those products. For an explanation of our Advertising Disclosure, visit this page.
We just returned from visiting Underwood Family Farms, which is 51 miles from Los Angeles International Airport (LAX). It was our third time going and we absolutely love it there.
The first time was in 2019 for a group excursion on a Sunday afternoon and it was packed. Last year, we went on a Wednesday and it was practically empty. This year, we went on a Monday and it was surprisingly crowded.
WATCH: The Craziest Thing You've Ever Seen on a California Freeway
If you can pull the kids out of school and take a day off from work, I recommend going on a weekday (Tuesday – Thursday.) That's if you want to avoid the crowds and not have to wait in any long lines. However, on the weekends, they have more stuff going on like live music, pig races and there are more food options.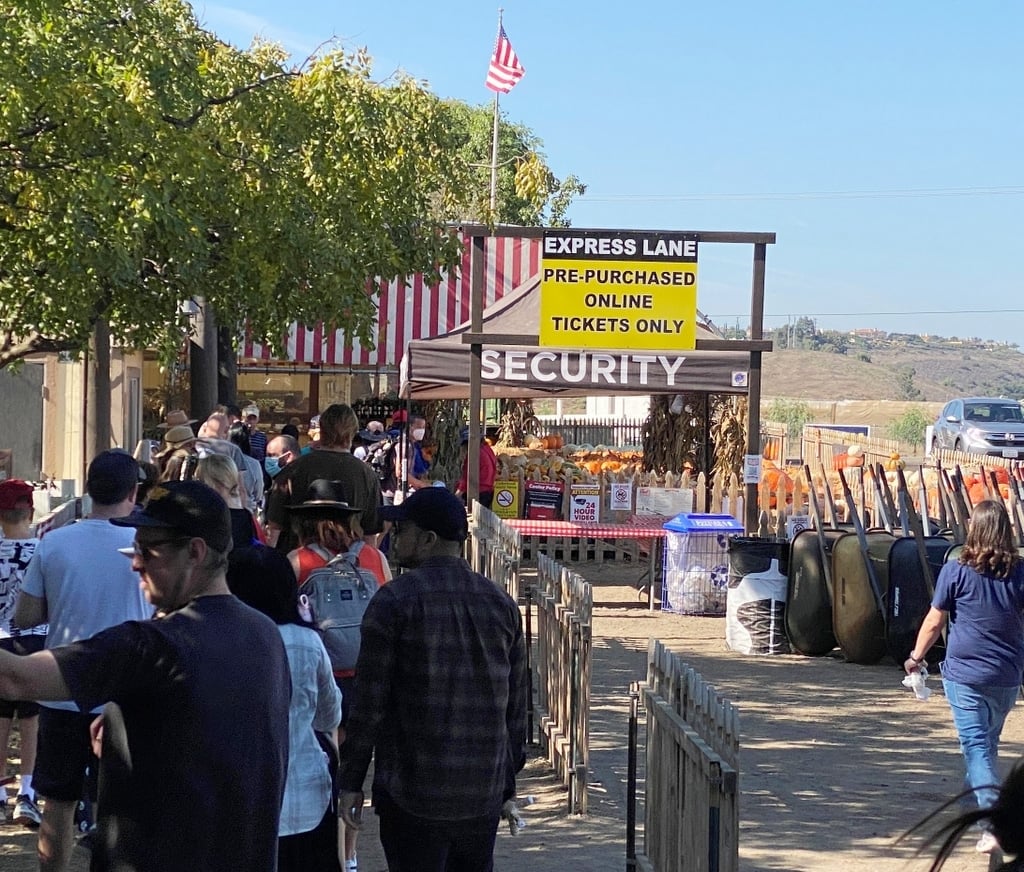 The admission fee for everyone over two on weekdays (Monday – Friday) is $14. Admission on weekends requires on-line reservations and costs $26. If there are spots available, walk-ins are $28. I highly recommend pre-purchasing your tickets in advance so you don't have to wait in the long, slow entry line.
Below are 13 reasons I love Underwood Family Farms and why I plan to return each year with my kids.
1. Seasonal Events
They really do an exceptional job for their Fall Harvest. It's open every day of the week from 9am to 6pm through October 31. I haven't been but I also read on their site that they have events around Christmas and the month leading up to Easter (their Spring Harvest).
2. Red Wagon Carts
Just before entering, I saw a lot of parents using wagons to tow their kids and pumpkins around in. I asked the woman at the front if I should run back to the car to get our wagon (we have this really awesome one from Black & Decker). She said there was no need as they have plenty for visitors to use and there's no charge. I thought that was awesome as they could easily have milked more money from customers. However, this year, there weren't enough wagons and I was told the trick is to follow people returning to their cars to get one. But I started out in the parking lot and wiser visitors met with them at checkout.
3. Everyone is Very Friendly
I spoke to multiple workers and they were all genuinely friendly and happy. The workers wave to kids when passing by and I saw one attendant put her hand under the roof of the train engine Jack was riding so he wouldn't bump his head. It's little things like this that show they really care.
Towards the exit, there was a wheel to spin to win a prize. Of course, Jack spinned it and it landed in between "Candy" or "5 Tickets." I told Jack to take the tickets but he wanted candy. It was just two little pieces of individual Halloween candy so I overrode him. The worker saw that Jack was disappointed and said he could take one piece. Crisis averted.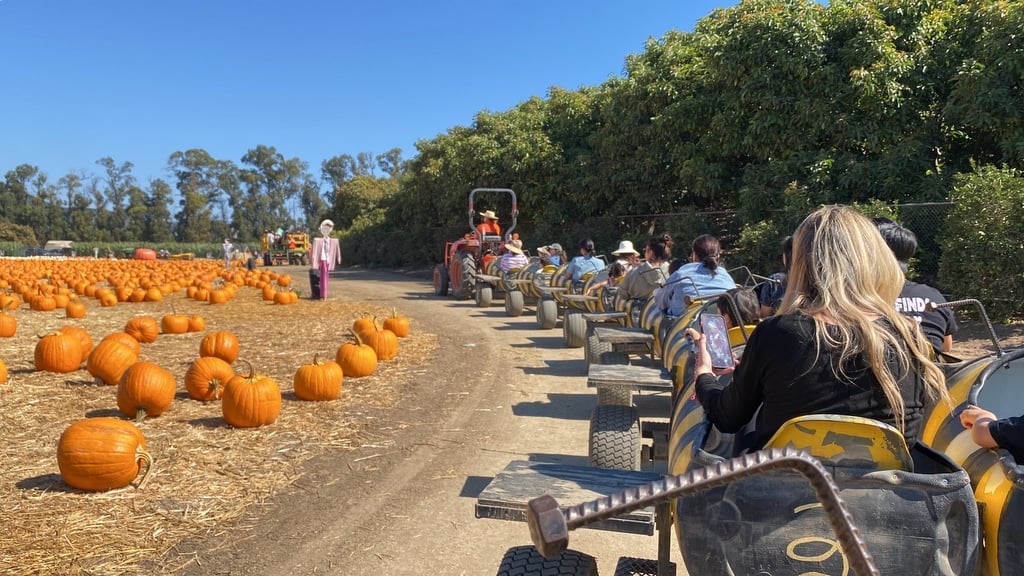 4. The Bee Ride
One of the highlights is taking the bee ride, which is pulled by a tractor around the 60-acre property. They are really tight quarters for adults as they're carved out barrels. Kids need to wear seatbelts. The cost is five tickets per person. You can purchase tickets at the entrance or around the farm for $1 apiece as there's a charge for some of the activities like this bee ride above and the train (scroll to the bottom). But not for the wagon ride (below).

5. Free Wagon Rides
There's no cost to ride in a huge wagon around the property and it stops twice so people can hop on and hop off at the corn maze and the place to pick fruits and vegetables. On weekends, it's crowded but we rode it twice yesterday and on our second go-round, we were the only people on it. It was awesome.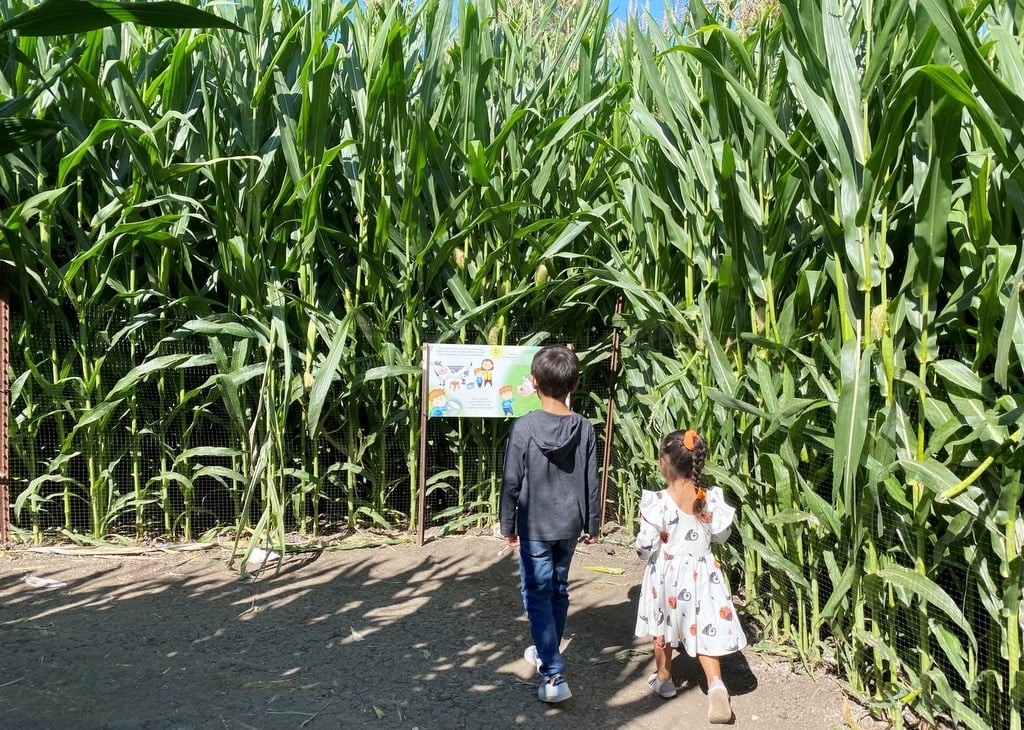 6. Corn Maze
Underwood has a corn maze that is perfect for families as it's almost impossible to get lost and it's not scary. The theme is 'Jack and The Cornstalk' and they have 12 oversized story pages to help keep you on the right path. My 6-year-old son was really into it but I don't think older kids would be as it's too easy.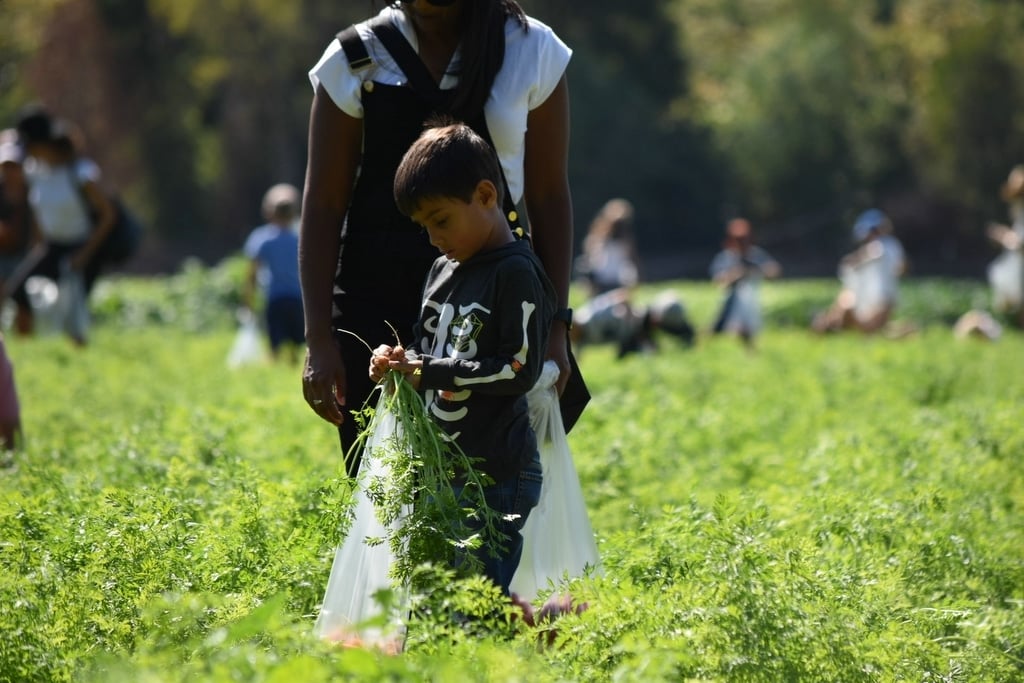 7. Picking Fresh Fruit and Vegetables
You can go and pick fresh fruits and vegetables year-round. There are signs indicating what's available and the prices.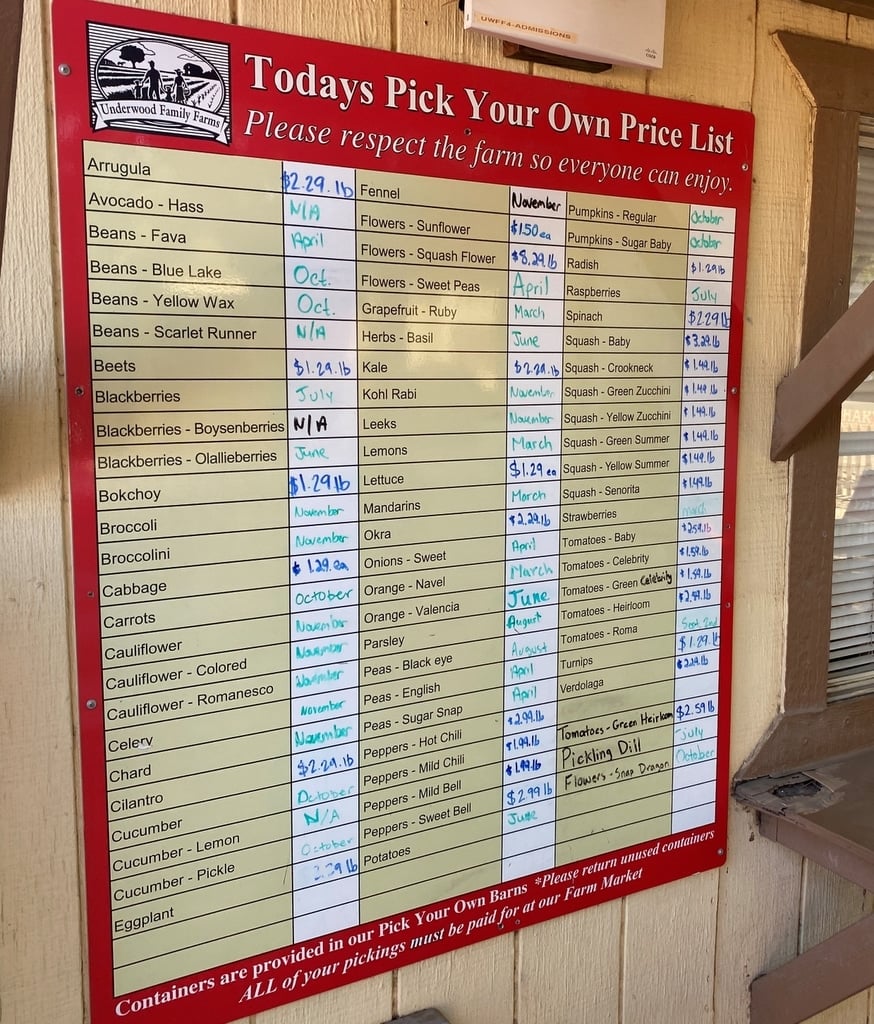 For example, we saw fields of arugula for $1.99 a pound or Japanese turnips for $1.29 a pound.
There's also a board with a map of the property showing what's available. As you can see from the image above, they also had beets, carrots, kale, fennel, leeks, tomatoes, peppers, eggplant, okra, black eyed peas, squash, cucumbers, Blue Lake beans and yellow wax beans.
9. Pick Fresh Flowers
In addition to picking fruits and vegetables, you can pick fresh flowers from sunflowers to Gerber daisies. There weren't many people walking through them so it was a great place to snap some family photos.
10. Pumpkin Patches
Of course, the main attraction this time of year are the pumpkin patches. They have a small one for little kids where the pumpkins only cost $3 apiece. Then there's a variety of sizes laid out throughout the property and even a section with unusual and colorful pumpkins like Blue Delights, which go for $0.89 a pound.
11. Animals
No farm is complete without a variety of animals. They have goats, pigs, emus, ducks … We had some tickets left over since Jack won five at the end, so we went and fed the baby ducks by hand for 4 tickets.
12. Rides
There are no amusement park rides except for a small train (2 or 3 tickets apiece) but everything is geared towards little kids and they do a fantastic job.
13. You can Use Leftover Tickets Next Year
As I mentioned, most rides or activities cost money in terms of activity tickets. Prices are:
11 for $10.00
23 for $20.00
48 for $40
100 for $80
If you have leftover tickets, you can use them the following year as they don't expire. It's also why some of the tickets they give you are pretty beat up.
14. Country Store
Finally, when it's time to leave, you need to exit via the country store, which makes sense since most people are buying produce. We shopped in the store.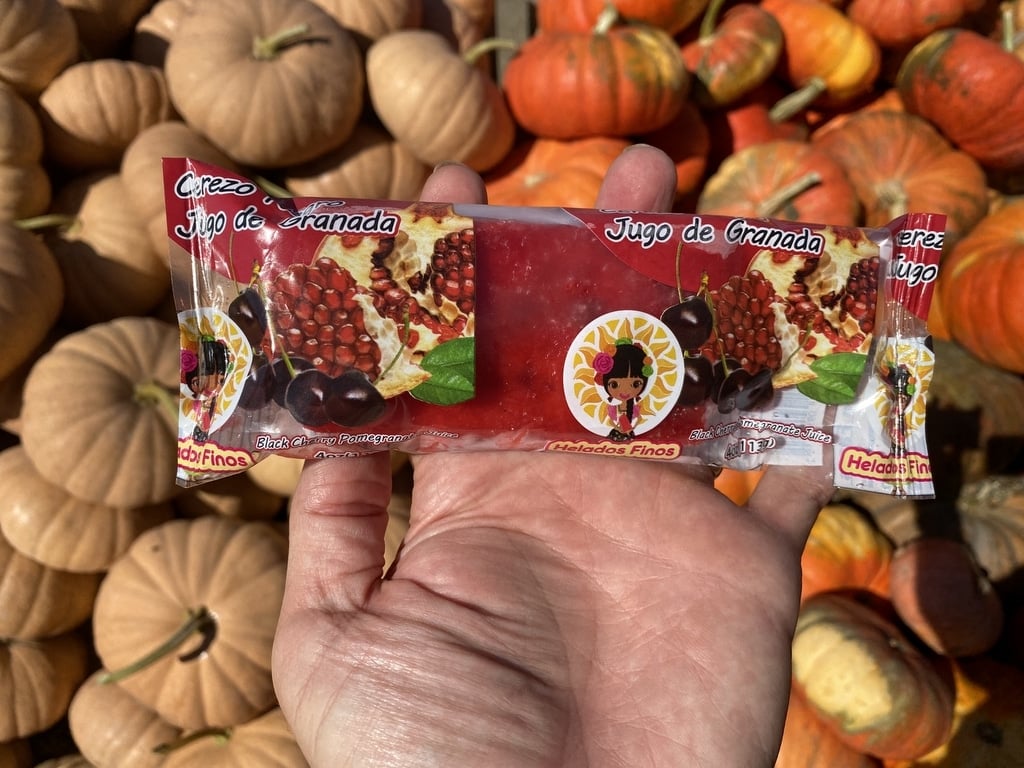 15. Best. Popsicle. Ever.
The best thing in the country store is their frozen fruit bars (black cherry and pomegranate) for $2. It was so good, I went back for another for the road. They're made by Jeff and Tony's Helados Finos in Burbank.
Good to know: We were running low on gas and there are plenty of gas stations right off of the 405 Freeway on the way to/from the farm but they charged at least $1 more than gas stations in the city. See photo above.
As you can see, we really love going to Underwood Family Farms and you will, too. They do a fantastic job decorating, offer great rides and everyone is really friendly. They also don't try to nickel and dime you, starting with the free parking.