This article was written and produced in partnership with Allianz Global Assistance. All opinions expressed within are my own.

One of the best things about California is that the opportunities for epic road trips are endless. There's something for everyone in California, from the surf and sand to the desert, the mountains and everything in between. RELATED: Weekend Getaways For Couples in California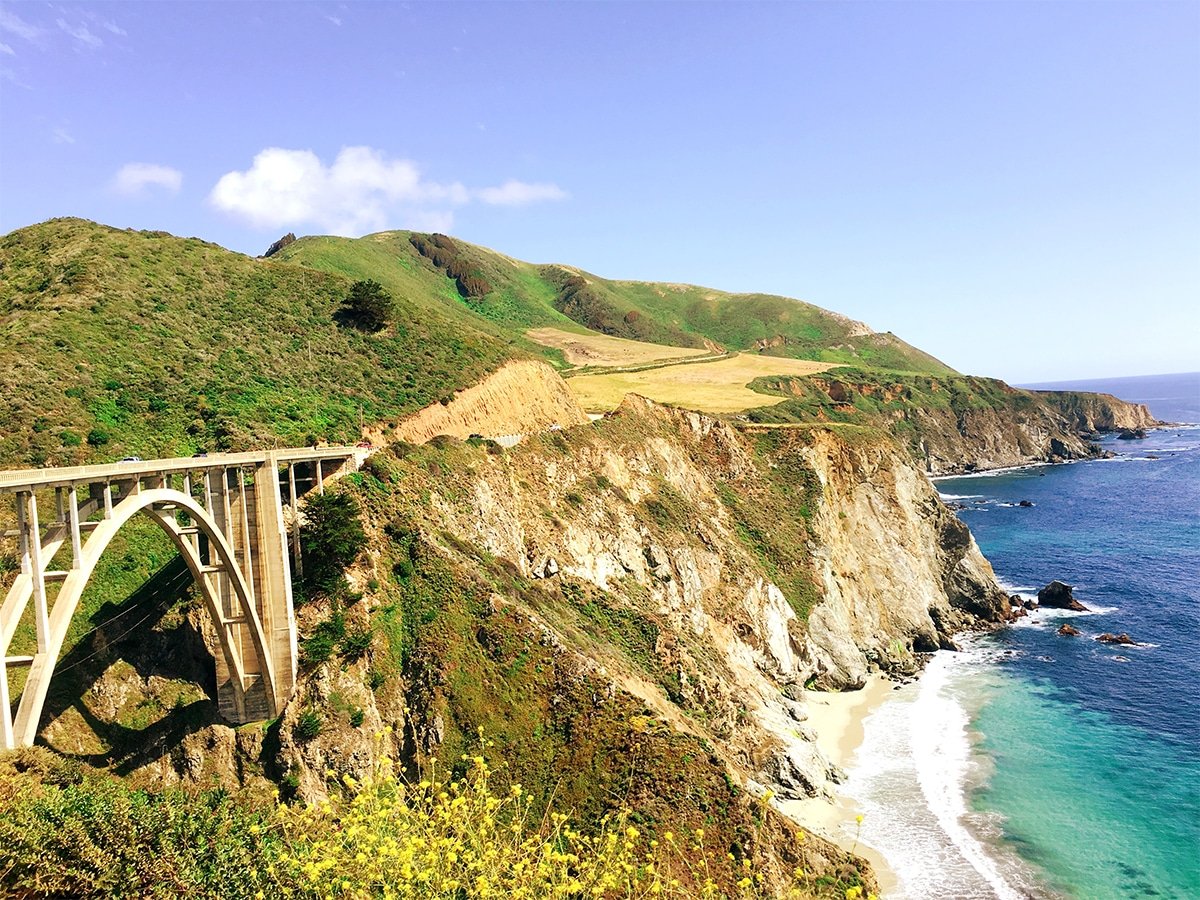 A road trip from Los Angeles to San Francisco can take you on a scenic drive with plenty of great stops along the way, like Santa Barbara, San Luis Obispo, Big Sur and Monterey. Ready to hit the road? Let's go!

LOS ANGELES
Things to Do in Los Angeles
No trip to Los Angeles is complete without exploring some of Hollywood's iconic spots like the Hollywood Walk of Fame, Grauman's Chinese Theatre and of course, the Hollywood Sign. If you're a movie buff, you'll also want to do some fun studio tours, like those offered at Warner Bros, Paramount and Universal Studios (the studio tour is included with park admission to the Universal Studios Hollywood theme park.)

Of course, Los Angeles has no shortage of options for outdoor activities, from hiking in Griffith Park and rollerblading in Venice Beach to surfing or playing beach volleyball in any of the many beaches along the coastline (Manhattan Beach, pictured above, is our favorite!) RELATED: Manhattan Beach: The Perfect LAX Layover
Looking for cultural experiences? Visit the Getty Center Museum, the Griffith Observatory and the Los Angeles County Museum of Art (LACMA). Take in a show at the Walt Disney Concert Hall or the Hollywood Bowl. If you've got kids, the Natural History Museum of Los Angeles County is a must-visit. RELATED: 15 Things to Know Before Going to the Hollywood Bowl
Where to Stay in Los Angeles
From downtown city hotels to beach hotels and celebrity hangouts, where you stay all depends on what you want to do while in the City of Angels. The Ritz-Carlton Los Angeles is in a great location if you're interested in catching a game or a show since it's in the heart of the city's sports and entertainment district. Looking for a luxurious beach stay? Shutters on the Beach is one of LA's most popular options … and for good reason. From its gorgeous rooms to its great location in Santa Monica, you'll enjoy a luxury but laidback stay. The Beverly Hills Hotel is the place to stay if you're in the mood for stargazing … and we're not talking about the stars in the sky! RELATED: 6 Los Angeles Hotels For Every Kind of Traveler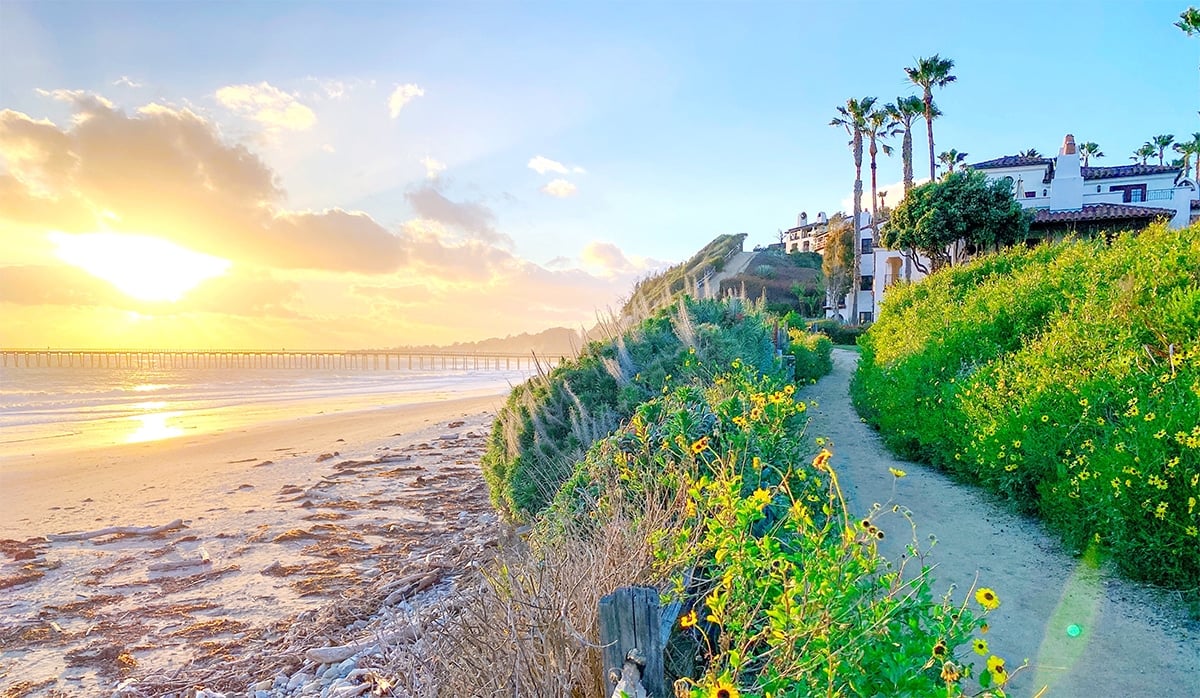 SANTA BARBARA
Things to do in Santa Barbara
The first stop on this road trip itinerary up the California coast is Santa Barbara and you may want to schedule a handful of days here to enjoy all that it has to offer. Known as 'the American Riviera', Santa Barbara is situated on the central coast of California, about 90 miles northwest of Los Angeles.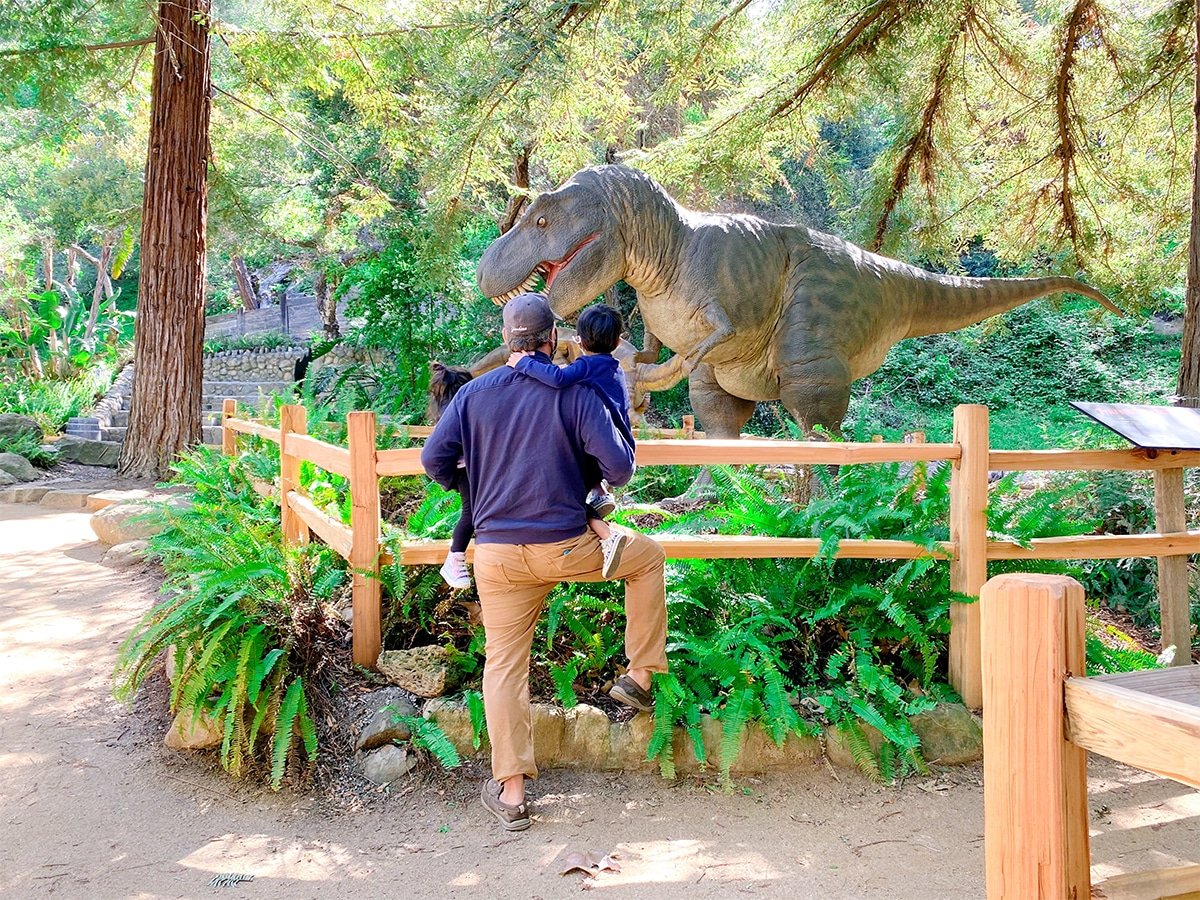 The city is home to a number of popular tourist destinations, including Stearns Wharf, a historic pier that offers shopping, dining, and entertainment; the Santa Barbara Zoo, which is home to more than 500 animals from around the world and the Santa Barbara Museum of Art, which features a collection of over 27,000 works of art from a variety of cultures and time periods. The Santa Barbara Museum of Natural History is a must-visit, with or without kids. But if you do have kids, the Prehistoric Forest (pictured above) will thrill adults and children alike.
In addition to its cultural attractions, Santa Barbara is also known for its outdoor recreation opportunities, including hiking, surfing, and whale watching. The city is surrounded by beautiful natural scenery, including the Santa Ynez Mountains to the north and the Pacific Ocean to the south.
While you're there, you'll want to visit the Santa Barbara Mission, a beautiful Spanish-style church and museum. A stroll along the Stearns Wharf, a historic pier with restaurants and shops, is a great way to spend the day and if you're looking for a great place to eat, try Olio e Limone, an upscale Italian restaurant with delicious fresh fare.
Where to Stay in Santa Barbara
Not surprisingly, Santa Barbara is home to a slew of wonderful hotel options, from the upscale Ritz-Carlton Bacara and the Belmond El Encanto, a dreamy stay in the lush hills overlooking the Pacific. More budget-friendly stays like the Leta Santa Barbara Goleta may be easier on the wallet but is still big on style and great, family-friendly amenities. The Hideaway is a gorgeous, meticulously designed boutique property just three blocks from the beach. RELATED: 10 Reasons to Stay at the Ritz-Carlton Bacara, Santa Barbara
SAN LUIS OBISPO
Things to Do in San Luis Obispo
Midway between Los Angeles and San Franciso and just 95 miles (about an hour and a half drive) from Santa Barbara, is San Luis Obispo, also known as SLO. Known for its beautiful natural scenery, mild climate, and historic downtown area, SLO makes a great road trip stop as you head up the coast.
One of the most popular things to do in San Luis Obispo is to explore the city's historic downtown. The downtown area is home to several historic buildings, including the Mission San Luis Obispo de Tolosa, which was founded by Spanish missionaries in 1772. The downtown area also features a wide range of shops, restaurants, and galleries.
While you're there, you'll also want to hike the Bishop Peak Trail for stunning views of the surrounding landscape. The 1,546-foot summit of the 20-million-year-old rock is a 3.5-mile round trip from the trailhead at Highland Drive. If you keep up a good walking pace, it should take you about 2 to 2 1/2 hours to complete.
In nearby San Simeon, Hearst Castle, a historic mansion built by newspaper magnate William Randolph Hearst in the early 20th century, is another popular attraction. The castle is situated on a hilltop overlooking the Pacific Ocean and features lavish gardens, a museum, and tours of the castle's interior.
Where to Stay in San Luis Obispo
San Luis Obispo offers a variety of accommodation options, from budget-friendly motels to luxurious hotels. SLO Brew Lofts are spacious and luxurious lofts, located above the SLO Brew restaurant and brewery in downtown San Luis Obispo. Each loft features a full kitchen, a living area, and a private balcony. The Granada Hotel & Bistro is a boutique hotel located in the heart of downtown San Luis Obispo and offers stylish and modern rooms, as well as an on-site restaurant and bar. If you like more quirky stays, The Madonna Inn is a unique hotel, known for its eclectic rooms, each with its own distinctive theme and decor. RELATED: Weekend Getaways For Couples in California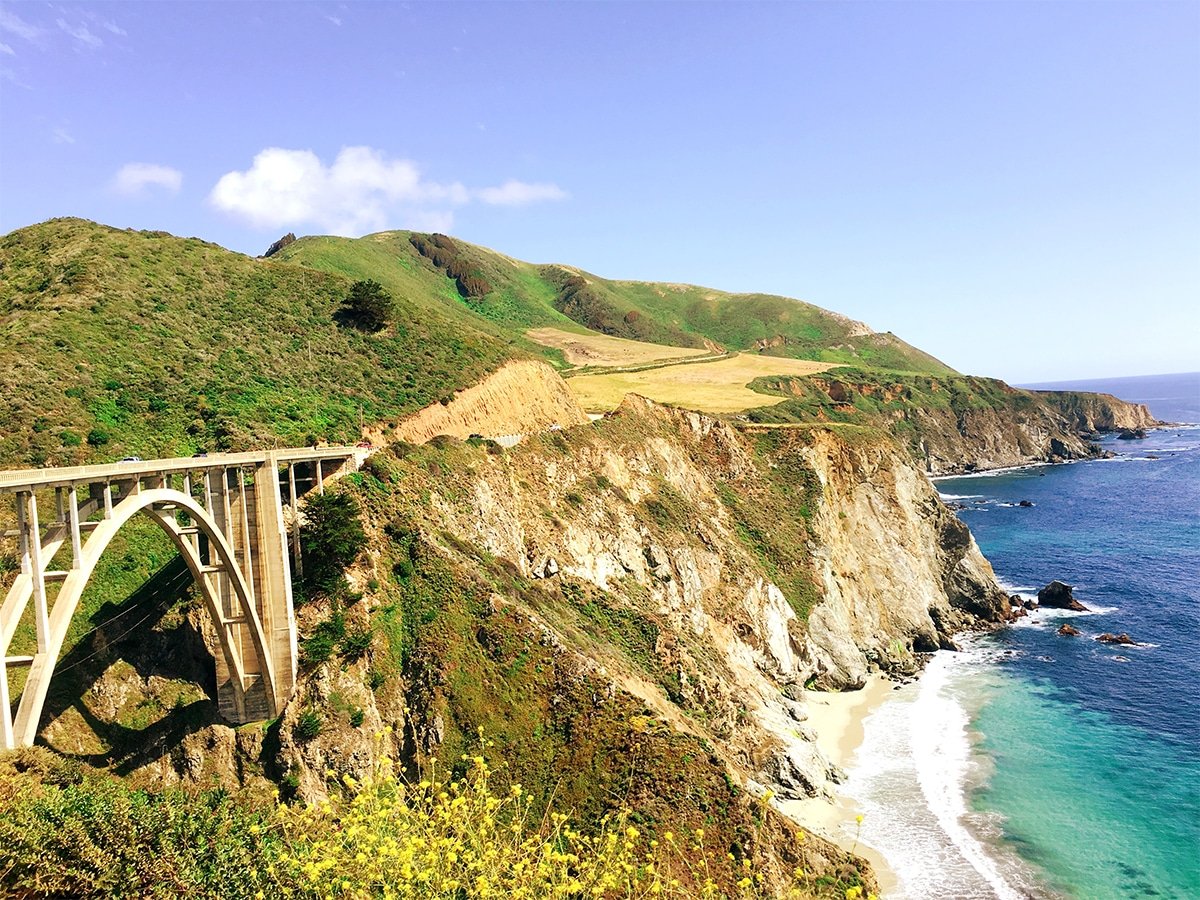 BIG SUR
Things to Do in Big Sur
Big Sur is a breathtakingly beautiful stretch of coastline between Carmel and San Simeon. It is characterized by its rugged cliffs, sweeping ocean views, and pristine natural landscapes, and is a popular destination for hiking, camping, and outdoor recreation.
Big Sur is home to a number of world-famous hiking trails, including the iconic McWay Falls Trail, which leads to a stunning waterfall that drops directly into the ocean. Other popular hiking trails in Big Sur include the Ewoldsen Trail, the Partington Cove Trail, and the Pfeiffer Falls Trail. Big Sur is also known for its beautiful beaches, which are often secluded and undeveloped. Some of the most popular beaches in Big Sur include Pfeiffer Beach, Garrapata Beach, and Andrew Molera State Park.
And not to be forgotten, the Bixby Bridge is a famous landmark in Big Sur and one of the most photographed bridges in California. It spans a deep canyon and offers stunning views of the coastline. RELATED: The 10 Most Instagrammable Tourist Attractions in California
Where to Stay in Big Sur
Post Ranch Inn is a world-renowned resort and frequently appears on lists of best hotels in California, and even the world. And for good reason. This secluded luxury property with a focus on sustainability is situated on one of the most enviable locations, atop a 1,200-foot ocean bluff overlooking the Pacific Ocean. Between the views, the service and the luxurious accommodations, this adults-only hotel is a dream stay. Don't miss dining at Sierra Mar, the hotel's restaurant with panoramic ocean views and farm-to-table cuisine. Other Big Sur hotels include Ventana Big Sur (also adults only), Glen Oaks Big Sur and the historic Big Sur River Inn.
MONTEREY
Things to Do in Monterey
The coastal city of Monterey is full of things to do from visiting its historical landmarks and cultural attractions to taking in the area's scenic beauty. The Monterey Bay Aquarium is one of the top-rated aquariums in the world, with a vast collection of marine life, interactive exhibits, and daily feedings. Cannery Row: Cannery Row is a historic waterfront district that was once home to a thriving sardine canning industry. Today, it is a popular tourist destination with shops, restaurants, and galleries. If you're not tired of being in the car, the 17-Mile Drive is a scenic drive that winds through some of the most beautiful coastal landscapes in the area, including Pebble Beach, the Lone Cypress, and Spanish Bay.
Outdoor adventures abound in Monterey. For example, Point Lobos State Natural Reserve is a scenic park that offers hiking trails, picnic areas, and stunning views of the coastline. Monterey's wine country has over 90 wineries in the area offering wine tastings and tours. The Monterey State Historic Park is a collection of historic buildings and landmarks that tell the story of Monterey's rich history, including the California's first capital building. And the Monterey Bay Coastal Recreation Trail is an 18-mile trail that offers stunning views of the coastline, and is perfect for biking, jogging, or strolling.
Where to Stay in Monterey
Portola Hotel & Spa is a modern hotel, located in the heart of downtown Monterey, within walking distance of many popular attractions. It features spacious rooms and suites, a spa, and a heated outdoor pool. The Monterey Plaza Hotel & Spa is a luxurious hotel located on Cannery Row, overlooking Monterey Bay. It features spacious rooms and suites, a rooftop spa, and award-winning restaurants. The InterContinental The Clement Monterey is another waterfront hotel located in the heart of Cannery Row and offers contemporary rooms and suites, a spa, and a rooftop pool. The Hyatt Regency Monterey Hotel and Spa features spacious rooms and suites, multiple dining options, a golf course, a spa, and indoor and outdoor pools.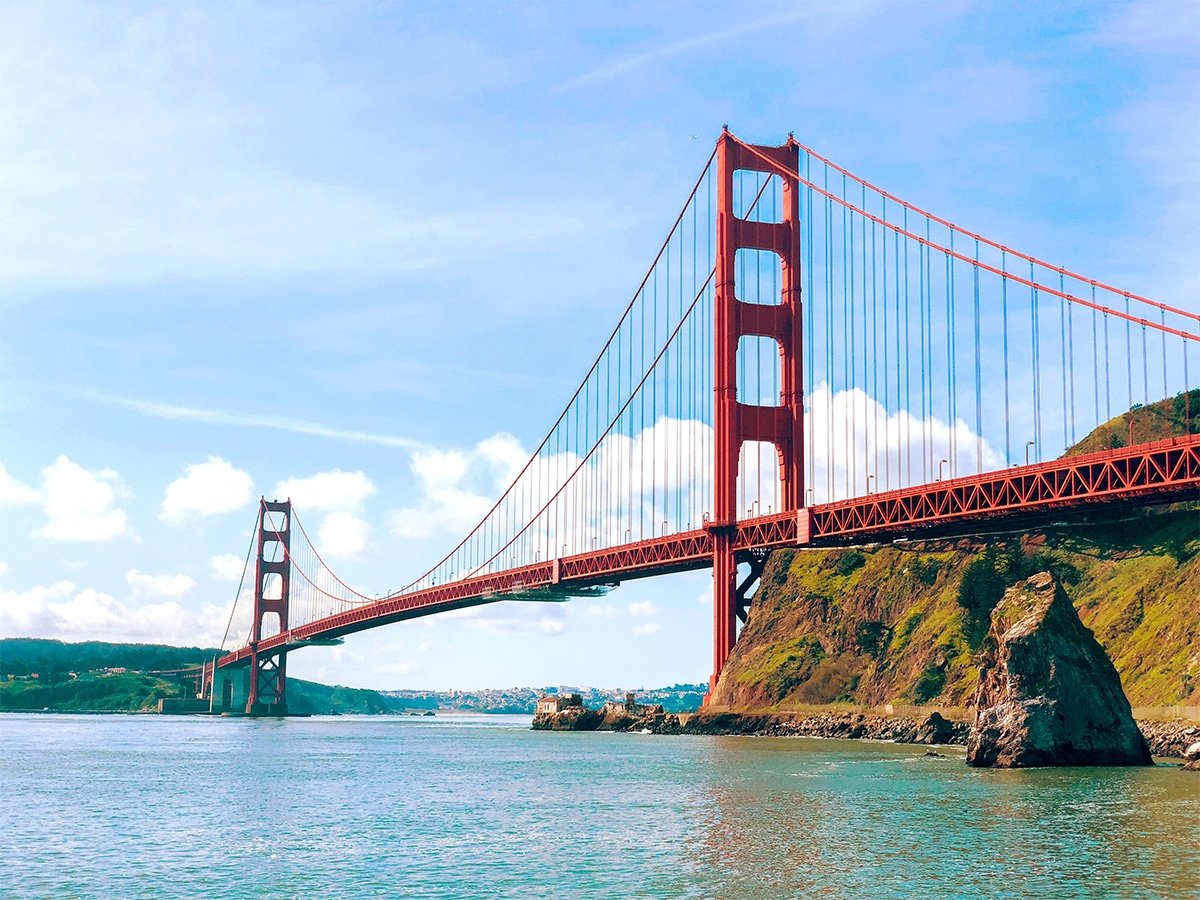 SAN FRANCISCO
Things to Do in San Francisco
No visit to San Francisco is complete without a visit to some of the city's most famous landmarks, like the Golden Gate Bridge, Alcatraz Island and Golden Gate Park to see the towering redwoods. But if you have time, you'll want to squeeze in as many of the city's other great sites as possible. The Ferry Building Marketplace is a historic ferry terminal that has been transformed into a bustling marketplace offering artisanal food and drink, specialty shops, and farmers' markets. The Palace of Fine Arts is a stunning landmark that was built for the 1915 Panama-Pacific Exposition, and offers a picturesque setting for photos and relaxation. The San Francisco Museum of Modern Art is a world-renowned museum that features a collection of modern and contemporary art from around the world. The Exploratorium is an interactive science museum that offers hands-on exhibits and experiments for visitors of all ages and of course, San Francisco's cable cars are a unique form of transportation and a popular tourist attraction. Visitors can ride the cable cars and take in the sights of the city from a unique perspective.
San Francisco also has several distinct and diverse neighborhoods, each with its own unique character. Haight-Ashbury is a neighborhood that was once the epicenter of the 1960s counterculture movement. Visitors can explore the neighborhood's shops, restaurants, and street art, as well as landmarks such as the Haight-Ashbury Flower Power Walking Tour and the Red Victorian Bed & Breakfast. San Francisco's Chinatown is the largest Chinatown outside of Asia and offers a unique cultural experience, with shops, restaurants, and historical landmarks. The Mission is a diverse neighborhood known for its street art, Latin American cuisine, and vibrant nightlife.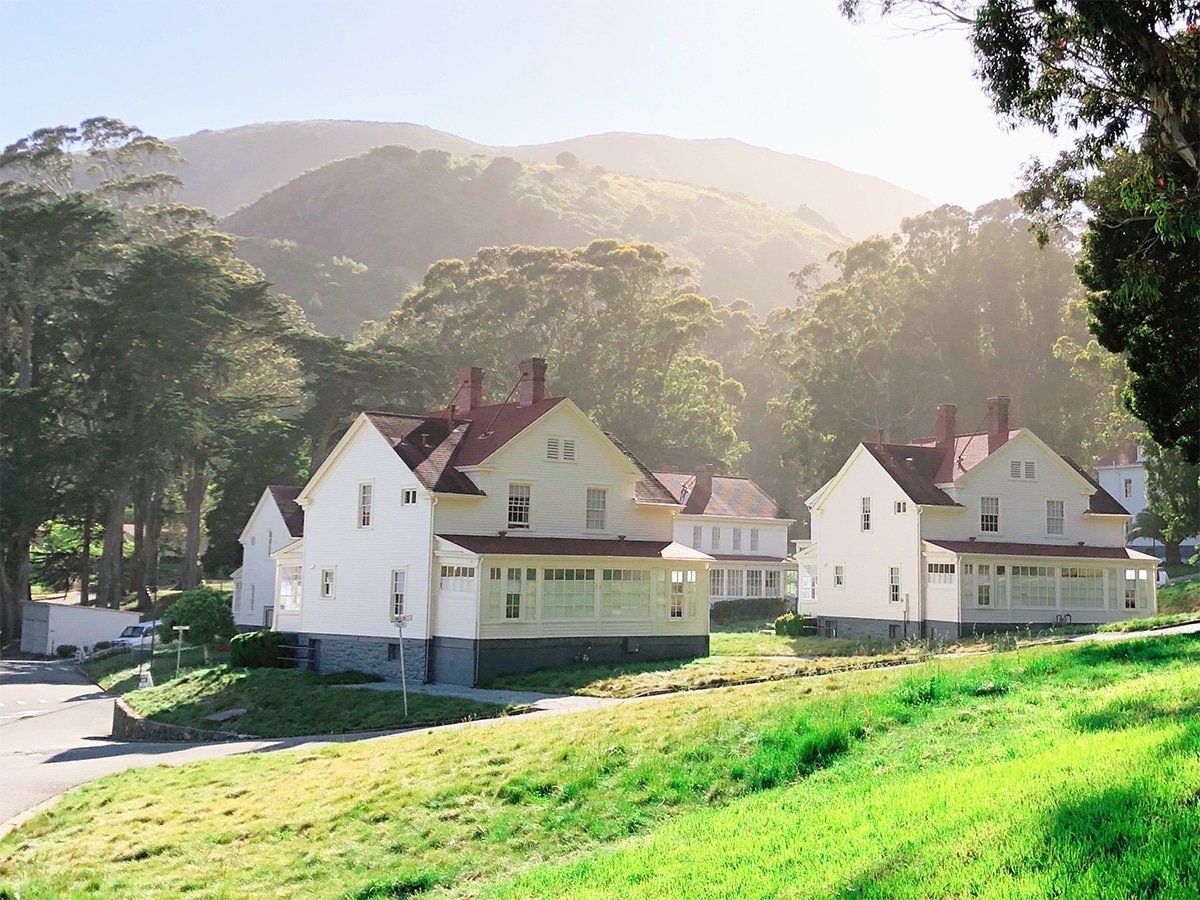 Where to Stay in San Francisco
San Francisco is home to many hotels to suit every kind of traveler. One of my family's favorite places to stay is Cavallo Point in Sausalito. The former army barracks have been converted into luxury historic homes and travelers will certainly appreciate the stunning surroundings and views of the Golden Gate Bridge. Luxury hotels include the Ritz-Carlton, the Fairmont and the St. Regis. If you prefer a historic hotel, consider the Omni San Francisco, located in the city's financial district. If boutique hotels are more your vibe, check out the Clift Royal Sonesta, Hotel Vitale and Hotel Drisco.
This post contains references to products from one or more of our advertisers. We may receive compensation when you click on links to those products. For an explanation of our Advertising Disclosure, visit this page.
KEEP READING:
–10 Best Budget-Friendly Vacation Destinations For 2023
–10 Best Budget-Friendly Destinations in the United States For 2023
–8 Affordable Beach Vacations to Take in 2023
–Free Things to Do in 10 Canadian Cities If You're Traveling on a Budget in 2023
–The 10 Most Instagrammable Tourist Attractions in California
Want more travel news, tips and deals? Sign up to Johnny Jet's free newsletter and check out these popular posts: The Travel Gadget Flight Attendants Never Leave Home Without and 12 Ways to Save Money on Baggage Fees. Follow Johnny Jet on MSN, Facebook, Instagram, Pinterest, and YouTube for all of my travel posts.