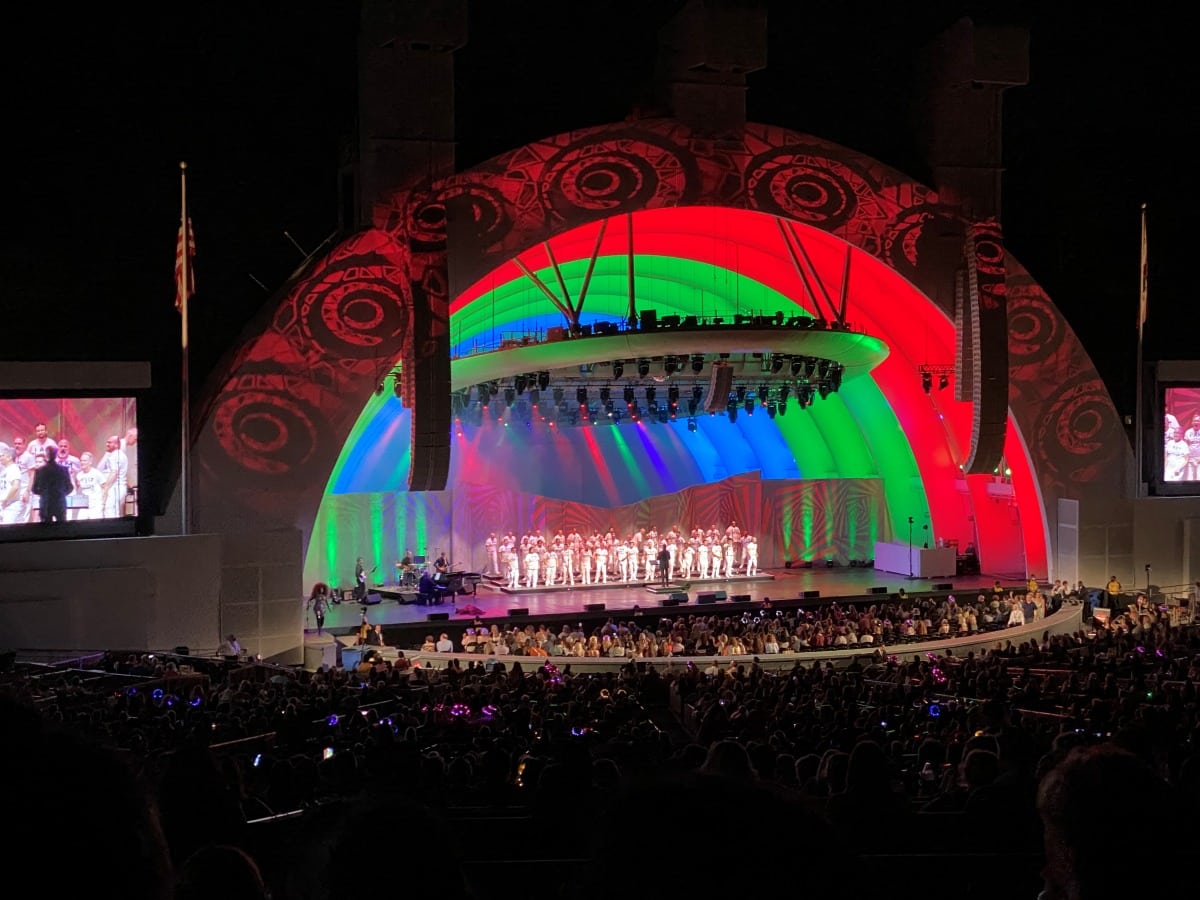 My wife and I went to the Hollywood Bowl last week, thanks to Viking Cruises, the official cruise line of the Hollywood Bowl. This is the second year in a row they invited us. We went last year and I have to say, a lot has changed in a year … and for the better!
First of all, the big change is that the pandemic has really turned a corner. It's not over but it has definitely gotten better … or at least it seems to have in the minds of most of the attendees. Last year when we went, it was a welcome distraction since my dad was in a Connecticut hospital with the virus and couldn't have any visitors. So were tens of thousands more. Fortunately, hospitalizations have dropped significantly which is why there's no longer a mask requirement to attend any of the concerts. They still do have signs where they strongly recommend masks but they're not required.
Another big difference was that last year when we went, we saw Dudamel lead Elgar and Grieg. I'm not really into classical music but my wife is and I really wanted her to experience the Hollywood Bowl as it's one of the best concert venues in the world. She absolutely loved it. This time around, we went to see ABBA the concert, which is a cover billed as the greatest ABBA tribute band on Earth. They were straight from Sweden and they sold the place out.
The first time we went to the Hollywood Bowl, I couldn't find any solid, easy-to-read information about going there so I did some research to answer my own questions. Without any further ado, here are 15 things to know before going to The Hollywood Bowl.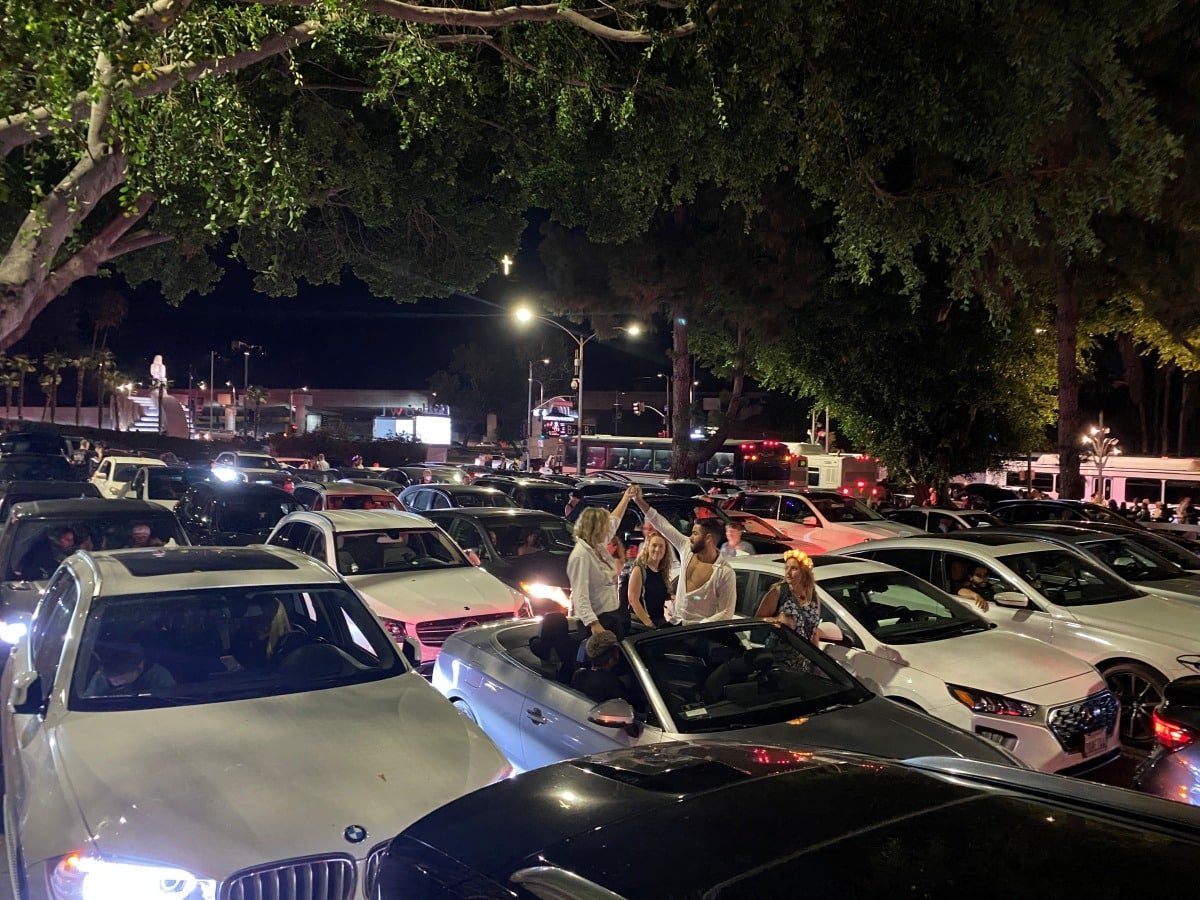 1. Stacked parking
All of the parking lots are stacked, which means you can't leave early if you want to. All drivers must pull their car in close to the next since space is very limited. When we went on our first attempt last year, we ended up not going in because we didn't want to be blocked in. I even spoke to the supervisor and asked if we could pay more for a spot that we could exit early from. No dice.
Why did we want the freedom to leave early? It was our first real date night in over a year and a half but with two little ones at home, we wanted to be able to leave just in case of an emergency. This year, we parked in Lot B and it took almost an hour to get out of the lot once the concert ended. But it was a really relaxed atmosphere as concert goers were in no hurry to leave and some were still partying in or beside their cars, ABBA music blasting and in the end, it was a pretty fun hour.
2. Drop-offs and pick-ups
The next time we went, we ordered a car service. I'm a Blacklane ambassador so I used one of my monthly credits. For all limos and ride shares, drop-offs and pick-ups are at Lot B, which is just a short walk from the Hollywood Bowl entrance.
3. Take the shuttle
If you don't want to stack park or spend the money on a car service, then I highly recommend taking the shuttle. My friends all say it's the way to go and it will save you time and aggravation.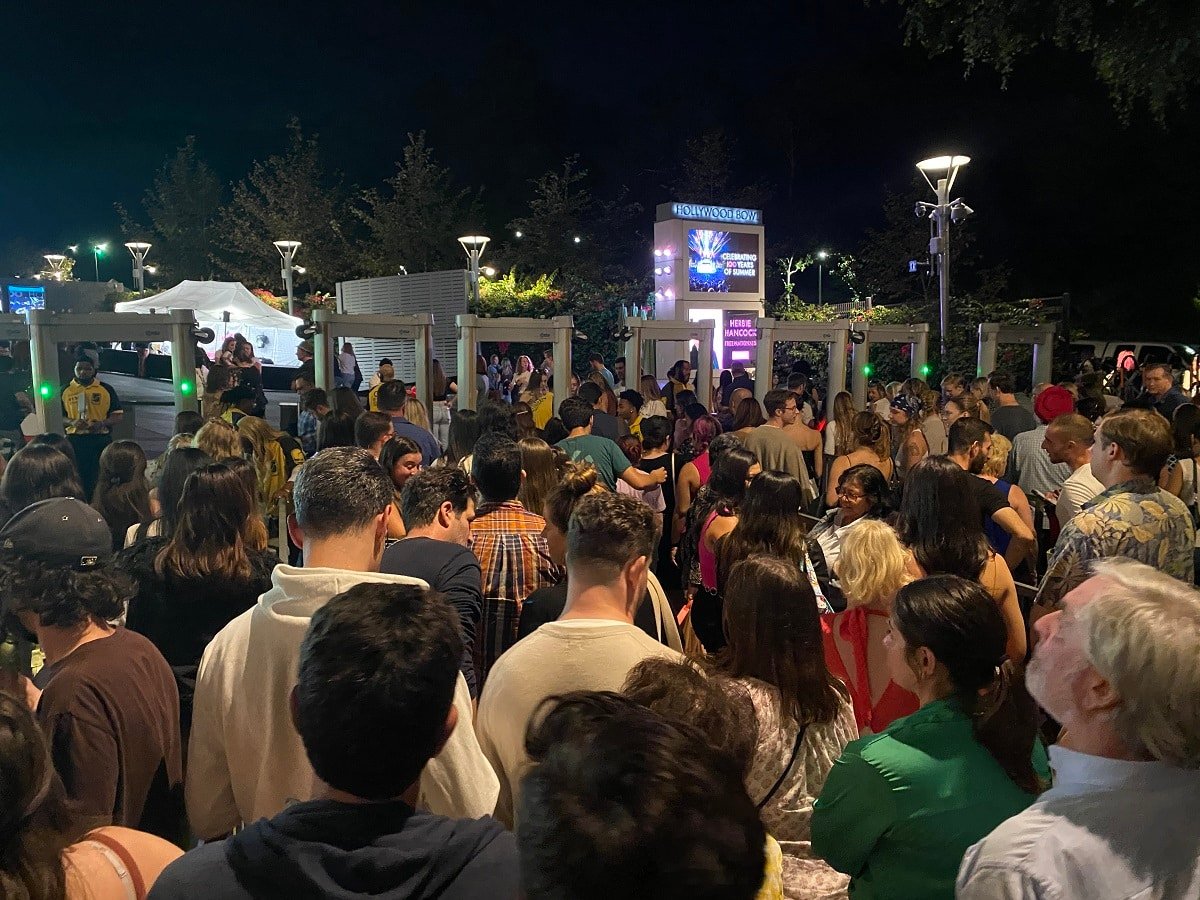 4. Security
If you're attending a popular concert, you'll want to get there early since the security lines move slowly. Employees check everyone's bag and all guests must empty their pockets into little bowls, just like at the airport, before going through metal detectors. A friend later tipped me off that there's another security checkpoint to the far right so if there's a long line, ask one of the security guards where it is. It could save you 20 minutes or more.
5. Not many people are wearing masks
Last year almost everyone wore a mask. This year, it was the complete opposite. Only a very few people, as in, less than 1%, were wearing masks, including the staff.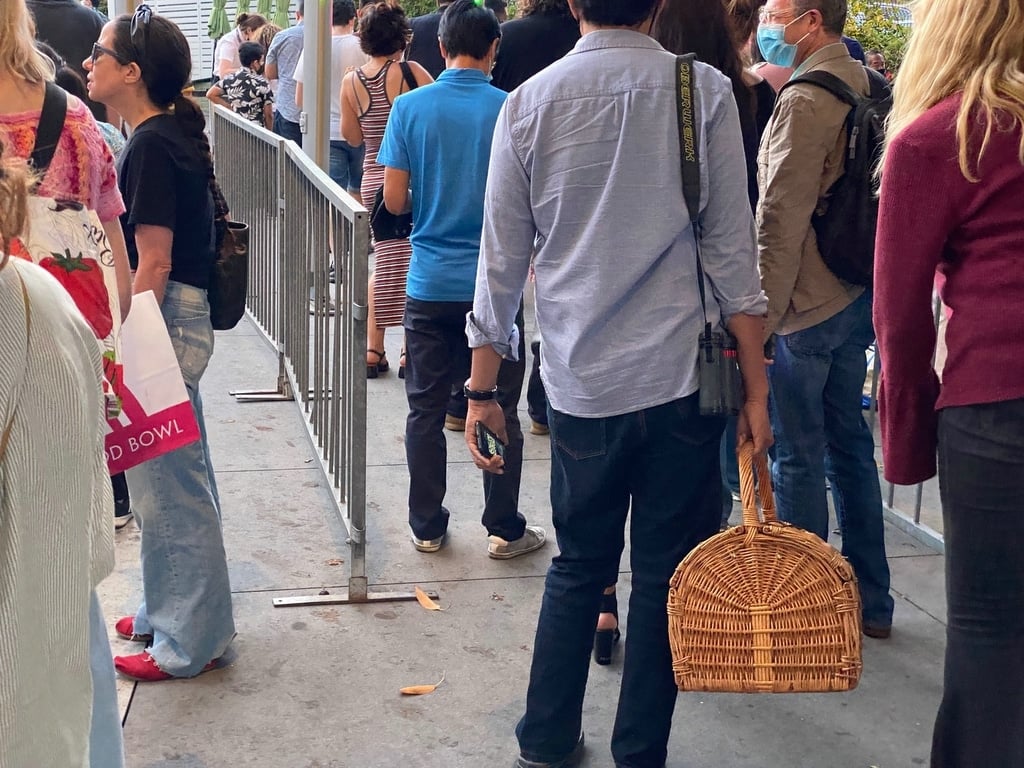 6. Bring a picnic
One of the very cool things about the Hollywood Bowl is that you can bring food and drink in for certain concerts. I saw tons of people carrying picnic baskets and can totally understand why. It's such a beautiful venue and the perfect spot to enjoy a picnic.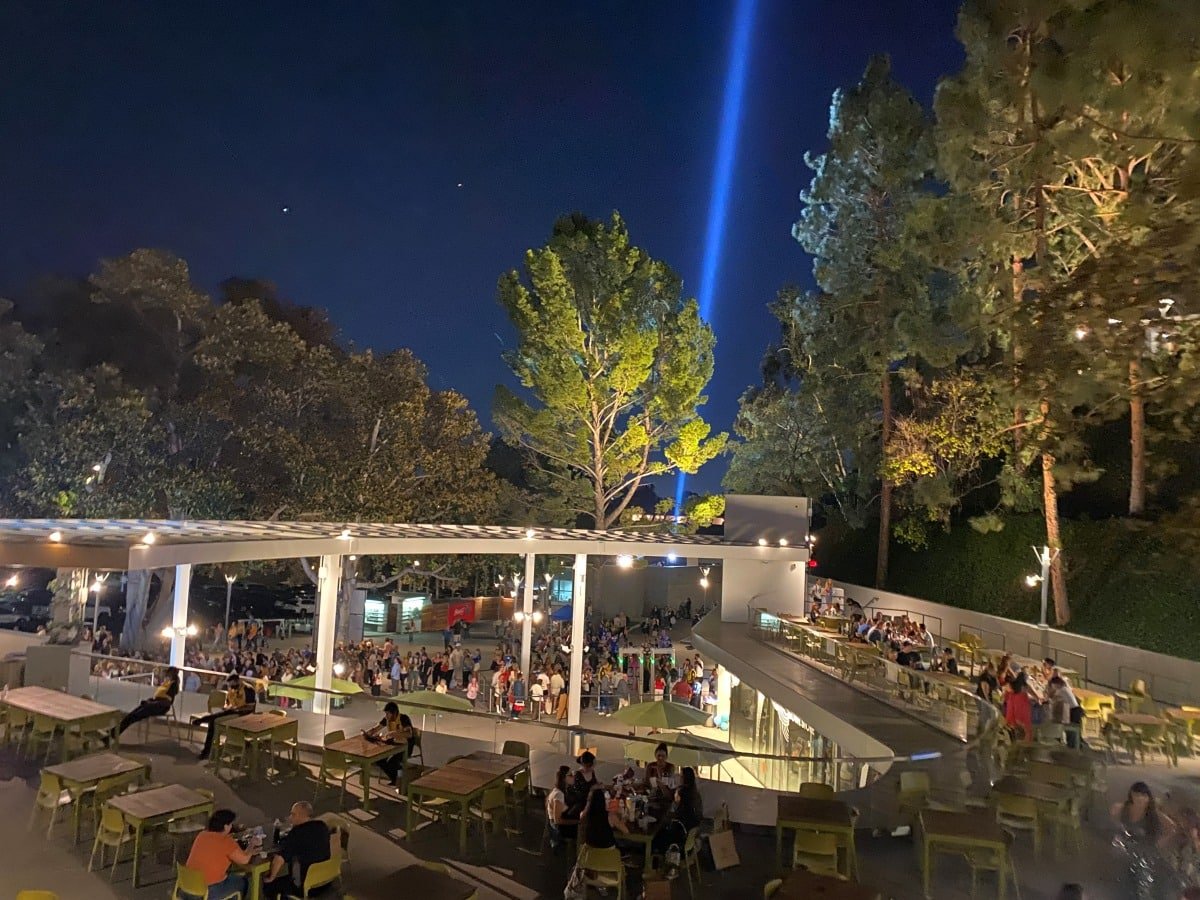 We're definitely packing a picnic next time; there are 14 areas around the Bowl where you can sit and eat. Some places are open four hours before the show. More information here. Note: Not all concerts allow picnics — usually the major acts don't so find out before going.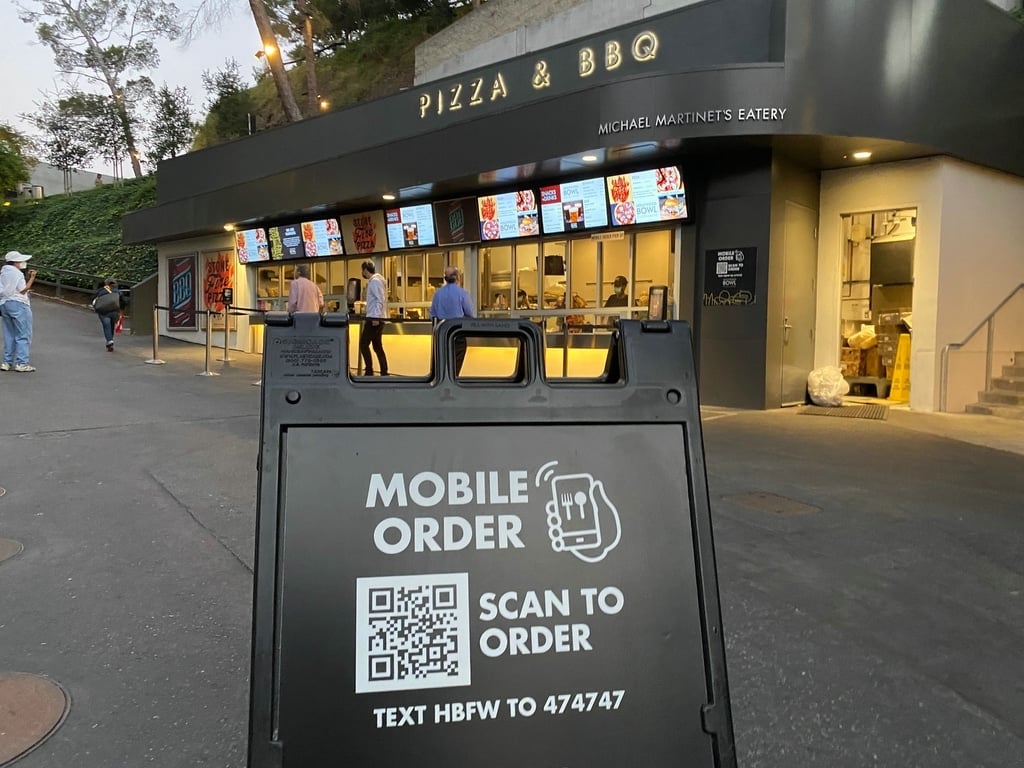 7. Buying food
As you might expect, buying food at The Hollywood Bowl isn't cheap but they sure do make it easy and even better, it's quick. While in the security line, I spotted the first QR code to scan (just use your phone's camera app; a notification at the top of your phone will display and when you tap it, all the food options will display). There are a few different options from BBQ to pizza and street tacos. We chose the latter. Three tacos cost $16, which isn't too bad but they get you on other things like $6 for soda/water and $5.50 for a small box of M&Ms. The best part about it is that they're quick. It took just a few minutes from ordering to actually getting our food. Good to Know: The food kiosks are cashless.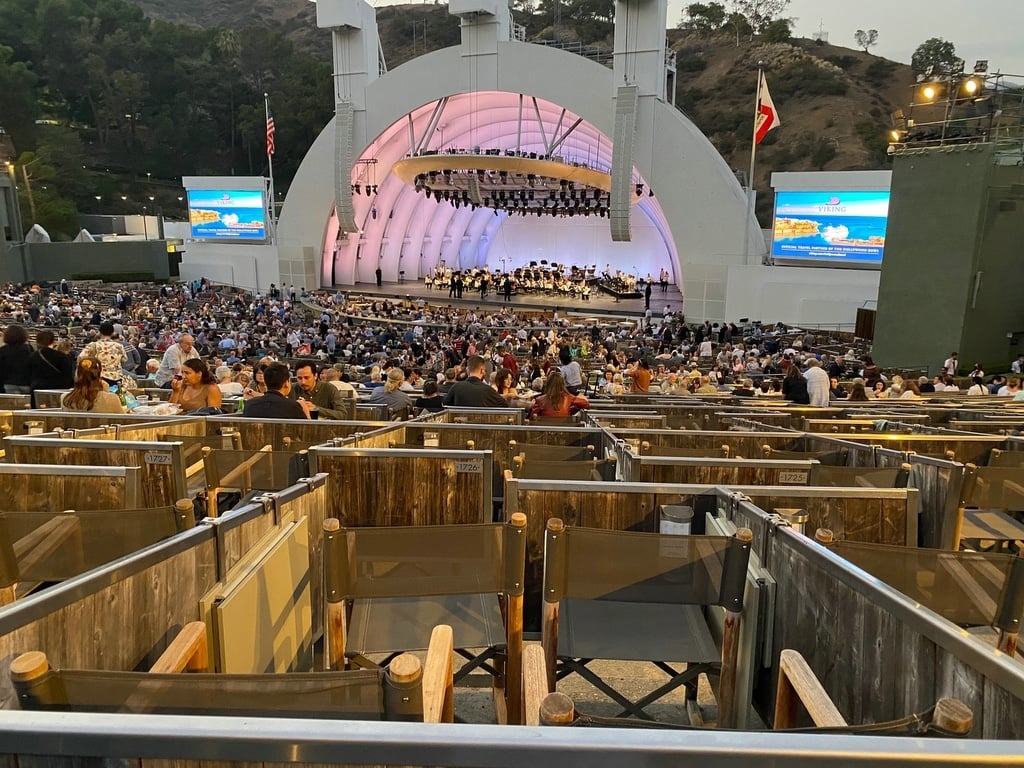 8. Seating
You can see the seating charts online and there are different choices, from the front section of seats with tables and box seats to stadium seating. The Bowl holds 17,500 people. Last year when we went, we were seated in section F1, Row 1, Seat 1 so there was no one in front of us and in fact, no one behind us. This time we were in K1, Row 6, Seat 12 and had people all around us.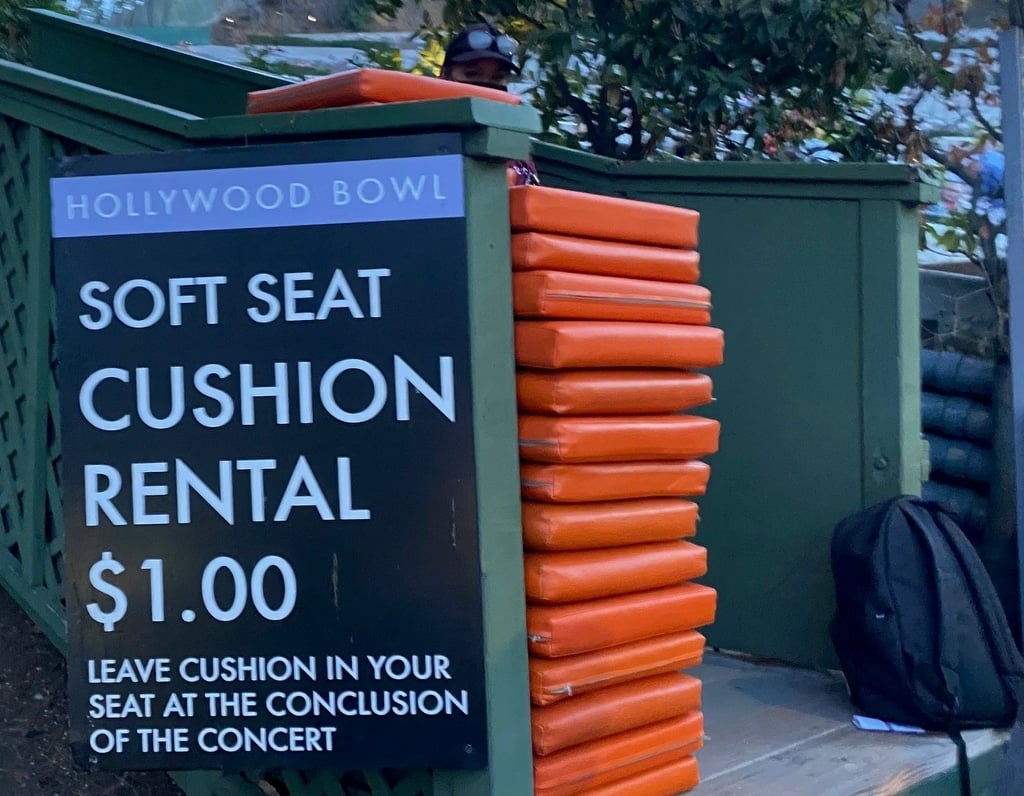 9. Rent a cushion
The bench seats are hard but you can rent a seat cushion for $1 or bring your own like a lot of people. I saw many people renting two cushions, one to sit on and one for their back. But as my wife said, depending on the concert, you won't be sitting down much anyway. Everyone was standing and dancing for most of the ABBA concert but of course, not so much for Dudamel.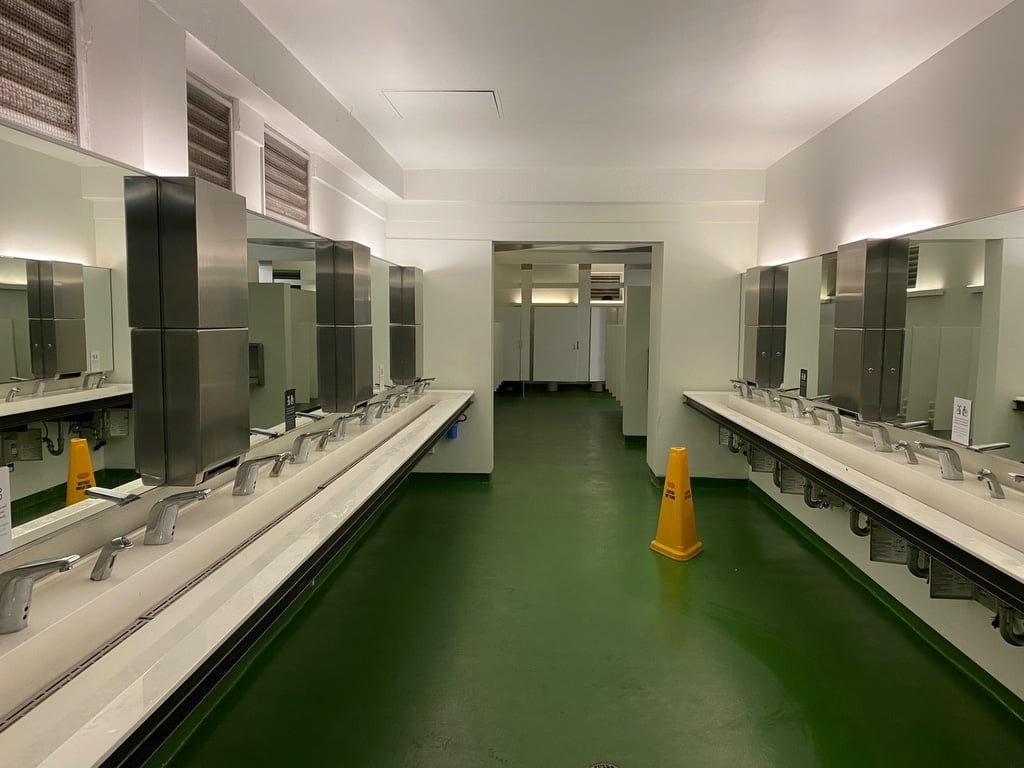 10. Bathrooms
Even with a sold-out concert the bathrooms were not crowded at all. They're huge, clean and there must be plenty of them.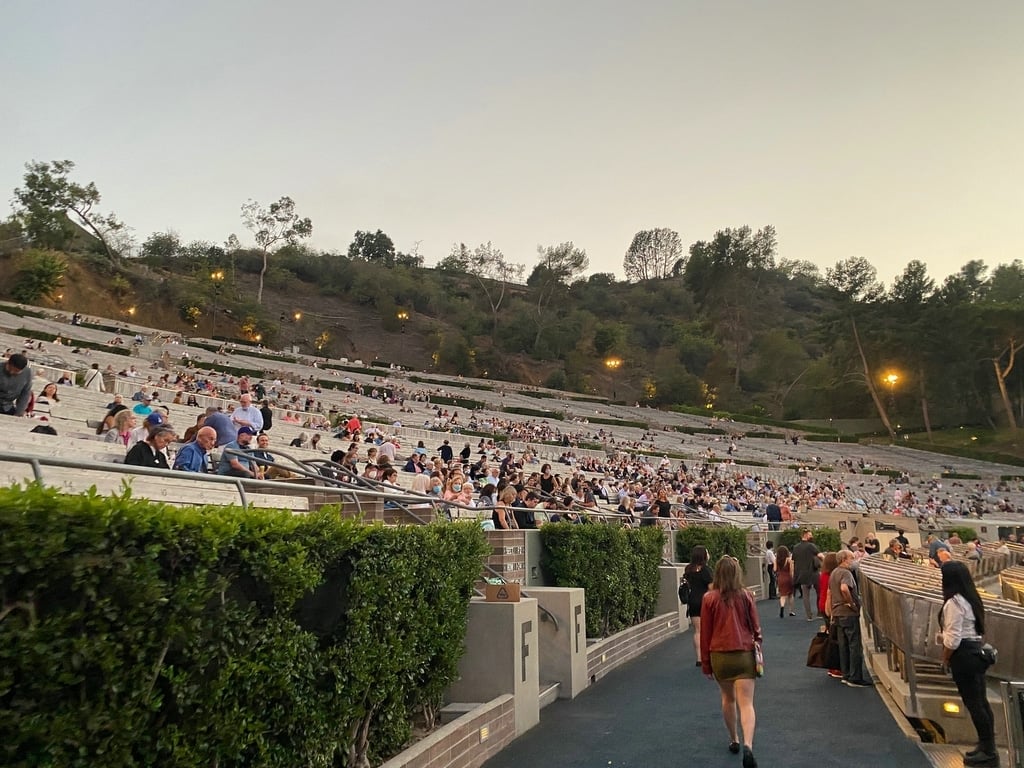 11. Returning to seats
Last year, on one of my many trips to the loo, I was told by an usher that I wouldn't be able to return to my seat until there was a break in the music or until intermission, like most theatre events, so plan your bathroom break wisely.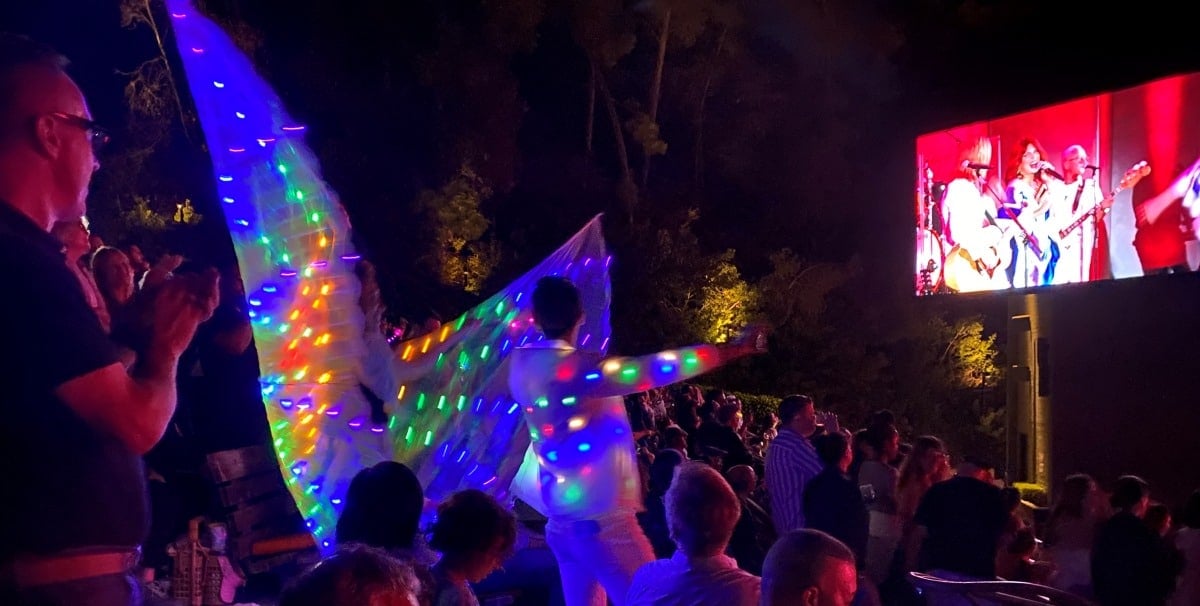 However, that was not the case this year as the aisles and stairs were constantly packed with people dancing and other attendees coming and going.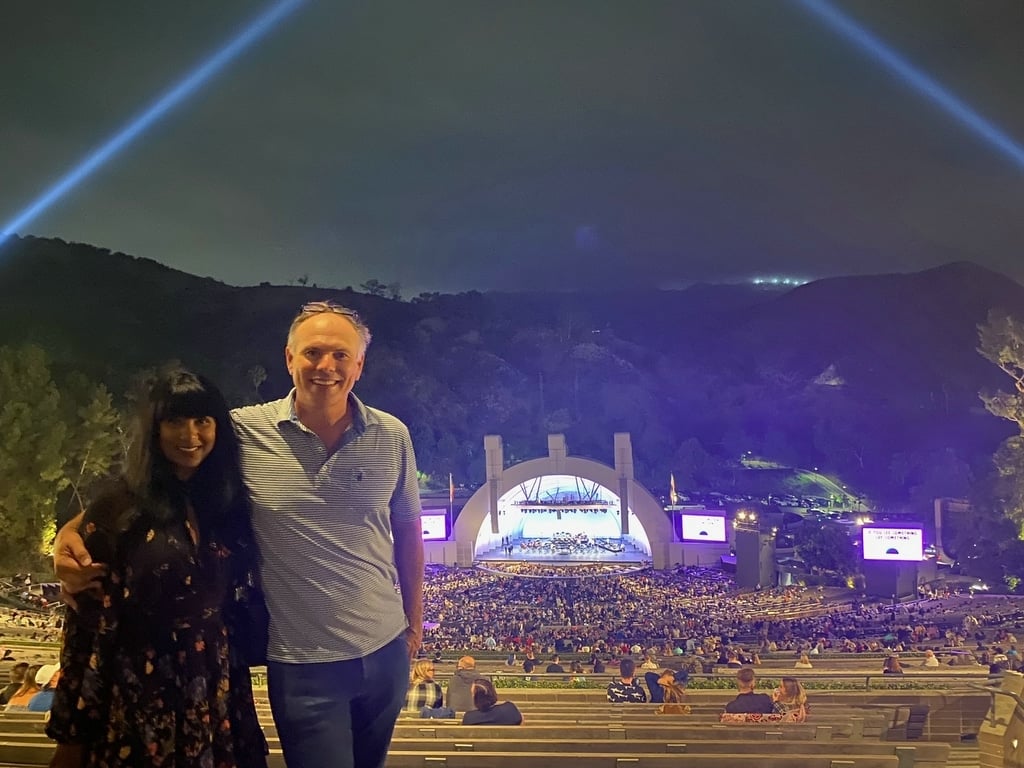 12. Walk to the top
Last year, I walked around the property to explore and found it extremely peaceful and beautiful, especially when there are no crowds. If you've never been to the Hollywood Bowl, then walk up to the top to see what an incredible place it really is and that there's really not a bad seat in the house.
13. People of all ages
The most surprising part of our visit this time around was how many little kids I saw. I'm talking kids that were just learning to walk. It was surprising because I didn't think ABBA wasn't really the concert for little kids as there were tons of people smoking weed. The family sitting next to me brought two kids, probably 9 and 12, and they were so bored they played video games the entire time. Actually, the parents were on their phones through the entire concert too, which was even more bizarre, but that's L.A. for you.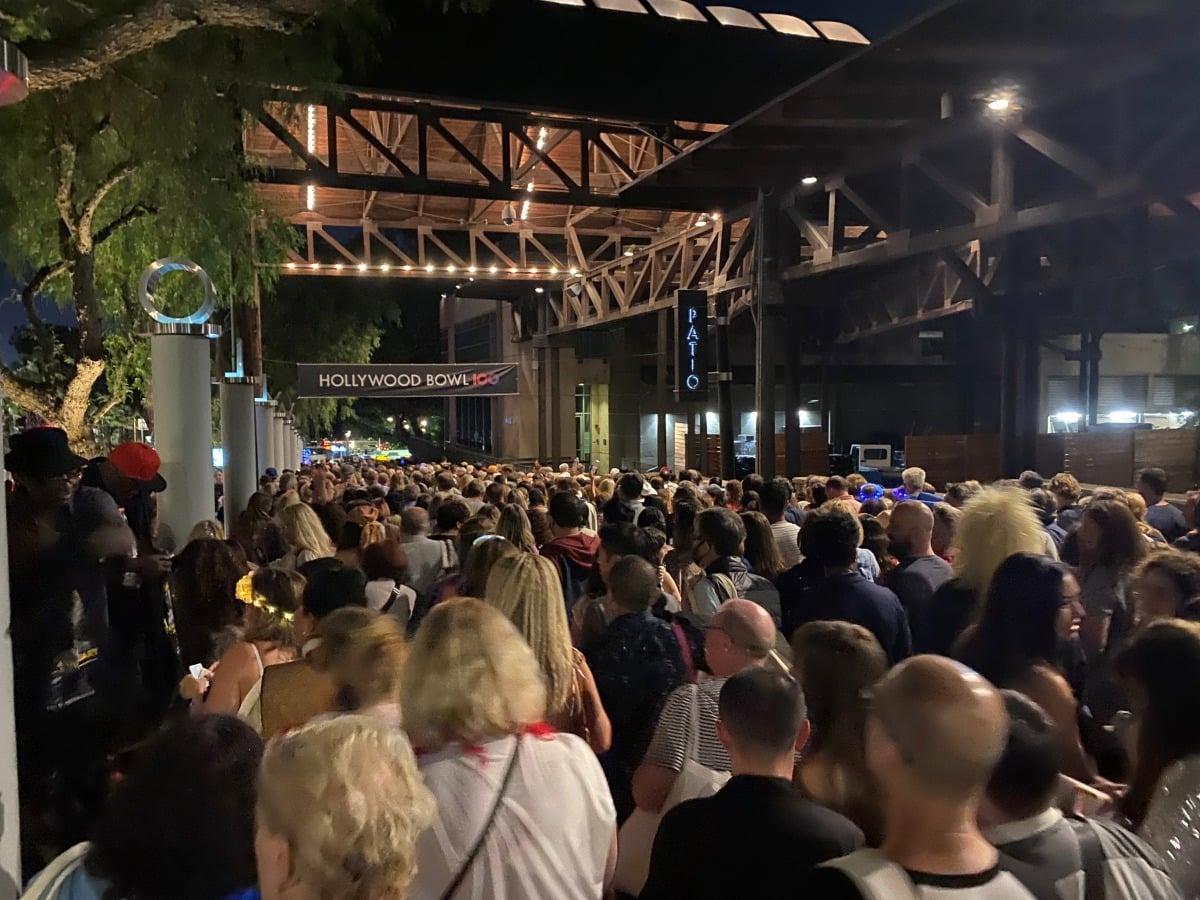 14. Leaving is a madhouse
Now I know why it takes so long for concert goers to get to their cars. The place was an absolute zoo and quite frankly a safety hazard because if there was a mad rush, people would get trampled. There's nowhere to go. My advice is to sit in your seats and wait for 20-30 minutes until the crowds die down, otherwise you're going to be in a slow-moving sea of people.
15. Free rehearsals
According to the Los Angeles Times, "The Hollywood Bowl typically opens rehearsals on Tuesdays and Thursdays. Parking and admission are free. The practice sessions run roughly from 9:30 a.m. to noon, though hours vary. Be sure to call to confirm the time and that they are taking place that day. Other artists open rehearsals only occasionally. The weekly schedule is released on Mondays. Parking is through the main gate, or in nearby Lot B when that fills." According to the LA Phil's website: "Some morning rehearsals at the Hollywood Bowl are open to the public. Be sure to email Audience Services at information@laphil.org or call 323 850 2000 for more information.
The Hollywood Bowl is no doubt an amazing place to see a concert. Next time I go, I'm bringing a picnic (if the concert allows) and a sweater since it got a little chilly once the sun went down.