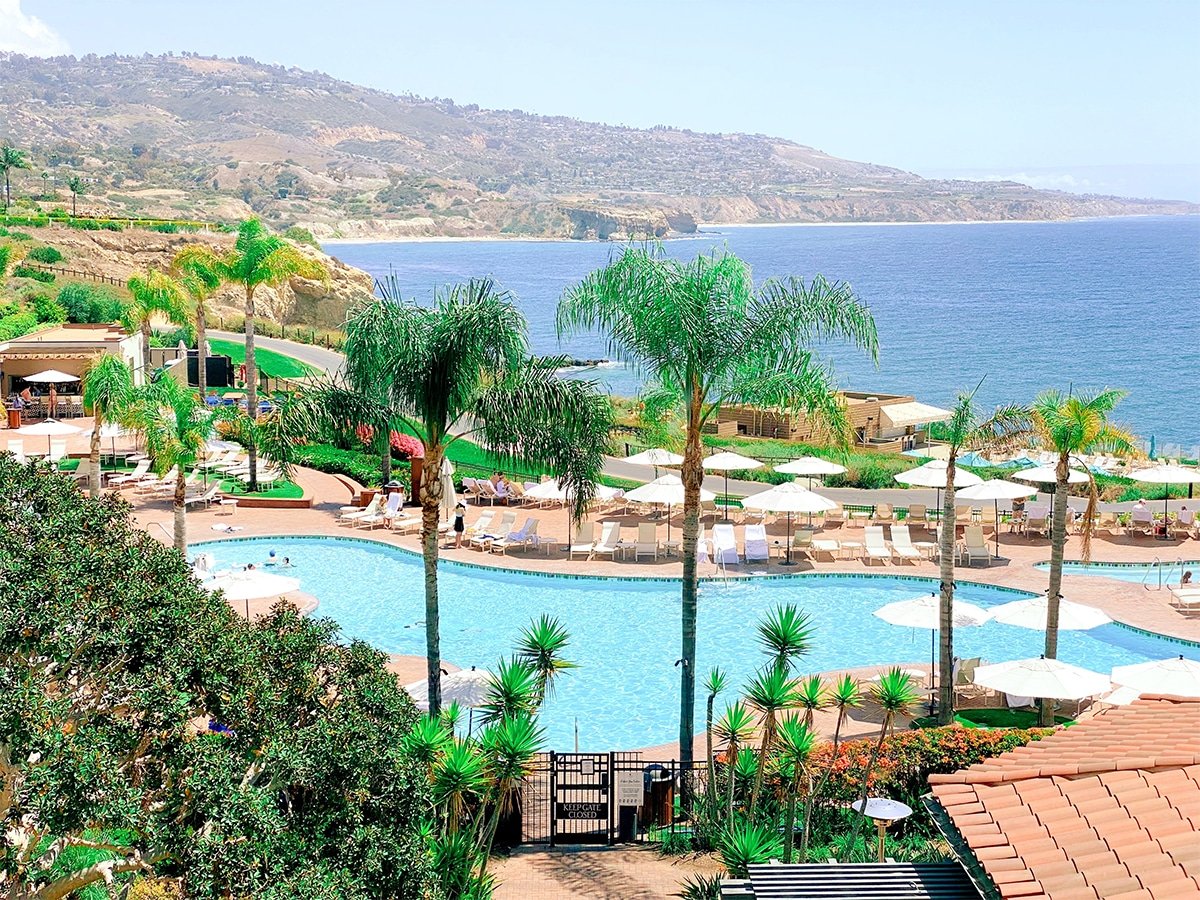 A big thanks to Terranea for hosting our stay so we could provide this detailed review of our experience.
Mother's Day is around the corner on Sunday, May 8 and if you're looking for the perfect way to show the special Mom in your life just how special she is, then whisking her away to Terranea is an idea she'll adore and an experience she won't soon forget.
Terranea is a spectacular resort along the stunningly beautiful Southern California coast in Palos Verdes and I'm fortunate to live not far away from it. Every time we drive by or visit, my husband and I comment on the natural, rugged beauty of the cliffs upon which Terranea is perched. We name all the beautiful locations in the world we've had the good fortune of visiting and compare Terranea and always arrive at the same conclusion: It rivals the best in the world. And then there's the fact that on a simple stroll along the hotel's coastal grounds, guests might catch a breathtaking sight like a whale breaching or an enormous pod of dolphins leaping through the air, both of which my family and I witnessed on our last visit, to our great delight.

Mother's Day at Terranea
If you live in Southern California or are looking for a last-minute trip idea to surprise Mom with, Terranea will not disappoint.

Staying at Terranea
If you decide to make a weekend out of it and are planning to spend a few nights at Terranea, you have lots of options, from ocean view, ocean side and oceanfront guest rooms and suites to extremely spacious casitas, bungalows and villas. We have stayed in a casita in the past – take a look inside and read about our family-friendly stay here and on our most recent visit, stayed in an ocean view suite, which was beautiful and capacious. Here's a closer look: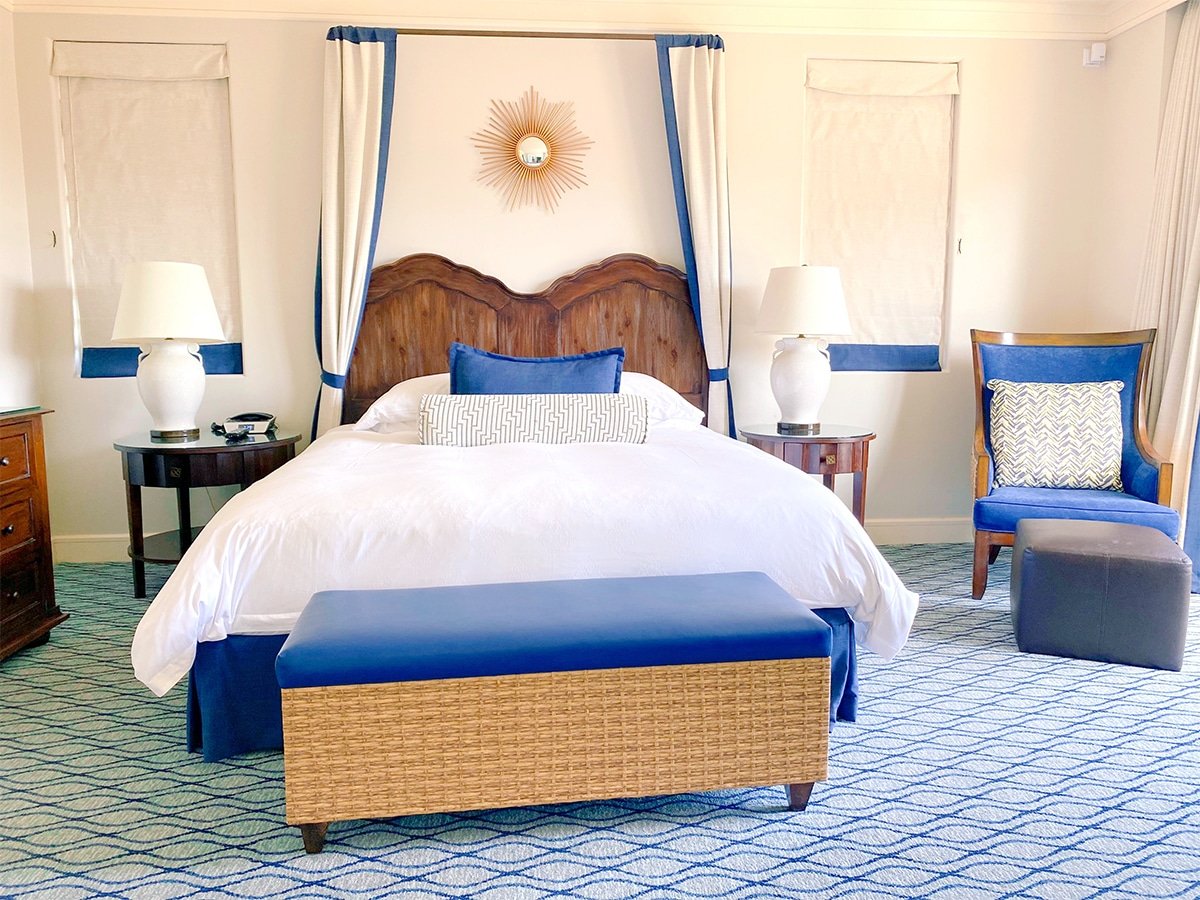 The bedroom features a king-size bed, a seriously comfy wingback chair (so comfy, I sat and did all my work there, all the while thinking, "I need to get one of these things for my house!") and a balcony overlooking the pool and further out, the ocean.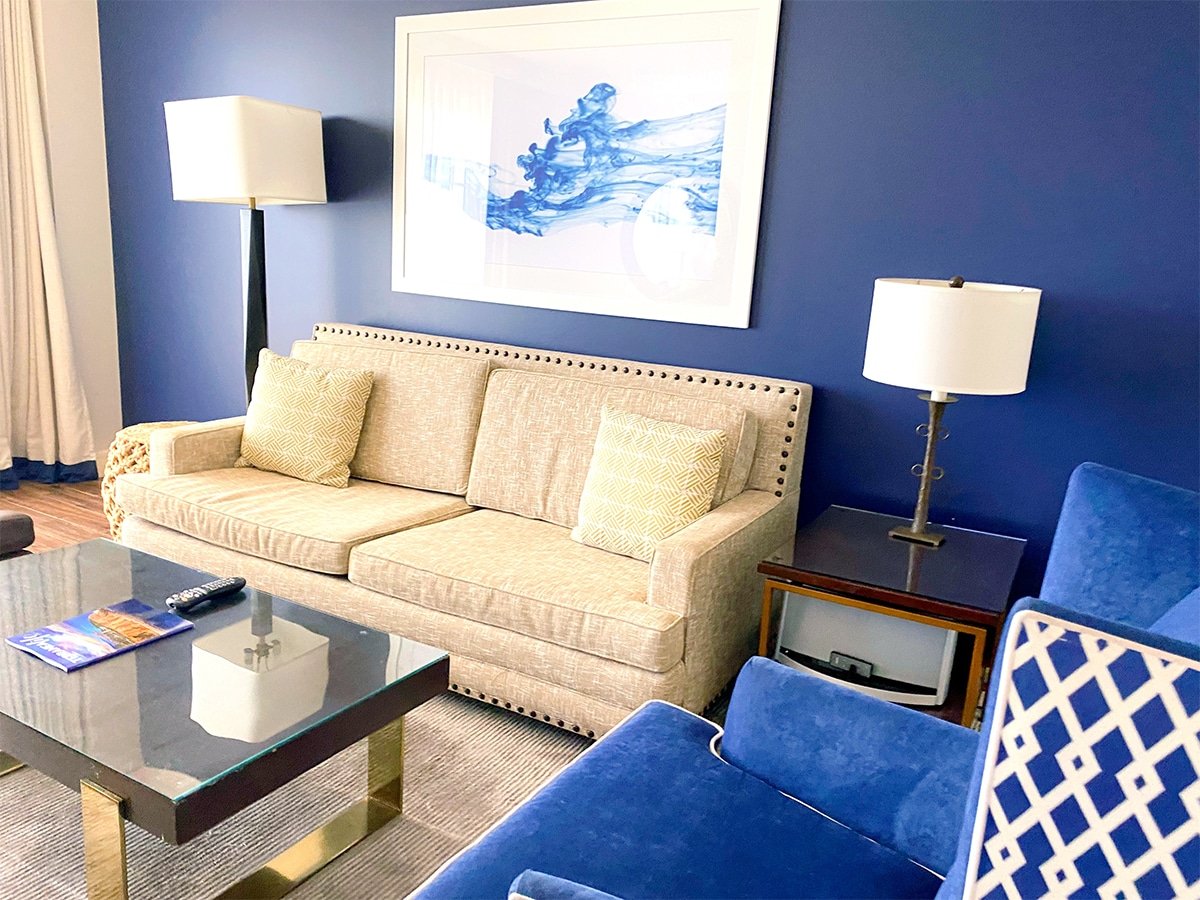 The living room has a pullout couch (and another one of those awesome chairs!) and is all decked out in a soothing coastal-inspired color palette.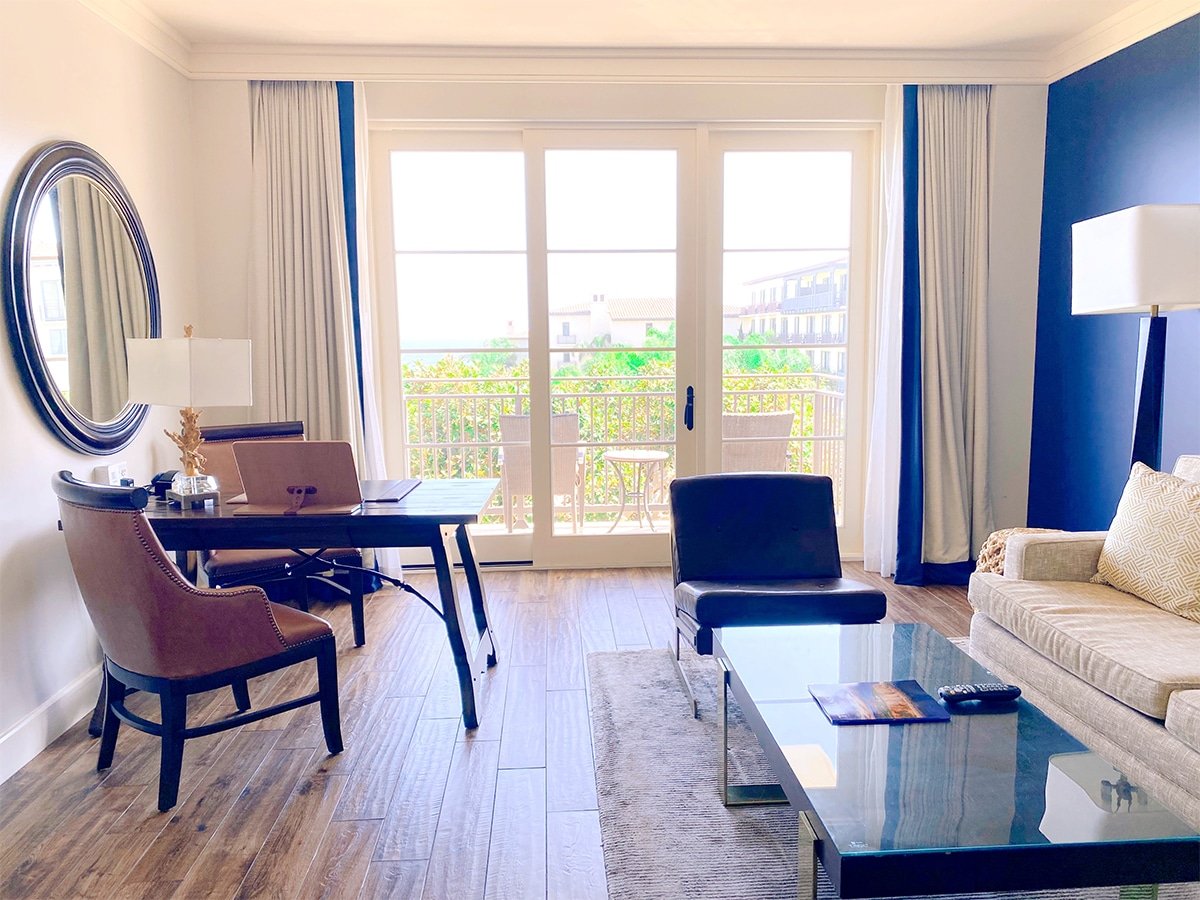 A working desk and two leather chairs add function to the room.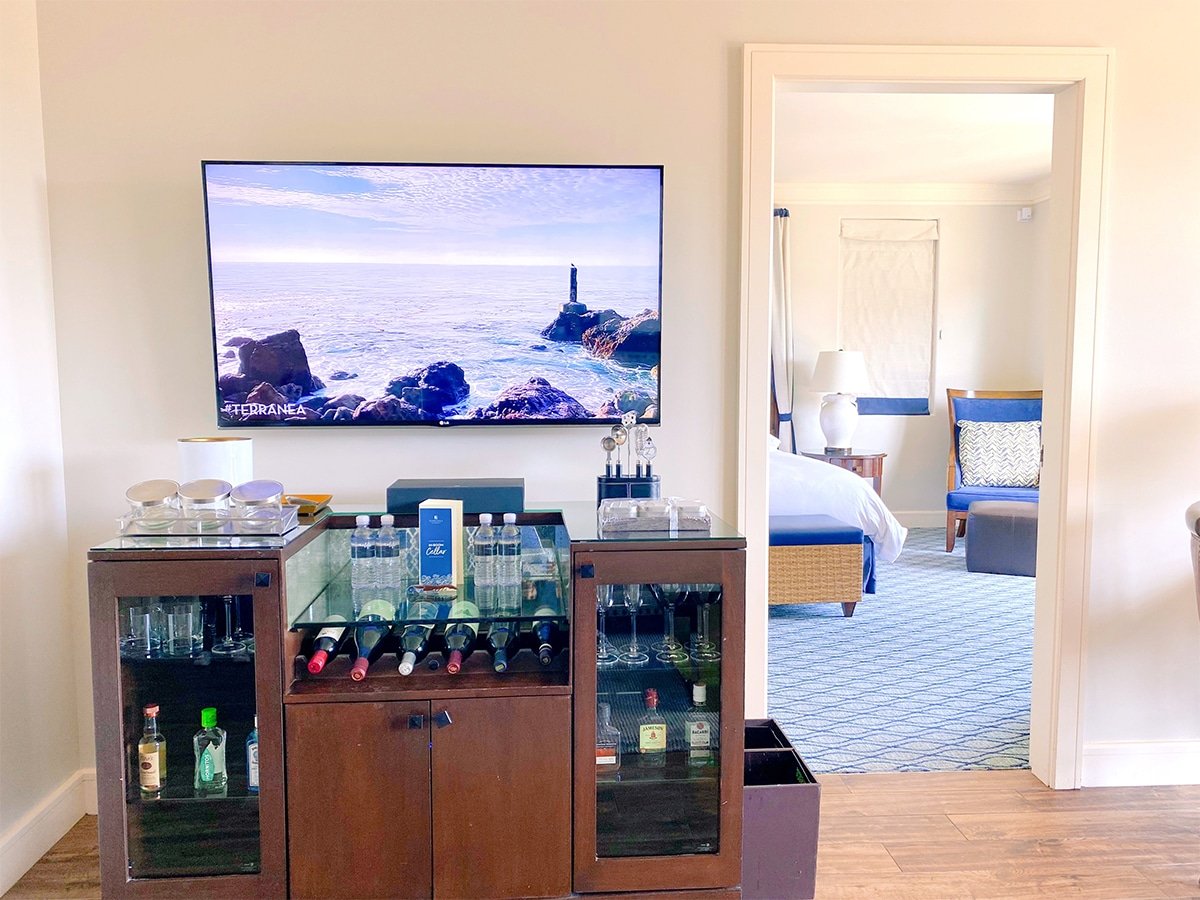 And last but most certainly not least, a fully stocked mini bar, perfect for getting the celebration started in style.
Regardless of the accommodations you choose, you can count on a luxury experience, which Mom deserves, right? If you stay three nights, you'll receive 15% off, stay four nights and receive 20% off, stay five nights or more and receive 25% off. Promo code: SMSM. Valid on stays April 15 through September 30, 2022. Some restrictions may apply.
Mother's Day Ballroom Buffet
For Mother's Day, Terranea is offering a buffet brunch in the Palos Verdes Grand Ballroom. The buffet will include all the yummy eats you'd expect like pastries, smoked salmon and an omelet and egg station. But there are also more unique offerings like the chicken and waffle station, the Asian kitchen, chilled seafood, sushi and a carving station with BBQ-rubbed sirloin coulotte and wasabi crusted chicken. You'll end brunch with a selection of tantalizing desserts and a create your own sundae bar. If you've got little ones with you, there's a kid's buffet and your party will dine to the sounds of live entertainment. Seating times are 9:30am, 10:00am, 10:30am, 1:30pm, 2:00pm and 2:30pm. Find more details and purchase tickets here.

The Spa at Terranea
Beyond brunch, nothing will relax mom and rejuvenate her mind, body and spirit more than some quality time at The Spa at Terranea. For expectant mothers, the spa offers a Mommy-to-Be massage (after the first trimester) and a host of other body treatments, facials and salon services. The Spa at Terranea isn't just a quick, in-and-out 60-minute experience. If Mom has the time, she'll want to take advantage of all it has to offer, beyond her treatment. She can enjoy the indoor and outdoor lounges where there are saunas, steam rooms, whirlpools, cold plunges, and fire pits. There's a state-of-the-art fitness and wellness center, a boutique, and a full-service salon, too. Mom can enjoy seaside yoga and other outdoor fitness experiences to complete her wellness experience at Terranea. Find more information about The Spa at Terranea here.
Kids Club Discovery Garden
But what about the kids, you ask? Mom can't exactly relax if she's got little ones to look after. But the Kids Club Discovery Garden is just the answer. This two-hour experience for kids aged 4-10 involves outdoor activities, art projects and exploration around the property's gorgeous grounds. My five-year-old son loved his experience so much he asked to return the next day! Sessions are offered at 10:30am and 2pm. Find more details here.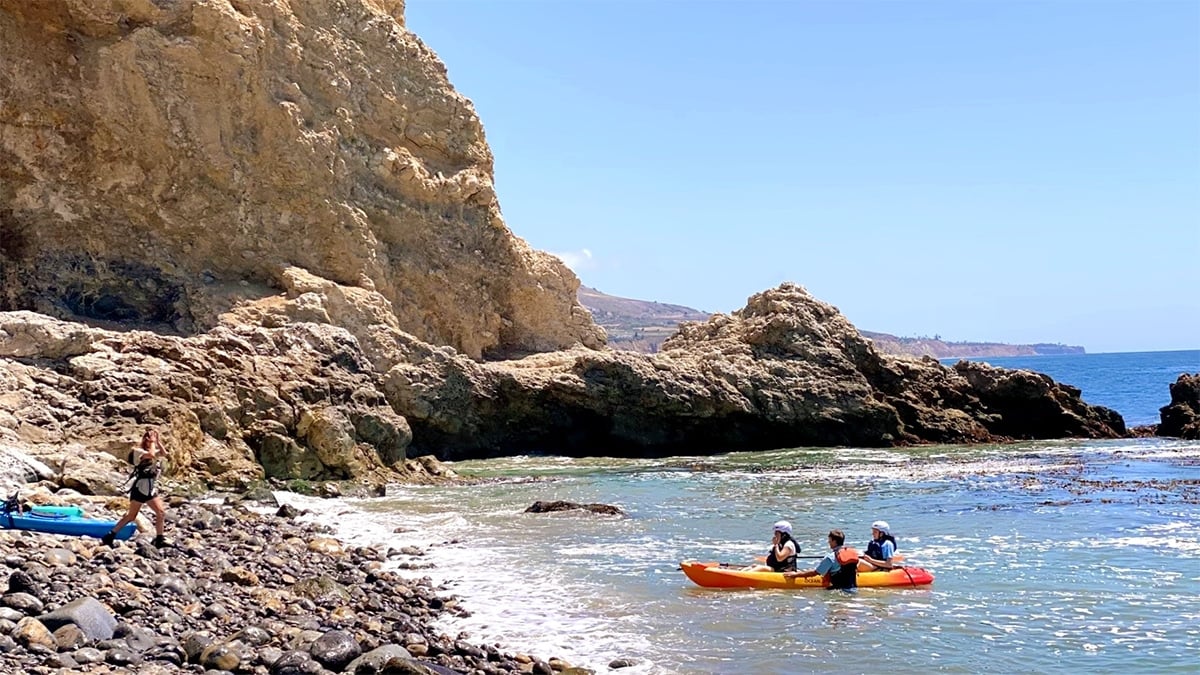 Outdoor Adventure
Terranea's idyllic setting on California's rugged coast makes it an outdoor playground, full of things to do. Terranea's adventure concierge provides guests with a variety of activities that will get you up close and personal with all the nature you're surrounded by. Take a nature hike or a guided fishing tour, go paddleboarding or go kayaking … whatever you do, you'll do it against the backdrop of picture perfect scenery.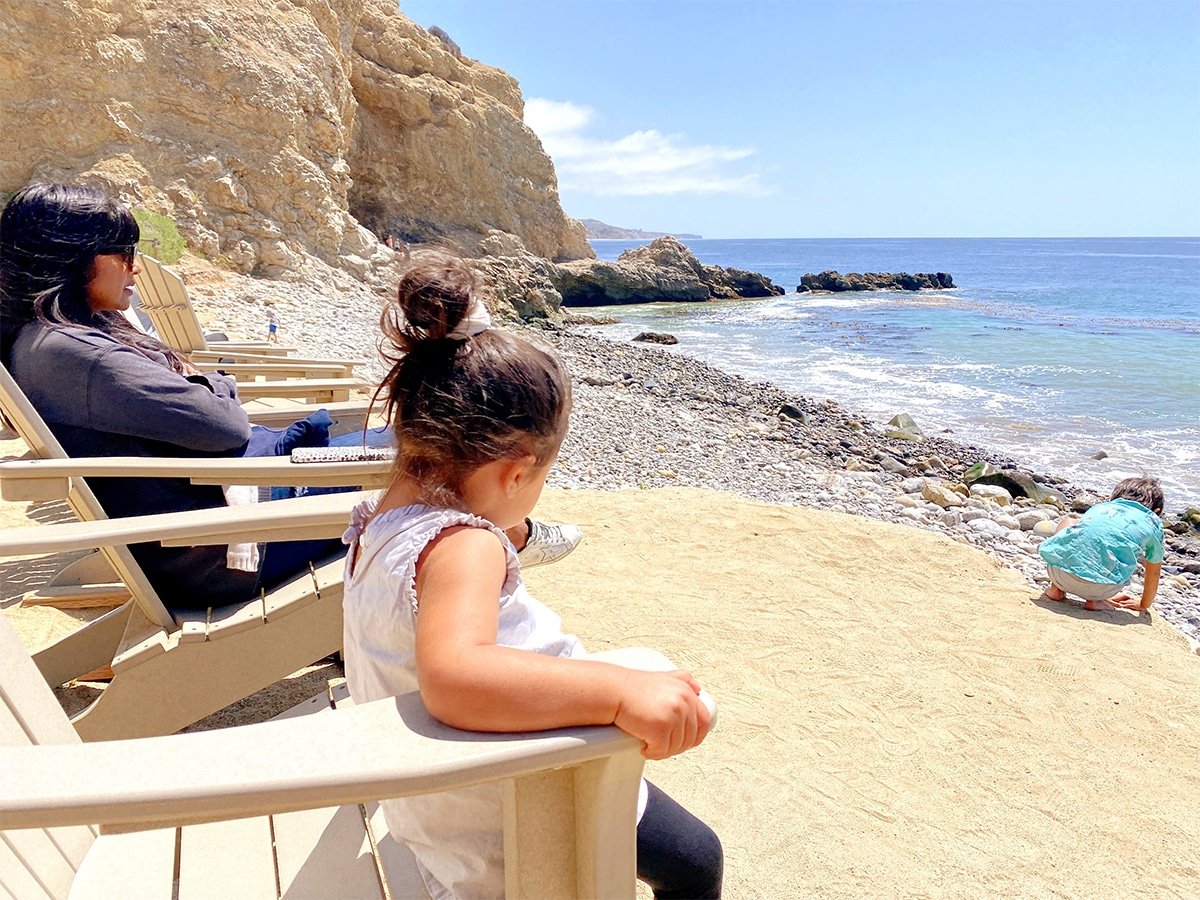 Down at the beach, there are Adirondack chairs to sit and soak in the incredible views. The kids played for hours here.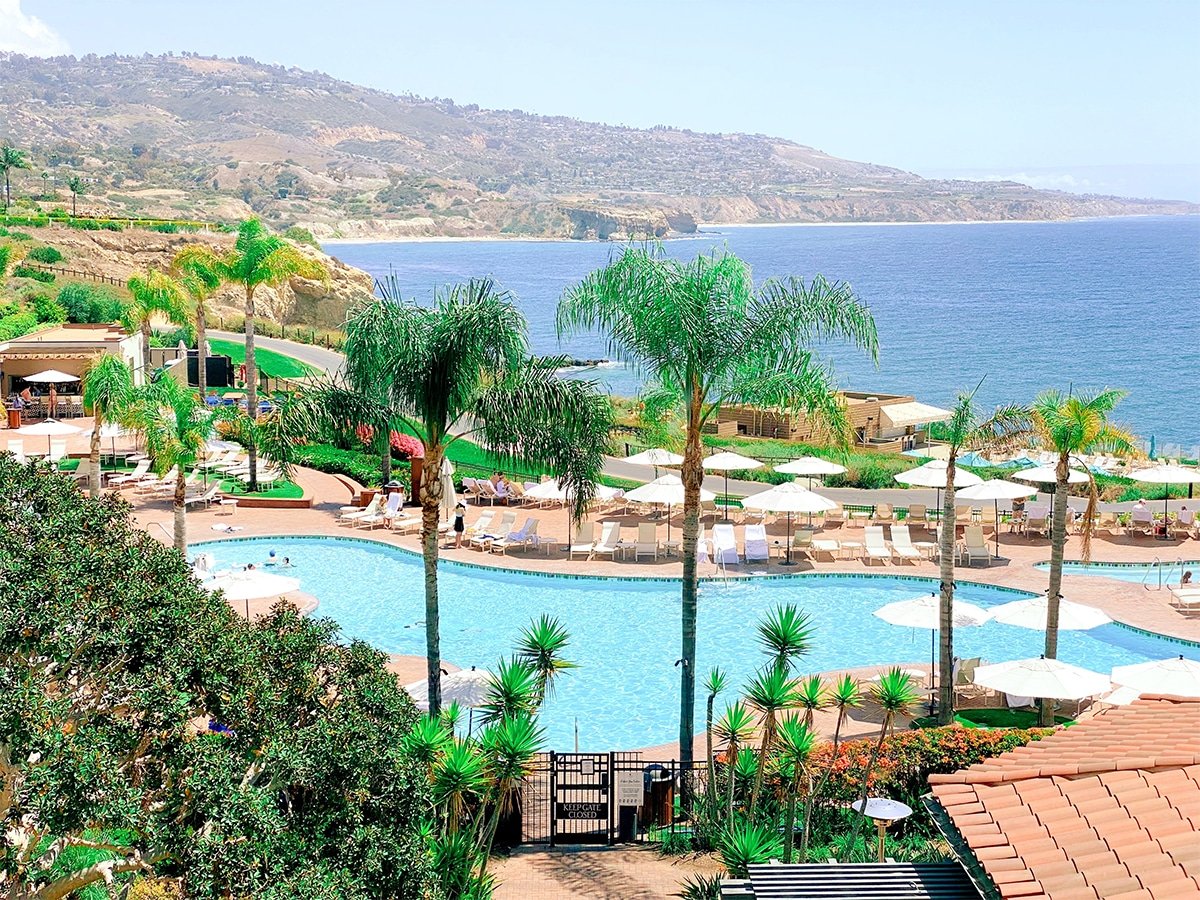 Pools and Cabanas
The whole family will enjoy the resort's great pools. There are four pools on property: The main resort pool, the spa pool, the Vista (saltwater) pool and the Cielo Point pool (adult's only). The main resort spa is where we spent most of our time. It's got a 140-foot water slide, which our kids couldn't get enough of, a splash pad and poolside games.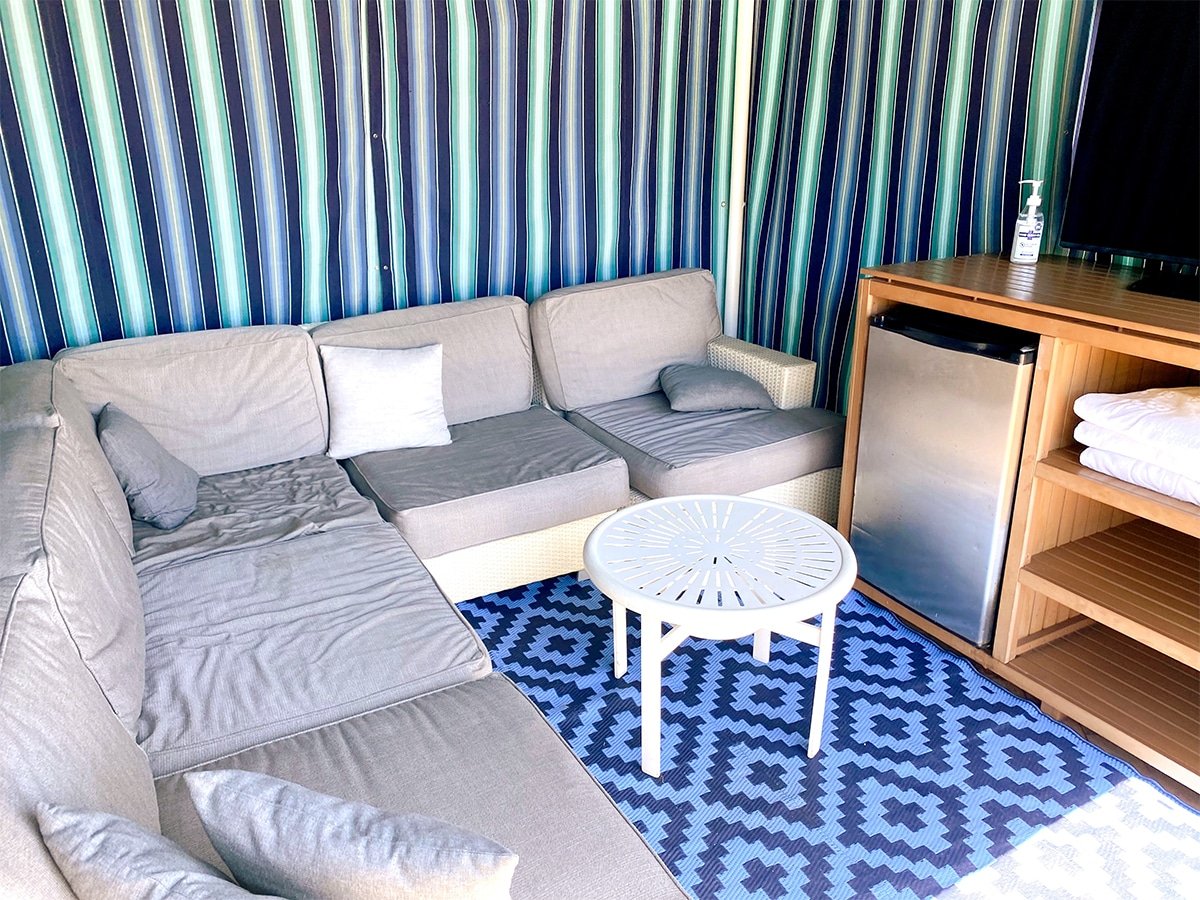 But the real treat for Mom (and the whole family) is the private cabanas. They're stylish and spacious and feature a small but comfy sectional, a flat-screen TV and a fridge stocked with drinks. However, if Mom is enjoying a spa treatment, she can also enjoy a more leisurely pool experience at the spa, which is specifically designed for relaxation and has sweeping ocean views. Find more details here.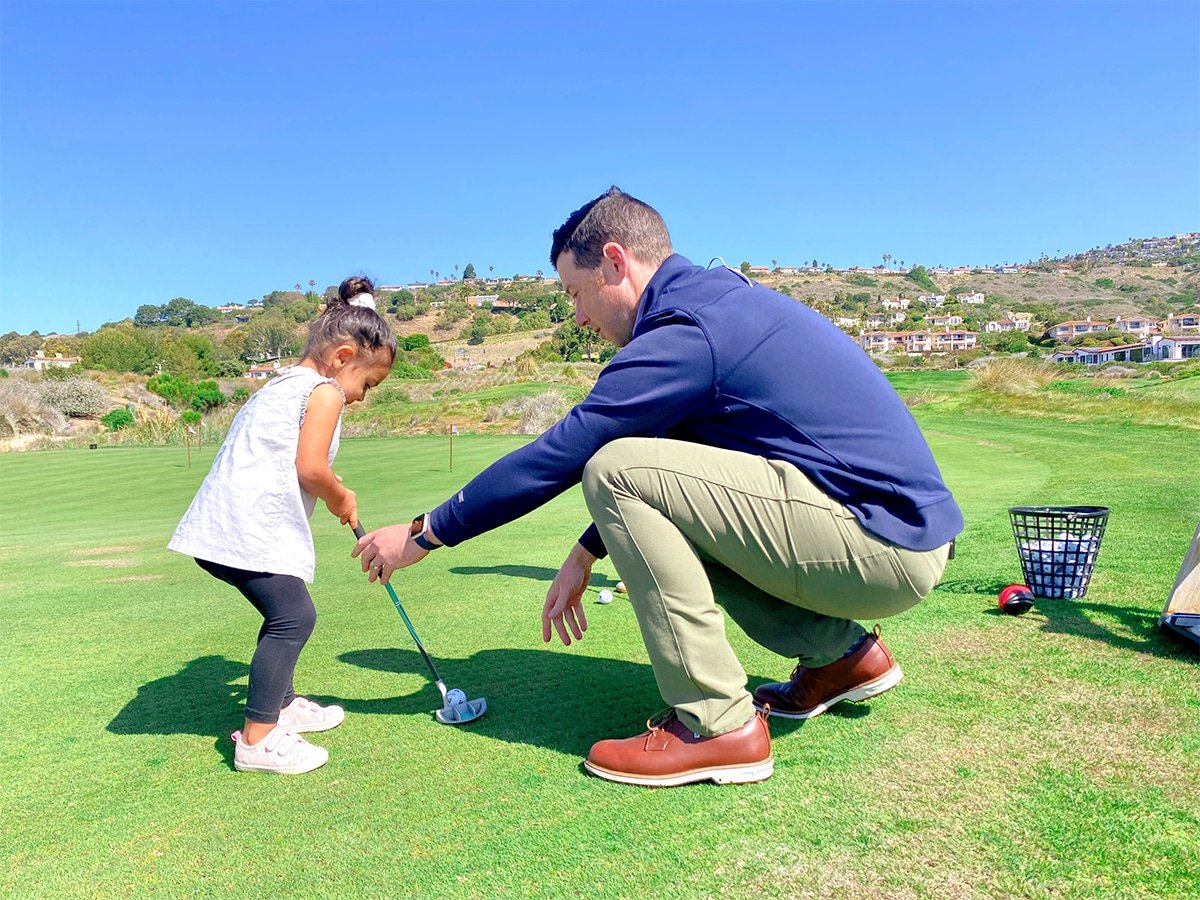 The Links at Terranea
Love golf? The Links at Terranea will not disappoint. The views alone of the Pacific Ocean and Catalina Island in the distance will take your breath away. This dramatic oceanfront golf course is nine-hole, par-3 and offers an unparalleled coastal golf experience as well as a short game practice facility and professional instruction to help improve your game. There's also an outdoor seating area where guests can sit, relax and enjoy a drink and the on-site Golf House offers accessories, premium rental clubs, walking carts, equipment, and a selection of golf and resort-casual apparel.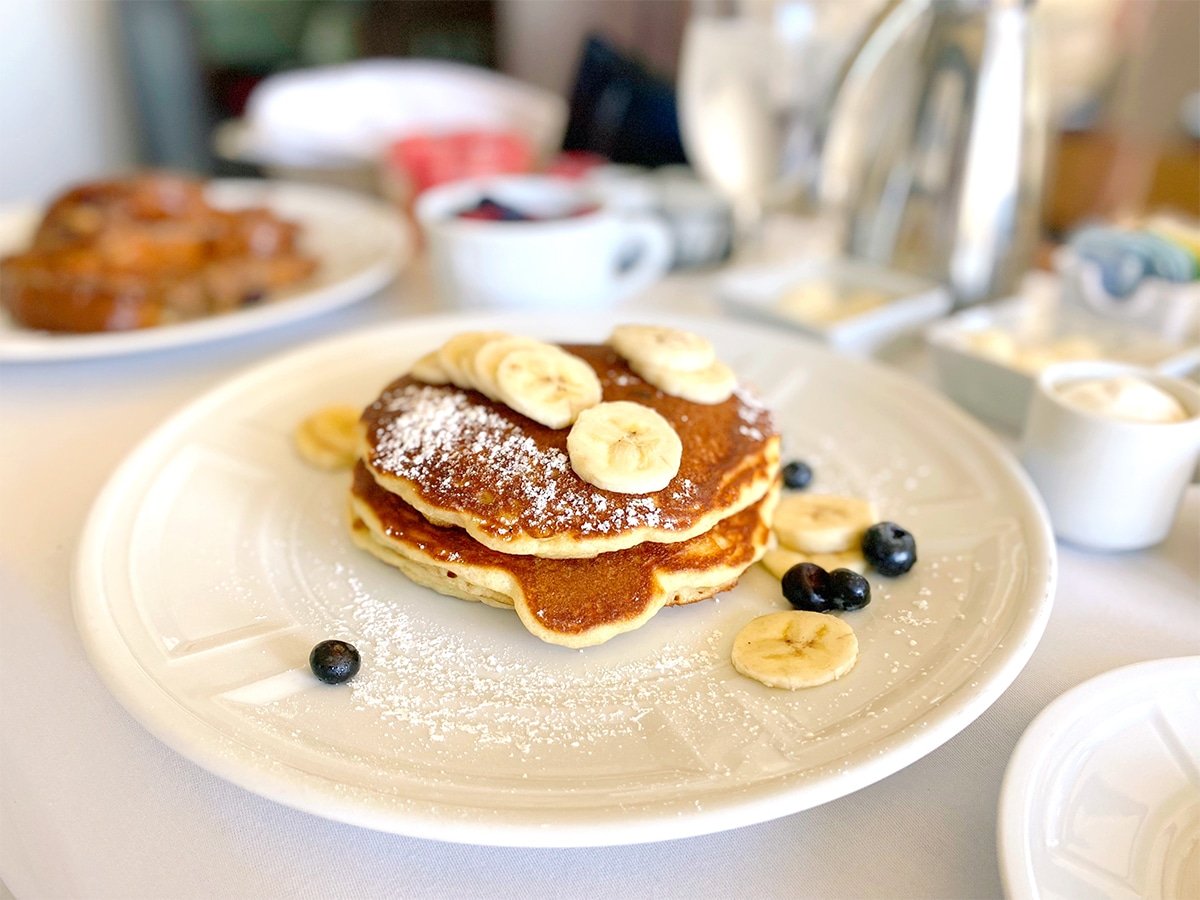 Dining at Terranea
There are lots of food options at Terranea and you're going to want to try all of them. Catalina Kitchen is open for breakfast, lunch and dinner (and at dinner, the sourdough bread with garlic butter is mouth-wateringly good) but you can also enjoy a room service breakfast or pick up pastries, muffins and croissants and gourmet coffee, specialty espresso drinks and organic teas at Sea Beans.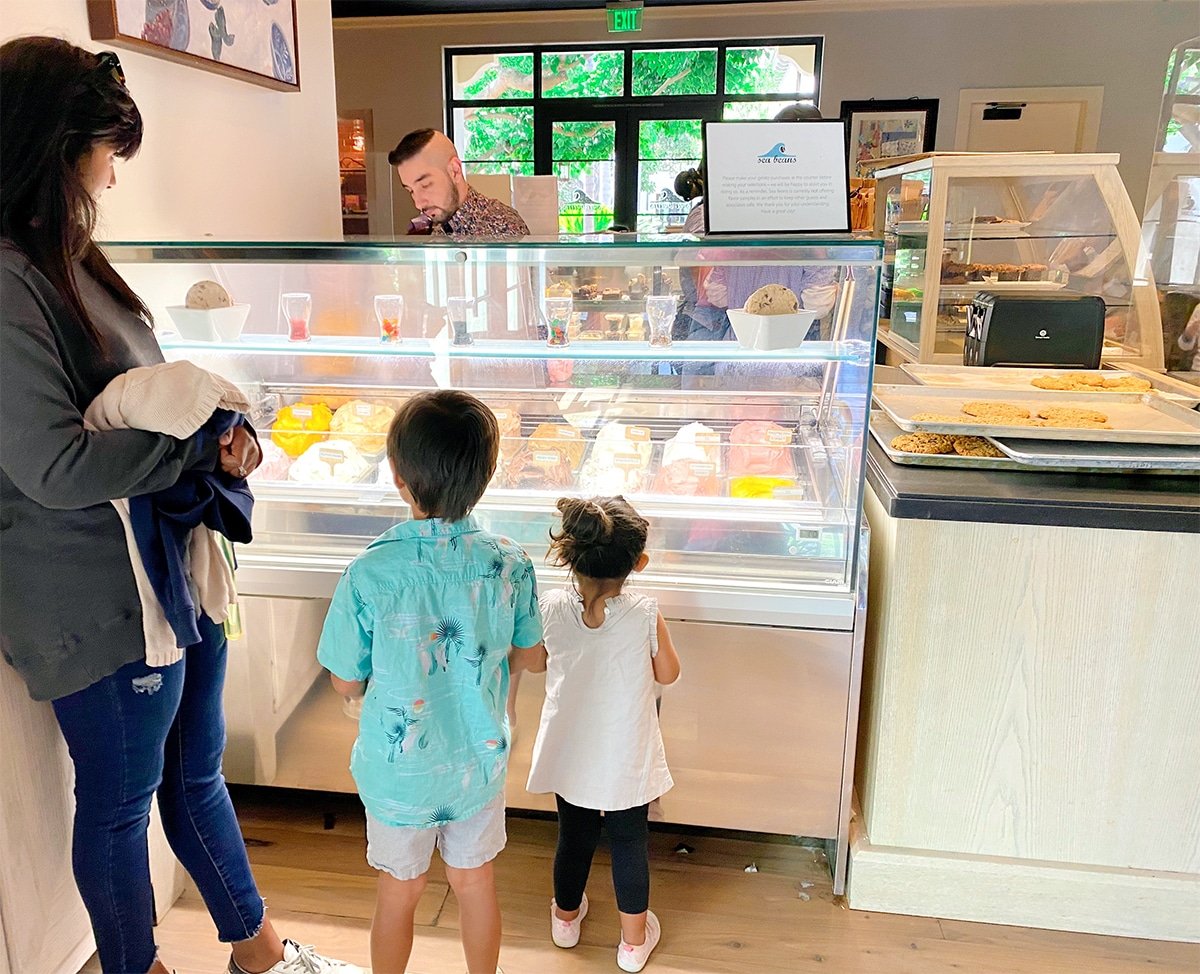 They've also got a gelato shop inside and a friend who lives nearby said the gelato is so good, it's a popular spot for locals to stop in at. Needless to say, we had to put that claim to the test and dare I say the Nutella gelato was the best I've ever had?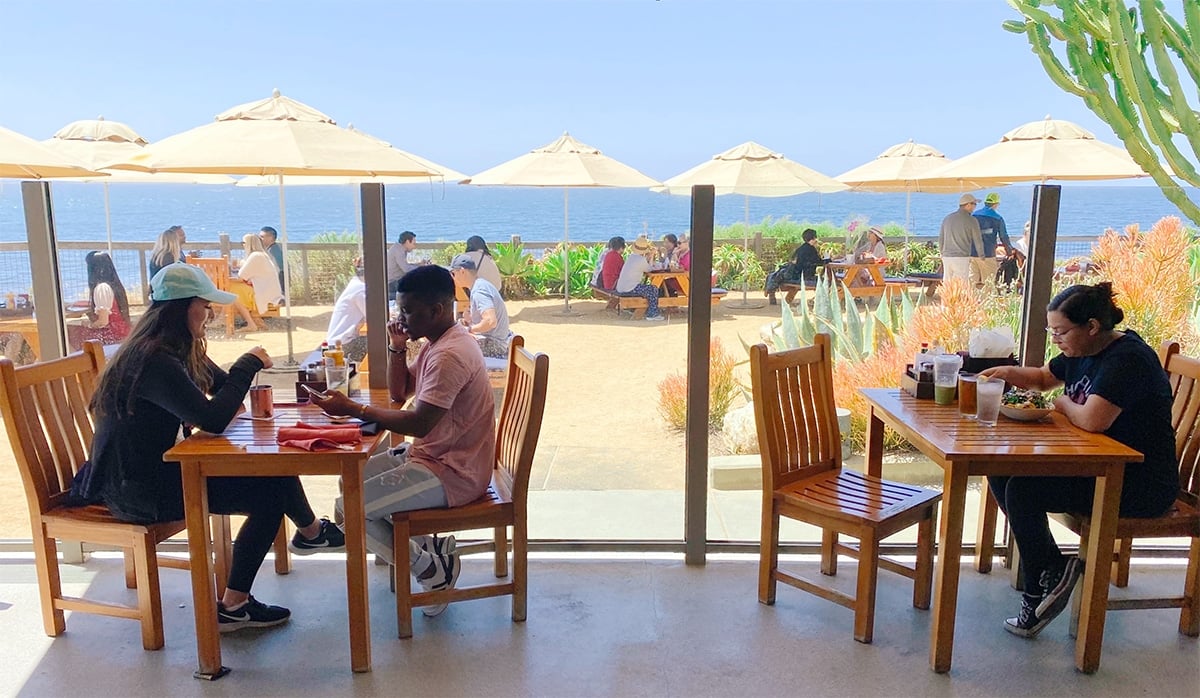 For lunch, nothing beats lobster rolls at Nelson's (well, except for the spectacular view of the Pacific Ocean that you'll enjoy while you're eating) and the garlic noodles at Bashi make a dinner extraordinaire. Check out all the dining options at Terranea here.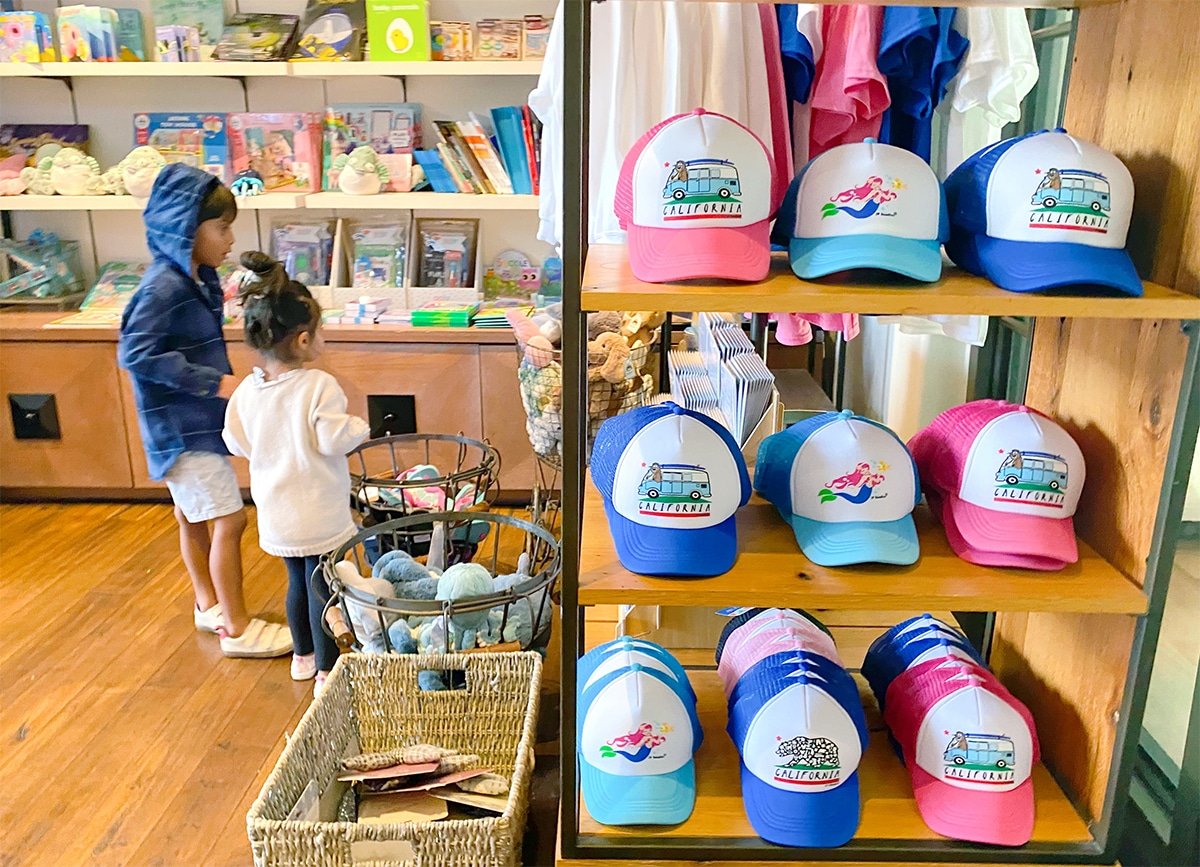 Retail Therapy
Terranea is home to a curated selection of luxury retail boutiques that serve to enhance the whole resort experience. Marea is a luxury boutique that offers high-end apparel, one-of-a-kind jewelry and home goods. Pointe Discovery has a totally different vibe, offering up cool finds inspired by SoCal's surf culture. The Spa Boutique sells stylish dresses and workout wear as well as unique accessories while the Links Golf House has a selection of golf and resort-casual clothing from popular sports brands. Mother's Day is the perfect excuse for Mom to treat herself to a bit of retail therapy!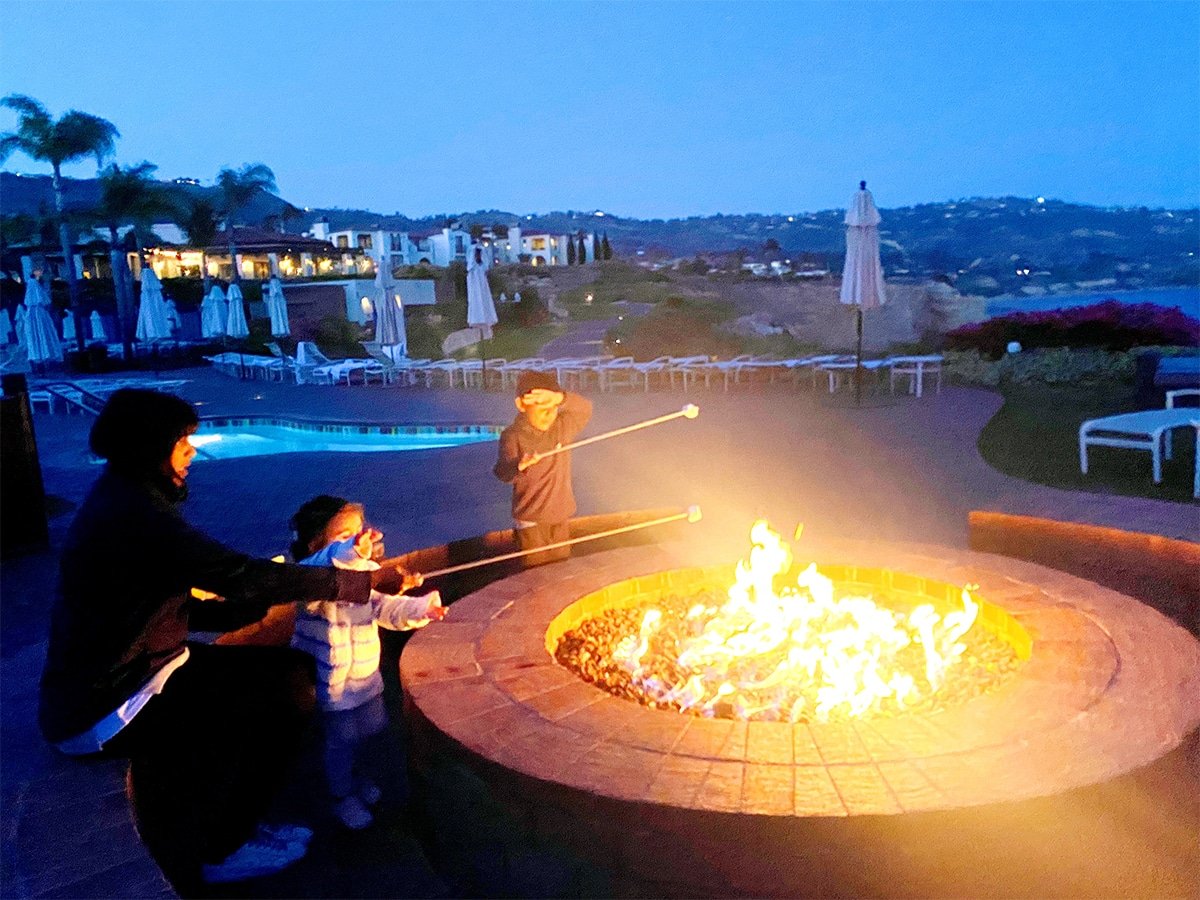 S'mores
End your perfect stay on a perfectly sweet note. Roasting marshmallows to make S'mores was a highlight the kids loved … well, we all did!
As you can see, if you plan to spend Mother's Day at Terranea Resort, there's something for everyone and the setting alone, not to mention all the luxury experiences Mom will have, will make this a Mother's Day she'll never forget. Find more information and book your stay here.