This article was written and produced in partnership with Visit California. All opinions expressed within are my own.
When I first met my wife, she lived in Toronto and I lived in Los Angeles. While the distance was a challenge, we were seasoned travelers so fortunately, we were able to find a way to bridge the miles between us with frequent travels internationally, to Canada and to California. Lucky for me, California is one of the most beautiful places on earth so I didn't have a hard time convincing her to visit and visit often. And each time she did, I showed her a beautiful part of the state she hadn't seen before. It was fun, exciting and definitely romantic. So, if you're looking for the perfect couples weekend getaway in California, here are some ideas for you:
NORTHERN CALIFORNIA
San Francisco
My wife and I live in Southern California but we have an enduring love affair with Northern California. While we love the palm trees and beach vibes of SoCal, NorCal is extraordinarily beautiful in a completely different way. That's one of the things I love most about California – how varied the state is. Hands down our favorite place to stay is Cavallo Point, set in Fort Baker, a 350-acre national park in the town of Sausalito, just below the Golden Gate Bridge outside of San Francisco. We have visited numerous times and are excited about returning once our kids are vaccinated. It oozes both history and romance. Read more about what makes Cavallo Point so special here.

Petaluma
About 35 minutes north of Cavallo Point is Petaluma. I'm a weekly guest on Leo Laporte's show The Tech Guy and when I'm in the area, I head up there to his studio to do the show in person. Petaluma is a pretty, quaint city with a historical library and museum, art gallery and lots of parks for romantic strolls. Don't forget to stop at the Petaluma Pie Company for a sweet slice of pie after dinner.
Sonoma and Napa
From Petaluma, Sonoma is only 25 minutes away while Napa is a 39-minute drive. For the ultimate romantic date in Napa, check out Buena Vista Winery, which will open Chateau Buena Vista, a tasting room with caviar pairings and Earth & Sky Chocolates experience in the historic Gordon Building in downtown Napa this month. The store will feature chocolate displays in addition to a tasting area and wine bar.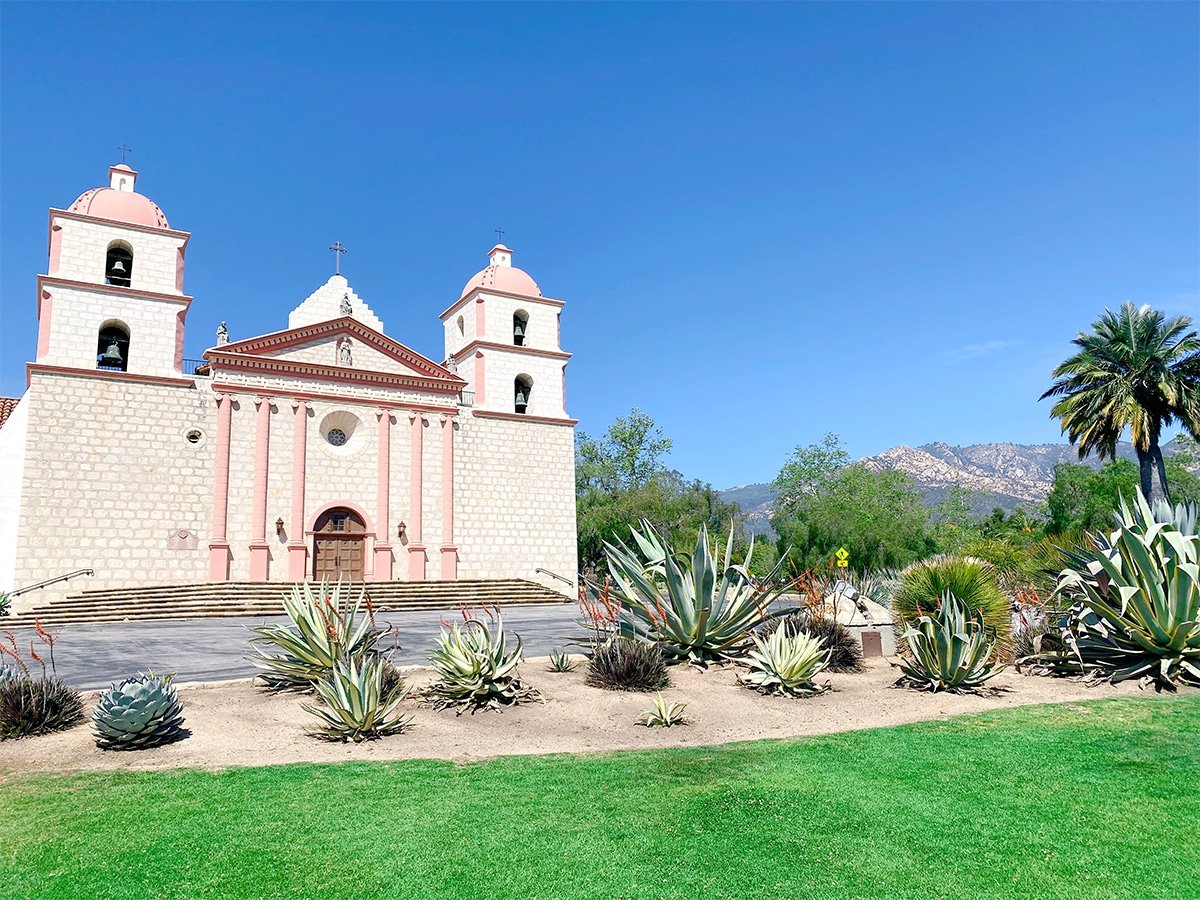 THE CENTRAL COAST
Santa Barbara
If you've seen the movie Sideways, then you've been treated to views of some of California's beautiful landscape as you head north from Los Angeles into the state's Central Coast. The Central Coast's most popular destination might be Santa Barbara, known as The American Riviera, thanks to its Spanish Colonial Revival architecture, rich heritage, world-renowned food and wine scene, stunning natural beauty and near-perfect weather. On a recent visit, we stayed at three distinctly different properties (The Ritz-Carlton Bacara, The Kimpton Goodland and The Hideaway), all of which are an excellent choice for a romantic couples getaway. As arguably one of the most beautiful cities in California, Santa Barbara offers up plenty of ways for couples to enjoy their time there. From visiting the Natural History Museum, hiking to Knapp's Castle and strolling through the Santa Barbara Botanic Garden to walking the beach at sunset and dining at some of the many incredible restaurants and visiting a vineyard, you might have trouble fitting it all in.

Solvang
From Santa Barbara, you'll want to make the 40-minute drive to Solvang, a beautiful Danish village that feels frozen in time. You won't have to try hard to make a day here romantic – everything about it is romantic, not least of which is the fact that you'll feel like you've been whisked away to Europe for the day. Known as a wonderful Christmassy village, it's a perfect holiday escape for couples but throughout the year, Solvang boasts unique shopping, wine tasting, live theater and tasty Danish eats and treats like the popular aebleskiver, a sort of puffy pancake ball, which always makes me think of my mom, who was Danish.

Paso Robles
An hour and a half north of Solvang will land you further up the Central Coast in Paso Robles, known for its wineries (you can go cycling and horseback riding through some) and olive groves where you can do olive oil tastings. But perhaps most romantic of all are the hot springs. Paso Robles is home to three public locations where you can enjoy the therapeutic mineral hot springs: Paso Robles Inn, Franklin Hot Springs and River Oaks Hot Springs Spa.
THE DESERT

Palm Springs
From the ubiquitous palm trees to the surrounding mountains, Palm Springs is an idyllic escape just meant for couples. Romantic places to stay abound, including The Parker Palm Springs, which is on our Palm Springs bucket list. If you're looking for an escape from the kiddies, consider one of Palm Springs' many adult-only hotels like The Willows Historic Palm Springs Inn, The Westcott and Ingleside Inn to name but a few. Palm Springs is especially appealing for design-lovers; Palm Springs is a modernism mecca for mid-century architecture and design. When it comes to museums, there's no shortage. You'll want to check out the Palm Springs Art Museum, The Palm Springs Art Museum Architecture and Design Center, Sunnylands Center & Garden, The Palm Springs Air Museum and the Coachella Valley History Museum. As you might expect from a desert oasis, there's a focus on beauty and wellness here and there are ample spas, hot springs and other wellness activities to indulge in.
Josuha Tree and Pioneertown
If you're using Palm Springs as your home base for your romantic getaway, consider day trips to Joshua Tree, a living art museum in and of itself thanks to its distinct and sculptural trees and Pioneertown, a delightful Old West town with an interesting history, as well as a hotel and restaurants for visitors to enjoy. We recently visited Pioneertown, which you can read about here.
MONTEREY PENINSULA
Big Sur
Between Carmel and San Simeon, you'll find Big Sur, one of the most beautiful places to visit along California's rugged coastline. You won't have to look hard for romance here, as the setting is so stunning, you'll find it wherever you go. Big Sur is home to plenty of state parks for hiking or leisurely strolls and if you're looking for a gorgeous photo opp for you and your special someone, visit the Bixby Creek Bridge, one of the most photographed bridges in all of California, thanks to its truly magnificent setting. My wife and I were fortunate to stay at what is arguably the most exclusive, beautiful and best hotel in the United States, Post Ranch Inn, for a babymoon in 2016 before our first child was born. (In the 2018 World's Best Awards, Travel + Leisure readers voted Post Ranch Inn the Best California Resort Hotel.) Post Ranch Inn offers couples a true adults-only escape with all the luxuries you could hope for. But there are plenty of other accommodations to consider, from other adult-only hotels and boutique properties to campgrounds for romantic nights under the stars.

Monterey
Forty minutes straight up the coast is Monterey, where there's no shortage of things to do for couples who want to spend their time outdoors, soaking up all that California beauty. From hikes, kayaking, wine tours and scenic walks and drives, Monterey is an exceptionally beautiful place to visit. And speaking of wine tours, visitors can take a cycling tour through Monterey's Wine Country with VineCycle Tours, a new venture by a local husband and wife duo with a lifelong passion for cycling. They offer exclusive guided tours that take guests spinning through Monterey County vineyards on state-of-the-art electric assist mountain bikes. During the 2-hour tour, riders venture across 6-12 miles of vineyard terrain with a guide who will share information about the grape varietals, stages of seasonal vine growth, soil characteristics and microclimates within the vineyard. This way, participants can explore this lesser-known California wine country, while enjoying the outdoors.