This article was written and produced in partnership with Visit Santa Barbara. All opinions expressed within are my own. 
The Ritz-Carlton Bacara, Santa Barbara is 13 miles north of downtown Santa Barbara in the coastal town of Goleta. The hotel/resort is located on 78 acres overlooking the Pacific and has 358 rooms spread throughout the property over a dozen Spanish-style buildings.
Here are 10 reasons to stay at the Ritz-Carlton Bacara, Santa Barbara: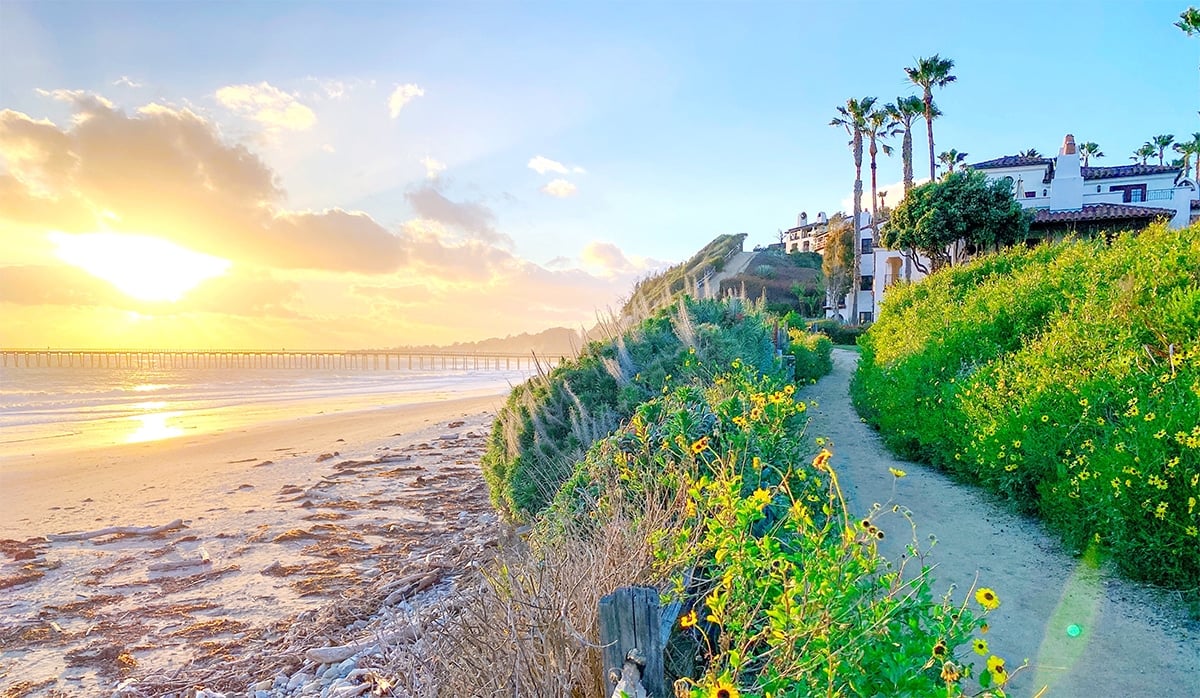 1 Location, Location, Location
If you want to get away from the city (Santa Barbara is about an hour and a half north of Los Angeles), get close to nature but not be out in the boondocks, then this is the right spot for you. The hotel is surrounded by some of the most beautiful views and offers plenty of nature experiences with all kinds of hiking trails and beaches.
The rugged coastline and red tile rooftops of the Mediterranean-style buildings give this resort a distinct home-away-from-home feeling.
2 Beach Views
Since the land is protected, the beach is all natural. Think: Old-school California. There's no raking, no big tractors sifting the sand, no beach chairs and really, no one hanging out and frolicking in the water. This is especially true in March when the weather and water are quite chilly. The North Pacific is not like the warm waters of the Atlantic Ocean or the Gulf. It's pretty much cold all year around here except for maybe June, July and August where it could hit 72 degrees. Here's the current temperature to get an idea. But despite the chilly water, the views are epic and the beach is a wonderful spot to take a walk or take the kids to play in the sand. Once we got our kids down there, we couldn't get them to leave.
3 COVID-19 Protocols
This was our first real trip in over a year because we've been abiding by state guidelines and medical recommendations related to COVID-19. I'm happy to report that at the Ritz-Carlton Bacara, Santa Barbara, everyone wears masks, especially the employees. Not once did I see any employee not wearing a mask, or wearing one improperly, like under their nose. They also have visible but discreet signs all over the property to remind guests to stay masked up. Most guests appeared to comply while indoors and maybe 85% complied while outdoors. I also loved that they kept their large lobby doors wide open to create a cross breeze. FYI: You don't have to wear a mask while at the pool. Here's more information on Marriott's Commitment to Clean program and what to expect at the Ritz-Carlton Bacara, Santa Barbara.


4 Pools
Speaking of the pool, there are three infinity edge pools: the main pool, the oval pool and the spa pool. Hours differ but at press time, they were from 10am to 8pm. The spa pool closes at 5pm. During COVID-19, reservations are required for all pools and hot tubs; hot tub reservations are offered in 15-minute increments.
Note: This is one aspect I felt that the hotel needs to work on. When my son and I arrived for our 2:15pm whirlpool timeslot, there was a tween in the tub who decided to stay after his parents left. His parents didn't seem to care and there was no pool attendant around so I had to politely ask him to leave. "Hey kid, make like a drum and beat it." I'm just kidding! But I did have an old neighbor say that to me when I was a kid.
What surprised me the most was that there was no one there to wipe down the frequently touched handrails or even clean the hot tub, which had grass, leaves and a used band-aid floating in the middle. I asked two different attendants to help but after flagging them down, it took 10 minutes for one of them to bring a leaf skimmer. By that time, our permitted time slot was almost up and my son was getting bummed. But after seeing the dirty band-aid, I didn't really want to go in anyway. To make matters even more interesting, a woman and her daughter asked if they could join us, which was weird due to COVID, but at that point, we were just putting our feet in and were six feet apart so I said sure.
5 Rooms and Balconies
The rooms have thick walls (unless we had really quiet neighbors) and all have balconies, which is a treat.
But my favorite part of the room was the bathroom, with its sleek, deep-soaking bathtub, which filled up in seconds, making bath time for the kids quick and easy, and separate shower.
Good to know: Amongst the collection of toiletries that you'll find in your bathroom are individually wrapped tar-off wipes. This is a first for me – I've never seen this at a hotel before but it's a great idea. They're handy just in case you get tar on your feet from the beach so you don't trek it all over the carpet in your room. I've written tips on other ways to get tar off your feet (read them here and here) since it's a problem in Southern California and other parts of the world but especially on Goleta's all-natural beach.
6 The Hotel is Family-Friendly
Since I have two little kids, I love that this and most Ritz-Carltons, are super family-friendly. You will see tons of kids and most are frolicking in the pool, which I'm sure is why the hotel has a separate spa pool, where it's much quieter. Other family-friendly amenities are rooms with mini fridges and TVs with Nick Jr, Disney and PBS Kids. The latter is key when you're trying to get some work done! Unfortunately, there's no Netflix or other streaming services so the kids are forced to watch commercials, which is a definite downside. The grounds of the property are really beautiful, making them perfect for a family walk any time of day. FYI: On our first visit to the Ritz-Carlton Bacara prior to COVID-19, they had all kinds of lawn games out like cornhole and ladder ball but not this visit for obvious reasons.
7 Valet and Service
When you pull up at the Ritz-Carlton Bacara, you'll see a gorgeous fountain, that dominates the entrance. At a luxury hotel with 358 rooms, you can expect the valet to be busy and filled with some swanky cars when you arrive. I don't always love valet service because I hate waiting around but this one is pretty well-run so you will never have to wait too long. The valets are friendly, wear gloves when they drive your car and offer to put a liner down, which I kindly declined.
One morning around 8am, I called down so I could run to the store to pick up some things at the store (just 1.5 miles away) but the valet didn't answer. I was automatically transferred to the front desk, where the associate took my car info down. However, she must have gotten sidetracked and forgot to pass on my message because my car wasn't ready. When I arrived, the valet quickly grabbed my key from the unattended valet desk and ran to the parking lot. I only had to wait two minutes, which was a terrific recovery.
Note: The hotel does charge a steep $50 per night parking fee. There's also a dreaded $50 per room, per night resort fee.
8 Golf Carts
Since the hotel is on such a large piece of property and the rooms are all spread out, they have electric golf carts to shuttle guests around. The drivers are prompt, including when you order food in. For example, one night, I ordered off-property through DoorDash (Uber Eats didn't have any drivers available both times I tried and I didn't find out until the very end of my order). I ordered from Los Agaves, which serves excellent Mexican food and is only a couple of miles down the road (thanks to the front desk associate for the recommendation!) When I noticed the driver had just arrived, I walked to the front to greet the driver but he had already dropped it off and the hotel had the food in a cart on its way to my room. I intercepted halfway. Great service.
9 Food
The Ritz-Carlton has six restaurants. From A5 Japanese Wagyu and local abalone paired with vintage wines by the glass at Angel Oak and rustic California cuisine at 'O' Bar + Kitchen to wine flights at Foley Tasting Room, there's lots to choose from. We ordered a quick room service meal the first night but there's no Mexican food, which our kids love, so we ordered out the following night. You can check out the hotel's dining options here.
10 Spa
The spa wasn't open while we were there because of COVID-19 but it's sprawling at 42,000-square-feet. I visited a couple years ago to get one of their traditional and alternative treatments and it was as luxurious as you'd expect. There's a separate spa pool with loungers for guests to enjoy as a relaxing start or finish to your spa treatment.
Overall, the Ritz-Carlton Bacara, Santa Barbara was an incredible family escape. You really can't beat the incredible property and you'll think back on those breathtaking views long after you leave. KEEP READING: 10 Reasons to Stay at the Kimpton Goodland