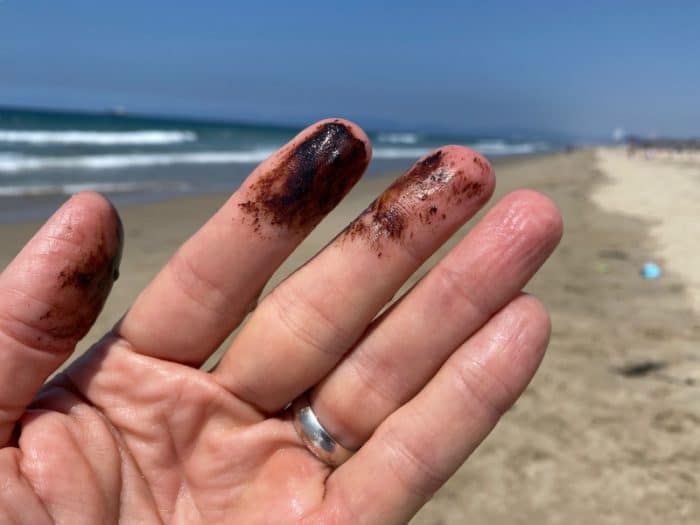 I'm not sure if this is just a Southern California problem or not but oftentimes, when we go to the beach, we find patches of tar in the sand that range in size from a pea to a softball. And inevitably, despite your best efforts to avoid it, you end up stepping on some and finding patches of black tar on the soles of your feet that are almost impossible to remove.
Most people don't notice it until they pack up to leave the beach and either rinse or rub the sand off of their feet. Below is a photo of a good size patch of tar on my son's foot and at the very top is a photo of my fingers, after I foolishly tried to scrape it off his foot.


Learn from my mistake: Don't use your fingers to scrape beach tar off your feet. In the past, I used to use either Goop or Oil Slick, which I bought at Amazon (Full disclosure: I get a referral fee if you use my Amazon affiliate link). But when we ran out of it and I forgot to replace it, I had to get creative. Besides, unsure of exactly what's in them, I never felt great using either of those products on my skin and never used them on my kids.
I discovered that my spray sunscreen and a tissue or wipe worked perfectly. Given the huge patch of beach tar on my son's foot, I wanted to act quickly and not wait until we got home to remove it. So I sprayed some sunscreen on it and within seconds, the entire patch was gone. Prior to this, my wife had discovered that coconut oil worked brilliantly.
Regardless of what you use, you will definitely want to remove it before you or your kids get in the car or inside the house and stain your floors or carpets.
Have you ever had to deal with beach tar on your feet? Where? Drop a comment below and let me know. I'm curious whether this is a problem on other beaches outside of LA County.
---
Have your own tip? Email it to whitney@johnnyjet.com!
Want to see more tips? Click here for all 1,789!
Want even more travel tips? Sign up here for the Daily Travel Tip newsletter! Enter your email address and check "Daily Travel Tip" to receive Johnny's best tips in your inbox each day!
If you already subscribe to our weekly newsletter, you can sign up on the same page. Just fill in your email and check "Daily Travel Tip" on the same page. You'll receive an email with a link to update your JohnnyJet.com preferences. On that page, just click the Daily Travel Tip box and Update Profile.