This article was written and produced in partnership with Visit Santa Barbara. All opinions expressed within are my own. 
Our first real family road trip during the pandemic took us 2.5 hours north of Los Angeles to idyllic Santa Barbara. First, we checked into the Ritz-Carlton Bacara (read our review here), then we stayed at the Kimpton Goodland (read that review here). The final stop on our itinerary: Hideaway Santa Barbara.
Hideaway Santa Barbara is aptly named – go too quickly and you'll drive right by it. It's tucked away beneath a canopy of leafy trees and once you step onto the property, it's like you've entered your own magical little world.
Hideaway is a boutique hotel that's been recently renovated. There are only nine rooms, making everything about the property quaint, peaceful and intimate. If you're looking for a true home-away-from-home feeling, this hotel will offer you just that.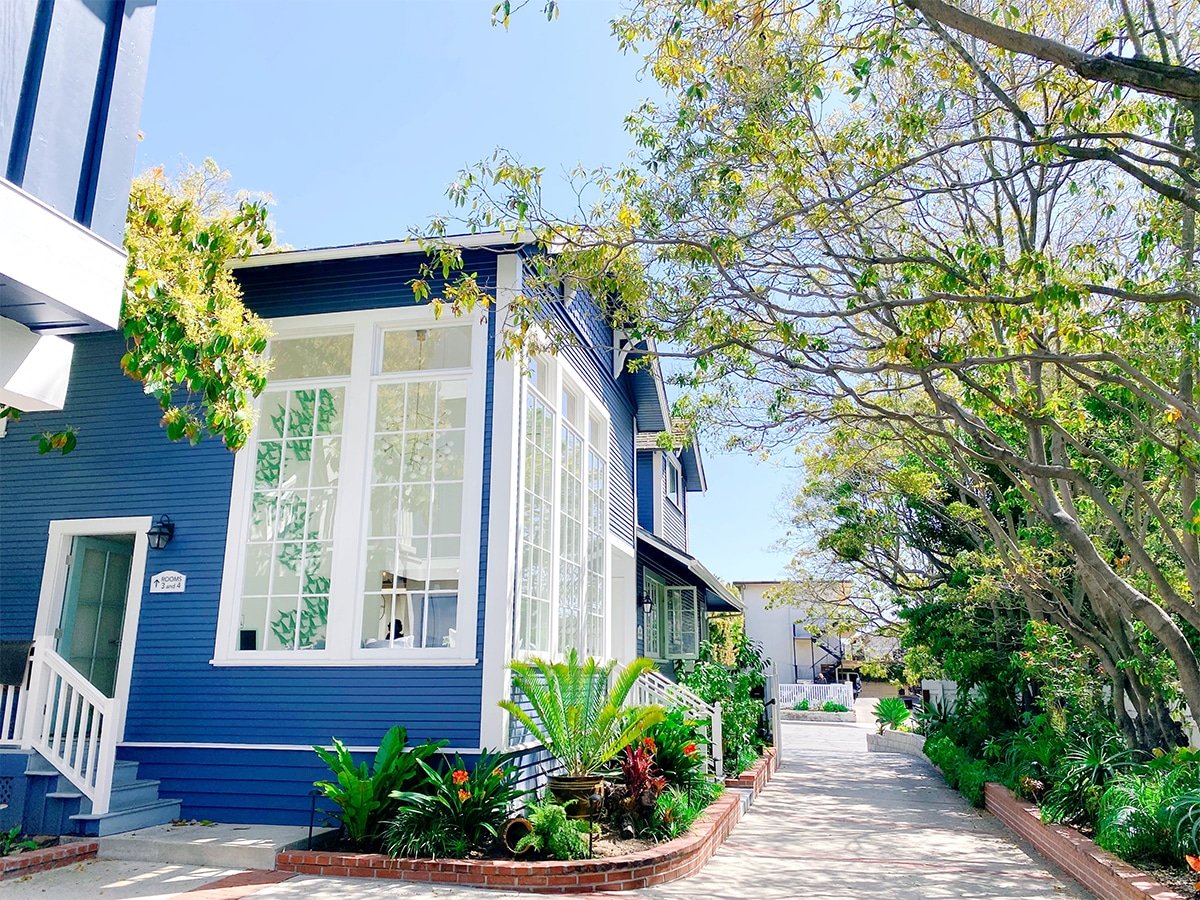 Location
While not situated directly on the beach, Hideaway is three blocks away so it's still easy to get there and the harbor is a pleasant 15-minute stroll away. Otherwise, the hotel is in an unassuming neighborhood but once we were back on property, we had no reason (or desire) to leave. Our room was so beautiful and cozy that once we got 'home', we didn't want to go anywhere else. At Hideaway, you'll want to stay in and enjoy the comfort the hotel has to offer.
Our Room
I don't want to overstate it but … here goes. Our suite was an absolute dream. From the moment I saw the photos of the hotel on the Hideaway website, I knew I wanted to stay there. And in person, our room did not disappoint. We were fortunate to be staying in the Luxury Suite with King, Two Twins, Lounge and Garden View. At 560 square feet, this is the hotel's largest room and offered plenty of space for a family of four. The other rooms, while not as large, look equally beautiful, with the same attention to detail.
Decorated in a soothing palette inspired by the surrounding sea and sand, our room was a serene space that was the perfect retreat at the end of the day. Admittedly, I'm a design junkie but even if you're not, it's hard not to love all the simple but thoughtful design elements throughout.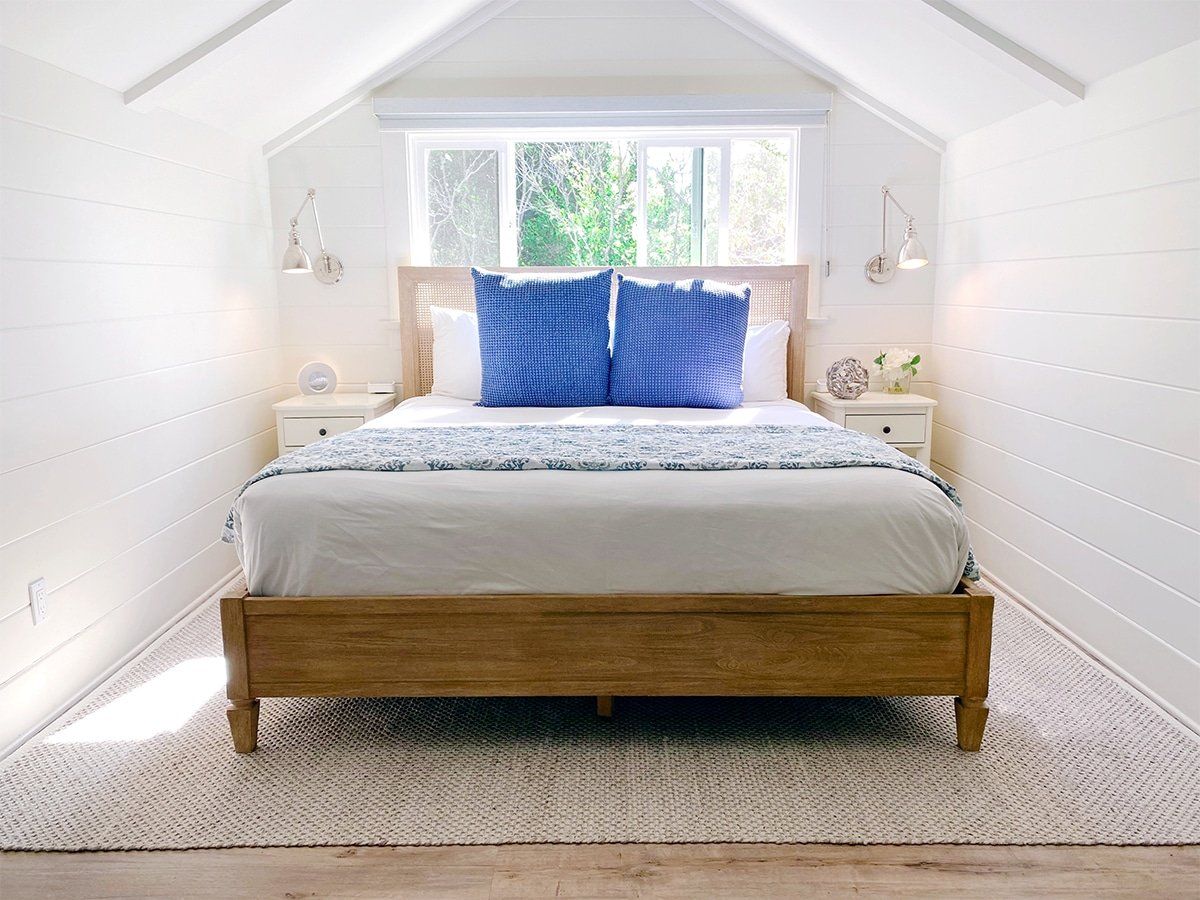 We were in a suite on the top floor so first, you walk up a long staircase. When we opened the door to our room, we were greeted to a light-filled, open concept space with two working desks, a gorgeously renovated, white bathroom, a king size bed, two twin beds and a living room area.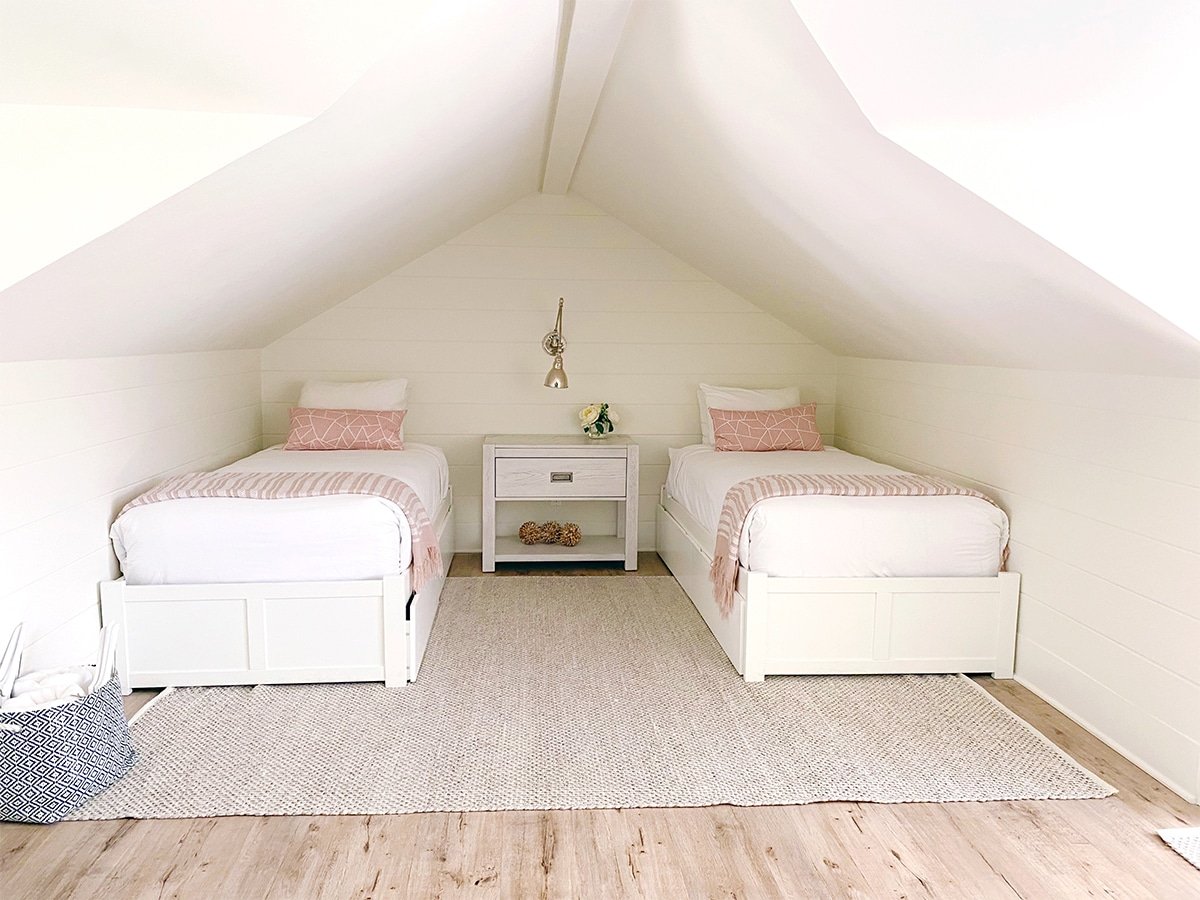 The two twin beds are tucked into an alcove with slanted ceilings, like an attic space and it's so cozy – the perfect spot for kids to sleep.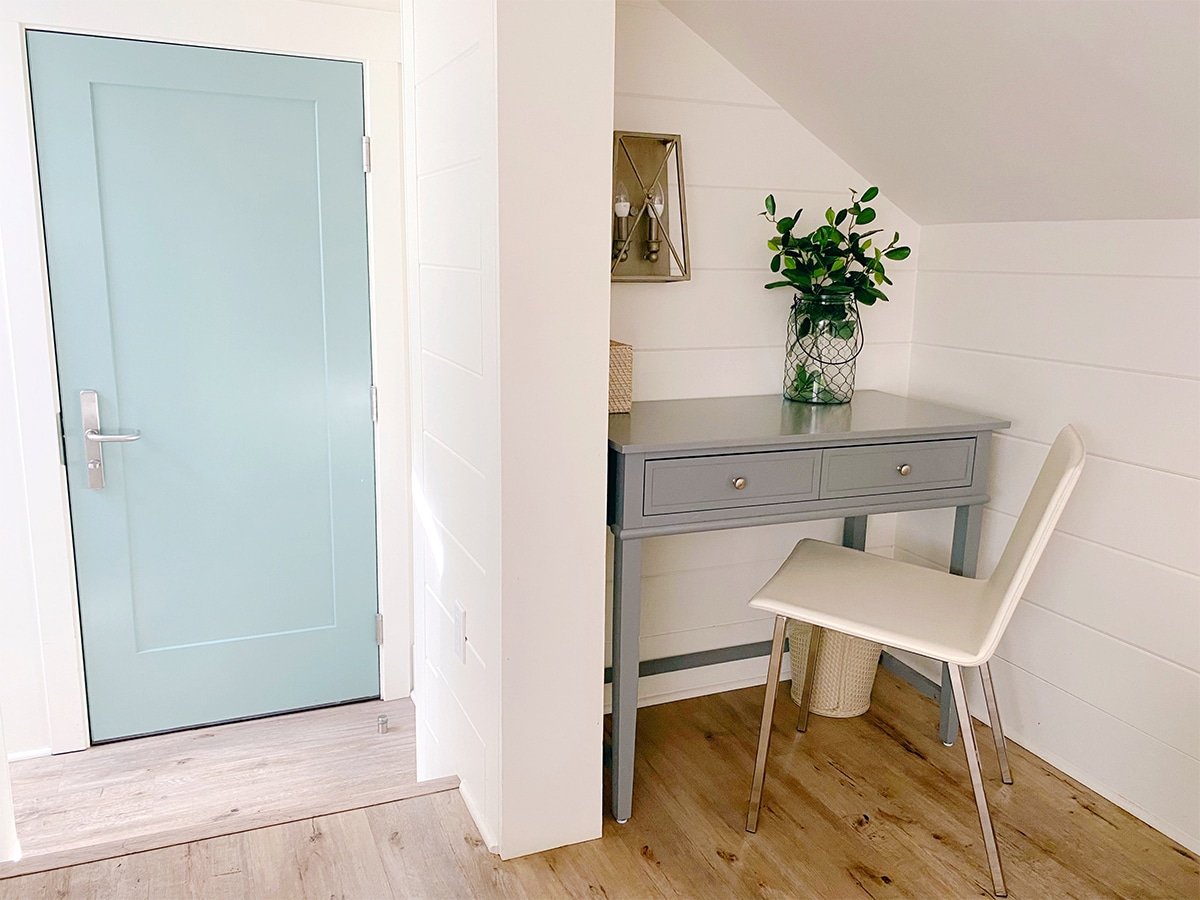 Everything about the room is stylish and functional. I was worried about the kids (our son is 4 and a half and our daughter is 20 months) making a mess – everything is so beautiful and there are lots of light colors (the living room chair, rug and the bedding) so when it came time to eat, I spread out beach towels and we had a 'carpet picnic', to avoid making a mess on any of the beautiful furniture and accessories. The kids loved it and I could breathe easier! Because of COVID-19, we ate meals in our room more often than we would have otherwise.


Hideaway COVID-19 Protocols
Speaking of COVID-19, according to the hotel website, they've made some small changes as follows:
•We've changed small details about your arrival to minimize physical contact with people and public surfaces, while providing a safe and welcoming experience.
•All rooms and suites are super spring cleaned, sanitized before you arrive.
•We're upping the cleaning levels and adding extra sparkle to public or frequent contact spaces. Including Reception, The Lobby, Entrance, Handrails, Bathrooms, and Seating Areas.
•Extra – stringent cleaning protocols have been implemented between each guest stay and high frequency cleaning of all public spaces throughout the day.
Breakfast
Breakfast at the hotel was definitely a highlight. The hotel has recently introduced breakfast baskets for guests to eat in their rooms or outdoors. A basket is delivered to each room with breakfast in Mason jars every morning. Prior to COVID-19, they had a complimentary cooked-to-order breakfast for all guests in the common dining area, so this is a modification. Our breakfast was delicious and beautifully presented. A home-cooked meal really contributed to that home-away-from-home feeling and was a lovely way to start the day.

The Staff
Everyone I met was friendly and helpful but especially Tracey, who deserves a shout-out! I was happy that the TV in our room had Apple TV, which meant that I could log into our streaming services so the kids could watch their favorite movies without commercials. But I had some difficulty getting it to work. Via text, Tracey walked me through the process, sent photos and helped me get it resolved quickly. I really appreciated being able to text with her and it was nice of her to share her phone number to do so.

Overall
Hideaway is exactly the kind of boutique hotel I love to stay at: Super stylish, comfortable and homey. While the area isn't anything to get excited about and it doesn't have a pool or many of the amenities of a large hotel, once you are on the property, it feels like you're in a secluded world of your own and anything you want to do is not too far away. While this type of property might be better suited to adults or families with older children, we managed just fine with our two littles in tow and would absolutely stay there again.