Just five miles from Los Angeles International Airport is one of the best beach communities in all of America. 
I live just five miles from Los Angeles International Airport (LAX) so I know what I would do with a long LAX layover. I always tell my friends and family transferring through LAX on their way to Hawaii, Australia, New Zealand, Asia … you know, all the places that make you jealous … to break up their trip and get out of the airport and go to Manhattan Beach. Nothing is worse than just mulling around an airport for hours. If your layover is three hours or more, jump in a rideshare or taxi and take a mini vacation. Better yet, spend a night or two on each end of your trip so you can recharge your batteries—literally and figuratively.
Manhattan Beach is a home of surfing and both beach and indoor volleyball. It's a special community that used to be filled with pilots and flight attendants in the 70s, 80s and mid-90s until the housing market exploded and priced all the fun people out.
I used to live right on the Strand (the first row of houses on the beach) and when I first moved there in 1992, in a tear-down house on a single lot, it was selling for $750,000. Today, that same old house is priced at $14,000,000+. I made a HUGE mistake not rustling some money together to buy it. Many believe that MBS Studios is one of the main culprits behind the explosion since they built a movie studio down the street. MBS produces all kinds of shows and films like Ally McBeal and Avatar (here's a complete list).
Transportation
The easiest way to get to Manhattan Beach from LAX is to take a taxi, Lyft or UberX. Tell the driver you want to go to Manhattan Beach Boulevard and Highland Avenue (the heart of downtown). It should cost no more than $30 by taxi or $25 by UberX.
FYI: Be prepared for the taxi driver to give you a bit of attitude, as he will probably have been sitting in a line for two hours and will be bummed that he's going only a short distance. If you don't want the attitude take UberX or Lyft.
As you go down the hill you'll see the famous Manhattan Beach Pier. It's been in a lot of movies and was always featured in NBC's coverage of the Manhattan Beach Open, the Wimbledon of beach volleyball, before the sponsors pulled out.
Store your Luggage
As of press time there's no place to store your luggage in Manhattan Beach which is a real bummer. However, there are plenty of websites and apps that offer the service and new places keep popping up so check each site: Vertoe, LuggageHero, Stasher, Nannybag
What to do
Once in Manhattan Beach the best thing to do is stroll around the Strand and the pier (there's a little aquarium at the end). I highly recommend renting a bike and cruising the bike path (you can go all the way south to Torrance or north to Santa Monica). Sadly, the only bike rental in Manhattan Beach closed so you will need to go to nearby Hermosa Cyclery.
Where to eat
This is one of my favorite parts about Manhattan Beach—the restaurants. There are so many to choose from and most are within walking distance from where you've been dropped off, so I'm just listing my favorites.
Breakfast
Coffee/smoothies/bagels
If you are looking for something quick and light then go to Noah's Bagel. There's also a Coffee Bean, Peet's Coffee and Starbucks within a block.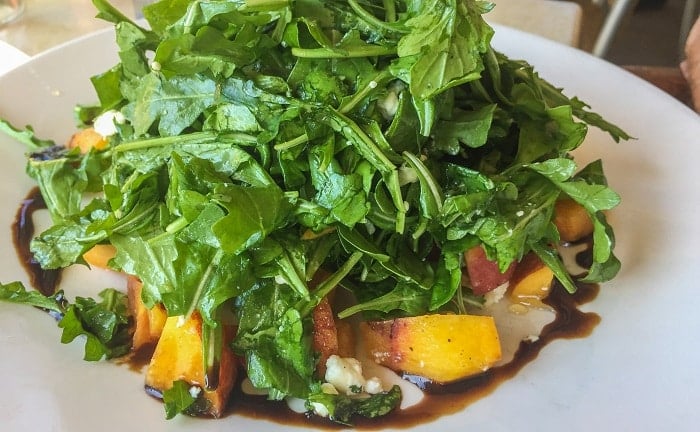 Lunch
There are so many places I don't know where to start, but here's a quick list:
If you happen to be in town on a Tuesday in the middle of the day, go to the Farmers Market (13th Street & Morningside Drive). Buy some fresh fruit and ask to try the spicy tempha from Dave's Korean food. My favorite is Larry's Tacos and get a fruit drink from the Hawaiian stand.
Dinner
Grocery Stores
Of course, if you ever need to grab snacks for the plane you have Vons supermarket right in town. There's also a Ralphs, Target, Trader Joe's, Whole Foods, and the Manhattan Village (a mall)—all of them are just off Sepulveda Blvd (close to the airport).
Lodging
Rent a house or an apartment
If you are staying longer than a day, then rent a house or an apartment. Airbnb and VRBO are the two major players.
Shoe repair or polish
If you need your shoes repaired or polished, the best place to go is Manhattan Shoe Repair (1010 Manhattan Ave; Tel:  310-376-7484). The man who owns this place takes so much pride in what he does that he can pretty much create magic. My wife wanted me to buy a new pair of shoes for our wedding but instead I brought an old pair of work shoes that I hadn't worn in ten years and he made them look like new for $25. Chalk one up for the good guys!
Useful Manhattan Beach Resources
So there's "my" Manhattan Beach. Hopefully, this will make your long layover at LAX (or stay in the area) and trip to whatever fabulous place you are going that much more enjoyable.
RELATED: My LAX Tips

Save
Save
Save
Save