My Canadian wife, Natalie, and I constantly have conversations about tipping. She doesn't understand that in the United States, tipping is expected to be at least 20% at a restaurant and that you sometimes tip on takeout. Of course, she's not speaking on behalf of all Canadians when she says this but she just doesn't understand tipping on takeout. RELATED: Should You Tip on Takeout?
I will be the first to admit that tipping in the U.S. has gotten out of hand. Just this past weekend, I grabbed something from a hotel marketplace, which, mind you, had no tables or anywhere to sit, and was prompted to tip 18%, 20% or 22%. After I purchased the already-too-expensive $8 bag of gummy worms for my son (yes, I know they're terrible but it was a birthday treat), the employee asked me to finish the credit card transaction on the keypad.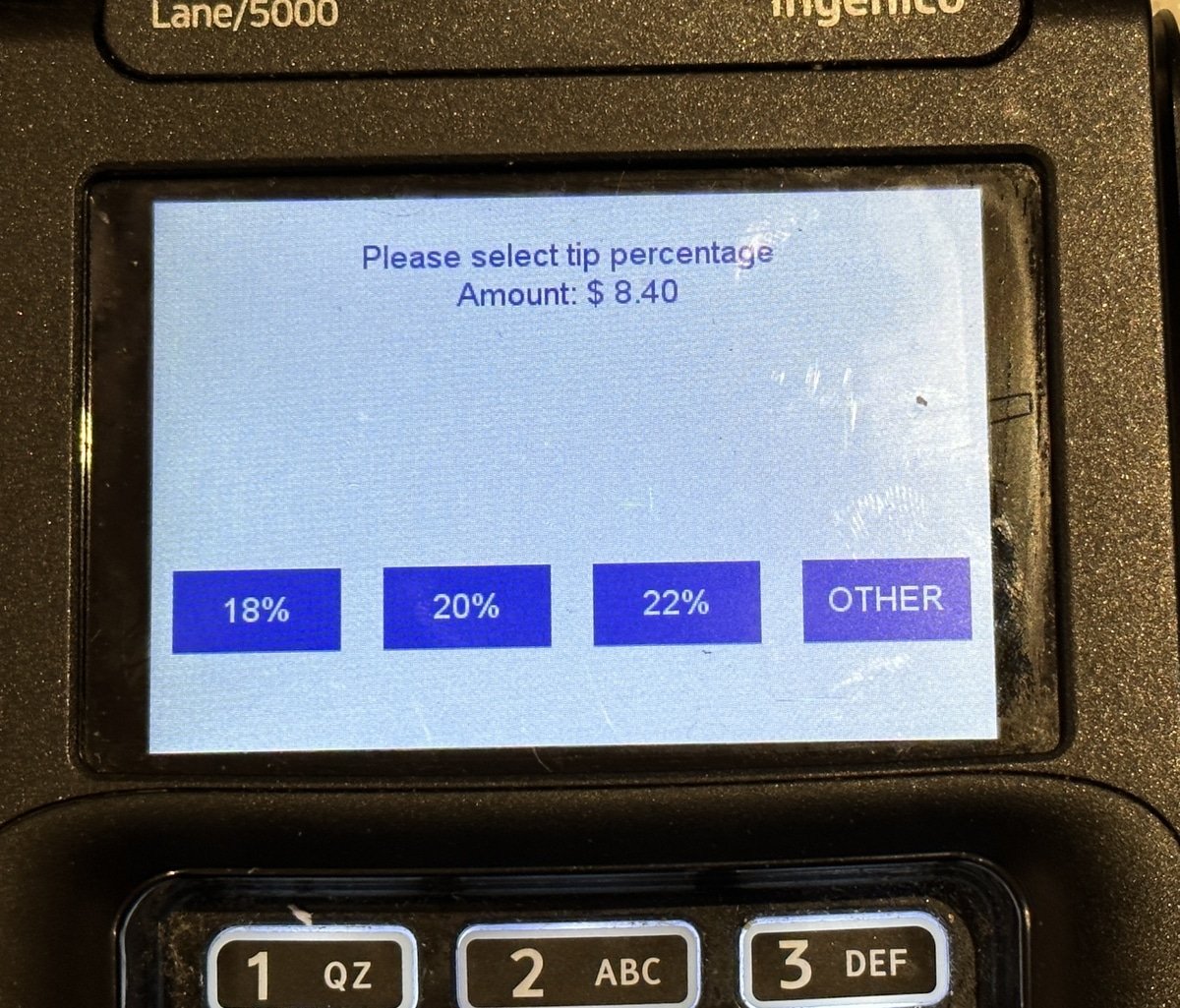 Most of the time, workers look or step away but he didn't. He watched to see how much I was going to tip. That's when my blood started to boil and I said to him, "You've got to be kidding me? You think I'm going to give you 18% or more for ringing up a bag of treats?" He didn't reply. I said, "That's a joke," and snapped the photo above.
This is happening more and more at takeout places that, in my humble opinion, don't deserve a tip. However, I think that workers at places you frequent often, like your regular coffee shop, do deserve a tip and you might give the barista a dollar or two. This is what my wife doesn't understand. She wonders why you would tip someone for doing the job they're already being paid to do?

It's hard to argue with her but it's just a generous American trait, I guess. Now, for someone who goes above and beyond, we both agree that tipping is a gesture of gratitude. But I do think that tipping is getting out of hand and I'm not alone.
RELATED: How Much I Tip Hotel Housekeepers and My Trick to Make Sure They Get It
A new survey by Forbes Advisor says that one in three people feel pressured to tip and that "digital tipping—a service that allows customers to tip using a point-of-sale system rather than cash—has exacerbated tipping fatigue and overall tipping confusion."
I feel pressure to tip multiple times a week and I never know how much to give, especially on food delivery apps, where they make you tip in advance (isn't a tip supposed to be given afterwards for great service?). I don't want the driver to tamper with my food so I feel pressure to give a good tip. But my other problem is that they ask for a percentage of your food bill. I don't think that's right. What does it matter if I buy a $20 pizza or $200 worth of food? Does the same trip warrant a $40 tip? I don't think so. I usually choose 'other' and give a flat fee of either $5 or $10.
According to the Forbes survey, many people feel the same way I do in terms of tipping on takeout. "Respondents on average were most likely to say they don't think food truck workers should ask for tips, with fast-casual restaurants and picking up take-out food a close second and third—suggesting many diners associate tipping with table service, not food service in general."
Included in Forbes' data about tipping are these graphs, showing the services that people tip for the most:

and where people don't think they should leave a tip:

Another tipping pet peeve of mine is establishments that automatically include a gratuity.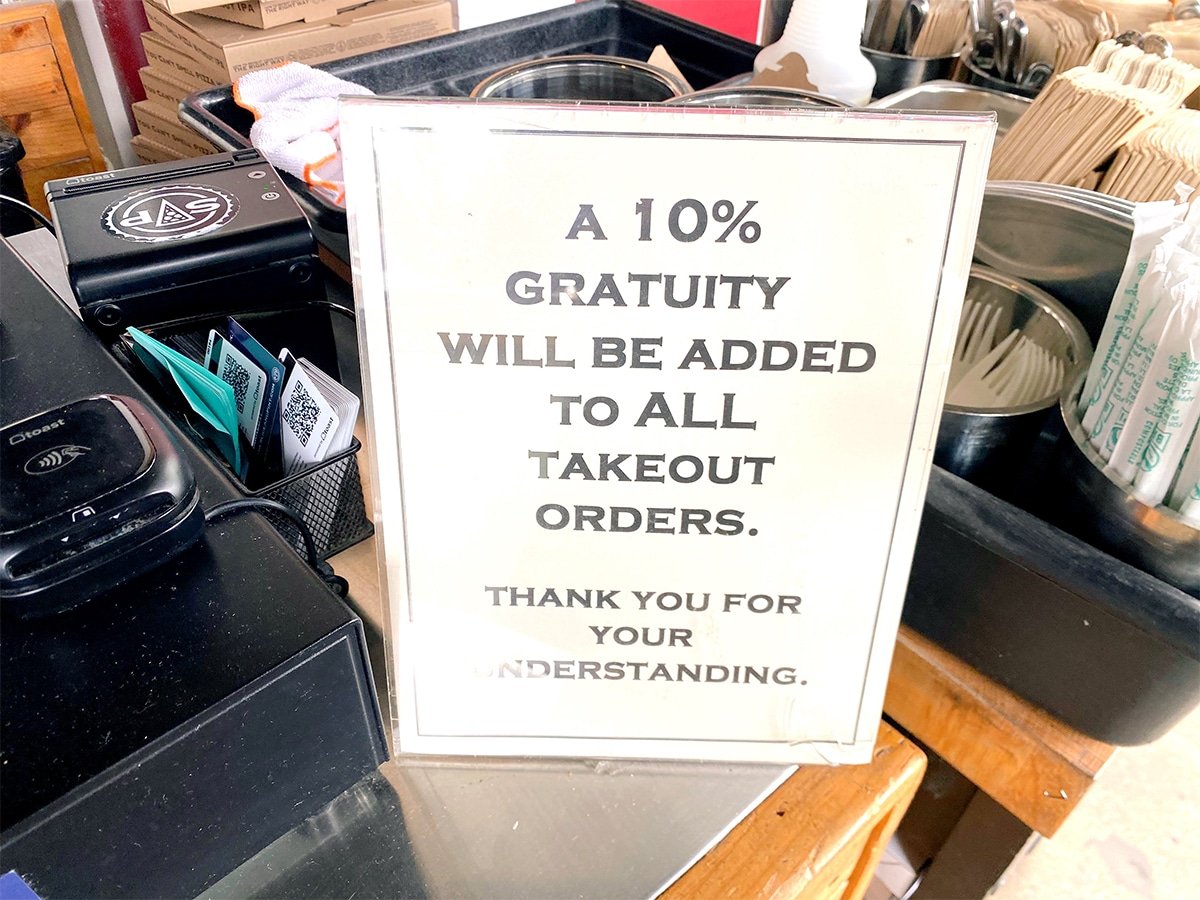 Oftentimes, hotels will automatically add a gratuity to room service orders and restaurants will do the same for large groups. But there's a local pizza place I go to that automatically adds a 10% gratuity to all takeout orders, which I find preposterous.

And although it's not tipping, I now also feel pressure to add another dollar or two to my bill when checking out at grocery stores in both the U.S. and Canada. Oftentimes, they ask if I would like to add a few extra dollars to my bill in the name of a charity. I'm generally okay with it and almost always do since it's not a lot of money and it's for good cause.

The Forbes survey also says, "Male respondents were slightly more likely to report always tipping—45% compared with 39% of female respondents." So regarding my wife, maybe it's a gender thing and not an American thing?
What do you think about tipping in the United States? Do you tip out of guilt?
KEEP READING
• How to Save Money With a Secret Third Carry-On
• How to Use Your Wireless Headphones to Watch In-Flight Movies
• 10 Airport Security Hacks Every Traveler Should Know
• How to Get the Best Coach Seat on the Plane
• The Sleep Hack Every Traveler Needs to Know
• Never Get Your Valuables Stolen on the Beach
Want more travel news, tips and deals? Sign up to Johnny Jet's free newsletter and check out these popular posts: The Travel Gadget Flight Attendants Never Leave Home Without and 12 Ways to Save Money on Baggage Fees. Follow Johnny Jet on MSN, Facebook, Instagram, Pinterest, and YouTube for all of my travel posts.