A man named Luke from Cave City, KY has gone viral on TikTok for recording his first time trying Indian food. Someone who has lived in or near a major city their whole life might find it surprising that he had never tried one of the best cuisines in the world before. But when I think back to my childhood, growing up in Connecticut, I can't remember ever eating Indian food, though plenty of Chinese, Japanese, Italian and Mexican. RELATED: My Favorite International-Inspired Foods from Trader Joe's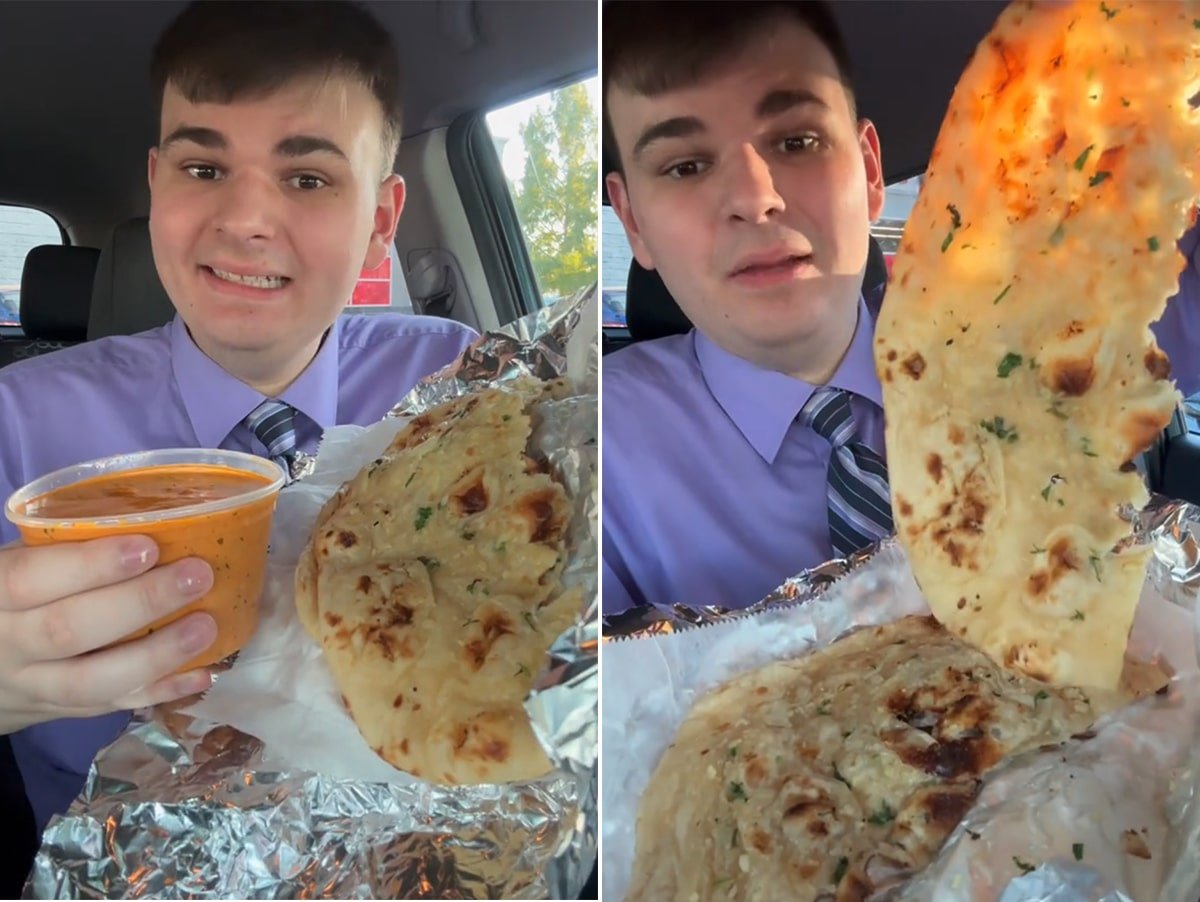 Although I can't remember the first time I ate Indian food, I can certainly tell you the last time since I eat it so often now. Last week. And it's not because my wife is of Indian descent. Natalie was born and raised in Canada and her parents are second or third generation from South America. She didn't eat a lot of Indian food growing up and what's funny, is that when we go to a restaurant that has an international menu, I'll order Indian while my wife will order Italian (my heritage). And when we go to India, she rarely eats an Indian breakfast while I always do. She opts for Western dishes instead.
Luke is probably in his early twenties and has a popular social media presence with close to half a million followers on TikTok alone. His handle is @lukefoods and he's constantly recording himself trying new foods, dishes or treats.
In his video (above), he's sitting in his car after spending $35 on onion bhaji, garlic naan, butter chicken, gulab jamun and "a whole basin of rice" from India Oven in Bowling Green, Kentucky. It's pretty funny. First off all, Luke's eating Indian food in his car. Secondly, he's wearing a tie. Thirdly, he sounds like he has a Chicago accent and delivers his review in a slow Mr. Rogers-esque way, which reminds me of John Candy for some reason. Multiple viewers commented that he reminded them of a young Kevin Malone. I had to look up the name and found out he's a character from The Office played by Brian Baumgartner, who I actually met at a party once and he was super cool. Here's the photo.
The first thing Luke tried was the onion bhaji. He said, "This is great. It tastes like an onion ring but there's no onion inside. It just has onion flavoring, so it's kind of like a [French] fry. I like it. I give this an 8."
He then tries a piece of garlic naan. He says, "That seasoning is out of this world. It has a nice garlic parmesan taste and that is cooked to perfection. I'm not even joking. It's thin bread but it has so much flavor to it. In fact, this might be the best bread I've ever had in my life." He rated it 9.5 out of 10.
Next up was the butter chicken (one of my personal favorites). Luke said they didn't give him a fork "so thankfully, I had a fork in my car, but, yeah, holy crap. This might be the best thing I've ever tasted in my life. Okay, let me chill out. This chicken is like liquid. It just melts in your mouth. Okay. And as for the butter taste it does taste a little oily, but what I'm really getting is a cinnamon taste for some reason, and this is absolutely delicious." He then went on to say, "This is divine. It is not the best thing I've ever had in my life, but it is truly divine. One of the best things I've had in my life. I give this a 9.9."
India Oven probably didn't give him a fork is because they weren't expecting him to eat the thing in his car. As the top comment with over 160,000 likes says, "butter chicken in a car is insane." Another commenter hilariously agrees: "Butter chicken in a suit in the car is wild."
Luke then breaks off a piece of his garlic naan and dips it in the buttered chicken. "Let's see how good this is … my taste buds have been violated. That should be a crime. I'm tweaking."
Luke wasn't a fan of the gulab jamun as he rated it a 6. But he ended the video with: "If you ever hit up India Oven or any other Indian restaurant in the future please get their butter chicken. Do yourself a favor."
Luke's right and his expression while tasting the butter chicken and garlic naan were priceless. As Sweets4405 wrote, "Me every time I eat Indian food."
KEEP READING
–Will You Ever Order From a Food Delivery Service Again After Watching This Video?
–My Favorite International-Inspired Foods from Trader Joe's
–Uber Eats Delivery Scam: Has This Happened To You?
–The Unsurprising Way Travel Experts Save Money on Food When Traveling and Have a Local Experience
–Trader Joe's Best Kept Secret … And It's Not Even Food
Want more travel news, tips and deals? Sign up to Johnny Jet's free newsletter and check out these popular posts: The Travel Gadget Flight Attendants Never Leave Home Without and 12 Ways to Save Money on Baggage Fees. Follow Johnny Jet on MSN, Facebook, Instagram, Pinterest, and YouTube for all of my travel posts.