I left off last week from Toronto. From there it was just a short (55-minute) flight to New York's LaGuardia Airport. The taxi line at LGA was seriously a quarter of a mile long and not moving. I just shook my head in disbelief that none of the people waiting for a taxi knew to call a limo (I guess they don't read this newsletter!). As you know, I use Carmel (212-666-6666) or Dial 7 (212-777-7777) because their numbers are so easy to remember and they are the same price as a taxi. And when I'm not feeling lazy, I jump on the M60 bus to 125th Street and take the free transfer for the subway so the whole trip to midtown Manhattan costs $2.25. You can't beat that!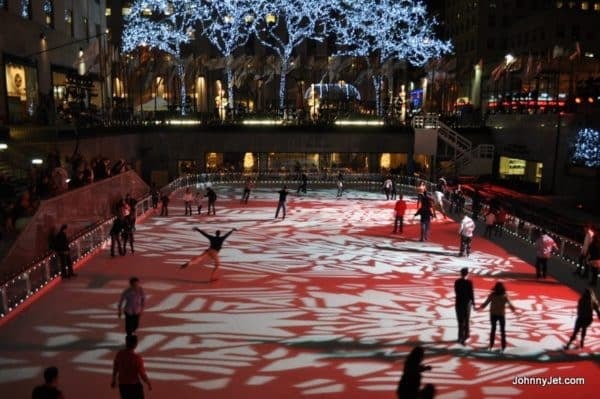 Midtown Manhattan
I was in town to do an NBC News interview on holiday travel tips, and it took place in 30 Rock! It was so cool because we taped it on the same floor (6th) as Jimmy Fallon's show and The Dr. Oz Show The Doctor walked by me in the hallway and I was surprised how buff he is. He motivated me to hit the gym.
Other highlights included staying five blocks away at the New York Hilton. It's on 6thAvenue between 53rd and 54th so it's right in the heart of the Christmas festivities. Of course, I checked out the tree at Rockefeller Square (the lights weren't lit yet) and the windows of Saks Fifth Avenue and all the other decorations. Although it looked like Christmas, it sure didn't feel like it, because the temps were in the high 60s. People were walking around in T-shirts–including me!
One of the places I stopped while walking the streets was Valducci's Original Pizza Truck. The line was short so I decided to try their goods–slices start at $3 and the pizza is darn tasty. I also ate at Guantanamera Cuban restaurant and a deli across the street from the hotel where you can get a darn good chicken parm sandwich for $6.48.
JFK to LAX on American Airlines
I flew home to LAX from JFK on American Airlines. It was the same day the airline filed for bankruptcy, so I was interested to see what the mood would be like. I was rather shocked that I saw a bunch of employees smiling in the airport, but when I talked to them they said they felt heartbroken and blindsided. But they all said what can you do? As predicted it really was business as usual, and I'm not worried about my AAdvantage miles ever going away. I will keep on flying American and they will probably come back as a stronger airline. Note: There is a remote chance that US Airways will try to acquire them, but even if they do, it's unlikely anyone would lose their mileage accounts.
Los Angeles
I got into Los Angeles the day before the big windstorm (75 mph winds and LAX closed for about an hour). My flight had arrived on time, but when I checked to see if the same American flight I had taken landed on time
the next day, I saw that it ended up getting diverted to Ontario (ONT). It didn't get into LAX until four hours after the scheduled arrival. Ugh! That would've been a huge bummer, so I was relieved I hadn't changed my flight to see my family like I'd been thinking about doing.
Highlights in L.A. that you might consider interesting were:
-Going to The Huntley Hotel in Santa Monica to have breakfast with my friends at Switzerland Tourism.
-Seeing friends at Peter Greenberg's boat party, including recent Amazing Race contestant Laurence Sunderland (Worldwindproductions.com)
– Attending the Global Traveler Magazine Awards at the Peninsula Hotel in Beverly Hills, where they had three of the cast members of The Office: Brian Baumgartner, Angela Kinsey, and Oscar Nuñez. All of them seemed very nice, and I took a picture with Brian and Angela on their way out.