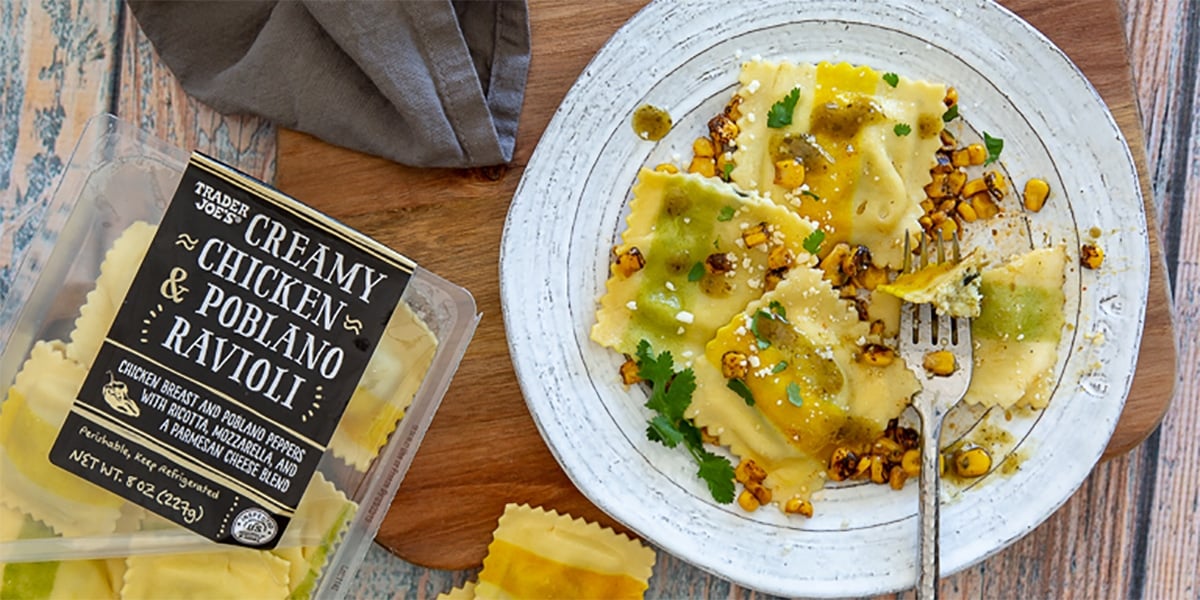 This post contains references to products from one or more of our advertisers. We may receive compensation when you click on links to those products. For an explanation of our Advertising Disclosure, visit this page.
I never thought I would write a post about Trader Joe's but then again, I never thought there would be a global pandemic. Since medical experts are recommending most people not travel or eat at restaurants, that has led some people to even be uncomfortable getting takeout (we were for the first two months of the pandemic). So here's a way to get a taste of travel without spending a lot of money. I would say, it's the fourth best way … behind traveling somewhere, eating at a good restaurant or ordering takeout.
We're fortunate that we have multiple Trader Joe's locations near where we live. If you're not familiar with them, it used to be a small mom-and-pop shop before selling to Aldi and there are over 500 stores across 42 states (and Washington DC).
I've been going to Trader Joe's (or TJ's as the locals call it), since I was in college in the 1990s in Rancho Palos Verdes, California. I always loved the South Pacific feeling inside the stores; the consistently ultra-friendly (in my experience) employees wear Hawaiian shirts and the store offers up a wide selection of food choices from around the world.
I think one of their big selling tricks is that they have open freezers so it's easy to see what they've got and it's not a burden to open and close the freezer doors, especially now when no one wants to touch anything unnecessarily during the pandemic. Since I'm not traveling much these days, one way I get my travel fix, besides watching webcams from around the world and flight attendant YouTube videos, is by eating foods from around the world.
Again, Trader Joe's foods, as good as they are, can't compare with the real thing and their frozen foods can be high in sodium but they're still a nice treat and they're affordable.
Here are some of my favorites international-inspired foods from Trader Joe's:
Trader Joe's Chicken Tikka Masala
Trader Joe's does a great job with Indian food and my wife and I love it when we're in the mood for Indian but don't feel like cooking or spending the money on ordering in. I love the Chicken Tikka Masala and the Spinach Paneer while Natalie loves the Butter Chicken with Basmati Rice. And your Indian meal isn't complete without a side of Trader Joe's Garlic Naan.
Ravioli
The Creamy Chicken & Poblano Ravioli combines Mexican flavors with an Italian staple and the result is seriously good. But be sure to pick up their Cacio e Pepe ravioli, it's delish and only $3.49. You can find them in the deli section.
Cuban Style Citrus Garlic Bowl
According to their website, the Cuban Style Citrus Garlic Bowl is "inspired by the vibrant, lively flavors of Cubano cuisine. Each bowl is filled with a mix of bright yellow rice (courtesy of a hearty application of turmeric), diced red bell peppers and onions, black beans, chunks of sweet plantains, and cilantro, which is then topped with chopped, juicy, marinated chicken thigh and a superbly savory citrus-and-garlic infused mojo criollo sauce." According to me, it's just delicious. Look for it in the freezer section.
Steamed Chicken Soup Dumplings
I love Asian food and of course, none of these options are as good as the authentic thing but these are pretty close. I don't think you'll be disappointed if you give them a try. You'll just wish that more than six came in a package because six definitely aren't enough.
Trader Joe's Organic Açaí Bowl
My wife and I love acai bowls, especially when we are in Hawaii. We typically have one for breakfast every morning when we're there. But this frozen one from Trader Joe's is a solid substitute. RELATED: Here's how you can make your own acai bowl.
Trader Joe's Pizza Dough
I'm half Italian so I love pizza and there's nothing like making it at home especially with little kids. Trader Joe's pizza dough is cheap and easy to use but it's not the best. We've made homemade pizza dough before but it's time-consuming so when you're in a hurry, TJ's is perfect (just remember to take it out of the fridge about 30 minutes before you plan on using it.) We cook our homemade pizza in just one minute using our Ooni pizza oven, which is extraordinary.
I also love Trader Joe's Sriracha and Roasted Garlic BBQ Sauce, Sweet Chili Sauce and Hot and Sweet Jalapenos.
I haven't tried these two yet but after doing some research, I'm heading to Trader Joe's tomorrow to pick some up since who doesn't want to be reminded of France or Israel?
Trader Joe's 8 Mini Croissants
Trader Joe's Shakshuka Starter
PLUS: While we're on the topic of food, here are some of the best gadgets Natalie and I have added to our kitchen recently. Because quarantine has us spending all of our time at home and in the kitchen, we've definitely started cooking more and have some new favorite tools:
–This Circulon pot is the greatest addition to our kitchen; it's non-stick, it's got a pouring spout, a strain-and-drain lid, and silicone handles for easy handling. Worth every penny!
-This T-Fal Non-Stick Skillet is perfect for bigger meals or batch cooking. It will be the workhorse of your kitchen.
-Stainless steel knives, like this colorful 12-piece set, making cutting everything so much easier and I love that each knife has a blade guard for safe storage.
-A meat thermometer takes all the guesswork out of cooking meat.
–Kitchen scissors because so many things are easier to cut with scissors than a knife.
–Pineapple slicer and corer; watch my video demonstration of how to use one here.
-An apple slicer give you perfect slices every single time.