I have to admit: when I first moved to the United States from Canada, it took me a while to fully grasp what seemed to be the mild (ok, sometimes wild) obsession many people have with Trader Joe's. RELATED: WARNING: If This Can Happen at Trader Joe's, it Can Happen Anywhere – Here's How to Protect Yourself

At first glance, Trader Joe's seems fine but nothing to get too excited about. My grocery store in Toronto was at least double the size, with bright lights and wide aisles, way more selection and was flanked by a Starbucks at one end of the store and a Joe Fresh at the other.
By contrast, Trader Joe's felt small, dark and a bit outdated. But don't worry, reader. Here is where I stop maligning this national treasure. It didn't take long for me to come to fully understand the love for Trader Joe's and now it's my go-to grocery store and the one I would choose if I had to give up all others.
I really do love everything about Trader Joe's, from the unique product selection to the friendly staff. I swear Trader Joe's must have a secret strategy for finding the best of the best because their employees truly are top-notch, at least at my location.
I love-hate that they have a constantly changing product selection. As soon as you get hooked on the tangerine ice cream bars, they're gone! But Trader Joe's keeps you wanting more and coming back week after week to see what's new. Their rotation of seasonal items is one of the big draws. A low-key buzz hums through my body as I scan the aisles in search of treasure. I assure you, this does not happen when I shop at Ralph's.
I've joined more than a few Trader Joe's Facebook groups where members share their favorite products, meal ideas, new finds and best deals. I can guarantee you that no other grocery store has ever had me so invested.
The food is delicious, it's reasonably priced, the seasonal items are always on point, the fresh flowers are a staple and the frozen food section has essentially eliminated the need for takeout. They even hide a stuffed animal around the store for kids to find and give out lollipops when they do.  But there's one thing about Trader Joe's that I never hear anyone talking about and if you ask me, it's one of the store's best deals and best kept secrets.
When I became a new mom, I didn't realize just how many birthday parties my kids would be invited to. It was constant. Every kid in our neighborhood seemed to have a birthday and with startling frequency. Once the kids started school, the birthday party invitations only multiplied.

While I love to have my kids make homemade birthday cards, we don't always have time and that's where Trader Joe's comes in. Have you seen their selection of greeting cards?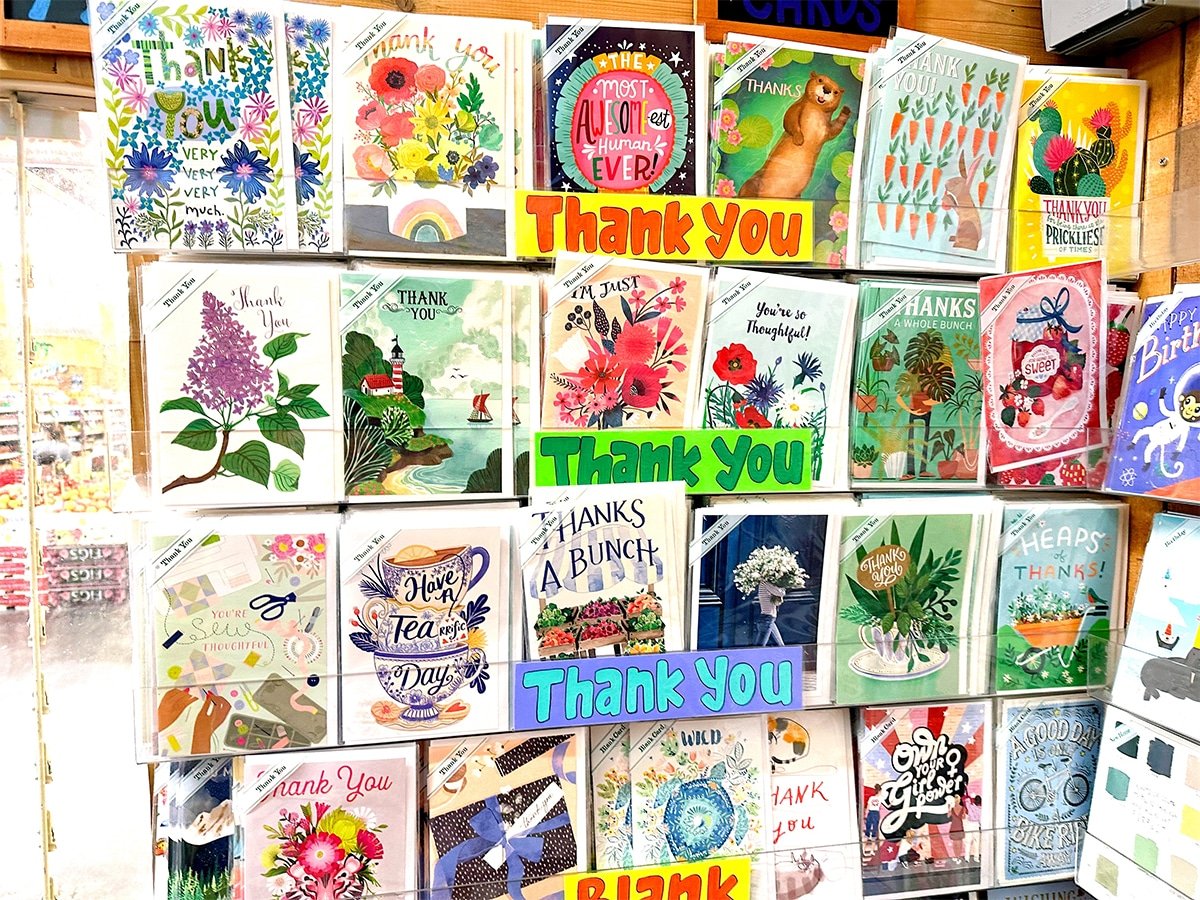 Birthday cards, thank you cards, sympathy cards, wedding and new baby cards, anniversary cards and blank cards. The cards are so nicely done, with pretty, vibrantly colored illustrations, cute messages and on quality card stock … and the best part is the price. At only $0.99 each, I stock up whenever I'm there and always have cards on hand for unexpected occasions and last-minute invitations. Paying an outrageous $7 or more for a card anywhere else has always galled me but fortunately, that is now a thing of the past.

In our store in California, the greeting cards section is a little bit hidden, tucked away in a corner right near the entrance so it's easy to miss if you whiz right in.
If you haven't checked out Trader Joe's selection of greeting cards, I highly recommend you do. The selection offers a good variety and in my books, it's just another reason to love Trader Joe's.
KEEP READING:
–The Most Comfortable High Heels You Will Ever Wear … Seriously, They Are a Game-Changer
–An Easy Way to Get Healthy Right Now
–Why Packable Jackets Should Top Your List of Winter Travel Must-Haves
–Add These 8 Items to Your Toiletry Bag When You Travel
–Why Packing Cubes Are a Travel Essential
Want more travel news, tips and deals? Sign up to Johnny Jet's free newsletter and check out these popular posts: The Travel Gadget Flight Attendants Never Leave Home Without and 12 Ways to Save Money on Baggage Fees. Follow Johnny Jet on MSN, Facebook, Instagram, Pinterest, and YouTube for all of my travel posts.