Greetings from sunny and warm Southern California. It's been another difficult and exhausting week in the U.S., which is why I didn't send this newsletter yesterday. Instead, I went to the beach with my family to clear my mind. I know that for many, this travel newsletter is an escape from politics and social issues so I'll just stick to travel here and save my social commentary for my Twitter and Facebook feeds. This my personal Facebook page and here is my work Facebook. Note my work Facebook is strictly travel.
Tell A Friend (or Two) About My The Daily Travel Tip
I did send out a Daily Travel Tip yesterday, only because it had been scheduled the day before. If you're not subscribed, you can do so here and please encourage your friends, family, and colleagues to do the same on your next Zoom call.
FYI: The bottom of this page has all the travel news stories from the week.
I Didn't Go See My Dad
Last week, I shared how I had just put an LAX-MIA ticket on hold to possibly go see my dad. I ended up not booking it for two reasons:
Like a smart traveler, I checked the weather forecast in Miami and saw that a hurricane was projected to hit south Florida. That would've been a rookie mistake. BTW: I use this top rated storm tracker app that surprisingly, a lot of people don't know about.
I told my dad that I was thinking of coming and he snapped on me. "Don't you dare come here. Don't worry about a 91-year-old man. You need to take care of your wife and kids."
Like a good Italian son, I listened but these are difficult times for everyone. I miss my dad and worry about him a lot. This is the longest stretch of time I've gone without seeing him in a very long time. Fortunately, my dad knows how to FaceTime so he sees me and his grandkids at least four times a day. But of course, it doesn't replace being together in real life.
I am itching to get out there but I just need to do the responsible thing and wait until the USA gets COVID-19 under control.
TSA Numbers
Last weekend, TSA throughput numbers at airport security checkpoints nationwide were: 764,468 on Friday, Aug. 21, 625,822 on Saturday, Aug. 22 and 841,806 on Sunday, Aug. 23. Yesterday (Thursday, August 27) they were 721,060. That same Thursday in 2019 the TSA number was 2,561,109 so travel is still way down and the reason the major airlines are threatening to cut their work force drastically if they don't get more help from the government. With school starting up again, I imagine these numbers aren't going to go up until there's some kind of vaccine or therapeutic, or the US' COVID-19 numbers drop drastically.
Delta To Install Hand Sanitizer Stations On All Planes
Here's a brilliant idea and another reason Delta is lauded as the best airline to fly during COVID-19. "Delta will become the first U.S. airline where customers can find hand sanitizer stations near the boarding door and bathrooms on every Delta aircraft. Depending on the size of the aircraft and the number of customers, each Delta aircraft will have up to five hand sanitizer stations. Installations begin on Aug. 28 (Today) with the Boeing 757-200 fleet."
The Navy SEAL Who Claims He Killed Osama Bin Laden Has Been Banned From Delta
Robert O'Neill, the former Navy SEAL famous for his role in the raid that killed Osama bin Laden, was banned by Delta Air Lines last week for refusing to wear a mask on a flight the day before. He foolishly tweeted a photo of him without a mask on with the caption, "I'm not a p*ssy." He claimed his wife made him delete the tweet five hours later but it had already made the rounds on the internet so Delta had no choice. Another reason to fly Delta. They don't care who you are, if you don't wear a mask, you get booted. Delta has now banned 240 anti-maskers.
Travel Pic Of The Week
If this 747 — with a nose the size of a small house — can deal with wearing a mask, then you can too ??
NY Mets Players Told They Couldn't Eat or Drink On Flight
I'm a New York Yankees fan and was pissed when I found out their series against the NY Mets last weekend was canceled because a Met player and coach tested positive for COVID-19 after their series against the Miami Marlins. According to MLB.com, the Met players who were not required to stay in Miami, flew home on its chartered Boeing 757. They normally charter a 737 aircraft but because the players needed to spread out, they upgraded the aircraft. "Sitting a minimum of six feet apart, players and staffers were required to wear N95 masks throughout the entire flight, and they were not allowed to eat or drink."
New Travel Trend
Many schools and offices are going virtual for the fall so some hotels are getting wise and advertising "Virtual Classroom Packages" and "Work-Away, Stay, & Play Packages." They're smart and have a good point … "Why work from home when you can work from anywhere?" Many hotels are creating work spaces for kids (and adults) and making it easy to connect their computers to a TV for the virtual classroom. Hotels and destinations are encouraging families to take a break and check out the local museums or go on a private water, sand, land or adventure.
British Museum
I was watching Sky News (UK) yesterday and they ran a story on how the United Kingdom museums are opening. They interviewed the general manager or an executive from the British Museum in London, which usually sees 21,000 visitors a day and now it's being capped at 2,000 people. That obviously sucks for executives but it's a huge win for guests because it's almost going to be like having a private, after hours experience. Keep in mind, you need to reserve your (free) tickets and timeslot in advance online and wear a mask.
NYC Museums
Britain isn't the only one opening museums this week. New York City opened theirs this past Monday and they're only allowed to be filled to 25% of their normal capacity. For those who don't like crowds this is the time to take advantage of limited capacity levels. Here's a TimeOut story with details about your favorite NYC museum.
L.A. Zoo is Open
Museums in L.A. aren't open yet but the L.A. Zoo reopened on August 26. "All guests, including members, must have advance, timed-entry tickets in order to enter the Zoo. Ticket quantities are limited each hour, in order to promote physical distancing and optimal safety for our guests."
Costa Rica Announces Residents of 12 U.S. States Will Be Permitted to Enter in September
There are not many countries that are allowing U.S. travelers in right now because of our ridiculously high COVID-19 numbers. However, Costa Rica just announced that "in addition to residents of Connecticut, Maine, New Hampshire, New Jersey, New York and Vermont, residents from Maryland, Virginia, and Washington, D.C., will be permitted to enter the country on Sept. 1. Two weeks later, on Sept. 15, residents of Colorado, Massachusetts and Pennsylvania will be permitted to enter. Additionally, Costa Rica's government announced the following changes:
Proof of negative PCR test results taken within 72 hours (vs. 48) of travel to Costa Rica. This requirement does not apply to minors traveling with their family.
Residents of authorized U.S. states can show proof of residency through a driver's license or state ID.
As of Aug. 31, hotels throughout the country will be permitted to operate at 100% capacity, except for common areas, such as restaurants, gyms and swimming pools, which will operate at 50% capacity."
FYI: Here's a list of countries Americans can travel to right now updated by the New York Times and here's where to find the latest quarantine rules in each state.
Dubai International Airport Becomes the First to Deploy Coronavirus-Sniffing Dogs
Here's something amazing. According to Travel & Leisure: "The Dubai airport is the first real-world example where dogs are being used to sniff out COVID-19. The dogs also do their work from afar, never coming into direct contact with potentially infected or fearful humans. Samples are taken from travelers' armpits and placed in steel containers designed to allow a dog's snout to fit inside without disturbing the sample. Test results, which are said to have a 92 percent accuracy rate, are returned in less than a minute."
This Woman Is Rowing Solo From California To Hawaii
Lonely Planet: "Lia Ditton's life revolves around rowing, and pushing her own capabilities to extreme limits. As of now, she is in the middle of an epic journey to Hawaii that started in San Francisco. It's an adventure that has been fraught with challenges and has seen her overcome two terrifying capsizes and spend weeks battling currents and winds that took her south. Also a professional sailor, Lia fought adverse currents, strong winds and waves the size of buildings as she made her way along the California coast. On day 19, a rogue wave capsized her 21-foot boat and she was plunged into the ocean, forcing her to roll the craft back herself." Wow – seriously impressive but for me … um, no thank, you. I will fly and never, ever complain about being stuck in a middle seat.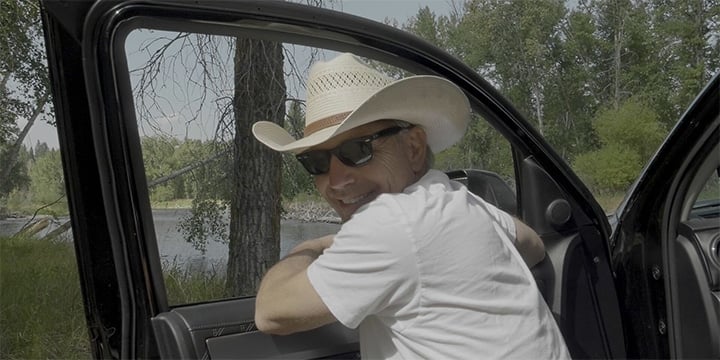 Kevin Costner Launches A New Travel App You'll Want To Download
Oscar-winning actor Kevin Costner has co-founded an audio entertainment app for road-trippers across the US. This location-based app is now playing 1,500 stories in California, Oregon and Washington and there are plans to have more than 10,000 stories available across the United States by the summer of 2021. Here's how it works, how to download it and how to get your first five stories for free.
Mother Dropping Off Child At A College For First Time
My wife sent me this 30-second TikTok video of a mother dropping off her kid to college for the first time. Grab a tissue.
Man Asks Brother with Down Syndrome to Be His Best Man
While you have the tissue out, you might as well make good use of it and watch this one-minute and 38 second video of a man asking his brother with Down Syndrome to be his best man. It's not travel related but …
No Travel? No Problem. Lay's Is Bringing the Flavors to You
Here's a fun story that features all kinds of tasty and strange potato chips from around the world. What your favorite potato chip flavor or the most interesting flavor you've seen on your travels? Leave a comment on the article!
Travel News Roundups (Scroll Down)
Once again, there's a ton of travel news so I created separate posts for each category (air, cruise, domestic, international…) to help organize it. Below are links to most of the major travel industry stories…
Airline and Airport News:
Brawl breaks out on American Airlines plane when passenger refuses to follow face-covering policy
What the No-fly List Really Means for Travelers Who Refuse to Wear a Mask
Cruise News:
Updated Cruise Ship Policies and Cancellations
Cunard cancels all cruises until next spring and makes radical changes to itineraries
Domestic News:
How to decide if you should fly home for the holidays, starting now
SFO opens first airport COVID-19 rapid testing site in the US
International Travel News:
Croatia Welcomed Americans This Summer — How'd That Work Out?
Europe's travel windows are slamming shut
Hotel and Lodging Travel News:
Airbnb bans parties and events worldwide, caps occupancy at 16 guests
NBA star CJ McCollum is keeping his hotel room a frigid temperature to create a wine cellar for the 84 bottles he ordered to the Disney bubble
Miscellaneous Travel News:
Should we travel now? Advisors engage in acrimonious debate
This Is How Adventure Travel Is Changing. Are You Ready?