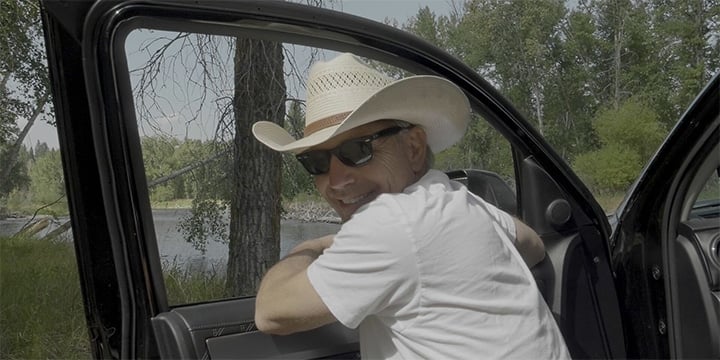 Image via HearHere
If you have an iPhone and plan to travel by car through the west coast, then you'll want to check out this app.
According to Lonely Planet, "Oscar-winning actor, Kevin Costner, has co-founded an audio entertainment app for road-trippers across the US. HearHere is an iPhone app that tells travelers the stories of the people, places and histories of the land they're traveling through, presented in a travel podcast format."
It's now playing stories in California, Oregon and Washington. It has a comprehensive west coast coverage with 1,500 stories at launch with more than 10,000 stories to be available across the United States by the summer of 2021.
Here's How It Works
As you travel, HearHere serves up stories based on your geographic location and interests. The audio vignettes, generally 2-3 minutes in length, combine to tell the history around you, painting a multi-dimensional picture you're unlikely to get from a history book or visitor's guide. HearHere answers the questions we all ask as the odometer turns:
"I wonder how this town came to be?"
"Who was that mountain peak named after?"
"Who were the first people to live in this area?"
If you allow the app to use your location, then it will provide Autoplay of nearby content for a hands-free experience. Users can also tailor the content based on their interests with themes including Colorful Characters, Culture, History, Local Insights, Music, Natural Wonders, Special Places of Interest and Sports.
It helps that some of the story narrators are celebrities including Kevin Costner and Phil Jackson, who both love telling stories.
Kevin told Lonely Planet that he loves stories. "I am the guy that stops at the historical markers along the highway—usually bringing moans from everyone in the car. But it was this continuing curiosity that I began to think HearHere could satisfy without anyone having to leave the car. Why couldn't we replicate every marker along the highway—even expanding from the usual paragraph in bronze that always left me wanting more."
Users can stream five stories for free. Following the free trial, HearHere's annual $49.99 subscription is being offered for the promotional price of $24.99 until August, 31, 2020.
There's also offline listening available for remote areas or for saving your data plan.
Related Articles:
–How To Take The Most Epic American Road Trip
–How Long Does a Road Trip Across America Take?
–Car Check Before Your Road Trip
–How Must Does It Cost To Rent A Car For A Road Trip?
–What Should I Bring On A Road Trip?
–Ways To Save Money On A Road Trip