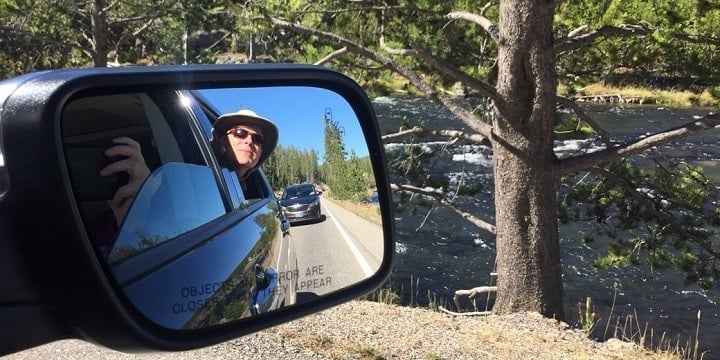 2020 is the year of the road trip and if you're looking for the ultimate itinerary, then look no further. Dr. Randy Olson, the Chief Data Scientist at FOXO Bioscience, where he brings advanced data science and machine learning technology to the life insurance industry, has created an epic road U.S. road trip by using a combination of genetic algorithms and Google Maps.
Dr. Olson created this road trip so followers can take a picture in front of the 48 State Capitols in the contiguous United States in 8 1/2 days and only 13,310 miles (21,420 km). Olson writes on his blog, RandalOlson.com, "The best part is that this road trip is designed so that you can start anywhere on the route: As long as you follow the route from wherever you start, you'll hit every state capitol in the 48 contiguous U.S. states, and as an added bonus, you can even add Washington, D.C. to the route without adding any extra miles."
Here's the full list of capitols in order:
State House, 107 North Main Street, Concord, NH 03303
Maine State House, Augusta, ME 04330
Vermont State House, 115 State Street, Montpelier, VT 05633
New York State Capitol, State St. and Washington Ave, Albany, NY 12224
New Jersey State House, Trenton, NJ 08608
Pennsylvania State Capitol Building, North 3rd Street, Harrisburg, PA 17120
West Virginia State Capitol, Charleston, WV 25317
Ohio State Capitol, 1 Capitol Square, Columbus, OH 43215
Kentucky State Capitol Building, 700 Capitol Avenue, Frankfort, KY 40601
Tennessee State Capitol, 600 Charlotte Avenue, Nashville, TN 37243
Indiana State Capitol, Indianapolis, IN 46204
Michigan State Capitol, Lansing, MI 48933
Illinois State Capitol, Springfield, IL 62756
2 E Main St, Madison, WI 53703
Minnesota State Capitol, St Paul, MN 55155
500 E Capitol Ave, Pierre, SD 57501
North Dakota State Capitol, Bismarck, ND 58501
Montana State Capitol, 1301 E 6th Ave, Helena, MT 59601
Washington State Capitol Bldg, 416 Sid Snyder Ave SW, Olympia, WA 98504
Oregon State Capitol, 900 Court St NE, Salem, OR 97301
L St & 10th St, Sacramento, CA 95814
Nevada State Capitol, Carson City, NV 89701
700 W Jefferson St, Boise, ID 83720
Utah State Capitol, Salt Lake City, UT 84103
Wyoming State Capitol, Cheyenne, WY 82001
200 E Colfax Ave, Denver, CO 80203
New Mexico State Capitol, Santa Fe, NM 87501
Arizona State Capitol, 1700 W Washington St, Phoenix, AZ 85007
Texas Capitol, 1100 Congress Avenue, Austin, TX 78701
Oklahoma State Capitol, Oklahoma City, OK 73105
300 SW 10th Ave, Topeka, KS 66612
Nebraska State Capitol, 1445 K Street, Lincoln, NE 68509
Iowa State Capitol, 1007 E Grand Ave, Des Moines, IA 50319
Missouri State Capitol, Jefferson City, MO 65101
Arkansas State Capitol, 500 Woodlane Street, Little Rock, AR 72201
400-498 N West St, Jackson, MS 39201
Louisiana State Capitol, Baton Rouge, LA 70802
402 S Monroe St, Tallahassee, FL 32301
Alabama State Capitol, 600 Dexter Avenue, Montgomery, AL 36130
Georgia State Capitol, Atlanta, GA 30334
South Carolina State House, 1100 Gervais Street, Columbia, SC 29201
North Carolina State Capitol, Raleigh, NC 27601
Virginia State Capitol, Richmond, VA 23219
Maryland State House, 100 State Cir, Annapolis, MD 21401
Legislative Hall: The State Capitol, Legislative Avenue, Dover, DE 19901
Connecticut State Capitol, 210 Capitol Ave, Hartford, CT 06106
Rhode Island State House, 82 Smith Street, Providence, RI 02903
Randy also created shorter road trips like this one, which will take you to 10 U.S. state capitols in 24 hours. This one is very enticing and doable. Check it out here.
---
Have your own tip? Email it to whitney@johnnyjet.com!
Want to see more tips? Click here for all 1,778!
Want even more travel tips? Sign up here for the Daily Travel Tip newsletter! Enter your email address and check "Daily Travel Tip" to receive Johnny's best tips in your inbox each day!
If you already subscribe to our weekly newsletter, you can sign up on the same page. Just fill in your email and check "Daily Travel Tip" on the same page. You'll receive an email with a link to update your JohnnyJet.com preferences. On that page, just click the Daily Travel Tip box and Update Profile.