I haven't flown since late February, which is an anomaly for me, as pre-COVID, I typically averaged well over 50 flights a year. The longest I had gone without flying in my adult life had been three to four weeks. I'm well past the travel withdrawals now and it's going to be an interesting experience when I do fly again.
One of the most frequent questions I get from friends, family and readers is what the best airline is to fly during COVID-19. There are a lot of variables to that answer. I break it down below:
Where are you flying to and from?
Nonstop is usually preferable to connecting though one doctor surprisingly recommends if you're flying across the country, to make a stop so you're not exposed to the same people for so long. I disagree because by making a stop it seems you'd be exposed to a lot more people on the airplanes and inside the airports.
Another variable is do you have elite status either from flying so much or from your credit card? For example, I have Executive Platinum status on American Airlines since I (usually) fly over 100,000 miles a year with them so I get free upgrades when they're available and right now, they're almost always available since very few business travelers are going anywhere. Traveling in business class will give you a bit more space and fewer people around you.
What type of aircraft is flying?
Airlines can swap aircraft types at the last minute so there are no guarantees but if I was to go see my dad in South Florida (which I was doing, on average, every three weeks pre-COVID) I would fly American Airlines because they have a 777 (wide body plane with two aisles) on their LAX-Miami route and a huge business class with lie-flat seats (see photo above).
Another thing to consider is the load factor. If I were to fly, I would buy a ticket at the last minute so I could see what the load factors are. A good way to check, besides calling the airline and asking for an agent, is by logging on to ExpertFlyer.com. It's a little complicated to use and it's not free ($9.99 a month) so we created a guide explaining how to use it.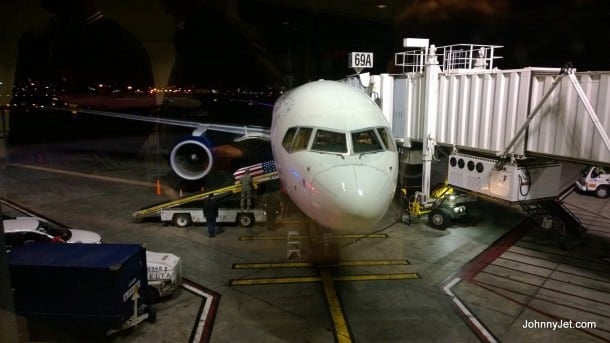 If I didn't have any status with an airline, then I would look at the airlines that are doing the best job implementing COVID-19 safety procedures. Almost everything I have read and heard from friends who have flown say Delta Air Lines is the best. That's not surprising because they are, and have been for some time, the best run airline in the U.S. They also seem to have some of the friendliest flight attendants. In fact, my all-time friendliest flight attendant was on a Delta flight, Atlanta to Los Angeles … and that was before I found out our flight was escorting a fallen soldier home. Here's that emotional story, which I cried writing.
Here are Delta's COVID-19 protocols:
You can read on this Delta post that they're doing a lot but here are some of the highlights:
-You're never more than a few feet away from a hand sanitizer station
-Delta customers and customer-facing employees are required to wear masks to ensure an extra layer of protection.
-They board all flights from back-to-front—reducing the instances of customers needing to pass by one another to reach their seats. The new process is limited to 10 customers at a time to minimize your contact with others.
-Through Jan. 6, 2021, Delta will block the selection of middle seats in Delta Premium Select, Delta Comfort+ and Main Cabin via the Fly Delta app or online. For customers in parties of 1-2, middle seats will be blocked for safety. For customers in parties of 3 or more, middle seats will appear as available for booking, to allow families and travel companions to select seats together.
-Through at least October 31, customers can expect that Delta will limit the number of customers on board all aircraft (with or without middle seats), limit the First Class cabin to half capacity to further ensure more space between customers, and block one aisle of seats on aircraft without middle seats.
-Every Delta flight is thoroughly sanitized prior to boarding using electrostatic sprayers. Following this process, cleaning crews complete an extensive checklist of cleaning procedures using this same high-grade disinfectant to wipe down personal and common areas of the cabin. If an aircraft doesn't pass our spot check before you board, our teams can hold the flight and call back the cleaning crew.
A close second would be (tied) Southwest Airlines and JetBlue.
Here are Southwest's policies:
-We're posting airport signage and floor markers to encourage physical-distancing in gate areas. (Began early May)
-Plexiglas® is being installed at ticketing and gate counters, and baggage service offices. (Completed early May)
-Boarding in groups of 10 to allow for physical-distancing on only one side of the boarding poles.
-Family boarding is not changing, but we will encourage families to respect the personal space of others during boarding.
-Middle seats open through at least October 31 to provide Customers more personal space onboard.
-Customers can pick their seat—if you're traveling together, you're welcome to sit together.
Southwest did make the news last week when they said they are "now only disinfecting high-touch areas like lavatories and tray tables between flights. Armrests and seat belts will not be disinfected between flights." So bring your own disinfectant wipes.
Here are JetBlue's policies:
You can read JetBlue's policy in full here but below are the highlights:
-Requiring face coverings for all travelers at the airport and on board.
-Blocking middle seats on larger aircraft and aisle seats on smaller aircraft for those not traveling together (through October 15)
-Providing the most space between each row of seats of any U.S. airline
-Requiring all travelers to complete a health declaration
-Providing touchless check-in, bag-tagging and boarding experiences using the JetBlue mobile app and self-boarding gates for many of our flights
-Implementing a back-to-front boarding process for most customers to minimize passing in the aisle
Alaska Airlines, American and United also have some solid policies but they're not as great in implementing them as Delta, Southwest and JetBlue (so I hear).
Thankfully, all major US airlines are requiring face masks and most are making no exceptions unless for children 2 and under.
Have you flown during this pandemic and which airline do you think is doing the best job during COVID-19? Please leave a comment below.
Travel Tips For Flying During COVID-19
–7 Tips From a Doctor to Use Whenever You Travel Next
–What Are the Odds of Catching COVID-19 on a Plane?
–Here Are the Latest Face Mask Policies for the 4 Biggest U.S. Airlines
–Can You Wear A Face Shield Instead of a Mask on a Plane
–What I Wore to Stay Safe While Flying
–Where Can Americans Travel Right Now?
–Are You Entitled to a Travel Insurance Refund If Your Trip Is Canceled Due to COVID-19?
---
Have your own tip? Email it to whitney@johnnyjet.com!
Want to see more tips? Click here for all 1,776!
Want even more travel tips? Sign up here for the Daily Travel Tip newsletter! Enter your email address and check "Daily Travel Tip" to receive Johnny's best tips in your inbox each day!
If you already subscribe to our weekly newsletter, you can sign up on the same page. Just fill in your email and check "Daily Travel Tip" on the same page. You'll receive an email with a link to update your JohnnyJet.com preferences. On that page, just click the Daily Travel Tip box and Update Profile.