One of the best things about traveling, besides meeting locals and experiencing new cultures, is trying local foods. My favorite way to do that without breaking the bank by going to expensive restaurants is to peruse farmers markets and grocery stores. I find both of those places really give you a sense of the place you're visiting.
My favorite section of grocery stores is usually the candy and potato chip aisle. I know, I'm a healthy eater. There's something about the potato chips aisle that I really gravitate towards. I'm not sure if it's the vibrant colors of the packaging or just seeing all the unique flavors and names. Some of them are really out there like Spicy Chili Squid Doritos and Salt and Seaweed Pringles, both of which I've found in Thailand. Not to mention "Cool American Flavour" Doritos in Sweden (photo above)!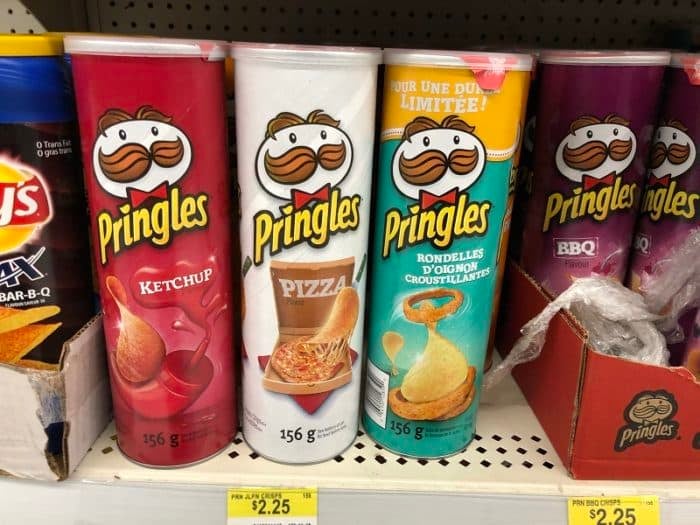 I can pretty much guarantee that if you travel internationally and go to the chips aisle in a grocery store, you will make some incredible discoveries. For the record, my favorite potato chips are ketchup chips, found in Canada. I still have no idea why they haven't caught on in the USA.
Well, since I'm not traveling (yet) because of COVID-19, I was excited to see a Lay's tweet that read: "Dreaming of a vacation ✈️… should we bring some internationally-inspired flavors to you? ?" Along with the teaser tweet, they included the image of a passport with some country stamps (image above).
Three days later, Lay's tweeted an image of four colorful bags of chips that read "No travel? No problem. We're bringing flavor to you!" The limited-edition "Taste of…" series features flavors from four countries on three different continents.

The flavors are:
-Tzatziki flavor, based on the classic yogurt and cucumber sauce from Greece
-Lime and Sea Salt, inspired by the beaches of Mexico
-Beer and Brats, putting together two of Germany's favorites
-Thai Basil Chili, based on the sweet and sour dishes of Thailand.
According to ABC 7 New York, "The new flavors won't be sold in stores. Anyone wishing to taste one of the new flavors will have to reply to one of the company's social media posts and tell them which country you'd like to visit. A bag from the country they choose will be shipped to the lucky winners."
You might be happy to learn that Lay's also announced flavors inspired by U.S. destinations, which should be on store shelves now. I'm pretty sure I'm going to buy all four since they've collaborated with some popular restaurants/eateries. They are:
-Nashville Hot Chicken Rooster with Party Fowl Nash
-Philly Cheesesteak Cheese wedge with Genos Steaks
-Carnitas Street Taco Taco with El Torito
-New York Style Pizza Slice of pizza with Grimaldis Pizza
I'm not one to buy a lot of souvenirs when I travel mainly because I usually don't have room in my bags and I don't like a lot of clutter, but I would definitely make an exception for the flavored chips above. How about you? Also, what's your favorite potato chip flavor or the craziest flavor you've seen traveling? Share in the comments below!
Related:
–The Best Potato Chips Ever
–Unusual Potato Chip Flavors From Around the World
---
Have your own tip? Email it to whitney@johnnyjet.com!
Want to see more tips? Click here for all 1,783!
Want even more travel tips? Sign up here for the Daily Travel Tip newsletter! Enter your email address and check "Daily Travel Tip" to receive Johnny's best tips in your inbox each day!
If you already subscribe to our weekly newsletter, you can sign up on the same page. Just fill in your email and check "Daily Travel Tip" on the same page. You'll receive an email with a link to update your JohnnyJet.com preferences. On that page, just click the Daily Travel Tip box and Update Profile.