Greetings from L.A.! For the first time in a long time, I put a flight on hold and it felt darn good. Holding flights is one of my favorite features about using AA.com (American Airlines). They allow passengers to put flights on hold without a credit card and if you don't purchase by midnight the following day, the reservation automatically cancels. If you put flights on hold using miles, they hold it for up to five days, which is even better.
However, keep in mind, no matter whether you're using miles or cash, you can't put a hold on flights within seven days, only for trips that are at least week or more in advance. It's a Department of Transportation (DOT) rule that all airlines have to give consumers the ability to cancel a reservation within 24 hours of booking for flights flying to/from the U.S.A.
The flight I put on hold was — you guessed it — LAX to MIA on AA's 777-300 (widebody) for $209 roundtrip. It's wide open on the days I chose, especially in their plush lie-flat seat business class which I know I could get upgraded to for free since I have Executive Platinum status (I fly over 100,000 miles and spend $15,000 a year on American and their partners).
There are only a few seats booked out of the 52 so the biz cabin would almost be like flying in a private plane, possibly even better. I haven't pulled the trigger yet for a few reasons:
1. The trip isn't essential, so I would be going against the CDC's advice of only essential travel.
2. I don't want to leave my wife with two little kids at home alone for a couple of days for a trip that's not essential or bringing in money.
3. I don't want to put my 91-year-old Dad in jeopardy by potentially exposing him to COVID-19.
I would surprise my dad and really just go to take him to an al fresco dinner because he's so lonely and depressed. He's almost at the point where he doesn't want to live anymore under these conditions and I can't blame him. He can barely hear and see and has very little interaction with others.
Prior to this pandemic, I was going to see him on average every three weeks, which really brightened his spirits (he would tell me so over and over every trip). Here's a video of me surprising him when he was in rehab after heart surgery. At one point last summer, I flew LAX-MIA four times in a three week period because of his heart surgery and my wife was very pregnant so I couldn't leave her alone for more than 48 hours.
If I do go, I obviously can't stay with him or even go into his independent senior living facility. All senior centers in Florida have stopped communal dining so he wouldn't be putting others in jeopardy and I wouldn't go within six feet of him and we would both be wearing masks. Unfortunately, I wouldn't be able to hug him so writing this is now making me lean towards no. We'll see.
I'm pretty confident with these wide-open flights that I can make the five-hour trip even between the hotspots of California and Florida and not catch the virus but obviously nothing is guaranteed. I need to decide tonight.
If I do go, I would stay in a hotel, which would give me something to write about as well since I haven't stayed in one since March. It would most likely be a Marriott since I have a free night certificate to use and it's been my chain of choice for a number of reasons.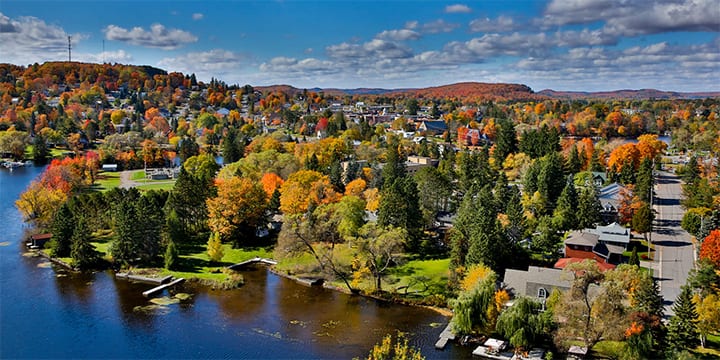 10 Great Canada Road Trips
Speaking of Marriott's, my Canadian wife just wrote two posts about 10 different road trips to take in Canada with recommended Marriott properties to stay at along the way. Americans can't cross the border yet so it's for those who legally can and for anyone who's planning their travels in advance. When the Canadian-USA border does open up, you will definitely want to check them out so be sure to bookmark. One post is about six road trips to take in Ontario (where Natalie is originally from) and the other is on four road trips to take in British Columbia.
Canada Extends Ban on US Tourists
As mentioned above, the Canadian-USA border is still closed. It was supposed to open up months ago but America can't seem to get its act together handling COVID-19. Last Friday, Canadian Public Safety Minister Bill Blair announced that "the ban on Americans entering its northern neighbor will be extended until at least September 21 due to the rising number of positive new cases of the coronavirus in the United States."
40% of U.S. COVID-19 Tests Come Back Too Late to Be Clinically Meaningful
One of the many reasons the USA is doing such a terrible job with COVID-19 is that test results are taking way too long to be returned and that's impacting travelers who want to travel and have to prove they have received a negative result within a certain period. Usually, it's 72 hours but all destinations (countries and some states) differ. According to CNBC: "It's really clear that if tests take more than 48 hours, you've lost the window for contact tracing," Dr. Ashish Jha, professor of global health at Harvard University.
New Rules for Visiting the Caribbean
To give you an idea how countries and islands differ for COVID-19 test result rules, check out this Lonely Planet article on the new rules for visiting the Caribbean.
Puerto Rico's Tourism Reopening Delayed Indefinitely Due to COVID-19
Puerto Rico is encouraging only essential travel at this time and has postponed its official inbound tourism reopening in order to safeguard visitors and residents. "Beaches are only open to those doing solo sports or exercise training from 5:00 a.m.– 7:00 p.m., and closed on Sundays."
Hawaii Extends Tourist Quarantine to October 1
No surprise here … The planned September 1 "start of a program that would allow out-of-state visitors to bypass Hawaii's strict 14-day quarantine upon arrival by presenting a negative COVID-19 test at the airport has been delayed until at least Oct. 1." Like I said last month, I wouldn't buy your tickets to Hawaii for October either because just like the Canadian border, I think this will be extended as well.
Hawaiian Airlines Adopts Stricter Mask Policy
On the subject of Hawaii, Hawaiian Airlines enhanced "its comprehensive 'Keeping You Safe' program for guests and employees by requiring all travelers 2 years of age and older to wear a face mask or covering at the airport and during the flight, disallowing masks made with mesh or sheer material or equipped with valves, and initiating a new health screening for those unable to wear a face mask or covering due to a medical condition or disability."
Mother Traveling Alone with Six Kids Forced Off JetBlue Flight When Her 2-Year-Old Wouldn't Wear a Mask
If you read the above paragraph carefully then you might've caught that travelers two years of age and older have to wear a face mask. I always thought two-year-olds were exempt because it's not easy keeping a mask on a toddler. Unfortunately, a Brooklyn mother traveling alone with six children was forced off a JetBlue flight when her two-year-old daughter wouldn't wear a mask. It's not easy wrangling two kids with my wife so I really feel for this mother but should she be traveling with kids by air during a pandemic?
Visiting The New York Tri-State Area
Visitors staying in a hotel and short-term rental in New York City may not be allowed into properties if they don't fill out a traveler health form. "That makes 33 states and two territories, Puerto Rico and the Virgin Islands, on the 14-day quarantine list in New York, New Jersey and Connecticut, New York Gov. Andrew Cuomo announced. The three states require anyone traveling from states with high COVID-19 infection rates to undergo a 14-day self-quarantine upon arrival."
2020 pic.twitter.com/NQwxuIjznX

— Zach Honig (@ZachHonig) August 17, 2020

A Photo That Captures Summer of 2020
My buddy Zach Honig snapped this pic of a "rental car" with Florida license plates in Maine.
TSA Screening Numbers
The TSA screened 862,949 people on Sunday, August 16. It's the second Sunday in a row that throughput topped 800,000 since the start of the pandemic. But keep in mind, that same Sunday in 2019 had 2,584,444. Yesterday (August 19), TSA saw only 586,718 people pass through the checkpoint. Those numbers are not just passengers but include airline crew and airport workers.
Delta Will Block Middle Seats Into January
USAToday: "At the same time, though, Delta said it is increasing the maximum number of passengers it will put on each flight beginning Oct. 1. The airline isn't filling each flight if demand is strong, but will cap capacity at 75% percent in the main cabin, up from 60% all summer, through Oct. 31. The policy will be reviewed again ahead of that date."
American Airlines Will Cut Service to These 15 US Cities
The fifteen cities listed are Del Rio; Texas; Dubuque; IA; Greenville; NC; Huntington; WV; Joplin; MO; Kalamazoo-Battle Creek; MI; Lake Charles; LA; New Haven; CT; New Windsor; NY; Roswell; NM; Sioux City; IA; Springfield; IL; Stillwater; OK and Williamsport; PA starting Oct. 7.
Alaska Airlines Has Fancy Wipes
Through the strategic partnership, Alaska Airlines will be providing complimentary EO French Lavender single-use natural wipes, which are 99.9% effective against common germs, as a complimentary service aboard all Alaska Airlines flights during the first beverage service.
Alaska Airlines Sale
$29* & up — Flights to Cities Near National Parks (One Way)
Cruise Ship Owner of Star Cruises, Dream Cruises and Crystal Cruises Suspends Payments to Creditors
Bloomberg: "A cruise ship operator controlled by Malaysian tycoon Lim Kok Thay suspended all payments to creditors, triggering a 36% drop in the company's shares and denting investor confidence in Lim's wider business empire." I wouldn't be booking any of the above cruises until a month before your trip so you can get a chargeback on your credit card.
PODCAST: What It's Like to Live in Sweden During COVID-19
My friend and colleague Doug Lansky lives in Stockholm, Sweden. On my podcast, we discuss what it's like to live there in COVID-19 times and how the Swedes view the USA. Listen on podcast or watch on YouTube.

PODCAST: Alaska's Travel Expert, Talking Alaska Travel Tips and COVID-19
My buddy Scott McMurren, aka Alaska's Travel Expert, sits down to talk all things Alaska, including Alaska travel tips and what it's like living there during COVID-19. Listen on podcast or watch on YouTube.
Guinness World Record: Women Circumnavigate World on Tandem Bicycle
I always like to end on a happy note and here's an incredible story from the BBC. "Cat Dixon, 54, and Raz Marsden, 55, accomplished the feat in 263 days, beating the previous record of 281 days. The pair covered 18,263 miles (29,391 km) in precisely 263 days, eight hours and seven minutes, on a route that took them through 25 countries."
Travel news roundups (scroll down)
Once again, there's a ton of travel news so I created separate posts for each category (air, cruise, domestic, international…) to help organize it. Below are links to most of the major travel industry stories…
Airline and airport news:
Cruise news:
International travel news:
Domestic news:
Miscellaneous travel news:
Travel deals
In case you're planning your next (safe) getaway, here are a few of the best travel deals out there right now:
–20% Off — Rent an Audi for Luxe Summer Road Trips
Hoping you all stay safe and healthy!
---
Was this email forwarded to you?
Sign up for our free daily and weekly travel newsletters on this page to get the latest travel news, deals and tips from JohnnyJet.com.
And tell your friends/family!
---
<<< Work with us! >>>
Follow us on social!
As always, if you're on social media, you can follow me on:
YouTube | Facebook | Instagram | Twitter | Pinterest