If travel tops your list of things to do in 2023, then this list of 2023's top new hotel openings across the globe (all found in some of the world's hottest destinations), will help you with your planning. The research, conducted by Hotels.com, reveals that this year, a new flock of hotels opening in 2023 will cater to travelers' diverse needs. So, whether you're looking for history and culture in a thrumming city or a seaside escape to relax and rejuvenate, there's a new hotel opening for you to consider as you plan your year's travels. RELATED: 10 Best Budget-Friendly Vacation Destinations for 2023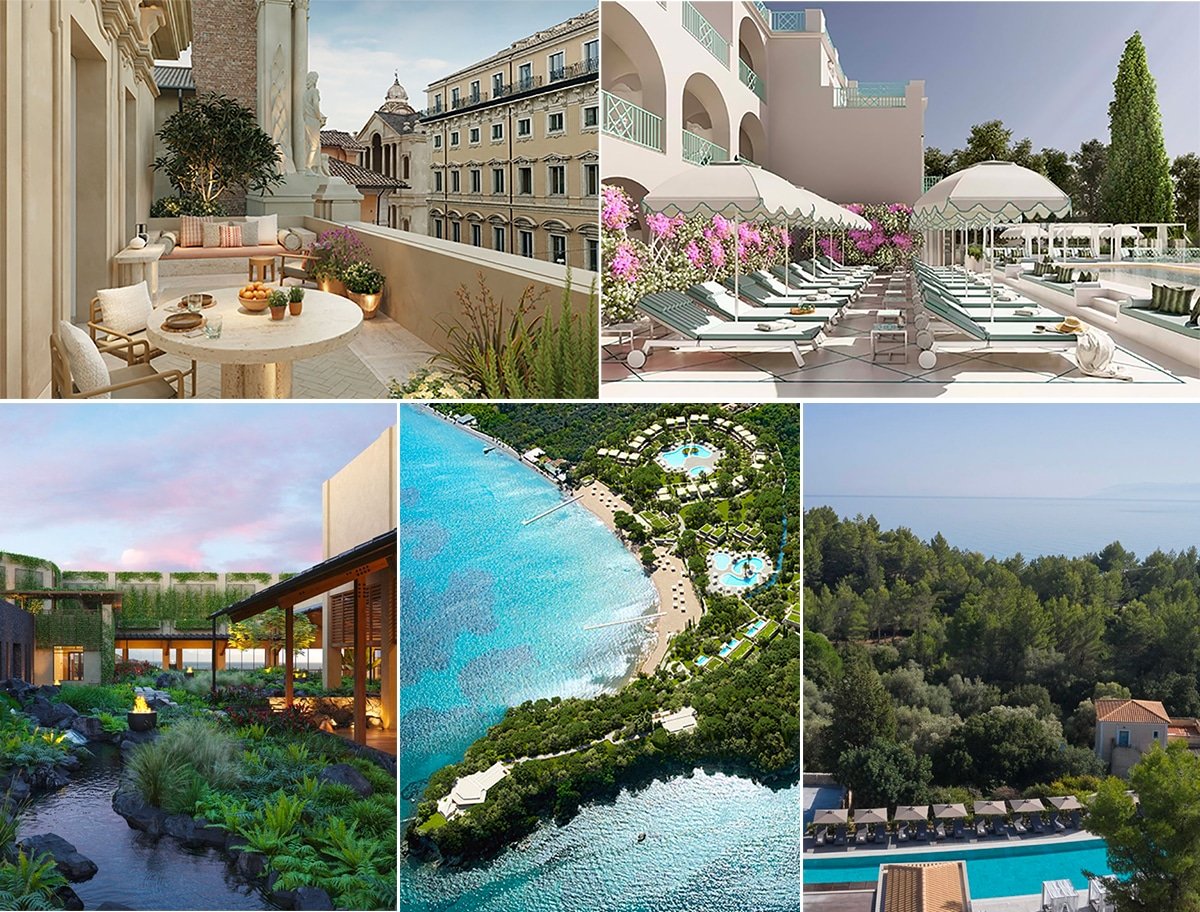 This post contains references to products from one or more of our advertisers. We may receive compensation when you click on links to those products. For an explanation of our Advertising Disclosure, visit this page.
Ready to start your travel planning? Here are the top 10 new hotel openings in 2023:

1. La Palma, Capri, Italy
Hotel La Palma, which was previously known as Locanda Pagano, is the oldest hotel on the island of Capri since it first opened in 1822. At one time, it was called the 'Artists' Hotel' because it was the gathering place for poets, artists, writers, painters, musicians and architects. The hotel is reopening for the 2023 season with 50 rooms, including 18 suites, each with its own private balcony or terrace. La Palma is located around the corner from the famed Piazza Umberto I and is within easy reach of the must-visit Blue Grotto.

2. 100 Princes Street, Edinburgh, UK
100 Princes Street is Red Carnation Hotel Collection's highly anticipated hotel opening in Edinburgh. The hotel, which was originally scheduled to open in April 2022, is now slated to open in the spring of 2023 and will have 30 guest rooms and suites, many of which will treat guests to a view of Edinburgh Castle. The original, historic building is being carefully renovated to retain and protect the structure's iconic features. The interior design, inspired by the late Alexander McQueen, seeks to create a strong sense of place by working with local artists to create bespoke elements that celebrate Scottish traditions and history.

3. Ikos Odisia, Corfu, Greece
Scheduled to open on May 19, 2023, Ikos Odisia in Corfu is a sprawling resort that meanders over 60 acres of lush grounds. With views of the shimmering Ionian Sea and luxurious accommodations, Ikos Odisia is a breathtaking spot for a holiday. When it opens, the hotel will have 390 rooms and suites, five à la carte restaurants and a Mediterranean buffet, 10 pools, a spa and kids club, along with a variety of indoor and outdoor activities.

4. Celestial Suites, Kefalonia, Greece
Secluded and serene, Celestial Suites in Kefalonia will open in 2023 with 40 suites with private pools, a Mediterranean restaurant, a spa and a gym. The spectacular beauty surrounding the property will be a big draw for travelers. From the pristine beaches and beautiful trails to the quaint fishing villages, hidden caves and mysterious ruins, there's plenty to explore nearby before retreating to luxurious accommodations at the end of the day.

5. 1 Hotel Hanalei Bay, Princeville, Kauai
Luxury awaits on Kauai's North Shore at 1 Hotel Hanalei Bay. The newly opened, extensively renovated hotel brings wellness to the forefront of the guest experience in what is arguably one of the most beautiful locations in the world. The resort has 251 guestrooms and suites and all rooms include a pillowtop mattress, sustainably sourced bedding, filtered water taps, in-room greenery and yoga mats, not to mention the picturesque views of the mountains, gardens or Hanalei Bay. The resort has a golf course, a full-service spa and seven food and beverage outlets, all of which offer guests foods made with fresh, local and sustainably sourced farm-to-table ingredients.

6. Four Seasons Resort Tamarindo, Tamarindo, Mexico
If you're looking to escape to a coastal paradise, consider the recently opened Four Seasons Resort Tamarindo in Mexico. The oceanfront resort, which officially opened its doors to guests in November, 2022, is situated on a private peninsula, making it the ideal location for a secluded getaway. This largely undiscovered part of Mexico is not just home to pristine beaches but to over 3,000 acres of jungle and the wildlife that live there. The hotel itself delivers on everything you'd expect from a Four Seasons, from the luxury accommodations to the elevated amenities and five-star service.

7. Alila Kothaifaru Maldives, Maldives, Indian Ocean
This World of Hyatt resort is situated on 11.2 hectares of a private island retreat at the northern edge of the Maldives in Raa Atoll. To get there, guests will take a 45-minute seaplane ride from Malé. The Alila Kothaifaru Maldives features 44 beachfront villas and 36 reimagined overwater bungalows, all designed with contemporary interiors that provide the ultimate in luxury and privacy. Beyond the gorgeous accommodations and gourmet food, the Alila Kothaifaru Maldives is in a deep atoll in the Maldives archipelago, which offers up lots of underwater activities to explore the rich and diverse world of the ocean below.

8. Six Senses, Rome, Italy
If you've been dreaming of Italy, whether returning or visiting for the first time, you may want to add the soon-to-be-opened Six Senses Rome to your itinerary. The hotel, which marries its Roman history with a contemporary vision, has 96 guest rooms and suites and combines heritage and history with comfort and wellness. Plus, you can beat the hotel's location, situated between the Trevi Fountain and the Pantheon in the Palazzo Salviati Cesi Mellini on the Piazza di San Marcello.

9. Atlantis The Royal, Dubai, UAE
When a hotel pays Beyonce $24 million to perform at a private concert for its Grand Reveal weekend, you know it's got to be spectacular. Opened in late January 2023, Atlantis The Royal in Dubai made massive waves when it threw open its doors amidst frenzy of celebrity appearances and social media attention. With a mission to redefine luxury, this hotel opening was certainly one of the most hotly anticipated of 2023 and by the looks of it, it doesn't disappoint. With sumptuous guestrooms, suites and signature penthouses, 17 world-class restaurants, helmed by eight celebrity chefs, a vibrant nightlife scene, a spa, pools and beaches, and a fire-meets-water fountain that's nothing short of a spectacle, Atlantis The Royal is an experience like no other in the world.

10. art'otel London Battersea Power Station, London, UK
Discover London from your home away from home at the newly opened art'otel London Battersea Power Station. The vibrant and colorful rooms are designed by award-winning Spanish artist Jaime Hayon. Guests will enjoy the bold colors, whimsical design, unique art installations and the floor-to-ceiling windows the drench the rooms in natural light. With skyline view restaurants and proximity to some of London's greatest attractions, art'otel London Battersea Power Station is a fine place to hang your hat while exploring one of the world's most beautiful and culturally rich cities.
KEEP READING: 
–12 Things to Know Before You Travel to Europe
–12 Things You Never Knew About Italy
–7 Things to Do in Naples, Italy
–12 Things to Know Before Going to Paris
–19 of the Best Off-the-Beaten Path Things to See and Do in Paris
Want more travel news, tips and deals? Sign up here for Johnny Jet's Daily Travel Tip newsletter! Just fill in your email address and check the Daily Travel Tip box—and you'll have Johnny's best tips, straight to your inbox each day!