The holidays are fast approaching and I mean fast. Thanksgiving is in just 9 days and Christmas is 39 days away. Crazy, right? Well, what else is sure to be crazy are the airports and flights will be 100% full. TIP: Be sure to allow extra time and not be late to the airport because if you miss your flight, there's no place for the airlines to put you.
If you're on the fence about traveling because of COVID-19, then you should find some comfort knowing that Dr. Anthony Fauci, director of the National Institute of Allergy and Infectious Diseases, told he New York Times podcast The Daily that, "If you're a vaccinated person, your family is vaccinated, and you are in a situation where the people that you interact with are vaccinated, you can have a very good holiday." He also added: "I believe that people can and should travel during the holidays."
RELATED: Why You Should Always Travel With Cough Drops
That's great news! The bad news is that if you haven't purchased your flights yet, they're not going to be cheap. Here's my advice for getting cheap fares for either Thanksgiving or Christmas.
I just returned a couple of days ago from a trip to the east coast to surprise my dad for his 93rd birthday (here's part one and part two of my trip reports). With COVID-19 cases increasing, I didn't want to sit in coach so I used my soon-to-be-expiring travel credits to buy a cheap business class ticket between LAX and JFK and used an upgrade certificate to bump up to exclusive first class. This is where the celebrities sit and while I have you, here's my advice on your best chance to sit next to a celeb on a flight.
Although flying is safe thanks to hospital-grade HEPA filters, travelers should still take precautions. One tip I'd never thought of, but makes perfect sense, came from Thomas Russo, MD, a professor and chief of infectious diseases at the University at Buffalo.
As quoted in Yahoo, Dr. Russo says, "When the food first comes, the reaction is everyone drops the masks and eats the meal or the snack that they give you. What you should do instead is actually be patient. You wait until everyone's done and puts their mask back up, which usually takes somewhere between 15 and 30 minutes, and then that's when you should go ahead and eat your meal."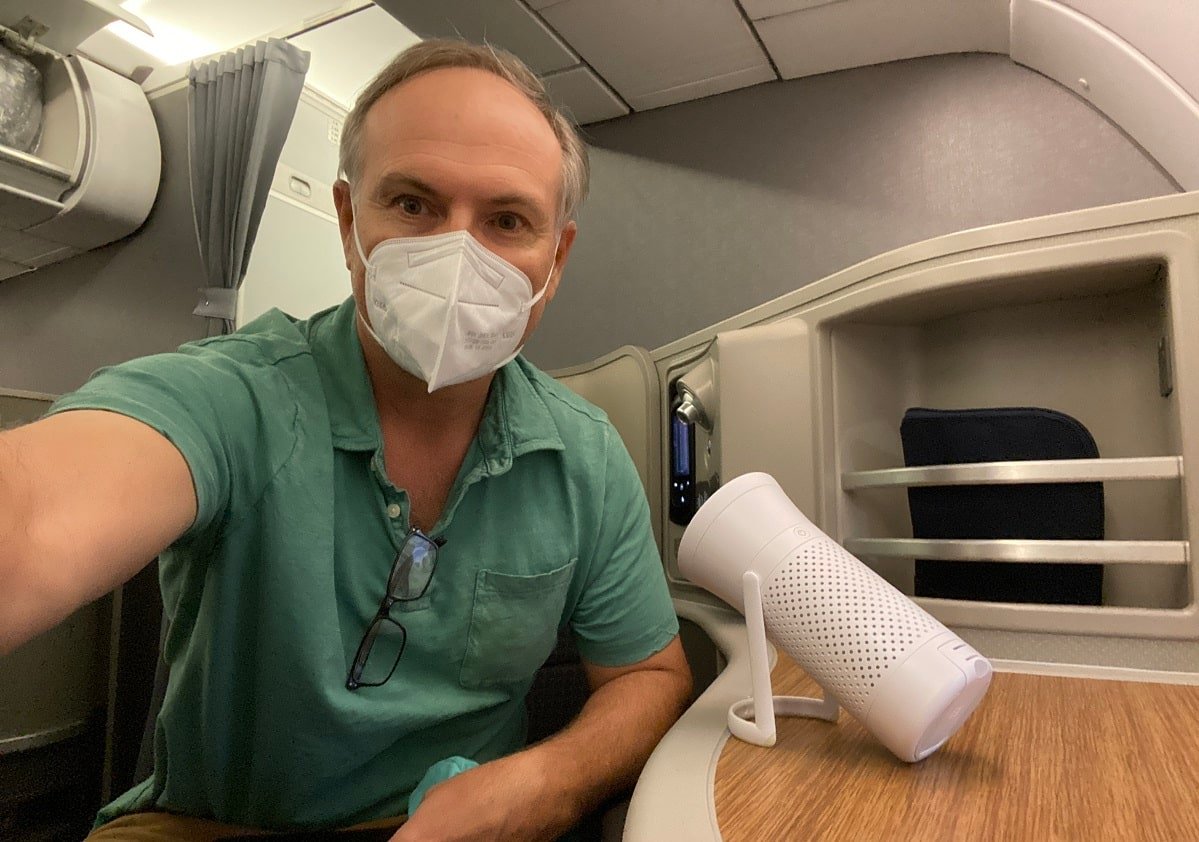 This is brilliant and sound advice but first you need to find an airline that serves food. Just kidding. Most airlines at least still sell food on flights that are over two hours. Even though I had a lot of personal space on my last flight, I would have followed Dr. Russo's advice but my seat mates were both asleep and a good distance away from me. Regardless, I still busted out the portable air purifier I now travel with to ensure clean air.
FYI: The top photo is of my meal on United's farewell 747 flight, SFO-HNL.