Aloha! If you're following me on social (my handles are at the bottom), you know I had a whirlwind 24 hours on Tuesday, November 7, 2017.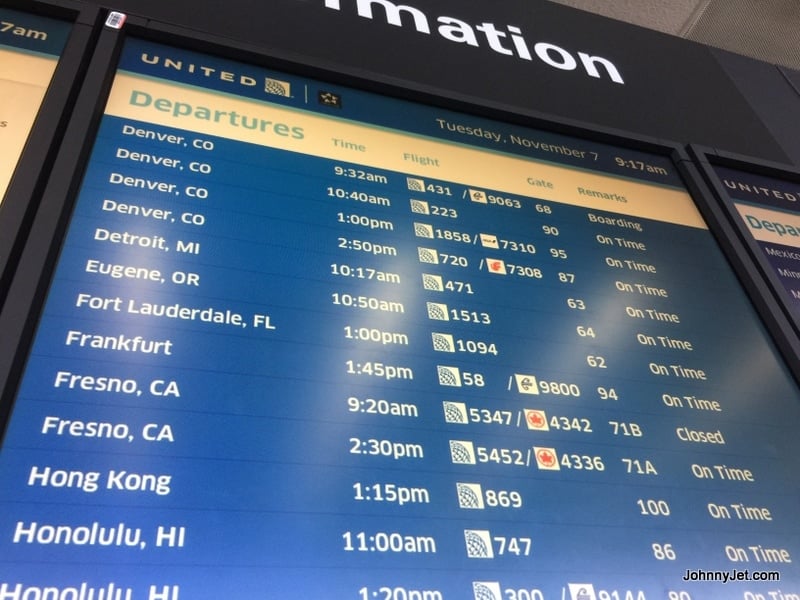 It began by taking a 7am United Airlines (UA) flight from Los Angeles to San Francisco so I could get on a very special 11am flight to Honolulu. United flight 747 was the final flight for the beloved (United) Boeing 747—nicknamed the Queen of the Skies. Since the model is close to 50-years old and is not very fuel-efficient, she's being retired.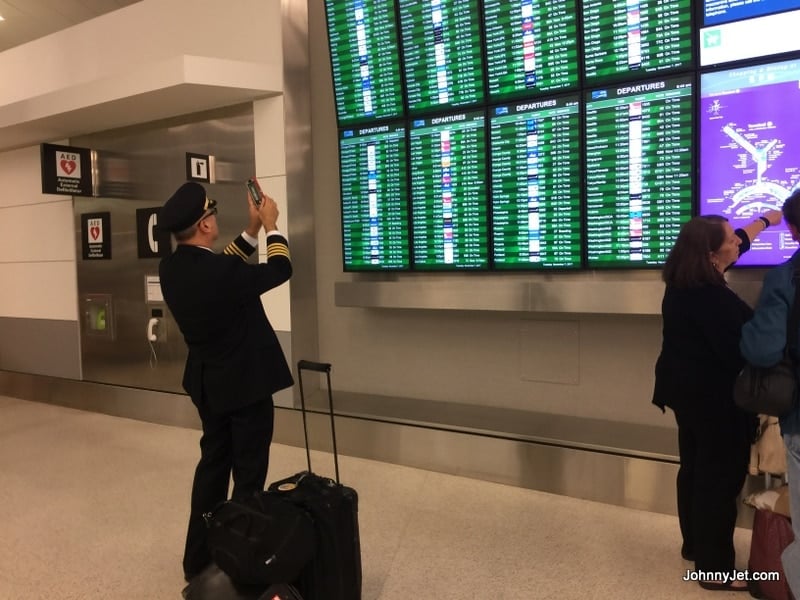 I knew the event and the plane's send-off would be special but I had no idea the amount of love it was going to get until I saw the passenger in front of me snapping photos of the Queen as we passed her on the tarmac to our gate; he later told me that he, his wife and one-year-old made the SFO detour instead of flying nonstop to Denver so they could be part of the historic moment. Then, as I started walking to Gate 86 for the festivities, I saw a United pilot taking a photo of the departures board. "You have to be taking a photo of flight 747," I quipped and he said, "You know it!"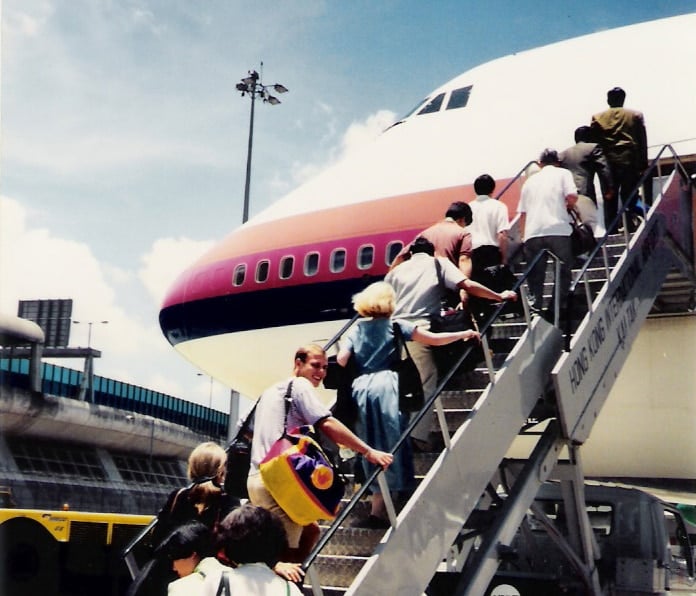 The 747-400, specifically United's, will always hold a special place in my heart since it was the plane that inspired my love of flying. I used to be afraid to fly and to travel and it was this plane that took me on my first international flight when I was 23. I flew from Los Angeles to Hong Kong in business class, which was also a first, and did it with my college girlfriend to visit her parents.
So when United invited me to be part of history, I couldn't turn it down even if it meant going to Hawaii for just a few hours.
United did an amazing job with its sendoff and the flight was one big party! Here are my photos so you can feel like you were there, too.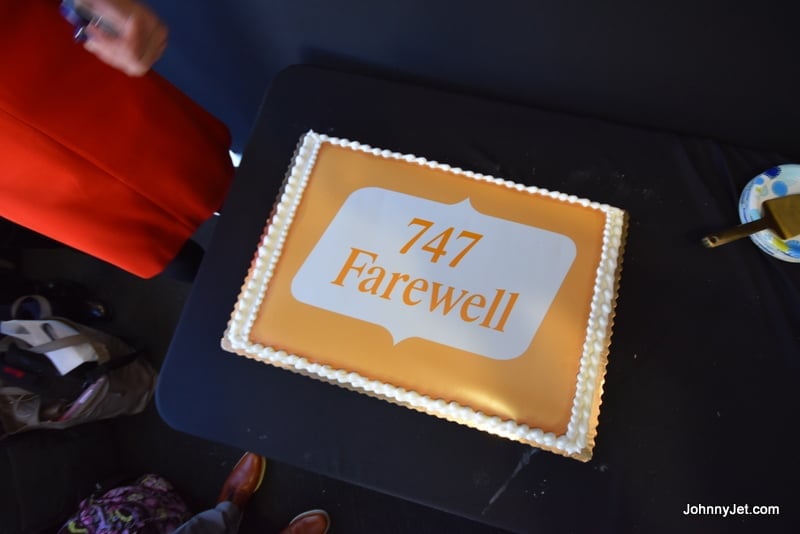 There was a huge gate party where the CEO of United spoke and served farewell cake.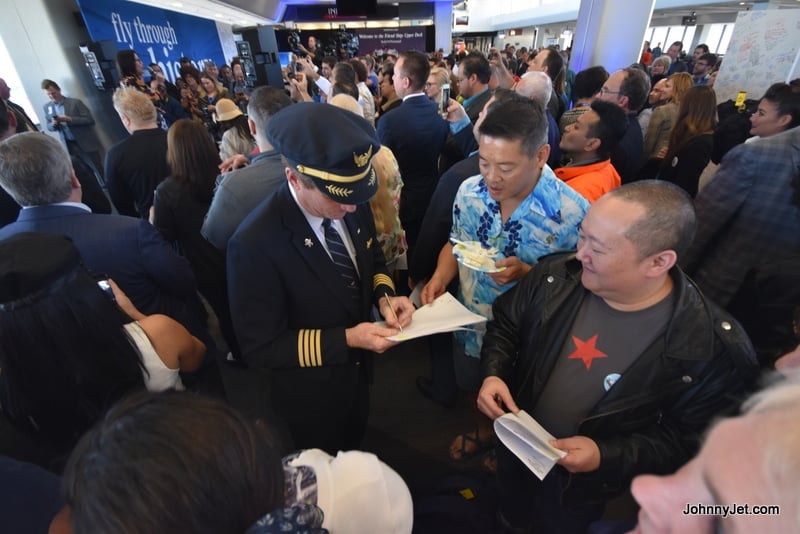 Passengers showed up three hours early and many (including me) had the pilot (Capt. David Smith) sign their tickets.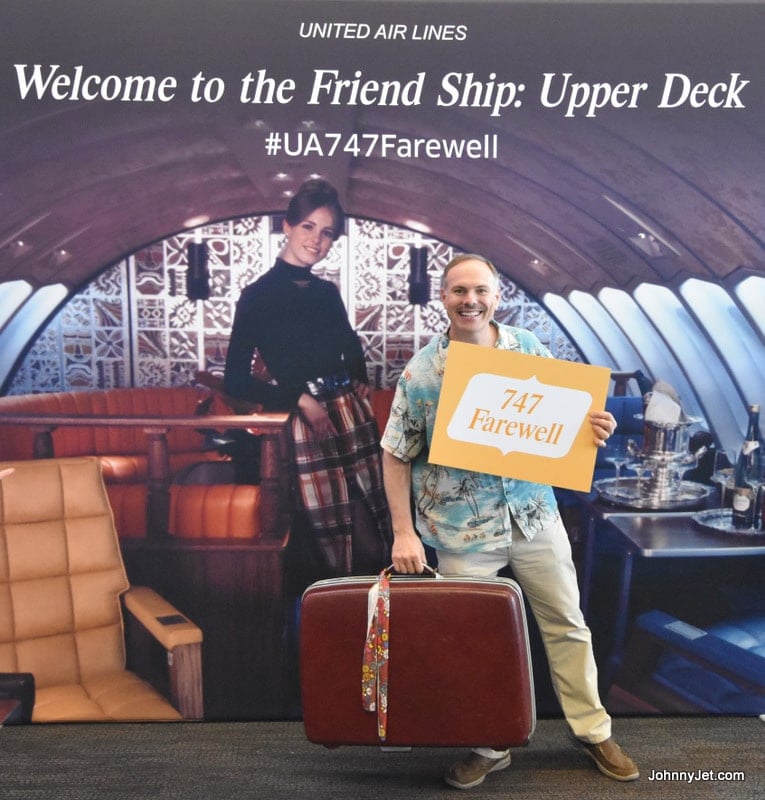 Many showed up in 70s attire. I grew a mustache and wore a vintage Hawaiian shirt.
There were flight attendants wearing United's 70s uniforms.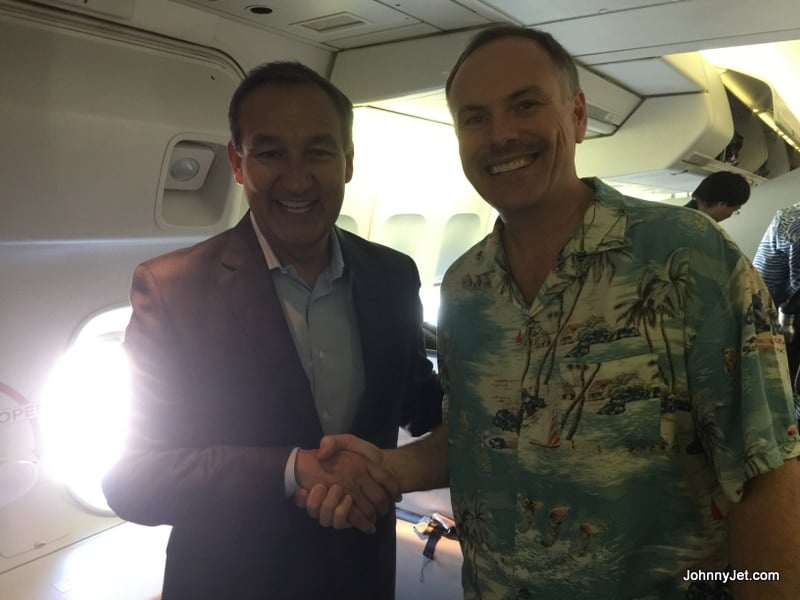 The CEO of United, Oscar Munoz, welcomed all passengers on the plane. Although he didn't go on the flight.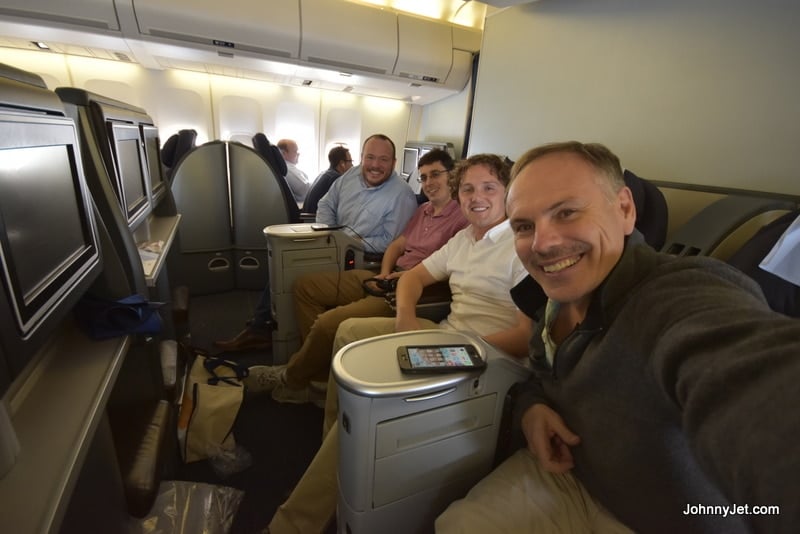 I was assigned 6H and sat next to fun industry bloggers like David Hotz from CrankyFlier.com, Jason Rabinowitz, and David Parker Brown from AirlineReporter.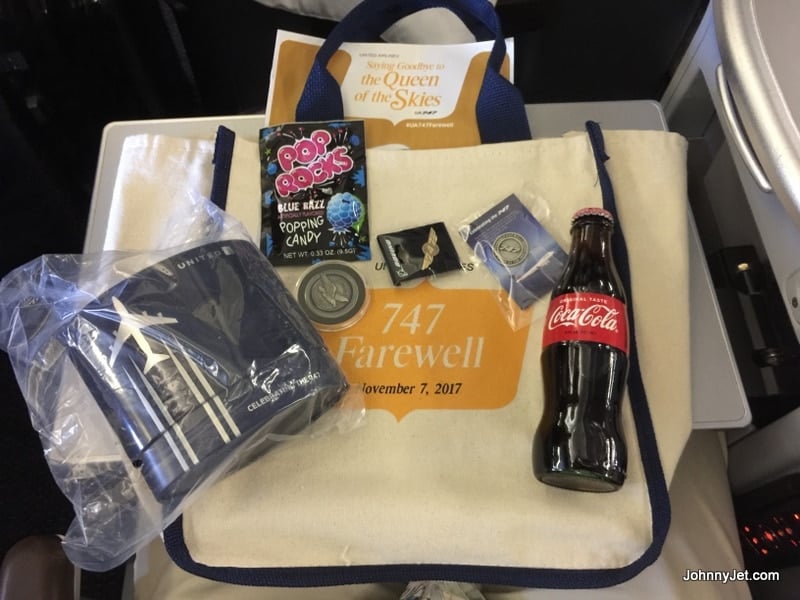 On every seat was a gift bag with the contents above.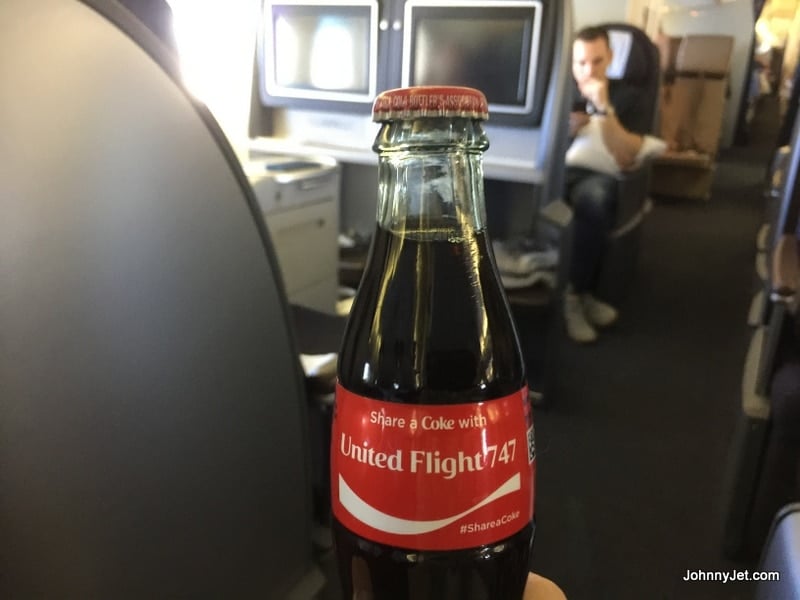 Special United flight 747 Coke.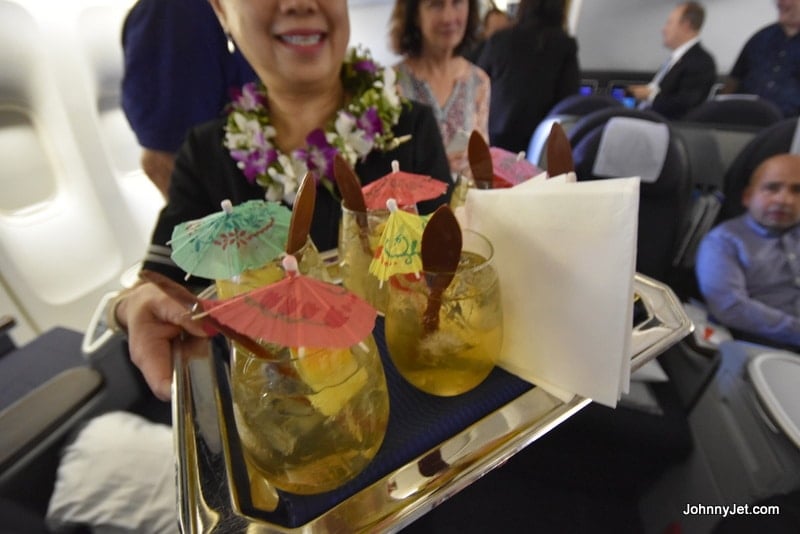 Shortly after boarding Mai-tais were served.

When we pushed back from the gate pretty much everyone was waving and taking pictures from the SFO tarmac including the baggage handlers and pilots from other airline's cockpits!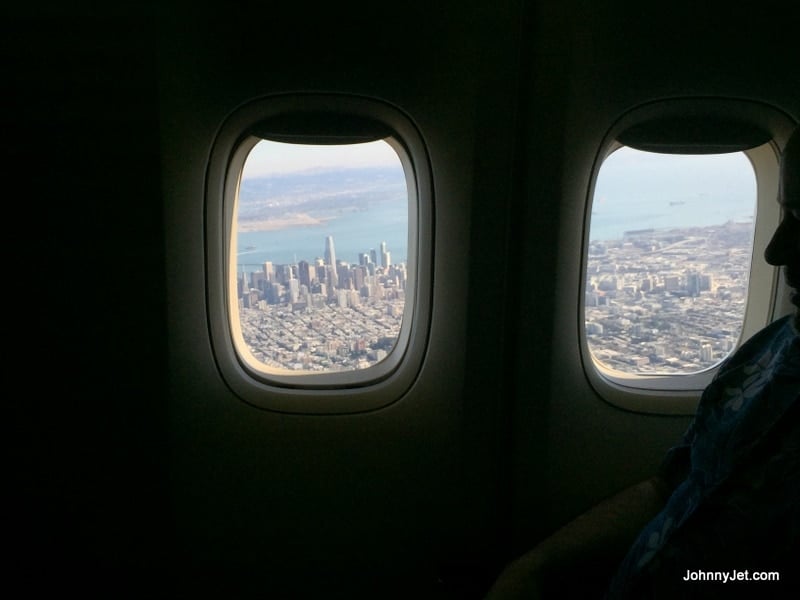 Unfortunately, we were delayed for about an hour due to a maintenance issue (something wrong with one of the air conditioners) but once we took off, we buzzed by the city of San Francisco and the Golden Gate Bridge, which my buddy Zach Honig captured.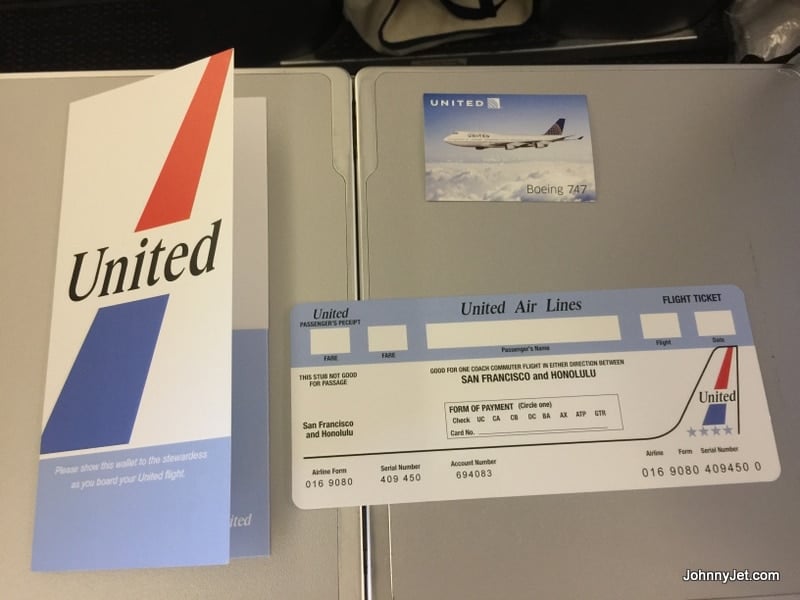 When we boarded, every passenger received a replica 1970s ticket and jacket.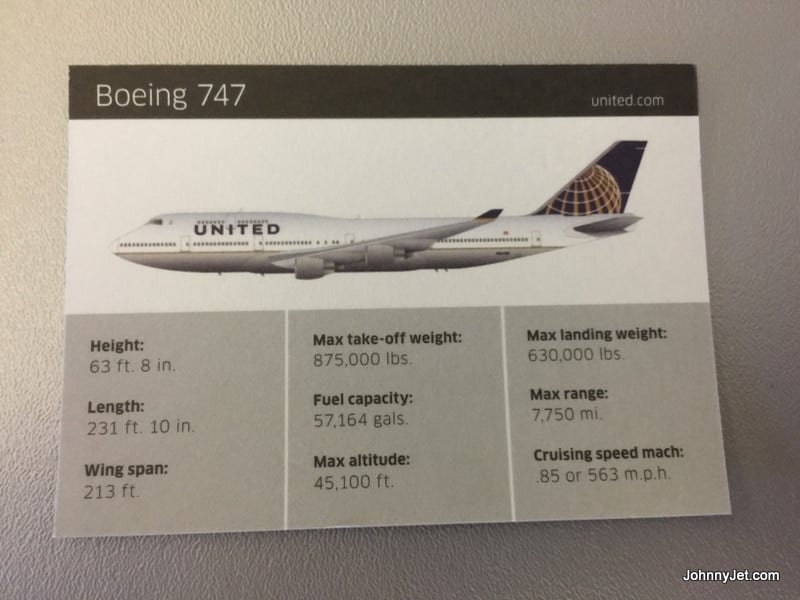 As well as a baseball-like trading card of the United 747.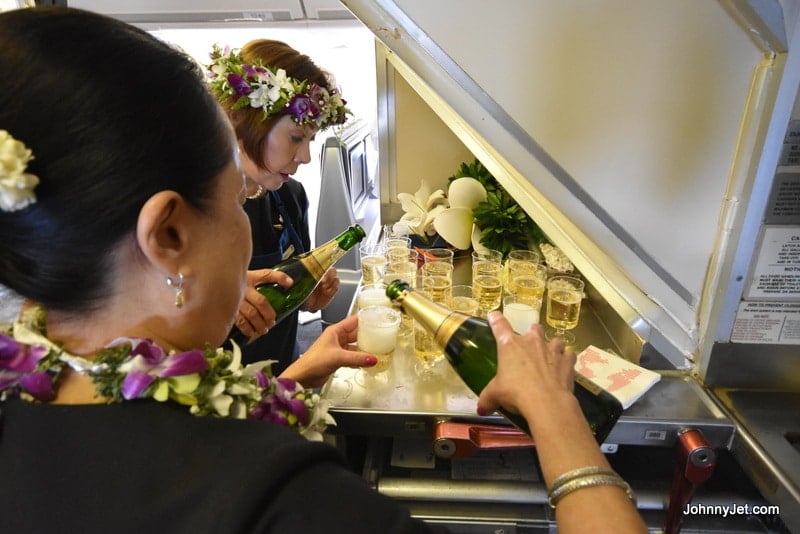 The flight attendants began pouring champagne for a….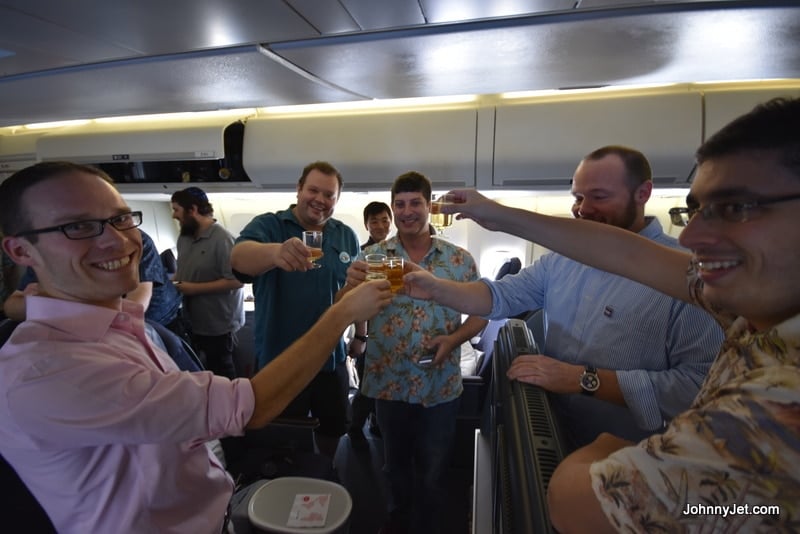 …champagne toast!
United's 747 SFO-HNL Business Class menu cover.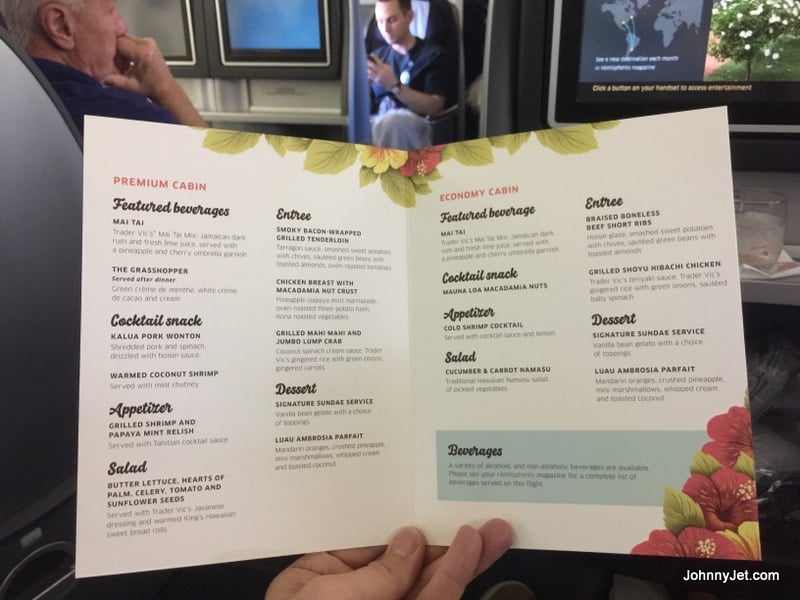 United's 747 SFO-HNL Business Class menu.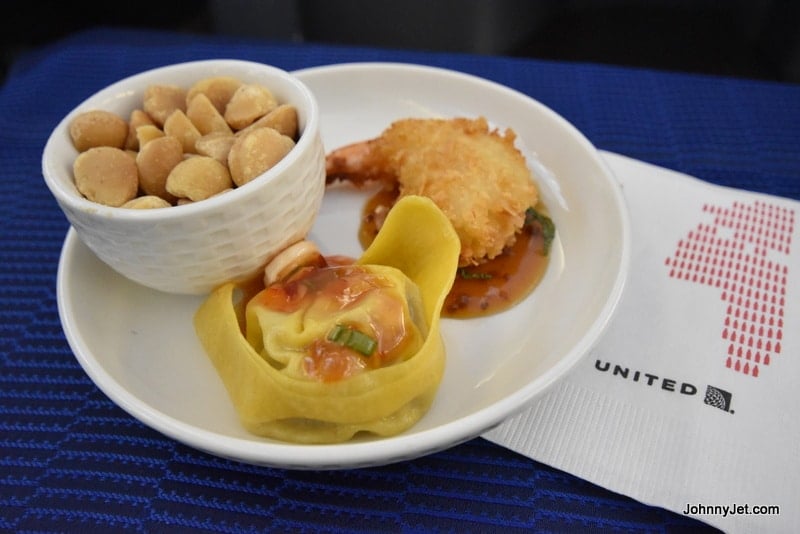 Cocktail snack: Kalua pork wonton and warmed coconut shrimp.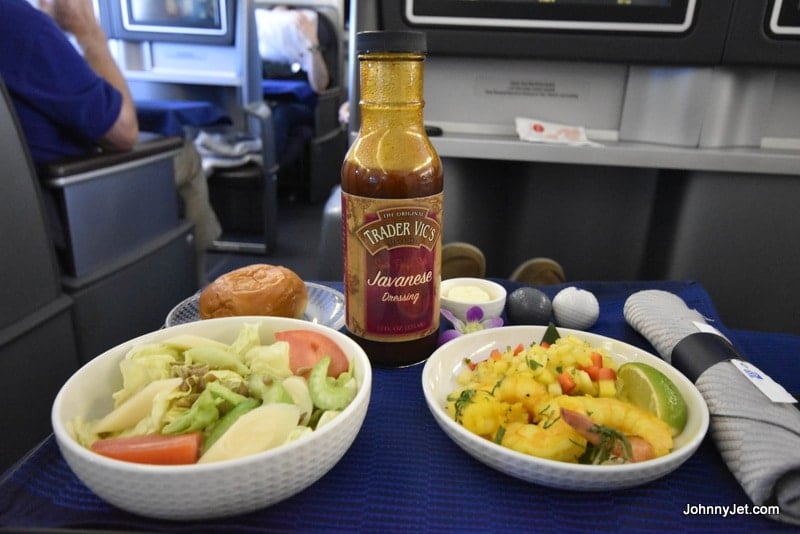 Salad with Trader Vic's Javanese dressing.
I originally ordered the smoky bacon-wrapped grilled tenderloin but when I heard the flight attendant tell the passenger across from me that the chicken breast with macadamia nut crust was the specialty, I changed my order and I'm glad I did. This was the best chicken dish I've ever had on a plane.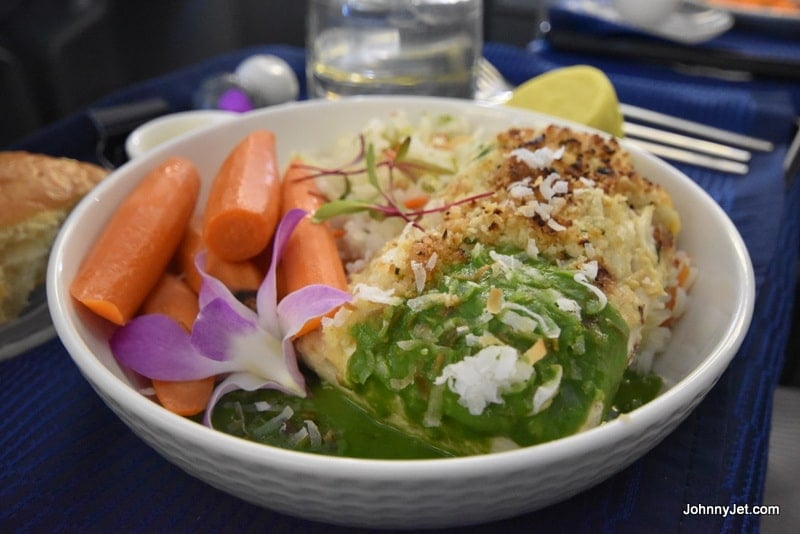 My seatmate ordered the grilled mahi mahi and jumbo lump crab.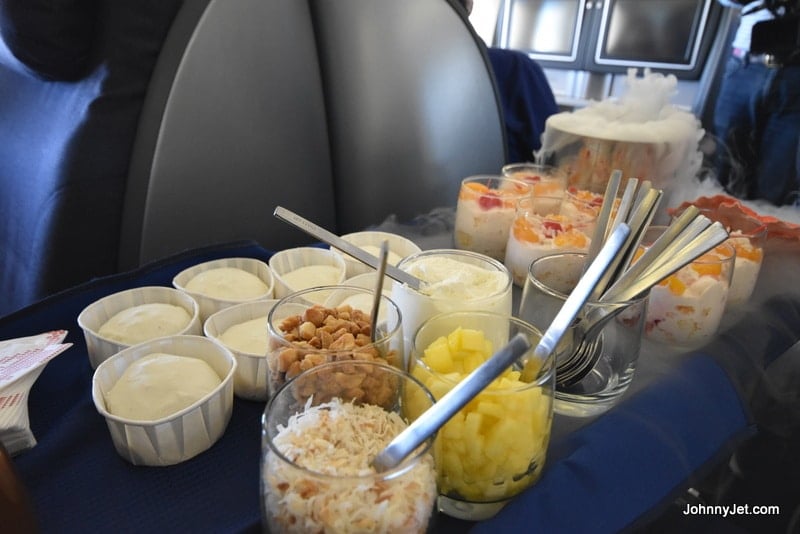 Then came the dessert cart, which featured vanilla bean ice cream with five toppings.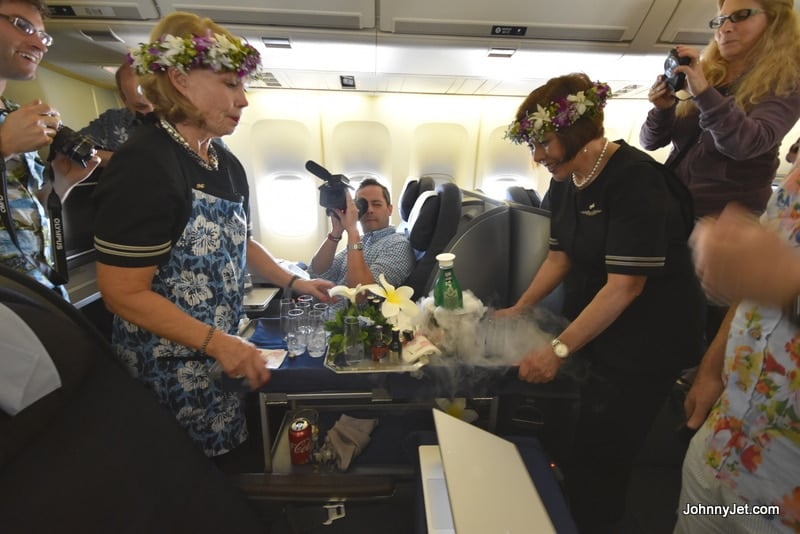 After-dinner drink cart.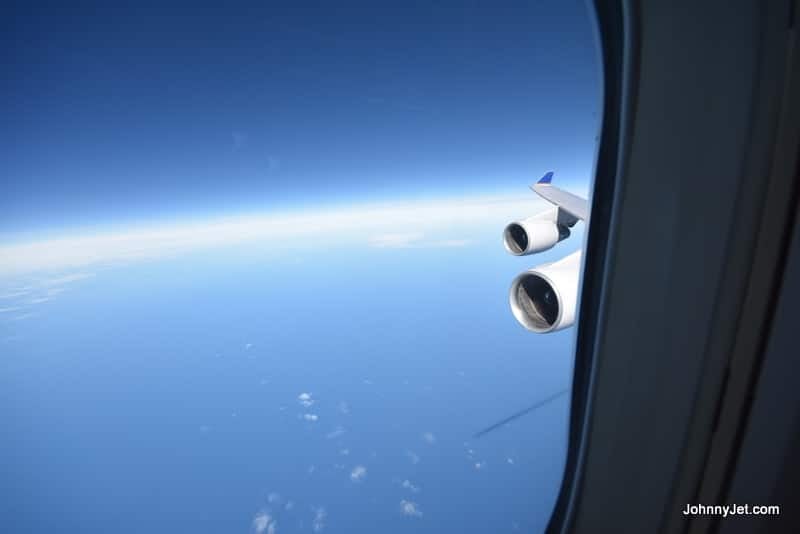 Flying over the Pacific.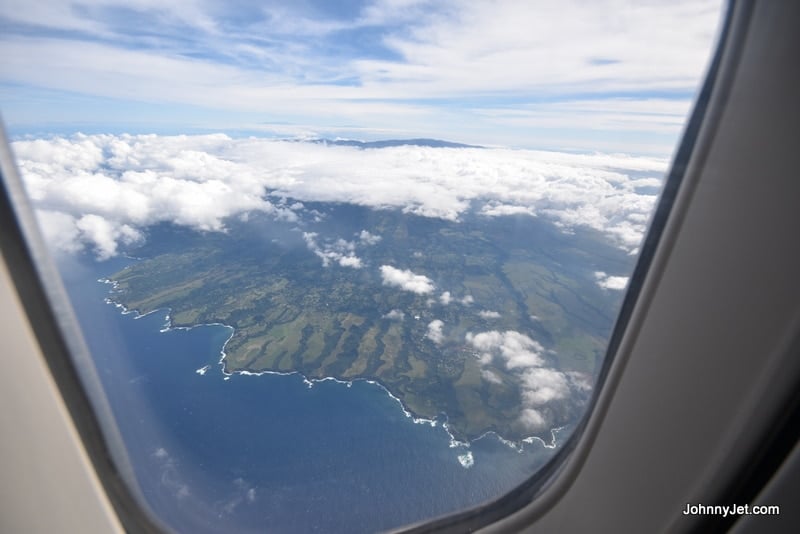 We buzzed over Maui and Lanai before touching down in rainy Honolulu.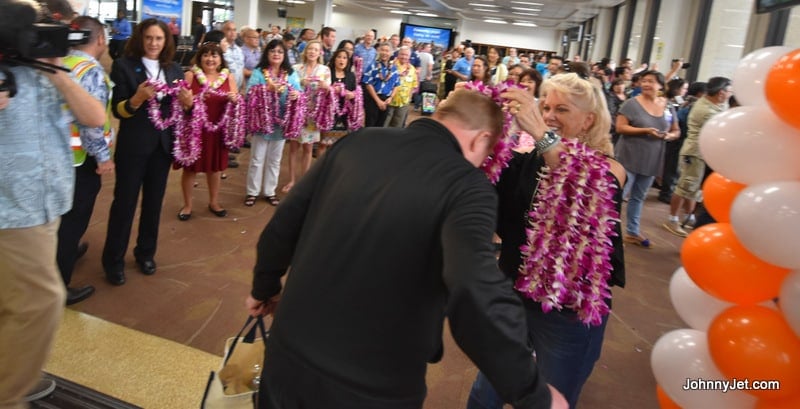 Everyone on the plane got a lei …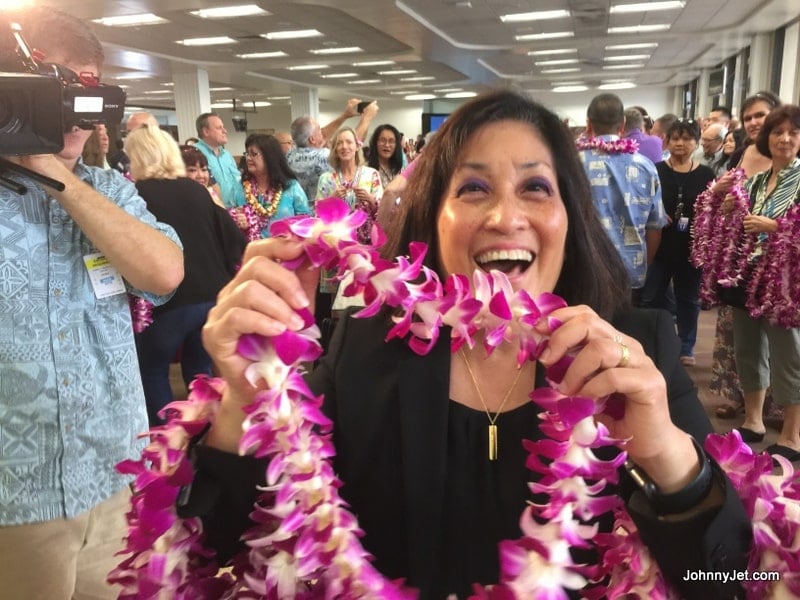 I got lei'd.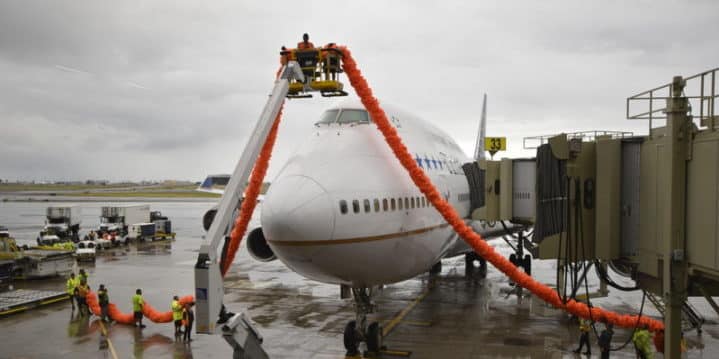 And so did the Queen!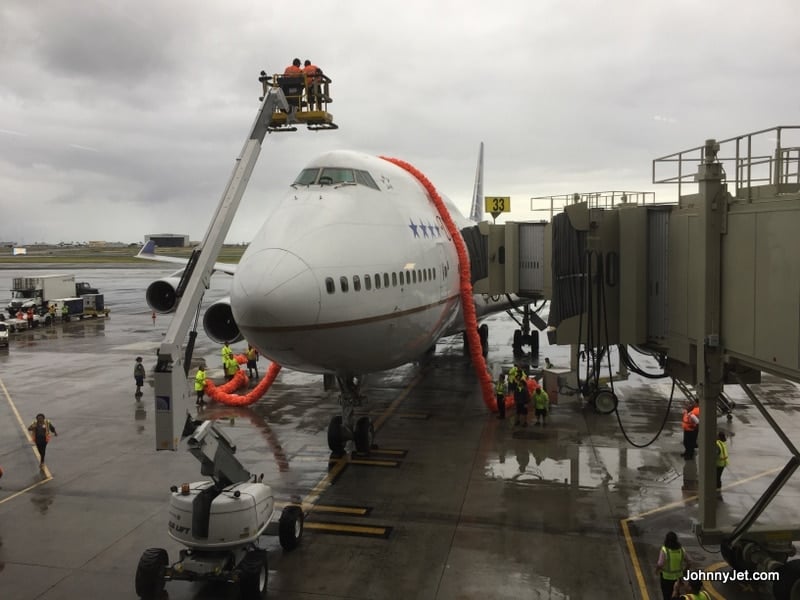 Have you ever seen a plane with a giant lei? Now you have.
Tom Stuker, the world's most-traveled man (he's flown 18.9 million miles), told me as we walked off the plane that it was the fastest five-hour flight he's ever been on.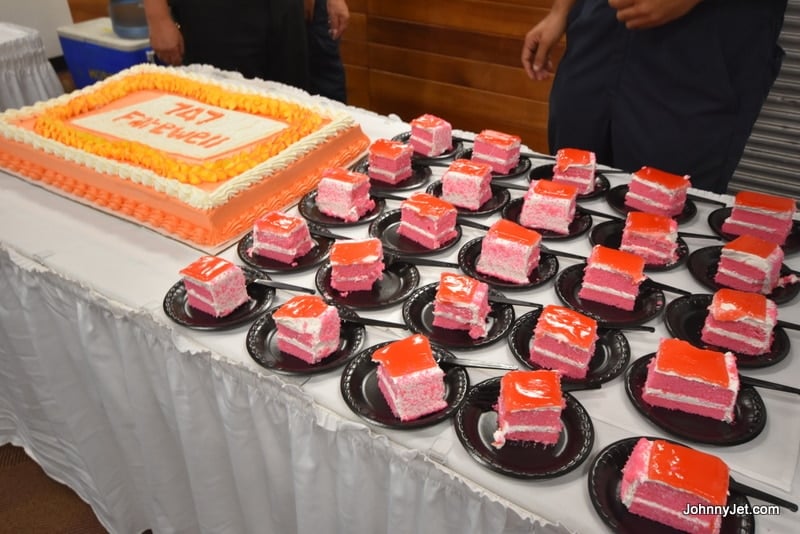 There was also a gate party in HNL with more cake and live music.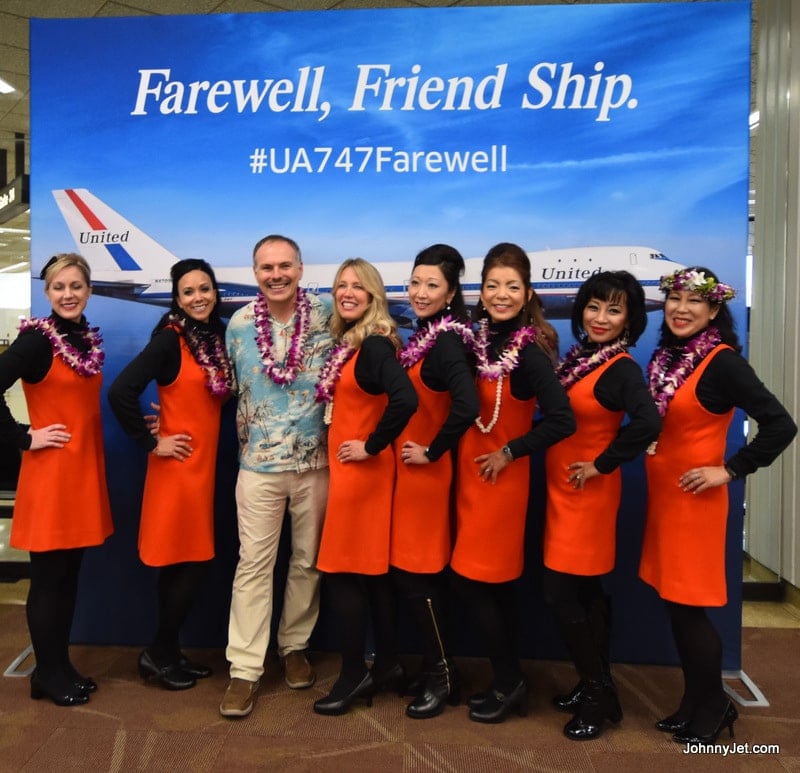 Although I was only in Honolulu for a few hours, I'm so glad I made the historic trip. It was one I will never forget. Mahalo United and the Boeing 747 for instilling the travel bug in me.
*My social media handles are: Facebook | Instagram | Twitter | Pinterest and Periscope
SaveSave