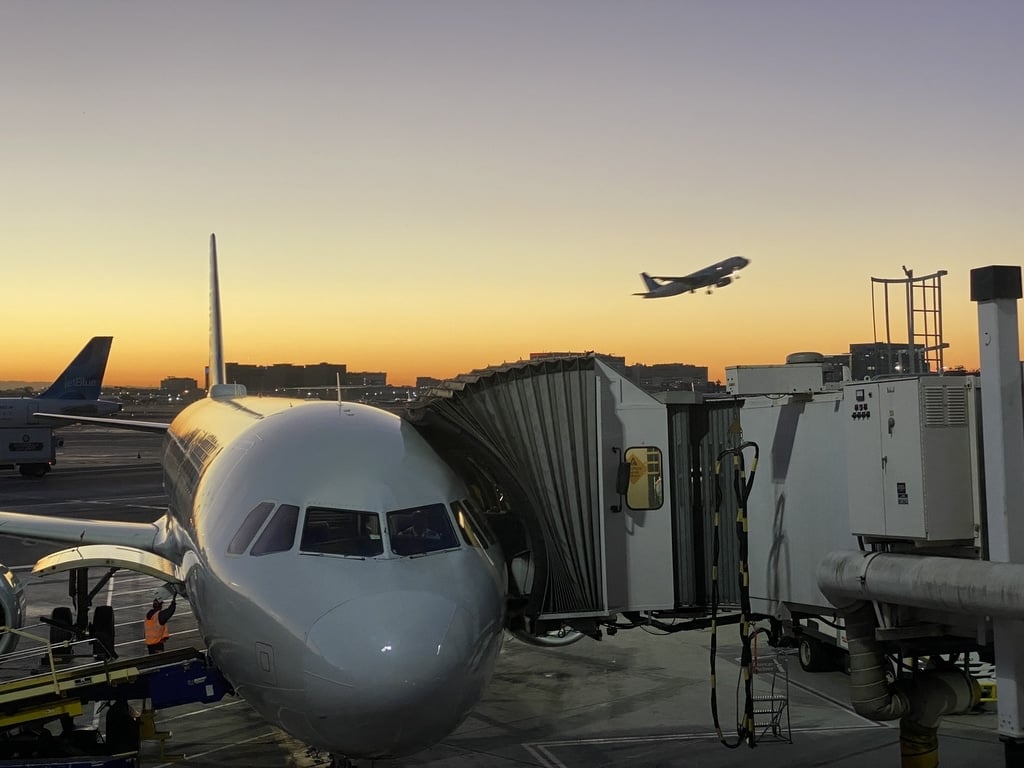 My dad's 93rd birthday is this week so I wanted to give him something that would make him really happy. He can barely see or hear so books and gadgets are out of the question. He loves his family and most days, he's all alone in a depressing senior home. I was hoping to take him to Las Vegas like I have so many times in the past but he's just not up to it so I ended up popping in on him.
When my dad was living in Florida, I used to see him on average every three weeks but when COVID-19 hit, his senior home went on lockdown and I stopped traveling. This past summer, my siblings and I moved him back up to his native Connecticut to be near more family, which has been great for him.
I haven't flown much at all this year and American Airlines (AA) has an attractive offer for elite frequent fliers. If you spend $2,000 between September and December 3, you can retain whichever status you hold for another year. I really want to keep mine since being Executive Platinum has serious perks like free upgrades, dedicated call center so you rarely have to wait, First Class check-in line, three checked bags of 70lbs for each person traveling under your reservation. To give you an idea, Executive Platinums normally have to spend $15,000 in a year and fly 100,000 miles (though this is all changing next year with their new Loyalty Points).
Even though I have to spend $2,000 and I have about that much in credits from flights I canceled due to COVID, I still couldn't bring myself to buy expensive tickets. I kept looking for the cheapest days and fares and found one for $530, which is the lowest I've ever seen for Business Class on AA between Los Angeles (LAX) and New York (JFK).
FYI: American flies plush A321T planes on this route (as well as JFK-SFO, JFK-SNA and some flights between JFK and BOS). The plane has four classes of service: 10 open seats in First Class with a 1×1 configuration. 20 lie flat beds in Business Class with a 2×2 configuration. Economy has 36 seats of Main Cabin Extra with 35 inches of pitch (legroom) and Main Cabin (economy) has 36 seats with a narrow 31 inches of pitch.
I also have some expiring AA Business Extra points that need to be used before December 31 (Here's more on this often-overlooked program) and can be turned into an upgrade.
Before heading to the airport, I used the CLEAR app to see what departure time they recommended for my 6:30am flight. CLEAR asks three questions: Location, flight number and if you have TSA PreCheck. I do and it still said to leave my house at 4:34am for a 6:30am flight.
I live 15 minutes away from LAX. I ordered a Blacklane car service, even though it's crazy expensive for the short distance but I didn't want to deal with any of Uber or Lyft's games at such an early hour. I also had a voucher for a free ride since I've been doing some work with them. BTW: I have a 15% off code for Blacklane for first-time users who book in November. It's JOHNNY15NOV21.
There was no traffic at LAX on Friday at 5:15am and I was able to check-in for the first time at the exclusive Flagship Door. It's the very last door on departures where there's an agent standing behind a podium looking lonely but he's like a nightclub bouncer just to check people off the list.
He escorted me inside to the small check-in where I scanned my boarding pass since I wasn't checking bags. Then, I was whisked up the elevator with another couple who must have checked in just before me. The elevator opened up right in the middle of the TSA PreCheck line, which was fairly long. A passenger yelled at me that there's a queue and I said, "It's one of the benefits of flying Flagship," as I was escorted in front of the line. I felt bad but I've seen many people (including celebrities) over the years escorted in front of me at this same spot.
It seriously took me just three minutes to go from the curb to clear security. I was way too early so I went to the lounge, which is another perk of flying Business or First in AA's Flagship.
Unfortunately, American hasn't re-opened their Flagship Lounge at LAX and the agent checking me in said they don't know when it will reopen. Right now, only JFK and Miami are open. At LAX, they use Flagship space as a regular Admirals Club so if you want to check out what the space looks like minus the food, drink and snacks, then choose the lounge on the left.
There wasn't anything too exciting except some waffles so I just had a banana then hung out away from everyone. Same thing at the gate.
My flight was departing from Gate 46B so instead of hanging around there, I walked 50 yards to an empty area. I then waited to be one of the last on the plane so I didn't have people breathing on me while boarding.
I gotta tell ya: it was really difficult to leave my family. Seriously. There was a time when I used to be afraid to fly between the ages of 18-21 and though I'm not afraid to fly, I'm now afraid to leave my kids. I just can't get enough of them and then a few days before my trip, my mind wanders to dark places like what would happen if something to happened to me or them while I'm away.
It was always difficult to leave them but I was in a routine and doing it often. It was nowhere near what it's like now because I really slowed my air travel down due to the pandemic. Once on the plane, I settled down and could feel my mojo getting back – especially sitting in First Class.
I can't imagine what I would have been like in a middle seat in economy. I probably would have walked off the plane. Seriously. I wrote a post about a word I made up years ago: Econophobia. It's the fear of flying economy. Of course it's tongue in cheek but I'm ashamed to say I have Econophobia and it's getting worse with COVID-19.
Some highlights of the flight:
I heard the flight attendant say to the passenger in front of me, "Isn't it so nice to have glasses back in First Class?" I'm happy to report AA has done away with plastic cups.
I was offered a pre-flight drink including a mimosa but I declined. What was weird is that my seat didn't have headphones or a bottle of water like it normally does. I had to ask for both during the meal service, which was served about 40 minutes after takeoff. This wasn't the case on my return flight.
Get these Velcro straps
The pilot made a stern warning for passengers about wearing masks properly before takeoff and everyone in my cabin obeyed. One thing I was thankful for was having these Velcro straps a reader recommended back in May when I wrote that my mask straps hurt my ears after a while. It really makes a big difference.
Pre-order food
I preordered my food (breakfast), which you can do between 24 hours and 30 days in advance. I recommend you doing this too if you want to ensure you get something good. I'm not sure why I picked the traditional breakfast but I did and it looked better than it tasted.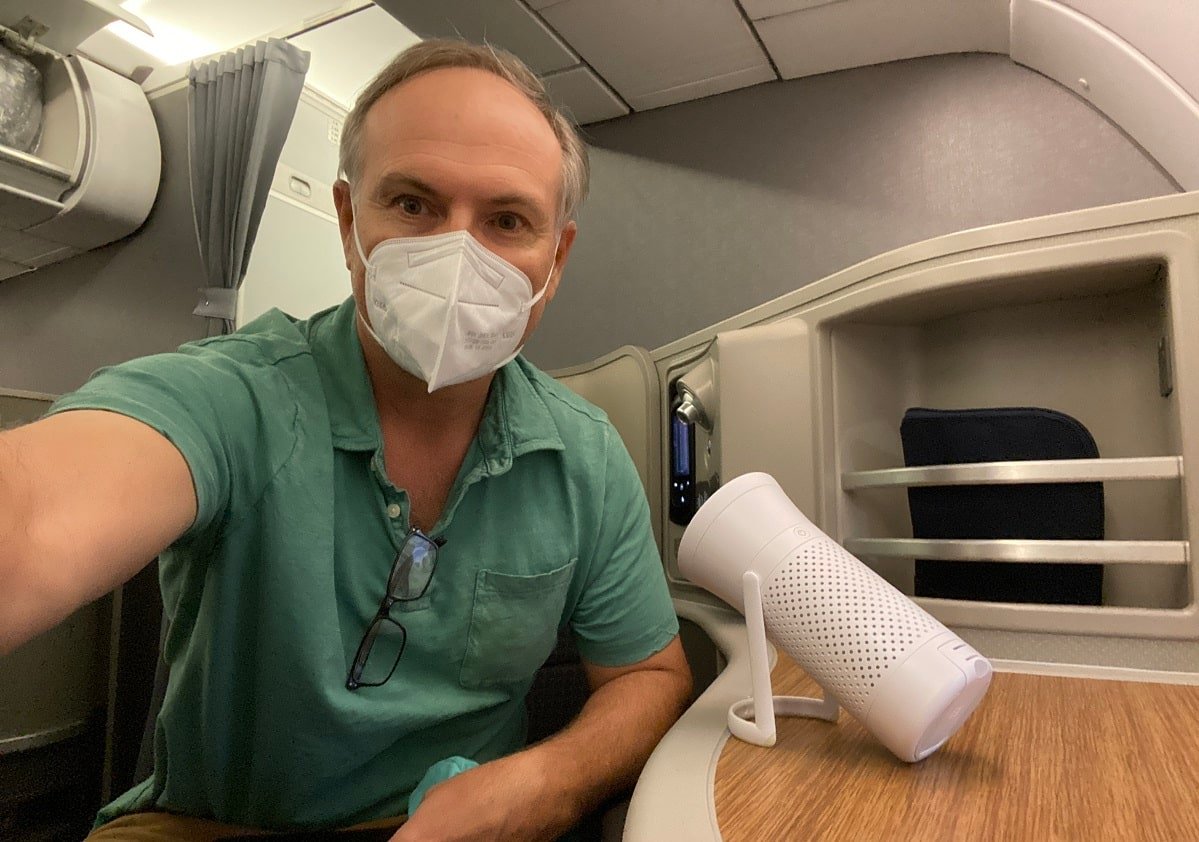 The Portable Air Purifier I Now Travel With to Ensure Clean Air
If you're worried about catching COVID-19 or any virus for that matter when you travel, eat at restaurants or during meetings, then I highly recommend getting Wynd Plus. I used it on the plane and throughout my trip. Here's more information and my photos.
WiFi
I was going to do some work using American's Wi-Fi but it was way too expensive: $29 for a flight pass and $20 for just an hour. Instead, I worked offline and wrote this detailed post. On the way back, the flight is longer and the WiFi price dropped to $17 for an hour or $22 for the whole flight. That's much more enticing.
In-Flight Movies
I also browsed American's inflight entertainment (IFE). Their IFE has a wide selection of movies and TV shows including a category for Veterans Day, which was yesterday and the first two episodes of Ted Lasso (my favorite show). FYI: My wife made the official Ted Lasso biscuit recipe and they are seriously delicious.
My Flight Info
American Airlines 118
6:30 AM LAX
2:48 PM JFK
We pushed back from the gate at 6:23am (to an incredible sunrise) and were airborne at 6:36am. We landed at 2:44pm local time so flight time was just over five hours.
Blacklane
To get to and from the airport, I used Blacklane since I didn't want to deal with any labor shortages or tricks from ride shares and I had some vouchers left over. Blacklane is a much more luxurious way to travel but it's not cheap. You really get what you pay for. FYI: I have a 15% off code for first-time Blacklane users who book in November. It's JOHNNY15NOV21.
My driver from JFK had a plush Tesla and it was my first time really riding in one. I didn't even know how to open the door. There are no handles – you just push a button and the door opens.
The car is amazing especially the moon roof, which takes up the whole ceiling and the huge tablet screen showing traffic around you. It's really incredible. The ride took 1:18.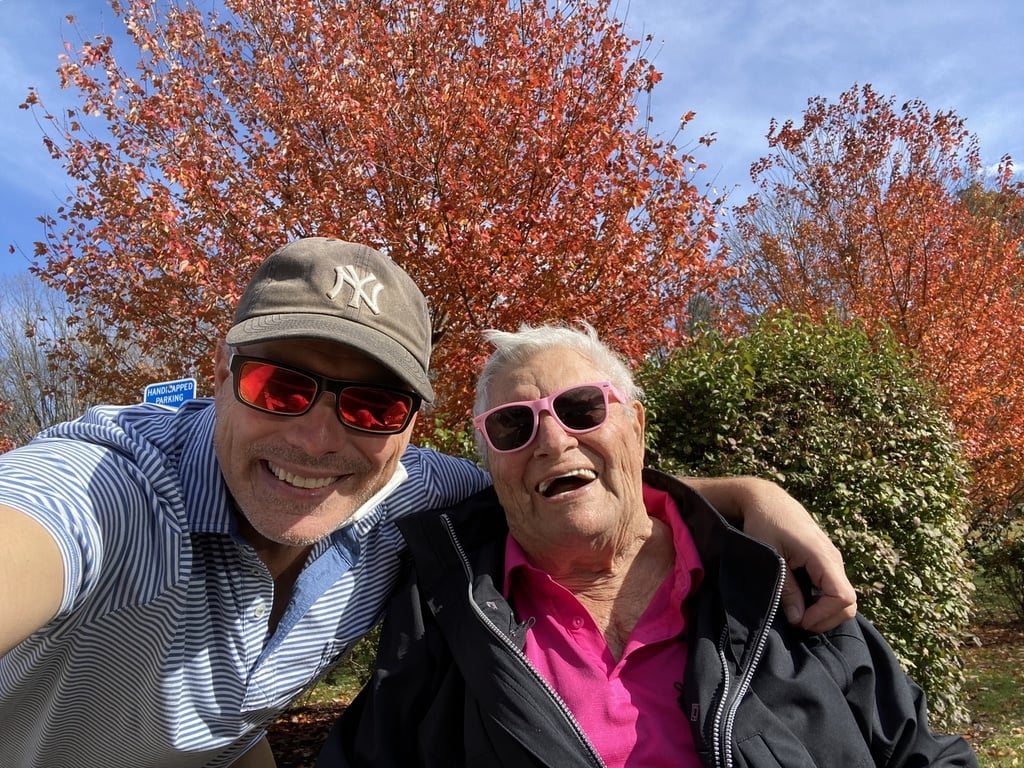 It was my first time visiting my dad in his senior center and it's really nice. He hurt his back a few days ago when he fell so he was on some pain medication that made him delirious and tired. It took him a while to recognize me since his eyes are so bad. Once he did, he was so happy. He couldn't believe it and kept repeating those words.
Here's Part Two and please stay tuned for Part Three, which I will share tomorrow.