There's nothing new about New York City's illegal taxi drivers mulling around the exit doors at JFK, trying to solicit business. However, these days, they've upped their game so things are even more sketchy. RELATED: How to Do Airport Pick-Ups Like a Boss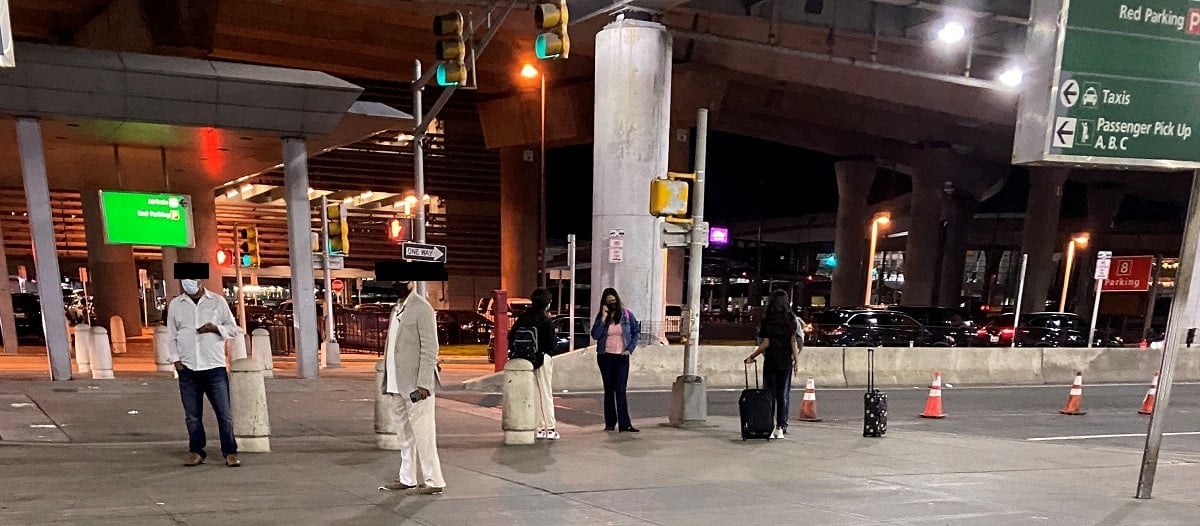 These guys drive what are often referred to as gypsy cabs in New York, which, according to Wikipedia, are "Illegal taxicabs, sometimes known as pirate taxis, gypsy cabs, or jitney cabs, that are taxicabs and other for-hire vehicles that are not duly licensed or permitted by the jurisdiction in which they operate." I took one once decades ago when I was desperate to get somewhere fast and the taxi line at LGA was stretched around the block. It was fine because I negotiated the fare upfront but I might have just gotten lucky.
But now, it may be hard for some people to identify who's legit and who's not. When my family and I exited JFK Airport recently, I saw at least a half a dozen men standing right out of the exit doors of Terminal 8 (American Airlines) and one was even inside at baggage claim. They all had their cell phones prominently displayed with their home screen lit up, which read "UBER" in large block letters. Obviously, they weren't Uber drivers but not everyone would know that, especially our older population.
RELATED: America's Best and Worst Airports – Plan Your Travels Accordingly
When a guy came up to me asking, "Do you need a ride" I just said, "No, thank you" and kept on walking. But I heard an old lady behind me say, "You're Uber?" And the man said, "Yes, I am."  That's when I got pissed and while he was trying to win her over, I walked by her and whispered, "He's not Uber."
She later thanked me but if it had been someone like my dad, who can't hear or see well, they could have easily taken advantage of him with their tricks, which are usually to charge an astronomical fare (if you don't negotiate it up front) or to not honor the rate you agreed on before getting in, by holding your luggage hostage in the trunk until you pony up more money.
But the real reason you don't want to take them is because there's no built-in safety net like there is with rideshares. So, how can you be sure they have insurance, track their history (unless I'm desperate, I don't get into an Uber unless the driver has a 4.8 or higher rating and has been driving with the company for a while), share your location with a friend and rate them? Bottom line: They can't be trusted and it starts with their sales pitch.
Even a New York City hotel where I had a reservation, warned of these drivers in a welcome email to me a couple days prior. One of the tips listed was: "If you intend to come to our hotel by taxi, we advise you to use official NYC Yellow Cab via Taxi Stand. Avoid illegal solicitation from any other drivers as they may not be charging correctly."
So no matter where you are in the world, you always want to avoid illegal taxis and car services as you just don't know. I've seen them many times hanging about airports and tourist destinations around the world but not many at U.S. airports, except at JFK. I'm not sure why the Port Authority or the NYPD hasn't cracked down on them but my advice is to avoid them altogether. What you want to do is only get into a car that you've either ordered yourself (don't forget to check the driver's rating if you're taking an Uber or a Lyft), take a reputable car service, or take an official taxi and pick it up from the taxi line. If you're at a tourist destination, walk to a nearby hotel and ask the doorman to arrange a taxi for you.
On a related topic, an Australian friend of mine, who was in Miami attending a conference a couple of years ago, told me about how he was walking to his hotel from one of the nightclubs after having a few too many. When a car pulled up and the driver said, "Do you need an Uber?" he said he foolishly jumped in. The last thing he remembered is the driver giving him a refreshing, cold bottle of water, which was obviously laced because the next thing he remembered was waking up hours later on the side of the road. His watch and wallet were gone and there were a lot of charges made to his credit cards. This is obviously not the norm and being intoxicated doesn't help anything but it can happen and is why it's imperative to always verify any car and driver before getting in.
Other scams to watch out for:
Don't Fall For the Falling Lady Scam
Is Your Hotel Scamming You?
Don't Fall For It: Scammers Are Pretending to be Customs and Border Protection Agents  
Cybersecurity and Fraud Expert Shares Tips on How Not to Get Scammed When Traveling
How To Avoid Vacation Rental Scams
Don't Fall For These QR Code Scams
7 Tips For Avoiding Black Friday Scams Online
These Are the Latest European Travel Scams to Know Before You Go