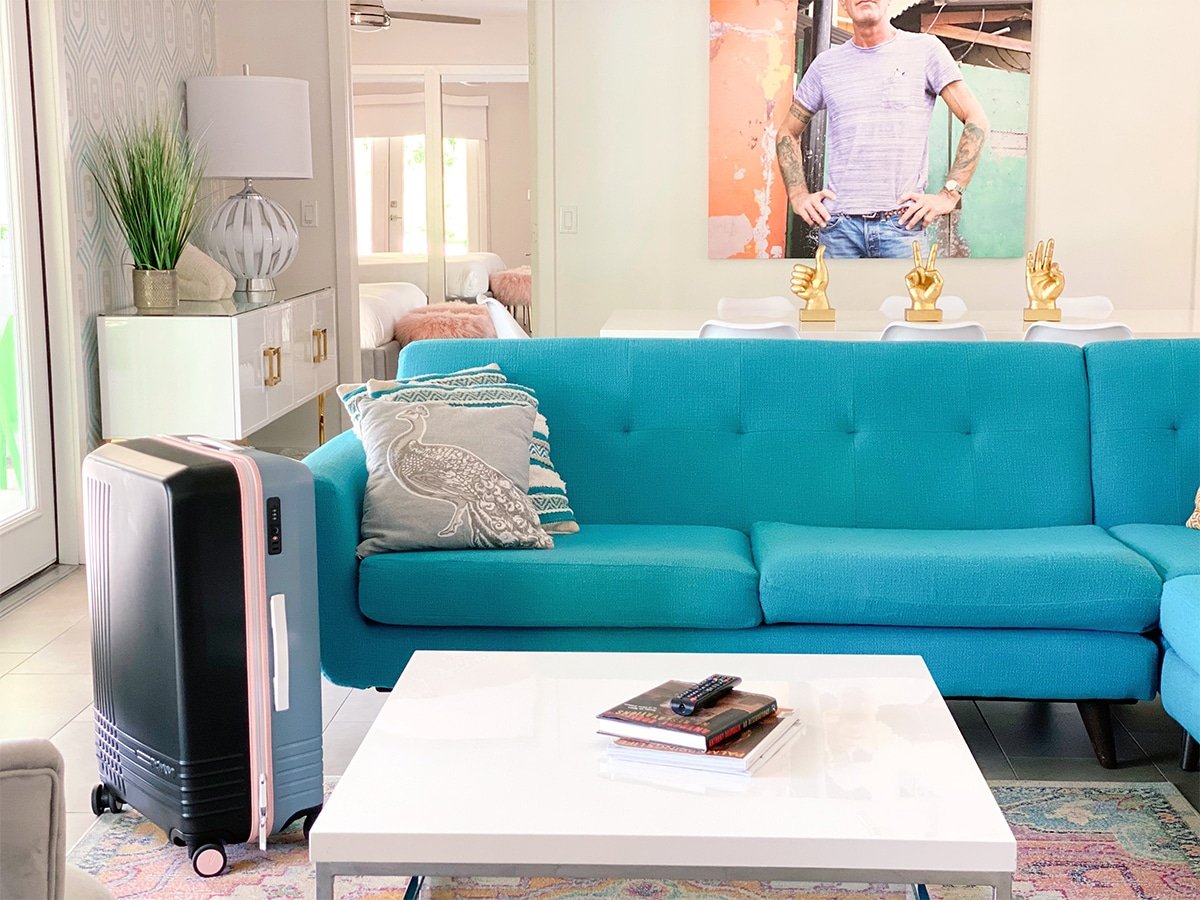 It's that time of year again when the Better Business Bureau (BBB) needs to warn unsuspecting travelers of the many vacation scams out there. I've written about them in the past but it's been a while so it's good to have a refresher, even for seasoned travelers.
One of the most common scams these days is the 'vacation rental con'. Thanks to the rise in popularity of AirBnB, there's more interest than ever in renting someone's house. I've done it many times and have never had a problem – including last fall when we rented a beautiful house in Palm Springs, pictured above, via Vrbo.
One of the main things to watch out for "are listings for properties that either aren't for rent, don't exist, or are significantly different than pictured. These con artists lure in vacationers with the promise of low fees and great amenities. The "owner" creates a false sense of urgency – such as telling potential clients that another vacationer is interested in the rental – to get payment up before doing sufficient research or questioning the legitimacy of the ad."
RELATED: The Best Credit Cards for Rental Properties
There's a lot of talk about this on my local NextDoor app and it turns out, scammers just copy "for rent" ads and their pictures from other websites and repost them on Craig's List or other marketplaces with very low pricing. One neighbor says it "happens all the time." Here are five ways to protect yourself from falling victim.
1. If the deal sounds too good to be true, it usually is the case.
2. Don't rent a house on Craigslist or Facebook Marketplace or any other site that doesn't protect you. I would stick with the major players like AirBnb and Vrbo.
3. Talk with the owner by phone and do it via FaceTime so you can see their face and the property. The BBB says: "If you are not using a service that verifies properties and owners, do not negotiate a rental solely by email. Many scammers don't live locally. Speaking with the owner on the phone, asking detailed questions about the property, and local attractions will clarify if the listing is true. An owner with vague answers is a clear red flag."
4. Check public records. The BBB also recommends investigating online by looking up the address and using Google Street View to confirm the property matches the one advertised. "Also, verify distances to beaches, attractions and airports while on the site."
5. Always pay with a credit card. Don't wire money or use a prepaid debit card. "These payments are the same as sending cash. Once the money is sent, there is no way to get it back. Paying with a credit card the charges can be disputed and dramatically limit liability from a fraudulent purchase."
Renting a house can be an amazing experience but if you fall victim to one of these scams, then it will be the complete opposite. Just follow the advice from the BBB, listen to your gut and pay with a credit card and you should be fine.