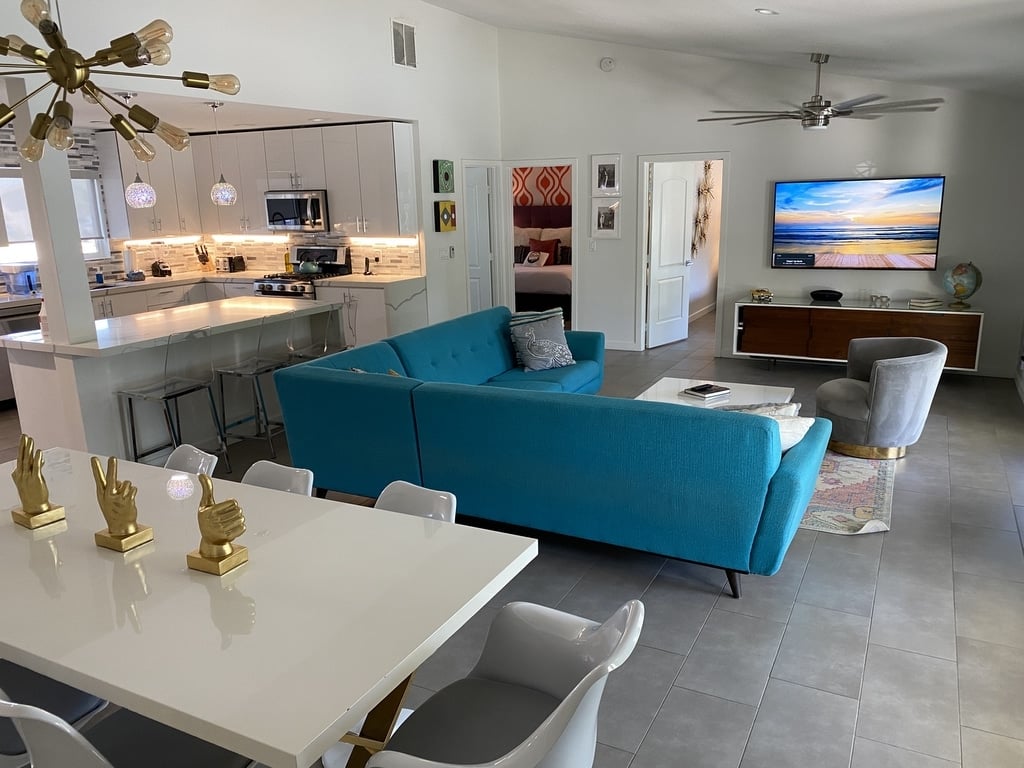 I think everyone will agree that the pandemic has changed travel in a myriad of ways. One of those ways is that more and more people are interested in booking home rentals instead of staying at large hotels, where they'll have privacy, easy social distancing and all the other conveniences that come with a house. So, we partnered with Vrbo (now pronounced 'verbo' not VRBO) and they offered us a certain amount of money to put towards a rental. They had nothing to do with the rental itself or actually booking it. This was all left in our hands. I put my wife in charge of picking the place since, as the saying goes, 'happy wife, happy life'. But more than that, Natalie is a real estate maven and has an incredible eye when it comes to interior design. FYI: I met Natalie on a press trip back when she was the digital editor of a leading design/lifestyle magazine in Toronto. When booking travel, she really cares about design and finding something that's family-friendly so we looked at all kinds of places within a two-hour drive of LAX.
Being in Southern California, there are so many options to choose from. Do we pick Catalina (here's our Catalina guide), Santa Barbara, San Diego, Newport Beach, the mountains or the desert? We ended up with the latter since it was Natalie's first choice and my second. Besides, we have good friends out there and it's shoulder season.
Inside Our VRBO House in Palm Springs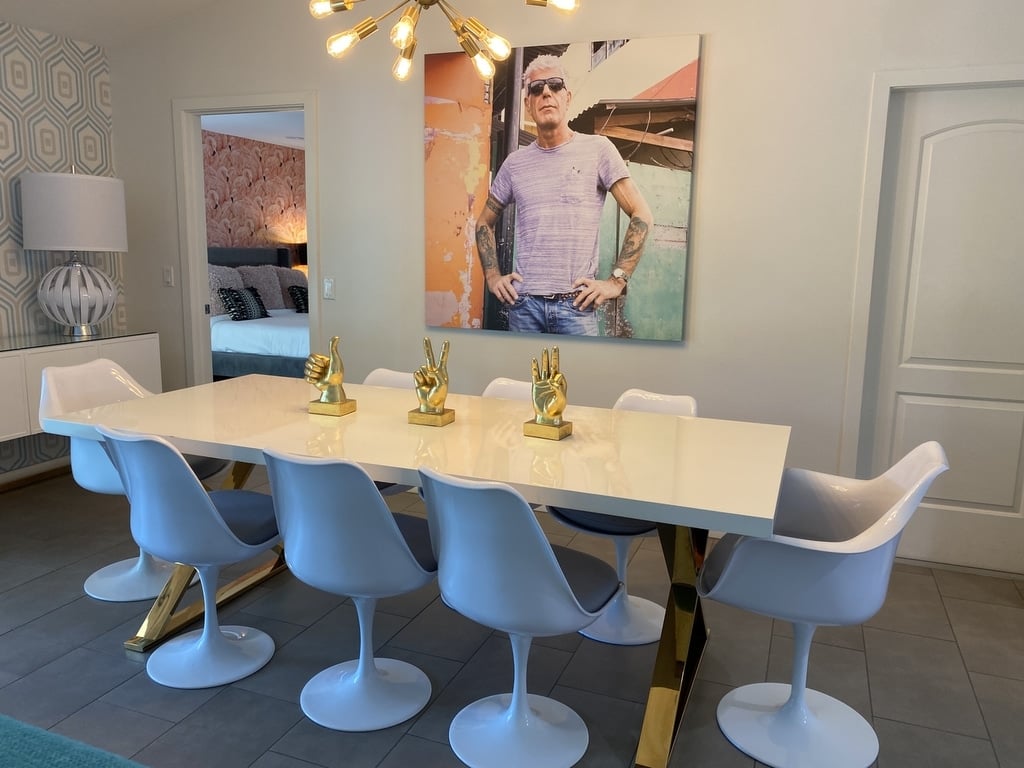 Natalie scoured the Vrbo site for a place that checked all of our boxes. We ended up booking a really cool travel-themed house called Anthony Bourdain's No Reservations. The house has three bedrooms and two bathrooms and goes for an average of $360 per night. Anthony Bourdain is a legend and I had the great pleasure of meeting him at the Cayman Cookout. BTW: If you haven't seen it already, do yourself a favor and watch his show on Manila. It's season 7, episode 5. I bet you will laugh and cry.
I knew that this place would be immaculate because it was listed as one of Vrbo's Premier Hosts, which means, according to Vrbo, that they "consistently provide great experiences for their guests. When you see Premier Host on a property, you can feel more confident about the property description, photos, and amenities."
It was easy to book our rental and easy to get in once we arrived. The owners sent an entry code for the front door, along with explicit instructions about virtually every aspect of our stay.
As expected, the place was immaculately clean. All the lights, fans and AC were on to make it especially welcoming. The bedrooms all have their own flair. The kids loved the flamingo wallpaper in the bedroom pictured above. Each room had a completely different but beautiful design.
Each room has a king-size bed and one of the beds can be spit into two twins if requested in advance. There are Smart TVs in all the rooms (the living room and all three bedrooms). The TVs have access to all the streaming apps you could possibly need but one former guest noted that the TVs don't have HDMI ports so you can't plug into them with an outside device.
The tile floors were very clean. I'm glad there wasn't carpet, which can get so dirty. And although I prefer hardwood floors, none of the homes in Palm Springs have hardwood because of the extreme heat, which can cause wood floors to warp as they expand and contract.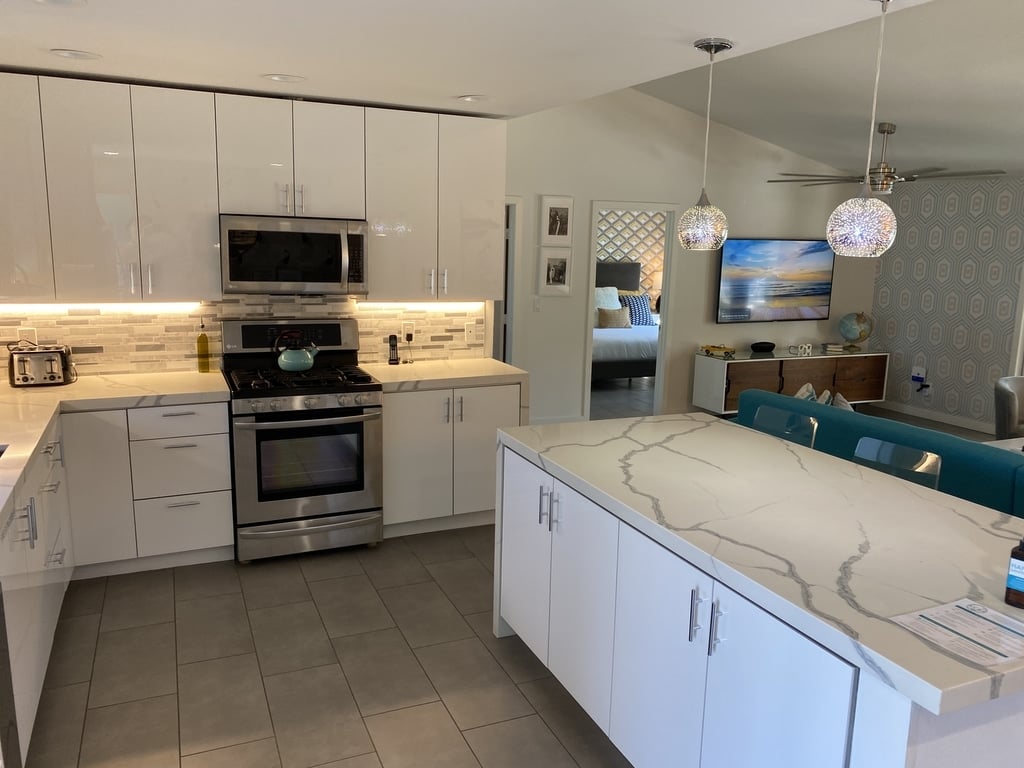 Our house rental had a full kitchen with everything you need: toaster, blender, tea pot, coffee machine and more. There were paper towels, a dishwasher (and plenty of detergent), a vacuum, etc. From a design perspective, my wife loved the bright white cabinets, the waterfall countertop and the under-cabinet lighting, which created a really nice ambiance at night.
A great stay can all come down to the little details. In this house, all the light switches were labeled, so there was no running around aimlessly, trying to find the on and off switches (except for the patio lights near the hot tub – they're outside on the corner of the house).
Also, we found an instruction book for everything from the washing machine to the dishwasher as well as food recommendations and a drawer full of local maps and attractions. Guests can enjoy the convenience of a washer and dryer with laundry detergent, which is especially helpful for long-term stays and for when you've got wet clothes from the pool and hot tub that need to be cleaned.
Outside, you'll find an Instagrammable wall.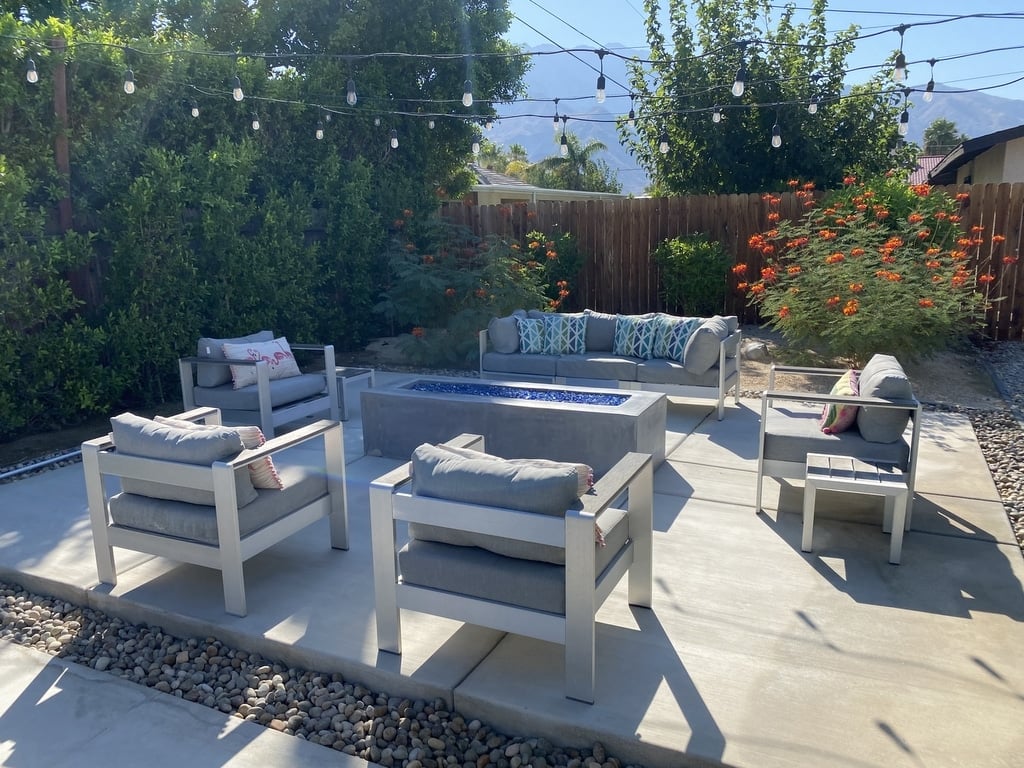 The landscaping outside is really well done. There's an outdoor seating area with comfy chairs, a fire pit and lights strung above to illuminate the night sky.
There is a platform portion of the pool where you can put umbrellas so you can just soak in H20 all day long if you want. It's an amazing feature if you've got little kids because it's reasonably spacious and shallow so our kids, who can't swim yet, were able to play there happily, of course, under constant supervision.
There were four lounge chairs, an outdoor table for eating al fresco and a comfy chair swing that the kids loved relaxing in. I appreciated that there were plenty of pool towels, especially when you've got little kids and tend to go through them more quickly.
There's also a BBQ and a hot tub.
Inside the garage is a ping pong table and room for one car. FYI: There were also some board games and lawn games like croquet.
It's just under a mile to Albertson's. It's nice to have a major grocery store so close.
One day, there was a very unusual flash flood and within 15 minutes, the streets were flooded.  I was at the grocery store for my daily visit and it wasn't raining when I went in but by the time I came out, it looked like a scene from Universal Studios.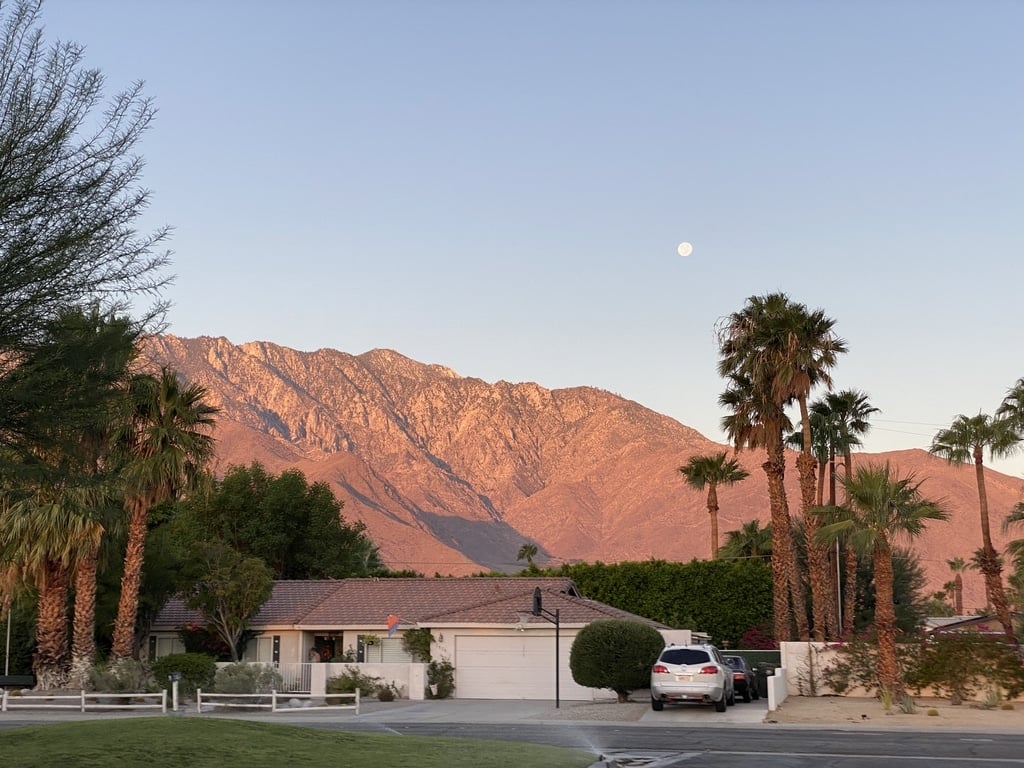 The neighborhood is quiet with spectacular views.
The views at sunrise on an early morning walk are glorious.
My breathing wasn't great the first night of our stay, which is unusual. There was no sign of mold and no musty smell. So I called the number of the property managers (ACME) and they sent a service man within two hours and replaced the AC filter at my request. The handyman showed me that it had been replaced just two months earlier so I don't think that was the problem. My buddy Chris McGinnis who lives in Palm Springs thinks it was because I was dehydrated so he brought over this product for me to try and it worked!
Good to Know
-When booking, the contract took a long time to sign, which is intimidating and especially nerve-racking with deposit.
-The homeowners are very strict on arrival time and checkout. We were warned that should we arrive a moment before 3pm, we might set off the alarm and would have to pay $250 for the cops showing up.
-All of Palm Springs is very strict with noise and guests, which I can appreciate. But on the second to last day of our stay, the house next door had construction going on, which was so loud and dusty, we ended up having to leave. We went on a short road trip to explore Joshua Tree and nearby Pioneer Town, which was a great discovery!
The pool guy was there when we arrived at 3:15pm, which was fine but the next day, the gardeners showed up and asked if they could tend to the garden. I said sure but the cut grass got into the pool. It was no big deal for me to quickly use the pool sifter and clean it up but they really should schedule these services in reverse.
The last guests' pool floats were in the garbage. That means they don't even donate them, which seems like such a waste. We brought some floats too and were going to leave them for the next guest but obviously they don't want to deal with things left behind, so we deflated them and brought them home.
-The water from the bathroom faucets came out milky. We let them run but the water never ran clear.
-There's no bathroom door on the ensuite bathroom, which is a little strange if you want a little privacy. And there was no bar soap and the little containers of shampoo weren't impressive. Bring your own.
-The house is near the flight path so you will hear planes starting around 6am. Maybe because we were there in the slow season, there weren't that many flights. The only ones they bothered me were the five in the early morning but my wife said she didn't even hear them.
Tips

-If you have little kids, bring edge corners since some of the tables have sharp edges (we always travel with them).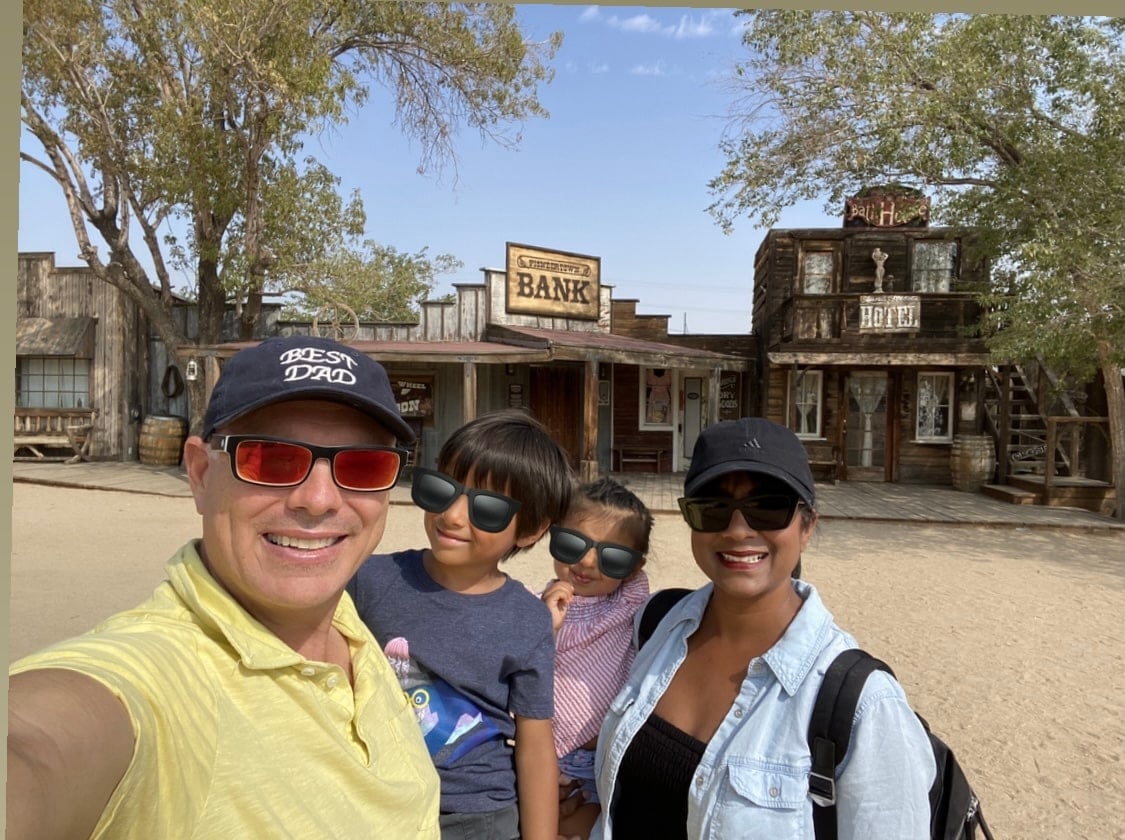 -If you go to nearby Joshua Tree National Park (35 minutes away), stop at Pioneer Town along the way. You may never have heard of it before, but I can almost guarantee you've seen it in movies, TV shows or commercials. You will love it! Here's more information and some of our photos.
-There's a unique tasty restaurant about four miles away called Gabinos Creperie.
-If driving from L.A., stop off at the Cabazon Dinosaurs on the way home. It's right off of the exit and the kids will love it.
Bottom line
Overall, we really loved our stay and would definitely book it again. Throughout our stay, we kept saying that it would be great if Natalie's mom had been with us since there was more than enough room for all of us. We may even book this exact property again post-pandemic when we have other family members come to visit. Our kids didn't want to leave when it was time to pack up and Natalie just loved the design aesthetic, which didn't disappoint in person. I was confident that we wouldn't have any hiccups since we booked it via Vrbo.com and their Premier Hosts guarantee you a great stay.