For years, when my wife and I talked about places to visit in Southern California, she would always mention that she's never been to Catalina Island. It really pained me because the 22-mile long, 8-mile wide (at its widest point) island sits just 22 miles off the coast of where we live in Los Angeles. Ever since my wife and I met and she started visiting Southern California frequently, and then moved here, I've tried to show her the many different beautiful places to visit here. But we just hadn't made it to Catalina Island.
So, when we were invited to visit by Catalina Express and the Catalina Island Company, we couldn't turn the opportunity down, even though it meant cutting our trip to Connecticut short.
Getting to Catalina
There are multiple ways to get to the island and we took Catalina Express (800-429-4601), the ferry out of San Pedro, since it's closest to our house near LAX. They operate up to 30 daily departures out of three ports. The other two ports are Long Beach and Dana Point. Cost: $38 each way from San Pedro and Long Beach. It's $1 more from Dana Point.
Most trips are to Avalon, where 90 percent of Catalina residents live; the island's population is approximately 4,000 people. There's also a not-so-frequent ferry to Two Harbors, a rustic little village about 12 miles down the coast from Avalon. There's not a lot to do there so it doesn't attract nearly as many visitors as Avalon. I've never been but I hear it's popular with boaters and that there's just one small bed and breakfast there.
Good to Know: I heard from multiple people, including Catalina Express workers, that it's best to catch a boat out of nearby Long Beach because they operate newer and larger boats that are catamarans, so they really cut through the ocean waves. We got lucky because our rides there and back were very smooth. That's likely because we left in the morning, which is typically calmer than later in the day.
Passengers can check two bags apiece, up to 50 pounds each. We checked just one bag and carried the rest on. Tip: If you want to sit outside on the top deck, line up early because it's first-come, first-serve and those seats tend to go the fastest. We were a bit too late to snag those seats so we sat inside but it was probably best since we had three small bags and it might have been too cool up there for the kids. FYI: Parents can park strollers on the back deck.
Arrival
We arrived right on time and since my wife and I have two little kids, we took our time getting off. There was no reason to rush so we were the last to disembark. Hotel Atwater (the first hotel we were staying at), had a porter waiting to meet guests and take their bags. We gave ours to him and slowly made our way to the hotel, which is in the center of town, about a seven-minute walk from the ferry. It's such a short walk so there's no need to take a taxi, even though they offer them.
Golf Carts
One of the best parts about Avalon is that, not only is it small, but most locals drive golf carts. Not many people have cars and it looks like it's going to stay that way. I was told by numerous locals that the waiting list to have a car on the island is 15 to 20 years. There is a place just a block from the ferry where you can rent a golf cart called Catalina Island Golf Cart (625 Crescent Ave) and they only rent them in increments of two hours. It's $110 and includes car seats if you have kids between the ages of 1 and 4. For children under one, you need to bring your own car seat and those four years old and up don't need one. Drivers must be 25 years of age of older and have a valid driver's license. I highly recommend renting a golf cart and following the map they provide because the scenery is off the charts, especially up top. We had a great time exploring the island this way. Unfortunately, the golf carts are gas, which is disappointing because they're loud, smelly and polluting. I'm not sure why they're not electric.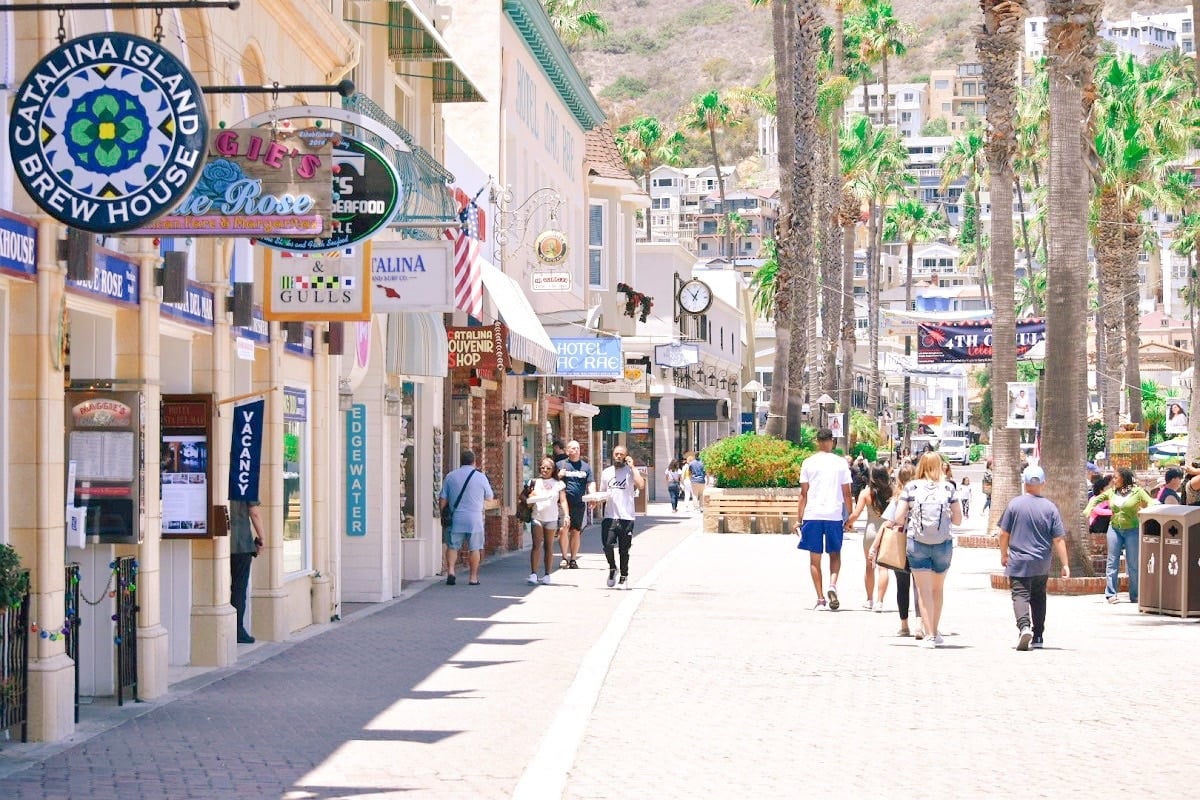 Crescent Avenue
The main street on Avalon runs parallel to the shore and is called Crescent Avenue. It's the center of the action and much of it is pedestrian-only. Keep that in mind when renting golf carts since there are plenty of streets you can't drive on or are for locals only. But the pedestrian-only parts were great because the kids could walk more freely and safely so it was less stressful for me and my wife.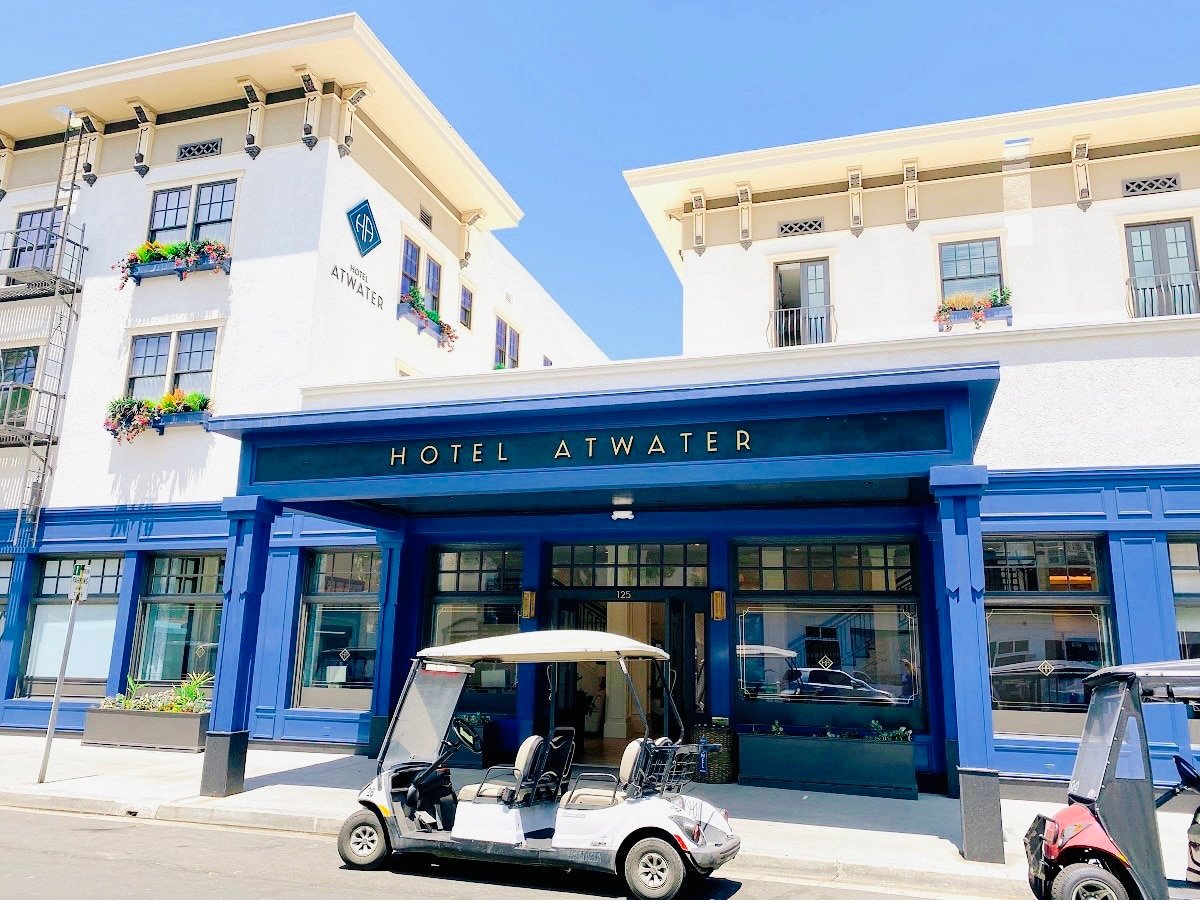 Hotel Atwater
The Hotel Atwater was originally built in 1920 by the Catalina Island Company under the ownership of William Wrigley Jr., who named the hotel after Helen Atwater Wrigley, the wife of his son Philip Knight Wrigley. The hotel was completely renovated in 2019.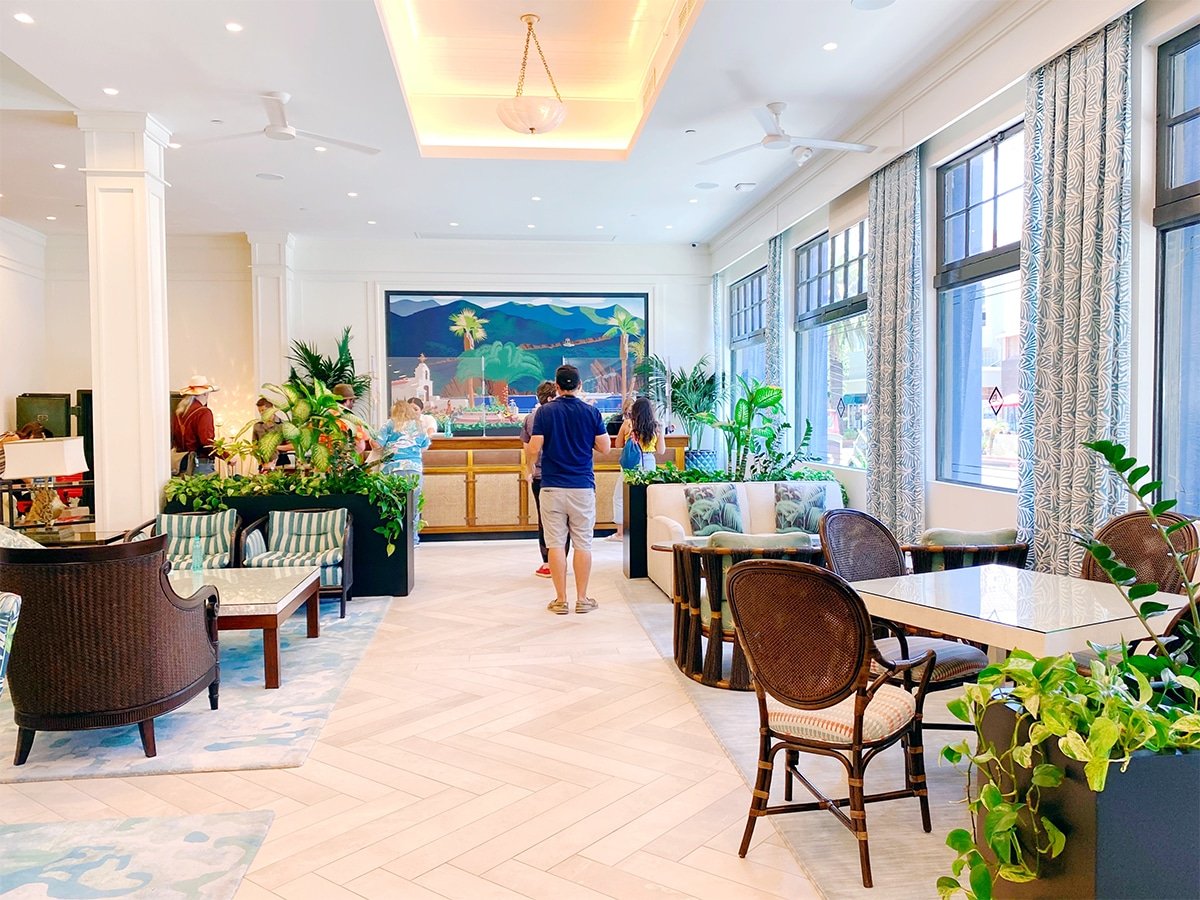 The big lobby is bright and inviting, with tables, chairs and sofas where people were relaxing or working. The rooms are small but they are comfortable. It's a solid four-star hotel and our room had two full-size beds. They all have mini refrigerators, Wi-Fi and smart televisions. There's a $40 a day, per room resort fee, which includes the porters at the port and a $20 credit at the hotel's café, which makes it much more tolerable. It also includes the sparkling wine they leave in every room as a tribute to Helen Wrigley since she loved a glass of bubbly (and fresh flowers). Room rates start at $225.
Hotel Metropole
We spent the next two nights at Hotel Metropole, which is about two blocks away from The Hotel Atwater. It's located in a four-story building and we were put up in an ocean view king suite with a full balcony.
According to the bellman, it was the nicest room on the island and I believe it. It was extremely spacious and the view of the Catalina casino and the harbor was remarkable. FYI: The most famous building in Avalon is called the Catalina Casino but it was never actually a casino. I learned that 'casino' is the Italian word for 'house of pleasure' and was established well before the word casino came to mean a place for gambling.
We absolutely loved Hotel Metropole, except for their poor WiFi. It was terrible, almost unusable, in our room because we were so far away from the lobby, so they need to work on fixing that. The staff was friendly and because our room wasn't ready until 4pm, they were happy to store our bags, including one that required refrigeration because it had half a gallon of milk and yogurt that I had purchased the day before at the local grocery store (more on this later). Note: They don't offer housekeeping. They say it's because of COVID-19 but I'm sure it's because they're short staffed. Good to know: Next door to Hotel Metropole is a laundromat so you can pack light knowing that you can wash your clothes.

Cell Phone Service
If you have T-Mobile, like my wife and I do, be prepared to feel like you're in a foreign country. The service was so bad that I couldn't bring up restaurant reviews or do basic Google searches. Most locals have Verizon. AT&T works okay, I hear.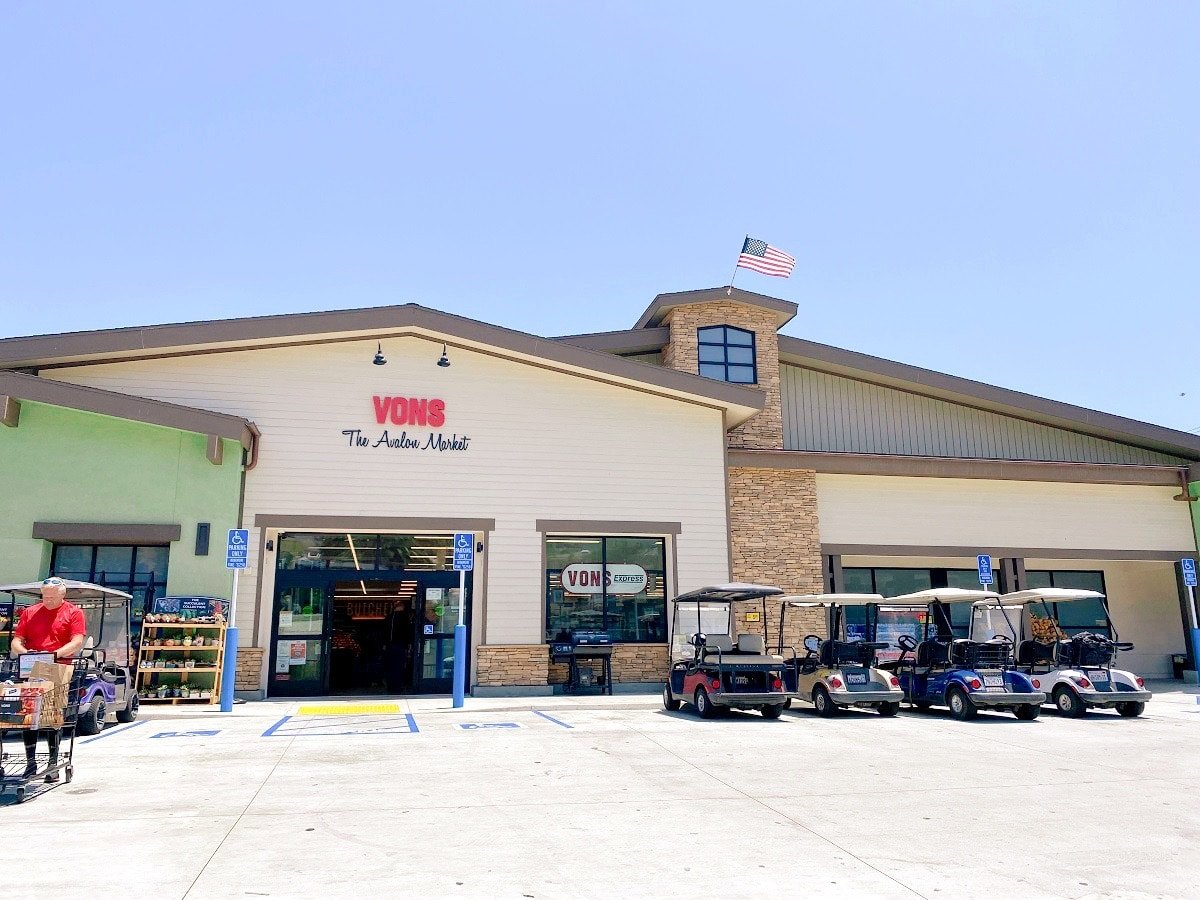 Vons Grocery Store
I can't tell you how comforting it was knowing that Avalon has a large grocery store, especially when traveling with little kids. In fact, Vons, which is open from 6am to 11pm, has pretty much everything our grocery store has at home and the prices aren't much more. Some things were even cheaper. I stocked up on fresh cherries ($4.99 lb), half a gallon of organic milk ($4.95), yogurt and ice cream (I couldn't turn down two pints of Haagen Dazs for $6).
I must have gone to Vons at least half a dozen times during our stay for various reasons, from getting breakfast (fresh baked donuts!) to Desitin for my daughter's first (and hopefully last!) diaper rash. It's well worth a visit and can get quite busy so plan accordingly.
Bluewater Avalon
The island has some great restaurants. Our favorite was dinner at Bluewater Avalon as it's right on the water. It's casual, they offer fresh seafood and have a kid's menu; the kids' meals are served in fun bento boxes. There's also an oyster bar and sushi bar. We went for an early dinner but unfortunately, they were sold out of the two things my wife wanted to order (lobster rolls and the java mud pie for dessert) so you may want to go earlier.
Avalon Grille
The next night, we dined at Avalon Grille (423 Crescent Avenue). It's not on the water but has both indoor and outdoor seating and is right in the heart of Avalon. The food is described as California coastal cuisine and the menu has lots of fresh and seasonal produce and seafood, as you'd expect. My wife ordered the seared scallops and said they were delicious. I sampled a variety of appetizers, which were great as well! Olivia loved the bechamel mac and cheese and Jack licked his plate of truffle fries clean. The gelato and sorbet we ended our meal with were refreshing and delicious.
Descanso Beach Club
While you don't really visit Catalina Island for the beaches (the beaches are small, crowded and in some places, rocky), you won't want to miss the Descanso Beach Club. It's just a short stroll past the historic Catalina Casino and features Avalon's only beachside restaurant and bar. It's also one of Southern California's last private beaches open to the public, where you can have a drink in your hand and your feet in the sand. It's first-come, first-serve like most restaurants and sitting on their patio will make you think twice about where you are. The views are similar to Ibiza or the Italian or Mexican Rivera. It really does have a cool, island vibe and makes you feel like you're a world away from California. The club is also the gateway to a lot of the adventure sports on the island like the Descanso Canyon adventures, including Catalina Aerial Adventure, Catalina Climbing Wall, Catalina Falconry Experience and the top-rated Zip Line Eco Tour.
Mini Golf
If adventure isn't your thing (it's not ours since we have two little ones), then check out Avalon's Golf Gardens and play a round of mini golf. Unfortunately, my kids are just way too young so after half a hole, it was time to call it a day. All they wanted to do was run around and kick the brightly colored balls around. But the course is beautiful, nestled in an idyllic garden setting a block from the beach and across the street from Hotel Atwater. The unique 18-hole course has been a much-loved fixture on the island for nearly 50 years. The cost is $12 for adults and $10 for kids 2 and up. Good to know: There is a real golf course on the island so look into it if you want to play.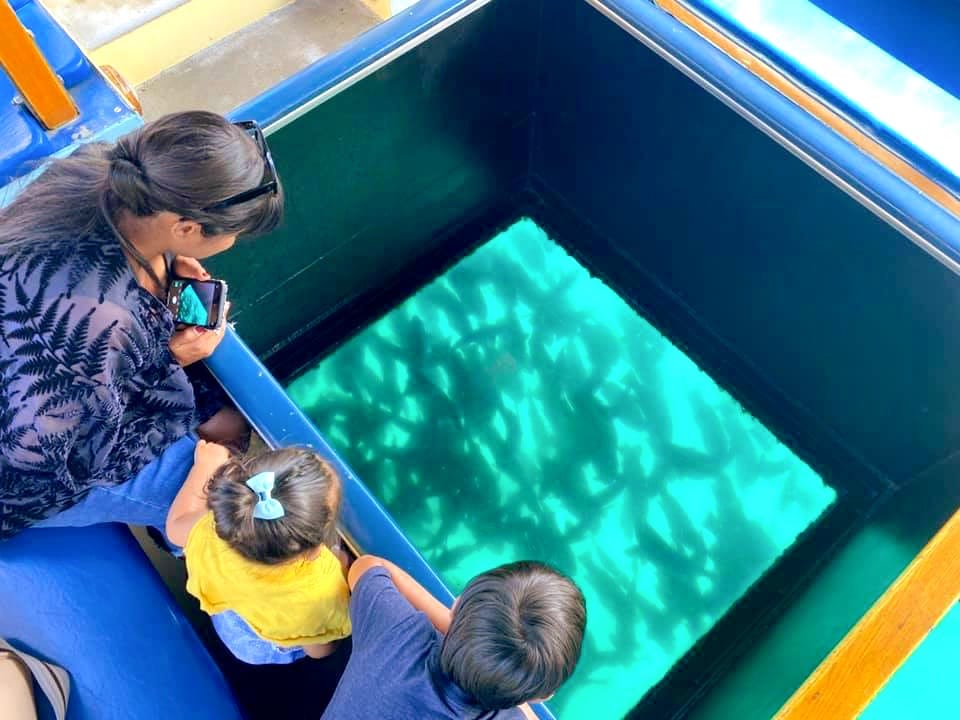 Glass Bottom Boat Ride
One of the most memorable things we did was a glass bottom boat ride. We were supposed to do one of the submarine adventures but we didn't want to be in an enclosed space during the pandemic with two little kids so we opted for an open-air boat ride and it was perfect. The ride lasts just 40 minutes, stays close to the shoreline and cruises through the Lover's Cove Marine Preserve. You see a variety of colorful fish including the orange Garibaldi, named after the Italian general Giuseppe Garibaldi, whose followers often wore a characteristic scarlet or red shirt. My son loved it since one of his favorite TV shows in Octonauts, which is about a team of undersea explorers. RELATED: 11 Great Travel Shows for Kids
As you can see from the photos, Catalina Island is a truly special place. It's difficult to believe that this haven is just 22 miles off the coast of Southern California because it seriously feels like a world away. If you're visiting the area, be sure to add a trip to Catalina to your itinerary. You won't regret it.
BONUS TIP: If you're looking for food either before you get on the ferry or when you disembark at San Pedro, check out Busy Bee for the best hot sandwiches in town. Here's what you need to know.