J.D. Power, one of the global leaders in consumer insights and data, has released their 2023 North America Airport Satisfaction Study and it has some interesting insights. Perhaps the most shocking finding is that overall passenger satisfaction improved. That's right. According to the study, "overall satisfaction improves 3 points (on a 1,000-point scale), driven by improvements in three factors: terminal facilities; food and beverage and retail service; and baggage claim." RELATED: The Best and Worst US Airports for Finding Cheap International Flights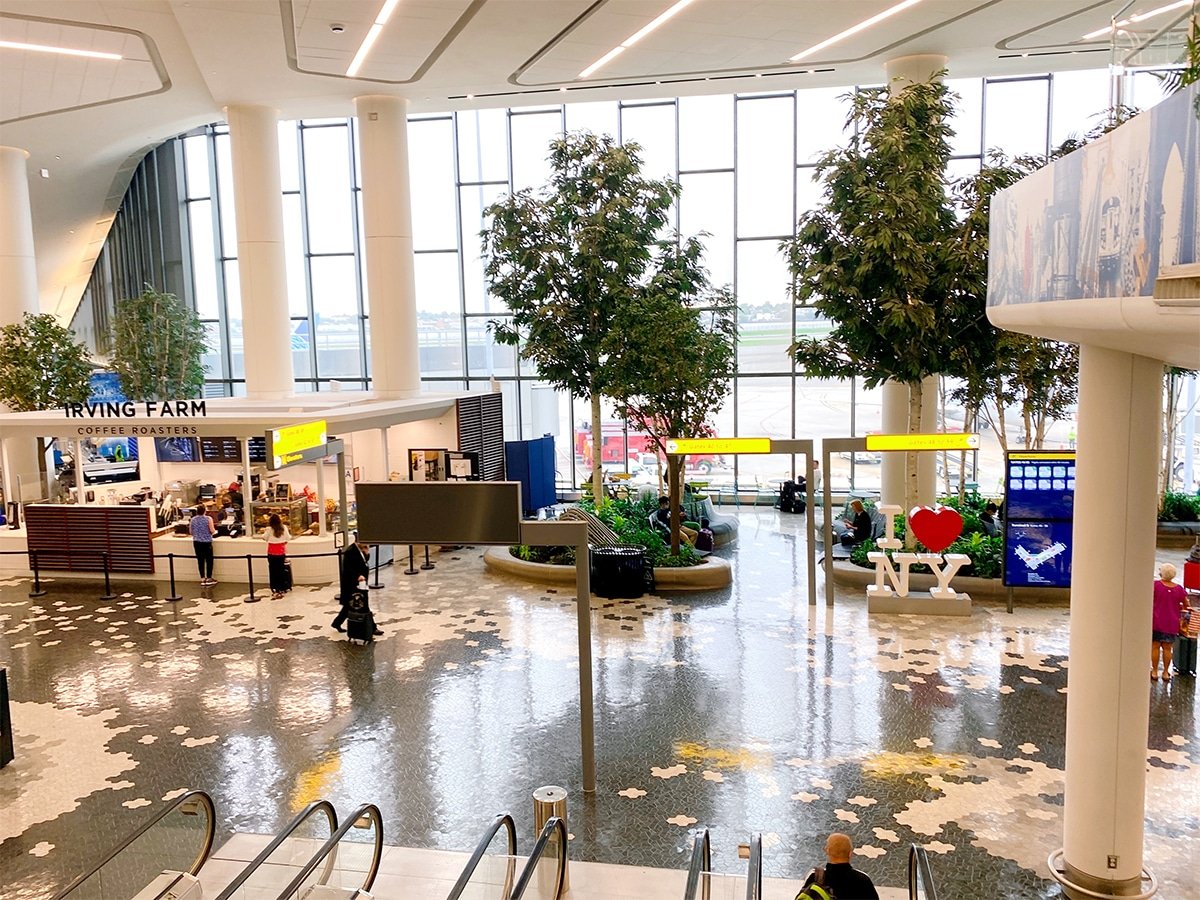 According to Michael Taylor, travel intelligence lead at J.D. Power, "It has not been an easy year for North American airports, but major capital improvements they've made over the last several years and new investments in getting food, beverage and retail operations back up and running at full capacity have helped them manage the crush of passengers."
Michael is right. Airports have definitely improved their food, beverage and retail operations. The wisest thing airports have done is give travelers a more local experience. They're bringing popular restaurants, bars and shops into the airport so travelers who are even just passing through can get a somewhat stronger sense of place.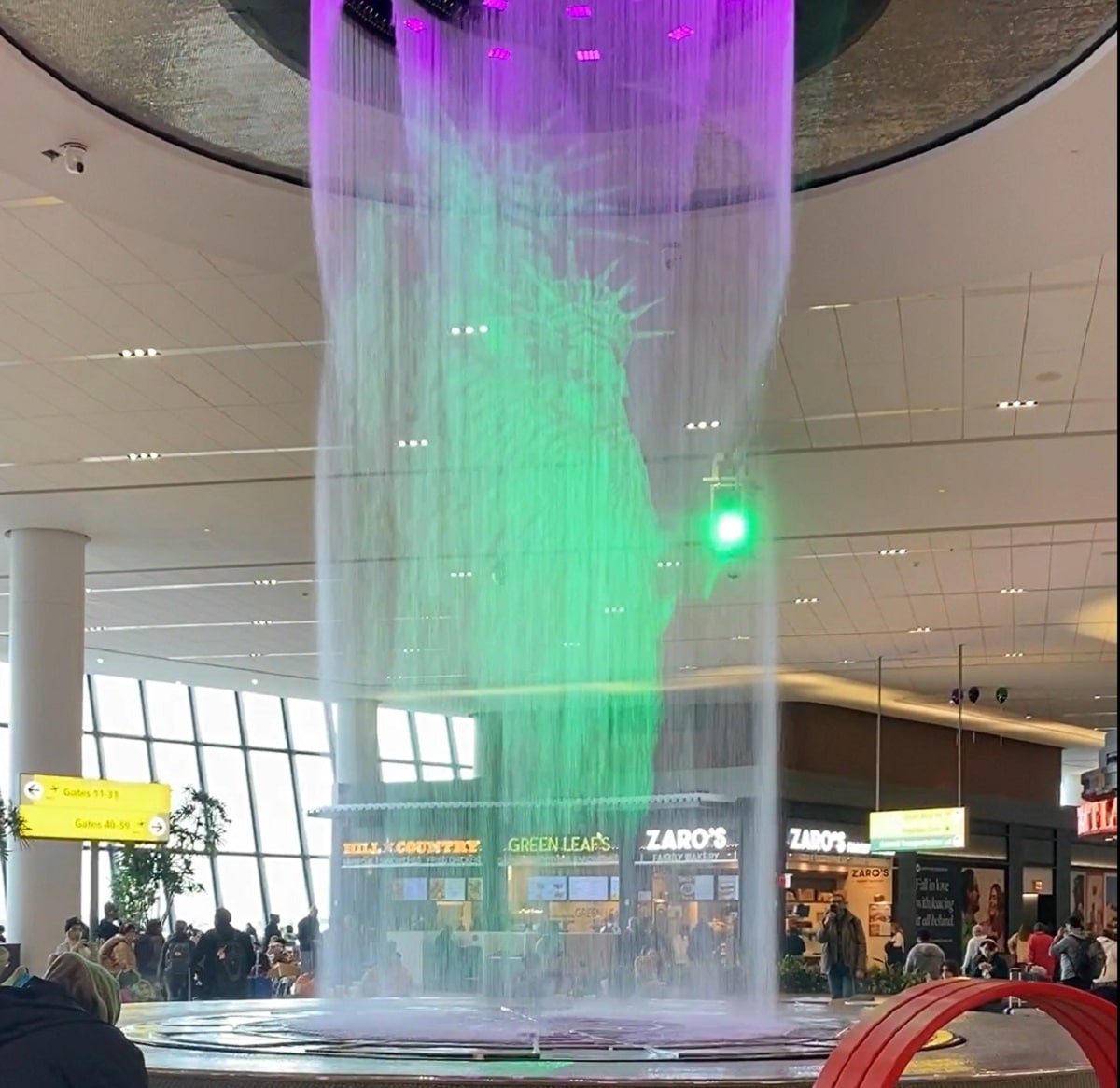 One of the biggest improvements is New York's LaGuardia airport. My kids (ages four and seven) just told me the other day that their favorite airport is LGA! I now love it too, thanks to the local eateries but most of all because of the mesmerizing water show, pictured above.
According to JD Power, "Many of the top-performing airports in the study have one thing in common: recently completed construction and redevelopment projects that have improved passenger flow, parking and terminal facilities. Nowhere is the positive effect of capital improvement clearer than in New York's LaGuardia Airport, which has climbed from dead last in passenger satisfaction in 2019 to reach the large airport segment average, this year."
RELATED: 10 Airport Security Hacks Every Traveler Needs to Know
As far as the rankings go, they're listed below. Keep in mind, this year's "study measures overall traveler satisfaction with mega, large and medium North American airports by examining six factors (in order of importance): terminal facilities; airport arrival/departure; baggage claim; security check; check-in/baggage check; and food, beverage and retail. Mega airports are defined as those with 33 million or more passengers per year; large airports with 10 to 32.9 million passengers per year; and medium airports with 4.5 to 9.9 million passengers per year."
Mega Airports


Detroit Metropolitan Wayne County Airport ranks highest in passenger satisfaction among mega airports with a score of 800. I don't think it's surprising since it's an excellent airport and those who have never passed through are shocked when I tell them it's one of my favorite U.S. airports. Also high on the list are Minneapolis-Saint Paul International Airport (796), which ranks second and Harry Reid International Airport (787), which ranks third.
Large Airports


In terms of large airports: Tampa International Airport ranks highest for the second consecutive year, with a score of 832. John Wayne Airport, Orange County (829) ranks second and Salt Lake City International Airport (825) ranks third. I don't spend much time in any of these airports these days so I can't really comment.
Medium Airports


As far as medium-sized airports go: "Indianapolis International Airport ranks highest among medium airports for a second consecutive year, with a score of 843. Southwest Florida International Airport (839) ranks second and Ontario International Airport (834) ranks third." 
I haven't been to the new Indianapolis airport but I hear from friends that it's fantastic and this study confirms that. I have flown out of BUR recently and Kahului's airport, which rank at the bottom. They both definitely need some upgrades — especially dining. RELATED: Here's How to Avoid the Chaos at Kahului Airport
So, now you know which U.S. airports you should frequent and which ones to avoid. Do you agree with J.D. Power's study or not? Will you plan your travels accordingly?
KEEP READING
Want more travel news, tips and deals? Sign up to Johnny Jet's free newsletter and check out these popular posts: The Travel Gadget Flight Attendants Never Leave Home Without and 12 Ways to Save Money on Baggage Fees. Follow Johnny Jet on MSN, Facebook, Instagram, Pinterest, and YouTube for all of my travel posts.