This article was written and produced in partnership with Visit California. All opinions expressed within are my own.
When the pandemic started in 2020, life changed for everyone in ways big and small. For me personally, the blow the travel industry took hit me and my family pretty hard. I've been a travel publisher for over 20 years. I met my wife, Natalie, on a press trip. We've been to over 65 countries together and our five-year-old son Jack, has been on over 70 flights and multiple countries and continents. All in just two years. When Covid hit, our travels ground to a halt.
In mid-February, I had a round-the-world trip planned with my best friend (Toronto, London, Helsinki, Singapore, Bangkok, Hong Kong, Los Angeles) but news of Covid was becoming more prominent and I started to question whether I should go. I sought advice from friends and colleagues, including an airline executive with an Asian airline. He said most definitively not to go. Life lesson: When an airline executive tells you not to travel, you should listen.
And so, like most people, we settled down into a new world of quarantine, enjoying uninterrupted time at home with our kids and making the most of a bad situation. And as far as bad situations go, it wasn't too bad, all things considered. While we had virtually no work and no travel, we were somehow able to still pay the bills. We had a roof over our head and food on the table.
With a one- and four-year-old at home, we were extremely cautious. We abided by all the state protocols here in California and only took the kids to wide open spaces where we could easily social distance. We ordered groceries online to minimize going out and when I did hit the grocery store, I went in double masked and ran around like I was competing on Supermarket Sweep.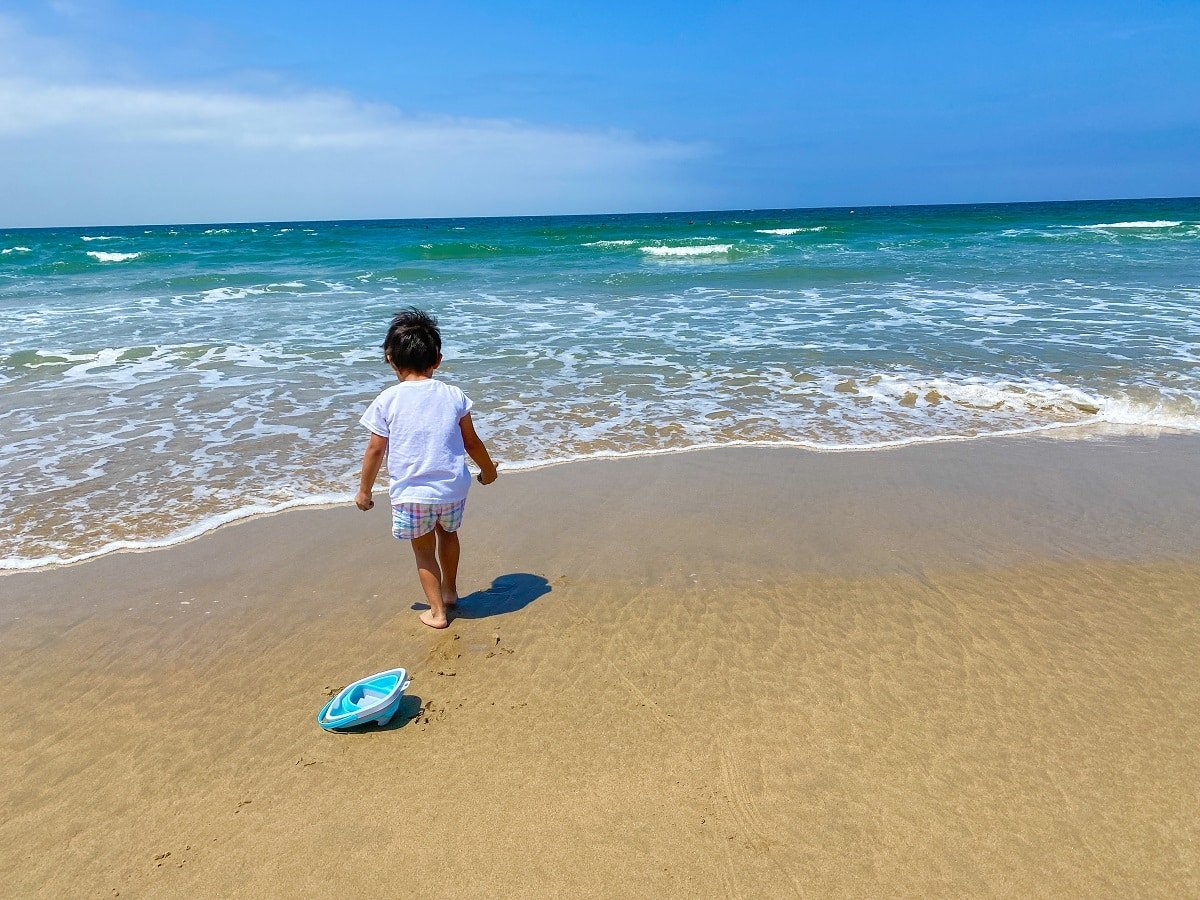 When the beaches reopened, it was such a relief and provided the perfect place for us to go and let the kids run around. And it was a bit of an escape for me and my wife. It gave us a sense of normalcy during an otherwise abnormal time in our lives. Fortunately, in Southern California, there's no shortage of beautiful beaches and they're so wide that we didn't have anyone within a 150-yard radius of us at any given time.
Besides the beaches, the farmers markets are another spot we love to visit weekly. When our local market closed for two months, we really missed it and were so excited when they opened again. Farmers markets are one of the things I love best about living in California – they're open year-round, offer incredible fresh produce, are a great way to shop local and you can find them in virtually every California town.
But eventually, we needed more than just the beaches and about six months after the pandemic started, we took our first family road trip, when it seemed that the virus was at bay and we felt we could do so safely and responsibly. We researched Covid protocols and drove 40 minutes to Newport Beach and stayed in a luxurious villa at Lido House, a hotel that quickly became my wife and son's favorite. We didn't travel again until March when we went spent a glorious week in Santa Barbara at three different hotels: Ritz-Carlton Bacara (pictured above), Kimpton Goodland and Hideaway Santa Barbara.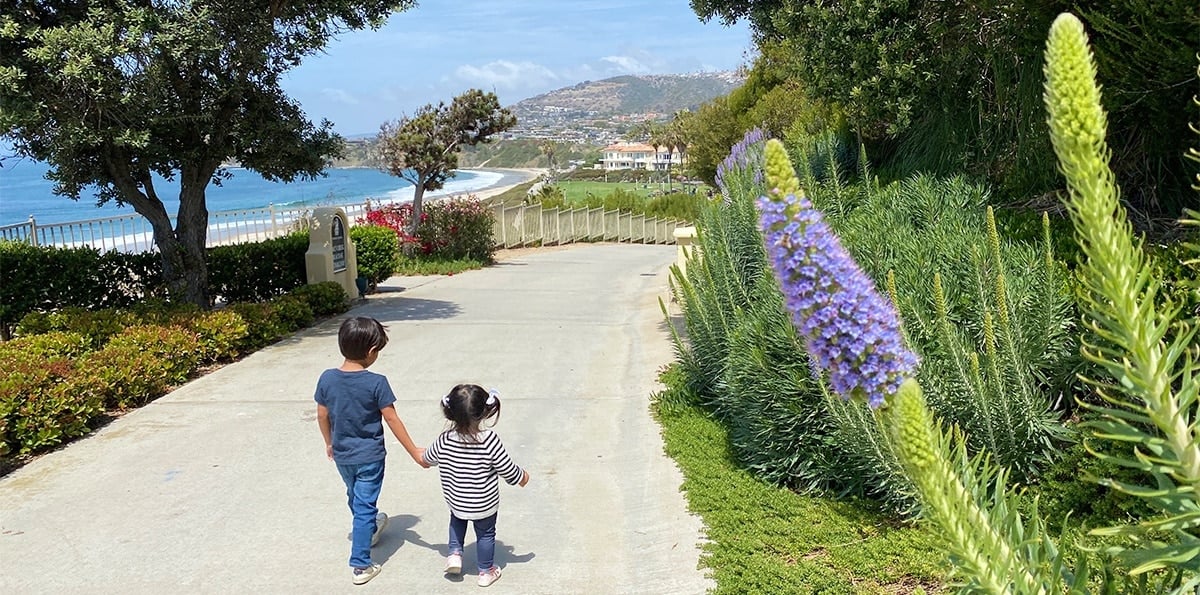 Once my wife and I were fully vaccinated, responsible travel within California felt even more possible. A month later, we were back on the road, this time to Laguna Beach.
In May, we hit Legoland and spent a night at the Legoland Castle Hotel. In June, we really thought we were in the clear and went to Palm Desert,  L.A. Zoo and Catalina Island (glass bottom boat pictured above).
We canceled all our big July and August plans. But we're back out there again going to outdoor concerts (Hollywood Bowl), renting a house in Palm Springs, spending a long weekend at Terranea and most recently, heading to a family-friendly resort in Carlsbad.
Throughout the pandemic, my wife and I have said more times than I can count how lucky we are to live in California. As the spring and summer turned into fall and winter, we were still able to get outdoors and enjoy the sunshine. And even better than that, there's no shortage of incredible places to visit just a short drive from where we are, which can be said of much of the state. Just two hours in virtually every direction will land you in a gorgeous part of California, just begging to be discovered. The key to all of our travels has been being careful and cautious, not just for ourselves but for those around us.
Whether you live in California or are planning a trip to The Golden State, being safe and responsible is key for everyone. In June 2020, Visit California, the state's official tourism board, created the Responsible Travel Code as a blueprint for how to plan a trip to the Golden State responsibly. This includes not just tips for being responsible in terms of Covid but responsible as it pertains to the beautiful and delicate landscapes that make California so breathtaking. As climate change continues to alter the planet as we know it, responsible travel is a growing theme travelers are starting to see more and more around the globe.
Visit California's Responsible Travel Code asks visitors to travel with RESPECT and serves as a quick resource for travelers on how to stay safe and be respectful of others and the environment when visiting the state. Ultimately, it's a resource for travelers, sharing what businesses and communities across the state are doing to ensure the safety of their guests, and provides insight into what to expect when visiting California beaches, hotels, wineries, restaurants, theme parks and more. So, how can we all be responsible travelers in California? Here are Visit California's helpful pointers to guide you:
Roam Responsibly.  I will explore California thoughtfully and responsibly, maintaining the utmost respect for everyone and everything I encounter.
Educate Myself.  I will do my research before traveling across the state, familiarizing myself with local regulations and community concerns, which may have changed over time. This is especially important in rural communities with limited healthcare resources.
Safety First. I will follow public health directives from government officials, including physical distancing measures. I will take all necessary steps to minimize health risks to myself and others and stay home if I'm sick.
Preserve California.  I will protect and nurture the Golden State's pristine outdoor spaces and cultural icons, by maintaining a light footprint at every turn and paying special attention to delicate ecosystems.
Embrace Community.  I will support local businesses and do my part to ensure the long-term prosperity of the places I visit.
Celebrate Culture.  I will immerse myself in California's diverse local cultures and embrace the traditions and practices I encounter.
Teach others. I will lead by example and share these practices with fellow travelers, acknowledging that we all share the responsibility to protect California.
I wasn't born here but as a longtime resident of California, I have grown to truly love this wondrous state. From the incredible people to the breathtaking vistas that rival any in the world, California is an incredibly special place that won't disappoint and as both travelers and residents, we can all do our part to keep it that way.