Last month I told you that we took our first real road trip in over year and it felt great. Once the pandemic hit, we followed all the guidelines and really hunkered down. We didn't get takeout for the first two months and rarely made trips to the grocery store. We did go to Santa Barbara last month but that was because we had to vacate our house since workers needed to conduct emergency electrical repairs. But that one trip, which took us to three different hotels, made us realize that we can travel safely.
So the fire was lit and we're starting to get the travel bug again. Travel is addictive, right? I'm sure of it. This past week, I spoke on a panel for Organic Spa Magazine's Wellness Conference. I thought it would be much more interesting if I Zoomed in from a luxurious hotel instead of my boring old house. Our friends at the Ritz-Carlton Laguna Niguel helped us to arrange a stay and the timing was perfect since they've recently undergone a remodel of the rooms.
Here are 8 reasons to stay at the Ritz-Carlton Laguna Niguel:
Location/Views
When you arrive at the hotel, you'll realize that the hotel is actually in Dana Point, not Laguna, and it's situated on top of a cliff, which means you're treated to some of the most incredible views of California's gorgeous rugged coastline. The hotel lobby feels like it's on the ground floor but it's not. It's actually on the third floor, which is the second to top floor. I love the huge screen behind the front desk, which pipes in a live feed from the hotel's webcam. It's so good that surfline.com uses it so you can see what the wave conditions are like.
Rooms
As I just mentioned, all 396 guestrooms and suites have been refurbished with what the hotel describes as 'an elevated new look, effortlessly blending the natural beauty of the ocean with refined, state-of-the-art design and residential style.' We've stayed at the property before and can say that the new rooms really do look and feel fantastic and better than before. I love that the rooms have plenty of electrical outlets and huge 55-inch, crystal clear Smart TVs. The mini-fridge in our room (suddenly an essential now that I have kids and always like to have milk on hand) was elegantly hidden behind a glass door. The new marble bathrooms are luxurious, especially the walk-in showers. Unfortunately, there was no bathtub, which was a bit tough with kids; my 20-month-old daughter had her first shower, though, and loved it! The floor wasn't slippery and there was a rubber mat, which I used, and held on to her hand most of the time.
All the resort's guestrooms and suites include private patios and balconies. If you book one of the 50 rooms on the ground floor, you'll have a personal fire pit; sitting outside by the glow of the fire, watching a glorious sunset is about as perfect as it gets. But don't forget the S'mores! They give these rooms a complimentary kit filled with four marshmallows, two Hershey bars and enough graham crackers to make enough S'mores for the family.
Dining
Our dinner at the on-property restaurant 180Blu was our first experience eating at a restaurant in over a year. 180Blu is outside, complete with plenty of heat lamps, socially distanced tables and a killer view, especially if you get one of the 5 tables along the railing. Dining at the Ritz-Carlton is obviously not going to be cheap but at least, on top of the jaw-dropping views, they serve great food and have attentive waiters. I had the Chicken a La Brasa ($31), which I've never heard of before either, but it's Peruvian and was delicious, especially the rice and beans with cilantro and pickled onions and peppers. My wife had the Ahi Tuna Tataki Salad ($21), which she loved and our kids split the kids Mac N Cheese (all kids dishes are $18). The waiter said one order would be fine and it normally is but once in a great while our son has the appetite of a lumberjack!
BTW: If you don't want to pay the steep prices of the hotel restaurants, there are plenty of places nearby to order in using a delivery app like Uber Eats, GrubHub, DoorDash, or to go in person. You can even walk to a popular deli called The Beach Hut Deli, which is two blocks away.
Technology
Most hotels are always planning to increase their technology footprint but the Ritz-Carlton Laguna Niguel really stepped it up. I don't know about you, but I never really liked flipping through hotel restaurant menus. I was a germaphobe prior to this pandemic and now, that's heightened (I suspect I'm not alone). Instead of handing out menus at their restaurant, there's a cocktail coaster on the table with a QR code. All guests have to do is take out their phones and take a photo of it. A little notification will pop up on your screen and after one tap, you're into all of the hotel's restaurants. The kid's menu isn't listed so they do hand that one to you.
But the same goes for the TV remote controls in the rooms. When you enter the room, the TV is on with your name and offers guests the option to scan the QR code so you can control the TV from your phone. (I always used to use the StayConnect app but it requires using the TV remote at least once to get to that page. This eliminates the necessity to touch the remote control at all.) And here's a somewhat related tip: I also used to use the Tunity app to listen to public TVs with my earbuds like in an airport club or hotel club.
Unfortunately, housekeeping forgot to turn off the alarm from the previous guest so of course it started blaring at 6am and woke everyone. It was a rookie mistake on my part, but I've been off my game; I should have remembered to always check the alarm clock or better yet, unplug it altogether.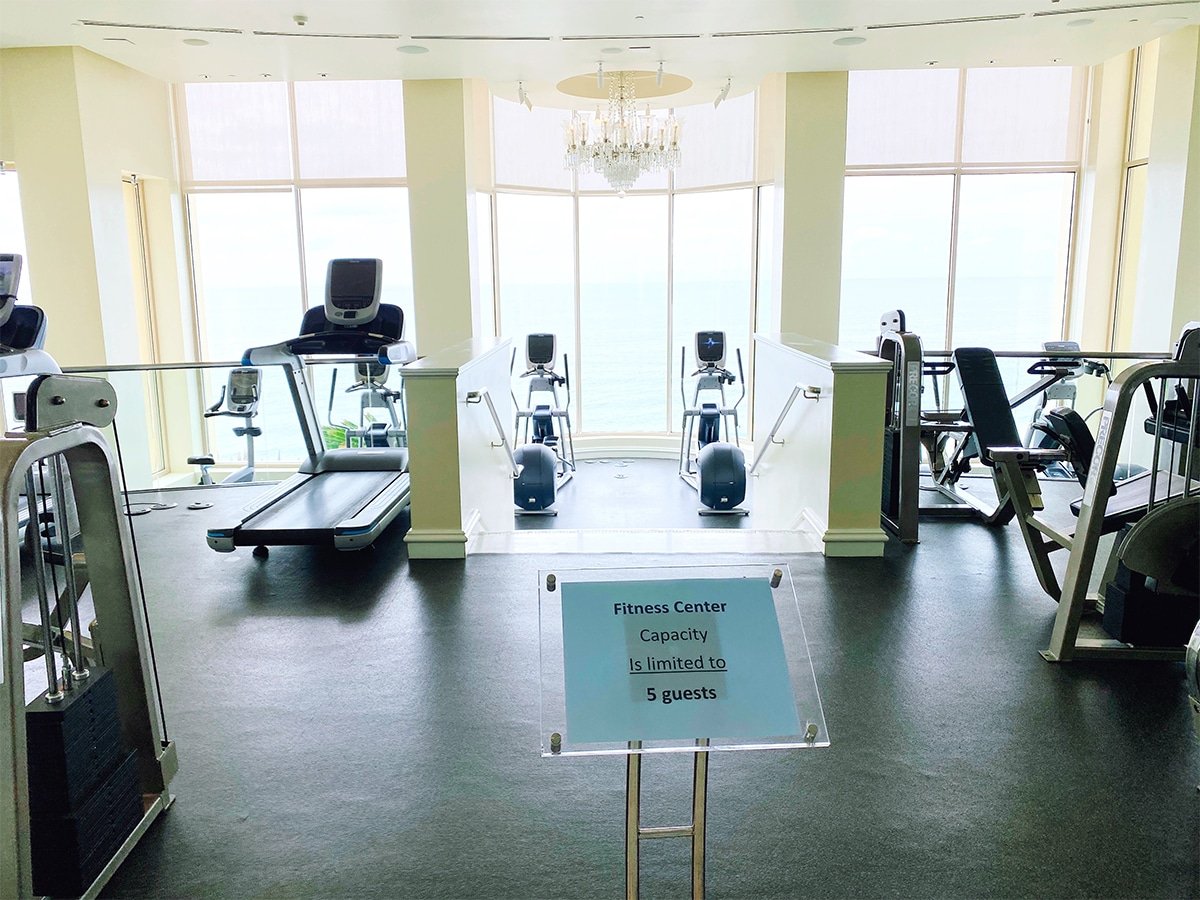 State-of-the-Art Gym
They've got a state-of-the-art gym on the property with arguably some of the best views around. During COVID-19, only five guests are permitted at a time.
Pools
The hotel has two pools but because it was chilly (low 60s) we didn't spend any time in them but other guests did and seemed to love it. The pool area is nice with lots of loungers and of course, towering palm trees surrounding.
Play Area For Kids Near Tennis and Basketball Courts
My kids haven't played on jungle gyms much this past year so this was a real treat, especially for Olivia, who loved going down the slide and swinging. The only thing it was missing was a little station for wipes like they have at the pool.
Meetings/Conventions and Weddings
I was happy to see that the hotel had also refurbished their banquet rooms and they have a beautiful long black marble staircase that leads down to them if you don't want to take the elevator. It was also great to see meetings and conventions taking place. Business is definitely picking up.
Nail Salon
I was nervous about going to a nail salon but my wife checked it out first and felt safe since everyone wears masks and they only book one person at a time in space that normally holds five guests (they have three pedicure stations and two manicure). I got a pedicure since my wife said my feet really needed it and boy, was she right. I still can't believe how good they feel now – it's almost like walking on a cloud. Susan, originally from Vietnam is amazing. She doesn't just clip your nails and cuticles, she scrubs and massages your feet and legs. The one thing that I didn't love is the vibrating chair. Though it felt good, it did tickle my lungs so I started coughing, which isn't good during COVID. I asked her to turn it off. My 'Classic Pedicure' took 45 minutes and cost $70 while Natalie's 'Beachcomber Pedicure' was $100 for 75 minutes.
Beach
One of the best parts about the hotel is that it sits atop one of Southern California's best beaches. Salt Creek Beach is beautiful and huge so there's plenty of social distancing going on. If you don't want to make the beautiful five-minute walk down, you can have a staff member drive you in an extended golf cart. We always made the walk down but called for a ride up and they never took more than six minutes. They also will provide beach chairs and umbrellas, which are included in the hotel's $50 resort fee per night (yoga/pilates classes are also included in the fee so it's not that bad if you use it all).
Overall
If you're looking for an unforgettable trip, even if you live down the road like we do, the Ritz-Carlton Laguna Niguel is definitely the place to rejuvenate and create incredible memories.
Rates begin at $619, which doesn't include $50 for valet parking.