If you have little kids, pets or if you rent your house out then these four products should interest you. They can really make a difference when it comes to keeping your place clean … and if you rent out your home, help get you five-star ratings. RELATED: How to Avoid Vacation Rental Scams
This post contains references to products from one or more of our advertisers. We may receive compensation when you click on links to those products. For an explanation of our Advertising Disclosure, visit this page.
Portable Carpet Cleaner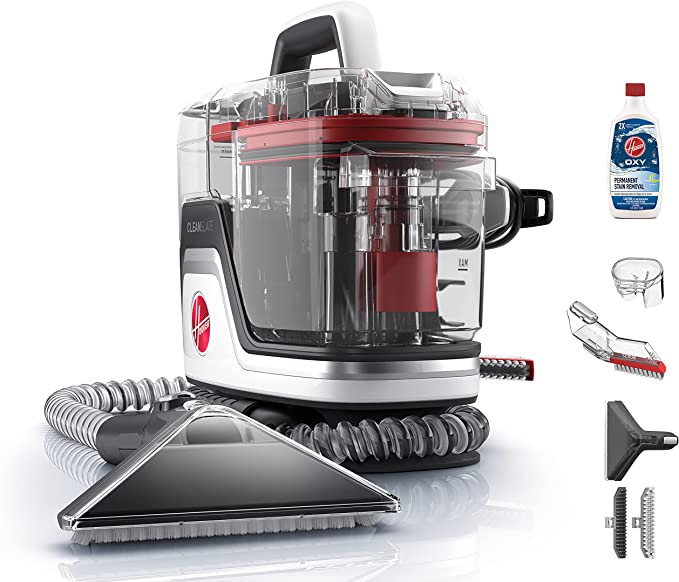 About a month ago, I was having a pillow fight with my kids just before bedtime and just after a late dinner. The next thing you know, my son starts projectile vomiting from jumping up and down on the bed. He doesn't throw up often and when he does, he usually makes it to the bathroom in time. But cleaning vomit from a carpet is no fun – so I thought. Then I remembered that Hoover had been kind enough to send me the CleanSlate Pet Carpet & Upholstery Spot Cleaner to review.
I quickly ran down to the basement and grabbed it as my wife tended to our son in the bathroom. When she came out five minutes later she said, "How did you clean up that mess so quickly and perfectly??"  I showed her the genius portable machine. But then, since I had the tank already filled up with water and a splash of the Oxy cleaner you use with it, I figured I might as well not waste it and started cleaning other stained areas throughout the house. I cleaned our fabric ottoman, microfiber couch and area rugs. It worked so well that my wife keeps asking me to clean things. She says she loves how clean things look and feel afterwards. With two little kids at home, our couch, carpets and ottoman take a beating and you can see the difference once they've been cleaned.
For $139, it's an amazing tool for anyone who wants to keep their house and furniture clean. The machine is light and has a long cord so you can easily move between areas. It also comes with a 7-inch WidePath Tool for large areas like stairs and a TightSpot Tool for crevices and tough to reach areas. Cleaning the machine is quick and easy, too. I think it's well worth the money since a professional cleaner would charge us about the same amount for a one-off and with this, you can clean anything you want, any time you want.
Multipurpose Steam Cleaning System

Black+ Dekker also sent us the Multipurpose Steam Cleaning System with 6 attachments. I thought it might be a pain to set up so I left it in its box in the basement until I couldn't take the stickiness of our kitchen floors and the dirtiness of the tiles in our shower. To my delight, setting it up took under a minute and once you fill it up with water and flip the switch, it's just 15 seconds before the steam starts coming out.
This thing worked like a dream for me and the kids. First of all, it was fun to use as it comes with different attachments, including a short shaft, which made steaming the shower feel like you're using a nail gun. I was amazed it worked so well and fast. Our shower had never been cleaner and the same goes for the floor. When I finished cleaning the kitchen floor, my six-year-old son shouted to his little sister to stay out of the kitchen because of the chemicals on the floor. In the past, I would always keep the kids off the hardwood floors right after I'd cleaned so they wouldn't get any chemicals on their feet. Well, the best part about this Black + Dekker steam cleaning system is that there are no chemicals. It's just hot water. According to their promotional materials, this "multi-purpose steam cleaning system is designed to kill up to 99.9% of germs." It's safe for use on household surfaces such as sealed granite, stone, wood, tile, and grout. It comes with two reusable and washable microfiber pads. $99.
Robot Vacuum/Mop

If you don't like vacuuming or mopping, then you will really appreciate Dreametech's L10 Pro Robot Vacuum Cleaner. The Dreame L10 Pro comes in black or white and, at the time of publication, is 28% off on Amazon. If you're into clean floors but not into the scrubbing or hiring an expensive house cleaner, then this robotic floor cleaner is a must-have for many reasons, including:
It sweeps, vacuums and mops simultaneously

It uses LIDAR based mapping and efficient route planning

It features 4,000Pa of suction: 4 suction modes

It intelligently adjusts suction power for hard floors and carpet

It packs a 270mL water tank and boasts 3 levels of water flow for mopping

It keeps going and going… with 150 minutes of max run time

You can control it by voice with Alexa

1 year warranty
It's quite remarkable that it can cleans as if it sees. It has "dual-line LiDAR navigation, real-time perception and high precision 3D technology of robotic vacuum accurately identify 100+ obstacles, to minimize bumping or entanglement and keep your automatic cleaning more hands-off. $389.
Cordless Pressure Washer
If you like to work outside, cleaning up the house, then check out this unconventional pressure washer. The WORX 20V Hydroshot Portable Power Cleaner (WG620) with 4.0Ah 20V Max lithium battery can draw water not only from a garden hose, but a bucket, 2-liter bottle with adapter, a pool and other fresh water sources such as a lake or river. Since it's cordless, you can bring it anywhere. My neighbors were so intrigued because it's not tethered to an electrical outlet nor is it dependent on gas or oil for operation.
The Hydroshot is five times more powerful than a garden hose and features five adjustable spray patterns from 0, 15, 25 and 40º plus a gentle shower for watering plants. With a maximum 320 psi it's safe to use when washing and rinsing windows, cars, trucks and vans, as well as removing sand from beach gear after a day at the beach. According to their marketing materials, some homeowners take Hydroshot into the shower to rinse walls and shower floors but our showers have handhelds.
It comes with a 20 foot filtered draw hose with an adjustable float to keep the filter from sucking up sand or mud from the bottom of lakes or rivers. The battery is compatible with more than 75 other WORX DIY and lawn and garden tools and lifestyle products for cost savings and convenience. $139.99.

KEEP READING: