If you subscribe to my free travel tip newsletter, then you know that I often warn travelers about booking low fare carriers like Allegiant, Frontier and Spirit Airlines and a handful overseas carriers unless they know all the rules and charges. I pointed this out in a recent viral post, when a Spirit Airlines gate agent actually got into a fist fight with a mother and daughter about being charged $99 at the gate to put their carry-on bag in the overhead bin. RELATED: 12 Ways to Save Money on Baggage Fees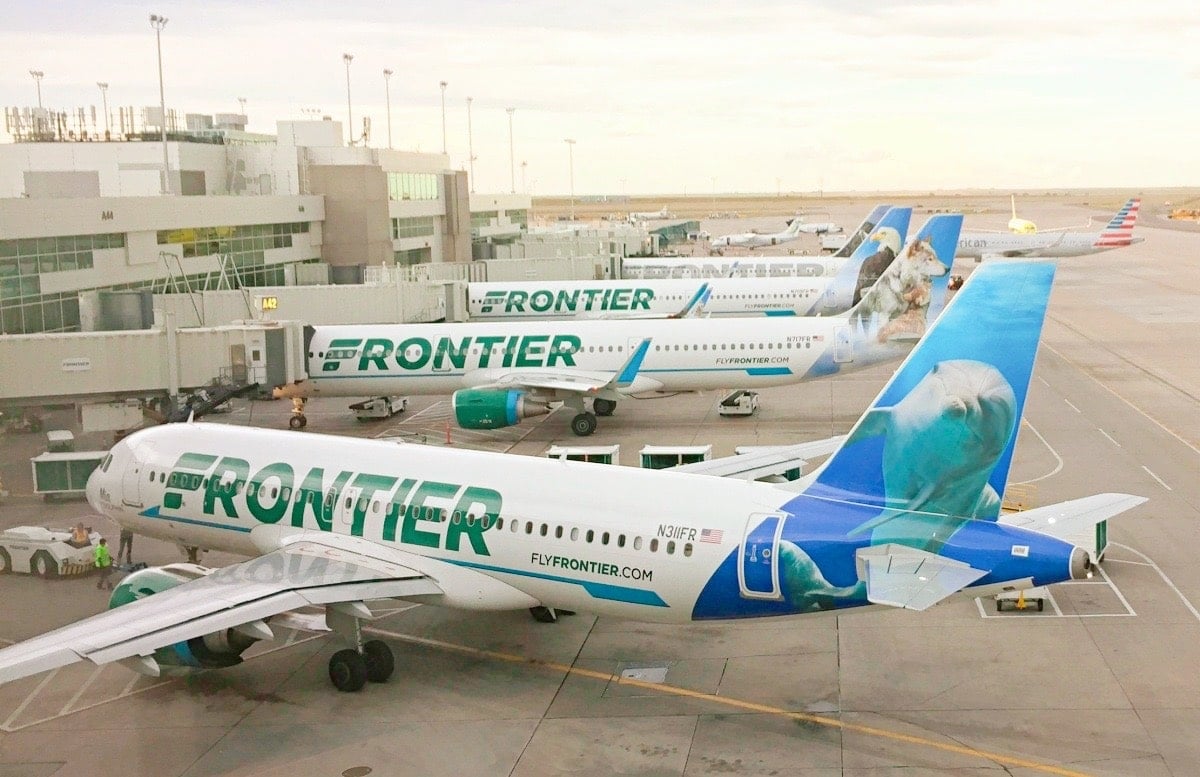 As I explained in the post, these low-fare carriers prey on vulnerable passengers by offering ridiculously cheap tickets (much lower than the legacy carriers like American, Delta and United) but then surprise passengers with 'gotcha fees' once they get to the airport.
No doubt the most infuriating of the fees is the carry-on fee. Most airlines allow passengers to carry on one checked bag and a personal item free of charge. However, low fare carriers (and now some restricted fares of the legacy airlines) don't. Many people who regularly fly these airlines will say that information regarding bags and extra fees is presented up-front at the time of booking but clearly, many people don't see or read all the details. That's why you really need to read the fine print of every ticket you buy.

For example, in the Google Flights screenshot above, I priced out a ticket from Philadelphia to Fort Lauderdale in a couple of weeks from now. As you can see, Frontier is charging almost a third less than American and Delta Air Lines.
Google Flights shows no baggage but not everyone is booking via Google Flights or even pays attention to what that symbol means. Many consumers probably thinks it means no checked bag, which is why they are stunned at the airport or gate when it's basically too late to do anything about it.
You can imagine how upset you would be if you had already made your travel arrangements, took time off of work, hired house/pet sitters, paid for transportation to/from airport, bought non-refundable lodging or a cruise reservation, then show up to the airport only to get bamboozled. No wonder these carriers lead the way in complaints (and probably brawls)

Frontier's carry-on bag prices for the PHL-FLL flight used in my example are as follows (see screenshot above).
During Booking on Web / Mobile App: $53
Before Check-In on Web / Mobile App: $56
At Check-In on Web / Mobile App: $64
At Airport Kiosk or Ticket Counter: $79
At Airport Boarding Gate: $99
Customer Support Agent: $79
Keep in mind that this is just for carry-on bags. The prices are similar for the first checked bag. Meanwhile, most airlines charge $35 for a checked bag and pretty much everyone knows the trick to save on checked baggage is to get through security and gate check it for free.
Well, don't even think about trying to do that with the low-fare carriers. We just learned this week why passengers aren't able to bypass their system.
Frontier's gate agents are paid for each bag they make passengers either check or put in the overhead bin. The viral video that exposed their dirty little secret was posted by Dyana Villa, who showed her carry on-bag fit into their luggage sizer but the agent insisted it didn't because she had to lightly push it down. See the video below.
@dyanavilla.tv Please make this go viral! The frontier front desk and supervisor were not cooperating with their guest. PLEASE HELP US GET THIS TO FRONTIER! #frontier #viral #flying #flight #carryon #personalitem #frontierairlines ♬ original sound – .
Dyana uploaded a follow-up video (see below), in which she claimed to have been messaged by a tired Frontier Airlines flight attendant who said gate agents are eligible for a $10 bonus for every passenger bag they force the $100 fee on … and then the passengers take it out on the poor gate agents and flight attendants.

If that's not infuriating, I don't know what is. On top of that, Frontier confirmed that it's true! According to The Independent, "A Frontier spokesperson told The Independent that the fee is "simply an incentive for our airport customer service agents to help ensure compliance with our policies and that all customers are treated equally."
I know a Spirit Airlines passenger had a similar experience when the gate agent tried to charge him $89 to check his skateboard because it wouldn't fit in the sizer. He broke the board in half so it fit, the gate agent wasn't happy but the flight attendant onboard saw what happened and rewarded him with free snacks. See the video below. Tony Hawk even commented on it, saying that he had a similar incident at London's Heathrow security. And speaking of which, check out these airport security hacks, including for LHR too.
View this post on Instagram
Have you been bamboozled by an airline because they were trying to force a ridiculous fee on you? If yes, leave the details in the comments.
KEEP READING
Love to save money when you travel? Sign up to Johnny Jet's free newsletter and check out these popular posts: 10 ways to find cheap flights and 12 ways to save money on baggage fees. Follow Johnny Jet on MSN, Facebook, Instagram, Pinterest, and YouTube for all of my travel posts.