On a family trip to San Diego, my family and I stayed at a really cool hotel called Town and Country (read our hotel review here). One of the highlights of the hotel is that it has an incredible pool complex. There are three pools and a 150-foot-long water slide.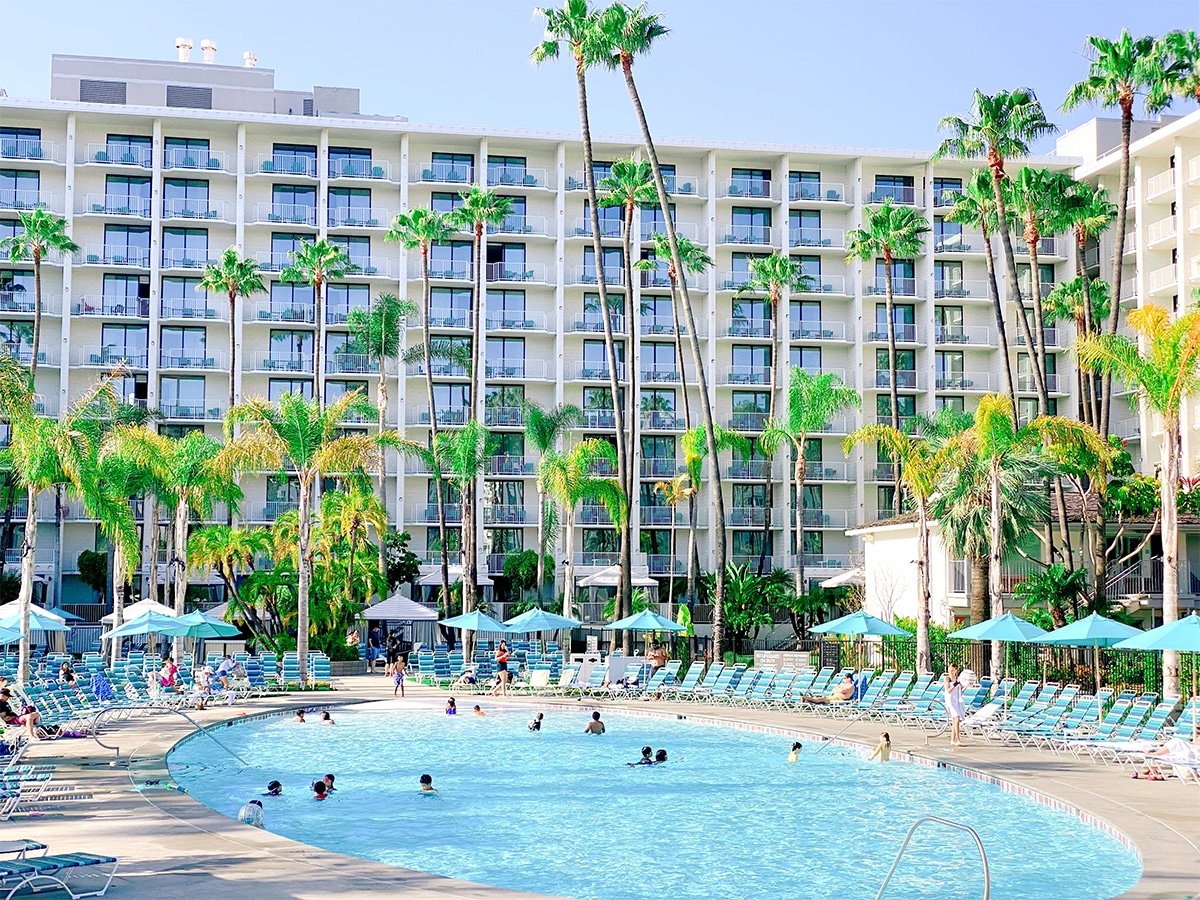 There was a heatwave while we were there, with record temperatures, so the pool was busy. We got talking to a friendly couple with a baby and after making the typical small talk, I asked how they liked the hotel.
The husband replied that they weren't actually staying at the hotel and that they live nearby. He went on to say that they can't pool hop like they used to in the old days, thanks to surveillance cameras and key cards to get into hotel pool areas. So, he did some research and found that he could buy a day pass for a number of resorts using ResortPass. Since Town and Country has such a great pool area, that's where they decided to go.
I asked how much it cost and he said it was $20 per person for the day. Children are $10 and infants are free.
My first thought was that it wasn't great for the hotel to be selling day passes but the more I thought about it, the more I realized that if I ran a hotel and it was a slow day, it's not a bad way to make some extra revenue. Especially if the customers buy food and drinks from the hotel's restaurants, which the couple we were talking to did. Looking back, now I know why the pool gate had a sign saying, "No outside food or drink."
So, I looked into ResortPass and learned how they operate and it's a great option for travelers, especially if you're on a long layover and need a place to hang out for a while, but also for locals who want to experience really nice hotel pools without paying the hefty nightly rate. Is it wrong for hotels to do this? It's not my job to debate it so here's what you need to know:
ResortPass is based in nearby Carlsbad, California and they partner with hotels all around the United States as well as Aruba, Belize, Canada, Caribbean, Costa Rica, Hong Kong and Mexico. Customers can get not only Day Passes to pools but passes for day beds, spas and cabanas as well.
For example, Town and Country offers Day Passes for $20, Day Beds for $50 (2 people) and Cabanas (4 people) for $125. And there are no blackout dates. They list everything you need to know like pool, food and beverage hours, number of pools, hot tubs, if there's a parking fee, height requirements for special rides like the waterslide (only open Friday – Sunday) and if you can bring floats.
After you purchase a ResortPass, it's similar to booking a hotel room as you check-in at the front desk with your confirmation number and they'll give you the access keys. Prices and availability vary per date.
The service is very popular because I just looked at the comments on Town and Country's dedicated page and there are over a dozen just for the month of April and it's only the 12th.
So if you want to enjoy a great hotel pool without booking a room or jumping the fence, then check out ResortPass.com.
KEEP READING:
–10 Best Budget-Friendly Vacation Destinations For 2023
–10 Best Budget-Friendly Destinations in the United States For 2023
–8 Affordable Beach Vacations to Take in 2023
–Free Things to Do in 10 Canadian Cities If You're Traveling on a Budget in 2023
–The 10 Most Instagrammable Tourist Attractions in California
Want more travel news, tips and deals? Sign up to Johnny Jet's free newsletter and check out these popular posts: The Travel Gadget Flight Attendants Never Leave Home Without and 12 Ways to Save Money on Baggage Fees. Follow Johnny Jet on MSN, Facebook, Instagram, Pinterest, and YouTube for all of my travel posts.