Thanks to Town and Country for hosting our stay so we could provide this detailed review of our experience.
Living in Southern California, there's so much to explore right in our own backyard. When it was announced that the new Sesame Place theme park was opening, my wife and I knew that we wanted to take our kids to check it out. We made a mini getaway of it and spent a few nights at Town and Country in San Diego, a family-friendly resort that was a pleasant surprise for a number of reasons. Here are 14 reasons to stay there: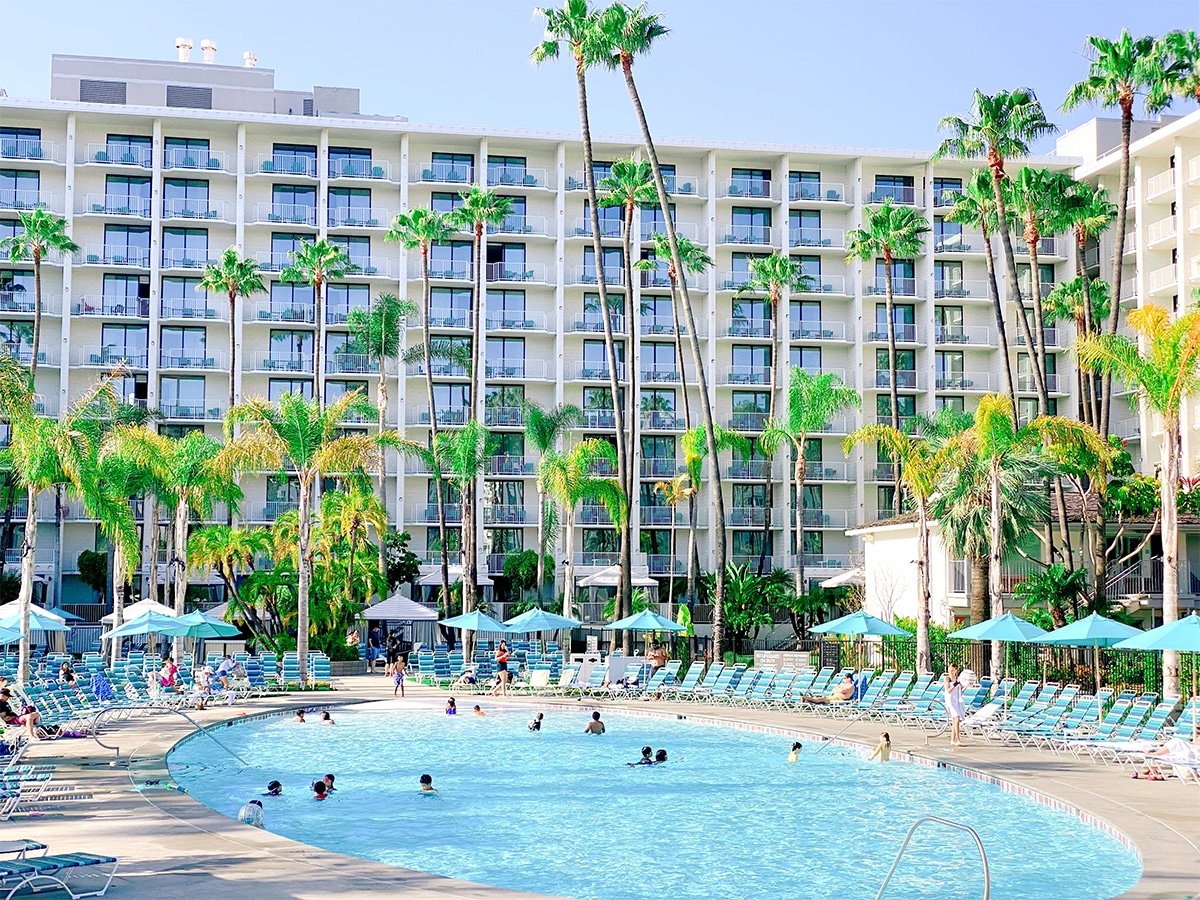 1. History
Town and Country has quite the history. It was originally built in 1953 as a meager 40-room roadside lodge and the hotel helped set the stage for the evolution of the whole Mission Valley. Town and Country was the first hotel in Hotel Circle and the first convention center in San Diego. According to their website: "Throughout its history, the resort has played significant role hosting thousands of important civic events, as well as mayors, heads of state, presidential candidates, cabinet members and industry leaders." In 1973, Mohammed Ali trained for his 1973 fight with Ken Norton at Town and Country and he signed autographs and posed for pictures for three hours before the big fight.
2. Design
The hotel may be old but in 2020, it underwent a multi-million dollar renovation including all guestrooms, meeting spaces and the introduction of a host of new resort amenities. While everything looks and feels new, the design still pays homage to its roots through the mid-century modern design found throughout the property. In many ways, it's a total throwback but with a modern twist. In the lobby alone, you'll find lots of cool spaces like these:
This fun nook inside the hotel lobby feels like something straight off the set of Mad Men.
Another cool vignette in the lobby. A nice spot to hang out, have a drink, read a book or people watch.
The indoor/outdoor lobby bar is a unique and extremely inviting feature.
3. Rooms
If you're in the main building, which holds the majority of the hotel's 675 rooms, the exterior cement walls might not give off the greatest first impression but remember, this is an older property with a lot of history. But when you open the door to your room, you'll be pleasantly surprised. Our room was clean, bright and inviting with touches of the mid-century modern design seen throughout the rest of the hotel.
One thing I particularly liked is that there are no indoor hallways (which is great during a pandemic!) Every room in the 10-story building has two views. When you open your hotel room door from the inside, you'll see the back of the hotel (parking lot, the transit center and a mall across the street; more on those later). The view from the balcony, which every room has, is of the picturesque pools and lobby.
Ask my wife what her favorite part of the room was and she'll tell you the wood floors. Wood floors feel more hygienic and are better for allergy sufferers like our son. The room also had a large white board and marker where you could write down notes, which was a unique feature I've never seen in a hotel room before.
The other feature my wife really appreciated was the wet bar, a small countertop with a sink where she could wash dishes (she always travels with some plastic bowls and cutlery for the kids to have cereal in the morning when we travel).
4. Pools
You can tell Town and Country invested heavily in their three pools, Twister, the 4-story (150 foot long) waterslide and the private cabanas. We were there during the off-season and midweek so it wasn't very crowded and the waterslide wasn't open. Good to know: The hotel sells day passes to the pool area during off-peak hours for as low as $20 via ResortPass.
My kids loved the pools because the main pool has a large shallow area where they could safely play and there's a small splash pad-type pool that's only one foot deep all the way around, which was a big hit with them as well.
5. Outdoor spaces
Town and Country has lots of great outdoor spaces (again, a real plus during a pandemic!) where guests can sit outside to work or read, eat or grab a drink. Relax on a daybed, around the firepit or one of the many comfy lounge chairs and enjoy food and drink from the on-site restaurants.
6. Monkey Bar Happy Hour
Speaking of food … the weather was so hot while we were there that spending an afternoon and evening by the pool and eating dinner poolside was one of the highlights. The kids didn't want to leave the pool so we figured why drag them away?
The server working the pool was very friendly. After I ordered a grilled cheese with fries ($10), a kids pizza ($10 on the right) and a Beyond Burger ($17) for my wife, I asked her if the poolside pizza was from Arlo, the hotel restaurant that's popular with locals. She said no, and recommended that I order the pizza from Arlo because they have a wood fire oven. Unfortunately, Arlo wasn't opening for another 30 minutes, so they suggested I order a pizza from Monkey Bar, the hotel lobby bar. What I didn't realize at the time was that it was Happy Hour so I got a delicious margherita pizza for $9 instead of $16. Happy Hour is between 4pm and 6pm every weekday.
7. Arlo
We didn't eat dinner at the hotel's main restaurant but hope to next time as I just learned it won Best Hotel Restaurant, according to San Diego Magazine readers. Arlo describes itself as: A celebration of San Diego lifestyle and culinary culture serving scratch-made dishes using fresh local ingredients and a mosaic of flavors from around the world. The fun, fresh, quirky environment is highlighted by a sweeping outdoor patio, swaying palm trees and a giant outdoor fireplace. Rounding out the experience is an inventive cocktail program, extensive wine list and local craft beer on tap. ARLO also offers plenty of indoor and outdoor seating, supporting proper social distancing, and free parking.
8. Live Music and Friday S'mores Night
There's also live music several times a week between 4pm and 7pm. We didn't experience the S'mores night but hope to next time. See a full list of events at Town and Country here.
9. MRKT
There's a mall across the street from the hotel, which I'll talk more about shortly. But there's no grocery store there so if you need one, you'll have to go to either Trader Joe's (0.9 miles) or Target (1.2 miles) and I didn't feel like walking or jumping in the car to do either. So I went to the hotel's market, MRKT, near the front desk, which makes the wood fire pizzas I mentioned above.
MRKT has basic things like coffee, pastries, drinks and, most importantly, milk for my kids.
10. Family- and Pet-Friendly
As you can tell by the shallow pools mentioned above, this resort is very family-friendly. It's also pet-friendly! They have a great outdoor space for dogs to run around. They're not allowed in the pool area or restaurants but I did see multiple guests with dogs. According to the Town and Country website, which has a long list of rules, the pet fee is $75 per stay, one dog per room and the dog can't exceed 30 pounds.
11. Location
When I found out the hotel was located in Hotel Circle, I admit, I wasn't too excited. I soon realized I was wrong because it turns out, Hotel Circle and, in particular, Town and Country, is a great location for touring around. The hotel is right off of the freeway so it's easy on and easy off. It's just four miles to the beaches, to downtown and to SeaWorld. And any store you can think of, from AMC movie theatres to Trader Joe's, Target and Zara, are within 1.5 miles. Most are under half a mile because there's a high-end mall next door.
12. Fashion Valley Mall
As I mentioned above, Town and Country is right next to the Fashion Valley Mall so if you need food, clothing or souvenirs, it's just a short walk. There are over 200 stores, including international fashion houses like Versace, Cartier, Gucci, Louis Vuitton, Prada, Rolex, Saint Laurent and Salvatore Ferragamo. You'll also find leading department stores like Bloomingdale's, Macy's, Neiman Marcus and Nordstrom. As for restaurants, there's Tommy Bahama Marlin Bar, Silverlake Ramen, North Italia, Blanco Tacos + Tequila, True Food Kitchen, Counter Custom Burgers and So Sushi. As well as popular chains like The Cheesecake Factory, P.F. Chang's China Bistro and California Pizza Kitchen. And this is just to name a few. We dined al fresco at Blanco Tacos one night and it was excellent.
13. Transit Center
Between the hotel and the mall is the Fashion Valley Transit Center. It's an elevated station on the Green Line of the San Diego trolley system. Below the station platform is a large bus plaza served by several MTS bus routes so you can get all around without driving or ordering a rideshare like Uber.
14. Convention Center
What might have been the most surprising thing is that the hotel has a convention center next to it, with 295,050 square feet of meeting and event space. And there was a convention taking place the last couple of days we were there and attendees came from all over the world. I was worried that the lone elevator (the far one was out of service) was going to create a real bottleneck but fortunately, that wasn't the case. Town and Country would be a great hotel to attend a conference at since almost everything but the beach is within walking distance and the resort's pool complex is an amazing place to unwind after a day of meetings.

Good to Know
There's no valet parking and they do charge $25 a night for self-parking. There's also a $22.50 per accommodation, per night resort fee which includes: Pool access; Fitness center access; Internet access. Room rates begin at $189.