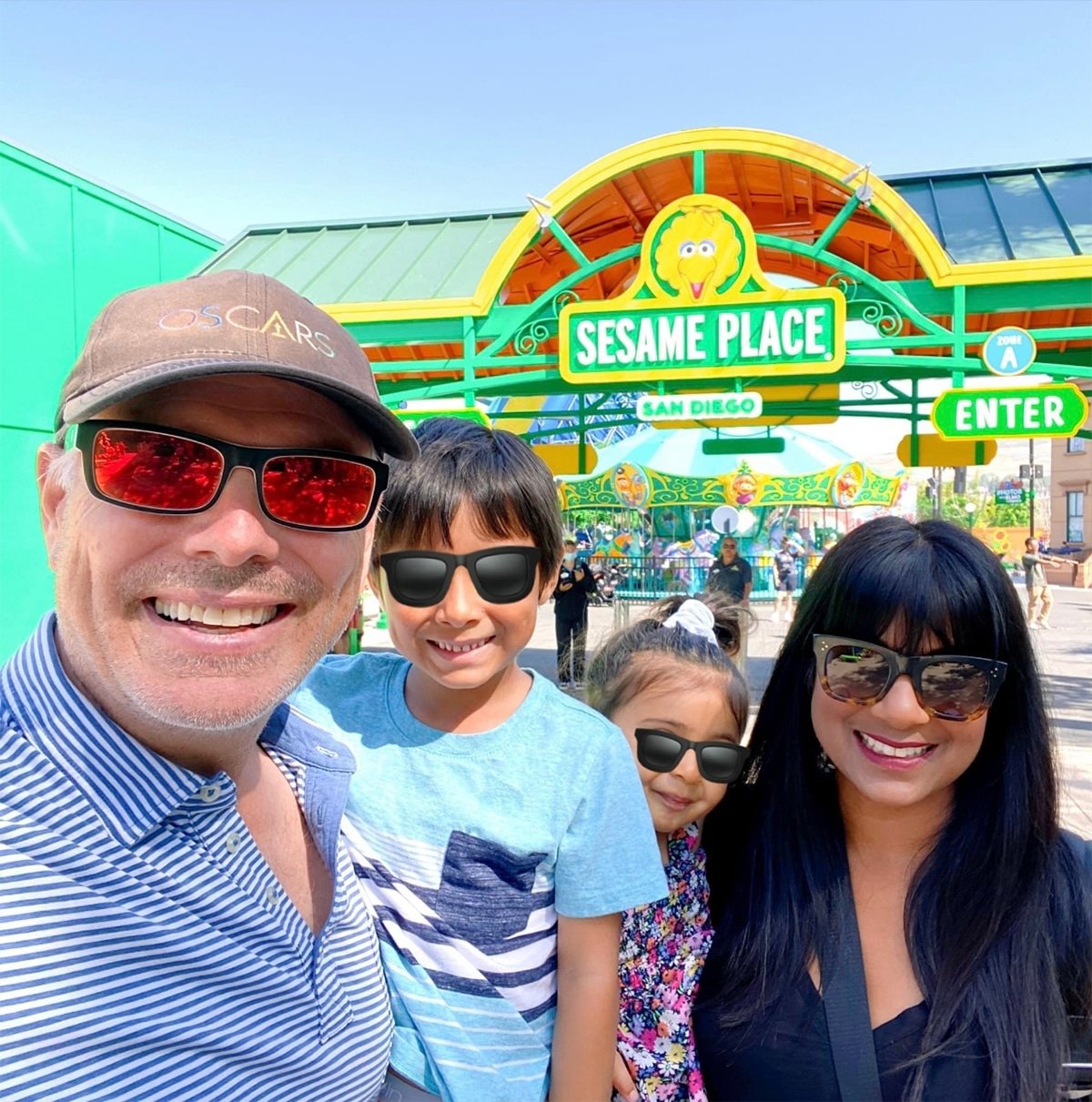 My family and I recently traveled to San Diego to check out the newly opened Sesame Place. We spent two nights at Town and Country, which is a great family-friendly, affordable hotel.
The hotel was near the freeway, which made getting to and from Sesame Place easy. When I first looked up the location of the park, I was surprised to find that it was much further than I had thought. But with easy freeway access, it was a quick and pleasant drive and we got there in no time.
Sesame Place San Diego is a Certified Autism Center (here's more on what that means via USA Today) and is a 17-acre theme park in Chula Vista, really close to the Mexican border. In fact, my Mapless app said it was just a 3.5 mile walk to Tijuana. The 19-mile drive took 24 minutes and it was so quick on the way back to the hotel that my son said, "We're back to the hotel already? I thought it was going to be a long drive!" And this coming from a kid who usually asks, "Are we there yet?" within100 yards of pulling out of a parking lot.
Since Sesame Place is inland, it's much warmer than along the coast, so dress in layers. It might be chilly in the morning but it will heat up nicely to be in a water park. TIP: Bring lots of sunscreen, hats, hand sanitizer and SPF lip balm. The sun is intense and there's not a lot of shade – especially at the outdoor show, so make sure you're prepared.
Sesame Place San Diego just opened up recently (March 22, 2022) and it's the second one of its kind. The original is in Bucks County, Pennsylvania, which opened in 1980.
The property where Sesame Place San Diego is now has a long history. It first opened in 1997 as White Water Canyon. Then in 2012, it became Aquatica San Diego. Both were water parks I'd never heard of. So what Sea World Parks and Entertainment did by partnering with the nonprofit Sesame Street was brilliant. They announced the plans in 2017 and it was supposed to open in 2021 but, like so many projects, was delayed a bit due to the pandemic.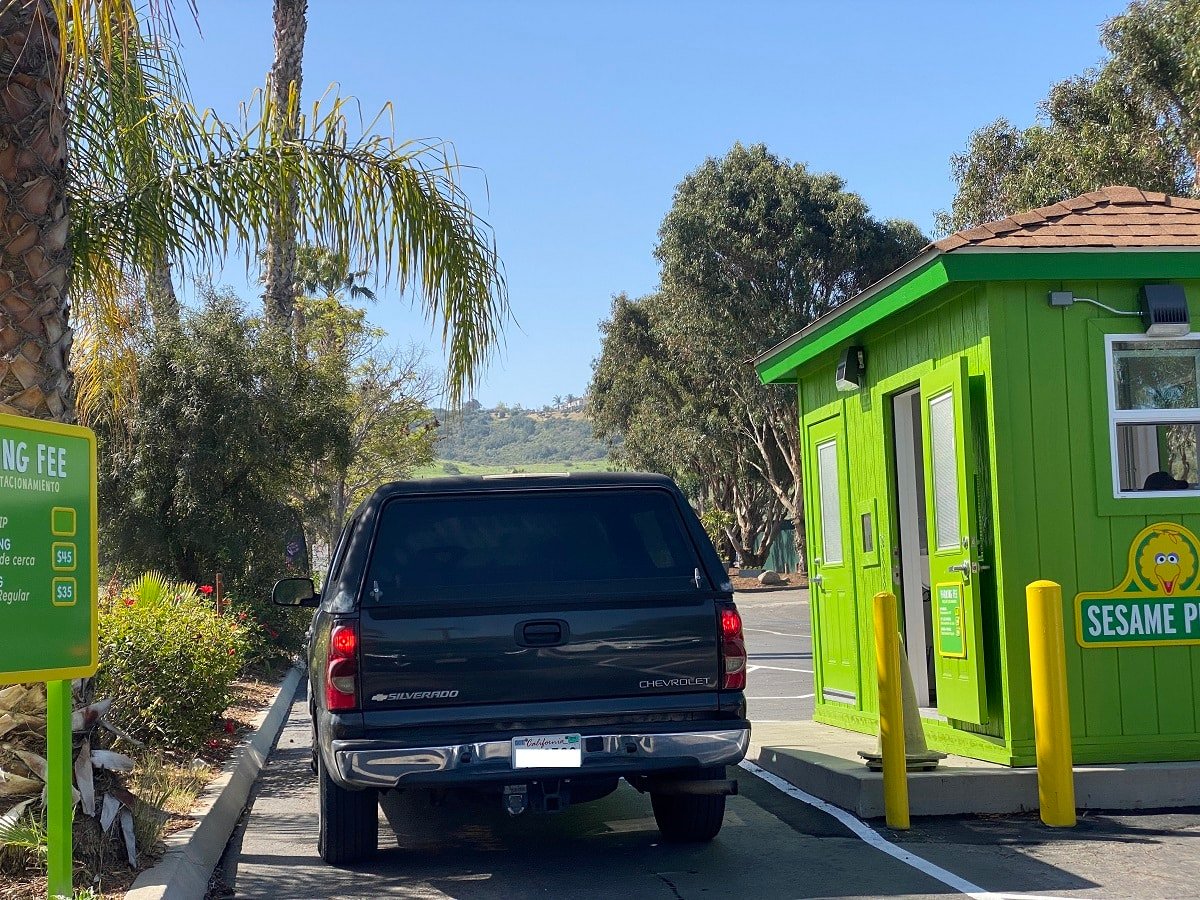 Parking
Upon arrival, you could feel the excitement in the air … not just from our kids who were bouncing up and down, but from other families as we pulled into the parking lot. FYI: Parking costs $35 for regular or $45 for VIP, which is a bit closer to the entrance and is covered from the hot sun.
Park Hours
We went mid-week. It was a bit busy and only open because it was Spring Break. Currently, they're open on weekends only but will open seven days a week for the summer on May 28 through September 5. Hours are 10am-6pm. Here's the Sesame Place San Diego calendar.
Entrance Fees
The walk-up entrance fee is $79.99 but you can probably find deals, especially if you buy a season's pass. Full disclosure: The park gave us complimentary admission.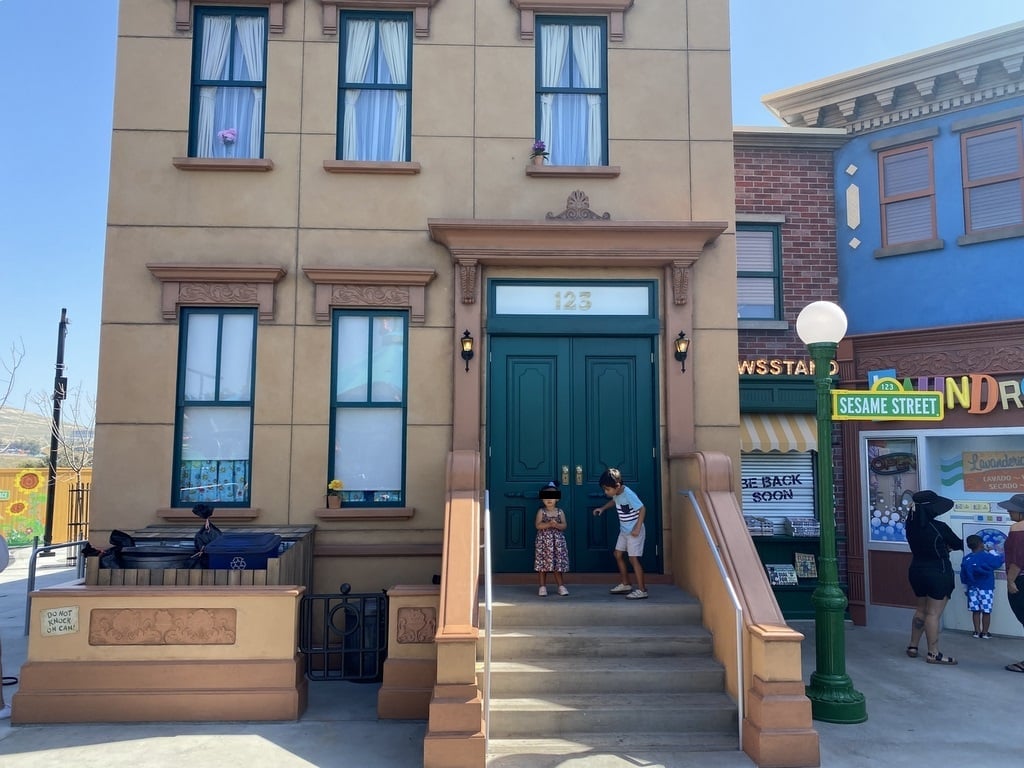 Sesame Street
Right at the entrance is a replica of Sesame Street, complete with the well-known green door and front stoop of 123 Sesame Street, the fictional New York City brownstone where much of the show takes place. It's a cool way to start your Sesame Place experience, as the kids immediately feel like they're right in the heart of the action.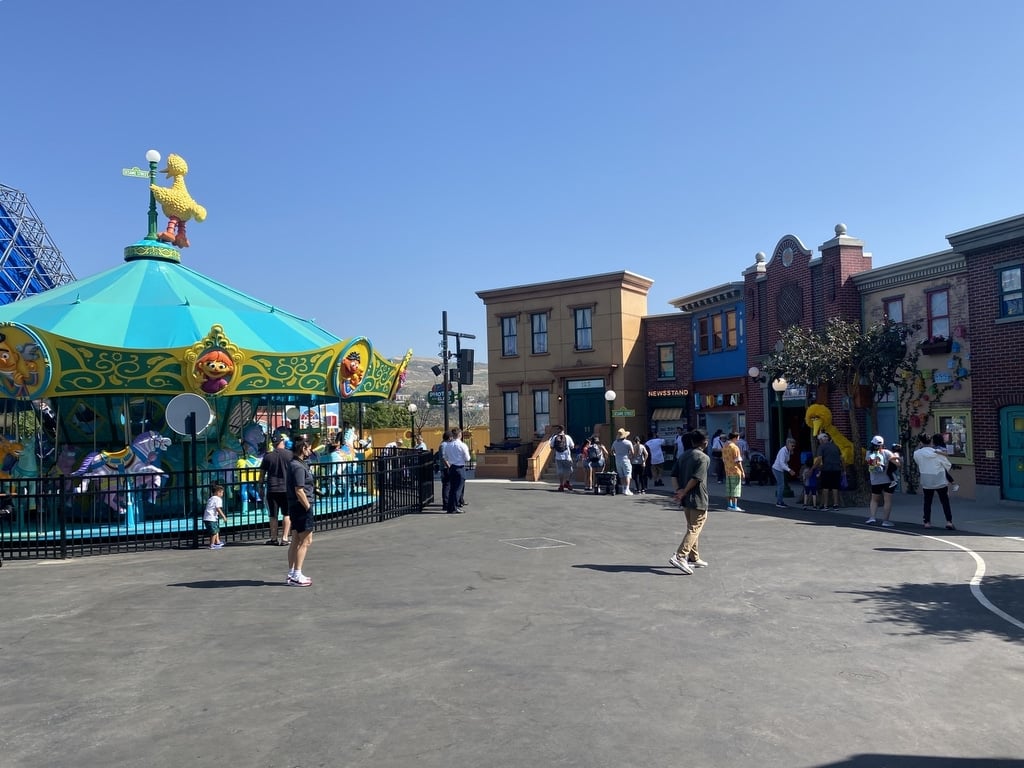 Sunny Day Carousel
Right at the entrance is the Sunny Day Carousel, which is the first of eight new dry rides. It was also my 2.5 year old daughter's favorite, especially since she was too small to go on many of the rides. We rode this a few times and she was thrilled.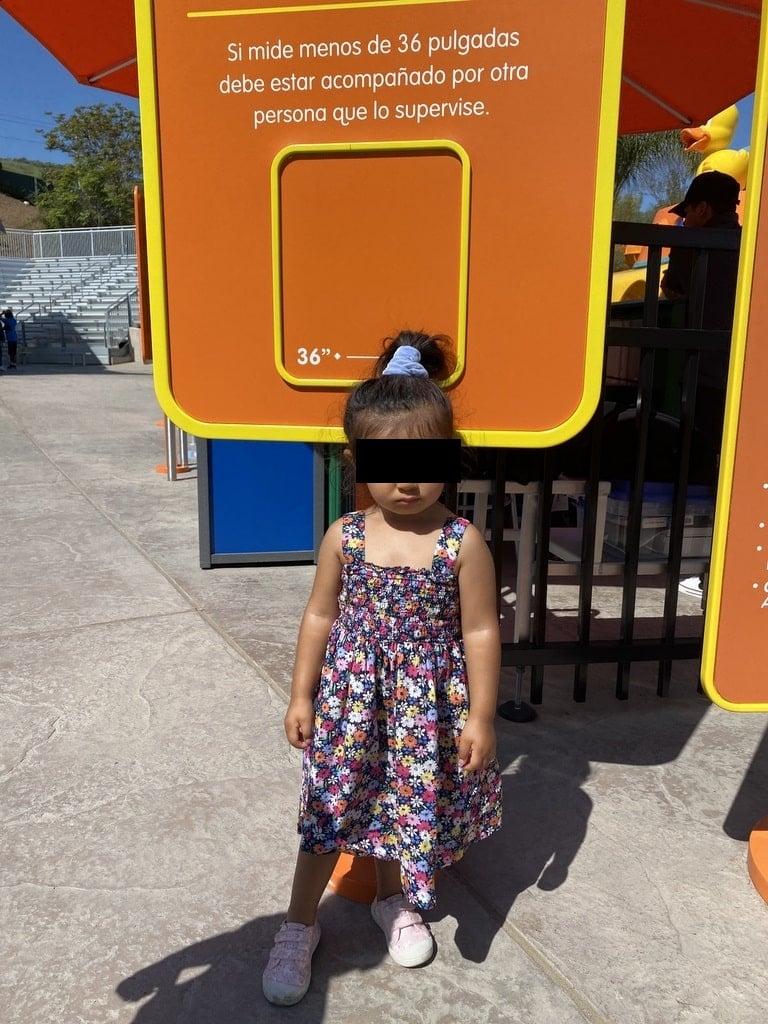 Height Requirements
Many rides require kids to be 36 inches tall to ride and Olivia is only about 35 inches. For the bigger kid rides or to ride alone on the others, you need to be 48" or taller.
Sesame Place Dry Rides
There are lots of other dry rides and we were able to take a spin on most of them. Here's a closer look at each one: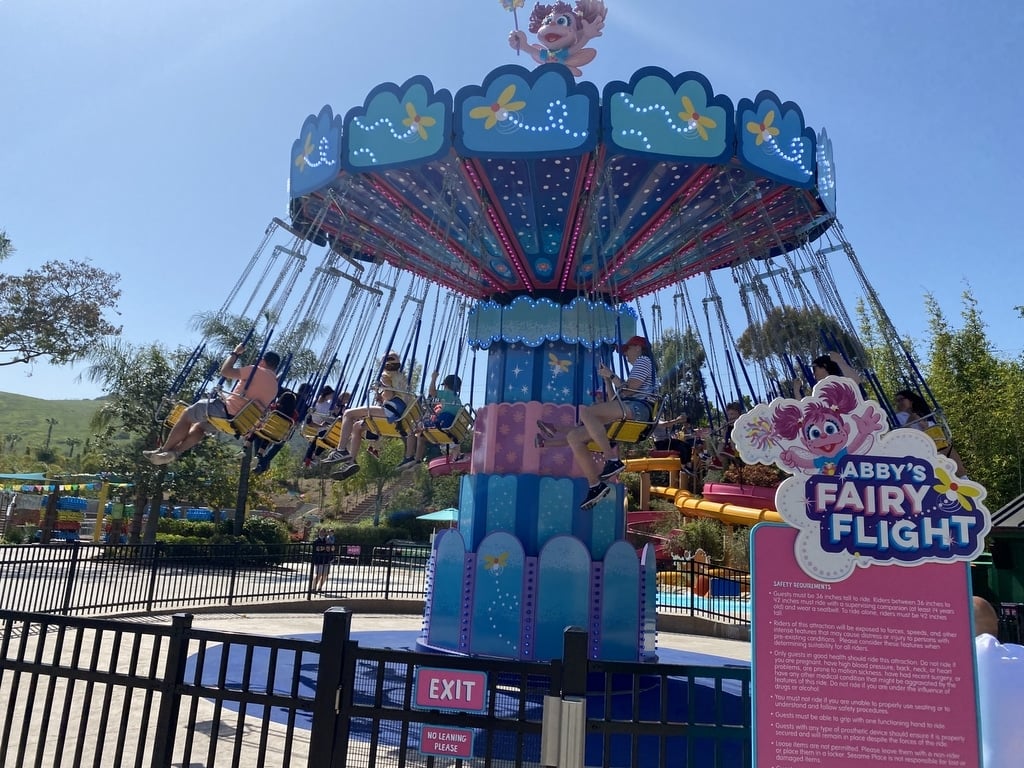 Abby's Fairy Flight
Abby's Fairy Flight is a chair swing ride and has a 36-inch height requirement. Olivia was too small but Jack loved it so much that he and Natalie went on it twice.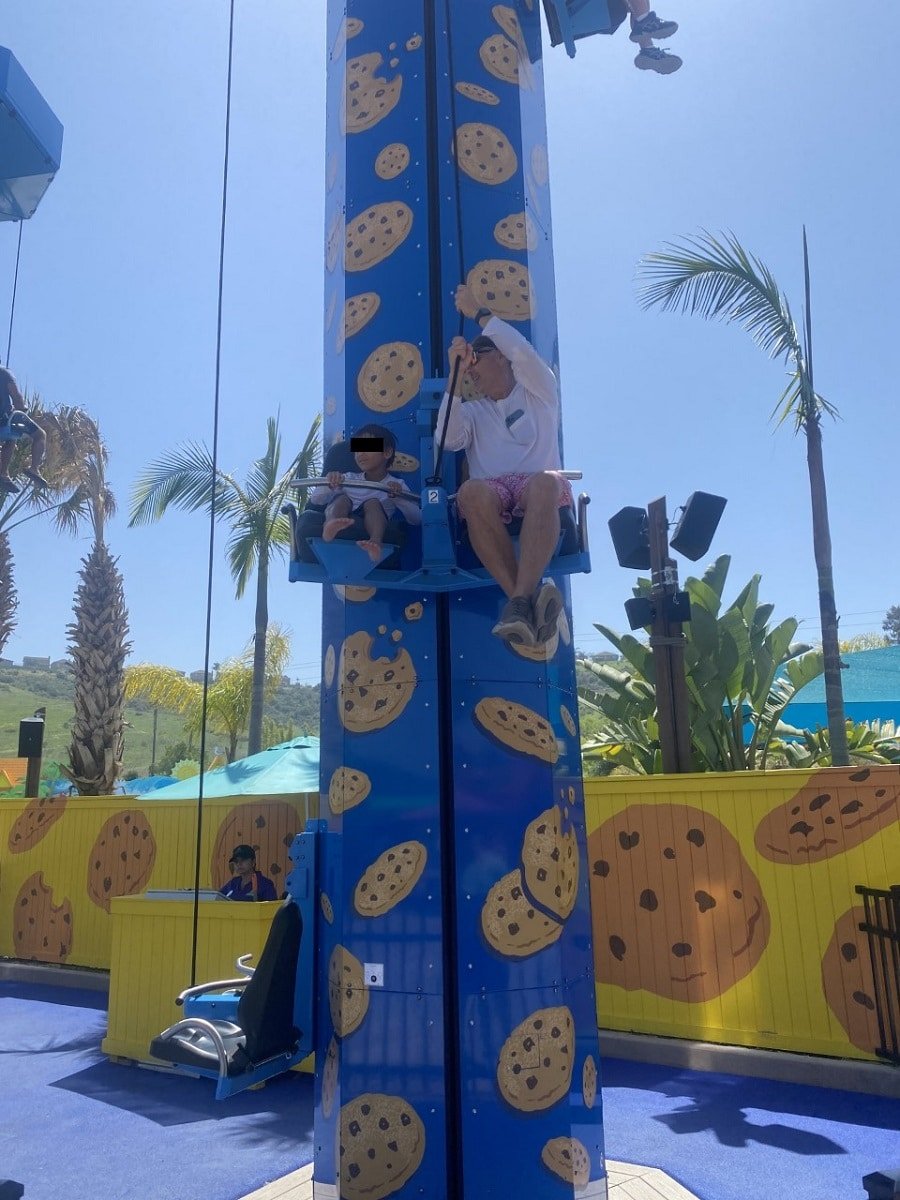 Cookie Climb
Cookie Climb has two mini climbing towers. One is Cookie Monster-themed and the other is Cookie-themed. There's a 36-inch height requirement but pulling on the rope to climb doesn't take much strength.
Elmo's Rockin' Rockets
Elmo's Rockin' Rockets is an aerial-carousel ride. Elmo's rocket ships fly up, down, and all around on an imaginary trip through outer space.
Rosita's Harmony Hills
Rosita's Harmony Hills is a play area where kids can climb, crawl and create beautiful music as they play on the rolling green hillsides of Rosita's Harmony Hills.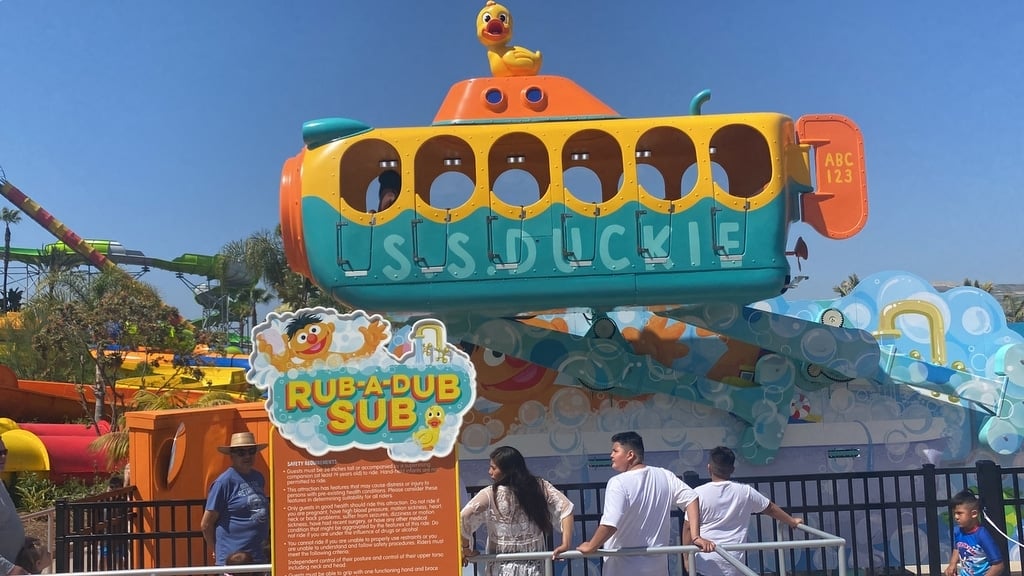 Rub-A-Dub Sub
Rub-A-Dub Sub is a fun submarine ride for kids 36 inches or taller.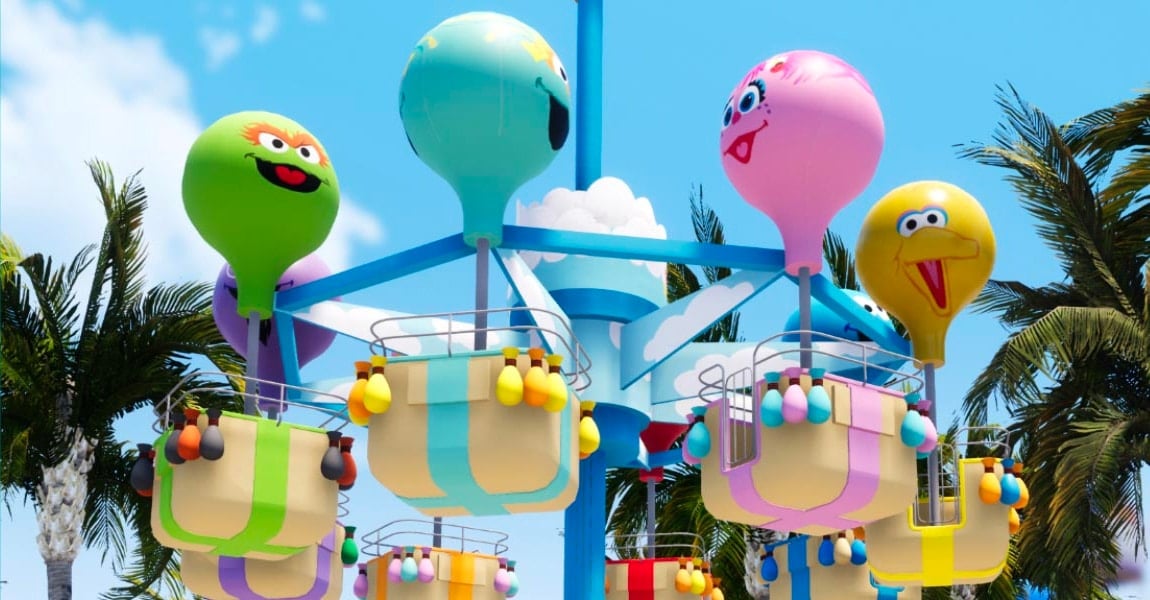 Sesame Street Soar and Spin
Sesame Street Soar and Spin is a samba balloon ride but was not open the day we were there. It has a 36-inch requirement.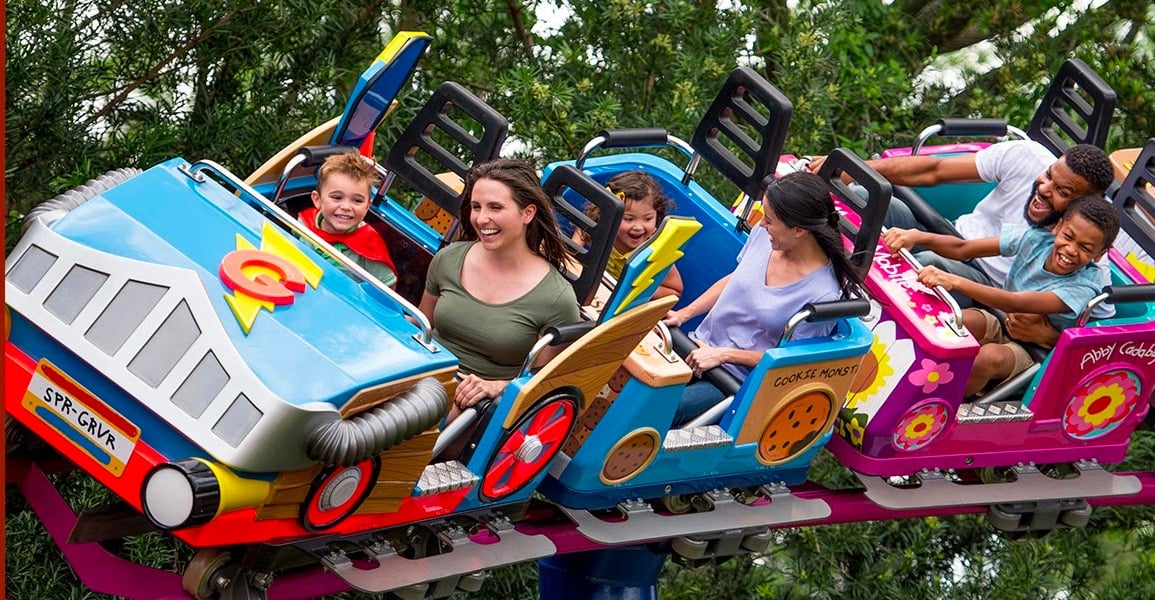 Super Grover's Box Car Derby
Super Grover's Box Car Derby is a Super Grover-themed junior coaster. According to Wikipedia: "It is a clone of Air Grover at Busch Gardens Tampa Bay."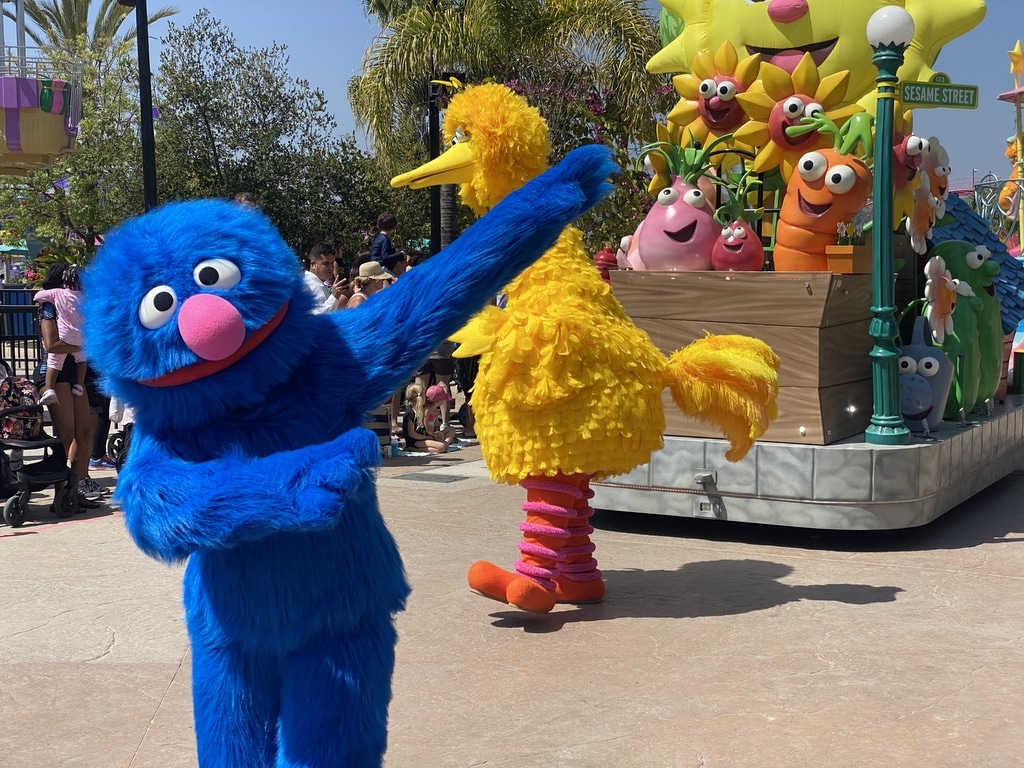 Sesame Street Party Parade
There's a cute parade that goes down Main Street and you won't want to miss it. We watched the first half but then took advantage of the second half to go on more rides. There were no lines because everyone was watching the parade so it was the perfect time. The parade features familiar contemporary tunes as well as favorite Sesame Street characters, plus performers jumping rope, hula hooping, and moving and grooving with their Sesame Street friends. While you'll see the characters walking around the park throughout the day, our kids loved seeing all of the characters all at once in the parade.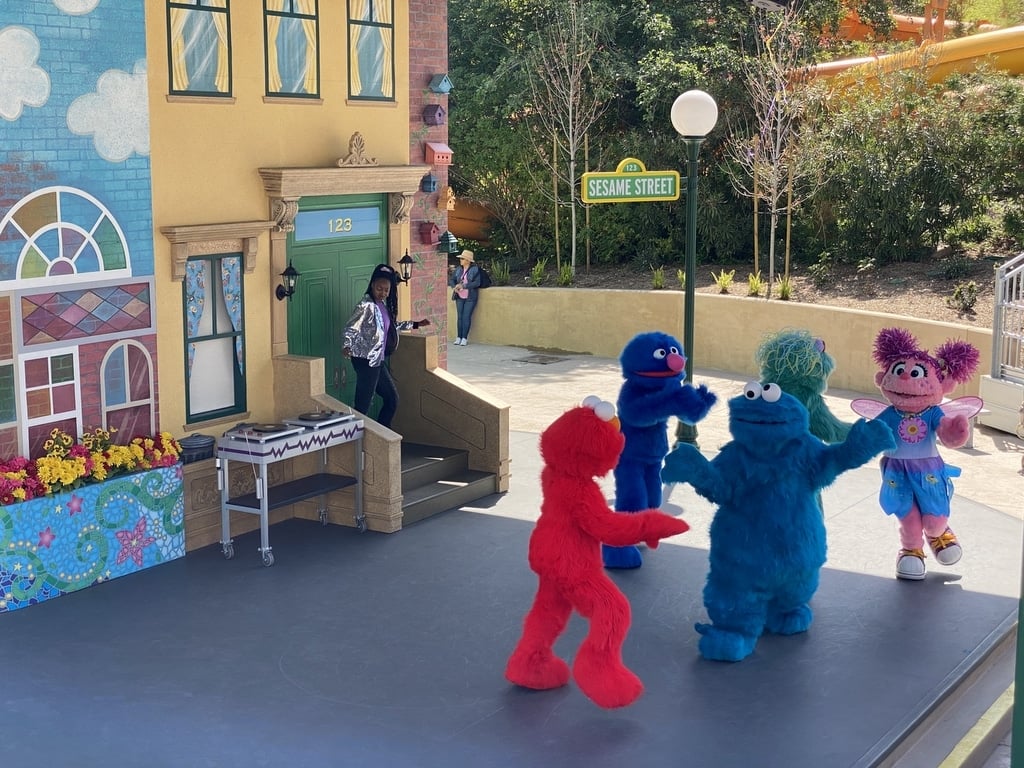 Sesame Street Theater
Elmo, Abby, Grover, Rosita, and Cookie Monster put on a show to welcome visitors to Sesame Street. The show takes place daily in the Sesame Street Theater.
The show is a lot of fun and high energy and the kids loved it! We didn't get a seat in the shade (and later in the day, there might not even be any shade), so it was too hot to sit for the duration of the show. But the kids loved what they saw. If there's shade, I recommend getting a seat early. Regardless, the show is a ton of fun for kids and adults alike and you'll be tapping your toes along to the tunes before you know it.
Sesame Place Water Park
If your child is not yet 36 inches tall, the rides will be limited but Olivia LOVED the carousel and all the water activities. We spent far more time at the wave pool than I anticipated but the kids just couldn't get enough of it. And on a hot day, it's perfect.
Kids under 42 inches have to wear a life preserver provided by the park. They have hundreds and in all different sizes. There are also lots of spacious and clean changing rooms, which is so great to help make things easier for parents.
Sesame Place Wet Rides
Now for the wet rides! I think this is the big attraction since there really is something for all ages:
Tip: Definitely bring bathing suits, towels and change of clothes. Here are the quick drying towels my wife uses for beach and park visits. And don't forget to throw some wet bags into your bag so you can store all those wet clothes without getting all your other stuff wet.
Bert's Topsy Turvy Tunnels
Bert's Topsy Turvy Tunnels has three 60-foot-tall double-inner-tube slides. There are two enclosed and one open-air.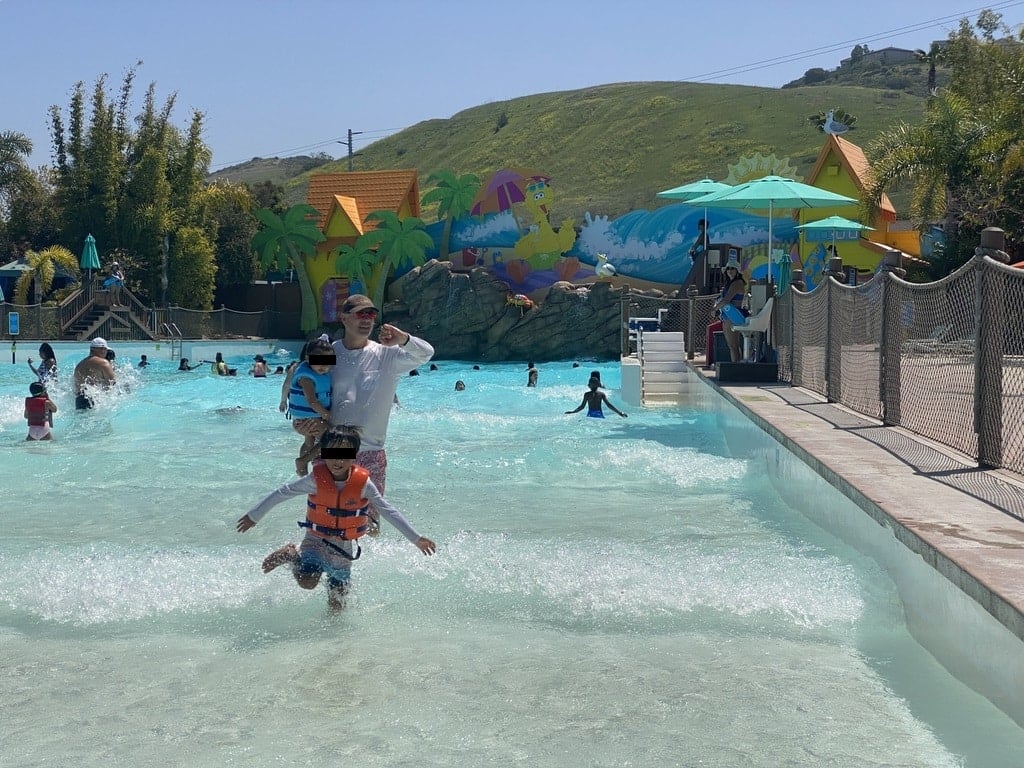 Big Bird's Beach
Big Bird's Beach is a 550,000-gallon wave pool. It is located near a freshwater turtle exhibit.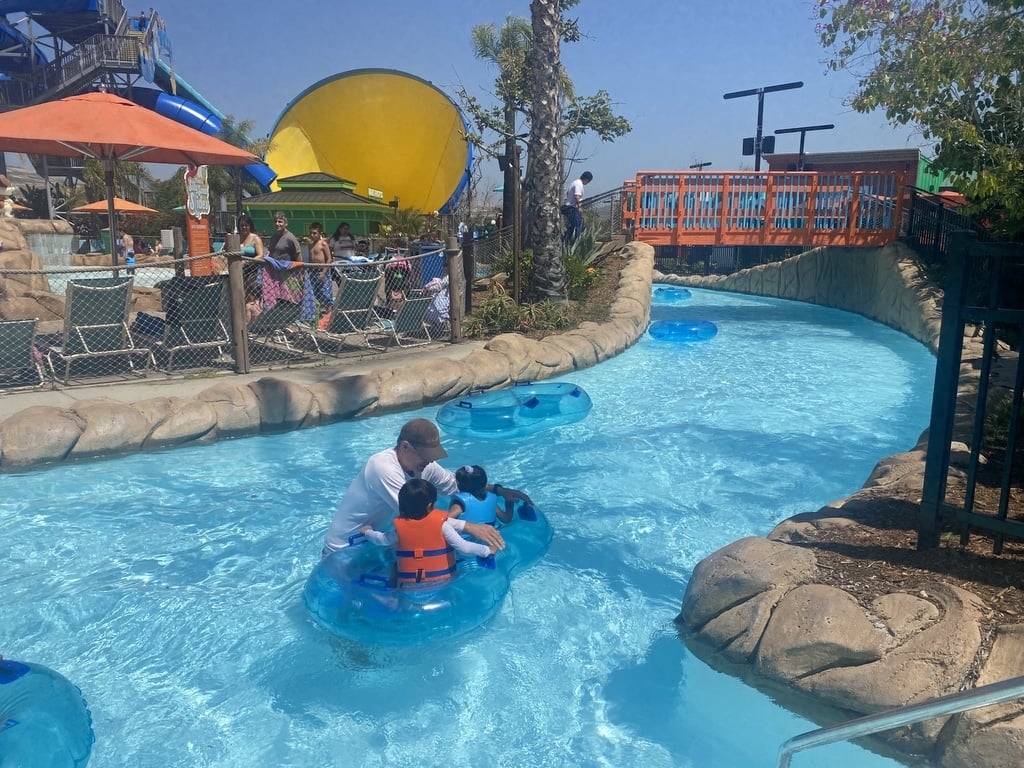 Big Bird's Rambling River
Big Bird's Rambling River is a 1250-foot-long lazy river that passes by a Caribbean flamingo exhibit.
Cookie's Monster Mixer
Cookie's Monster Mixer is a 75-foot-tall ProSlide Tornado water slide that drops 60 feet (23 m) into a large six-story funnel.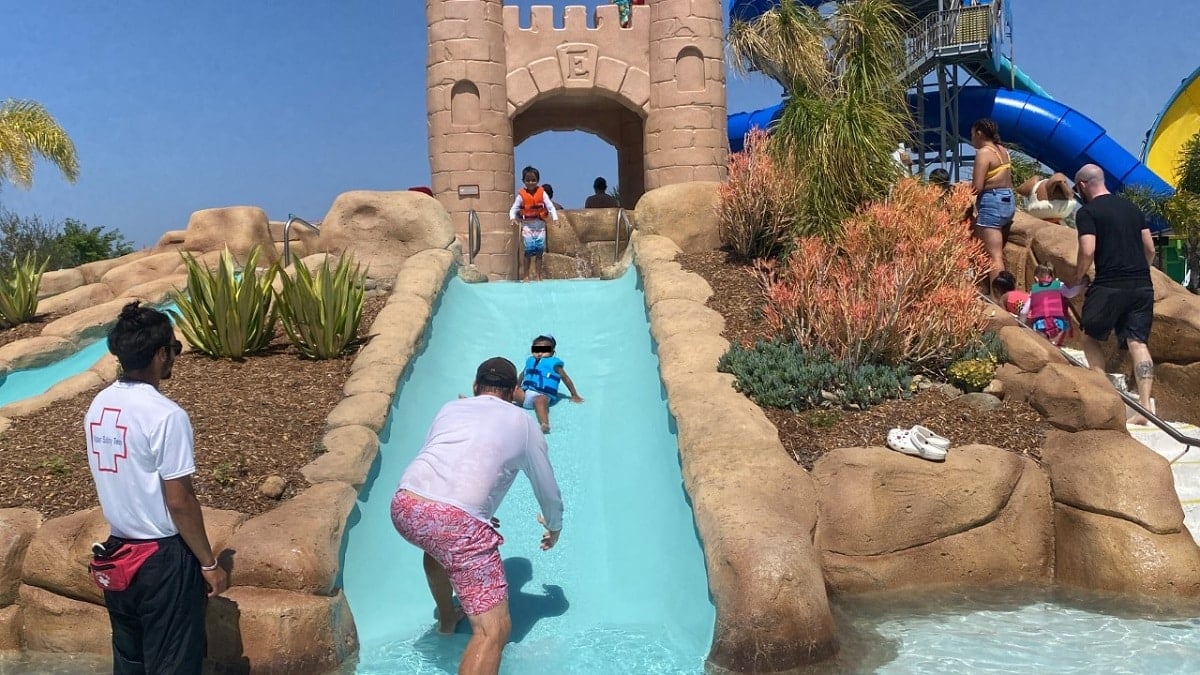 Elmo's Silly Sand Slides
Elmo's Silly Sand Slides is a play area designed for children featuring smaller slides.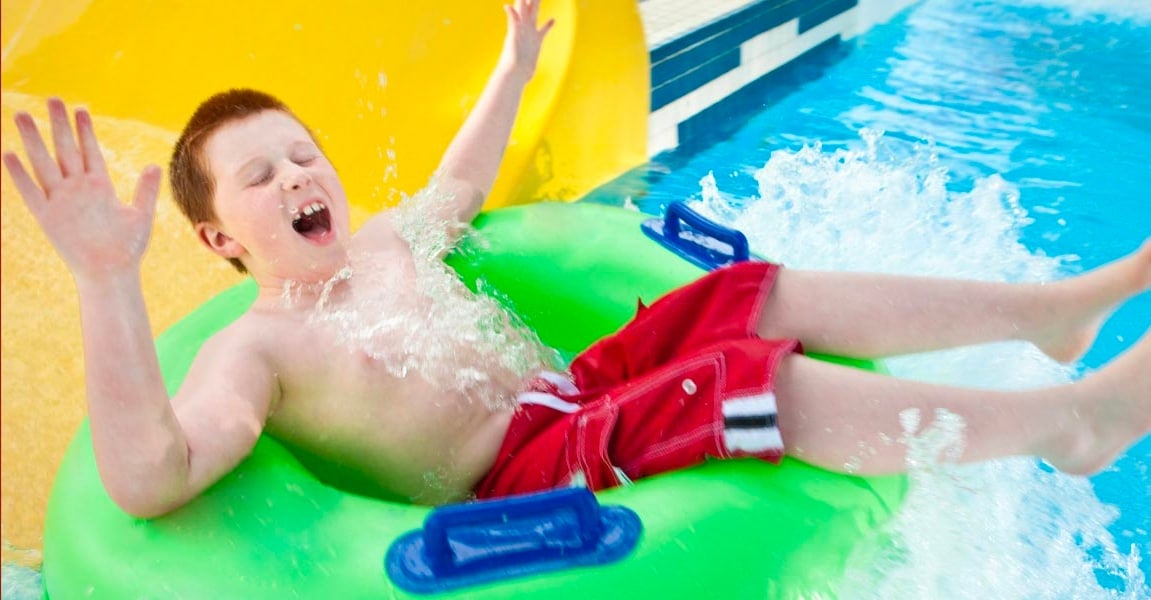 Ernie's Twisty Turny Tunnels
Ernie's Twisty Turny Tunnels are three 60-foot-tall, single-inner-tube slides. Two are enclosed and one is open-air.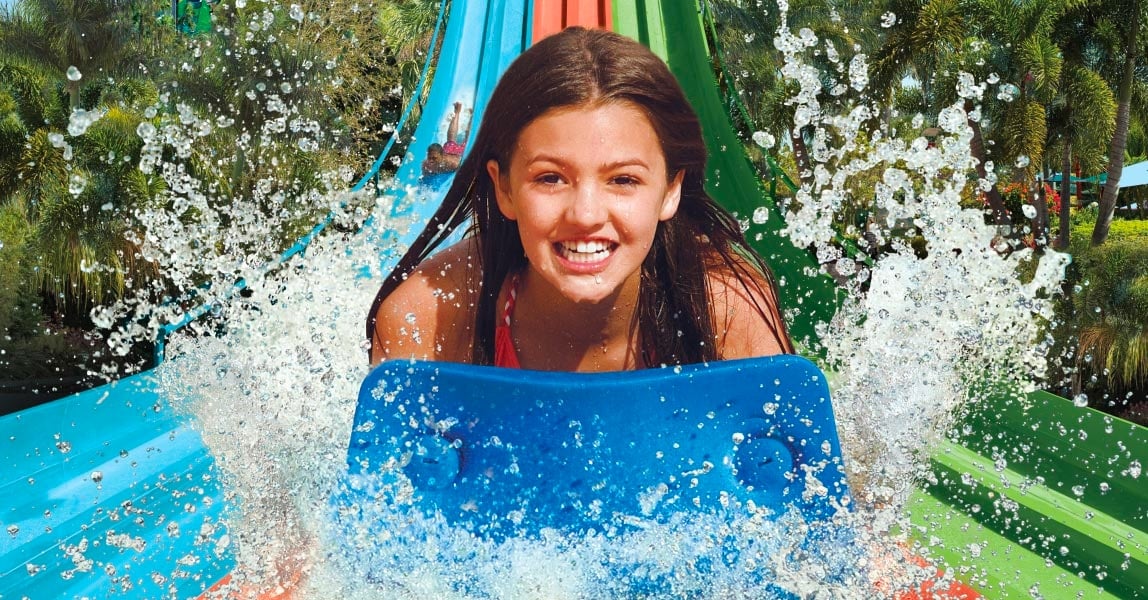 Honker Dinger Dash
Honker Dinger Dash is a six-lane racing slide with guests sliding down on mats through enclosed and open sections.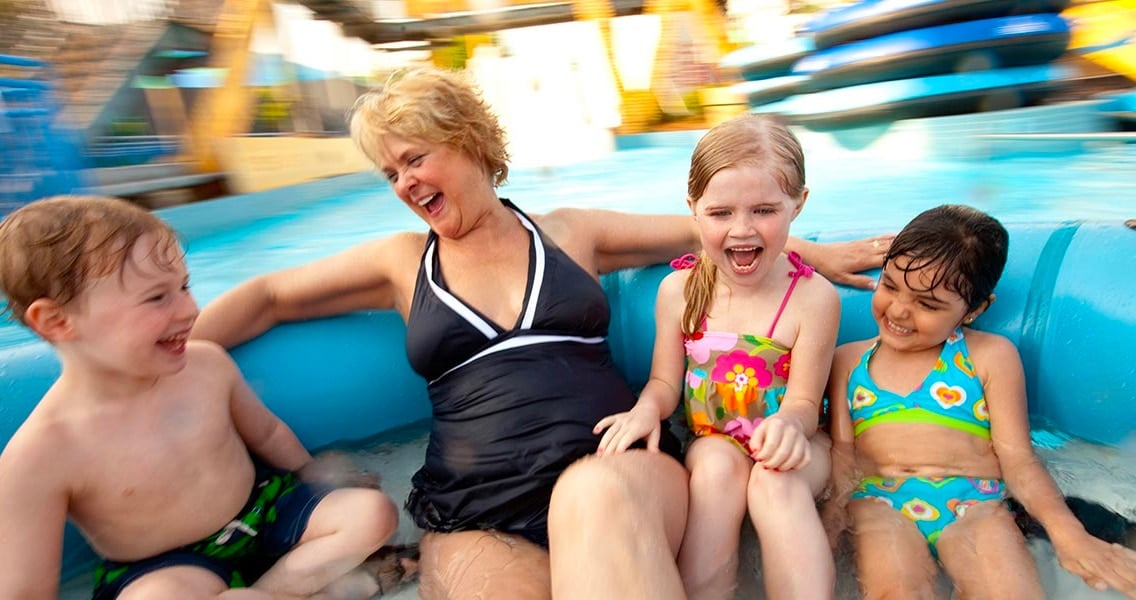 Oscar's Rotten Rafts
Oscar's Rotten Rafts is a 78-foot-tall four-person family raft water slide.
Snuffy's Spaghetti Slides
Snuffy's Spaghetti Slides are a 60-foot-tall water slide complex with six body slides, four enclosed and two open air.
The Count's Splash Castle
The Count's Splash Castle is a four-story interactive area that features two slides, hoses, jets, geysers, and a 500-gallon bucket that unloads every five minutes.
Since my kids are little, we only did four of these wet rides. We spent most of our time in Big Bird's Beach and we floated around Big Bird's Rambling River, which circles Elmo's Silly Sand Slides and The Count's Splash Castle. My kids loved all four and they wore life jackets for all. The water is chilly but it's refreshing on hot days like the day we were there. They didn't want to leave any of the water activities.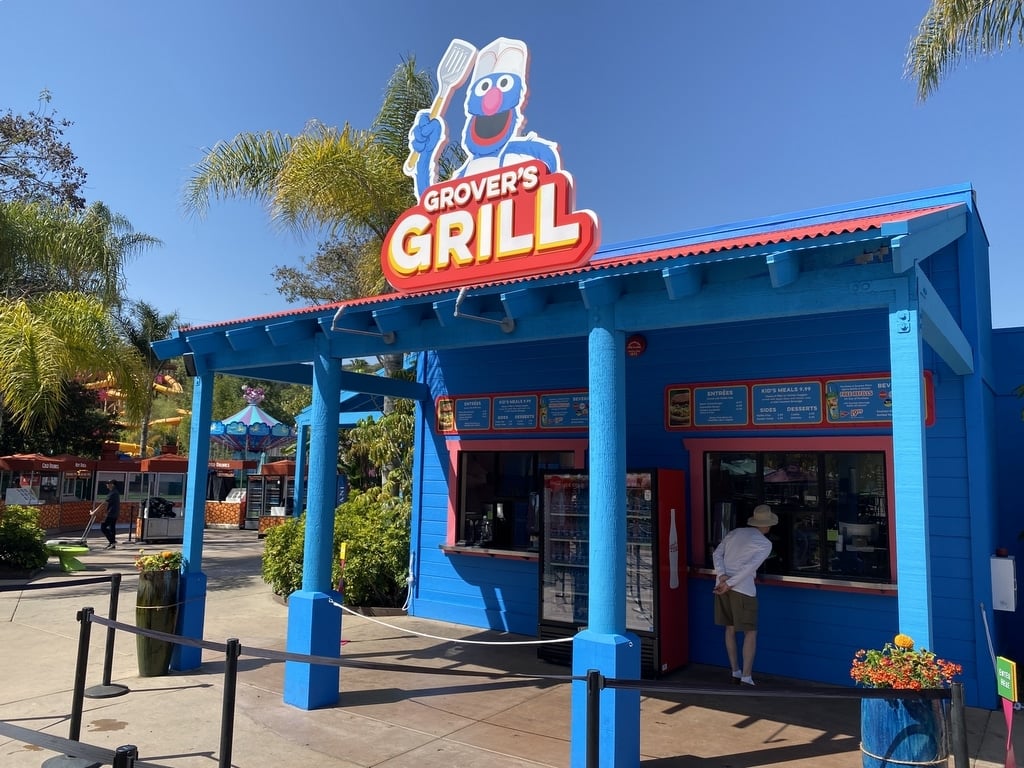 Food options
Good to know: There's no outside food or drink allowed.
Grover's Grill
Enjoy grab-and-go grilled favorites including hamburgers, cheeseburgers, Impossible burgers and chicken sandwiches (grilled or fried).
Monster Snacks
Mosey over to Monster Snacks to munch on a variety of snack options including chicken tenders, waffle fries, garden salads, PB&J sandwiches, & sweet treats.
Telly's Trattoria
Take a break at Telly's Trattoria to enjoy a savory slice of cheese or pepperoni pizza or healthy garden salad.
Eats On The Street
Serving a variety of snacks including popcorn, hot dogs, packaged snacks, fountain and bottled beverages
Oscar's Grouchy Grub
Serving a variety of tasty wraps, healthy salad options, fresh fruit cups and parfaits.
Wavepool Market
Cruise by for some cool wraps, healthy salads and snacks and refreshing drinks at this poolside market.
Sesame Place Overall
So many parents of young kids that we spoke to hadn't yet heard of this new park and they're all excited to take their children. We had so much fun and found that the park was a really good size, big with lots to do but still manageable and not overwhelming. The kids were thrilled from start to end and even now, weeks since we visited, they're still talking about it and asking to go back, a sure sign that it was a big success!
Nearby Hotels