A big thanks to Wailea Beach Resort for hosting our stay so we could provide this detailed review of our experience.

We're back from our amazing 12-day trip to Hawaii where we visited two of the Hawaiian islands: Maui and Oahu. Below are my trip reports to date, which are chock-full of tips. RELATED: How to Be a Responsible Traveler to Maui Nui
–Trip Report: Los Angeles to Maui on American Airlines
–Car Rental Tips I Learned from Renting a Car in Maui
–Hotel Review: Ka'anapali Beach Hotel in Maui
After checking out of the Ka'anapali Beach Hotel on Sunday around 11am, my family and I drove 31 miles (51 minutes) south to the Wailea Beach Resort.

The drive is scenic and fortunately, we didn't encounter any traffic. If we had left around 4pm during the week, I think things would have been quite different; rush hour in Maui can be surprisingly no fun, even if it is Maui.
What I witnessed on our drive to Kaanapali had me worried about our return trip since traffic towards the airport was seriously worse than L.A. (relatively speaking). It looked like the culprit was just one slow truck but the single lane road was backed up for miles and moving at a snail's pace. Many people must have missed their flights so leave yourself a good two hours just in case.

On the way, we stopped at a scenic lookout to take in the views, including seeing some whales passing by. At this time of year (November-May and peaking in January), you can see whales spouting and breaching off in the distance pretty much every time you take 30 seconds to stare out at the ocean. It's incredible. I even saw them from the plane on descent.
The Wailea Beach Resort
The Wailea Beach Resort is a Marriott with 547 rooms. Here's why you should add this resort to your Maui travel plans:
A Great Welcome
We pulled up at the hotel entrance and there were plenty of attentive valets and bellhops who were quick to grab our bags from the car. They gave me a ticket and pointed out the front desk, about 50 yards away, part of a beautiful and expansive open-air lobby.

The representative behind the desk gave us a warm and friendly welcome. He greeted us with leis and the kids were given turtle necklaces.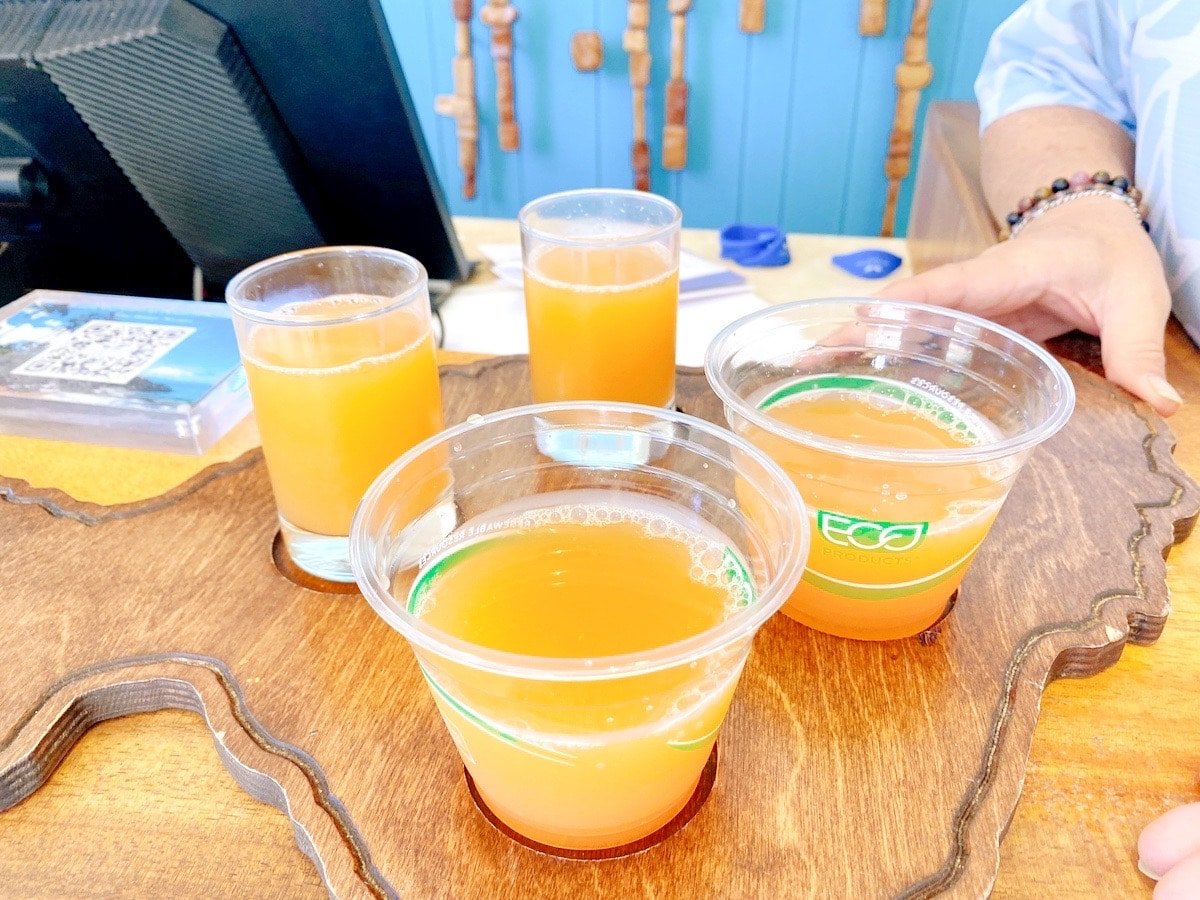 He also brought out a tray with glasses of refreshing POG, which is made of a delicious mixture of passionfruit, orange and guava juices.
The kids also received turtle stuffed animals, which they named immediately (Shell and Fozzy) and were so excited about, they took them everywhere we went.
Location
Arguably the best part about the Wailea Beach Resort is the location. It was the first hotel built in Wailea; it's on primo property and believe it or not, it's not even the largest hotel there. A few properties over is the Grand Wailea, with 780 rooms. Next to the Grand Wailea is the swanky Four Seasons with 383 rooms, and the setting for the first season of the hit TV show The White Lotus. (Here's more about the setting of the show's second season, set in Sicily.)

Ocean Walk
Speaking of the Grand Wailea and the Four Seasons, the fantastic Wailea Oceanfront Boardwalk Trail takes you by those properties and the Wailea Beach Resort as well. It's a gorgeous coastal walk and according to AllTrails.com, it's a "3.5-mile out-and-back trail near Kihei, Maui. Generally considered an easy route, it takes an average of 1 h 9 min to complete. This is a very popular area for birding, running, and walking, so you'll likely encounter other people while exploring."
They're not kidding about it being popular, especially with morning joggers and walkers. It's not very wide in places so when a couple came cruising by with their double-wide strollers, we really had to squeeze out of their way. I don't recommend bringing a wide stroller anywhere but especially on this trail.
My kids loved the walk since it felt like a hike and in some places, there was a lot of vegetation, as well as wild cats, which was exciting to them.
Rooms

There are 547 rooms at the Wailea Beach Resort, spread out over eight buildings. Our room was solid and spacious enough.


The bathroom was also spacious with a generously-sized tub (and great water pressure) and a separate vanity area.

FYI: Guests aren't given traditional room keys at check-in. Instead, everyone gets a wristband with a built-in smart key that doubles as proof that you're a hotel guest when you're swimming in the pools.

The largest building is eight stories but the other seven are just three-story hales (house in Hawaiian). We were in Hale 7, which undoubtedly has the best view.

Our room was part of the newly launched Sundeck Collection, rooms that embody the essence of indoor/outdoor living. But what makes these rooms extremely special is the lanai. The expansive outdoor space on the ground floor really makes the room and takes it from ordinary to extraordinary. Our lanai had a table with chairs, where the kids loved to eat breakfast and lunch, taking in the views. There's also a sofa and two lounge chairs, creating a lovely, relaxing outdoor space.

These ground floor rooms also give guests easy access to the Wailea Oceanfront Trail (it was right outside our door) and that same trail is one of the easiest and most scenic ways to navigate the large resort grounds. Rooms rates start at $899.
Public Spaces
Speaking of the resort grounds, they are beautifully manicured, and it looked like the hotel uses electric lawnmowers to keep the grass neatly trimmed. It's the first time I've seen this and best of all, there's no loud sound or smell of gas. Although, the smell of fresh cut grass and gas does bring me back to my summers in Connecticut.

Besides keeping the grounds well groomed, the hotel does a magnificent job on all of their public spaces, like this nice spot to sit and relax.
Aloha Sign

When you check in, you will immediately notice the main courtyard. There's a koi pond and a huge colorful ALOHA sign, which seems to be the newest trend in Hawaii. I saw one at the Hilton Hawaiian Village and the Royal Hawaiian Shopping Center but the one at the Wailea Beach Resort was by far the nicest; it doesn't have any branding and it didn't feel cheesy. It's perfect for an Instagram moment and since the sign is illuminated, it's really pretty at night.

This space also has loungers and a chair swing so you can people-watch. Guests can also play cornhole or an oversized game of chess. Our kids made a bee-line straight for the courtyard the moment we arrived and every time we passed by, the kids wanted to stop and play (who can blame them?) so factor that in if you're in a rush to get somewhere!
Game Room
Not far from this beautiful outdoor space is the Game Room, which my kids absolutely loved … and I did too! It had many of the games I grew up playing, including old school arcade games like Pac Man, Space Invaders and Donkey Kong.
There are also billiards and foosball tables, a skeet game and a pinball machine, though it wasn't working while we were there. The best part is that none of the games cost anything, which made it even more fun to play games over and over again without having to feed the machine a steady stream of coins.
Gym
There's also a gym on property, which sadly, I didn't use, but of course, is great for anyone who wants to keep up with their workouts while on vacation.

The Movie House
The hotel has a movie theatre that shows movies daily, a mix of classics and contemporary flicks. There are comfy bean bag chairs to sit on and there are movie showings two times a day at 4pm and 7pm. To see the movie lineup click this link and then Resort Activities and Movies. 


Shops
Between the game room and the front desk, you will find a mini market, which, for an on-property shop was reasonably priced and no more expensive than the local ABC stores. There's a Starbucks and a FedEx as well. This is a perfect hotel for companies to host incentive meetings, which happen regularly, including while we were there. Not a bad place to attend a conference, eh?
The Shops at Wailea

Even better is that a seven-minute walk or a two-minute ride courtesy of a bellman (when someone is available) is the swanky Shops at Wailea. There are 70 retail luxury and lifestyle stores so there are all kinds of places to shop and eat, including Tommy Bahama and Ruth's Chris Steakhouse.

If you need a grocery store, then stop in at Island Gourmet Markets, which has pretty much everything you need and the prices surprisingly aren't crazy. For example, I ordered a tropical kale smoothie (kale, broccoli, apple, pineapple, orange and banana) for $7.79.

We ate at the Waikiki Brewing Company, which is owned by the same group that owns Cheeseburger In Paradise. It wasn't crowded at 5pm (the second Sunday in January) and had the football game on (way too loud), but we really went because it had one of the most kid-friendly menus within walking distance.
The service was great, and the food, especially the kids', came out super quick. They both had Mac N Cheese ($10) which comes with French fries and fruit (pineapple and cantaloupe). The dishes looked like high-end paper picnic plates but fortunately were plastic. I learned that when my daughter decided to get up and move to my side of the picnic table, and of course dropped the whole thing. I was pleasantly surprised that the dish didn't shatter, how quickly the staff rushed to pick it up and how many times they offered to replace her food free of charge. She wasn't really eating much so we passed.
Afterwards we went to Lappert's ice cream shop; you can smell their fresh waffle cones half a mile down the road so they're pretty hard to resist.
Food
Speaking of food … the hotel has numerous places to eat including a taco truck by the kids pool, which closes at 4pm. The best place to eat is probably Roy Yamaguchi's Humble Market Kitchin. Our food was great, came out quick and our server was extremely attentive, despite how busy the place was. My wife and I shared a fantastic salad, gyoza, Brussels sprouts and calamari.
Nightly S'mores
The Whale's Tail, near the Wailea Oceanfront Boardwalk Trail is a nice spot to grab a quick bite or a slow coffee. The hotel offers all guests S'mores nightly between 3:30pm and 4:30pm. It's a little early and there's only one small firepit with low flames but it's a great idea. And in addition to the beautiful setting, you have to appreciate the neat package of marshmallows, which comes with a Hershey's bar, graham crackers of course but also dried pineapple, the perfect Hawaiian twist.
Te Au Moana Luau
One of the highlights of our whole trip was attending the hotel's Te Au Moana luau. It's not cheap but it was definitely one of the best luaus I've ever been to so you get what you pay for. We had premium seating, which costs $295 for adults (ages 13+). Children (ages 6 to 12) are $190 and toddlers (ages 5 and under) are free. Standard seating is $265 for adults, $165 for children ages 6 to 12 and children under 5 are free.


The luau takes place between the kids pool and the Whale's Tail. It starts at 4:30pm and ends around 8pm. Everyone gets a beautiful flowered lei.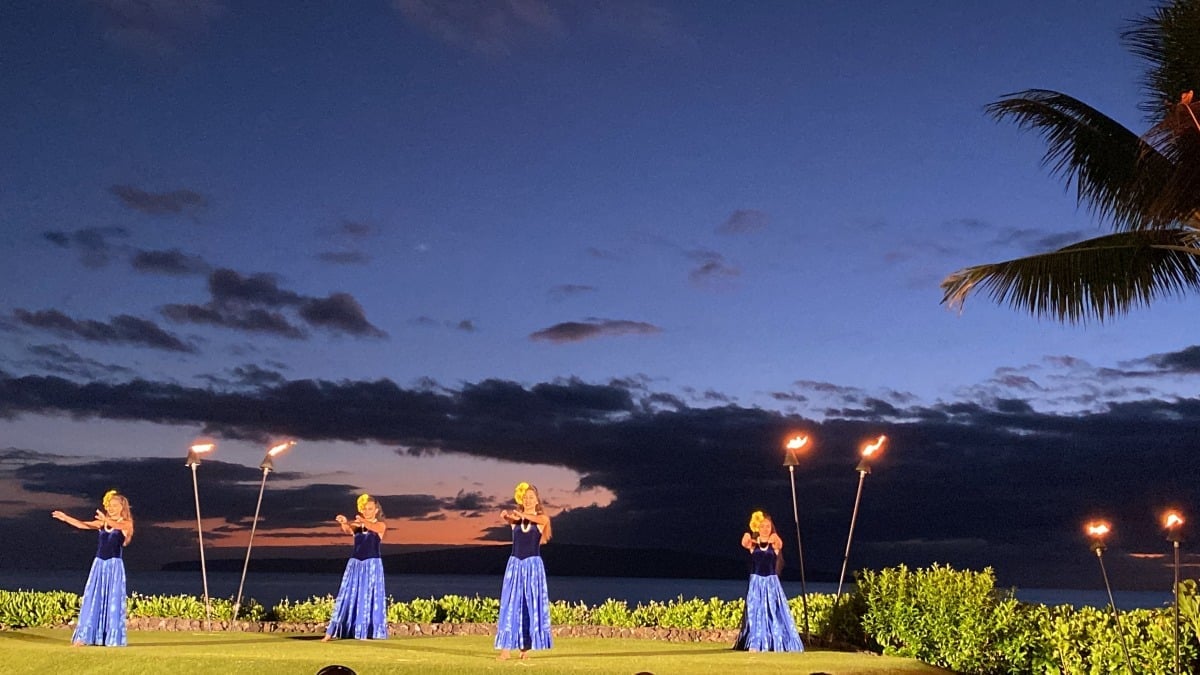 The luau is set against a magnificent backdrop, the sun setting over the ocean. The stage is set on what looks like a natural grass incline and the costumes, lighting and performance are all stunning.
We showed up a little late because we didn't want our kids to fall asleep before the fire dance, which takes place around 7:40pm. I heard there was a station to get temporary tattoos, but unfortunately, we missed that part.

The food is plentiful (a three-course menu served family-style) and for the most part, it was all really good. I especially liked the steak, hibachi chicken and fish.


There are drinks included and there's also a station with water, coffee and tea near the bar. The restrooms are nearby and clean.
Pools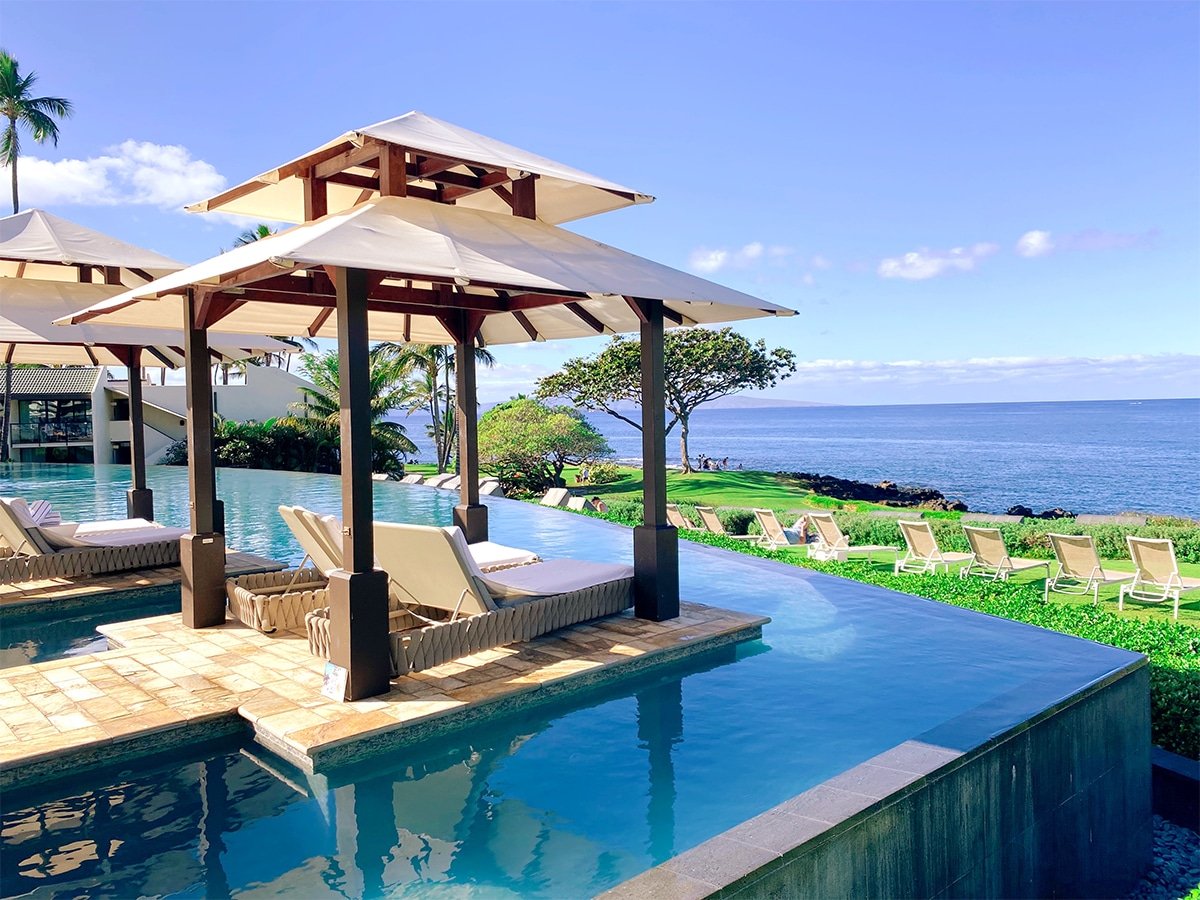 The hotel has three pools including an adults-only infinity edge pool that looked very peaceful for adults looking for a quiet, restful and relaxing time.

There's also the `Ohi Pools, two oceanfront pools with whirlpool spas. One of the pools also has a dramatic infinity edge and is just steps from the ocean.

Nalu Pool
The kids loved the Nalu Pool, which has three water slides and four soft, padded sprinklers built in with a mix of whales, turtles and dolphins. They loved to climb on them and they weren't slippery. The kids loved it so much, we couldn't tear them away. Literally. We had to beg them to get out.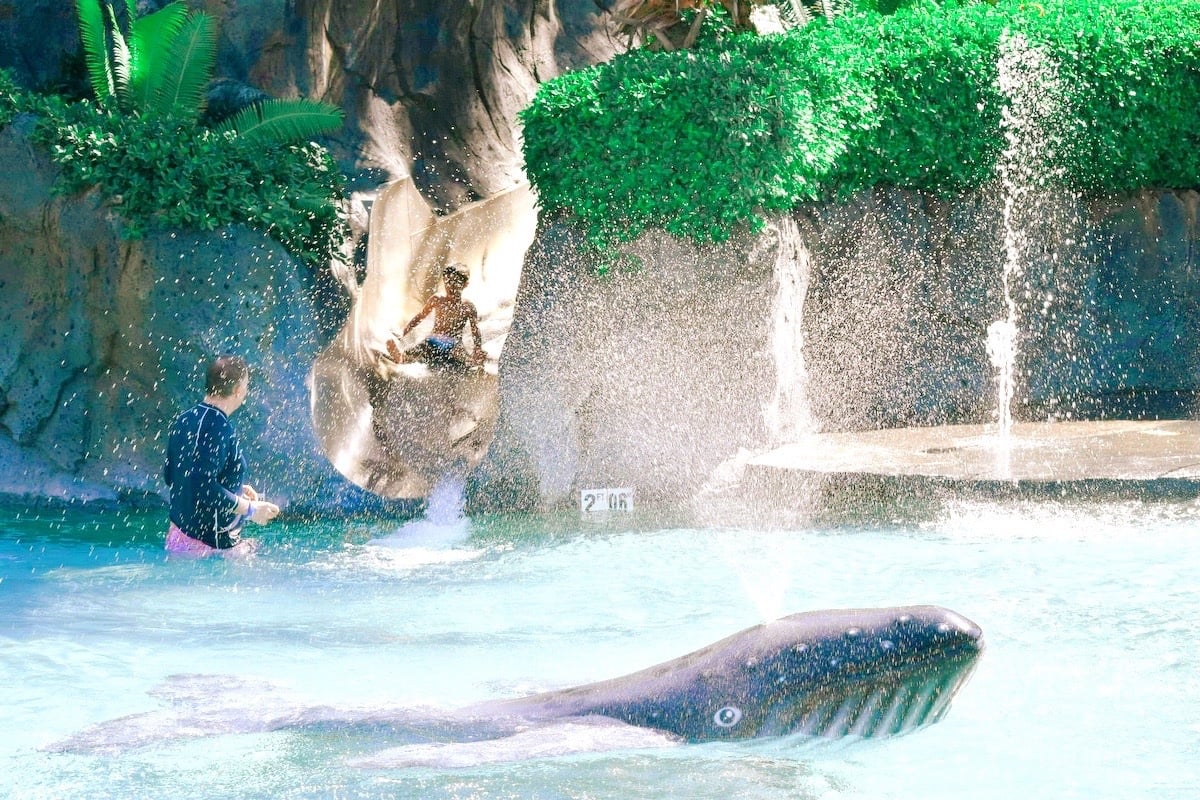 Slides
Two of the slides were too big for our kids as riders have to be a minimum of 48 inches tall. I rode them both and they were fun but I enjoyed the open-air slide one over the covered slide, which for me, felt a little hot and claustrophobic.
Baby Slide
The little kids loved the baby slide, which doesn't have a height requirement. There's no guard watching like the larger ones. My daughter Olivia first went down on my shoulders, then side-by-side with her brother and then alone. She probably went down the slide 30 times and my son Jack twice that amount. For adults, watch the pool vent in the pool because I stubbed my toe a few times landing. Pool hours are 7am to sunset while the slide hours are 9am to 5pm.

Nalu Family Cabana
The hotel set us up in one of their three Nalu Family Cabanas ($500). Cabana rentals come with a $50 food and drink credit. The food is from the taco truck next to the pool. I ordered two chicken tinga tacos ($25). The kids meals (PB&J, chicken tenders, cheeseburger) cost on average $16. The cabana comes with bottles of water and an attendant; ours was very friendly and attentive and provided great service. There's an empty mini fridge and a safe to keep your belongings safe while you enjoy the pools.

Free Reef-Safe Sunscreen
One of the best amenities the hotel offers is free 30- and 50-SPF reef-safe sunscreen by all the pools. This is key because on October 1, 2022, Maui passed a law which requires visitors to wear mineral only sunscreen. The one problem with this sunscreen is it leaves your skin looking pretty white as it doesn't rub in very well. Of course, I slathered myself right up before a breakfast meeting with the hotel's PR team who hosted our stay and as my wife couldn't help but point out, I looked ridiculous. But I didn't care as long as I was protected, as well as the marine life.
Activities
Speaking of marine life: The hotel offers a long list of daily activities that are included in the resort fee (yes, they do have the dreaded resort fee, which is $ a day). But it doesn't include the Wildlife Walk & Tide Pool Exploration ($89), which takes place at 9:30am every Monday and Wednesday and which I did with my son.
From the moment we arrived, my son was drawn to the tide pools that surround the property. So when we learned we could do a proper exploration with a knowledgeable guide, we had to do it.

We signed up and met the group and instructor by the Whale's Tail activity center. The session was 90 minutes long and the teacher, a marine biologist originally from Texas, was passionate.

The first 30-45 minutes of the class was spent learning about what we would see. I'm spoiled because the tide pools near where we live and where I went to college in Rancho Palos Verdes were full of more sea life than what we saw but most participants seemed to enjoy it and so did my son, which was the most important thing.

One cool thing was that we were able to write on rocks with a spine of a pencil urchin. I also learned that dolphins are whales and that the underside of each humpback whale tail is different, just like human fingerprints. So, if you get a good photo of a whale tail, you can upload it to happywhale.com to see where that whale has been tracked.
Sand Sculptures


In front of our room, along the ocean walk path, were a couple of sand sculptors who spent all day creating a sand sculpture (photo above). What impressed me the most was how many passersby stopped to compliment them and ask questions.

The couple couldn't have been any nicer or more patient. Unfortunately, they only do it once a month instead of once a week like they did pre-Covid.
Local artists
Marriott should also be commended for bringing in other local artists to the hotel atrium, where they sell everything from handcrafted pieces to pet portraits. Both of my sisters are artists so I appreciated this. (Here's their artwork in case you're interested: Carol and Georgette.)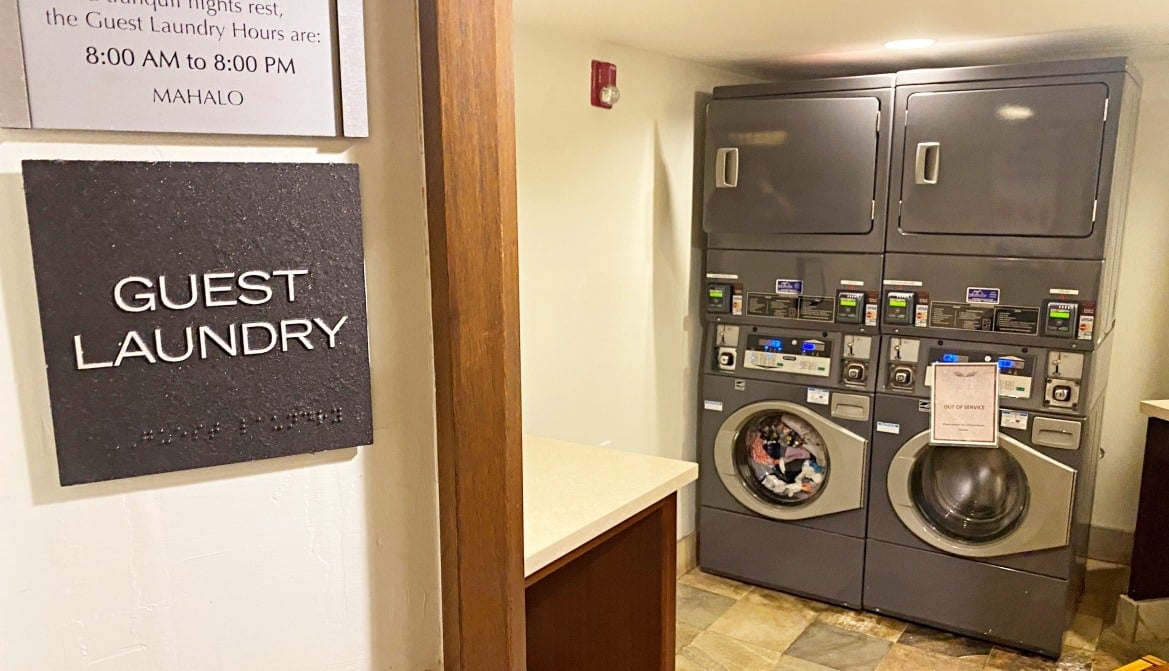 Laundry
Another perk of staying at the Wailea Beach Resort is that they have laundry facilities for guests. The machines take credit cards and it costs $3.50 to wash (30 minutes) and $3.50 to dry (50 minutes). There's also a change machine if you need quarters and a vending machine for Tide detergent.
It's been almost twenty years since I last stayed at this hotel and it was great being back with my family. It really is a great place to have a family vacation and I hope to return again with mine.
KEEP READING:
–8 Ways To Make Sure An Airline Doesn't Lose Your Bag … And That You Don't Get Robbed or Stalked
–The Trick For Getting Airport Luggage Carts for Free
–Airline Lost Your Luggage? Do This If You Want to Get Compensated
–Why Frequent Fliers Use Apple AirTags or Samsung SmartTags When They Travel
–An Airline Executive's Number One Tip for Avoiding Lost Luggage When You Fly
Love to save money when you travel? Sign up to Johnny Jet's free newsletter and check out these popular posts: 10 ways to find cheap flights and 12 ways to save money on baggage fees. Follow Johnny Jet on MSN, Facebook, Instagram, Pinterest, and YouTube for all of my travel posts.