A big thanks to Ka'anapali Beach Hotel for hosting our stay so we could provide this detailed review of our experience.
"Low key" and "old school" were the main reasons guests told me they like staying at Ka'anapali Beach Hotel (KBH). Forty minutes (26 miles) from Kahului International Airport (OGG), along the scenic Ka'anapali coast in Lahaina, Hawaii sits this idyllic resort, which just underwent an $80 million renovation. Here's why you should add this hotel to your Maui travel plans:

1. Old Hawaii vibes
Pulling up to the hotel, it did indeed feel like we'd been transported back in time. After a few minutes, you realize that's a good thing. The entrance and the lobby of the Ka'anapali Beach Hotel looks and feels like it must have in the 1960s. It's old-school except for the credit card terminals to charge your card and put a $100/night deposit on them.

2. Friendly staff
The staff is super friendly, from the wait staff to the people working the valet. Speaking of which, the hotel has valet for $24 a night but also offers self-parking for $18. As the bellman started unloading our trunk, I joked that he was going to need more than one cart. But he expertly packed it in such a way that we didn't. (Traveling with two little kids is a far cry from the days when my wife and I would travel with carry-on only for month-long, around-the-world trips!)

3. Renovated rooms
There are 432 rooms at the hotel, distributed between four buildings. Each are named and designed (or will be) after four levels of earth or Hawaiian cultural meaning. Papakū – foundation of the ocean/ocean floor; Kauhale – group of houses/land where the people live; Wēkiu – tiptop, summit; and peak and Aouli – sky, arch of heavens/above and beyond.

Note: Only two of buildings follow the themes (Papakū and Kauhale) because they have been recently renovated. In fact, 61% of the rooms have been renovated, which are sold as premium rooms. The rest are still awaiting permit approval and are appropriately sold as their traditional rooms. Traditional room rates begin at $279 and go up to $622. Premium rooms start at $424 and go up to $909.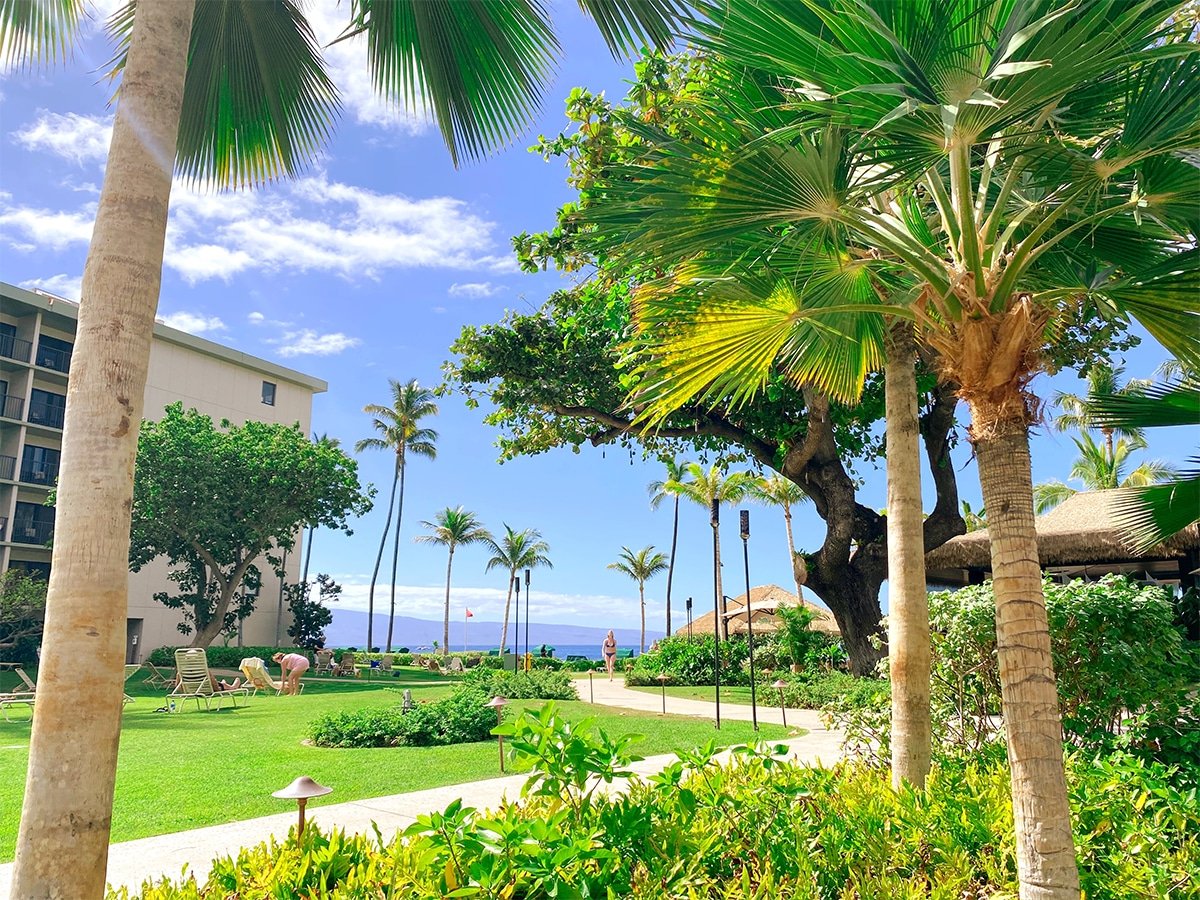 We were in one of the hotel's new premium rooms. We were on the top floor (6) in room 652, which had a great view of the property grounds and the pool below. The elevators are fast and there are plenty of them, as three of the buildings are connected. There are also outdoor staircases, which I opted for half the time. Ah, who am I kidding? A quarter of the time.

The hotel room walls are fairly thick although after dinner, I heard loud, thumping techno music outside. I went out onto the balcony to see where it was coming from (wanted to make sure there was no nightclub; there wasn't) and noticed that our neighbor's patio door was wide open, curtains swaying in the breeze. The room was dark but I could still see in. The bed was made and empty. I was going to call down to the front desk to ask them to deal with it but when I looked at my watch … it was only 7pm. I thought to myself, "Stop being so old and grumpy!" I was able to fall into a deep sleep and woke up at 4am HST to an incredible view of the wolf moon.

4. Attention to Detail
The rooms have a lot of amazing detail, which you might not really notice or appreciate unless it's pointed out to you. The flower prints in the rooms are related to the theme of the building, all of which are from the book Indigenous Flowers of the Hawaiian Islands by Isabella Sinclair, the hotel General Manager's great-, great-, great-grandmother.
The bed runners mimic ʻohe kapala – bamboo stamping. The carpet displays traditional weaving patterns. The headboard features unstrung lei kukui – it looks like four lei (Hawaiians count by fours, as opposed to by fives).  In our room, we had Uli Uli (gourd rattle), which was handcrafted by an employee of the hotel.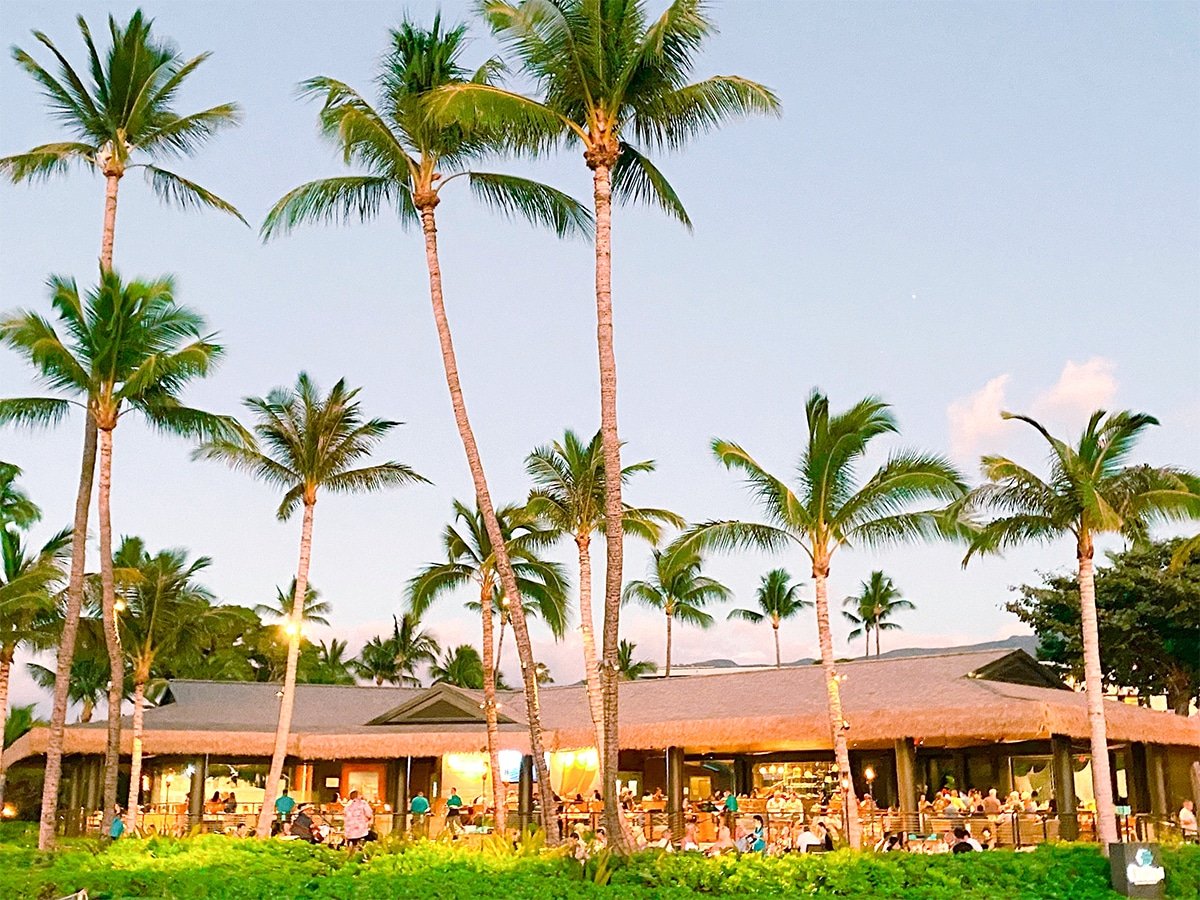 5. HuiHui
HuiHui, the hotel's main restaurant, could easily be listed as the number one reason to stay here. In fact, it's frequented by many locals and by guests of other hotels. The restaurant just celebrated its one year anniversary in June 2021, after a $16 million renovation. It's modern and open air and the tables outside at dinner are generously spaced out. With live music and hula dancers, a view of the beach, sunset and great service, what more could you ask for?

Also, it turns out that, like the rooms, there's a lot of detail which you probably wouldn't notice, except for the large screen TV that plays videos that pay homage to traditional Polynesian voyages. There are so many details to appreciate, including the light feature in the restaurant that mimics constellations in the sky. Everything in the cases displayed in the restaurant and the weave works was handmade by employees who actually sailed on the Hōkūleʻa.
Another plus, the menu changes for breakfast, lunch and dinner. Here are some of the delicious eats we enjoyed:



Poi French Toast, Full Order: Housemade poi (mashed taro) sweet bread, vanilla custard • Choice of maple syrup, niu (coconut) syrup, or ube (purple yam) sauce ($17.50). The other breakfast offerings like waffles, pancakes and fresh pastries are delicious.

Hand Line Ahi: Pan fried ʻahi (tuna) seasoned with Chefʻs special sauce, tomatoes, onions, watercress, scallions, nīoi (chili pepper) sauce, calamansi aioli, furikake $30)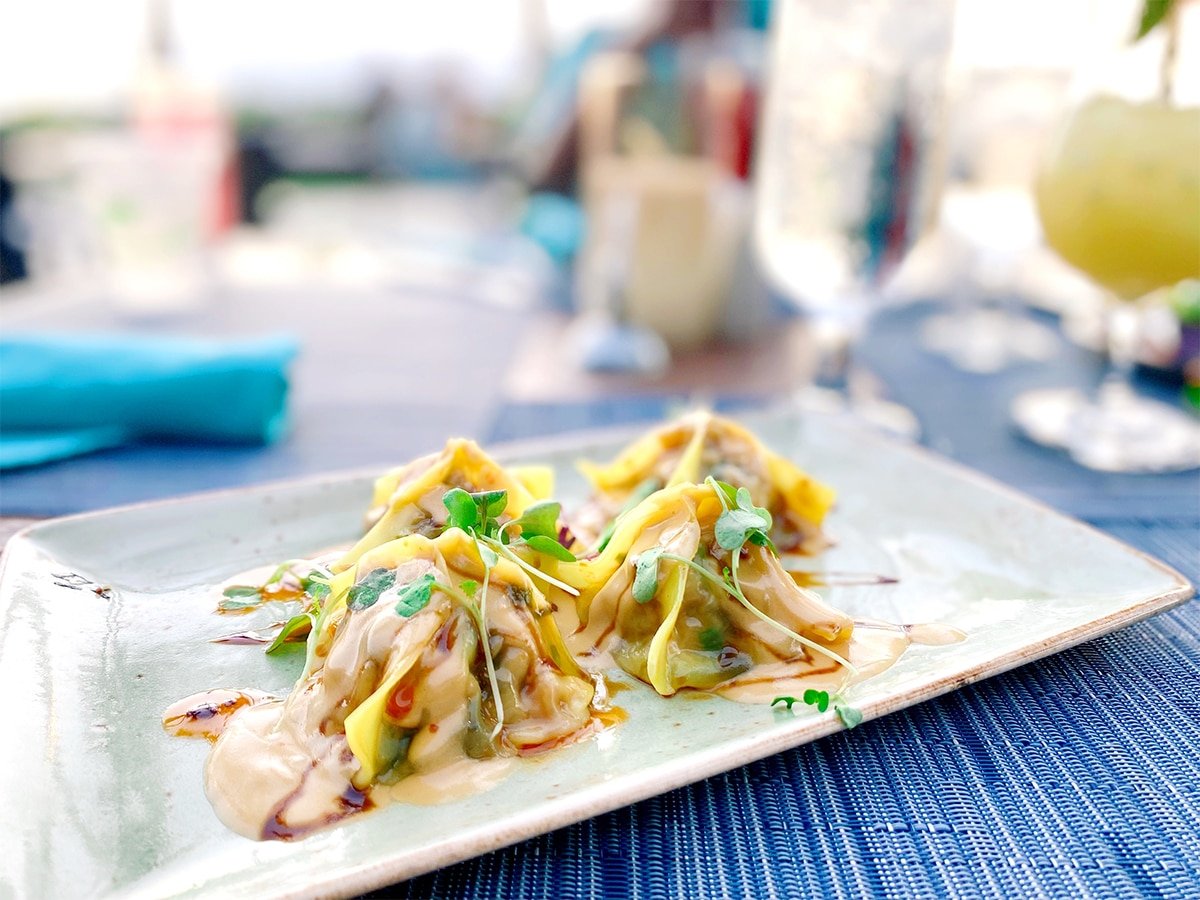 Steamed lobster dumpling: Ula (lobster), konbu (kelp) lemon grass cream reduction, chili oil, sweet soy, micro greens ($20)

Kōʻala Half Chicken: Deboned half moa (chicken), traditional kō'ala (barbecue) cooking method, wai niu (coconut milk) & pineapple marinade, Chef's special sauce, seasonal vegetables ($36) 

6. Beach
While staying at the hotel, we met a couple from Las Vegas (yes, the 9th Hawaiian island) and the husband has been going to Ka'anapali Beach Hotel since he was young. He says he loves it, not only because it's sentimental, but because it's low-key and located right on the beach. They had just arrived from the Westin where he said the beach is small and rocky. At Ka'anapali Beach Hotel, the three-mile stretch of beach along the western shores of Maui has soft sand that looks like brown sugar, though the waves can be rough at times and the current is strong so little ones must be closely watched. I had to hold my daughter the whole time. Regardless, our kids loved this beach and we spent much of our stay there. Another hotel guest told me about a kid-friendly beach a few miles down the road in Lahaina – appropriately called Baby Beach.

7. The whale pool
The pool isn't anything that will blow your socks off but for being so simple, they did a great job! First of all, it's shaped like a whale, a detail that you may not notice unless you've got a bird's eye view from an upper-floor room. It goes without saying that the kids LOVED the whale shape. The water in the tail of the whale is just two feet deep so it's perfect for little kids to splash around in. The whale's head area does get deeper at seven feet. The pool closes at 9pm so you won't be disturbed all night by rowdy guests. It opens at 8am and is cleaned every morning.
If you get hungry, there's a modern snack bar (Welo Welo) with sub sandwiches for $16, burgers for $22 and French fries for $7.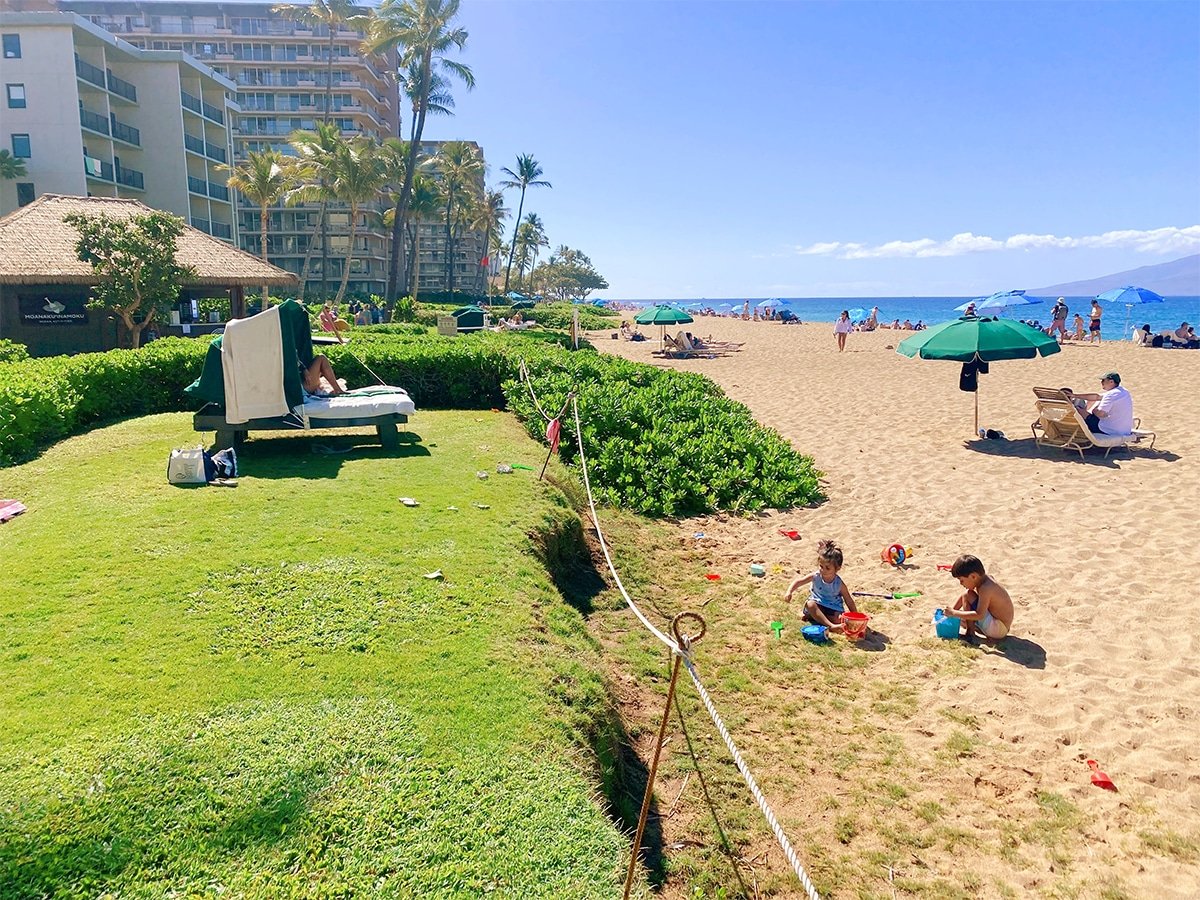 8. Cabanas
The hotel offers 13 cabanas (with more to come, given their popularity), which are on the edge of the hotel property's grass. Beaches in Hawaii are public so they can't reserve spots on the sand for you but since they're on the hotel property, they can. The area is roped off for those who rent them, at an extremely reasonable cost of $65 a day (from 7am to 4pm). The hotel recommends you book in advance since it's popular not only for guests but for people not staying at the hotel, as they charge just $10 more for non-guests. FYI: The cabanas come with free bottled water and we were in a large section of the grass that had two cabanas. Each one holds two people so we had our own private little sanctuary.

The kids could step down to the sand and play right where we could see them and then come up to the cabana when they needed to relax and get some shade. You really can't beat the price and we really enjoyed our day there.
Note: The hotel offers snorkel gear ($12, $20) and fins ($7, $12) for either two-hour or 24-hour rentals, prices listed respectively. Beach lounge chairs are $15 a day, umbrellas are $20 a day and boogie boards are $18 for 24 hours.

9. The hotel is family-friendly
The hotel is very family-friendly. From the moment you check-in, guests are directed to the cultural office to pick up scavenger hunt books, which they told me adults love too as they give you a great lesson on Hawaiian culture and local wildlife.

Speaking of lessons: In the book, you'll learn about the rocks you see kids jumping off of at the end of the beach near the Sheraton. I was tempted to do it myself until I read that it's a sacred place. "Located on the north end of the beach, you will see Pu'u Keka'a. Every island, at its most western point, has a leina. A leina is where spirits of the recently departed leap into Po, a realm of our ancestors both past and future. Pu'u Keka'a is our Leina. This place is sacred." One of the local workers told me that those who jump are telling the Gods their soul is ready for the next realm.

10. Cultural activities
The hotel offers an array of cultural activities, including a lei-making class, hula, music, etc. In the welcome letter I received a few days before arrival, the hotel alerted: "Due to high demand, we recommend you book your activities, dining plans, and other services in-advance." We did the lei-making class but instead of using plumeria flowers like you might expect, we made traditional ti leaf leis. The class is an hour long and surprisingly, my kids (ages six and three), were engaged the entire time. They sat still, listened and participated, leaving class with their own leis they had made (with a little help!) They really enjoyed it.

11. Guest Laundry
There are multiple guest laundry facilities and there was one six floors directly below our room. It had three commercial washers and six dryers. Both cost $2 each. The washers take 30 minutes while the dryers take 45 minutes. You need quarters, which you can get from housekeeping (there until 11pm) or the front desk. It's open 24/7 and there are magazines, books and even a little outdoor seating area. It's a great service for travelers. My wife was thrilled to learn there were laundry facilities because it means you can pack lighter, knowing you can wash your clothes and especially with kids, it made a huge difference to be able to wash all their clothes and bathing suits.

12. Housekeeping
The housekeepers at this hotel do a great job! I never saw any of the garbage cans overflowing or garbage left outside a guest's room, including our own as I left some wet towels and within an hour, they were gone. They also let guests know via a pre-arrival email that the "hotel has adopted a modified housekeeping service to reduce the use of water and to conserve resources." It states: "During your stay, you will receive 1) replenished amenities the day after your arrival, and 2) full-service cleaning on the third and fourth day of your stay. These services will be repeated until your departure." Replenished Amenities are defined as: trash pick-up, towel restock and amenity restoration. Full-Service Cleaning is defined as: making the bed, cleaning the restrooms, vacuuming and replenishing amenities.

13. Five-minute walk to Whalers Village
In front of the hotel is a 1.1-mile long beach path that starts at the Hyatt. If you take a left out of the hotel and onto the path, in five minutes or fewer (if you're not walking at a snail's pace like we were with kids who walk slow and take frequent detours) you will arrive at the Whalers Village. There, you'll find dozens of stores including ABC Store, Lily Pulitzer, Sephora and Ray Ban as well as luxury shops like Louis Vuitton.

There are also a number of restaurants like Hula Grill (my wife's ahi poke bowl pictured above) and Leilani's on the Beach. Both are owned by TLC, which owns Monkeypod and the famous Duke's, so they have Hula Pie for dessert. There's also a food court with Island Vintage, where I like to go for acai bowls and shave ice.

14. There's no resort fee
Resort fees are arguably every traveler's biggest hotel pet peeve. It's a total scam where hotels try to make more money as they aren't taxed as heavily as room rates. I'm happy to report that Ka'anapali Beach Hotel does not charge any mandatory resort fees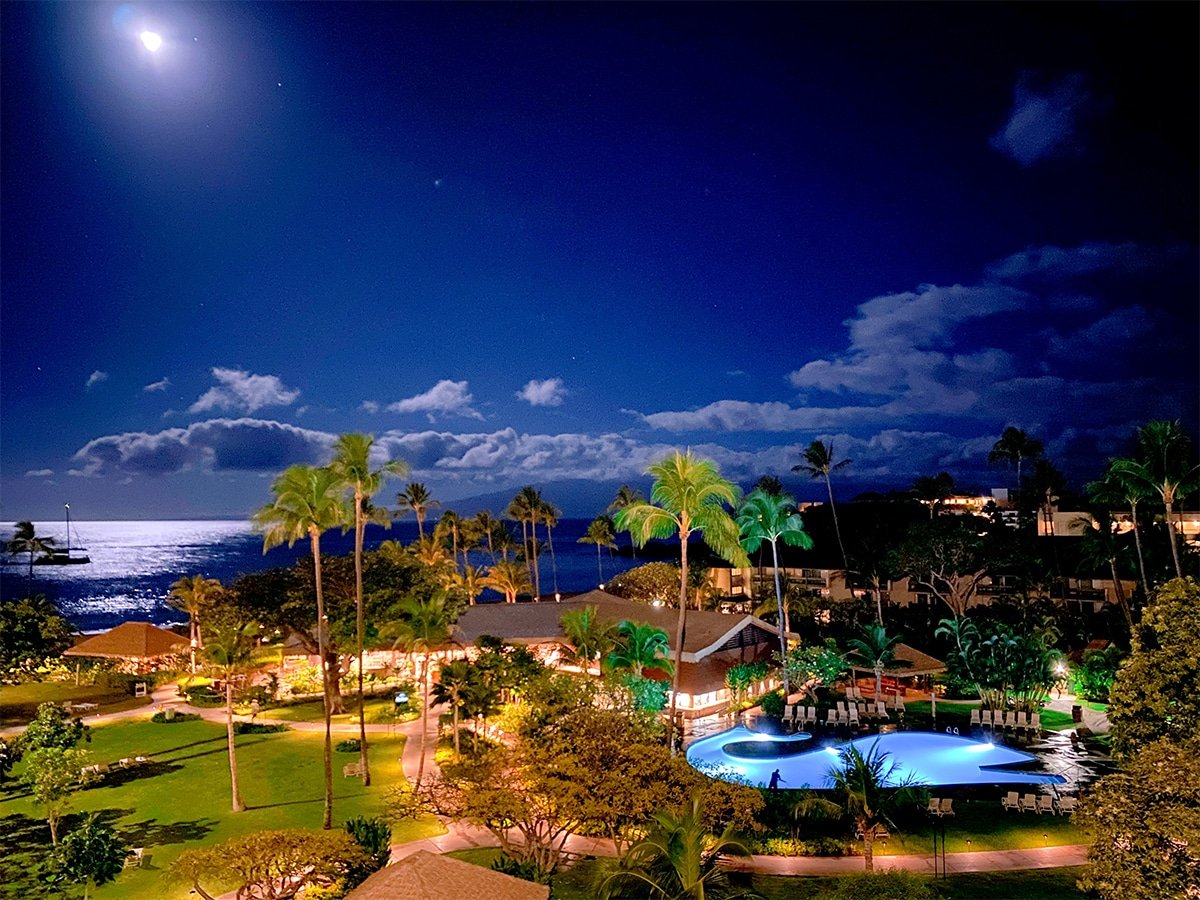 15. The beautiful grounds
All in all, we couldn't have been more pleased with our stay at Ka'anapali Beach Hotel. From the delicious food and the convenience of laundry on the premises to the breathtaking beauty of the grounds, especially at night when it's pure magic, this hotel delivered in every way. If you're planning your own Maui getaway, definitely add this property to your list of places to stay. Book your stay here.