A big thanks to the The Garland Hotel for hosting our stay so we could provide this detailed review of our experience.

If you've been following along on our summer adventures, then you know that my family and I have been pretty much on the go ever since the kids got out of school in early June. It felt good to finally get home. But when we received an invitation from L.A. Tourism to check out some family-friendly things to do in Los Angeles, we couldn't resist the opportunity to hit the road again. But since we live in Los Angeles and we just had to drive a short distance, we decided to check into The Garland and go to nearby Universal Studios Hollywood. We arranged our trip to coincide with my daughter's fourth birthday so the timing was perfect. RELATED: 10 Tips For Your Trip to the Los Angeles Zoo

We packed up the car and drove less than an hour to the hotel. Note: If you're coming from LAX, The Garland Hotel and Universal Studios Hollywood are only a 25-minute drive without traffic but I would budget 45 minutes since it's L.A. and there's usually traffic.
The Garland Hotel in North Hollywood was a great experience for the whole family. Here's why:


1. Friendly service
I'm not sure if it's the warm, beautiful weather or the lifestyle but as my Canadian wife can attest, people in Southern California (especially in the South Bay) are super-friendly. And they seem to be in North Hollywood, too – at least at The Garland. From the valet and the front desk staff to the waiters, shuttle drivers and bellman who opened the door and welcomed us back to the hotel when we got off the shuttle, everyone was extremely friendly and welcoming, which always gets a hotel stay off on the right foot.

2. Design
The first thing you'll notice when you step into the hotel is its retro design. The lobby has a cozy fireplace and unique artwork, including a dozen wooden tennis rackets arranged to form a circle on the wall. The retro theme is so well-executed that the producers of A Very Brady Bunch Renovation (HGTV, 2019) hosted the kick-off party there just before the pandemic. It was the only time I'd ever stepped foot inside The Garland.
As I wrote in my article, "After the tour, I was shuttled back to The Garland Hotel, a few blocks away for the after-party. And I have to say that it was the perfect venue for the party. Not only does The Garland have a retro-chic vibe, but it also has a beautiful outdoor space to throw a "groovy" party."

3. History
Last year, the hotel celebrated its 50th anniversary and guests will see signs all over acknowledging this. When I turned on the TV, I learned that the hotel is named after legendary Hollywood actress Beverly Garland. Beverly was in dozens of movies and TV shows including My Three Sons and Alfred Hitchcock's The Birds. She and her husband Fillmore Crank discovered what they called this "bucolic seven-acre property" and knew they wanted to create something special. They did.
According to the hotel's website, "Many celebrities who have stayed at The Garland over the years and left some interesting tales behind. John Wayne, who was Beverly's friend, threw champagne over the top floor balcony on the night The Garland opened. Dolly Parton declined the grand penthouse suite she was offered. Always remaining humble, Parton asked for a room like anyone else. Television shows and movies have often filmed at The Garland, too. Steven Spielberg shot some of his first film, Duel, at The Garland. Barbara Streisand's Guilt Trip also filmed here. So did such television shows as Dead to Me and Parks and Recreation."
4. Location
The Garland is right off of the freeway so it's convenient to get around. The biggest selling point of the location is that it's just one mile from Universal Studios Hollywood and the hotel offers a free shuttle to get there.

It's also just three tenths of a mile from the iconic Brady Bunch house where the hotel leads twice-weekly morning walks. Here's a Google map of the location.
5. Family rooms
The hotel isn't small. It has 267 rooms across two buildings. There are just two family rooms ($509) but they did a fantastic job with them. We were in room 660 of the Portola Building and my whole family just loved it.

The Family Suite is 560 square feet, making it extremely spacious for a hotel room. There's a separate nook for kids, which was really the best part of the room. The kids room had a bunk bed with a full bed on the bottom and a twin bed up top, so it can easily sleep three kids, which is great for families of five who find it challenging to find a room to sleep everyone.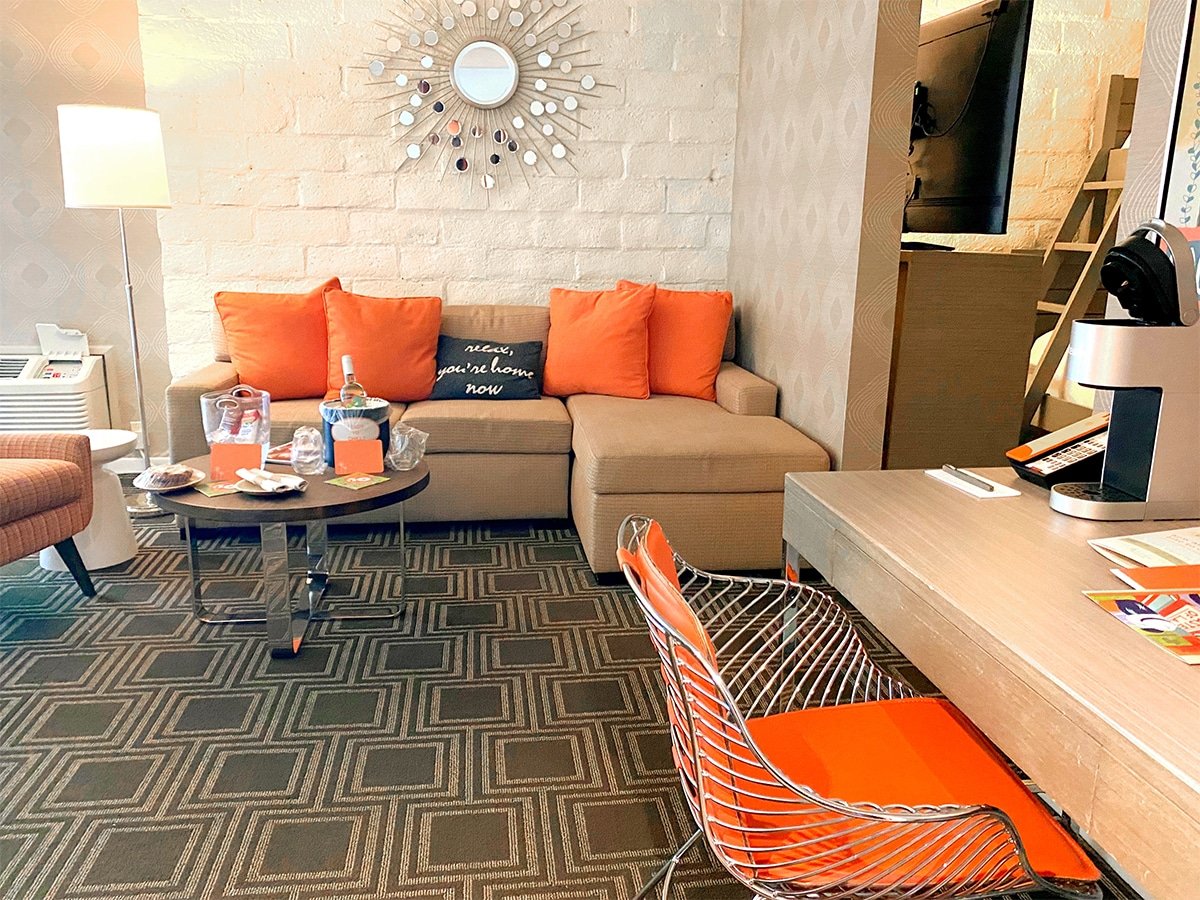 The rest of the suite has a work space and spacious living room …

… and a king-size bed. Both the living room and the kids' nook have large flat screen TVs. But what my wife really loved and commented on multiple times was the smart use of space. While 560 square feet is spacious for a hotel room, it's not a huge space and it was used so effectively. For instance, there was a little foyer area with a bench seat to put your shoes on or drop your purse.

There's a bar area with a mini fridge and a microwave, which is always a bonus when you're traveling, especially with little kids. The mini bar had Animal Crackers ($4) and apple juice ($4) for purchase, among other things.

I liked that the bathroom featured Lather products …

… and my wife liked that there was a separate makeup vanity, which was another nice touch and great use of the space.
The only thing I didn't like about our room was trying to figure out how to open the sliding glass door to the balcony. I seriously spent five minutes trying to figure it out and just before I was about to call down to the front desk, I noticed a QR code on the window with instructions. I was relieved to know I'm not the only one who had this problem. After watching the seven-second YouTube video, I finally got it open.
6. Restaurants
The hotel has two restaurants. The Lobby Bar, in the hotel's courtyard, is very laid back and family friendly.

Our kids loved the oversized Jenga game, Connect Four and …

… Cornhole. It was the perfect place to have a casual bite to eat, while the kids played before and after their meal and made some new friends.

My wife enjoyed her pork tacos and I had the chicken sandwich, both of which were great. Our waiter was extremely friendly and attentive and overall, a great ambassador for the hotel.

The other on-site restaurant is the Front Yard, located, yes, at the front of the hotel. According to one of the staff members I spoke to, it's very popular but especially on weekends for brunch (Saturday and Sunday). Brunch hours are 11am-4pm. They also have a weekly breakfast buffet, which is $23 for adults and $15 for kids every day from 7am to 11am.

We ordered off the menu; my wife and I split the Nutella French Toast and the Huevos Rancheros. Both were delicious.

Our kids loved their food too but what they liked best was when the hostess brought them each an Etch-a-Sketch to play with.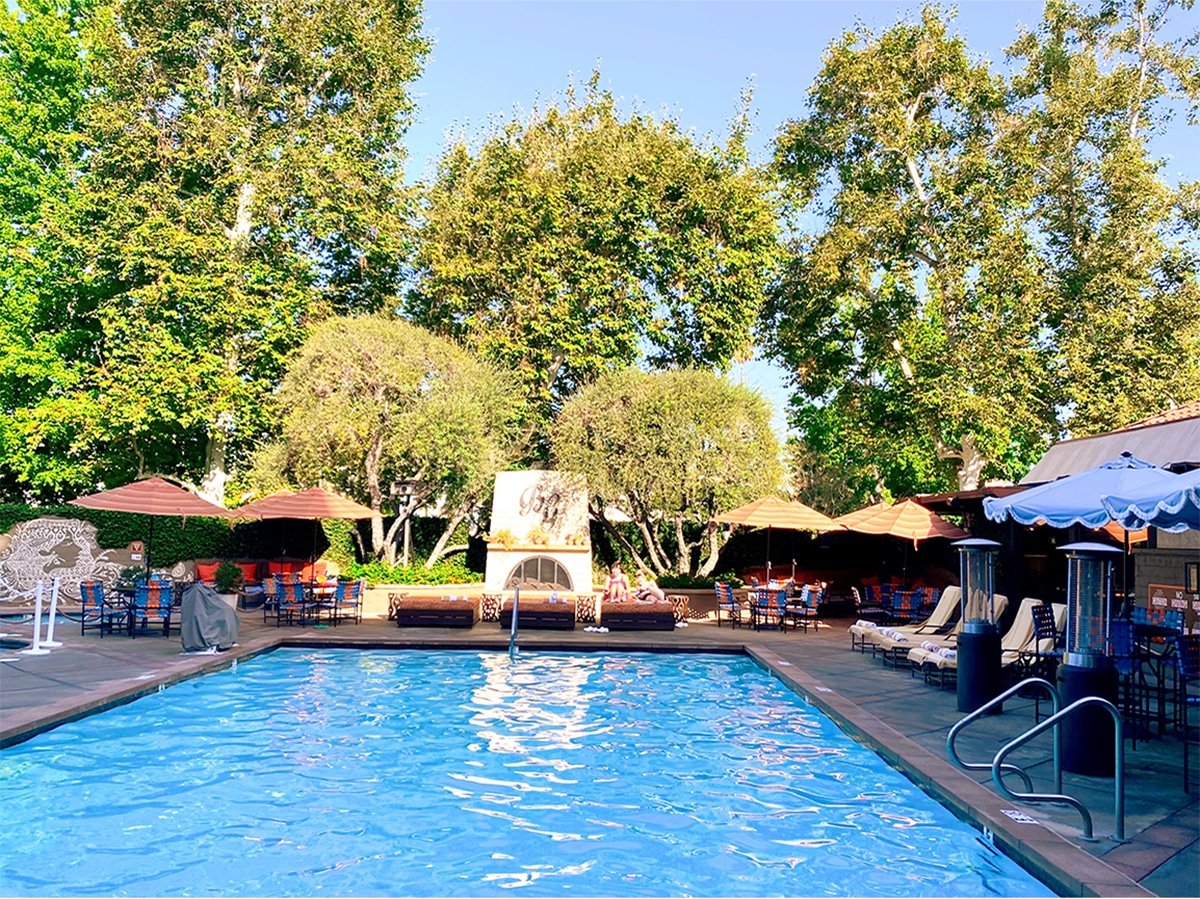 7. Pool
The pool is open from 6am to 10pm and is a great place to chill with the family. There's a dining pavilion and you can order drinks from the Lobby Bar.

There are two hot tubs, one for adults only and another that's family-friendly. But the best part about the pool area is the dive-in movies, where kids of all ages can watch a movie starting at sundown, every day in the summer and on weekends year-round.

8. Gym
Unfortunately, I didn't make it to the gym except to snap the photo above but it looked great and is open 24/7.

9. Laundry
You've got to love a hotel that has self-service laundry rooms, especially when you're traveling with kids. They offer free soap and the machines cost $3 for each washer and dryer. Like the gym, it's open 24/7.
10. Parking and valet
Self-parking costs $33 a night and valet is just an extra $4 so obviously I went with the latter. When my wife asked me to grab our son's water bottle and hat from our car, instead of calling down, I just texted the number on the valet ticket. I didn't have to speak to anyone and the automation worked great. It told me that my vehicle would be ready in one minute and it was. It later asked me to rate the service. Ten out of ten.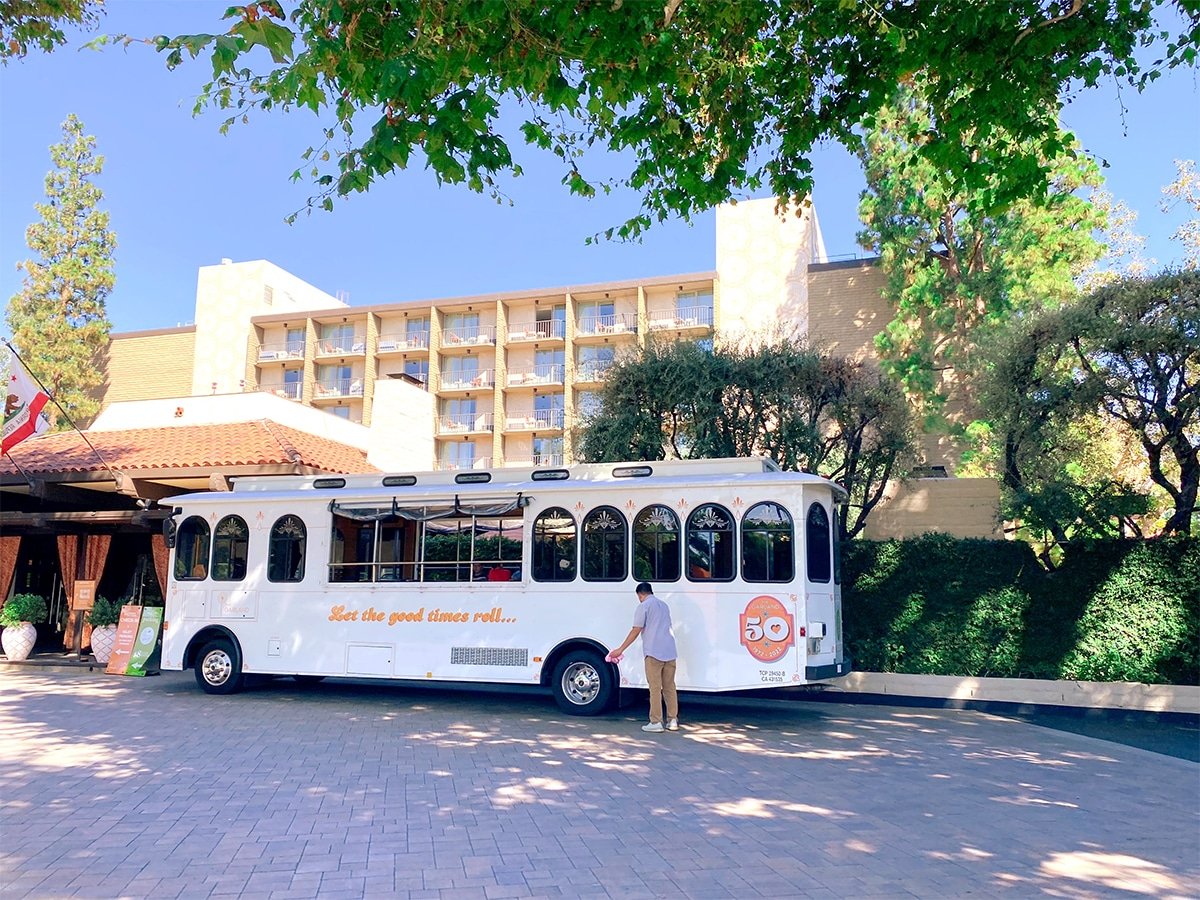 11. Free shuttle to the Metro Station and Universal Studios
There's a free shuttle between the hotel and Universal Studios Hollywood (it also stops at the Metro station, which is on the way). They use an open-air trolley and it leaves the hotel at the top of the hour. No reservation is required, just show up five minutes before departure. It leaves Universal at 15 after the hour every hour and you can pick it up in front of the Tilly's shop. The ride takes about five to 10 minutes depending on traffic. Shuttle hours: 7am-10pm.
12. Travelers love this hotel
Don't just take my word about the hotel. The hotel recently ranked 8th in Travel + Leisure's Readers' 15 Favorite City Hotels in Greater Los Angeles of 2023. 
All in all, our family trip to The Garland in North Hollywood was the perfect staycation and thanks to the restaurants, the design vibes, the pool scene and lots of other great amenities, is a great place to make your home base if you're visiting L.A. for vacation.
KEEP READING:
–The Most Comfortable High Heels You Will Ever Wear … Seriously, They Are a Game-Changer
–An Easy Way to Get Healthy Right Now
–Why Packable Jackets Should Top Your List of Winter Travel Must-Haves
–Add These 8 Items to Your Toiletry Bag When You Travel
–Why Packing Cubes Are a Travel Essential
Want more travel news, tips and deals? Sign up to Johnny Jet's free newsletter and check out these popular posts: The Travel Gadget Flight Attendants Never Leave Home Without and 12 Ways to Save Money on Baggage Fees. Follow Johnny Jet on MSN, Facebook, Instagram, Pinterest, and YouTube for all of my travel posts.