For our flight to Toronto, I took my own advice and set a fare alert from New York on June 1st. When the fares dropped down to $72 on American Airlines back in January, I pounced. I chose AA for a couple of reasons: Most importantly, I have elite status with American so I get three free checked bags, free extra legroom seats and priority check-in and boarding. One thing I don't love about AA on this route is that they fly small regional jets operated by Republic Airways. Regional jets cancel often as they're really struggling with pilot staffing issues.
I booked the first flight of the day because it was the cheapest, has the least likely chance of canceling since the plane and crew are already in town and thunderstorms tend to occur during the afternoon and evening hours. There's also no traffic to the airport.
Our flight was at 8:31am so we left Stamford at 5:40am. Our Blacklane driver was early and we made it to the airport in 45 minutes. Traffic started piling up just a few miles outside of LGA, otherwise it would have taken 35 minutes. BTW: Our driver said traffic to New York airports is really heavy between 7am and 9am so keep that in mind. Good to Know: Use my Blacklane code JOHNNY15JUNE22 to save 15% off your first Blacklane ride when booked in June for future rides
There were only a couple of passengers in front of us at Priority check-in and the regular line didn't look much longer, though it took a solid eight minutes to check us in as the agent had to make sure we had all of our paperwork to get into Canada. FYI: Everyone entering Canada has to use the ArriveCan app or website and complete the forms and then show the QR code ArriveCan generates. You'll need to show this to the check-in agent and then again to the gate agent prior to boarding (as well as your passport and vaccination card).
I was relieved there was no line at TSA PreCheck as I heard it is sometimes closed and long. Unfortunately, CLEAR isn't offered in LGA's Terminal B so I'm now debating if I should even renew my membership. I love CLEAR but they're no longer in LAX's T4, LGA's TB, JFK's T8 or Honolulu, which are the main airport terminals I frequent.
Speaking of LaGuardia's Terminal B – the airport went from one of the worst (remember when then-Vice President Joe Biden famously and accurately called it "some third world country") to my new favorite airport Terminal in the U.S. (minus the fact that it doesn't have CLEAR).
The designers really did a fantastic job. In fact, I overheard a guy in the restroom say to his buddy, "I'm so glad LaGuardia finally classed up their game. I used to be ashamed to go to the old LaGuardia. They really hit it out of the park." I concur.
Here are 10 ways the new LGA is knocking it out of the park:
High ceilings and glass walls
The old LGA had ceilings so low I could practically jump up and touch them and the place was dark and dreary. This terminal is the opposite with high ceilings and huge windows, which is great for natural light, plane spotting and views of New York.
Plenty of bathrooms
Unlike the old airport, there are now plenty of bathrooms and they have touchless faucets and soap dispensers.
It's pet- and family-friendly
Next to the men's and women's bathrooms, there's a pet relief bathroom and a family bathroom. I didn't even see the Children's Play Area until researching this post.
Meditation room
Across from the Pet Relief and Family bathrooms is a meditation room. I didn't go in as I didn't want to disturb anyone but I thought it was pretty cool.
Local food
At the old LGA, if you were hungry you had to settle for Auntie Anne's Pretzels or Cinnabon. The new terminal offers some restaurants you will find in Manhattan so you can get a flavor of the city even if you're just transferring. I saw: Junior's, Eli's, Zaros, Dos Toros, Tony's Pizza, Brooklyn Diner, Mulberry Grill … There's also Dunkin and Shake Shack.
Local stores
I'm not much of a shopper but they do have the Bowery Bay Shops, Gotham News, Hudson News and FAO Schwarz just to name a few. BTW: As you can imagine, it wasn't easy pulling my kids out of the latter.
State-of-the-art signage
The updated departures board and signage is so easy on the eyes you just want to stop and stare. It even shows the estimated travel times to midtown Manhattan, downtown, George Washington Bridge and Connecticut.
Mesmerizing water feature
Without a doubt, the best part of the new Terminal B at LGA is the incredible waterfall display. It seriously gets everyone to stop and record the show (including flight attendants) that takes place every five minutes. It's located post-security and has 4,000 gallons of recirculated water from more than 450 individually controlled 'solenoid' valves, combined with choreographed lighting, video projection and music to create a spectacular show about New York, New York.
Good to Know: Everyone is supposed to wear a mask in New York airports, but I would say only 55% of people were. All the staff do for obvious reasons, but the passengers don't and no one said a word to them.
However, on flights to and from Canada, you have to wear a mask and the flight attendants handed out masks for the few that weren't wearing them. They wore them without problems.
After showing our passports, vaccine cards and ArriveCan QR code at the gate, we boarded the Embraer ERJ-175 (E75) at 8:07am.
We were one of the first to board so we didn't have a crowded jetway and I was able to snap a couple photos of the plane. As always, Jack and Olivia gave the flight crew some chocolates and I asked the flight attendant if the pilots would sign their logbooks.
They did one better by inviting them up to the cockpit to sit in the first officer's seat. They were very friendly.
We lucked out because the plane, which holds 76 passengers, wasn't full and had no one sitting across from us or behind us. The first row (8) is, in my opinion, better than first class.
We pushed back from the gate at 8:35am and we were airborne at 8:49am.
Flight time was one hour and four minutes and the flight attendants came down the aisle with the drink cart and some snacks (including Biscoff cookies and pretzels).
The plane was equipped with Gogo in-flight WiFi, which cost $13 for a flight pass. T-Mobile customers get free WiFi and texting.
We landed on a different runway and I thought we were taxiing to my mother-in-law's house because it took so long but we somehow ended up taking a back way to the gate. It was great and there was no long queue at customs. I wrote a post on our experience getting into Canada, including my wife being randomly selected for Covid testing. It wasn't a bad thing. Here's the story.
---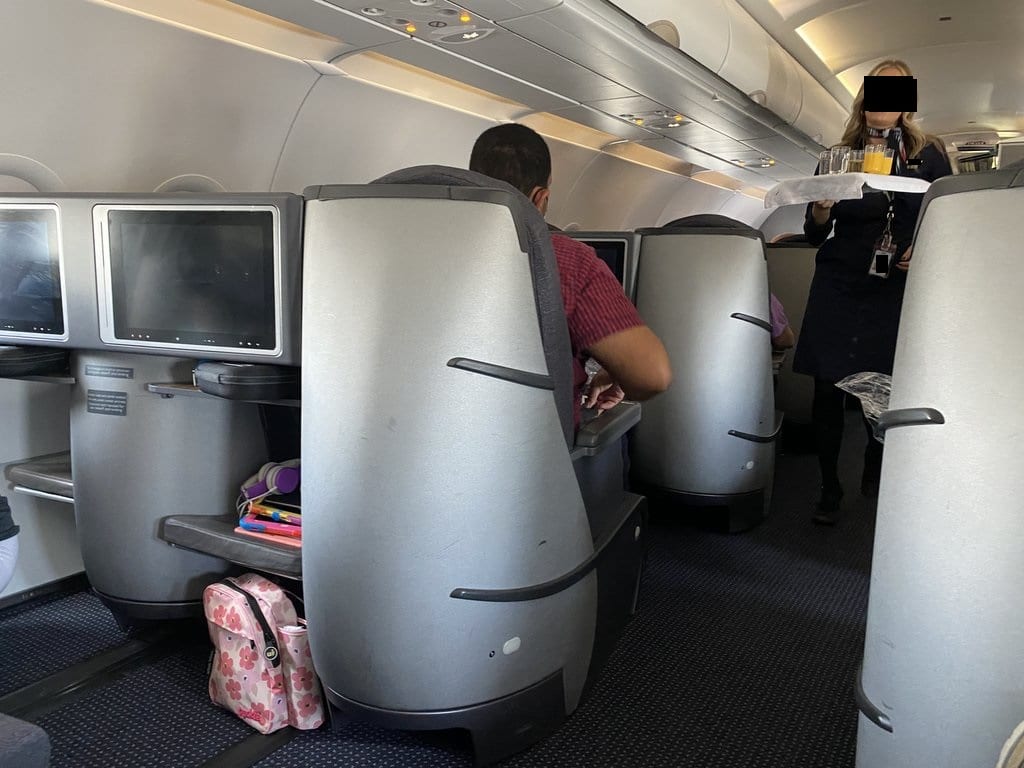 If you've been following along with our travels, then you know that my family and I flew from Los Angeles to New York's JFK on American Airlines (AA) on May 21st. I took advantage of the airline's uncertainty about the future and purchased lie-flat business class seats back in August, when they were going for just 20,000 AAdvantage miles a piece. To give you an idea how good a deal that was … AA was charging 50,000 miles for the same flight a week before in ECONOMY! I scored and so did my family as they got to fly across the country in style. Here's that trip report.
We spent the first night at the Sonesta White Plains after cashing in 22,000 Sonesta Travel Pass points. The following night was spent at the Delamar in Greenwich, Connecticut which is near my dad's senior home. We then we headed to Rhode Island for four nights, staying at the Watch Hill Inn and the Weekapaug Inn before going back to Connecticut, where I cashed in my free Marriott nights at the Stamford Residence Inn thanks to my Marriott Bonvoy Boundless Credit Card (here's more on it).