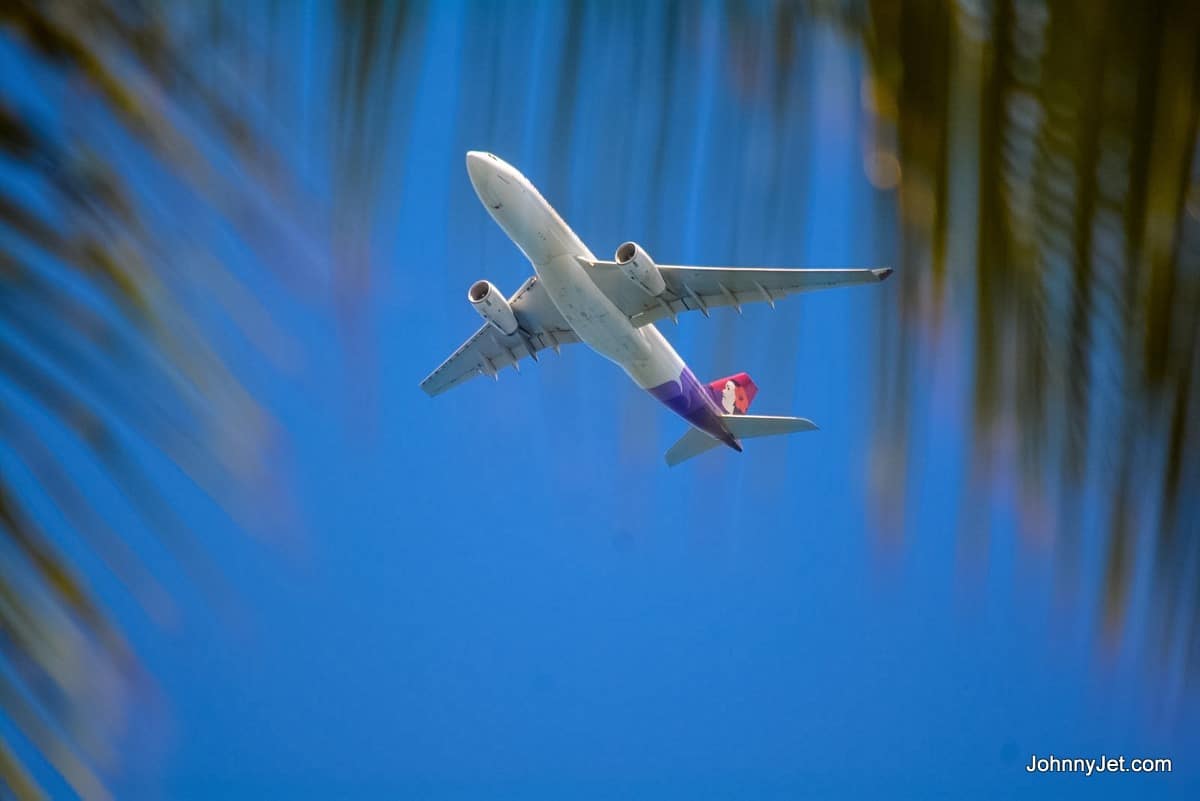 One question I get often (practically every day) is: When is the best time to buy airfare and is there a website that monitors fares and automatically lets you know when the price drops? I don't believe there is a best day or time to buy airfares like there used to be. However, there are multiple sites that will track airfares and alert you and it's one of my best travel tips for saving money.
Fare alerts will save you from constantly having to price out tickets like a maniac. Seriously, I used to spend hours seeing if the fares on my desired flights had dropped. In fact, I still do once in a while just to make sure the fare alerts aren't slacking … occasionally, they don't pick up a flash sale.
Unfortunately, the number of websites that offer this free service has decreased because they have either shut down or were sold to an online corporate travel management company that wanted to use the software internally. And this was before COVID-19.
RELATED: Best Credit Cards for Every Day Spending
Unfortunately, my (former) favorite fare alert site, and the original to track airfares, Yapta, shut down in 2020. Joining them in the virtual graveyard is Hipmunk, after they were bought by Concur. And it looks like AirFareWatchDog has done away with the service, even though they're still in business. Since TripAdvisor took them over, it's more of a sales tactic to get your email.
But don't worry, there are still plenty of websites that track airfares and, yes, they're free. Each of the websites and apps is a little different but if you're wise and a little obsessive when it comes to getting the cheapest plane tickets, you might use all five of these at some point:
The new Granddaddy of fare tracking is Google Flights. It's easy to use and as you can see from the screenshot above, all you have to do is be signed into your Gmail and then slide "Track prices" just below the search engine. Google will then email you when the price goes up or down, which happens often, whether you're searching for flights to Alaska or Zimbabwe.
2. Kayak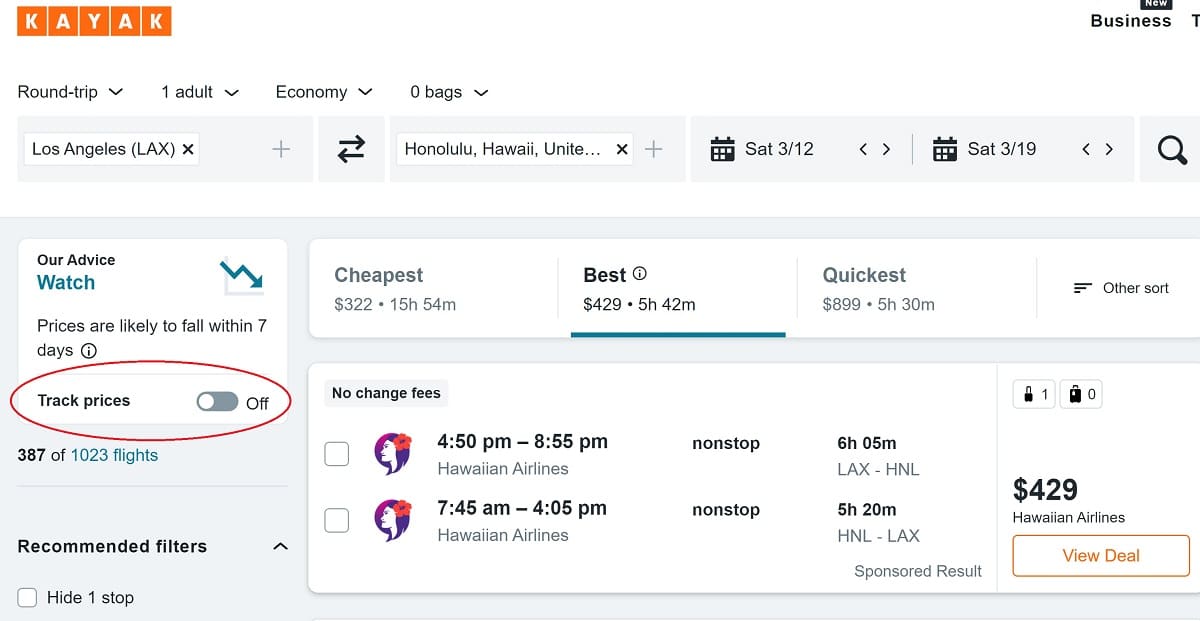 Kayak does a great job tracking flights and you enable this function after you do a search and then toggle the switch, which I circled in the screenshot above. Once you do that, the site asks for your email address.
3. Hopper

Hopper doesn't have a functioning website but they do have a great app that's free to use and they will track airfares for you. After doing a price search, tap "Watch This Trip" and that's it.
4. FareCompare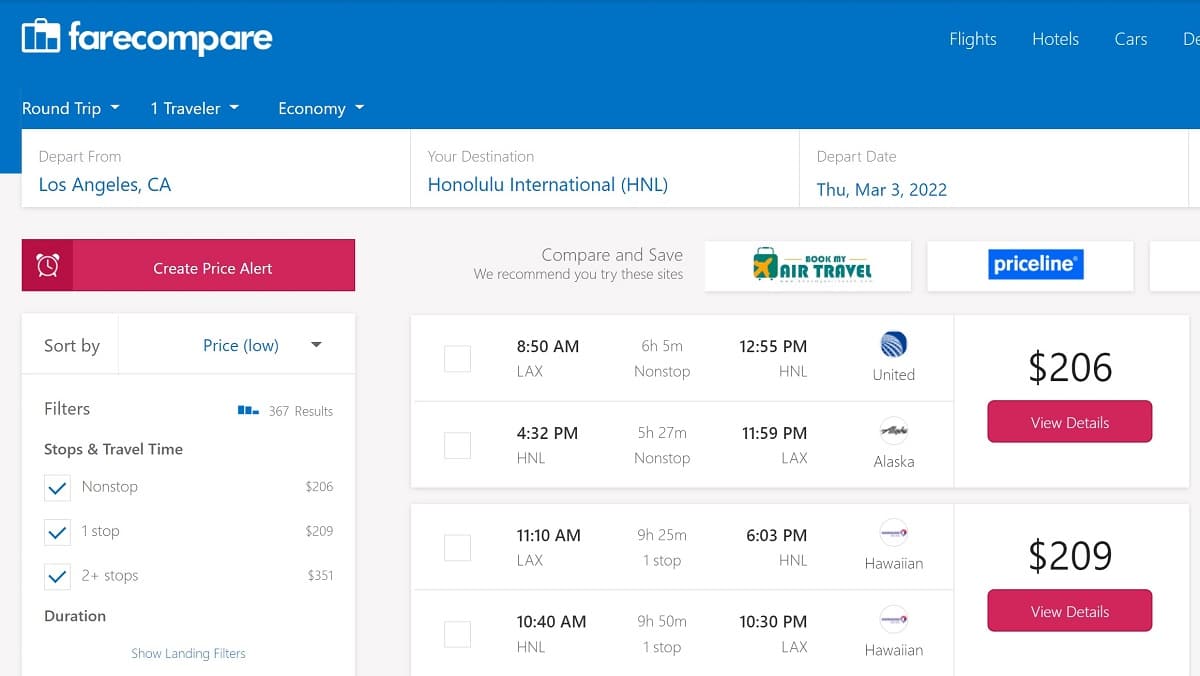 FareCompare, has been around since 2004 and even before you input your cities to do a search, you can click the box that says, "Alert me when prices change" on the far right side. Just checkmark it, then provide your email address.
5. Skyscanner

Skyscanner began in 2002 in Scotland and they offer fare alerts after you input your cities and then sign up with either your email address, Google, Apple or Facebook log-ins.
As you can see, some of the originals are gone but there are still plenty of other sites that offer fare alerts, which can definitely help save you money. I still recommend manually pricing fares out once in a while, just to make sure you don't miss a flash sale. Here's our search engine with multiple sites. And of course, sign up to travel deals newsletters (I offer one, which you can subscribe to here) and follow your preferred brands, travel deal providers and influencers on social media.