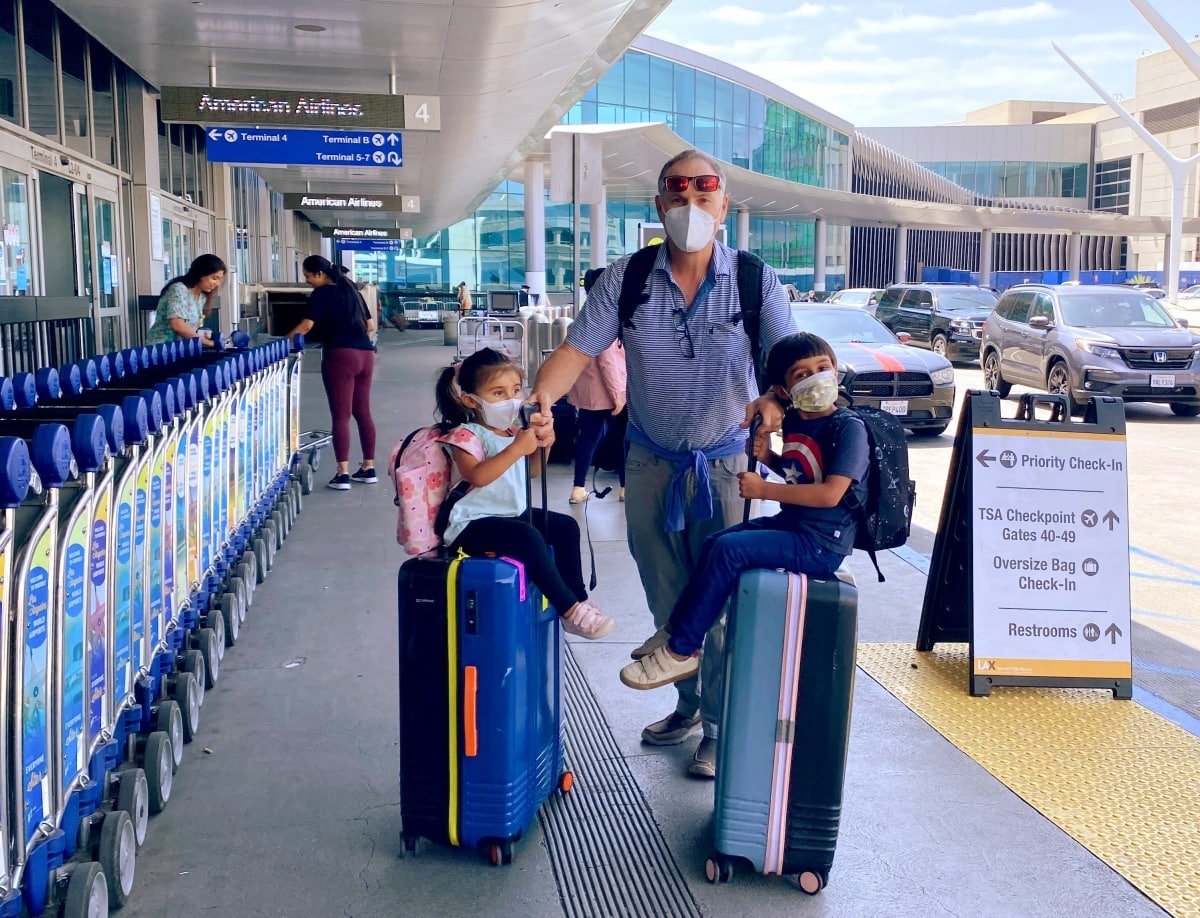 Greetings from hot and steamy New York! Yesterday, my family and I flew from Los Angeles (LAX) to JFK. We took the 4pm and it went like this …
We rolled up to LAX at 2:15pm, which was cutting it a little close but since I have elite status and TSA PreCheck, I knew we would be okay – especially on a Saturday afternoon. We took Blacklane since I'm a brand ambassador and they're always reliable (use my Blacklane code JOHNNY15MAY22 to save 15% off your first ride when booked in May for future rides.)
There were just a couple of people ahead of us in the Priority line and there was no line at TSA PreCheck. It's been a while since I flew American Airlines (AA) so I didn't realize that T4 is under construction. A lot of things have moved around and the high 40 gates have been pushed up so there's not a lot of seating and the jetway (at least to 47B) was really long. Note: There was no CLEAR and a TSA agent said they're not in T4 because of the construction.
Speaking of TSA: Just after we went through security and were putting our bags back together, I heard one of the officers yell something like, "Full stop." I can't remember the exact terminology but I've witnessed this before, where there is or they think there is a security breach – everything stops and all the agents line up to block the entrance. No one can move. Fortunately, we weren't in a crowded area and it only took a couple of minutes to get the all clear.
I purchased the tickets back in August (remember, I kept preaching "if you plan on traveling next year buy your tickets now" because every analyst predicted a record summer. I paid just 20,000 miles apiece for lie-flat business class seats. Do you know how much AA was charging for coach tickets for the same flight? 50,000 miles. Crazy, right?
With Business Class (or First) tickets between LAX and JFK, passengers can access the swanky Flagship Lounge across from Gate 42. It just reopened after being closed for over a year (or two) because of the pandemic. It was surprisingly crowded but we found a place away from people near the offices. We didn't eat much and only had about 30 minutes spend.
There was some great plane spotting including seeing exoctic birds that I used to take for granted like Air New Zealand and Air Tahiti Nui. It's so great to see them back at LAX.
I did notice American Airlines has some new and much-improved departure boards, which is another welcome change but they weren't installed yet at JFK.
We then went to the depressing gate area and boarded at the end of Zone 2. What was nice was that there was no one around in the jetway so it made the long walk (or run as my son made it) enjoyable.
When we boarded, my kids gave the flight attendants some treats and asked the pilots to sign their flight logs.
I reserved the whole back row (Row 10) of business class so we didn't have anyone breathing on our necks and we would be away from everyone. The kids were great on the plane and each took a window while Natalie and I took the aisles.
Flight attendants came around with pre-drinks (water, champagne or orange juice) in plastic chutes. I'm glad we boarded early because there was an overflow of bags from coach so they took up the business class bins. If we hadn't boarded early, we might have had to gate check our bags or bring them up to first class if there was any available space.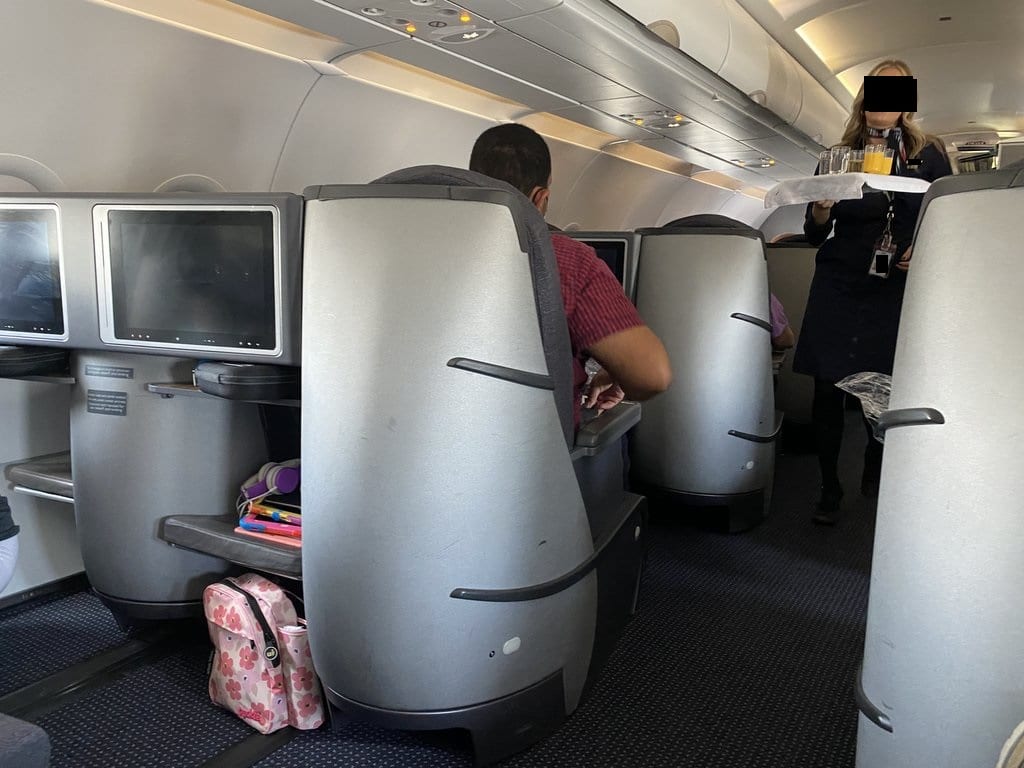 I would estimate that about 30% to 40% of people were wearing masks but only one of the five flight attendants  were. The captain and flight attendant both made announcements that the mask mandate has ended and to please respect your seatmate's decision, whether they chose to wear a mask or not. The flight attendant serving us was not wearing one, which was a little weird and she did say that flying has been so much better now that the mask mandate has ended. No more policing or fights. I did hear one lady two rows away say something to her coughing seatmate as she took her seat but it didn't escalate.
I pre-ordered our meals, which you can do 30 days to 24 hours before your flight. I pre-ordered a kids meal, which was spaghetti and meatballs and probably the best dish of them all. They don't always load the kids meal but so far, we're two for three. I had the beef short ribs and Olivia had the mezzi rigatoni. There was also a miso saba roasted sea bass and a grain and greens bowl.
The small plate was a tomato and goat cheese strata and the salad was a baby spinach and kale salad sprinkled with goat cheese. Unfortunately, goat cheese really bums me out so I passed on them after snapping the pic. Dessert was a choice of traditional ice cream sundaes, a gourmet cheese plate or a Belgian chocolate cheesecake tart.
In economy, they served free meals too, and it was a choice of either a chicken curry sandwich, a fruit and cheese plate or hummus.
The entertainment systems are solid on AA and there are plenty of choices, including over a dozen movies for kids, from Encanto to Sing. WiFi is way over priced at $29 for a flight pass but they do offer 20 minutes free if you watch a quick ad. So use it wisely.
Flight time was a quick four hours and 33 minutes and I used a new (to me) app called Flighty which I really loved. It updates you on everything including when the plane pushes back from the gate, which was at 3:58pm (two minutes early). If it wasn't for the bags taking over 45 minutes, I would give AA two big thumbs up. But at least they didn't lose them.