This article was written and produced in partnership with Allianz Global Assistance. All opinions expressed within are my own.
If you're a longtime reader, then you know that I grew up in Connecticut, live in California and spend a lot of time in Canada, where my wife is from. We just returned from a long-awaited five-week stay in Toronto and the city was as beautiful and inviting as ever (except for the epic traffic – but is there any major city not plagued with this problem?) Due to the birth of our second child and then the pandemic, we hadn't been back to Toronto in over three long years. Some things have changed, some things have stayed the same and we were excited to experience all of it. If you're planning a trip to Toronto, here's a suggested itinerary of where to eat and stay, as well as cool things for adults and kids to do in the city. Let's go!

WHERE TO STAY IN TORONTO
There is no shortage of great hotels to consider in Toronto, from budget to luxury to everything in between. And the beauty of Toronto is that it is comprised of many beautiful but distinctly different districts so, depending on your own personal interests, you can certainly find a place to stay in a neighborhood that places you close to those things.
If you're there to take in concerts and sporting events, consider staying in the Entertainment District. There's the city's grand dame, the Fairmont Royal York, as well as other luxury properties like the Shangri-La, the Ritz-Carlton and the St. Regis. For a more boutique vibe, check out Bisha Hotel Toronto, a modern design hotel that puts you in easy walking distance of the Rogers Centre, CN Tower and Ripley's Aquarium of Canada.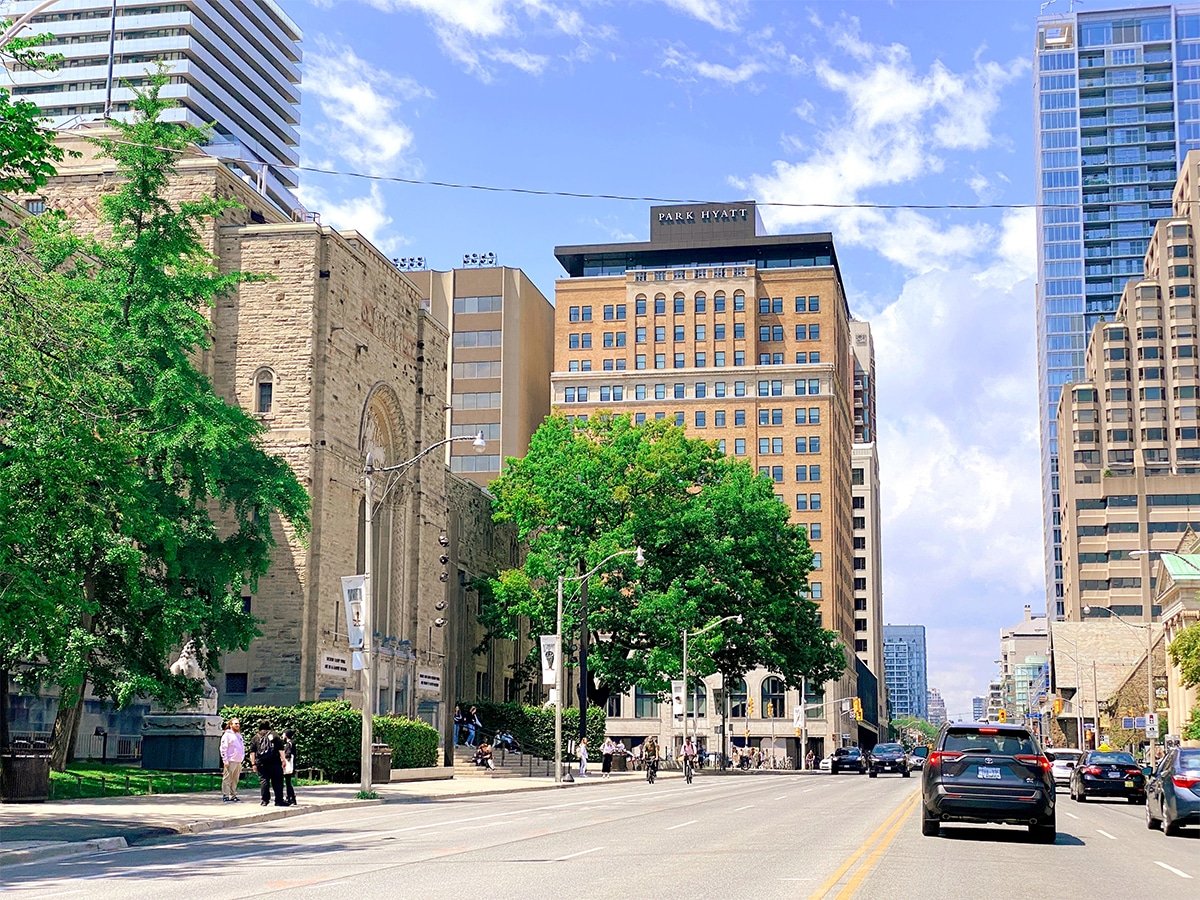 Toronto's Yorkville/Annex area is a beautiful place to stay, where downtown meets midtown. The Annex is one of Toronto's oldest neighborhoods and Yorkville is the city's upscale shopping and dining centre. We were hosted by the newly-renovated Park Hyatt Toronto for a few nights and it's an awesome choice, especially for families. Beautiful and luxurious, it's the perfect spot for a home-away-from home vibe but it's also ideally located in the heart of the city, providing travelers easy access to the best the city has to offer, whether by foot, transit, Uber or Hyatt's complimentary house car service, which will take you anywhere within a three-kilometer distance of the hotel. You can read our full review of the Park Hyatt Toronto here.
Queen West is the city's thriving fashion district with distinctly indie vibes. Here you'll find lots of fashion boutiques as well as fabric shops and sewing supply stores. And of course, this district has got great bars and restaurants featuring an eclectic mix of live music, ranging from jazz to rock. If this is your jam, consider staying at The Drake Hotel or Gladstone House, both favorites of travelers and locals alike.
WHERE TO EAT IN TORONTO
It would be utterly impossible to compile a fully comprehensive list of all the incredible dining options in Toronto. But one thing to know is that Toronto, like New York, is one of the most multicultural cities in the world, which means that you can find authentic, delicious foods from virtually anywhere across the globe.
If you're looking for Italian food, you can always stop by the recently opened Eataly Toronto for the full grocery-slash-market-slash-bar-slash-restaurant experience. Located in Yorkville, it's got everything you'd expect from Eataly, including an outdoor patio for al fresco dining and people watching.
Further downtown in the Entertainment District, you'll find Figo, a totally chic, design-centric space that delivers on style, service and scrummy eats. Toronto has a thriving Greek community in the city's east end along the Danforth and Chinatown is the place for authentic dim sum.
Craving Thai? Check out Pai Northern Thai Kitchen and Khao San Road. For sushi, my wife's decades-long go-to spot has been Sushi Inn in Yorkville and it has never disappointed.
Looking for someplace fancy? Toronto has plenty of options, particularly long-standing favorites like Scaramouche for sophisticated French haute cuisine and Canoe, a swanky spot downtown with creative Canadian cuisine and sweeping city views. For more casual options, consider David Chang's Momofuku Noodle Bar for ramen and steamed buns and Gusto 101 for Southern Italian classics in a trendy, industrial setting. Rest assured, whatever food you're craving, you can find it done just right in Toronto.
THINGS TO DO IN TORONTO
What you do in Toronto all depends on your mood. From world-class live theatre and major league sporting events to concerts, from huge stars to indie bands and everything in between, there really is something for everyone.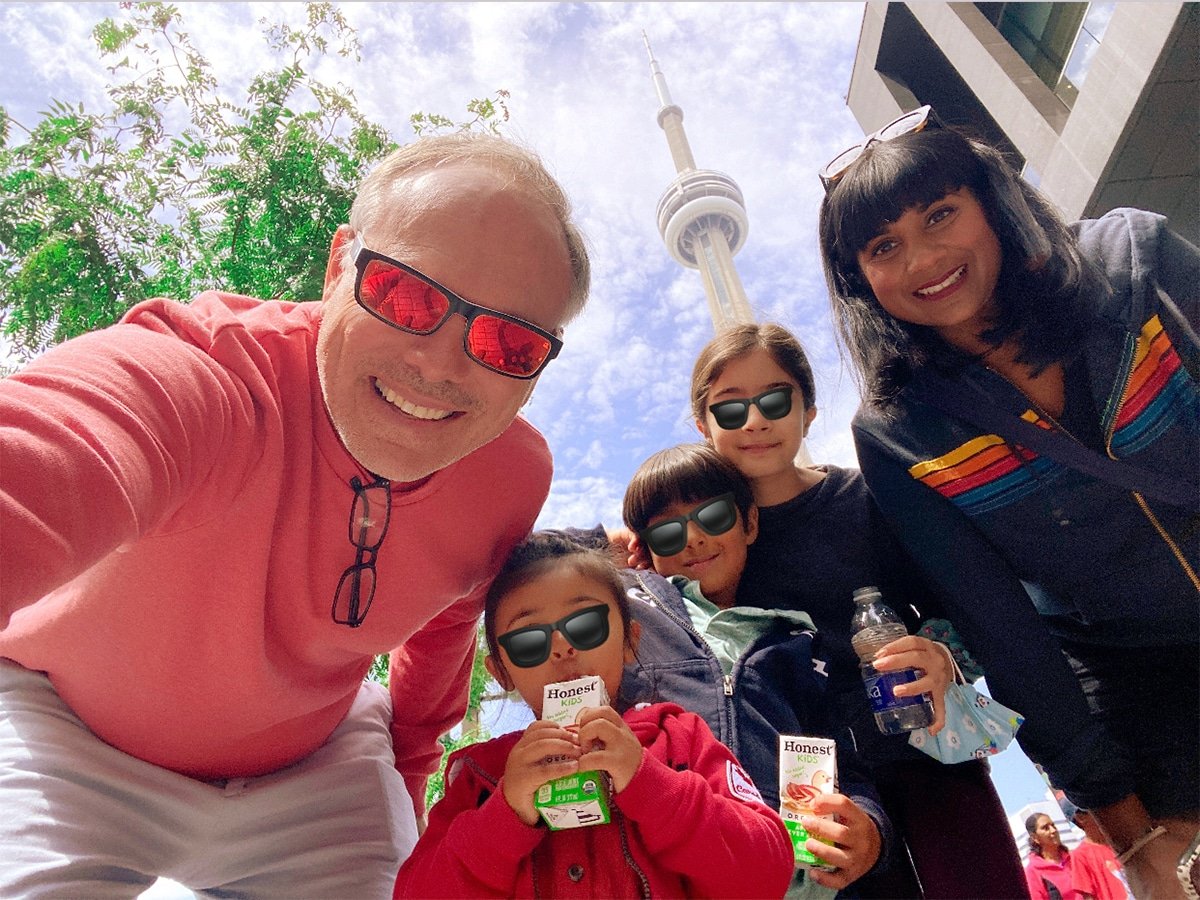 Since we have two little ones, we always seek out family-friendly activities. Your kids will love a trip up the CN Tower, a must for everyone, especially first-time visitors. If you're looking for a thrill, do the CN Tower Edge Walk, a walk around the world's highest, full-circle, hands-free ledge that encircles the top of the tower. At 116 storeys above the ground, this isn't for the faint of heart. Participants must be 13 or older and those aged 13 to 17 must be accompanied by a parent or legal guardian who can provide written consent.
Prefer your feet to be firmly planted on terra firma? Just a one-minute walk from the CN Tower is the Ripley's Aquarium of Canada, a 135,000 square-foot attraction with more than 1.5 million gallons of water showcasing marine and freshwater habitats from around the world.
If your kids are into dinosaurs (ours are obsessed), head north to the Royal Ontario Museum, the largest and most visited museum in Canada, where they'll enjoy exhibits like Fantastic Beasts: The Wonder of Nature (running at the time of this publication) and the bat cave. But mostly, probably the dinosaurs!
They'll also love the Centreville Amusement Park on Centre Island, where they can ride an antique Ferris wheel and a carousel, as well as take pony rides and enjoy a host of other games and rides.
The Ontario Science Centre, the Hockey Hall of Fame, the Toronto Zoo and the Legoland Discovery Centre should also make your list.
No kids in tow? Toronto is a beautiful walking city and as I mentioned above, is made up of many totally diverse neighborhoods. Choose one and spend the day exploring. Some fun options include Yorkville, Trinity Bellwoods, The Annex, Queen West, Leslieville and the Beaches.
Great places to enjoy a really local experience are markets, like St. Lawrence Market and Kensington Market. In a similar vein, you'll definitely want to check out the historic, pedestrian-only Distillery District, an old whiskey distillery. The 19th century buildings are now home to trendy shops, galleries, bars and restaurants. You can find various types of performances going on and in December, the annual Toronto Christmas Market is not to be missed.
In addition to being a world-class theatre destination, Toronto has made its mark in the world of film as well. Opened in 2010, the TIFF Bell Lightbox is the headquarters of the annual Toronto International Film Festival and is home to five state-of-the-art cinemas as well as a restaurant, classrooms and a film reference library. While the Toronto International Film Festival runs for 10 days every September, in other months, visitors can enjoy year-round films, from classic movies and blockbusters to foreign and indie films.
Toronto is many things, diverse in its food and its culture but also in its natural landscape, from the urban sprawl of downtown to the serene lakefront and the many green spaces in between. If you haven't been before, it's time to plan a visit and if you're familiar with Toronto, it's time to see all that's new and exciting. Whatever you do, you'll go home with memories that will last a lifetime. I know we did.