This article was written and produced in partnership with Allianz Global Assistance. All opinions expressed within are my own.
My family and I spend a lot of time in Toronto, where my wife is from. The city is a big, bustling metropolis with one of the most culturally diverse food scenes, world-renowned live theatre, copious live music and sporting events and tons of landmarks and attractions to visit. If you're planning a visit to Canada's largest city, here's a list of where to eat, stay and play in Toronto.
But if you're looking for a weekend away from the big city hustle and bustle, there are many options just a short drive from Toronto.

NIAGARA FALLS
Niagara Falls is just an hour and a half (ish) drive from Toronto and is a wonderful, family-friendly destination. Both my wife and I have been to Niagara Falls many times but we just returned for the first time as a family with our two little children and the experience was even better.
Where to Stay
On our recent trip to Niagara Falls, we stayed at the Embassy Suites. Our room was spacious with family-friendly amenities like a microwave, a wet bar, a separate living area and both a shower and a large soaking tub. But the real showstopper was the spectacular view of Niagara Falls outside our window.
Where to Eat
The best food we ate in Niagara Falls was, without a doubt, at Table Rock House. The restaurant is the closest you can dine to the Canadian Horseshoe Falls and the views are not only incredible but you can't get them anywhere else. Not only that, but the food is also truly delicious. Something as simple as roasted chicken and mashed potatoes was so delicious, we almost ordered a second serving! And the breadbasket definitely deserves an honorable mention.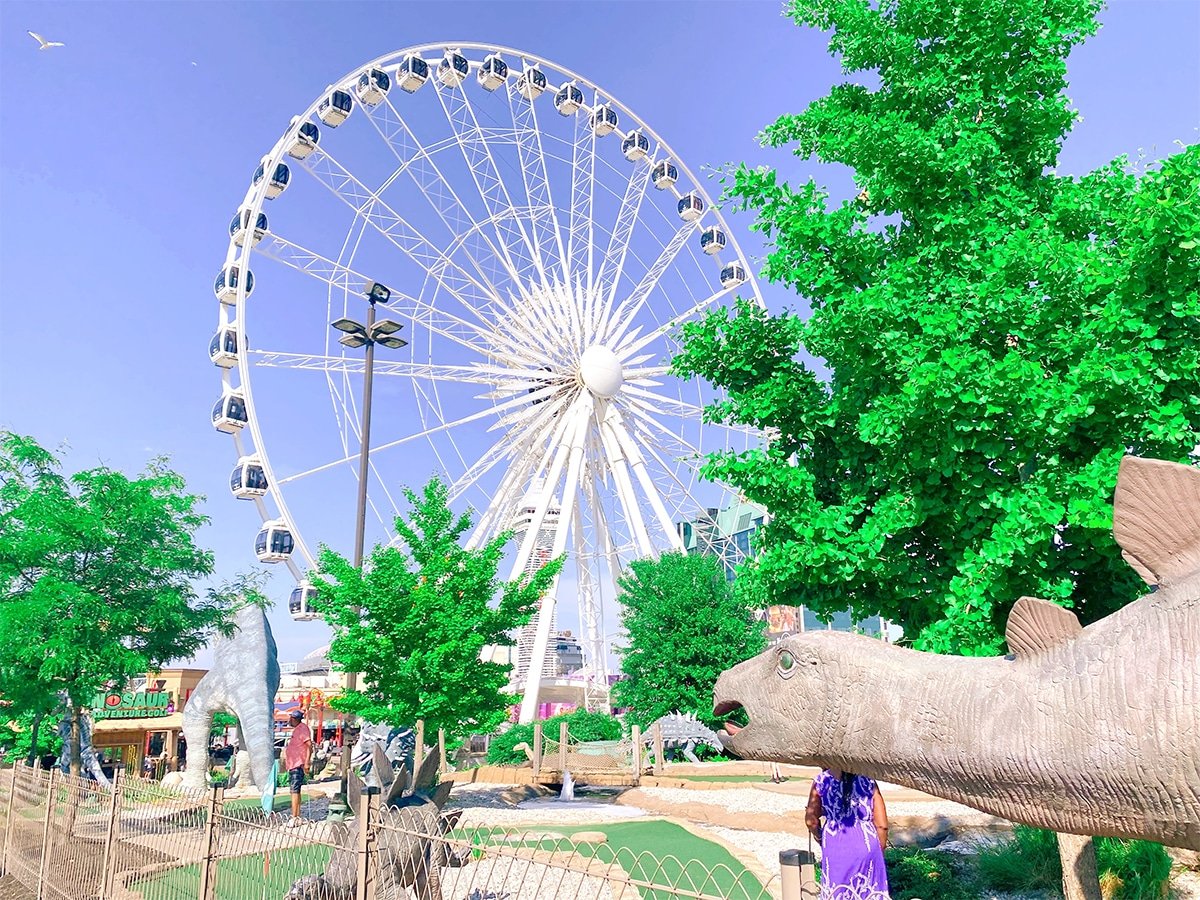 What to Do
The obvious thing to do in Niagara Falls is, well, see Niagara Falls. But beyond that, there are lots of things to do, especially with kids. Enjoy a walking tour where you'll learn more about the city and definitely prepare to spend an afternoon or evening at Clifton Hill, the city's main promenade where you'll find restaurants, haunted houses, wax museums, mini golf and lots of other attractions.

YORK DURHAM AND HEADWATERS
If you've never heard of York Durham and Headwaters before, you're not alone – I hadn't heard of it either until, in the fall of 2018, Ontario Travel invited me to check the region out and I realized what a beautiful destination was just about 35 minutes outside of Toronto. According to the Ontario Travel website, "Also known as the Golden Horseshoe Region, York, Durham and Headwaters halo the outer fringes of the Greater Toronto Area like a crescent and extend up to the southern shore of Lake Simcoe. Key cities in this region include Orangeville and Caledon in Headwaters, Markham, Vaughan and Richmond Hill in York Region and Oshawa, Uxbridge and Port Perry in Durham Region."
Where to Stay
Hockley Valley Resort is a four-season resort about a 45-minute, 37-mile drive from Toronto's Pearson International Airport, and is a lovely place to make your home base as you explore the region. The resort has 104 guest rooms, an 8,000 square foot, full-service spa, an 18-hole championship golf course and 16 ski and snowboard runs suitable for all skill levels.
Where to Eat
About 15 minutes from Hockley Valley Resort, you'll find the Rosemont General Store, which possesses all the charm its name suggests. Inside, the Rosemont Kitchen is open daily with a wide selection of eats. You might want to try a classic breakfast option, the buttermilk pancakes with local maple syrup, or for lunch, grab a Canadian pizza: pepperoni, bacon, mushroom, and green peppers.
What to Do
Just up the road by car from Hockley Valley Resort is the resort owner's Adamo Estates Winery. On weekends and for special events, the Hockley Valley Resort offers a free shuttle for the three-minute drive. The 25-acre vineyard has 23,000 vines and includes a 20,000 square foot facility for production, wine tastings and retail sales. Tastings are offered daily and no reservations are required. Public tours are available Saturdays and Sundays at 12pm and 3pm. Single tastes start at just $3.
BLUE MOUNTAIN
My wife and her girlfriends have been going to Blue Mountain for their annual girls' weekend for well over a decade. What's nice about Blue Mountain is that it's a getaway suited to whatever you're looking for. It's extremely family-friendly but is also the perfect spot for couples or friends to escape to. And it's a great destination year-round – a beautiful spot for a summer vacation, a spectacular place to enjoy the changing colors of fall foliage and of course, an ideal spot for a winter ski trip.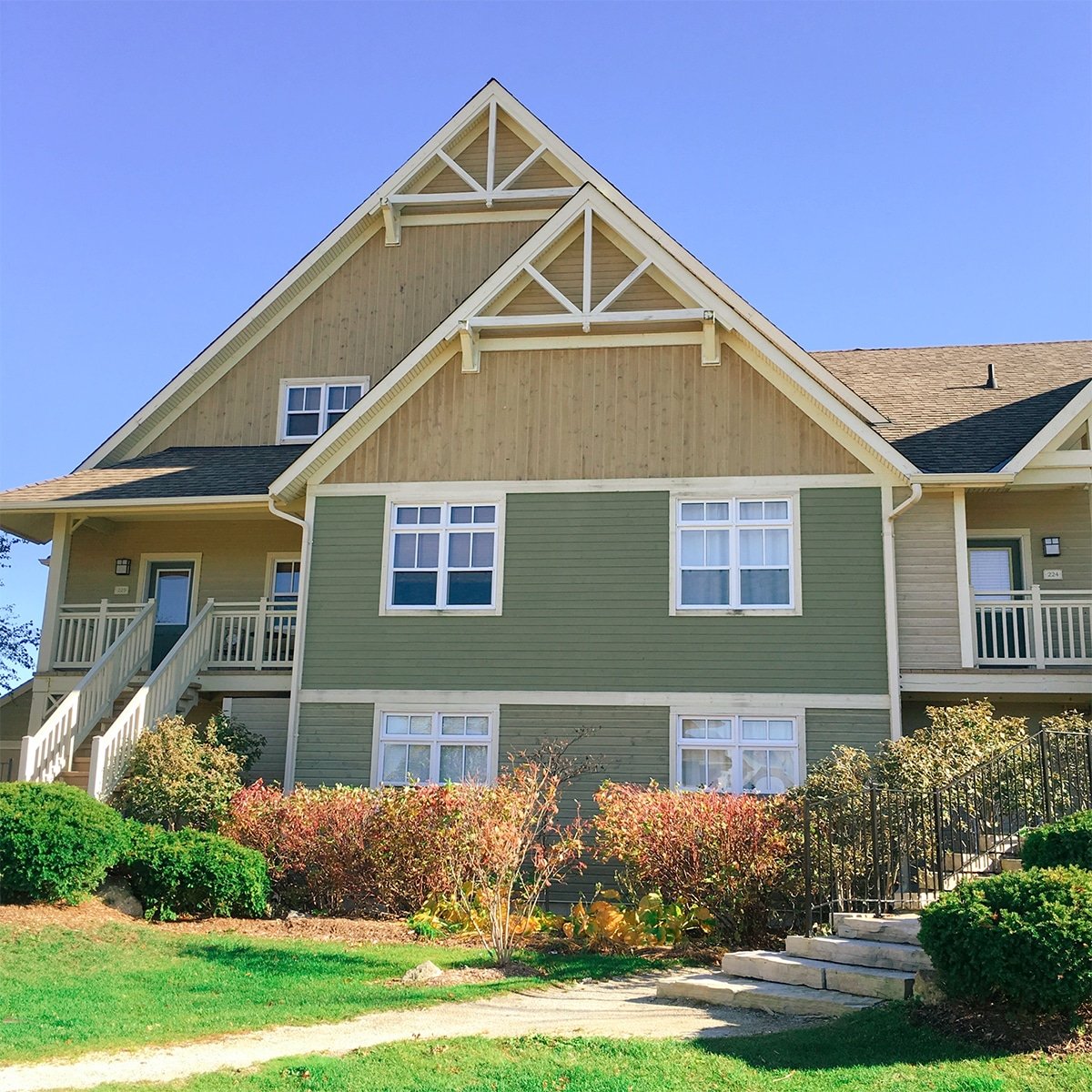 Where to Stay
Blue Mountain has a variety of accommodation options that all put you within easy access of Blue Mountain and Blue Mountain Village. Whether you're looking for a more traditional hotel stay, a smaller boutique hotel or a private home, you'll find it in Blue Mountain. My wife and her friends always rent one of the resort homes (pictured above) and love it for the space and the home-away-from-home feeling it provides.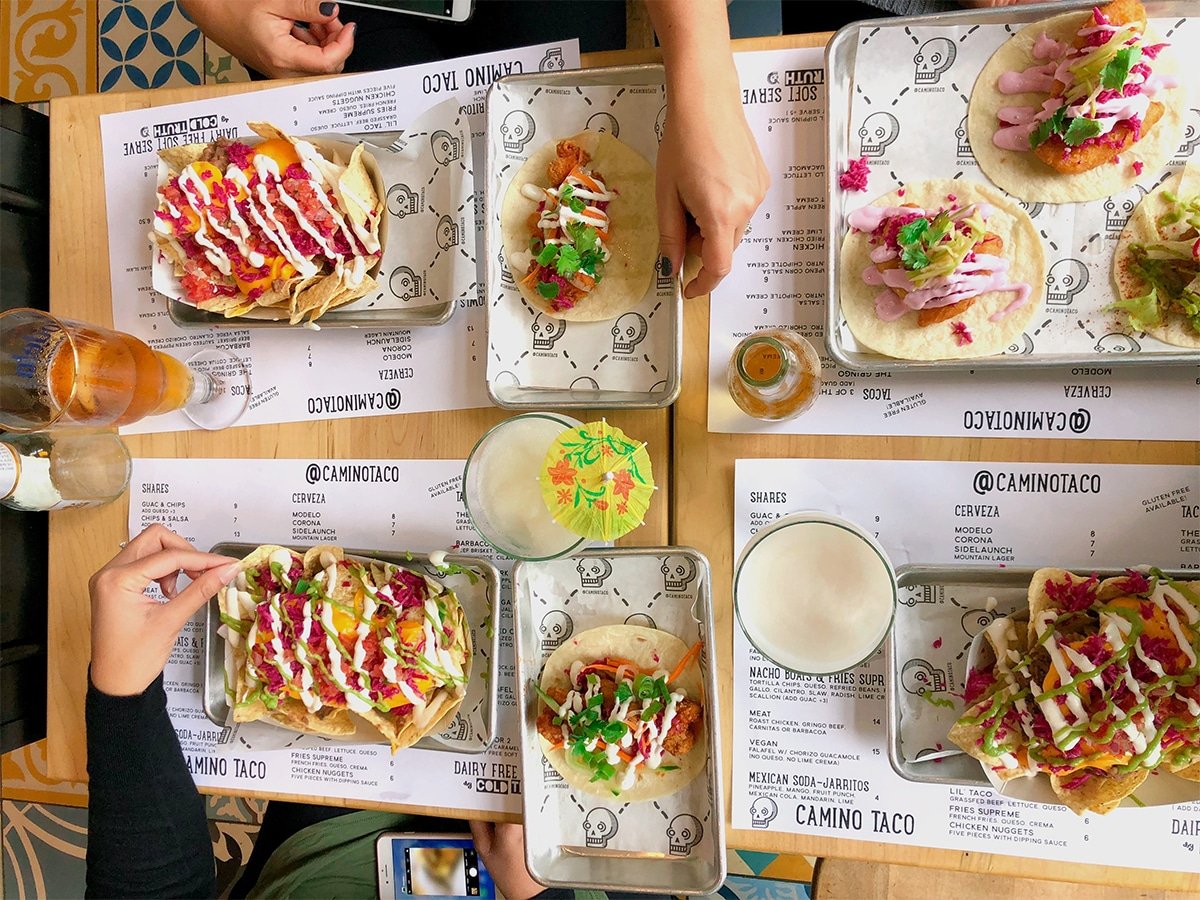 Where to Eat
There are lots of places to eat in Blue Mountain Village and you can find pretty much anything you're craving from an Asian bistro and sushi bar to an Irish pub, an Italian kitchen and a Greek/Mediterranean restaurant … and lots more! My wife's favorite is Camino Taco where you can chow down on delicious Mexican street food. But what you'll really want to do is make sure that you have at least one Beaver Tail while you're there and of course, poutine, a classic French Canadian dish of French fries and cheese curds topped with a brown gravy. For the uninitiated, a Beaver Tail is fried dough, a flat, oval-shaped doughnut resembling a beaver's tail, and dusted with cinnamon and sugar (although you can get all kinds of different coatings and toppings).
What to Do
You won't come up short on things to do in Blue Mountain. While skiing and snowboarding are the obvious winter pastimes, there's lots more to Blue Mountain. There's a golf course (and a putting course), tennis courts and a private beach. You can go hiking, biking, rock climbing and ziplining. Walk the high ropes, ride in an open-air gondola or take a Segway tour. Whatever you choose, you'll find that Blue Mountain has no shortage of adventures to offer visitors.
STRATFORD
Situated on the Avon River in southwest Ontario is Stratford, a town about two hours west of Toronto. Settled in 1832, both the town and the river were named after Stratford-upon-Avon in the United Kingdom, the birthplace of William Shakespeare. But that's not it's only famous connection. Stratford, Ontario is also the birthplace of Thomas Edison and … Justin Bieber!
Where to Stay
The Bruce Hotel in Stratford, Ontario is a lovely place to stay with rooms and suites that ooze luxury as well as a new private cottage that has two spacious suites and tons of room for entertaining or just to spread out (as guests of the cottage, you'll also enjoy all the amenities of the hotel). Whether you stay in a hotel room, suite or the private cottage, you'll find that the design is the perfect combination of grand and understated and you're probably not going to want to leave.
Where to Eat
Stratford might be a small town but that doesn't mean it's short on dining options. The Braai House is a South African inspired restaurant, focused on open-fire cooking. Revival House marries the town's historic past (it's located in a historic building formerly known as The Church Restaurant) with modern day tastes, featuring a menu that offers casual, familiar eats along with global-inspired dishes like the jerk chicken pizza, thai salad and butter chicken. Don't leave without stopping by Edison's Café Bar, housed in Thomas Edison's former residence.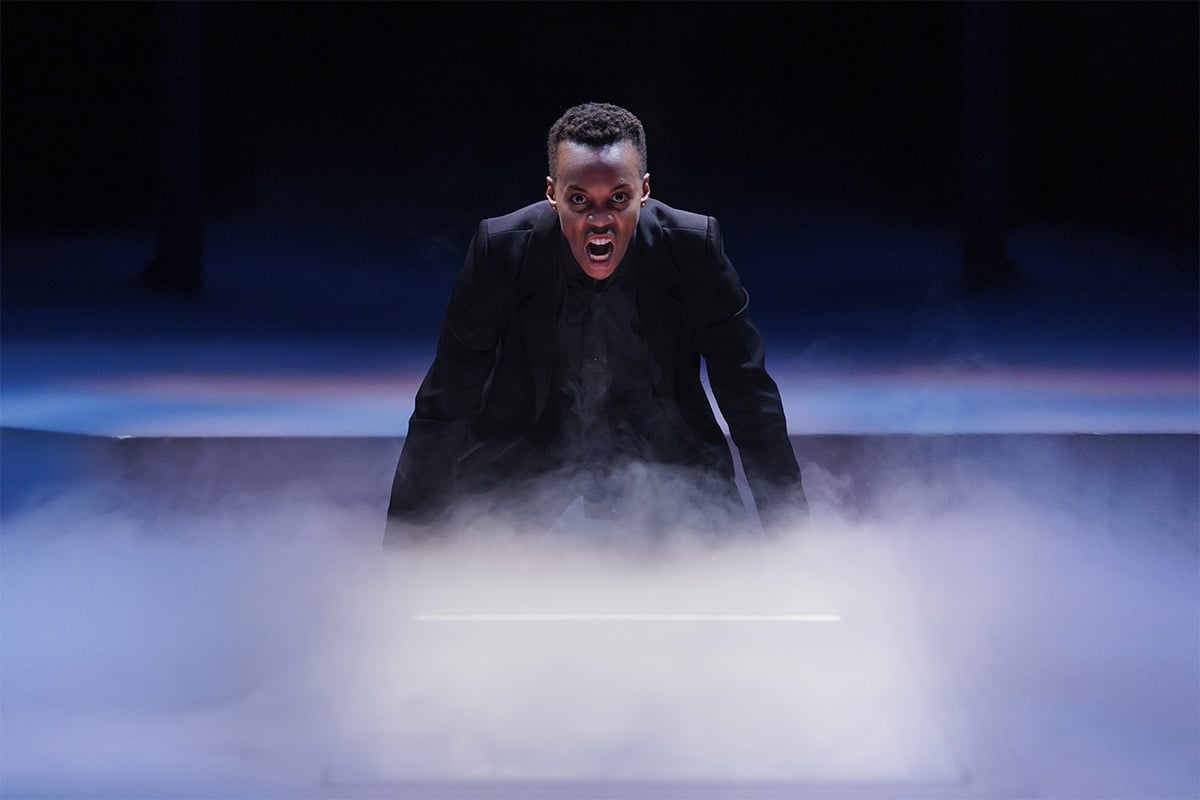 What to Do
Considering that Stratford has a connection to some pretty big names, both past and present, there's lots of history to take in. Stratford's most notable event is the Stratford Festival, a theatre festival that runs annually from April to October. While the main focus of the festival is to present the works of William Shakespeare, it also presents other productions, from Broadway musicals to Greek tragedies. The Stratford Perth Museum celebrates the diversity of the Perth County communities but also has a Justin Bieber exhibit, opened in 2018, that showcases the star's rise to fame.
Prince Edward County
Two and a half hours east of Toronto is Prince Edward County, a truly picturesque place to escape to from the big city. With pretty provincial parks and long stretches of protected beaches, it's definitely worth adding 'The County', as the locals refer to it, to your list of weekend getaway ideas.
Where to Stay
Prince Edward County has every type of accommodation you could be looking for. Think: cottage resorts, boutique inns, bed and breakfasts, campgrounds, glamping and vacation homes. The Manse Boutique Inn & Spa, in a landmark limestone building, offers elegant accommodations indoors and outdoors, guests can enjoy the landscaped gardens, a pond and waterfall and a salt water pool and hot tub.
Where to Eat
Located in Waupoos, Prince Edward County, Stella's Eatery is a local favorite known for its seasonally changing menu, which shifts according to the availability of fresh and seasonal ingredients sourced from local farmers. Sujeo is a casual, home-style Korean restaurant where the handmade dumplings are the thing to order. If you're looking for something fancy, dine at Merrill House, perfect for a special occasion or … just because you deserve it!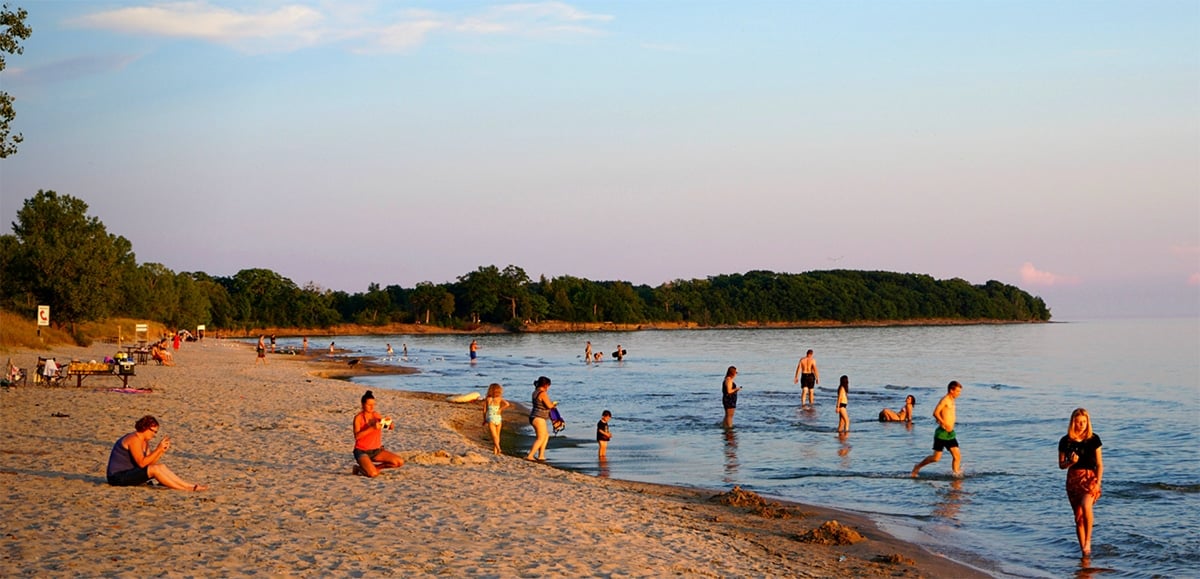 What to Do
In Prince Edward County, your priority should be taking in as much of the region's natural beauty as possible … which won't be hard to do. Lake on the Mountain is a must-see. Sandbanks Provincial Park may be the most well-known sandy beach in Prince Edward County (you can visit Outlet Beach, Dunes Beach and Lakeshore Beach) but there are other parks with beaches to check out as well: North Beach Provincial Park and Presqu'ile Provincial Park both have smaller, quieter sandy beaches to enjoy. Wellington Rotary Beach, Point Petre Wildlife Conservation Area and Little Bluff Conservation Area have rocky beaches. The National Air Force Museum of Canada, Mariners Park Museum and Oeno Gallery are all worth adding to your must-visit list as well.